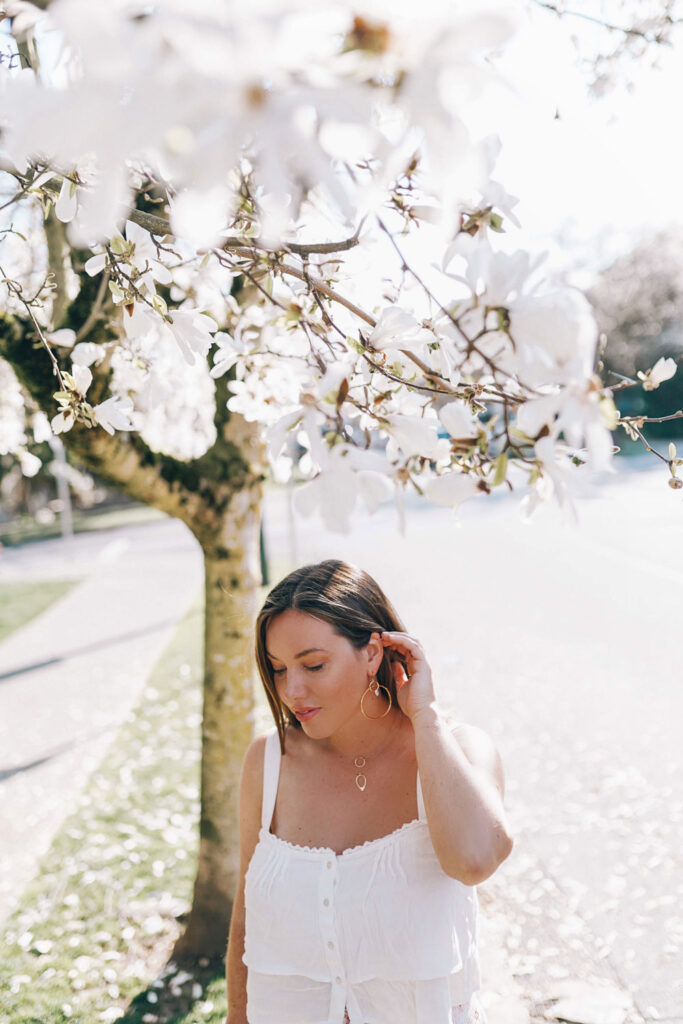 We're lucky in so many ways here in Vancouver: we have the ocean and mountains side-by-side, we have unreal drinking water, we have an incredible culinary scene (seriously, the sushi here!!!) and we have so much amazing design talent here. Whether it's big names like Aritzia, lululemon or Herschel or local artisans, it's really easy to support local when you live in a city replete with so much incredible talent.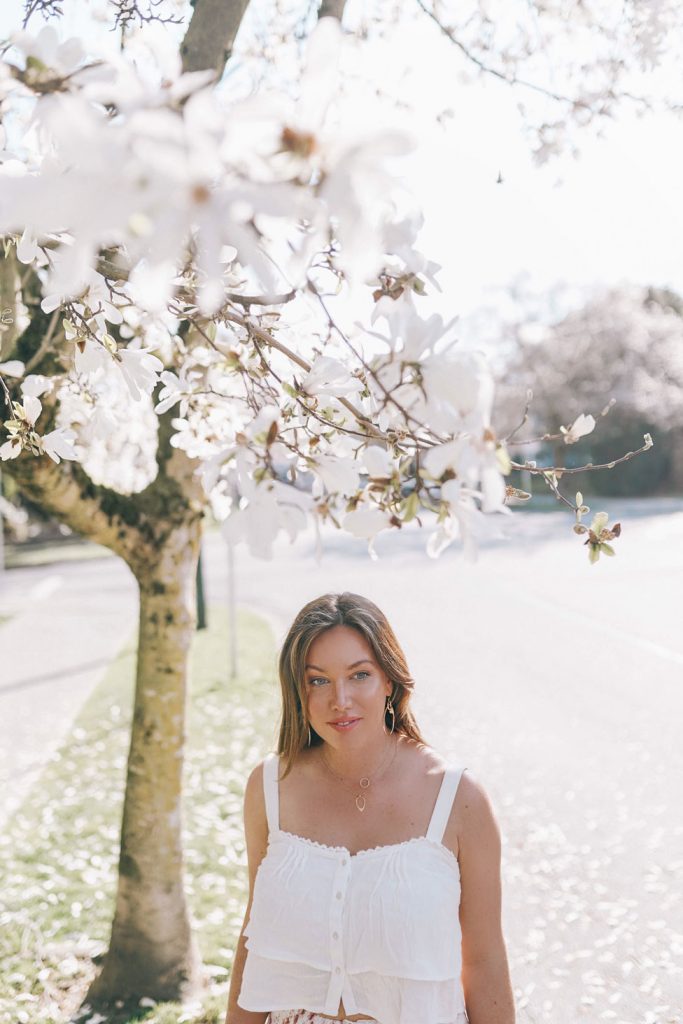 I connected with Sarah Mulder Jewelry around this time last year and I quickly became obsessed—her Ignite Hoops in Amazonite became my go-to hoops, I seriously wore them almost every day all summer. I loved her pieces so much that my little sister actually got me her Stargazer Necklace for Christmas—I have a superstitious thing with stars (I see shooting stars a lot and like to always have a "lucky star" on me wherever I go, whether it's a piece of jewelry or a little gold star in my bag) so it's another wear-every-day piece.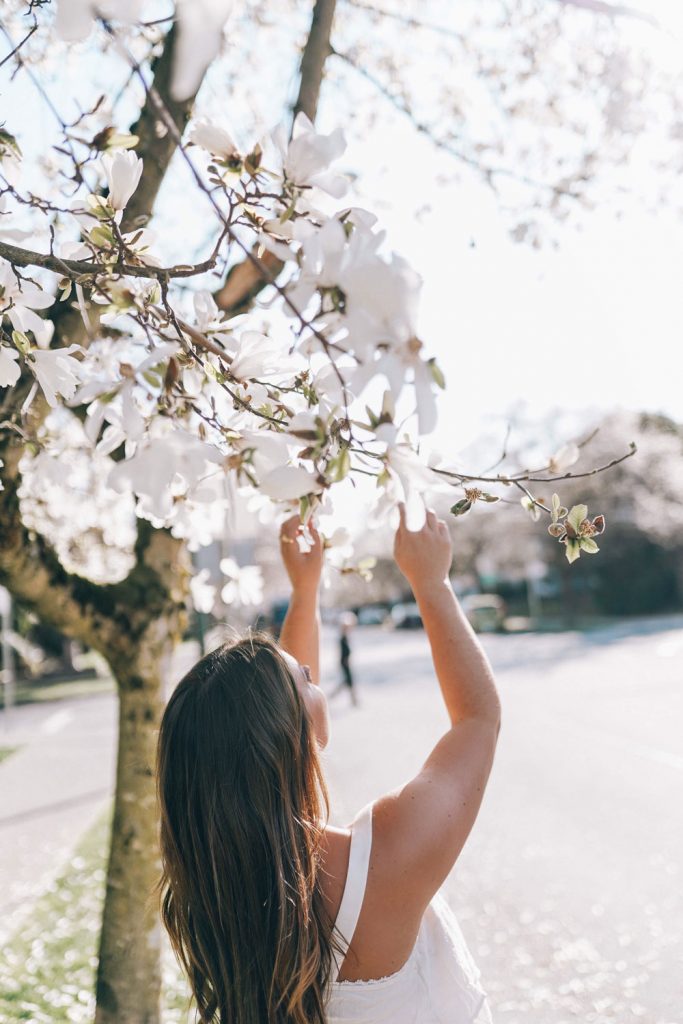 I was thrilled when she reached out about pulling together some looks featuring her Spring/Summer '19 Muse line because there really isn't a piece she's created that I wouldn't wear! They're all gorgeous. Here are a few of my favourite pieces and ways to wear them!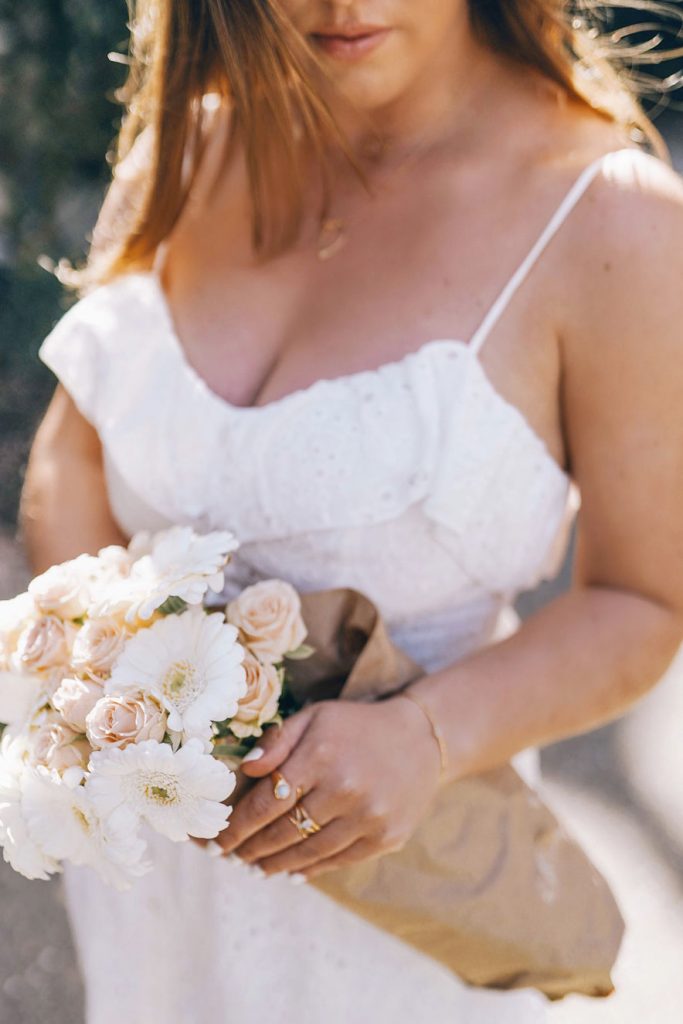 First of all, the rings I'm wearing throughout all these snaps are her Kris Cross ring (the crossed one as the name suggests—it's not out yet but stay tuned for the spring release!), the elegant simple Obsession Ring and the gorgeous bold Emerge Ring, all in gold with aquamarine as the stone. The Obsession and Kris Cross stack beautifully, and since the wrapped Emerge is such a subtle statement piece, I loved wearing it on its own. I actually would prefer to stack my rings on fewer fingers than to have them on every finger—being someone who types and uses their hands a lot, I find that it not only adds a ton of visual interest but makes life a bit easier! Just pull them all off if you're washing your hands, doing some furious typing (as I am now), etc.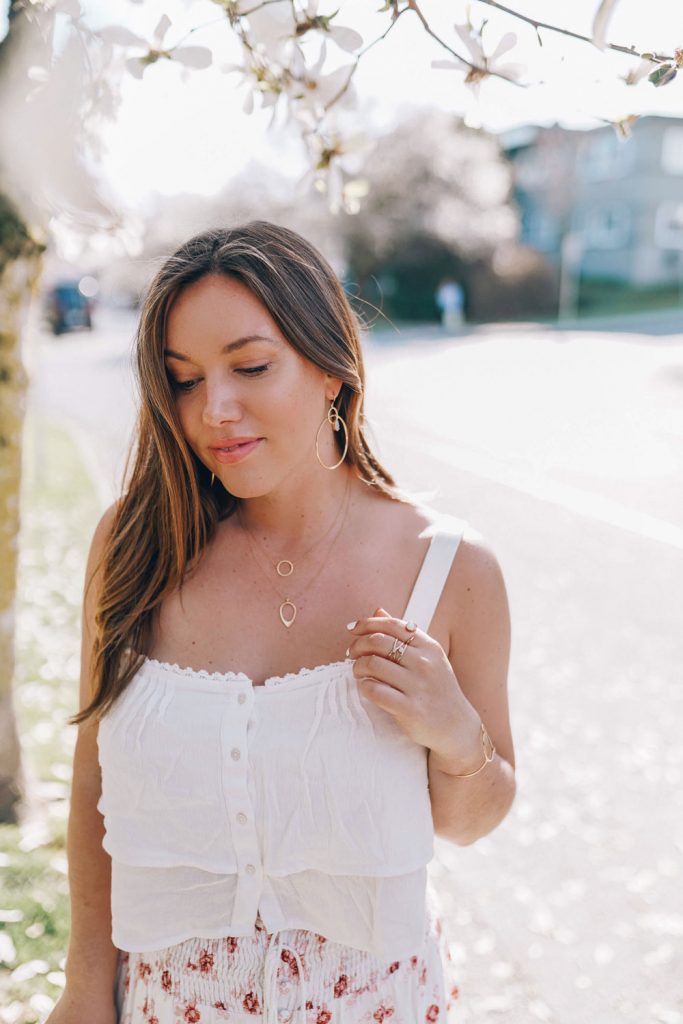 I'm also wearing her Pulse Cuff in gold and aquamarine here—it's such a gorge piece on its own but if worn higher on your arm, would look so pretty with another thin bracelet. This is another SS '19 release so if you're loving it, take note for when the whole line launches!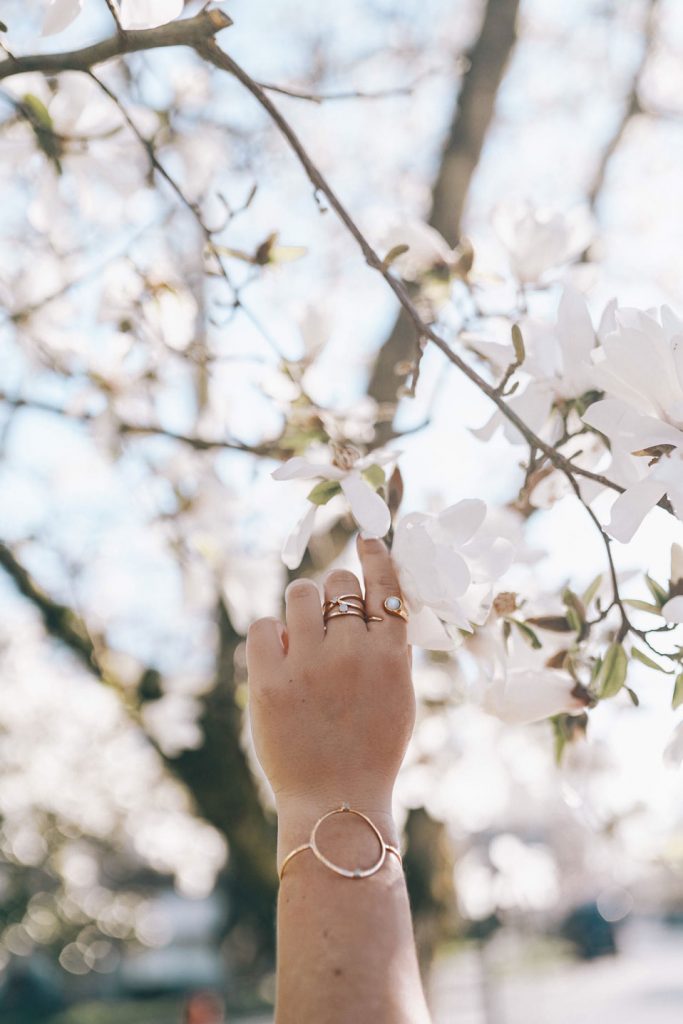 My favourite jewelry layering tactic is actually necklaces—the more the better! Because I'm busty, I try not to wear any that are too too long though (though they look fantastic on those that are not as well-endowed in the chest area) because my boobs just kind of hover the necklace out or the necklace disappears in my cleavage—not a great look. I love to layer from my sternum up, focusing on picking pieces that are either adjustable or different chain lengths. From her spring line I'm wearing the gorgeous Sunday Necklace (the circular one worn a bit higher) and it's so dainty and perfect that I know I'll be wearing it layered up on repeat.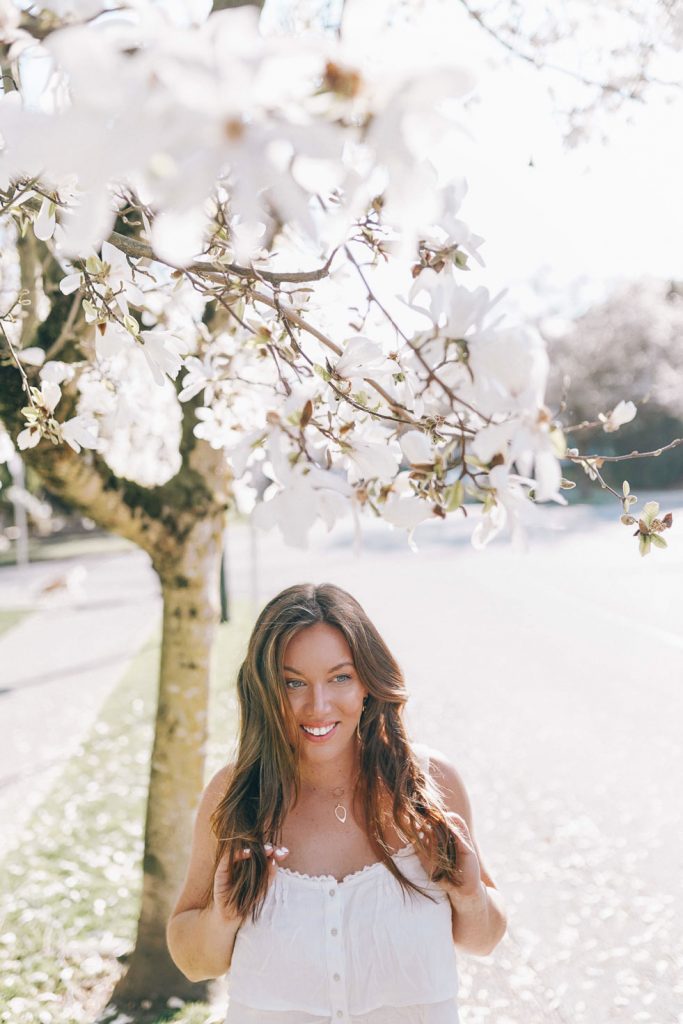 The longer necklace is the small Arim Necklace—I'm obsessed with this unique upside down teardrop shape as it's so fresh yet super wearable. These two layer beautifully—the trick is really finding the right chain length separation because if they tangle up together, it just looks a bit messy. I also love blending different shapes like I did here, and if they feature stones, mixing a beautiful blend of tones (like labradorite with moonstone). I used to love mixing metals but then someone in Cape Breton told me that that's bad luck for fishermen so despite not being fisher(wo)man, I am now scared to do so—see superstitious note above. Sigh, I'm dumb. Both these necklaces though will be available with the spring launch soon!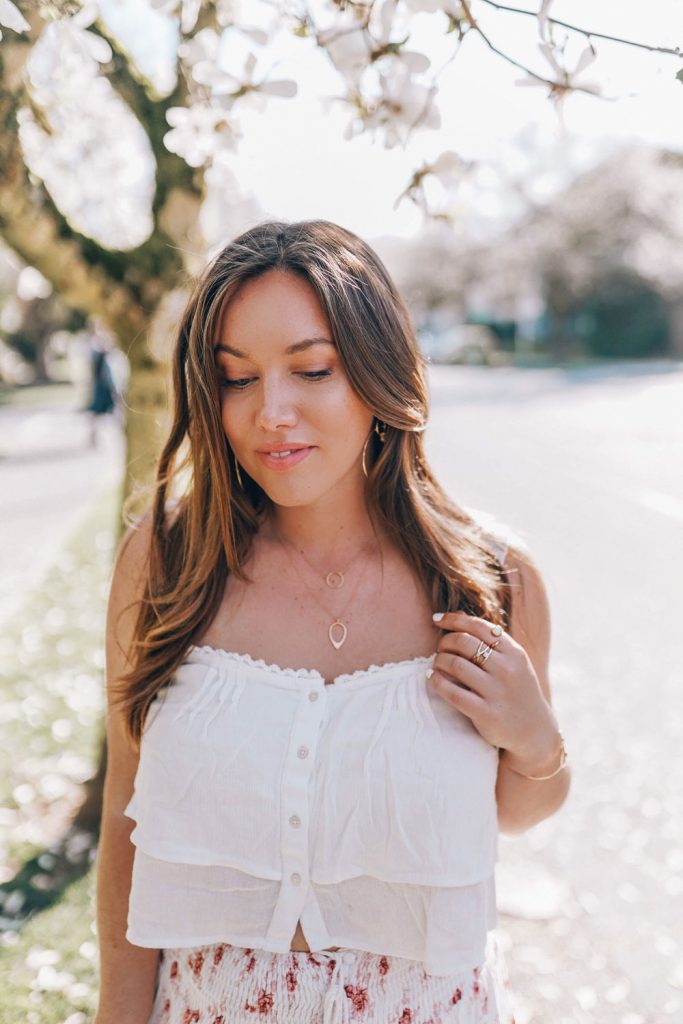 Finally, probably my fave earrings ever—the beautiful Melody Hoops, also in gold and aquamarine! I can't even with these hoops—they're just enough glam to seriously elevate your look, but I find they're super, super wearable. I would love these worn with jeans, espadrilles and a tee (see yesterday's post for a similar look) just as much as a beautiful summer dress. I'm going to get so much use out of these, I can already tell!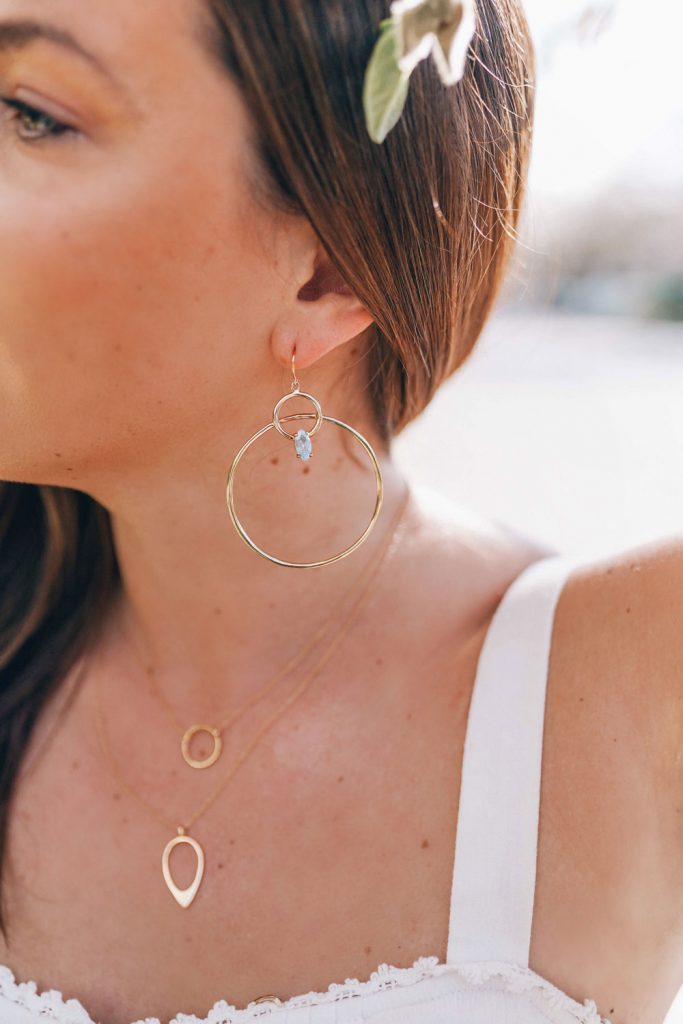 Speaking of hoops, I love the stud/hoop hybrid of the Pulse Earrings. These front-facing hoops (in my go-to gold-aquamarine combo) are so versatile and stunning—I love the double facets for the crystals, and they're the perfect size for daytime wear (though these would look gorge worn with seriously anything).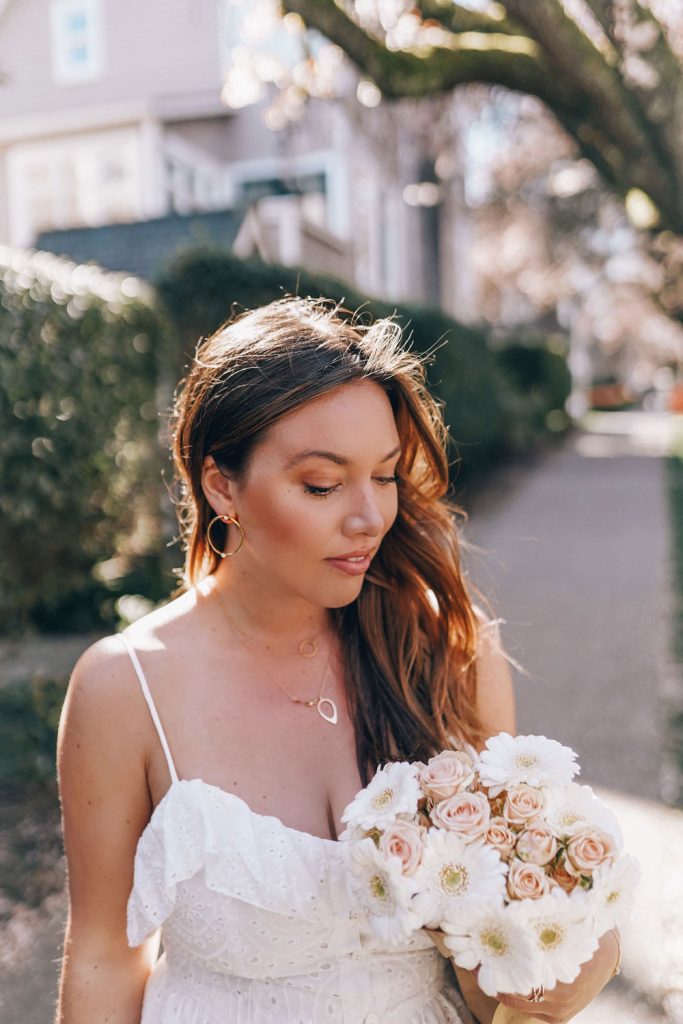 I'm also obsessed with, well…the Obsession Bracelet. It's the most wearable, elegant band and perfect for layering with other bracelets. I particularly love mixing sold metal bands like this with chains and non-metallic bracelets (even friendship bracelets!). Love this piece!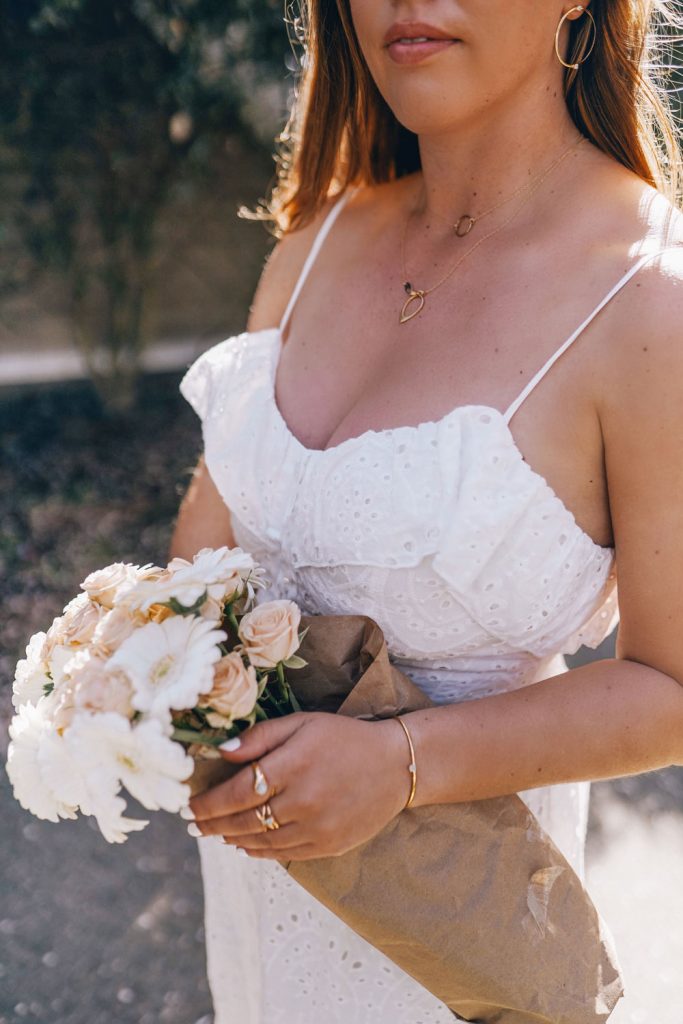 I'm really loving all of Sarah's gorgeous hoops, and the Solange Hoops (coming later this spring) are so gorgeous. They're this beautiful bold shape, and yet somehow super wearable. Hoops are so universally flattering and a pair like this that has an almost architectural element to it really could elevate the most basic look.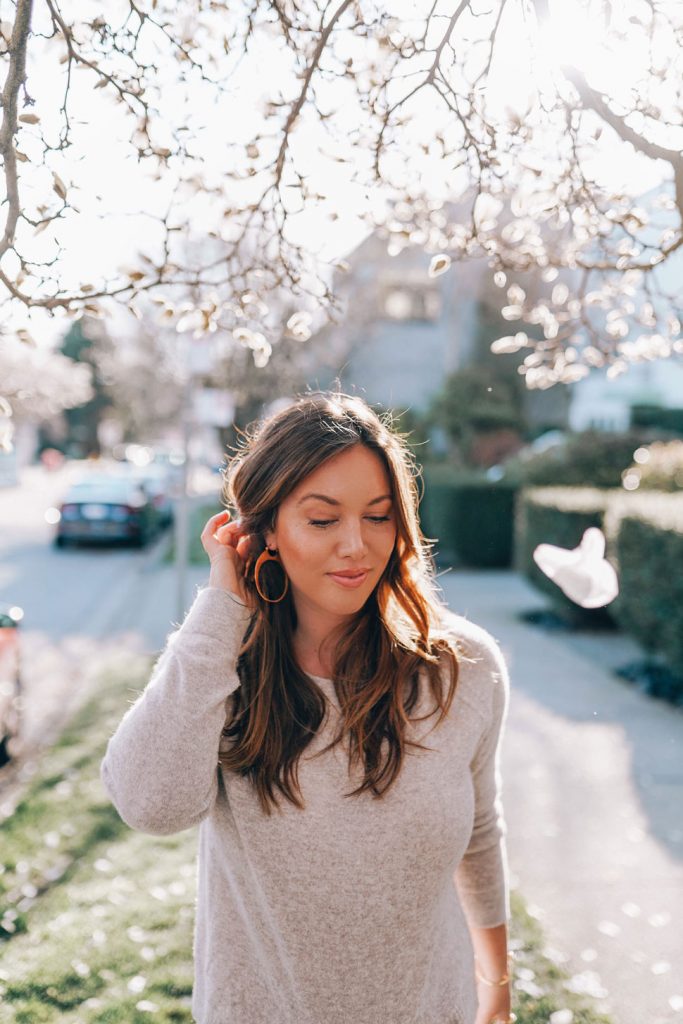 One note re: hoops & earrings: for years, I eschewed wearing earrings with any necklaces at all because the old adage was to only wear one or the other. While I think that can definitely be the case with more bold, costume-y style jewelry, I feel like with pieces like Sarah's that are really meant to be layered, you can totally pair earrings with necklaces and not have it look like too much. It's really all about the balance—I wouldn't pair these hoops with a really heavy necklace, for instance. But I think that more is more when it comes to stackable, layer-friendly pieces—it just adds more luxe and glamour to your look!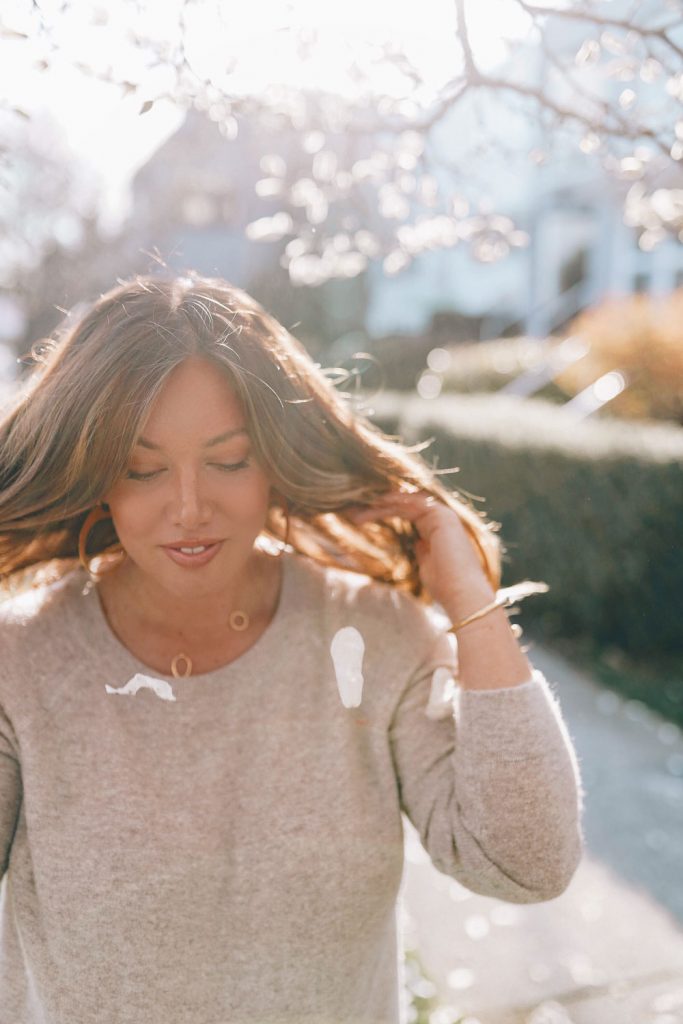 Speaking of a bolder piece, the Emerge Bracelet (coming soon too) is a bit of a stronger piece, like the Emerge ring. I might not stack more bracelets on this wrist because this is a bit of a standalone piece, and what a gorgeous standalone piece it is! I opted for aquamarine throughout because it just goes so well with my wardrobe—I tend to gravitate towards lighter tones and particularly love airy whites, creams, tans and blues, so this goes so well with that whole colour palette.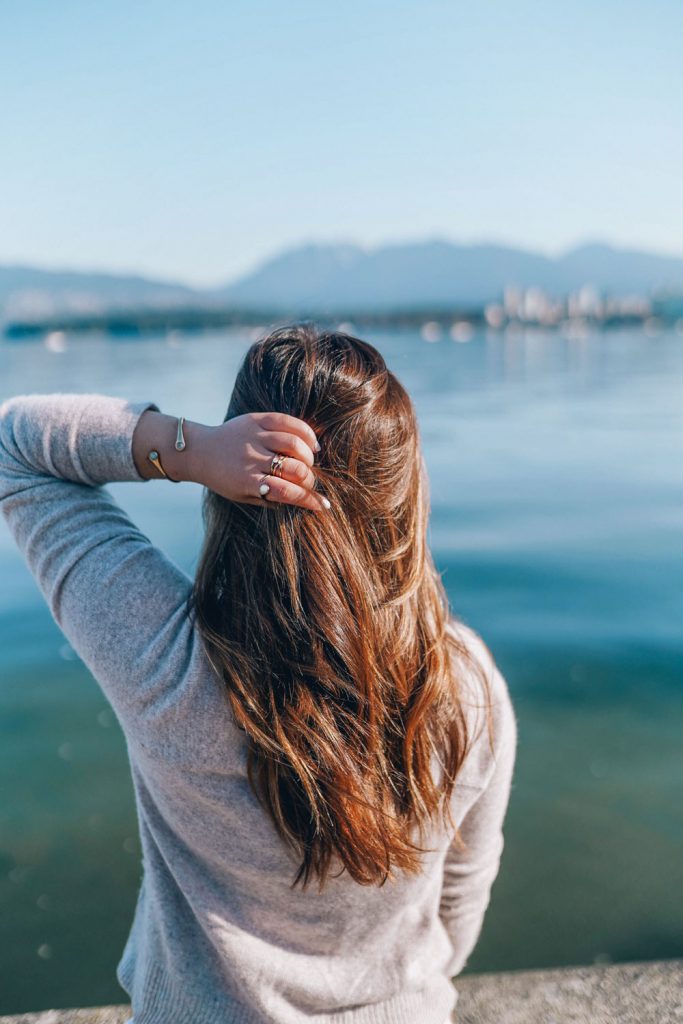 One last layering tip is that while bringing in some visual interest via different chain types, stones and shapes is key, if you can echo a shape or style with, for instance, a ring and bracelet (which conveniently the Emerge style does), you can add a bit of cohesion to your look too!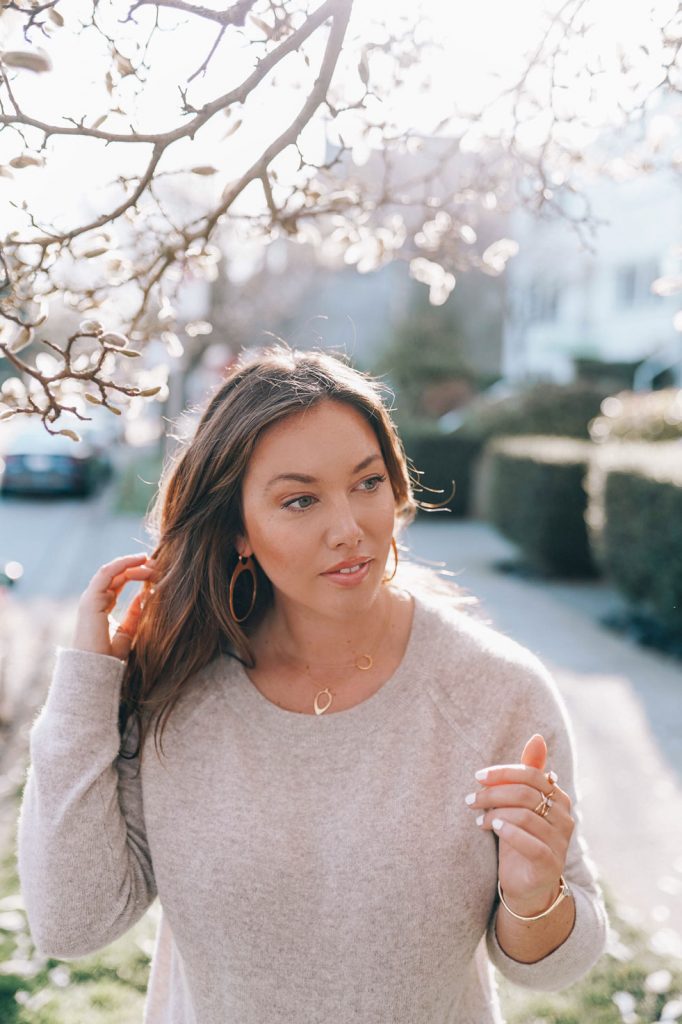 On a side note, these coffee shots from today and yesterday's posts are from Viva Fine Foods, one of the best coffee joints in the town! They very sweetly let us shoot here in the AM—they're my go-to for the most amazing flat white in town, and they're super dog friendly so I always hang out here with the pups and enjoy my coffee on a sunny Saturday!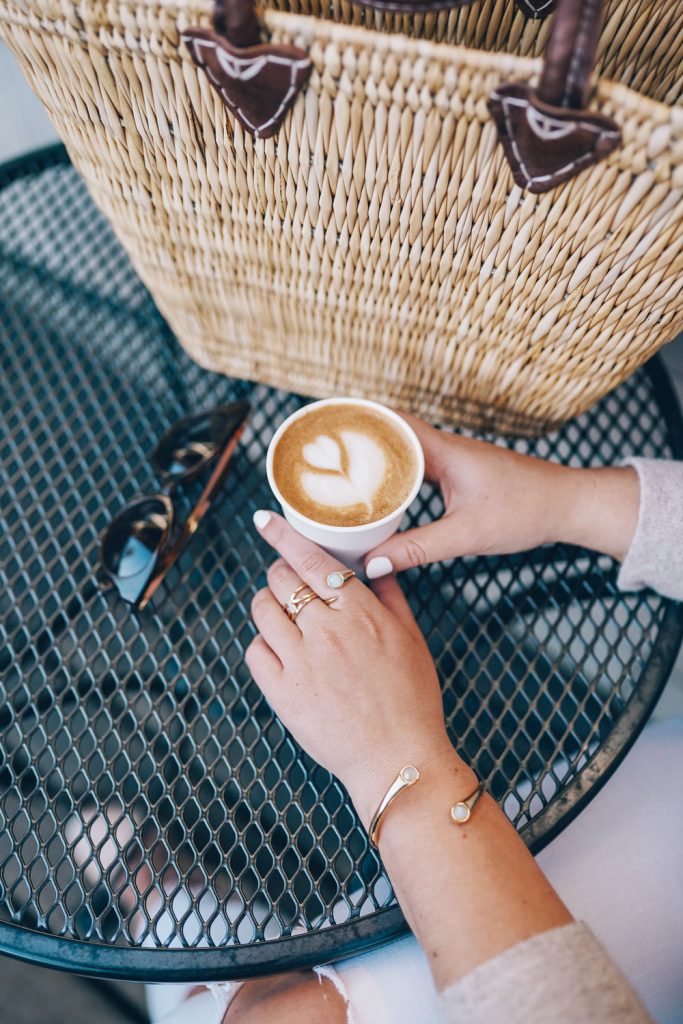 Hope you guys loved this quick little guide to getting the most out of your gorgeous jewels—make sure you shop Sarah's stunning pieces here, and stay tuned for her spring launch!