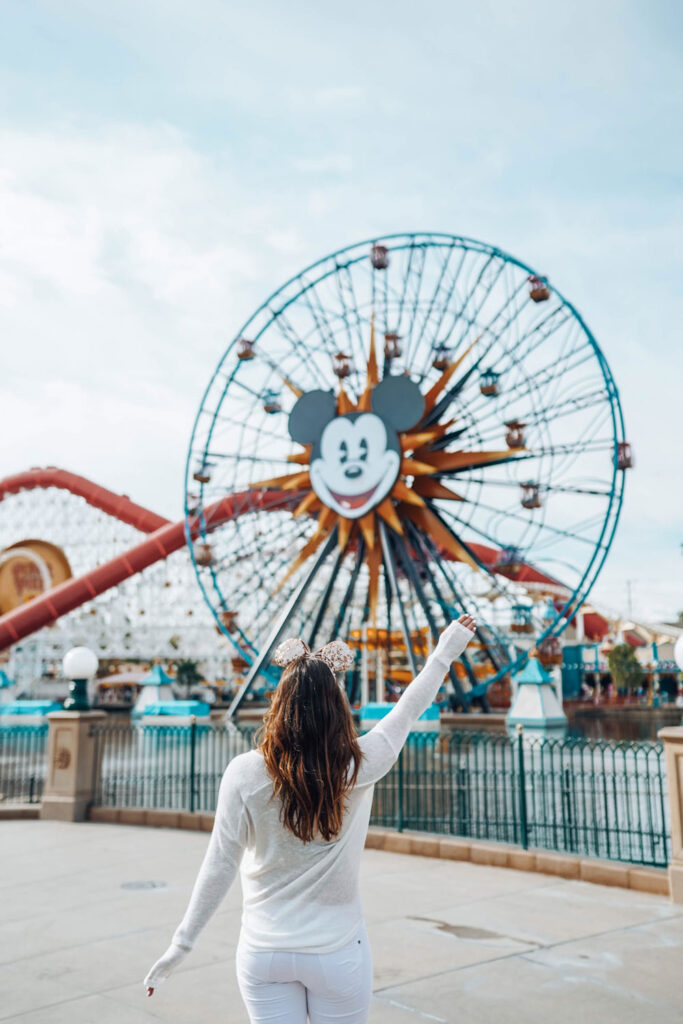 Guys!!! I am so sorry for having been gone for so long – from lots of travel to some personal issues to even having some tech things randomly that kept me a bit tied up for a bit, I just had to step back for a few weeks there and for that I'm so sorry! Sometimes it just happens. Happy to report everything is all good and I'll be coming at you now with a ton of content, and most importantly, very happy content – I mean, I'm sharing the first in a series of posts about the happiest place on earth! Yes, we're talking Disneyland – if you guys saw my Instas from this magical place, you likely already got a good sense of how incredible this experience was (particularly for a first-timer like me and my little sister, who have both never been before!). It was such an unbelievable trip that it actually worked out nicely that without intending to, I gave myself extra time to digest everything and map out how to share this all so that I could really share every tip, trick and experience you need to have to get the most out of this unbelievable destination.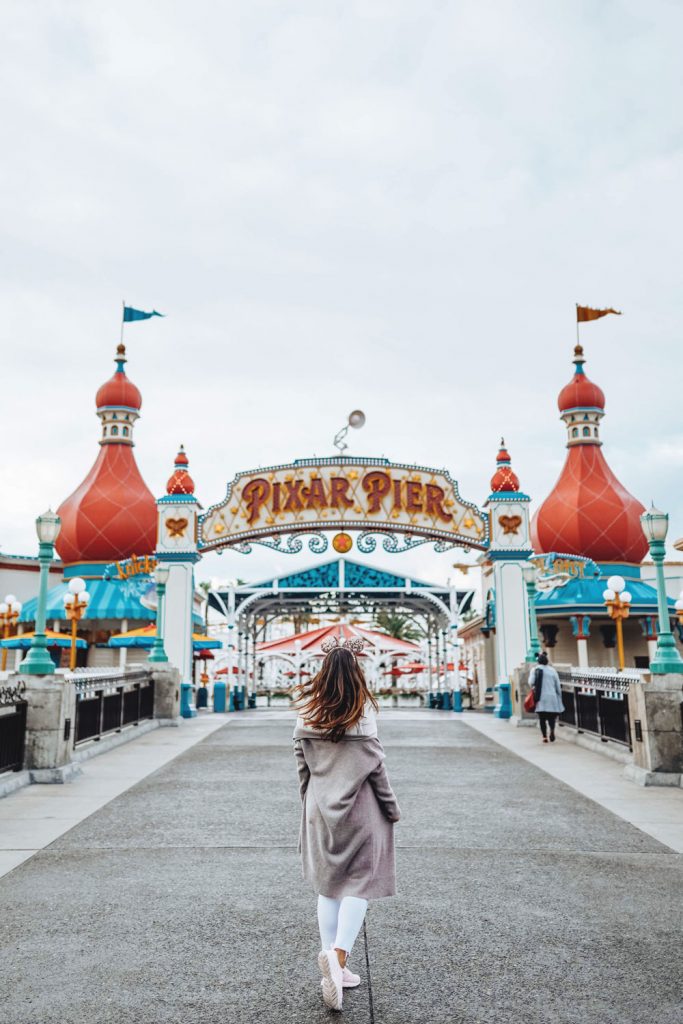 While I was initially going to just share a big, epic guide like my Yukon or Maui travel guides, I decided that since this is such a packed trip (and because a lot of you might be doing this with families, meaning you'll need to be that much more organized!) it'd be worth it to stretch out my guides over a few posts. Today, I want to share the essentials – everything you need in your back pocket to really get the most out of the trip, no matter how you tackle it. I'll be following up next week with my travel vlog as well as a sample itinerary, because having never been before that was the part that I really needed help with since there's just so much to do and see! So without further ado, let's dive into these essential tips!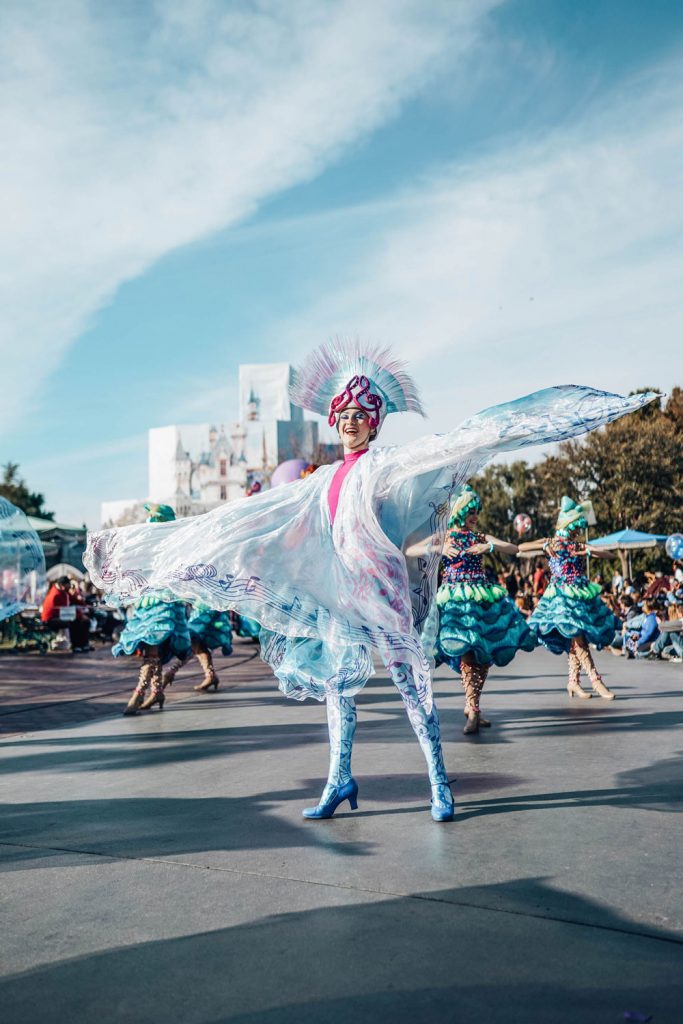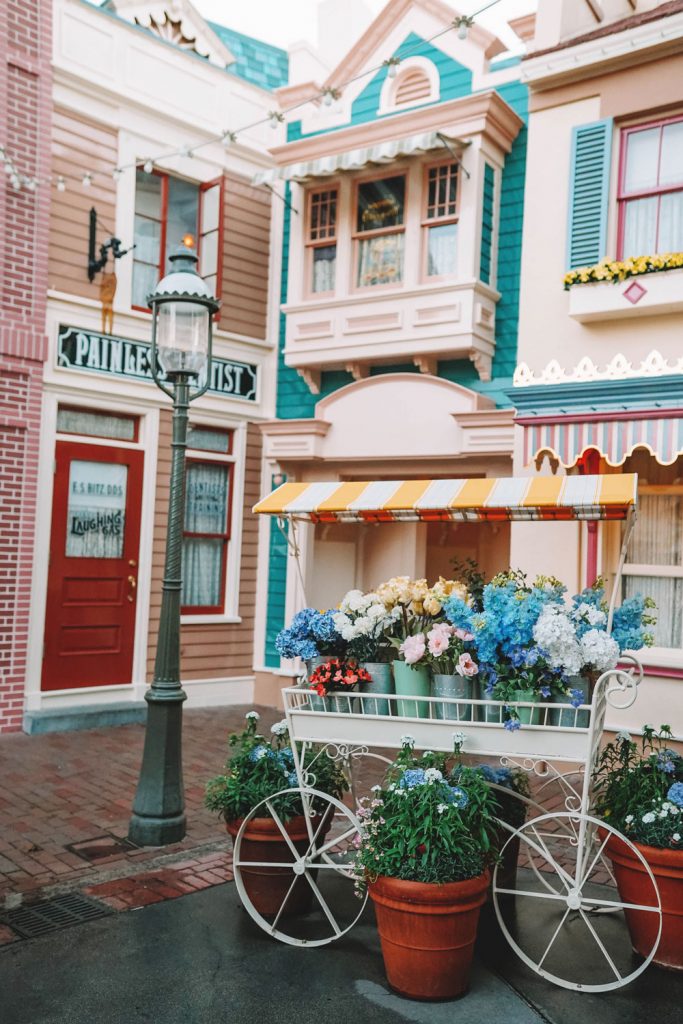 Disneyland is located in Anaheim, California – the best way to get there if you're flying in is to land in good old LAX and then either arrange for a car or rent a car and head into Disneyland – it'll take about 40 minutes depending on traffic so really not a big trek at all! If you haven't been before like me, then it's pretty amazing to head in and see how it's quite literally its own little city – the streets have "Disney" names and all the hotels located within the perimeters cater to Disneyland visitors. It's pretty amazing.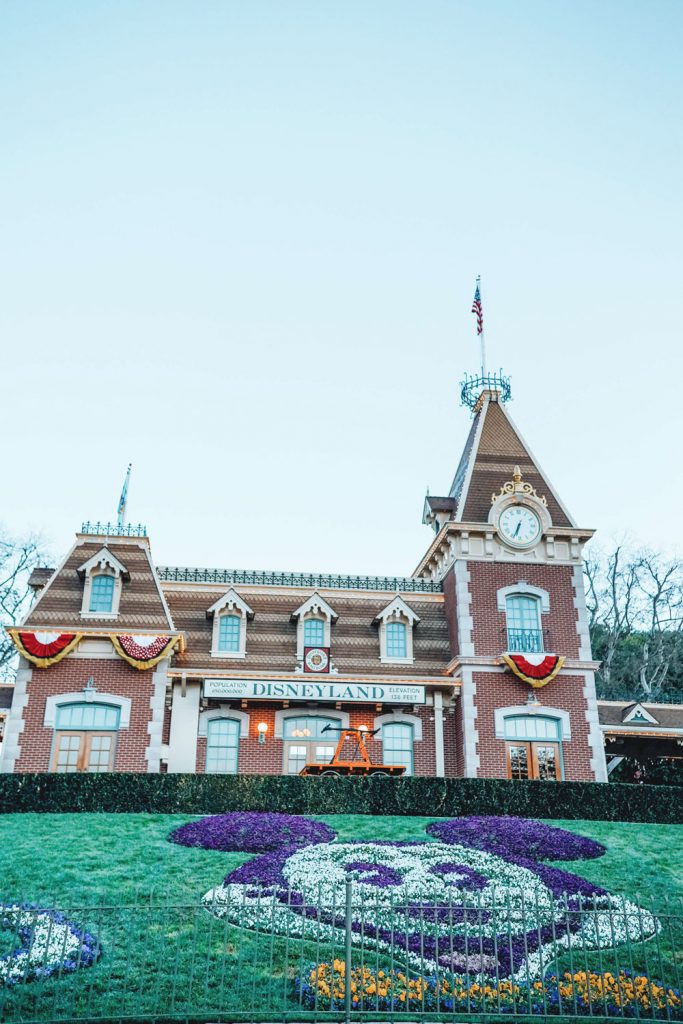 Disneyland itself is split into Disneyland Park and Disney California Adventure Park – if you're looking on a map, Disneyland is north of Disney California so you can always orient yourself easily between the two. You'll have to scan your ticket when entering either, so keep that in mind and factor in crossing over into the other park and potential lines if you're wanting to see both (which, FYI, you should!).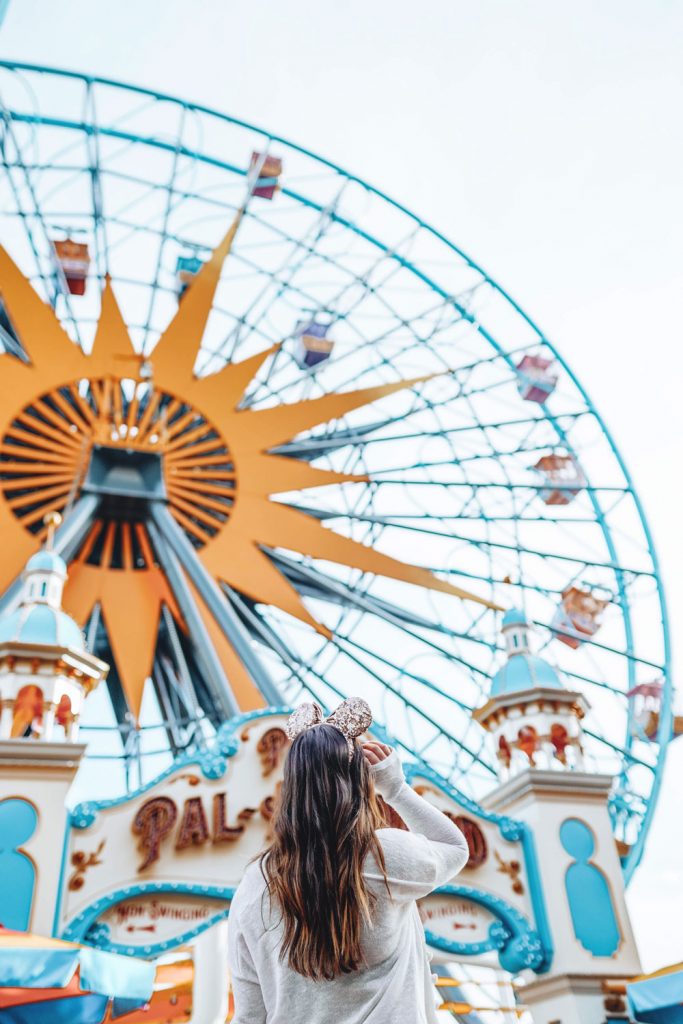 You guys probably know by now that I am a big history nerd – it's part of the reason I'm so drawn to travel! I love discovering the story behind everything, and for somewhere like Disneyland that is quite literally built upon fantasies, fairytales and dreams, it's really interesting to me to learn about the incredible legacy of Disneyland. Because I know not everyone is as tickled pink by facts as I am, here are just a few quick facts that I think are super interesting!
Disneyland first opened in 1955 – not only were celebrities invited to attend the opening, but the public was so excited, there were even people jumping the fence to come in! By all accounts, it was a bit of an insane opening but one that kickstarted one of the top tourist attractions in the world
Since opening, the park has had over 550 million guests, though of course, that number's changing every day so within months of this post going live it'll be far higher!
The top floor of the fire station on Main Street in Disneyland Park was used as Walt Disney's personal apartment – the park still keeps a light on in its window to this day as a tribute to its founder
There are a lot of firsts in Disneyland: the monorail is the first daily operating monorail to be opened in the Western Hemisphere (it opened in '59), and the Matterhorn Bobsled ride which is still running to this day (and so much fun PS) was the first tubular steel roller coaster in the world (it was also launched in '59!)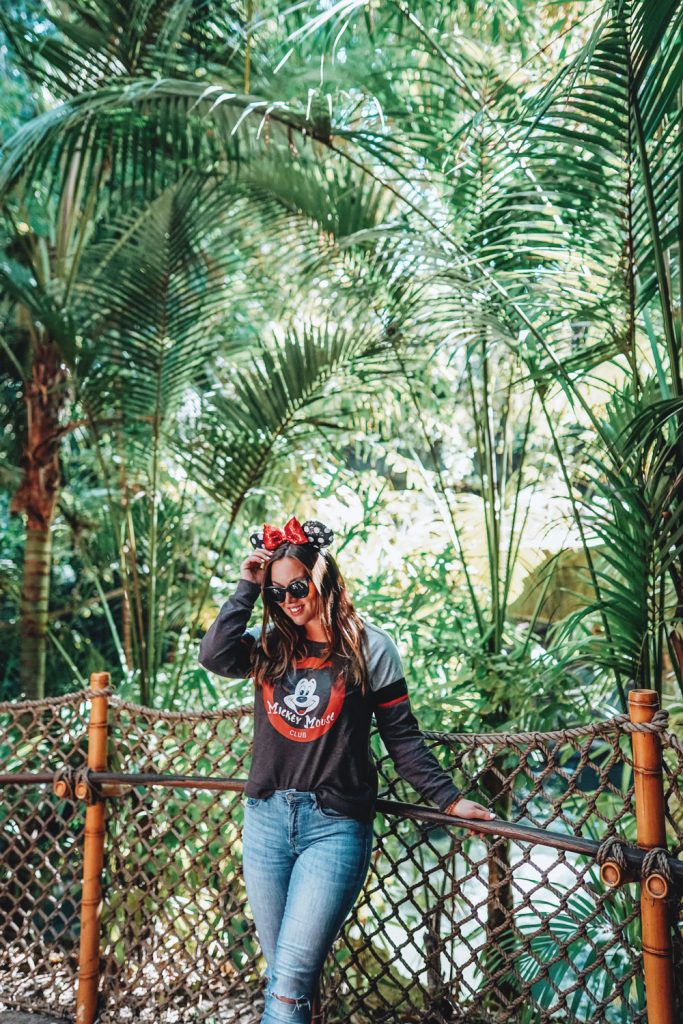 Really, there isn't a bad time to go. Being in California, you're never going to be freezing – having said that, if you're going over the late fall to early spring, while you might be a bit more chilled (we randomly had a little cold snap on our first day, but it fortunately warmed up a lot!) you'll experience fewer guests.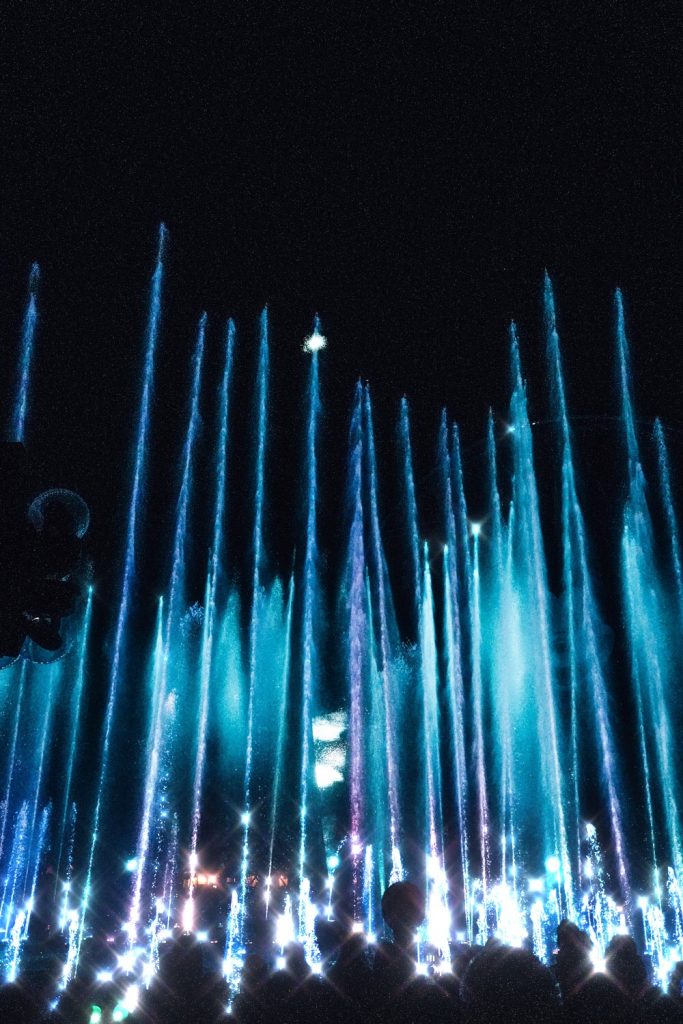 In a more specific sense though, the time of day that's best to go is first thing in the morning – get there as early as you can to really take advantage of the rides, ensuring that any rides you don't have a FASTPASS for (more on that in a second) you can line up for ASAP. The Pirates of the Caribbean ride in particular can get a wait so get in right away on that one! Another tip to keep in mind during the day is to take advantage of lunch breaks – either eat earlier or later so that during noon to 1:30, while others are breaking for lunch, you're hitting up a ride! Finally, it's well worth staying in the evening not only for the fireworks but for amazing events like the World of Color event – we were all pretty much in tears experiencing this. I'll be sharing more of it in the vlog because quite frankly, it's hard to put in words how magical this light, music, colour and water show was. Long story short, prep yourself physically and mentally for a full day from sun up to sun down and you'll truly get the most out of your Disneyland experience!

Initially, when I first started packing I kind of went along my usual guidelines for warmer weather style – cute dresses, cute flats, etc. But not only did I have to pivot slightly when I saw we'd have a little dip in temperature, but when I also put more thought to what we'd be doing – from going on fast rides like Splash Mountain (SO FUN) to walking upwards of 30,000 steps a day to needing to be warm in both the early mornings and evenings, I needed to put an emphasis on comfort (while also ideally still having some style!).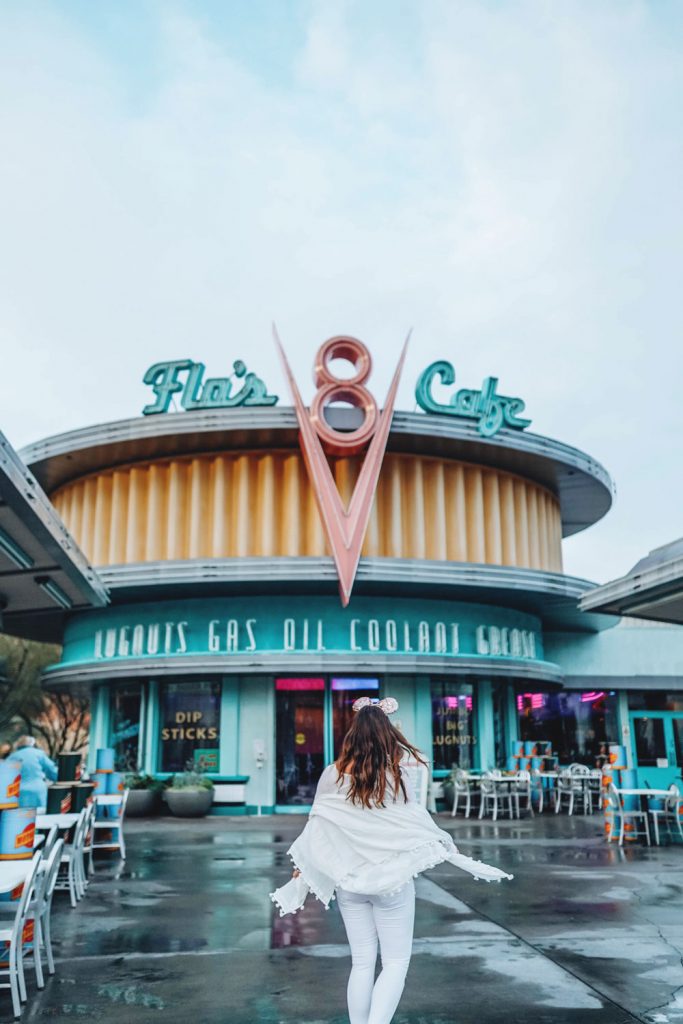 This is my essential Disneyland outfit that I ended up with and basically didn't deviate from the entire trip:
a pair of comfy skinny jeans (I like white skinnies for a bit of freshness, as well as some cute blue denim)
a sweatshirt that I can shed and tie around my waist later in the day
a cute tank or T-shirt (bonus points if it's Disney-themed)
my APL sneakers in blush pink (which worked nicely with all the pastels around me) or my All Birds sneakers
my Minnie ears! The most essential component
I feel like a cute T-shirt dress or denim skirt/shorts would also be super cute and comfy (I'd maybe just opt for some shorts under the dress if you're doing any rides just so you don't have a wardrobe malfunction), but given that it was a bit chillier while we were there, I was all about the ease of denim.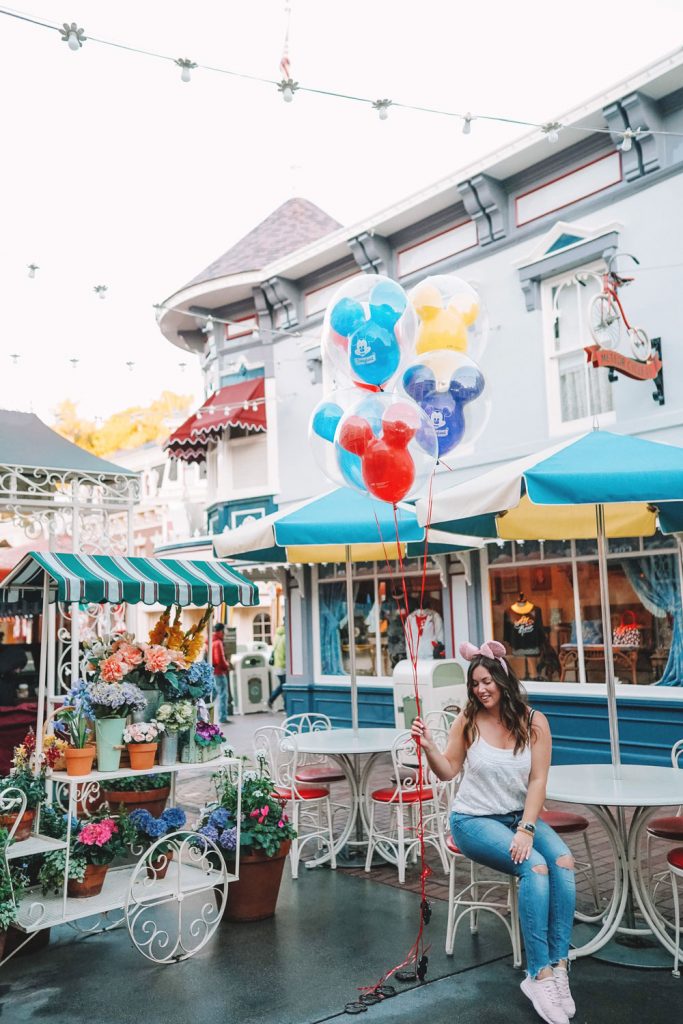 Things to leave at home: super expensive sunglasses (the risk of losing them is just far too high), any loose or bulky jewelry, flouncy skirts, IMO anything with a heel unless you're blessed with zero back issues, and while you see it pictured here, any scarves – I found mine was becoming a nuisance so ended up actually ditching it back in the hotel room after we snapped some of the pics you'll see here with it in them. Of course, this is all just my personal advice and based off of an intense, packed day – if you want to wear a scarf and have an easy way to stow it, by all means, go for the scarf!! I just found less was more in my experience.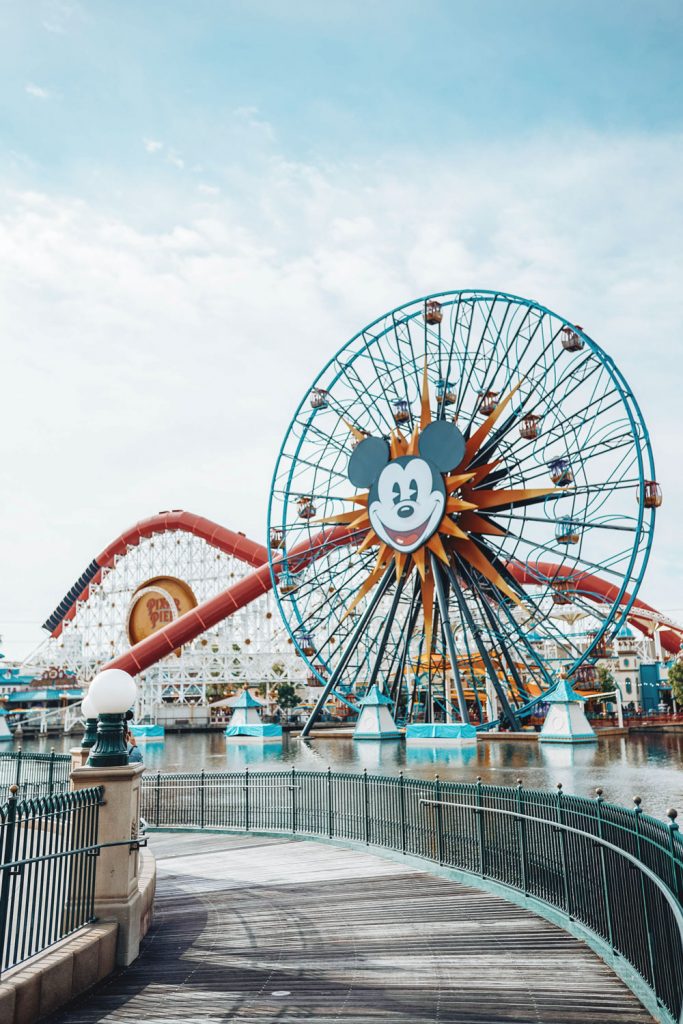 Just think of things that will stay close to your body, that are comfy, that allow you to move easily and that you can store easily (if you get too warm, or in the case of accessories like your ears or sunnies, picking bags that will easily hold them like a cute backpack or a tote [one that zips though, think of the rides!]).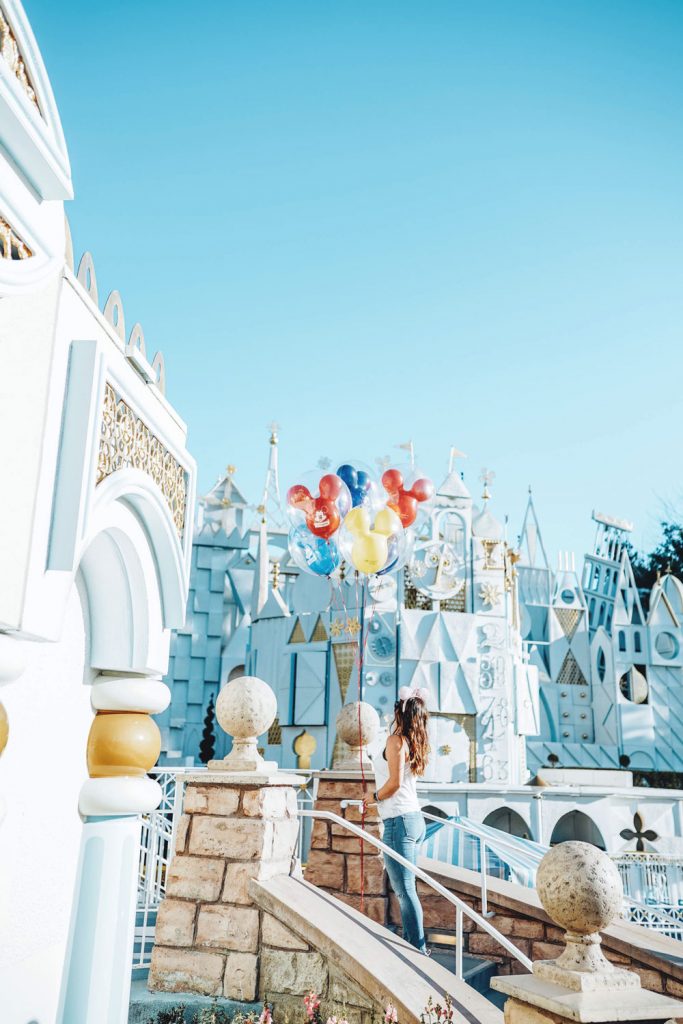 Other key things to remember are:
a cheap rain poncho (think a Dollar Store purchase), not only for inclement weather but for Splash Mountain! You will most certainly get wet
some bandaids in case you get a cut or your shoes are rubbing you
a little sunscreen stick as you'll be out and about all day (sun safety!)
a water bottle to refill throughout the day
a power bank for your phone or other electronics
a lanyard or other clear, easy-to-store pouch for your tickets and any passes you have
a little bottle of Advil or Tylenol if you're prone to any aches or pains
hand sanitizer
if you're looking to fill up on autographs, your autograph book and pen! My little sister was getting autographs aplenty, basically hyperventilating every time (she's 27 PS)

I'll be getting into this in much more depth in my sample itinerary, but there are some things you absolutely should know to go to before even getting into specifics (i.e. rides, restaurants, etc). Here are some broken down by park:
Disneyland Park
The Sleeping Beauty Castle, the most iconic part of the park! Unfortunately (well fortunately in the long run), it was getting a little makeover while we were there so I'll have to see it in all its splendour another time, but you should absolutely take some time to get a beautiful snap with this iconic castle. Interesting fact: its drawbridge actually works!
Main Street, USA: the entrance to the park opens right up to it, so you can't miss it! It's so gorgeous with its beautiful shops, town hall and fire station, along with a view right down the street of the castle!
The Train Station: Matt suggested that the first thing we do is hop on the train and take a tour of Disneyland Park, and it was a really amazing way to get our bearings and get a sense of everything the park has to offer! If you're a bit tired from travelling in on your first day, this is a nice, relaxing way to take in the park.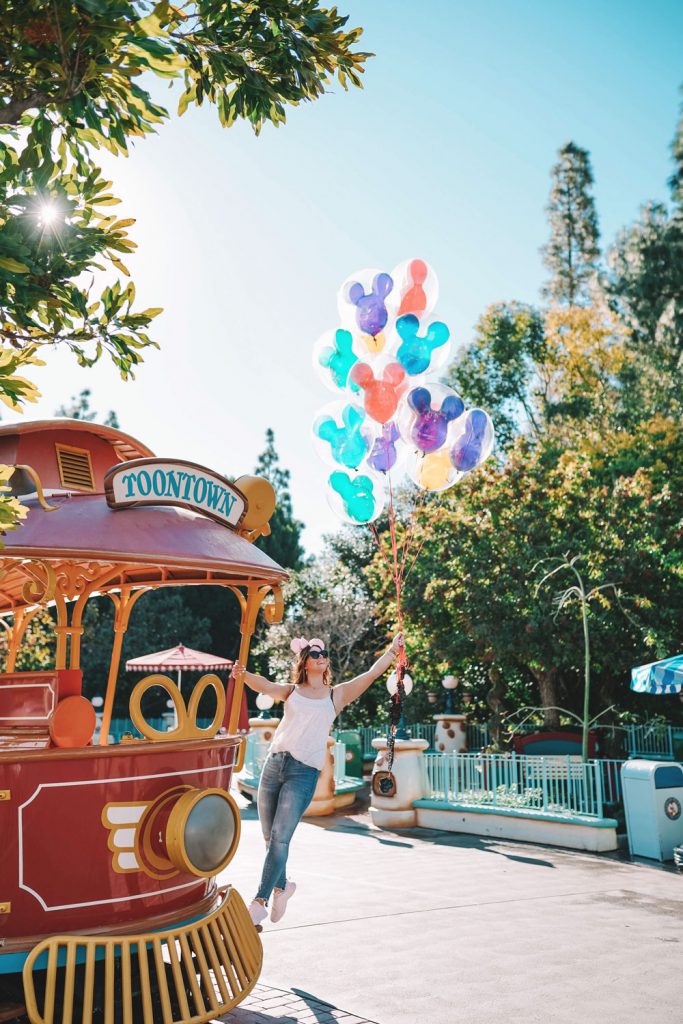 Mickey's Toontown pictured above is just about the cutest place you could ever dream up. It's basically like a cartoon show come to life!
New Orleans Square not only has some of the best food in the park, but it's really gorgeous – so much attention to detail throughout the whole park but walking through here really feels like you're being transported to New Orleans!
Frontierland is a really fun part of the park where there are a bunch of key rides to take in as well as some gorgeous natural scenery. Carry on through here to get to Critter Country, which boasts more of the same wilderness vibes as Frontierland!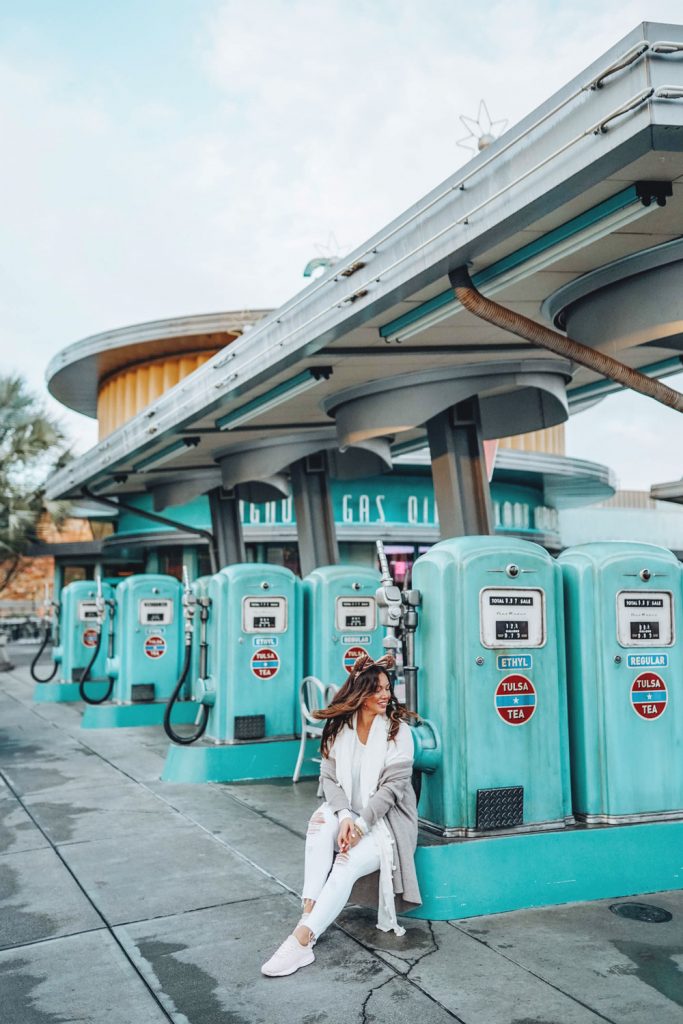 Adventureland is basically a tropical paradise – I'll be getting into where to eat in the itinerary, but psssst my faves are here! Especially the Dole Whip, which I'm still dreaming about to this day.
Fantasyland is home to some of the richest history of Disneyland, and it's basically my childhood fantasies and dreams come to life.
Tomorrowland as its name suggests is where you'll find all the fantastic Star Wars experiences and rides, along with other futuristic rides like Space Mountain!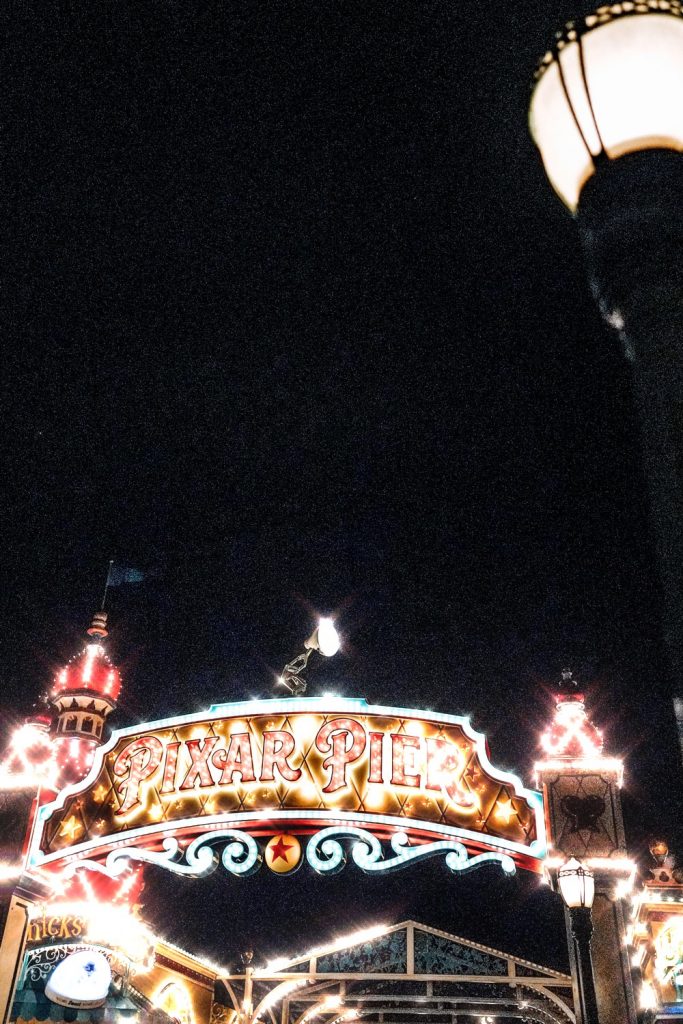 Disney California Adventure
Cars Land: so fun! One of my fave rides was Radiator Springs Racers (and apparently I share that opinion with a lot of other people because it's one of the most popular rides in all of Disneyland) and in general, I just loved this area. Gorgeous photo ops here too thanks to all the amazing '50s vibes.
Hollywood Land is exactly as it sounds – glam! This is where you can find the Guardians of the Galaxy ride, tons of great food and of course, two rows of palm trees, this being Hollywood!
Pixar Pier is one of my favourite parts out of the collective Disneyland area. It's just so well done and so gorgeous – also, a ton of amazing rides and great places to eat here. If you're looking for a photo op, this is your place!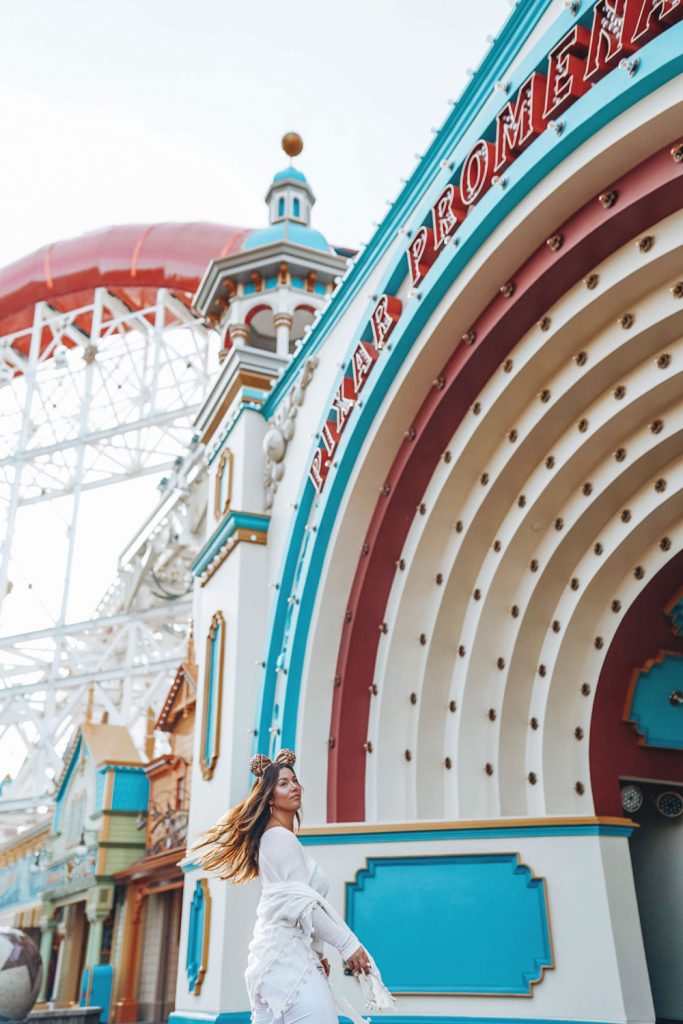 I'll have you covered with a more immersive view at it all next week, but I can't stress enough what a magical experience it was staying at Disney's Grand Californian Resort. From the fairytale lobby to the details in each room, it was like staying in a Disney movie come to life. Stay posted for more details in the itinerary and vlog!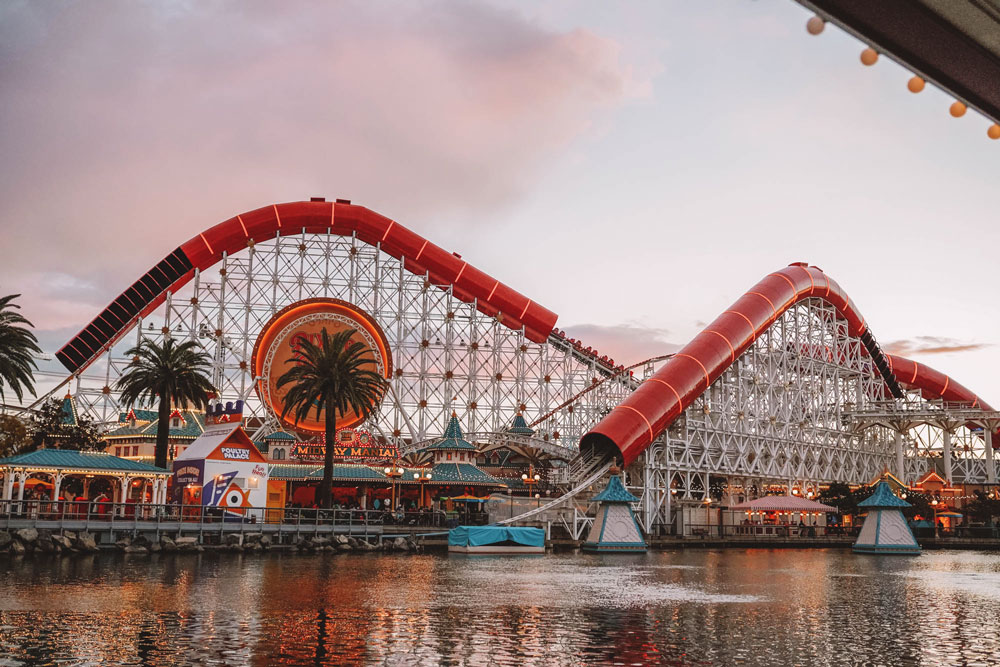 A very important section! First of all, you need to download the app. It saved us so much time trying to figure out which rides to do with live updates on wait times, it helped us get our bearings and navigate around on our first day (before we became total pros) and you can even book your FASTPASS through the app. Not every attraction, airline or travel group has great apps – Disneyland is definitely one of the ones who did it right. It was so easy to use and also a real asset because you can store all your ticket information on here, meaning if you're with your family or group you can literally just swipe through and scan all your tickets on one phone!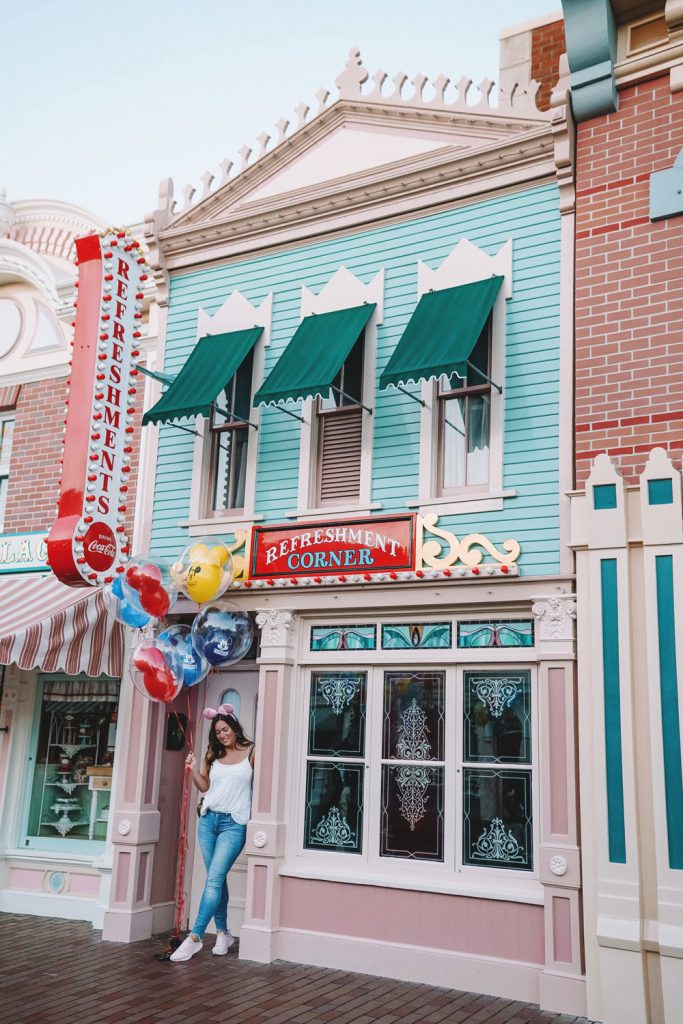 Now, getting a MaxPass is a must – it basically allows you to book a FASTPASS for certain windows of time, allowing you to enter a much faster line (if there is a line for FASTPASS) and get to the rides you want to do way more quickly and pack in much more! You can learn more about MaxPass here!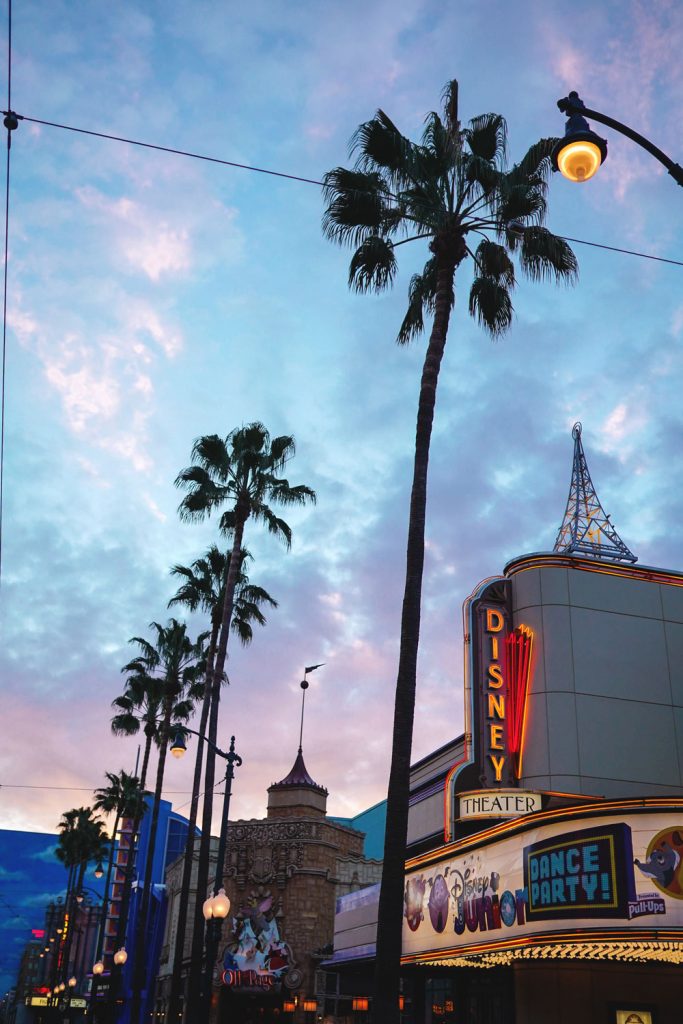 Being northern neighbours to California, Disneyland has some really incredible offers specific to Canadians. There's currently a special Canadian Resident Ticket Offer that's only running until April 11th so if you're thinking about going over the next year, really encourage you to look into the special offers available to you now! Of course, if you're not Canadian, there are still amazing offers that are rolled out throughout the year – just stop by the Special Offers page to see what's available!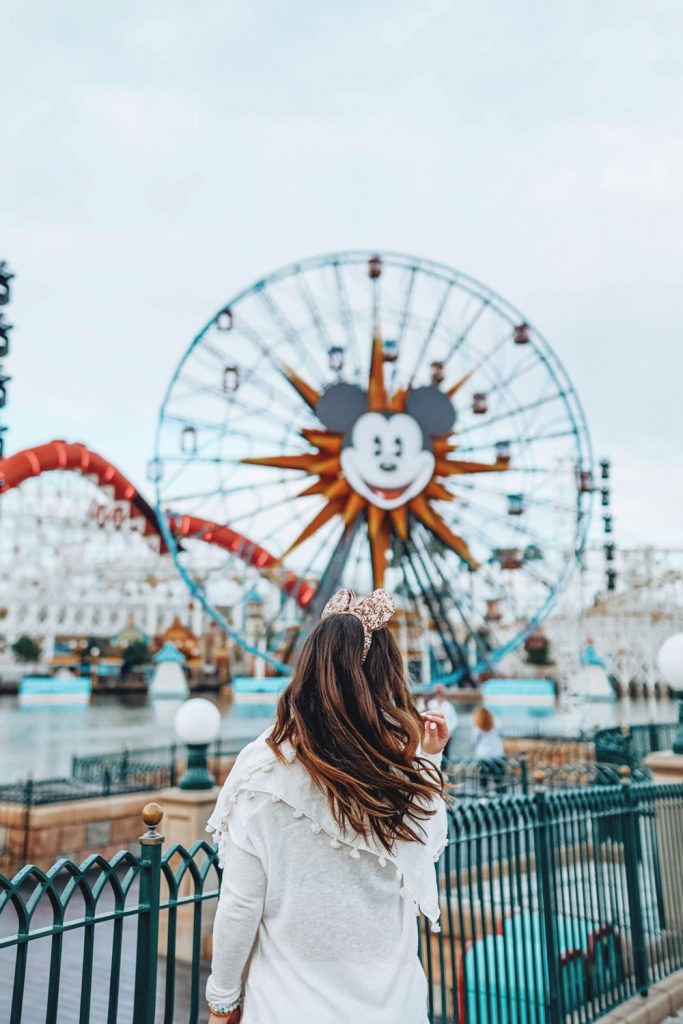 I honestly can't wait to share even more from this special place soon – seriously, this was such a magic experience for me and I'm so grateful I got to experience Disneyland finally in such a special way! It really does bring you back to your childhood and strip away all our adult worries and stresses while we're there – I'm so excited to experience this down the road with Matt (who having lived in California, is a Disneyland veteran having gone like 40 times), and way down the road, maybe some little kiddos too. It was pretty magical seeing the way the little ones' faces were so lit up and seeing their wonder in the whole experience.
Have you guys been to Disneyland before? Would love to hear if you have any additional must-do tips! Tell me in the comments below!