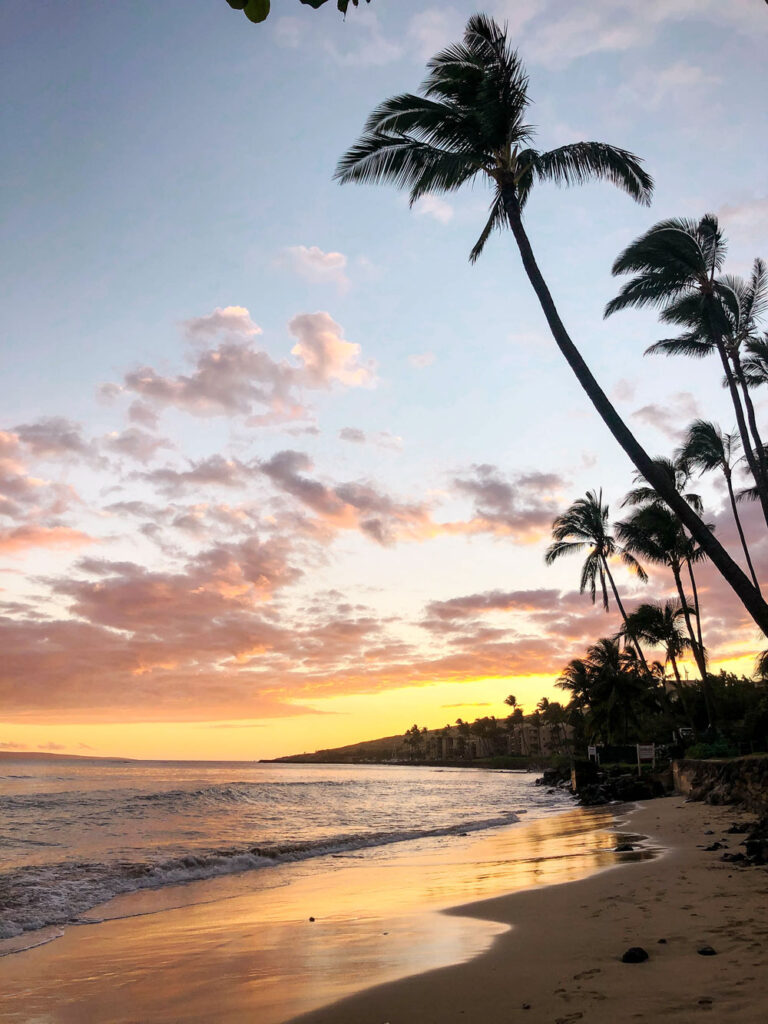 I'm a big believer that everyone should have a couple happy places that are like second homes to them – it doesn't have to be far-flung or exotic (one of mine is the Sunshine Coast, really not that far from Vancouver at all!) but it's important to have a place where the moment you step out there, you feel the tension melt from your shoulders, the pace of life slows and you feel, in one word, happy. Other than the Sunshine Coast, for me that place is Maui, where I've been going about once a year for years and years now. It's a really special place to me not only because of all the magic it holds (the sun, the wildlife, the ocean, the waves, the hikes, the food, the people, etc) but because I've kind of created my own homey vibes there. I basically stay at the same place every time, have my go-to beaches, etc. It just feels like a place where I don't have to do a debriefing when I land and feel compelled to take on a ton because I've been so much – I can literally just chill out. Give the video below a watch and see how I spent my last trip there – literally doing absolutely nothing but relaxing and it was glorious!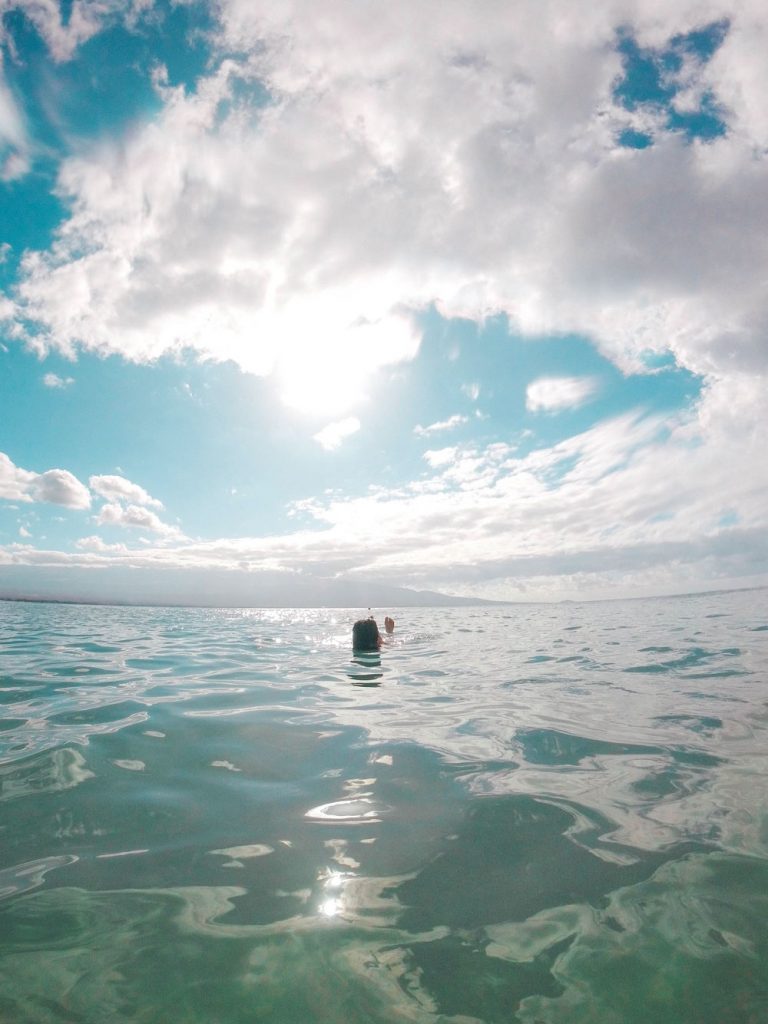 While I don't always love stacking my Maui trips full of sightseeing when I head back to this magic island these days, because of the sheer number of times I've been there I felt like it was really important to pull together a total guide – I have lots of other guides to Maui in this category here but since this is a destination I get asked to cover so much, I felt like it was really necessary to make a one-stop resource!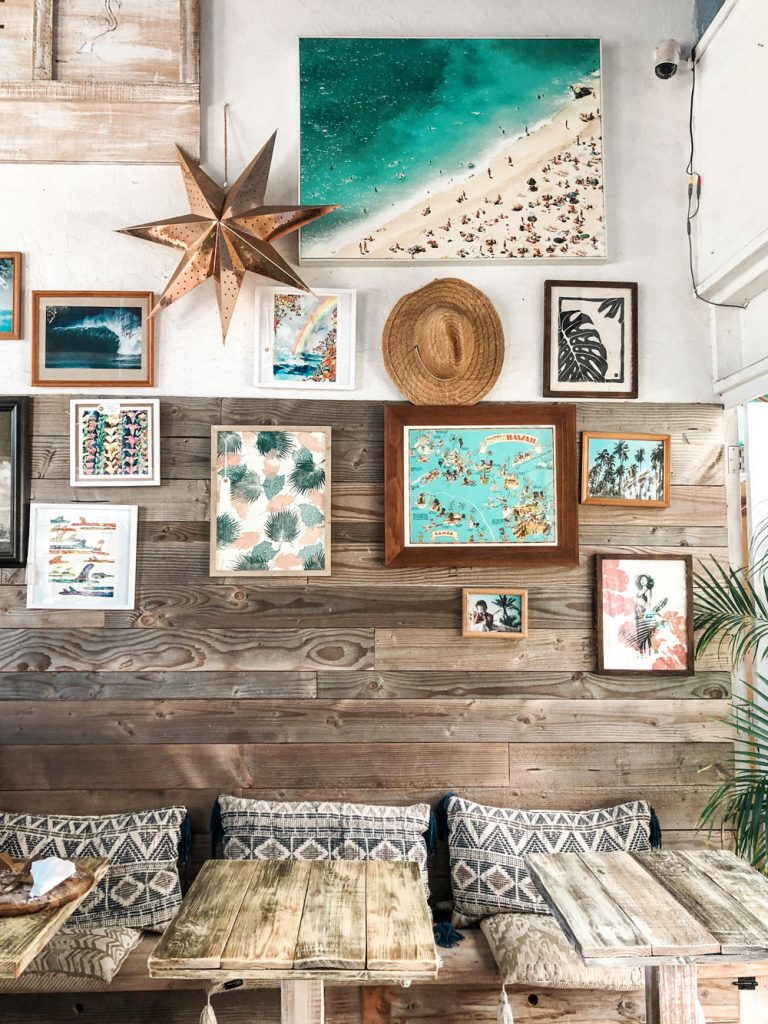 Read on to get the skinny on where to eat, what to see, lay of the land, my favourite beaches, places I'd suggest staying and so much more!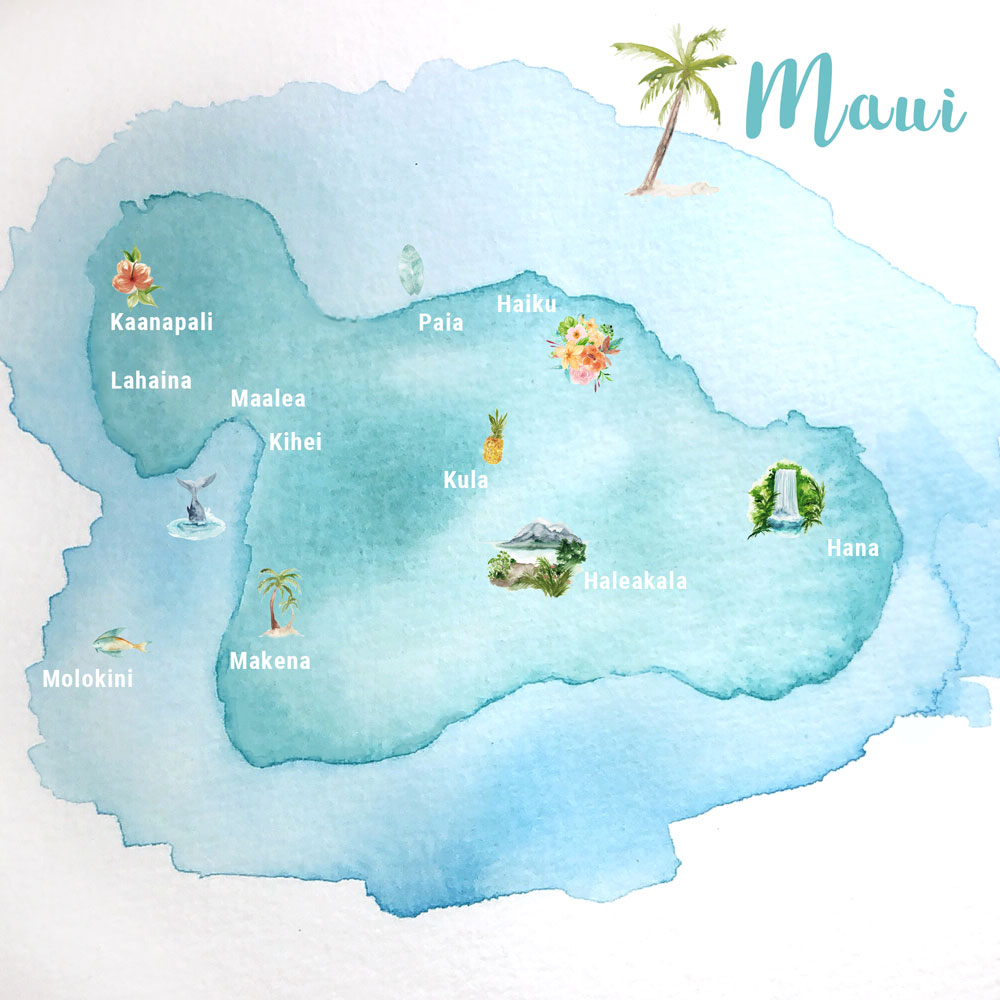 I thought it'd be handy to have a little sense of where everything is before we dive in! Here's a quick look at some main go-to's on the island: as you can see, most things are on the west and north sides, with the wilderness of Hana and the greenery surrounding Haleakala taking up much of the east side of the island. It's the second largest of the Hawaiian Islands so there's a decent amount to cover, especially for first-time visitors!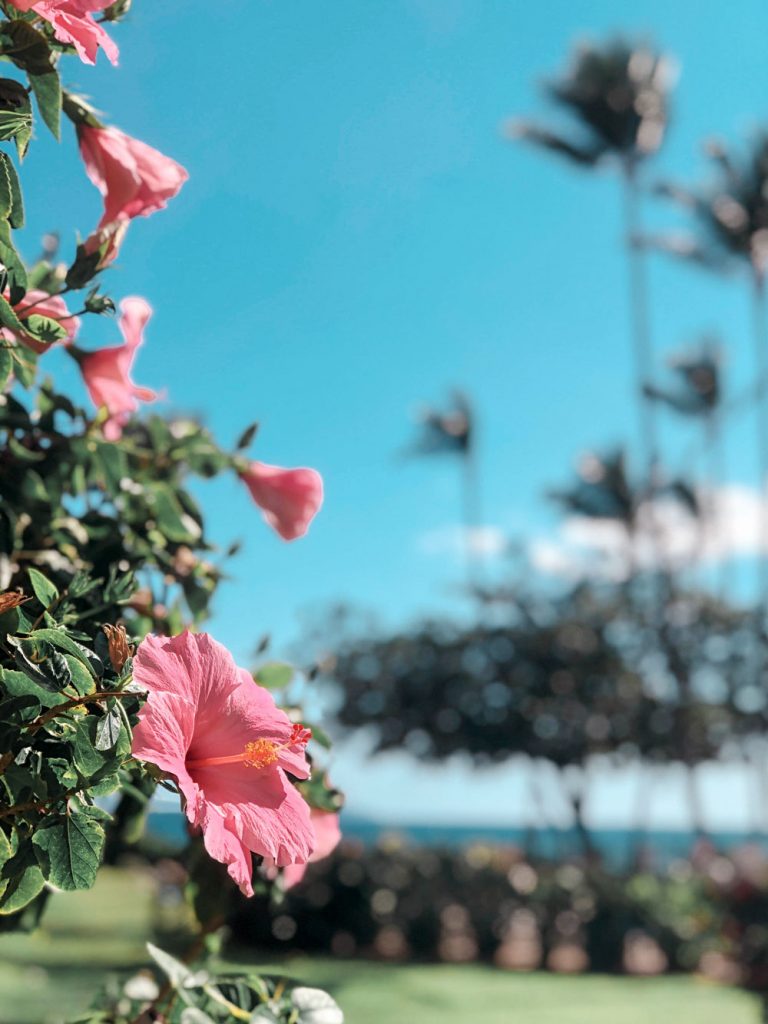 One thing: you need a car. It's really hard to get around here otherwise (unless you're doing a biking trip or something). From Point A to Point B, you'll never usually be driving that long (unless you're doing the Road to Hana, more on that in a bit) but you've got to hit highways a lot to get around and especially if you're planning on surfing, boogie boarding, paddle boarding, etc, it's worth having a decent car to strap on to.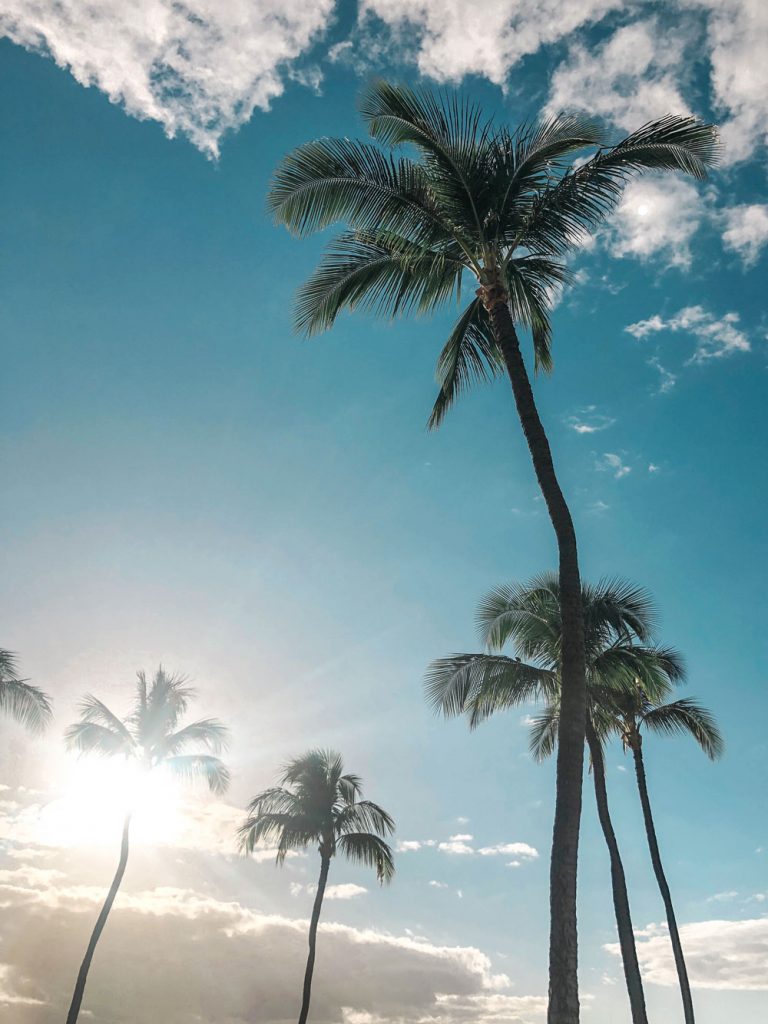 I am a loyal Kihei Rent A Car customer – they're the best. Great service, great shuttles from the airport in Kahului and consistent and good prices. They're family-run (you'll often find the yummiest bananas from one of the owner's grandmother's house in Hana there upon arrival!) and friendly – it always feels good to support a small, family-run business! It's really easy to get around so don't feel like you need any particular car, but a Jeep or truck is pretty fun to drive on the island. Signs are everywhere though so don't worry about getting lost (and if you need data if you're coming in from Canada, just get a SIM card from Roam or with one of your service providers).

This is a big one! While as you can see from the video above we really took it easy this trip and didn't do as much running around the island, over the years I've covered a ton of ground so I have a lot of tips (and even some pics, don't mind the passé filters!) from past trips included in here too!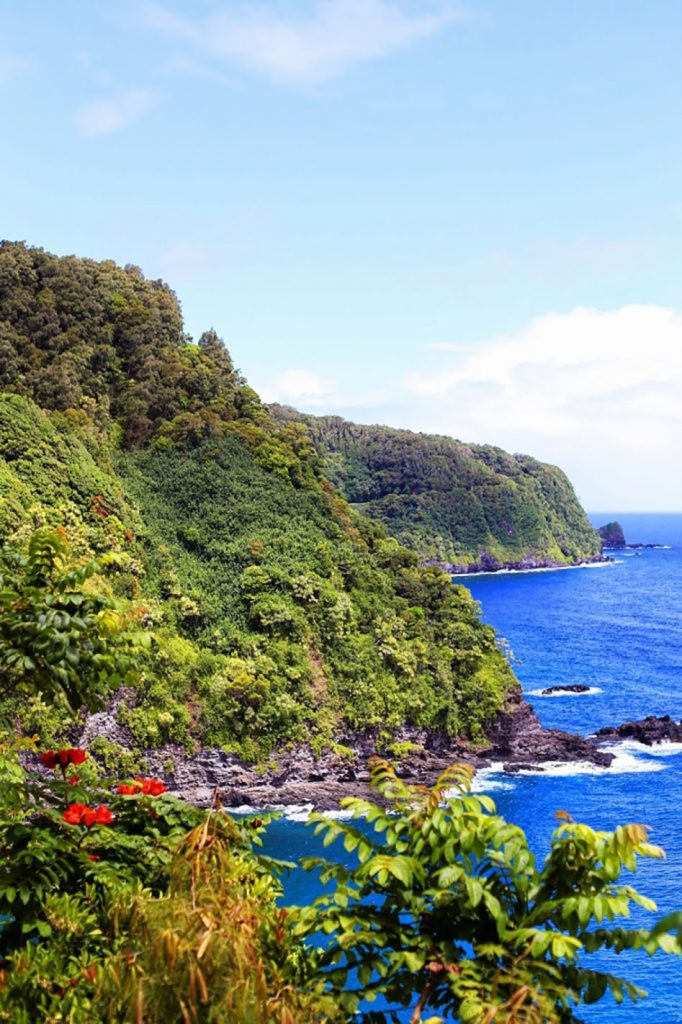 The Road to Hana: this might be the first one you hear of when people talk about Maui and for good reason! It's definitely a full day trip (some people like to stay overnight in Hana, either camping or staying at an inn or hotel). The nice thing is that once you've done it, you really don't have to do it again (unless you want to, of course – I've done it multiple times!). You can follow along to a taped guide (the people at Kihei Rent A Car have them on offer) or you can just DIY it. It's an absolute must though, from seeing the taro fields from above to the black sand beach to gorgeous waterfalls to stopping at Coconut Glen's for some of the best ice cream ever (and the coconut chips!) to the Seven Sacred Pools of Ohe'o to soooooo much more, it's a seriously special experience. You can see more snaps in this older post of mine!
The Maui Swap Meet: this is a particular thing my family and I like to do and I don't know if it's for everyone but honestly, I love it so I feel like including it! Every Saturday by the university, hundreds of local vendors come together to sell everything at the swap meet from the best fruit pops you'll ever taste (I seriously dream of the mango-mint one) to local art to after-sun gel that miraculously cures your sunburns! I'm a big collector of things while travelling and I have a couple beautiful paintings that are particularly special to me that I got from the swap meet over the years (shout out to Phil Soo, who I keep trying to find again year after year and who painted my fave painting ever!). I feel like instead of buying from the touristy shops in Wailea, Lahaina et al, this is something a bit more special and it's just fun! Do it early (it opens at 7AM) so that you have the rest of your day to beach it.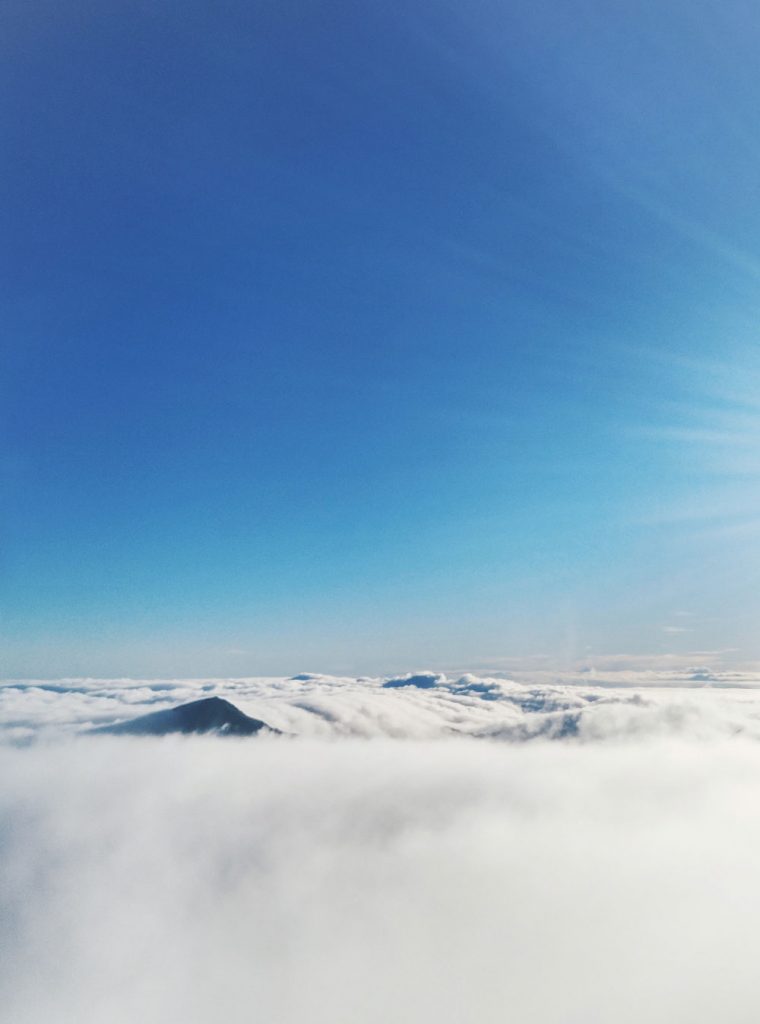 Visit Haleakalā at sunrise: pictured above emerging from the clouds, Haleakalā is a dormant volcano and it is pretty much the most amazing experience to make the crawl up there for sunrise. I specify sunrise because personally, I'd much rather front-load a trip and do the driving in the dark on the way up than to do the climb back down in the dark and have that weighing on you as you're trying to soak in the magic of it. You also don't have any time constraints on you this way, so you can literally hike it and spend as much time as you'd like there! Know that Haleakalā does drawn in the clouds so try to pick a clear day, though even on a cloudy day, you can get lucky – it was pouring rain the last time I went and right as the sun broke through, it burned through the clouds! It was pretty magical. Little tip: make sure you bring layers up here! It gets pretty chilly so you want to dress warmly. Also make sure you have some good shoes on to do the hike.
Go on a Molokini snorkelling tour: I don't like doing a ton of guided tours but this one is worth it because you can't get out by yourself really. We went with Trilogy Excursions before and they were fantastic – they took us by Turtle Town first (an area where the honu abound next to Wailea) before cruising to Molokini, the famous crescent-shaped crater where I experienced some of the (if not the) most clear water of my life. I've also done whale watching tours in the past but honestly, unless you want to get really close (and you do, so they're fantastic for that), you can easily see whales from the shore so I don't think it's 100% necessary if you're already juggling a lot!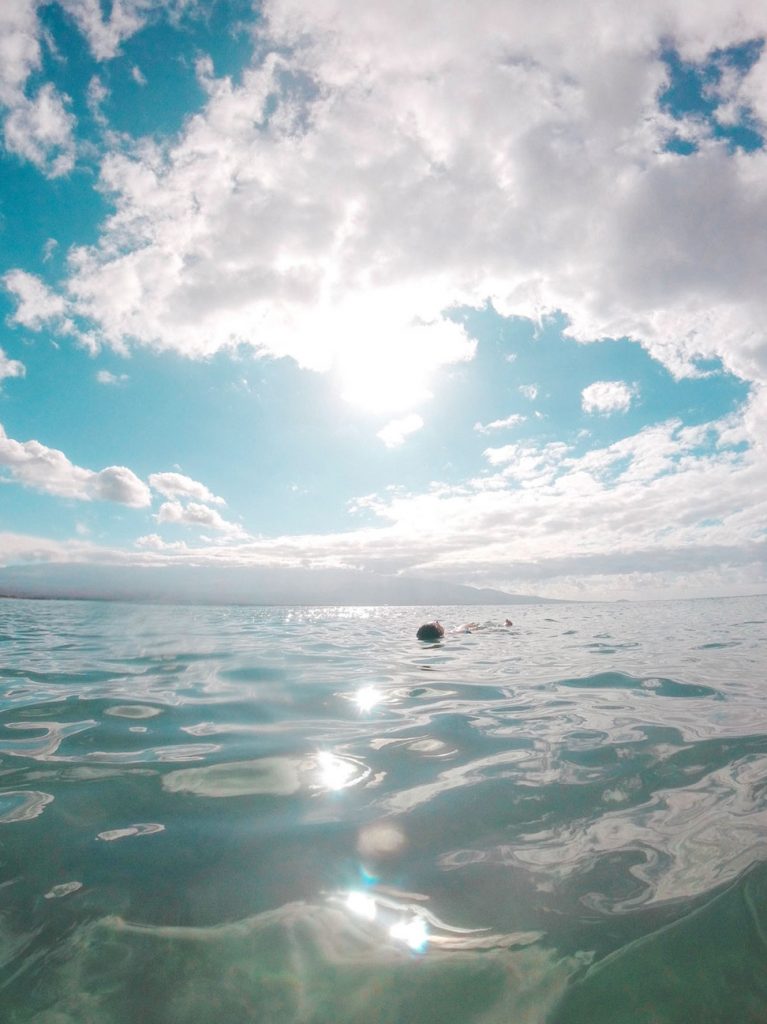 Visit the 'Iao Valley and see the Needle: it's pretty epic! Not only is it lovely walking around the lush valley covered in a rainforest, but the needle (a sharp ridge left over from volcanic matter) is incredible.
Take a surf lesson (or if you know how, go surfing!): you guys know I love to get in the water and while I've surfed in the past, this year it's been a skill I really wanted to get better at. While I didn't go on this last trip (I sadly am not the driver of the group/i.e. wasn't on the rental and no one else wanted to go), I've surfed in Maui before and it's phenomenal – it's an experience that's hard to get anywhere else in the same way. This is a great resource for breaks that are good for beginners, lessons if you're totally new to it, rentals, and more! While I was bummed to not go this time (I got my fill instead boogie boarding at some of the beaches we were at), I'm carving out serious time this year to get better at it and can't wait to do more again in Maui soon!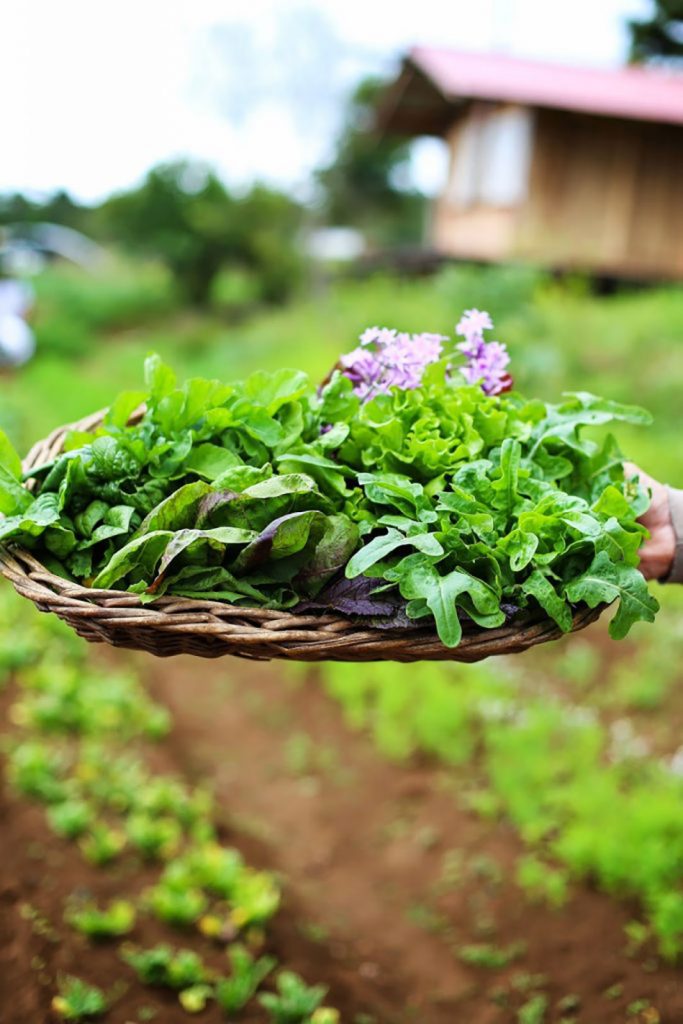 Visit Kula: often forgotten for some reason, Kula is a gorgeous up-country part of the island where you'll see a lot fewer tourists, get a bit of a break from the heat (it has a micro climate that's a lot cooler than the rest of the island) and get to visit some incredible farms or gardens, from the botanical gardens to the Ali'i Kula Lavender farm to cool paniolo (cowboy) ranches. Go grab some Kula strawberries (mouth watering just thinking about them) or hit up some of the must-visit spots I'll be going over in the Where to Eat section below!
Play in the water! Of course, this one is a given – however you like to play (surfing, boogie boarding, paddle boarding, snorkelling, swimming, scuba diving, kayaking, etc) this is an aquatic lover's playground. Probably why I love it so much here! I'll be covering all my favourite beaches below but you're hard pressed to find a "bad beach" on the island – sure, some are busier than others, but they're all pretty incredible, and all in their own ways.

So not only in my survey but in my questions sticker on Insta Story recently, the request to cover where to eat in Maui was literally the most-mentioned ask. And I totally get it because not only am I always trying to figure out where to eat myself, but Maui has so many amazing places and a really cool movement happening. The locals are some of the most organic-seeking, local-supporting people I've ever met – visit a place like Mana Foods in Paia to get a quick idea of the ways in which locals support their local vendors and fight the battle against GMO-promoting corporations! I love it. A lot of the restaurants/cafes mentioned here do similar work, if not at the very least supporting local vendors and highlighting traditional food and flavours! Let's dig in (pun intended)!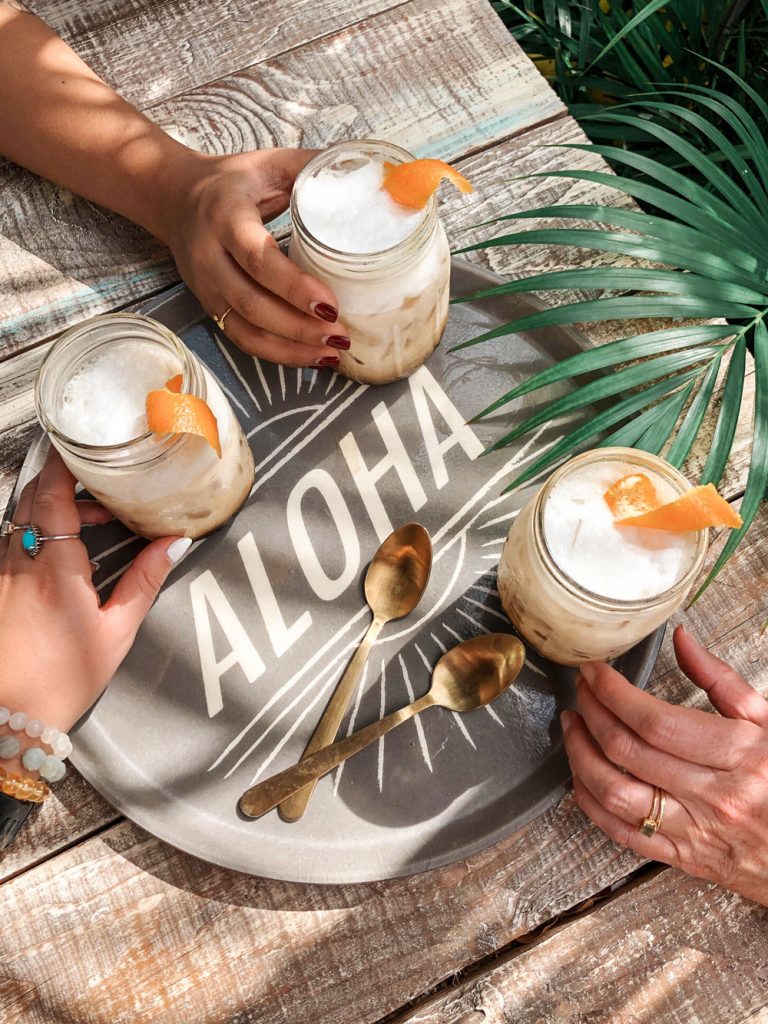 Belle Surf Cafe, Kihei: this is a more recent discovery for me but in one word, I am obsessed. Belle Surf's orange cardamom iced latte (pictured here) is quite literally one of my favourite things I've ever had. They have great crepes too but really, it's the coffee and overall vibe that I'm living for. That outdoor space (pictured below) is my new go-to inspo for our upstairs patio this summer!
Café des Amis, Paia: I love this place – I've been several times and they never fail me! Their curries are my fave, they have a great little hidden outdoor space and their cocktails are incredible. A 10/10 pretty much every single time.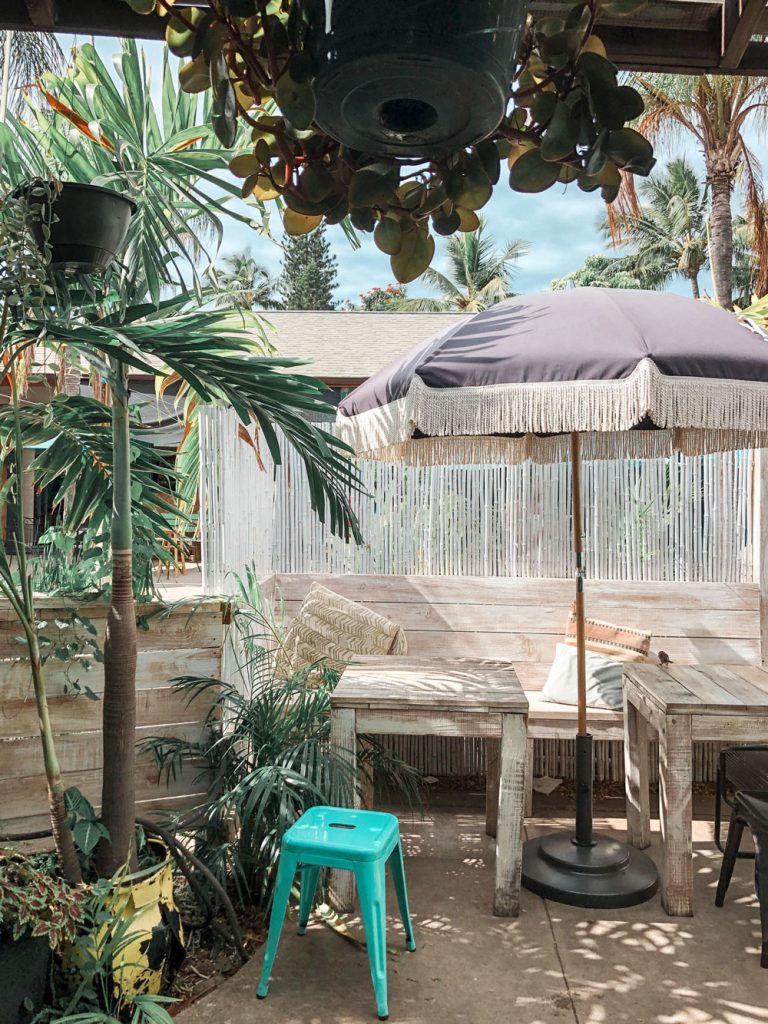 Hali'imaile General Store, Makawao: if you want more elegant meal, this is a fantastic place – funny story, Smith Jerrod (aka Jason Lewis, his IMO far inferior real name) waved at me once when we ate here! My sisters both think he waved at them too, but no, there was direct eye contact and this is one of my Top 10 Best Moments in Life so there's no way they're taking this from me. Amazing food too in addition to apparently great celeb stalking.
Kihei Caffe, Kihei: a local institution in Kihei, this is a casual, diner-style place that's not only famous for their traditional breakfasts, but their pancakes – think the largest serving of pancakes (pictured below) with local flavours like banana and macadamia nut or pineapple and coconut. Oh and did I mention they have coconut syrup? Get here early because the line is long and cancel your lunch plans because you'll easily have leftovers for the day! Also, outdoor seating only so wear your sunscreen.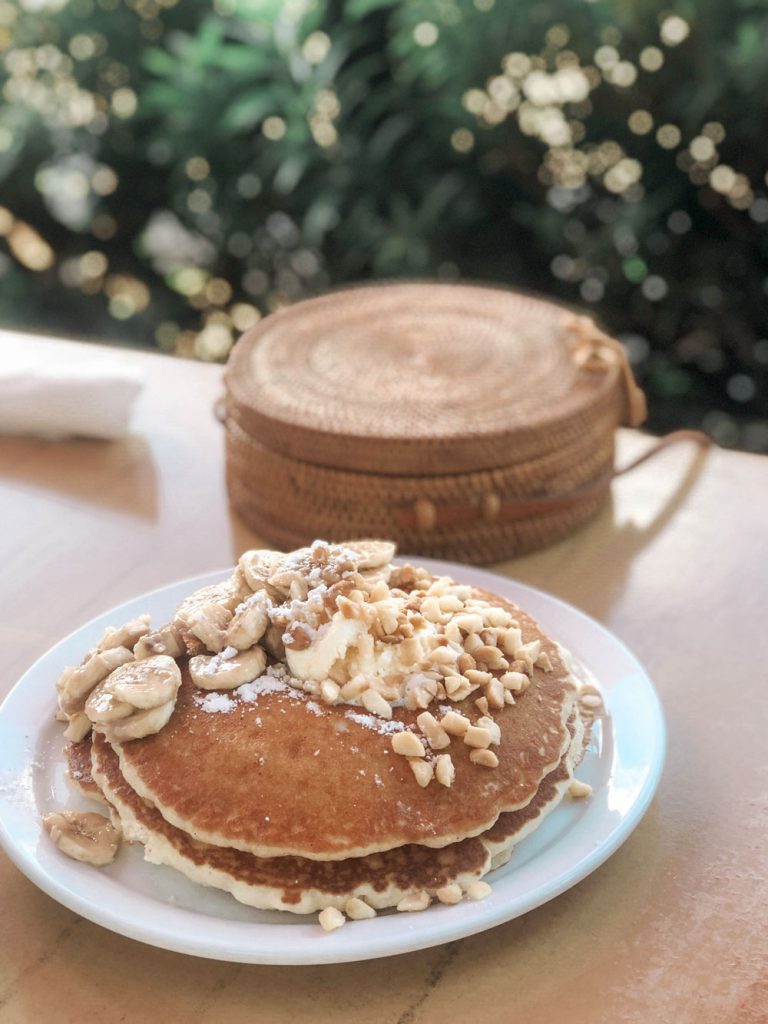 Yee's Orchard & Fruit Stand, Kihei: only in Hawaii do you have to include fruit stands in your list of must-eat places! This place is my fave because of their great prices, amazing quality and the fact that it's not as crazy overrun as some of the other fruit stands. If you haven't been to Maui yet, please do me a favour and load up on lilikoi (passionfruit), papaya and pineapple in particular – the best you'll ever have.
Flatbread Company, Paia: craving some 'za? This is a really great place for some wood-fired pizza if you're wanting to just have an easy but super tasty meal one night!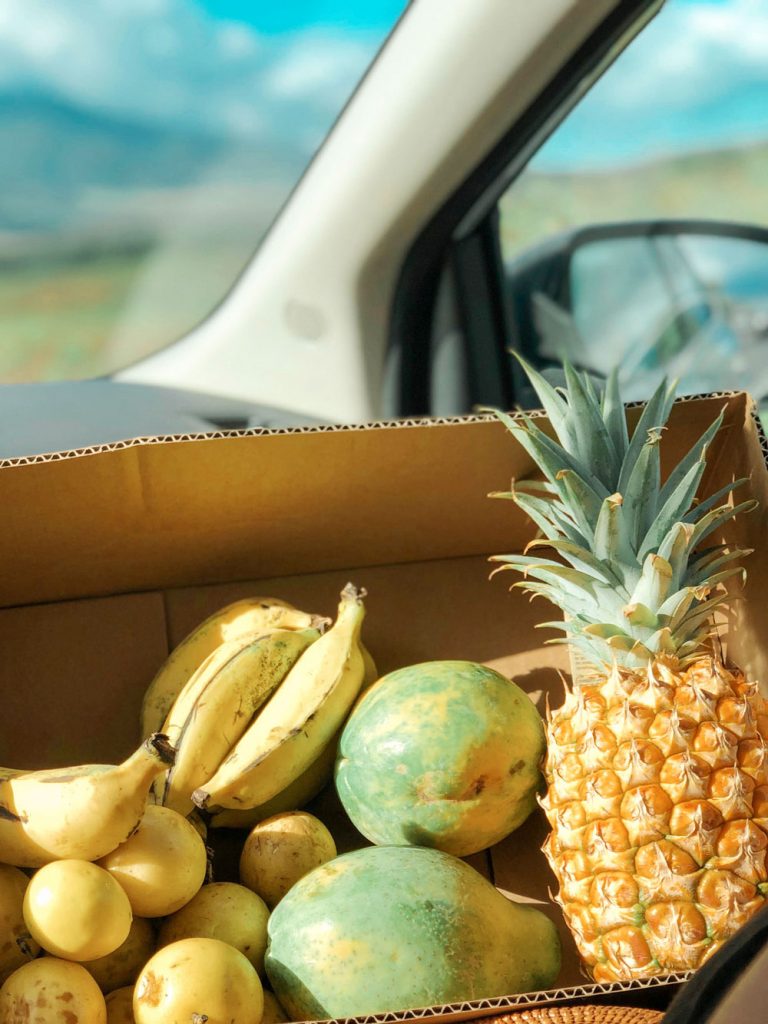 Thai Food by Pranee, Hana: made it to Hana and starving to death? This place has bomb Thai food in the most amazing tropical, rustic setting. Something about Thai food is so satisfying after a day of hitting beaches (which you'll definitely be doing after the Road to Hana!) so make this your stop!
Leoda's Pie Shop, Lahaina: this is an absolute must-visit. My fave is the spicy tuna sandwich and literally any of the pies, they're all so incredible! Also, little secret: some of the quietest, cutest beaches will be across the road as you're driving to and from Leoda's, so if you're craving some quiet time and want good snorkelling (like at Ka'ili'ili Beach, where we saw a ton of turtles and amazing fish!), plan out a little lunch here and then chill there! Or head to Slaughterhouse Beach (aka Mokule'ia Bay in Kapalua, one of my absolute fave beaches), which is further along the coast.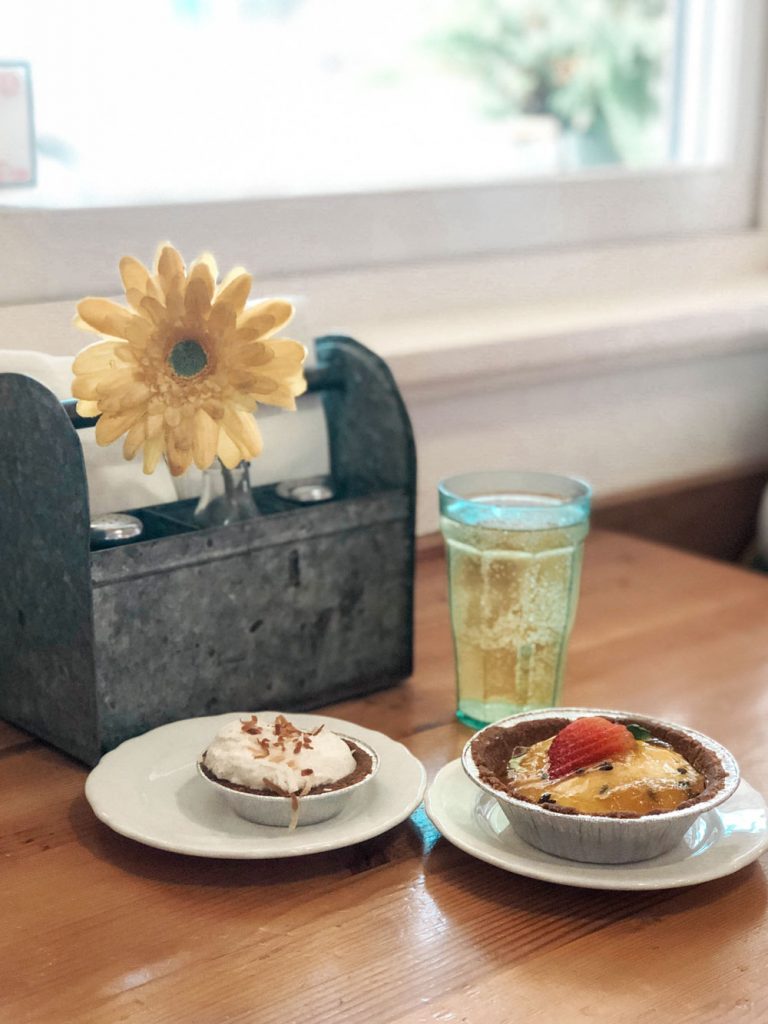 Kula Bistro, Kula: similarly to the Hana restaurant mentioned above, once you get into Kula you usually have to do a bit of driving and exploring so a nice, hearty meal is exactly what you need if you're spending some good time up there (or if you're starving after visiting Haleakala!). This is a great casual bistro with amazing food.
Olowalu Juice Stand, Lahaina: full disclosure: this place is actually not my fave from a food perspective. Not particularly great juice or produce. It is however the cutest photo op and it's right next to Leoda's so that's why I'm including it here! Just meander down a bit and there it is.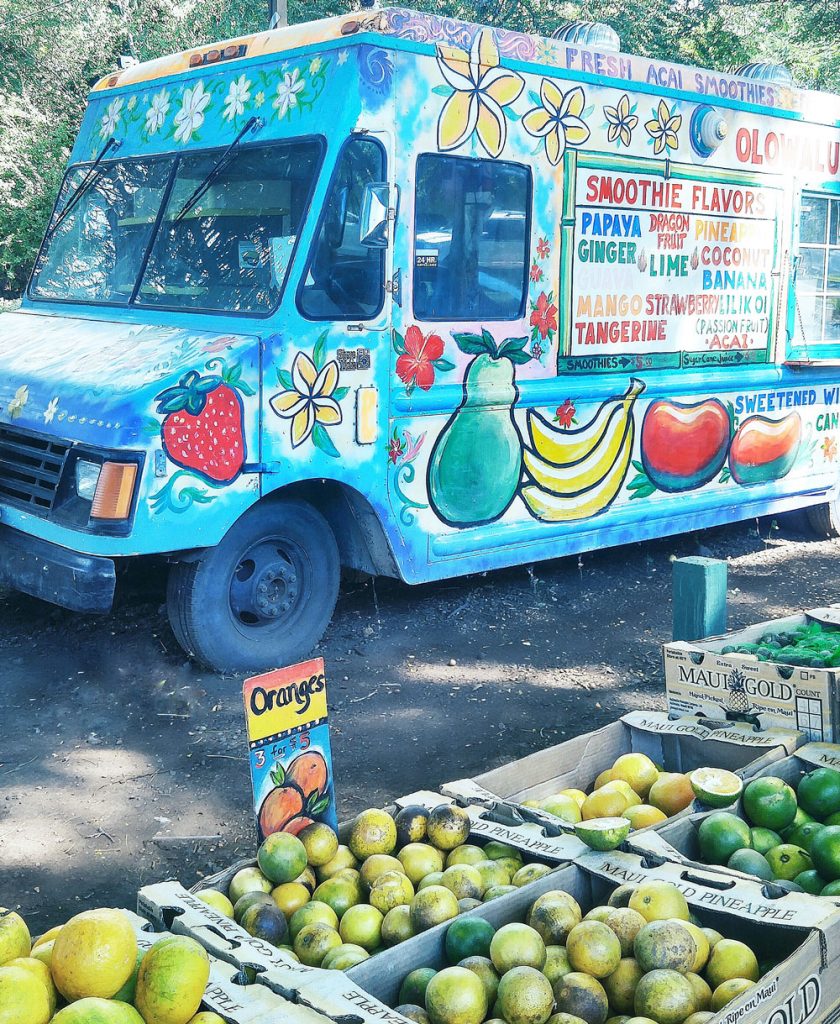 Beach Bums, Maalaea: this place is heavy on the casual vibes and I actually don't love all of their food, but their seafood is next level – some of the best on the island, and done in such an unassuming, simple way (how seafood really always should be done, in the end). With the harbour right there and the fresh seafood coming right in to the restaurant, you'll actually have amazing fish here (and it's a much quieter part of the island). Sit outside to get the breeze from the harbour! Really relaxed, chill vibes, good value and big portions.
Paia Fish Market, Paia: everyone's always going to talk about Mama's when they talk about Maui, but I think Paia Fish Market is really the place to be when it comes to seafood (plus Mama's is crazy overpriced!). I'm more about casual vibes on the island so this is one of my fave spots for a seriously tasty Mahi Mahi burger or tacos along with a cold beer – perfect after playing in Paia's many beaches all day (more on that in a second).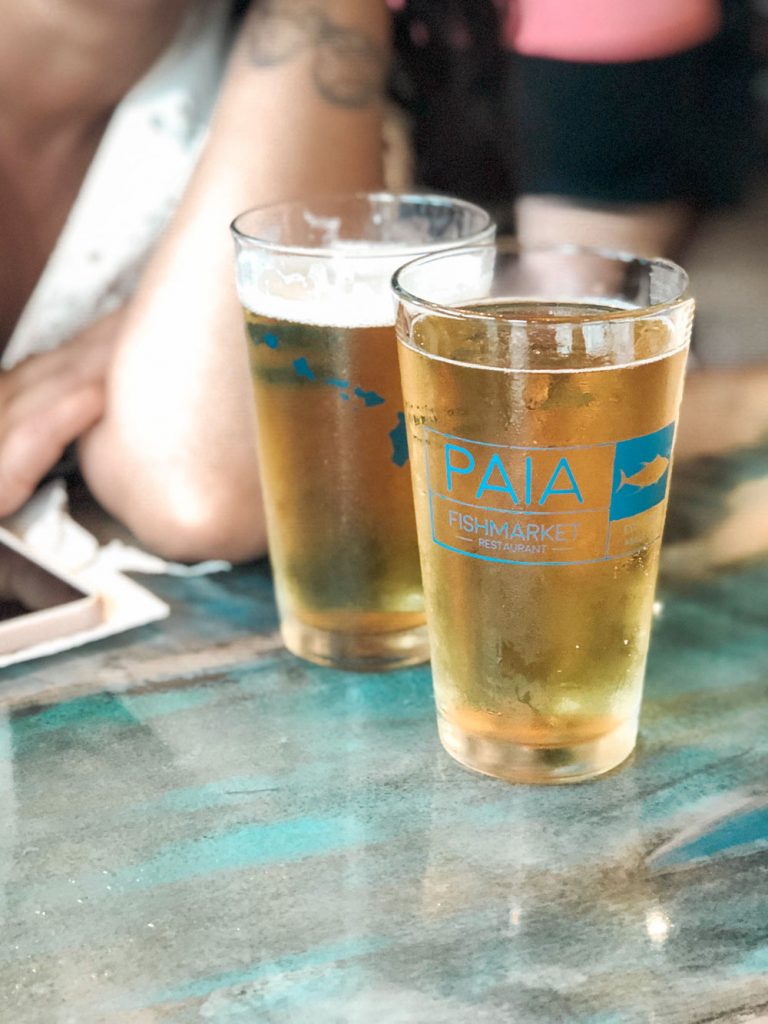 Surfing Goat Dairy Farm, Kula: a little mini Kula section here! Do a taster of some of their best cheese and take some home to enjoy on your lānai (patio) with some crackers and vino.
MauiWine, Kula: every Christmas, we pop a bottle of their Hula o Maui sparkling pineapple wine – it's such an important tradition to my family! We always bring back a bottle to enjoy at Christmas but it's so nice doing tastings in-house here on the winery, while also stocking up for the condo we stay at.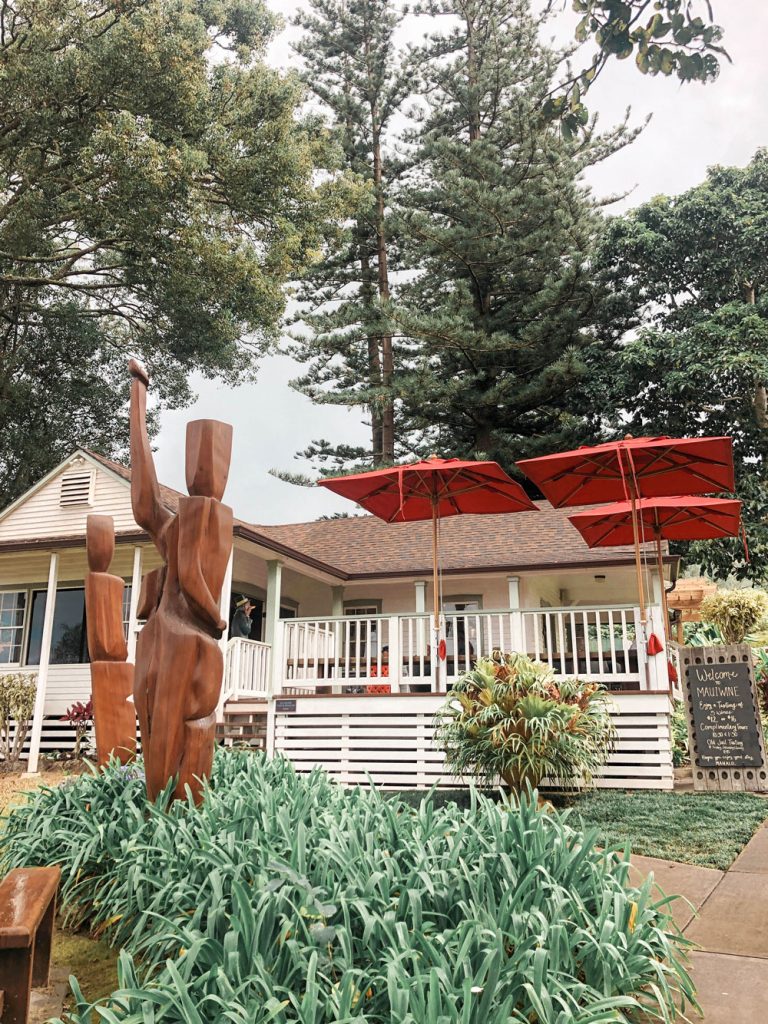 I could go on and on but those are some of my faves! A couple quick notes – first of all, a lot of those recommendations are based off of not only where I stay the most (more on that in a second), but the general vibes I like when I'm in Maui which in one word is chill. There is some amazing upscale dining on the island and I definitely am all for experiencing that too, but by and large I get away to Maui to relax and hit up my old faves, so that's what these are! Finally, as much as you should eat out, we do a lot of eating in (part of the reason I prefer condos over hotels in Maui). There is so much amazing fresh food, so much incredible produce, great snacks and drinks to bring home, etc, etc. It's fun to go out but I really like to take advantage of the relaxing vibes here and do my meals out for lunch, choosing to have dinner in at home with either a nice smorgasbord of all the local food we found that day or grilling up something like fish tacos with some MauiWine wine or a Longboard Lager from Kona Brewing Co. My advice? Do some bulk shopping at Costco (conveniently right near the airport) if you're with a few people (for drinks, chips, grains, etc) and then shop local for the rest – from the farms of Kula to Mana Foods to your local produce stand, there's so much to taste and experience!

Maui is a beach lover's paradise. Whether you like little hidden beaches or big stretches of beaches, calm beaches for snorkelling or beaches with huge waves to surf, black sand beaches or red sand beaches or white sand beaches or even pebble beaches, there is an amazing amount of diversity in the shoreline and waters of Maui. Here are just a few of my faves but as I mentioned above, you would be really hard-pressed to find a beach you truly don't like.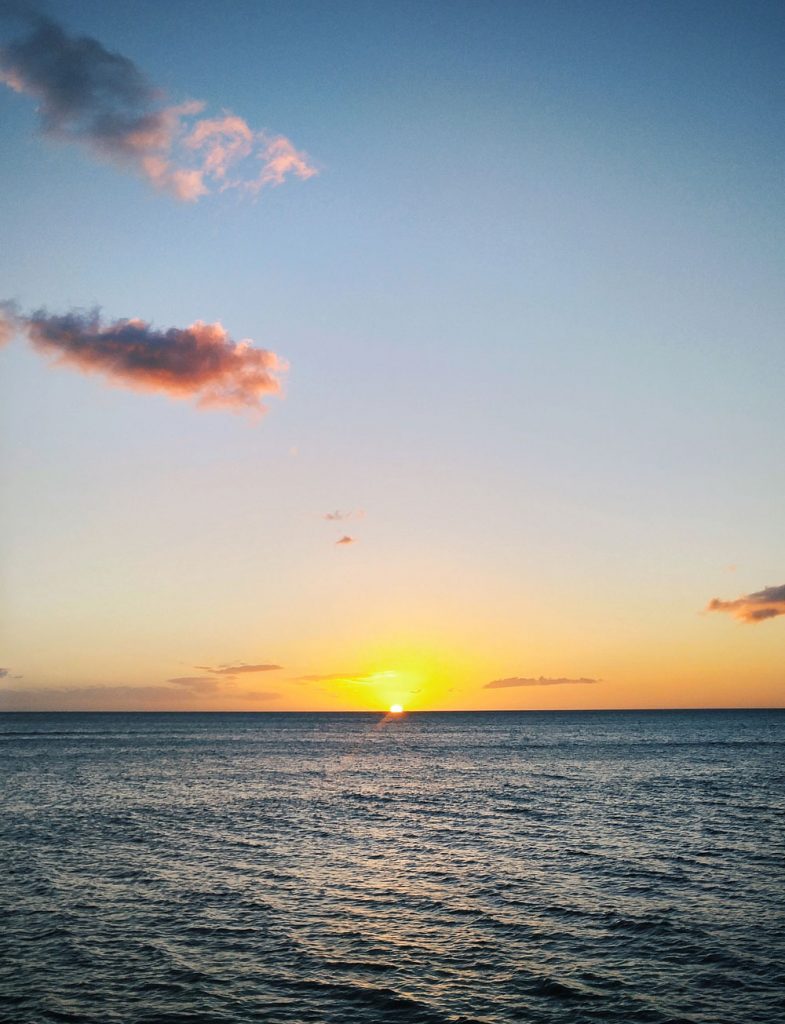 Maluaka Beach, Wailea-Makena: let's start with my favourite, shall we? Located right next to the gorgeous 19th century Keawala'i Church overlooking the beach (worth a snap alone), this is one of my faves because it's often super quiet, it feels kind of magical (being right next to this church and kinda tucked away), it's got pristine white sand and it's got a great mix of calm water and reefs to explore snorkelling as well as waves to play in. My forever fave.
Wai'anapanapa State Park, Hana: on the Road to Hana, definitely carve out some good time to explore this beautiful black sand beach. Shore breaks can be hit or miss here but if you get to swim, you'll likely be treated to a pretty quiet time at the beach (plus there's some amazing caves to explore along with some of the most incredible lookout points on the island!).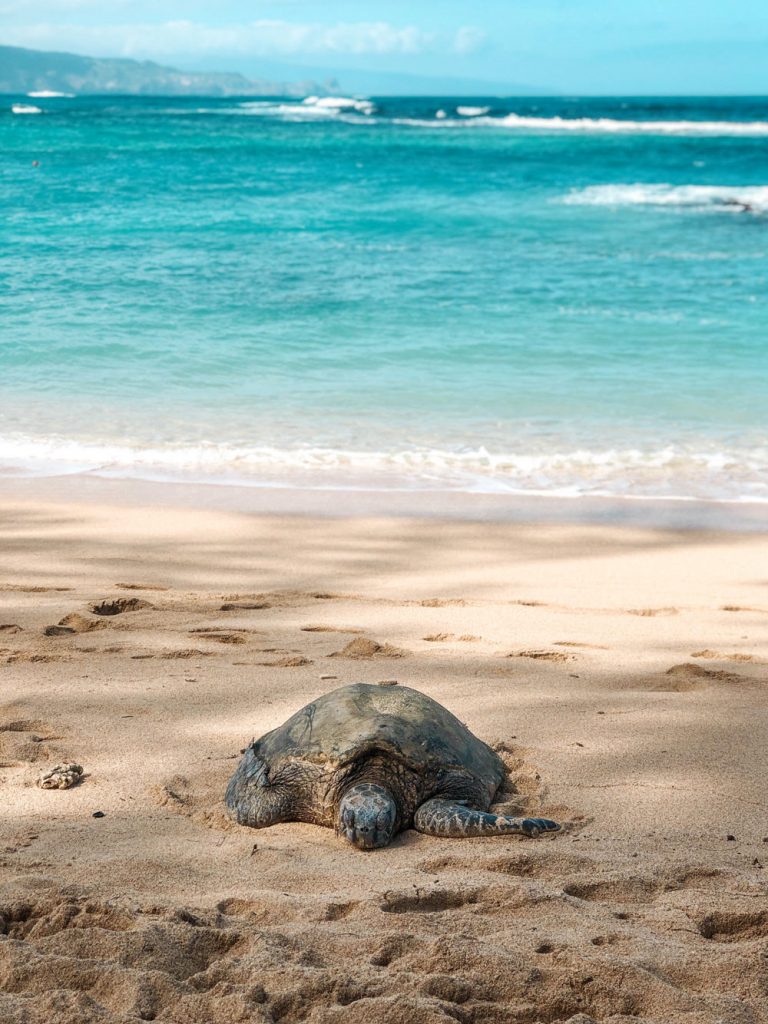 Baldwin Beach Park, Paia: this is more along the large, sweeping beach variety, but it's gorgeous. Spot a honu having a suntan on the beach, dive under a wave and go surfing or boogie boarding in the water or find one of its many little quiet spots for a little swim. What's great about Baldwin is that there's so much room for the taking – you can almost always find a quieter spot because of its sheer size.
Makena Beach State Park, Wailea: with both Big Beach and Little Beach to choose from, this is a gorgeous huge beach and super popular for many reasons, including its gorgeous waters, spacious beach space and so much more. One thing though: I've been told by many locals that Big Beach is nicknamed "Break Neck Beach" because of rogue shore breaks and because tourists don't practice the best ocean safety and turn their back on the ocean (literally the most important thing you learn about the ocean – never turn your back on it!). There are some huge waves here and you have to really observe the shore breaks because they can be dangerous. If the waves aren't too bad and you see other people swimming, remember to always dive under a wave (not just let it crash into you). Long story short? It's definitely worth a visit (why it's included!) but be especially cautious here. Maybe bench swimming unless you really know the ocean well and can make a super accurate assessment of the shore break! Little Beach is usually totally fine for a swim and equally beautiful.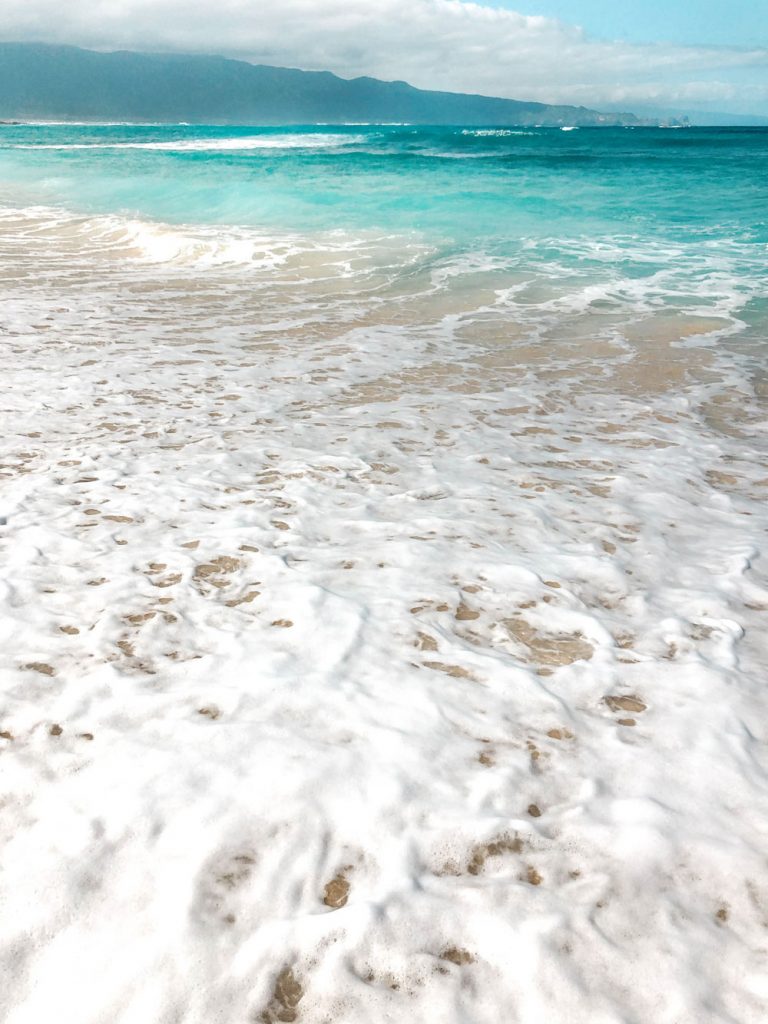 Kapalua Bay Beach, Kapalua: get away from the tourists in Ka'anapali and escape to this gorgeous, sheltered beach. If you're not one for the waves, this is a great pick for you! This is a super tranquil spot to go snorkelling, read your book, and all in all just laze about.
Ka'ili'ili Beach, Lahaina: on the drive up to Lahaina, on the west side of the island, you'll see all these cute little beaches to the left where locals will be pulled over, some with tents out, others with barbecues going. Along here is the Olowalu Reef and not only will you get some usually nice tranquil water, but unreal snorkelling and save for some of the noise of cars passing by, an oddly peaceful vibe. Way less busy, way less tourists, way more honu spotting.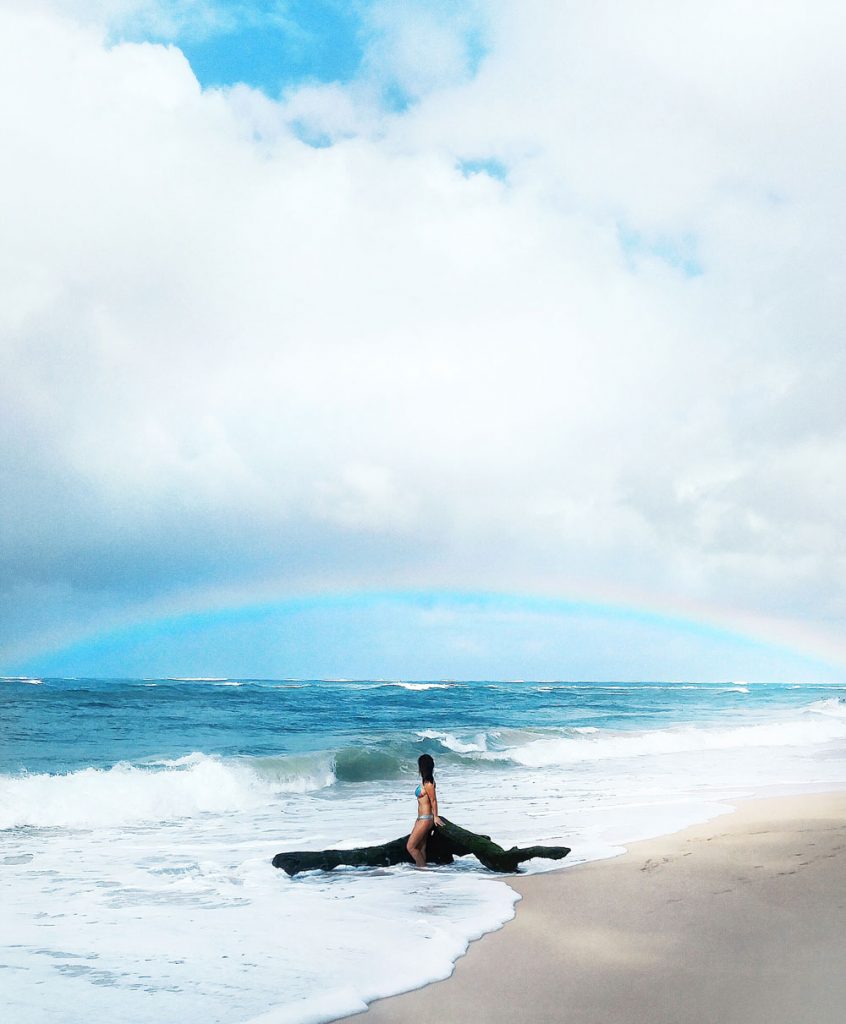 Maalaea Beach, Maalaea: speaking of quiet beaches, this stretch that runs from Maalaea to Kihei (making for the best beach runs at sunrise, trust me, I've been doing this stretch for years!) is an awesome and quiet stretch of beach where you could hunker down for the day, spot honu, paddle board, kayak, snorkel, swim, etc. Lots of locals love to come to the campground and fish and set up shop on the weekends.
Kahekili Beach Park, Lahaina: this is near hotels so is a bit busier, but boasts this amazing boardwalk the whole length of it – there's some great swimming/snorkelling here, not to mention it's lovely to go for a walk and people watch along the length of it!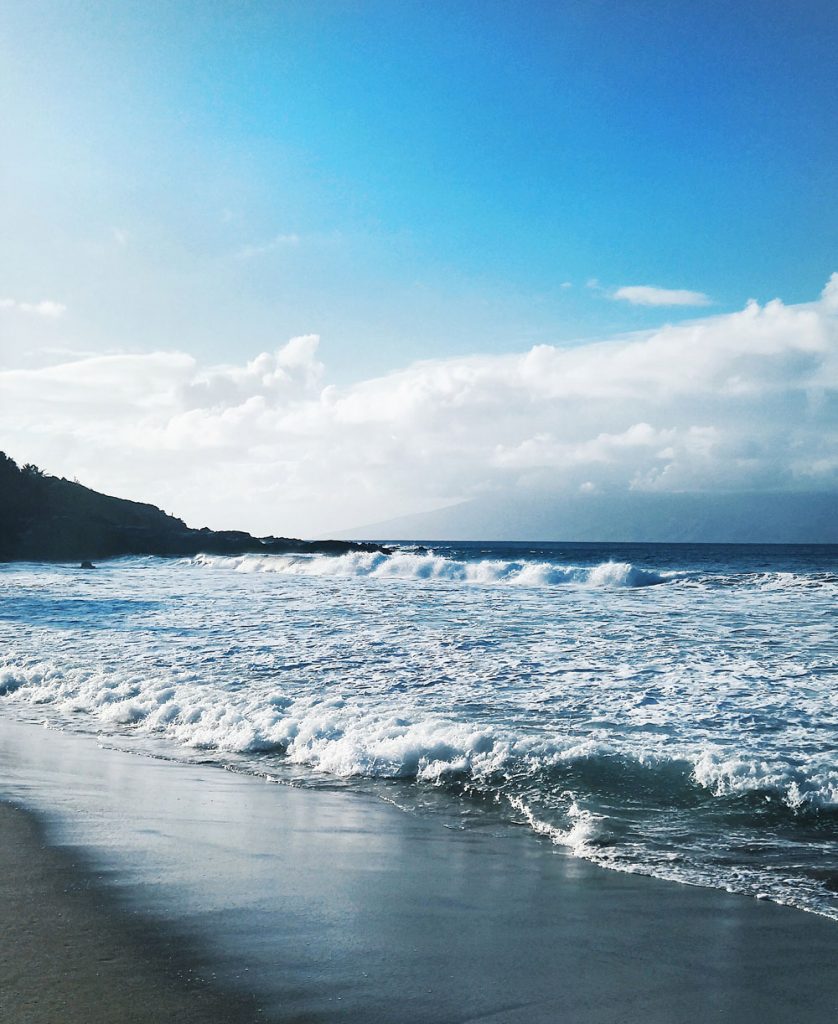 Mokule'ia Beach (i.e. Slaughterhouse Beach), Kapalua: beginning and ending with two of my faves! I absolutely adore Slaughterhouse Beach (not sure where it got its weird name from, though, I try not to think about it). To access this beach, you have to pull off on this little teeny tiny parking area on the shoulder of the highway and walk down this big staircase. Once there though, you're in the most gorgeous cove, making the slight trek totally worth it. There's great snorkelling to the right where the waves calm down a bit, but if you want to surf or boogie board this is your spot. One of my absolute faves.

Last but not least, where to stay! I got a ton of questions about where I was via Insta Story on this last trip – my mum said she'd kill me if I shared it because it's kind of our secret spot we always go but I will share the general area below!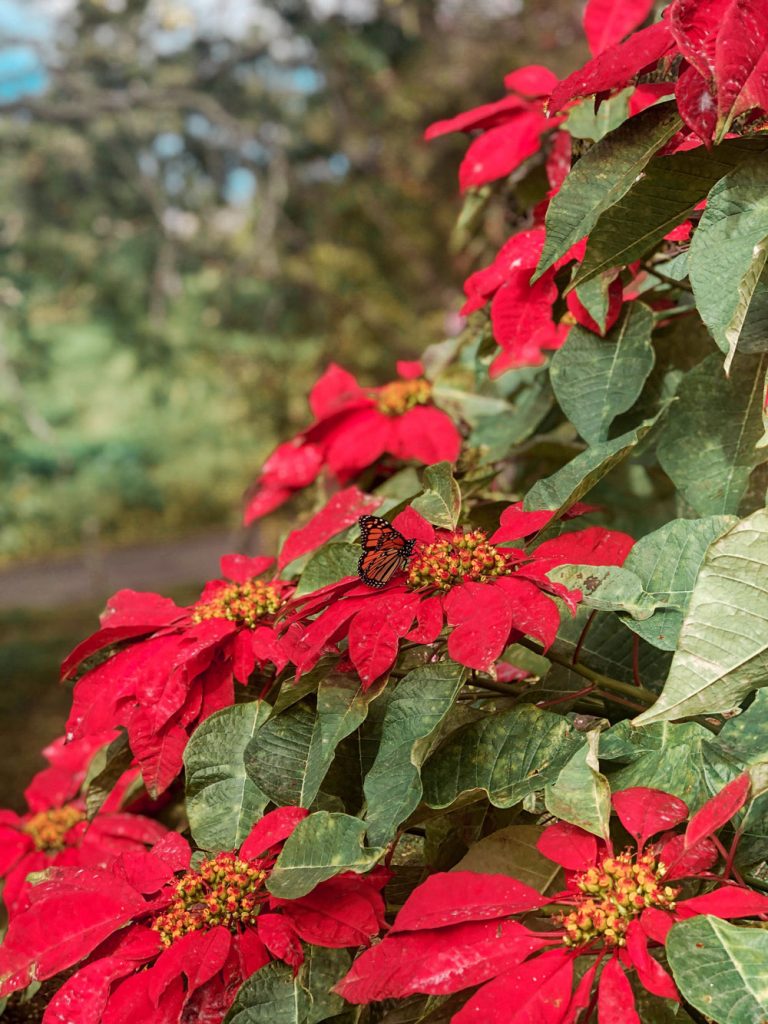 Anywhere in Maalaea: if you mention that you stay in Maalaea to most non-locals, they usually can't for the life of them figure out where that is, even if they've visited Maui lots. That's because Maalaea is sort of off the beaten path (it's marked on that map above though) – just west of Kihei, it's literally a tiny little harbour area with low-key condo buildings down the road to the left. It's a much more affordable option and definitely doesn't have the glitz of Wailea or the luxe vibes of Ka'anapali (I've also stayed in both, more on that in a second) but we keep coming back here because we call it our "tropical cabin" – the general vibes here remind us a lot of our cabin in Powell River and being of the more chill variety, we love the place we stay at so much that we just keep coming back to it, even after having tried other options that are technically "nicer." How I'd describe Maalaea: chill, great for water sports, amazing honu and whale spotting area, affordable, epic long beach stretching to Kihei including a wildlife preserve, nice but simple accommodations, a bit more remote shopping and dining wise (though there are markets and restaurants in the harbour and Kihei/Lahaina are super close).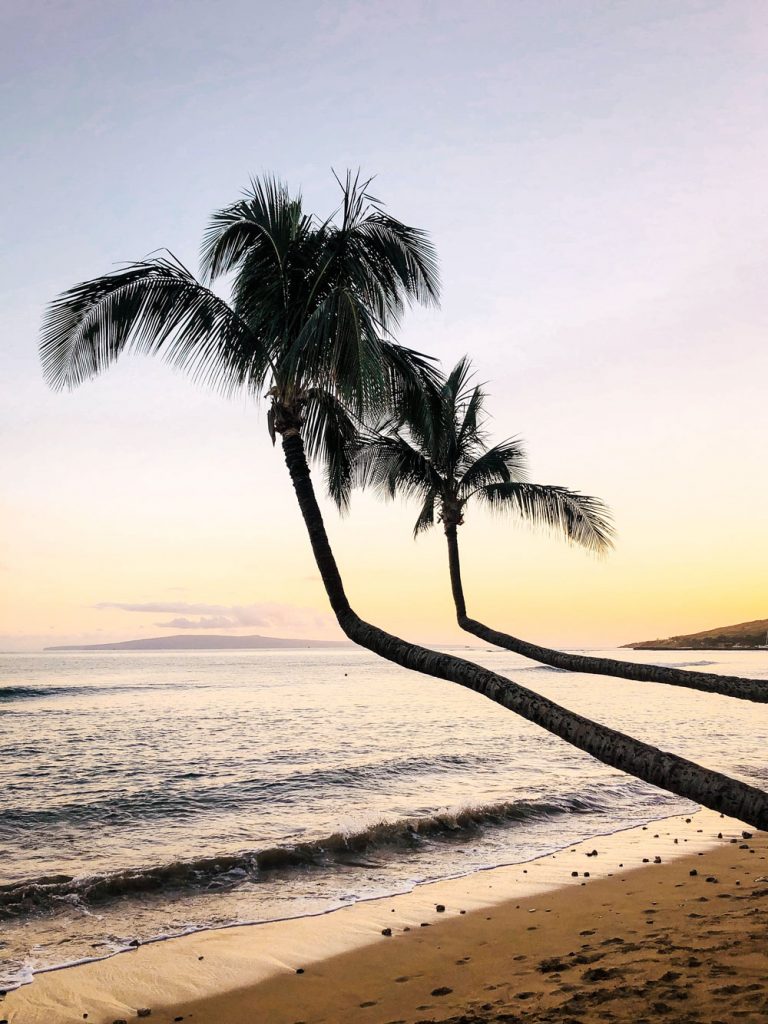 HOTELS/INNS
Now that I've gotten my Maalaea love letter out of the way (and yes, those double palm trees pictured above I kept getting questions about on IG are in Maalaea, though you can't climb them as they're pretty weak!) I wanted to share a couple hotels that I would seriously consider staying at, ranging from luxe to more affordable.
Fairmont Kea Lani, Wailea: this is one of the most gorgeous resorts that I can think of. With an incredible beach, gorgeous pool and the most amazing property, the Fairmont Kea Lani would be one of my top picks for a luxe vacation. It's located in Wailea where most of the luxury hotels are situated, and also conveniently where some of the most incredible beaches are just a short drive away. Expect to be dining out more though obviously with a hotel experience – the food at the Fairmont is fantastic but as far as dining out, I prefer places further out of Wailea from my own experience (all detailed in Where to Eat above!). I do love my Fairmonts though (see here, here and here) so this is a top recommendation.
The Westin Nanea Ocean Villas, Ka'anapali: this would be another pick for a special vacay – the beach in Ka'anapali is absolutely gorgeous and this hotel is stunning. I stayed in Ka'anapali too and it's a beautiful part of the island, located close to some of the dining and beaches I love. It's a bit less tucked away than Wailea though you are all the way on the west end of the island, so if you're doing a trek to Paia or Hana you have to drive a bit. Having said that, nothing on the island is too, too far away so still totally accessible. You can book here!
A strategy worth mentioning is if you want a little of Column A, a little Column B, you can do what my fam has done in the past and spend part of your trip in a condo and a couple nights in a hotel! It'll just give you a bit of a different experience of staying in Maui and allows you to explore different parts of the island as well.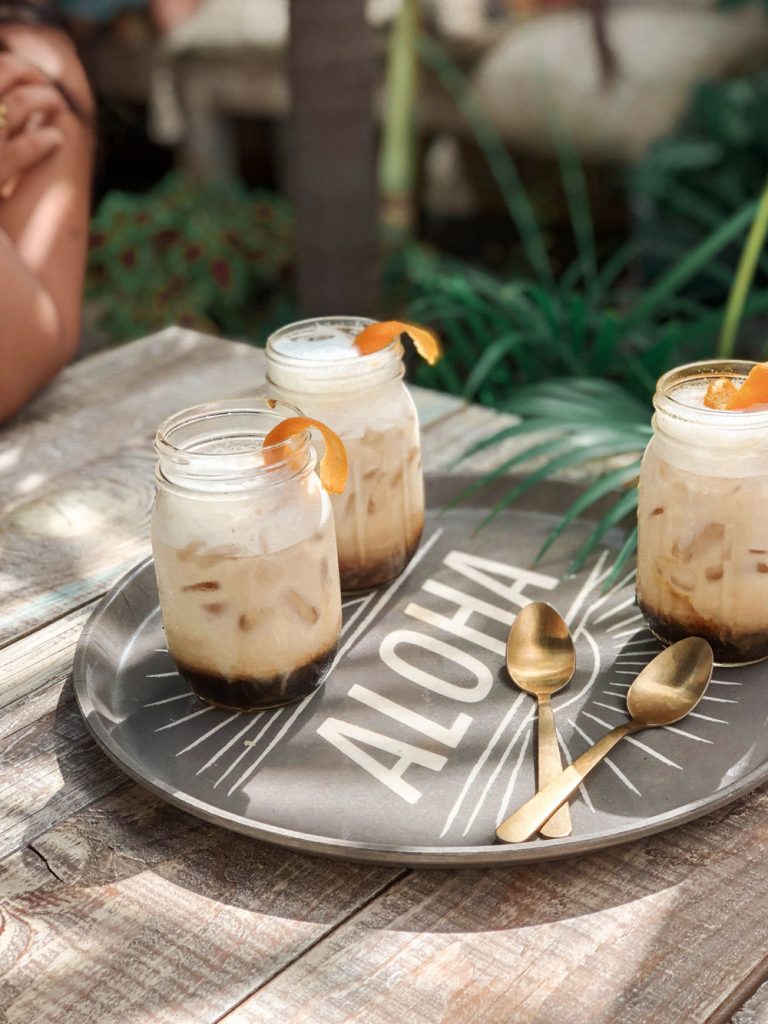 Paia Inn, Paia: now onto some more affordable options (though just a heads up, Maui in general is expensive so expect to budget more for accommodation!) – if you're like me and love Paia then Paia Inn is an amazing option right in the heart of it all – it's a really lovely place. About Paia: it's a pretty cool and fun place, but you need to know it has a particular scene (one I think is hilarious and fun, but just want to give a heads up). It has some of the most amazing beaches on the island, awesome surfing and some of my favourite food, plus some of the most interesting people you'll ever meet. Will never forget my friends and I chatting with "Justincredible" who proceeded to pull coconuts out of the back of his truck and opened them for us by smashing them onto his head. With his head bleeding and his eyes wild, he then left to go surf the waves. You'd think that might turn me off of Paia but actually, being a bit of a weirdo myself, it only made me love it more. Just if you're majorly turned off by hippie culture, this might not be the zone for you!
Travaasa, Hana: if you want to get away from it all and enjoy the chill life of Hana, this is a beautiful option. I wouldn't recommend staying in Hana for first-timers to Maui since it's harder to get around and you're definitely not central, but my parents stayed in Hana once and said it was unbelievable! So if you're a Maui vet or have been before and want a different experience, Travaasa would be a lovely pick.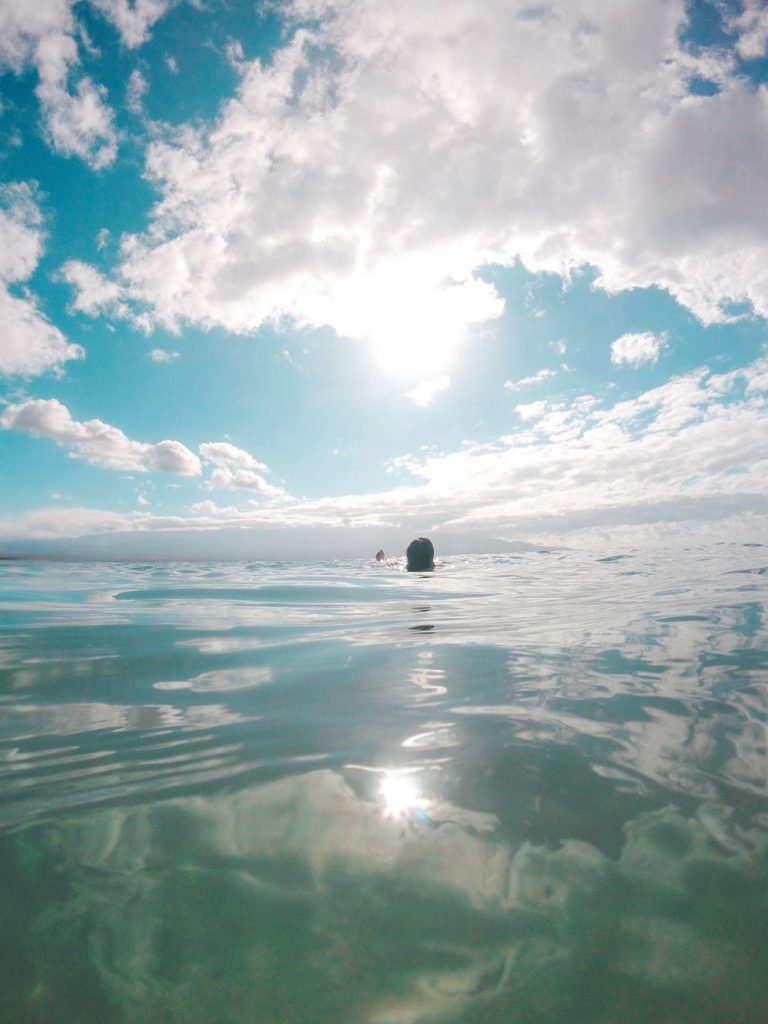 AIRBNB'S/CONDO RENTALS
I've always shared my exact condo details in the past but because this is my family's go-to spot and my mum had the most serious look in her eyes when she said she'd murder me if I shared our condo, I sadly can't share exactly where we stay but as mentioned above, Maalaea is tiny so if you find a place there, it's likely to be in the same condo building as ours. I also have more amazing options below that I've either already stayed at in the past or would love to in the future! Just a note that prices are in CAD and are date-specific so prices may be different depending on when you want to book.
Wailea Ekolu, Wailea ($498/night): I stayed here with two of my best friends and it was amazing – very luxe accommodation, lots of room (for up to 6 people!), great location, views of the ocean, etc. So much to love with this place. Being in Wailea, it was super close to incredible beaches and easy to get around the island. A bit on the pricier side but would highly recommend, particularly if you're with a group! Book here.
Beachfront Condo, Honokawai ($350/night): coming down in price from the one above, this is a beautiful 2br condo that could sleep 4. It's spacious, right on the water (which for me is usually the most important factor) and located in an incredible area. Book here.
Surf Cottage, Road to Hana ($264/night): what a gorgeous space. Again, if you've been to Maui before (wouldn't suggest Hana for first-timers personally but it also would still be incredible) this is one of the most beautiful rental properties I've seen on the island. Sleeps 4 so the price is actually super reasonable if you maxed out guest occupancy. Book here.
Artist Suite, Kula ($198/night): while you won't be next to the ocean, if you're a fan of Kula or want to experience a more relaxed pace of life in the beautiful hills of Kula then this is an incredible pick! Also amazing price. Book here.
The Sunset Stowaway, Napili ($167/night): seriously one of the best rates I've ever seen for a condo on the island! If you love the west side of the island, you really can't go wrong with this. Napili Bay is gorgeous and you'll be near some of the absolute best beaches on the island. This is a perfect couples getaway. Book here.
Ocean Front Condo, Lahaina ($166/night): again, amazing price for a couple. Simple accommodation but still super nice and right above the ocean – for me, I'm an ocean baby so being next to the water is super important, and this delivers that in spades. Book here.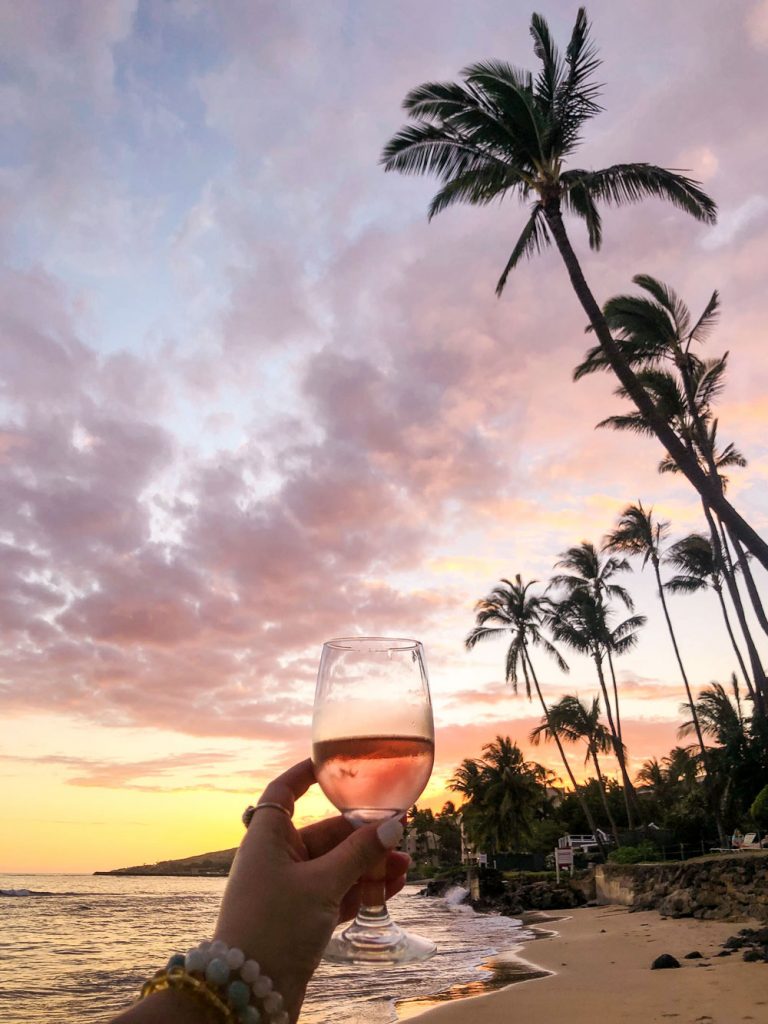 And that, my friends, is your one-stop resource for all things Maui. I hope this helps you plan out the most incredible trip to this magical island and a place that is so very near & dear to my heart. You can never go wrong with a getaway here! Feel free to pin this image below for future reference.