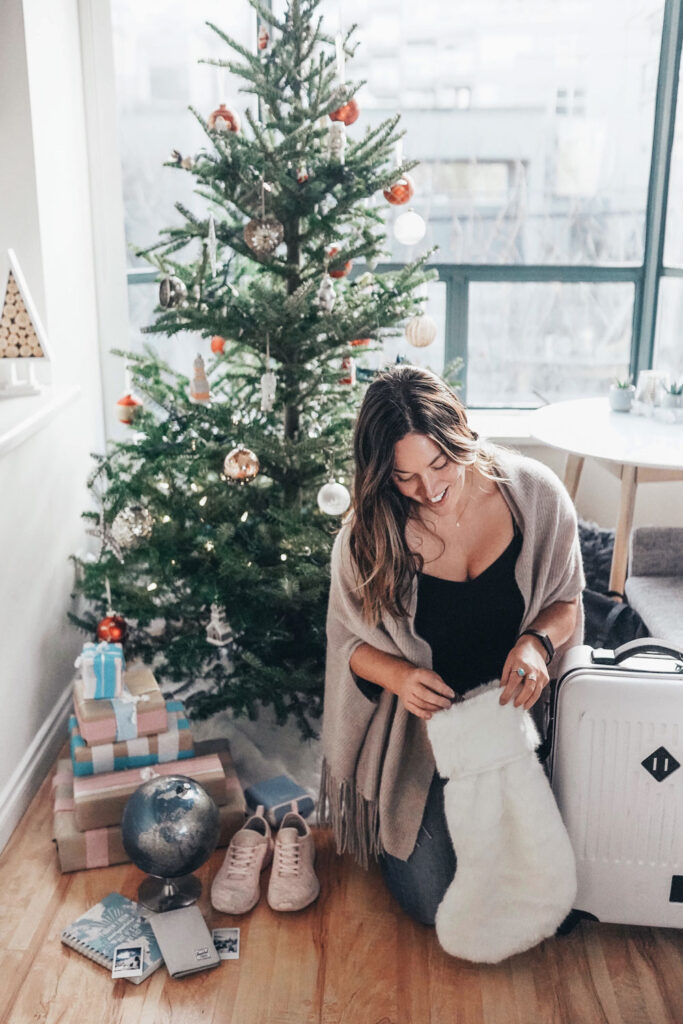 I love sharing my travel guides with you guys so naturally, I'm especially excited to share one that's so near and dear to my heart: my jetsetter gift guide! As someone who is so passionate about travel, I have amassed all of the things I wanted to make my travel the best experience possible. I can confidently get behind all 12 of these items that are featured today in the video below because I use them all non-stop when I'm travelling!
As you guys know from my 10 Outfits in 1 Carry On Bag post with RBC Avion, I've been a longtime Avioner and actually, a lifelong Royal Bank of Canada customer! I love my RBC Avion card because I earn points on all purchases, and even more on travel related purchases and because I'm shopping so much more during the holidays for my family and friends, it's important to me to get rewarded for my shopping, particularly for something I love so much (like travel!).
Make sure you watch the video to get a real sense of why each item is perfect for your jet setting loved one – or for yourself if you're the travel addict!
Here's my round-up below so that you have easy reference to everything!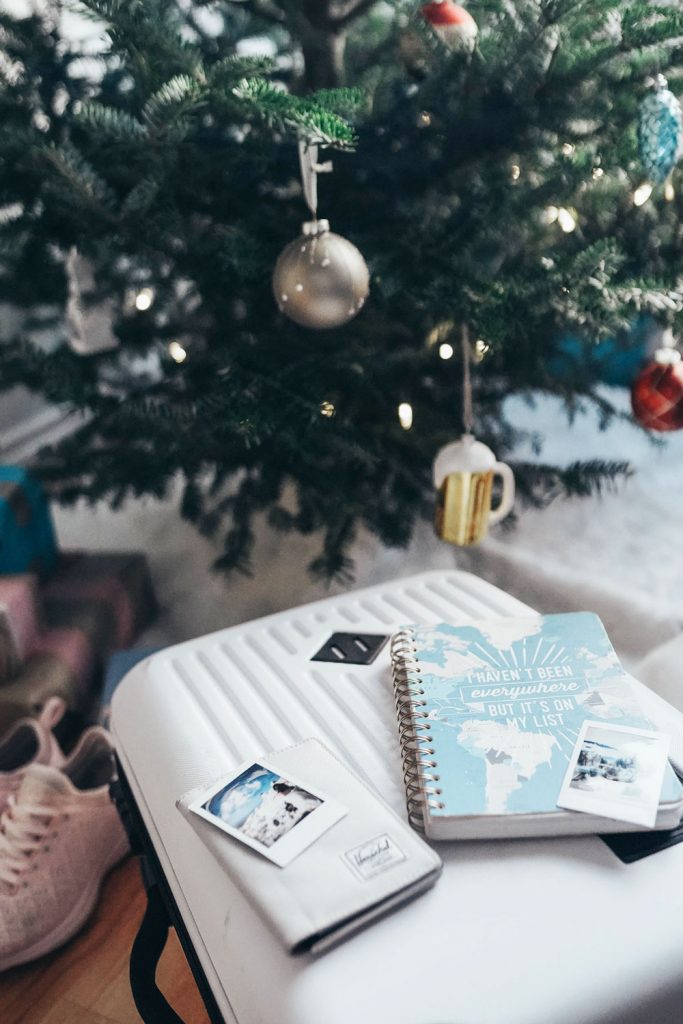 1. A sleek carry-on bag
This is the most important piece of any traveller's gear. A carry-on bag that not only functions well, but that is ideally stylish as well is a travel essential.
2. A roomy backpack
Gone are the days of dorky backpacks! There are so many stylish options out there nowadays, and best of all, they've upped their game as far as functionality too. Look for ones with lots of compartments, that are easy to do up securely, and that are super wearable! I love that this is a present that will get as much use at home as it will on the road.
3. Organization bags
This is more of a stocking stuffer (or something you can put into either of the gifts above!). They are so helpful with separating your toiletries, snacks, supplements or electronic gear in addition to keeping your items organized in a backpack or carry-on luggage.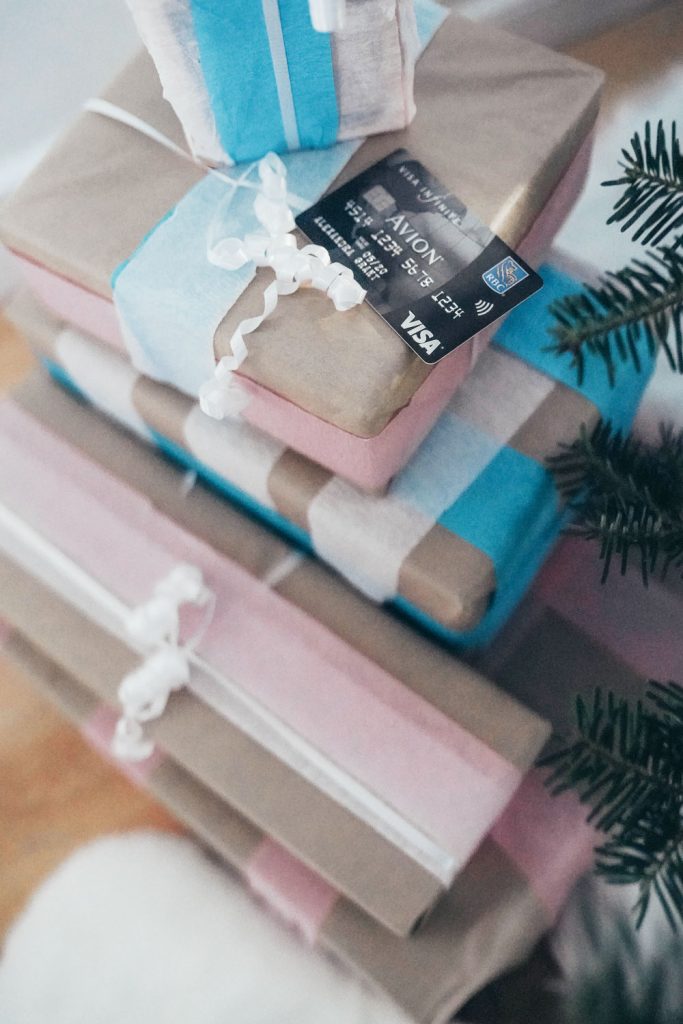 4. A travel wrap
This is one of my fave travel pieces! I am obsessed with my cashmere travel wrap, which not only functions as a chic piece to stay warm with, but as a blanket on planes and even as a little pillow if I'm sitting in a particularly uncomfortable chair! It's another piece that gets as much use at home as it does while travelling.
5. Chic sneakers
Travelling can really do a number on your body so making sure that you have some stylish (but still very comfy) sneakers is so key! It'll save your back, knees and most importantly, your poor feet. Pick a neutral tone for your gift recipient so that they can wear them with a ton of different options and have something to work out in during their travels!
6. A sleep mask
A black-out eye mask is one of the best things you can throw into your carry-on or purse—you'll actually manage to catch a bit of sleep this way; not to mention you never have too much control over lighting situations in your accommodation. I love mine because it has lavender in it too!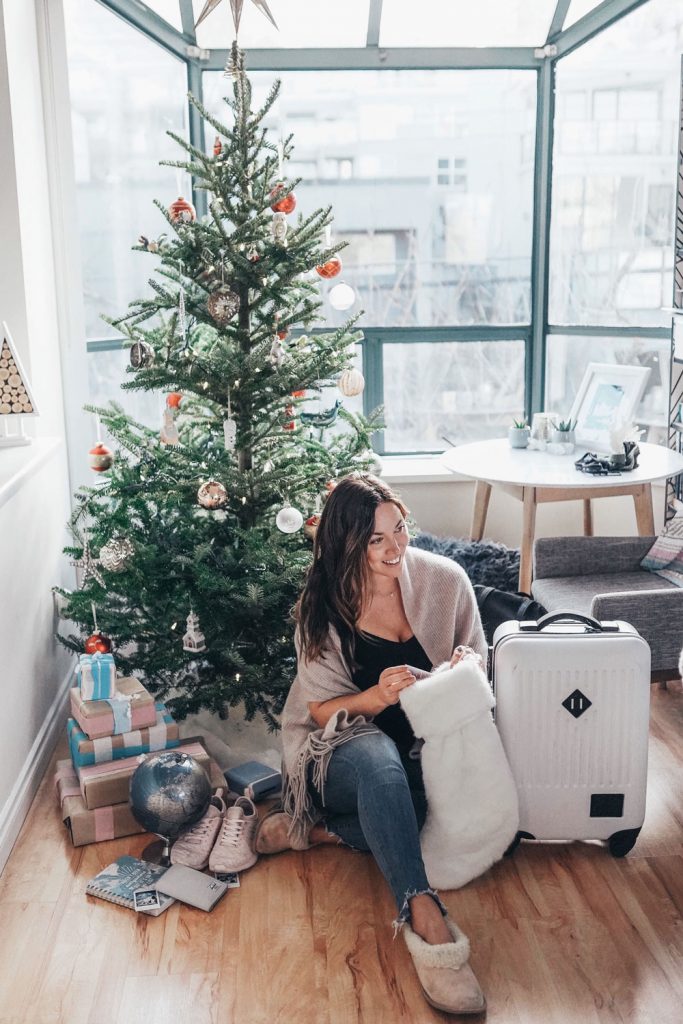 7. Noise-cancelling headphones
I use my noise-cancelling headphones all the time at home, but they are never more helpful than on a plane. I love that they not only let me watch movies or listen to music disturbance-free, but I can still turn them on with nothing playing to mute out noise. This helps a lot because I can't really wear ear plugs because of my narrow ear canals!
8. Sleep aromatherapy oil
There's nothing worse than not being able to get on the time zone of your destination or not being able to drift off up in the air. I don't like taking sleeping pills personally because they make me way too loopy and I prefer going the natural route where I can, so this sleep aromatherapy oil helps me drift off so easily and relaxes me! It's a great stocking stuffer or addition to another present.
9. Sunscreen stick
I always forget to pack sunscreen so I started sticking this into my toiletry bag and found I actually wore it while I was gone! I find the liquids allowance makes it so hard to pack all your creams that you'd ordinarily like, so rather than packing a liquid formula when it comes to sunscreen, I use this instead. It also comes with a sunscreen lip balm, key for sunny destinations! Again, it's a great stocking stuffer.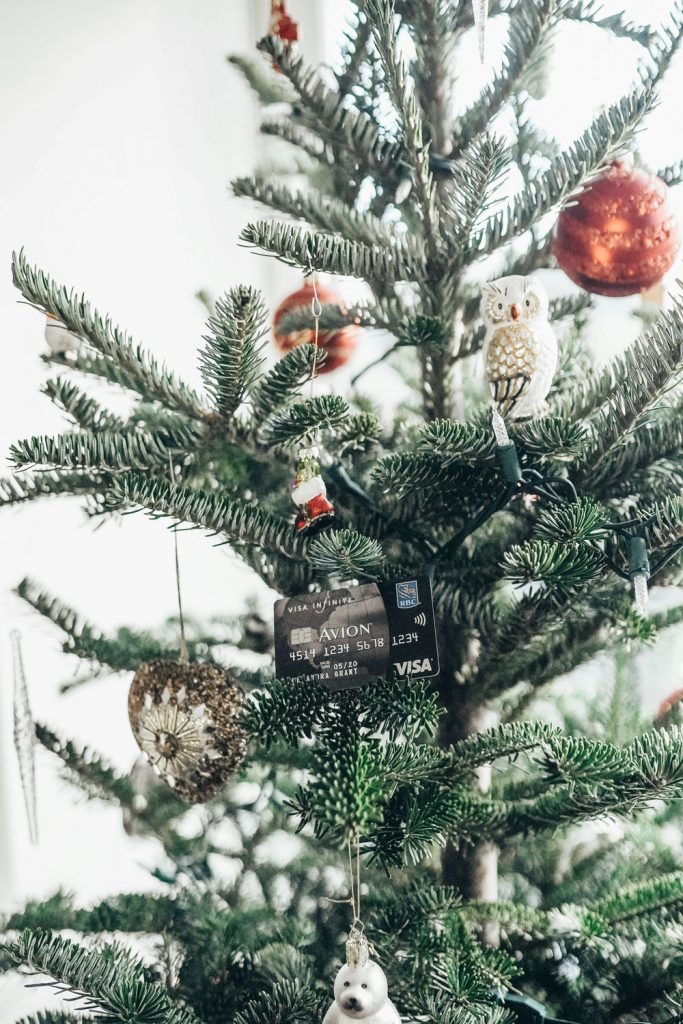 10. A travel journal
You guys might remember I've recently become obsessed with travel journalling. It's brought all my trips to life when I've returned home in such a richer, brighter way, and is really therapeutic while you're gone too! There are so many great ones to pick from but look for one that's thin enough to easily slip into a handbag so that your gift recipient actually can use it.
11. Polaroid printer
While this might not be one that will get packed every time, it will help you remember your trips in a really beautiful way (plus, you can paste it into your travel journal, which is what I do!). I particularly like any that don't require cords or a connection to print.
12. A passport holder
So critical! Not only does it keep your passport safe and secure, it makes it easier for you to dig it out of your bag and also keeps all baggage tags, boarding passes and any other docs or cards you might need to easily access in one safe place. Pick one with some decent padding to keep everything secure!
Again, while you're doing your shopping, I can't stress enough how amazing it is to have a card like my RBC Avion card that's rewarding me as I'm getting gifts for my loved ones. I tend to start planning out my travels for the New Year so I can earn even more on any flights, hotel bookings or car rentals I buy! Learn more here and make sure you tag @rbcavion in your travel adventures on Instagram with the hashtag #Avioning.
This post was created in partnership with RBC Avion but all opinions are my own.