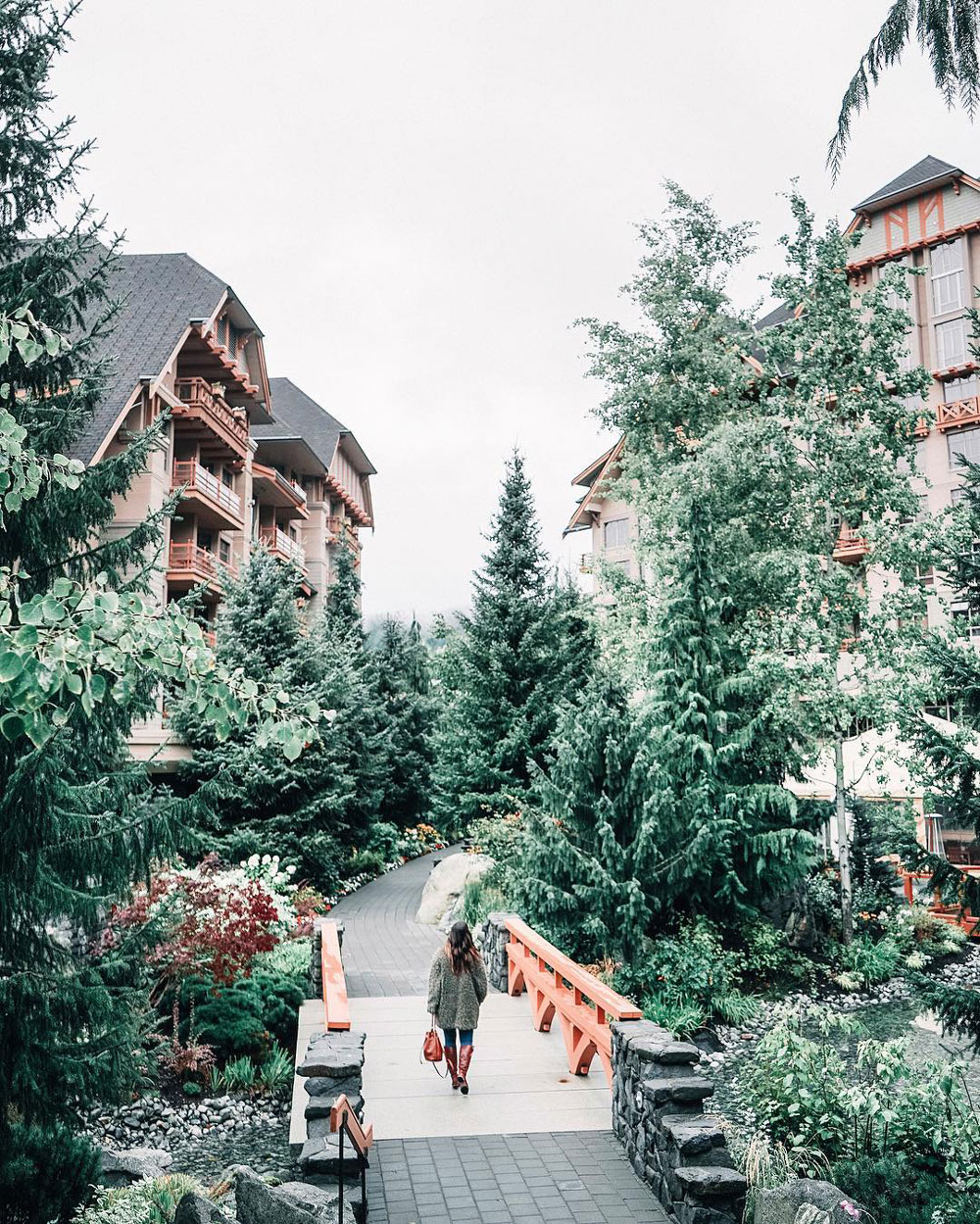 If there's one place I've gotten to know from a "frequent visitor" perspective, it's Whistler. I feel like I'm up to this little slice of alpine paradise at least once a month most months, and it's started to feel like a bit of a second home for me over the years (well, third home after the Sunshine Coast, because nothing will top my cabin!). While I'm really lucky that one of my best friends has a cabin up at Green Lake that we often frequent, I've also gotten to know the hotel scene here really well since a girl's gotta lay her head down somewhere and my friend's already been way too hospitable with us in the past. One place I haven't had the chance to stay at but always really wanted to experience was the Four Seasons Whistler – I popped in during Cornucopia one year to have a poutine feast at their famous steakhouse restaurant Sidecut, but still haven't had the full experience. Until, of course, a couple weeks ago.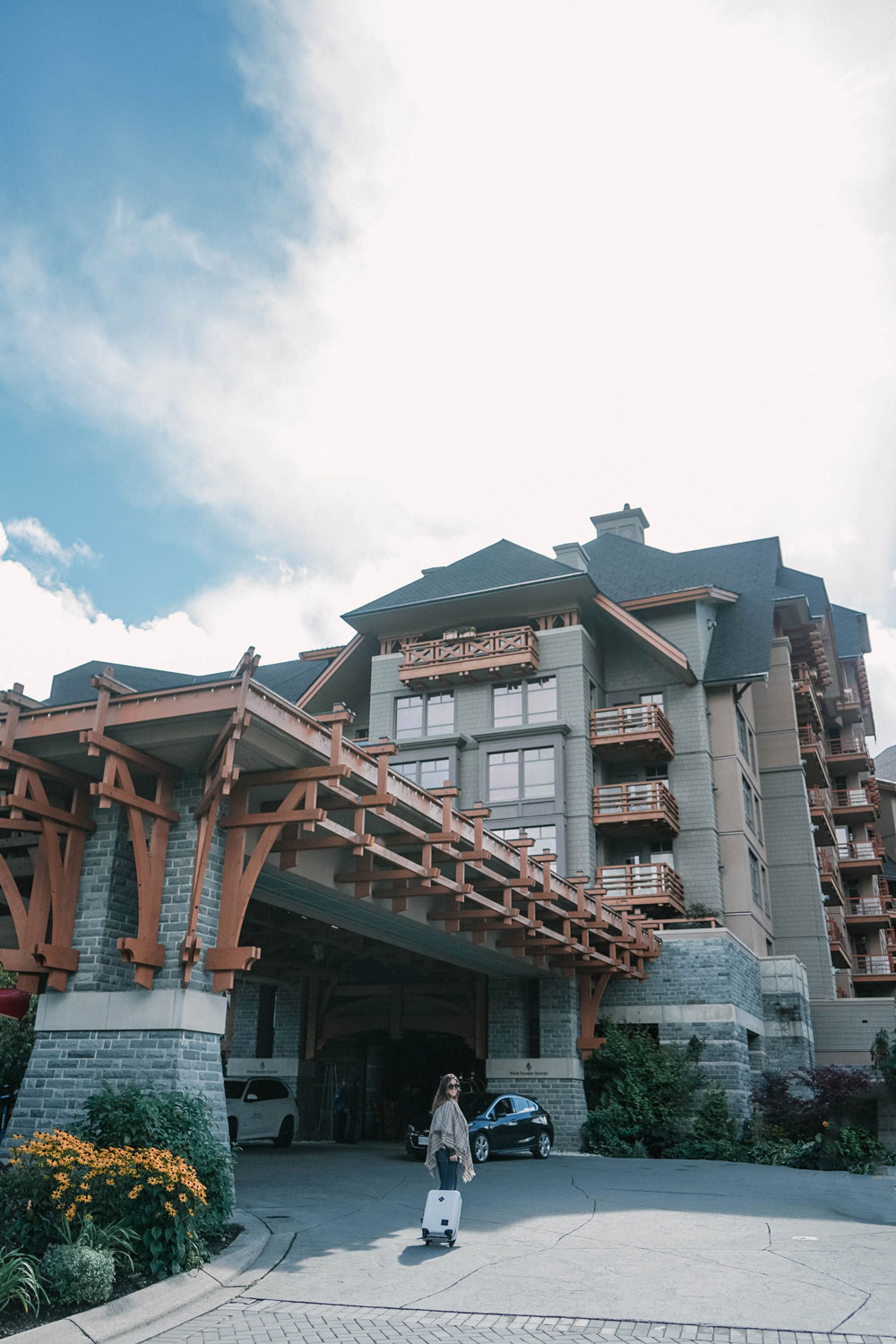 My lovely friend Lynn's wedding was taking place at the nearby Fairmont Golf Club so staying in Upper Village was a must – for those of you who haven't been to Whistler yet, there's Whistler Village where most hotels are (and where the clubs, bars, restaurants and general craic as my Irish friends say generally is), and then there's a few other areas, like Creekside which is a bit of a drive and Upper Village. I love staying at Upper Village because you're still walking distance to the village (and if you don't feel like walking, you can likely catch a shuttle), but you're a bit removed so you get those amazing "Whistler sleeps," as I like to call them (i.e. deep, amazing, quiet sleeps).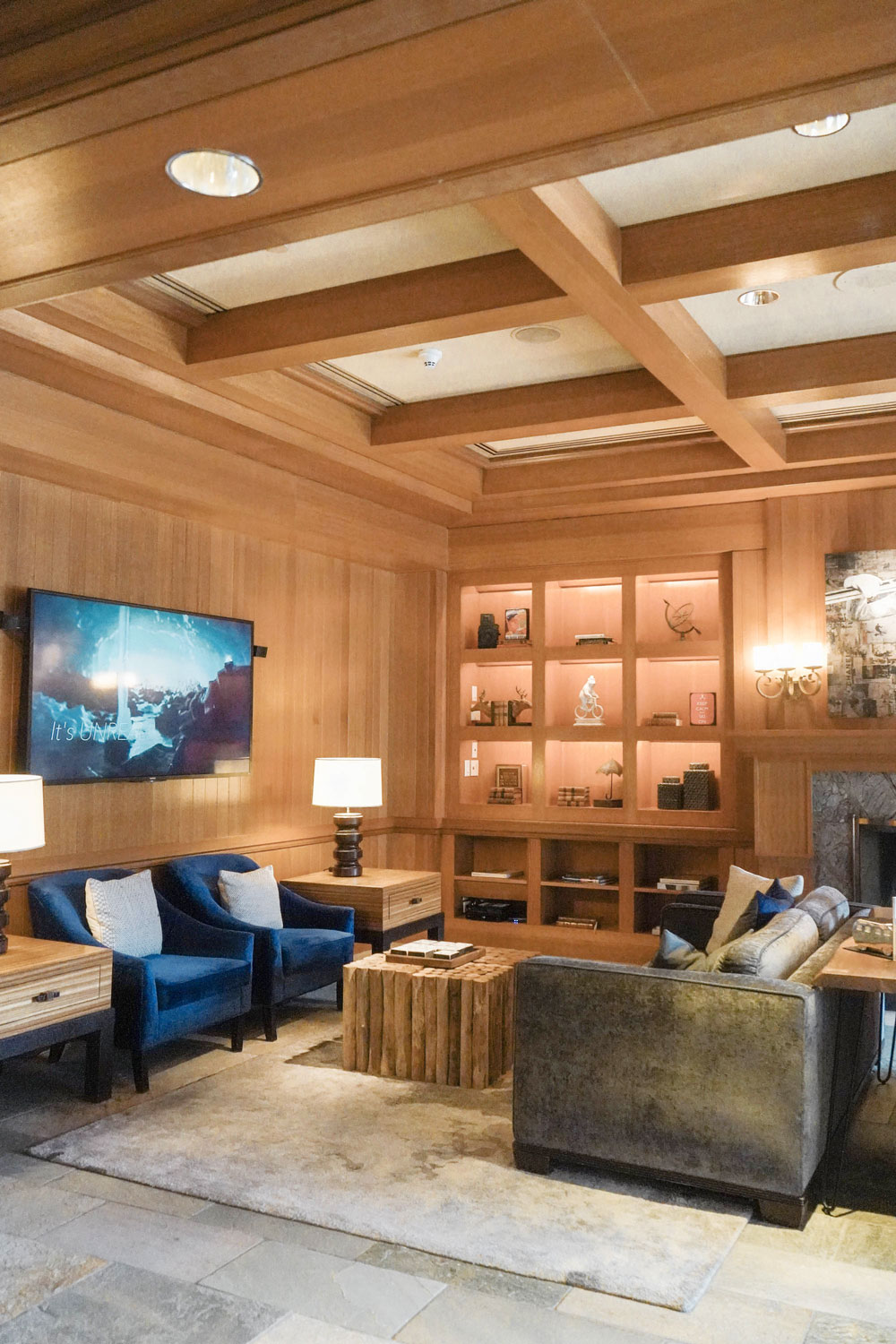 Four Seasons Whistler is located right as soon as you enter Upper Village off the road, and as you can see in those snaps above, it's absolutely breathtaking. It's that modern alpine style that I'm obsessed with, with gorgeous peaked buildings enclosing both the entrance and the stunning pathway that cuts through the hotel, with the spa, pool, rooms and dining on either side. For those of you who haven't done the Vancouver-Whistler drive yet (and if you're visiting either and want to know about the drive, make sure you check out this post about 2 must-do activities and this post which is about what to see along the way), it's just under two hours (with a coffee break in Squamish) away from the city so we headed in after work on Friday and basically cozied up and passed out so that we could have a nice full day on Saturday.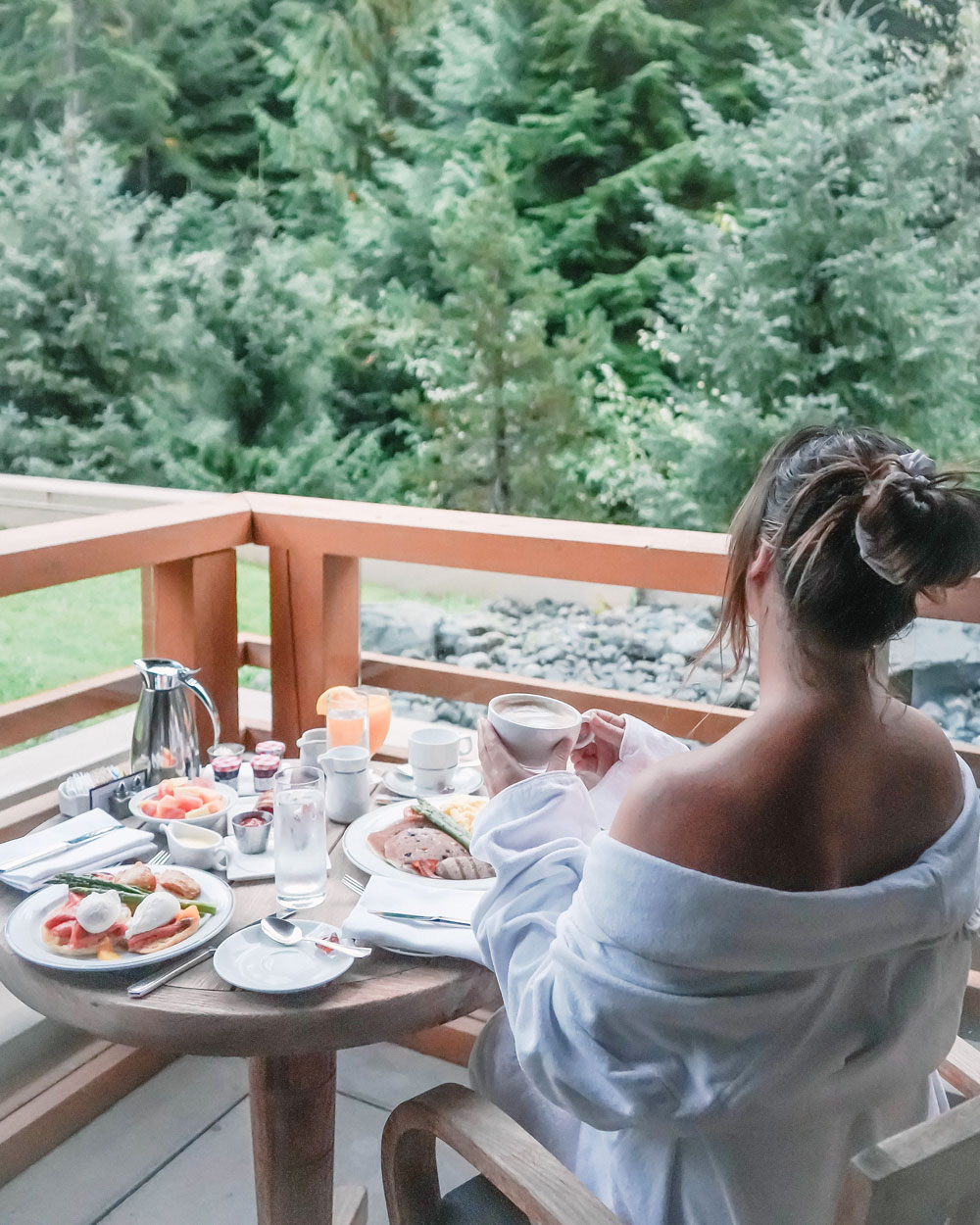 We placed our order for room service for breakfast and were already blown away over the phone – everything from having our eggs cooked exactly as we'd like them (medium poached, if you're interested btw) to the type of scones we want, it was such a thorough order and you could tell that they take all their dining experiences so seriously, whether it's in-room or in the restaurant, everything is so incredible and delicious.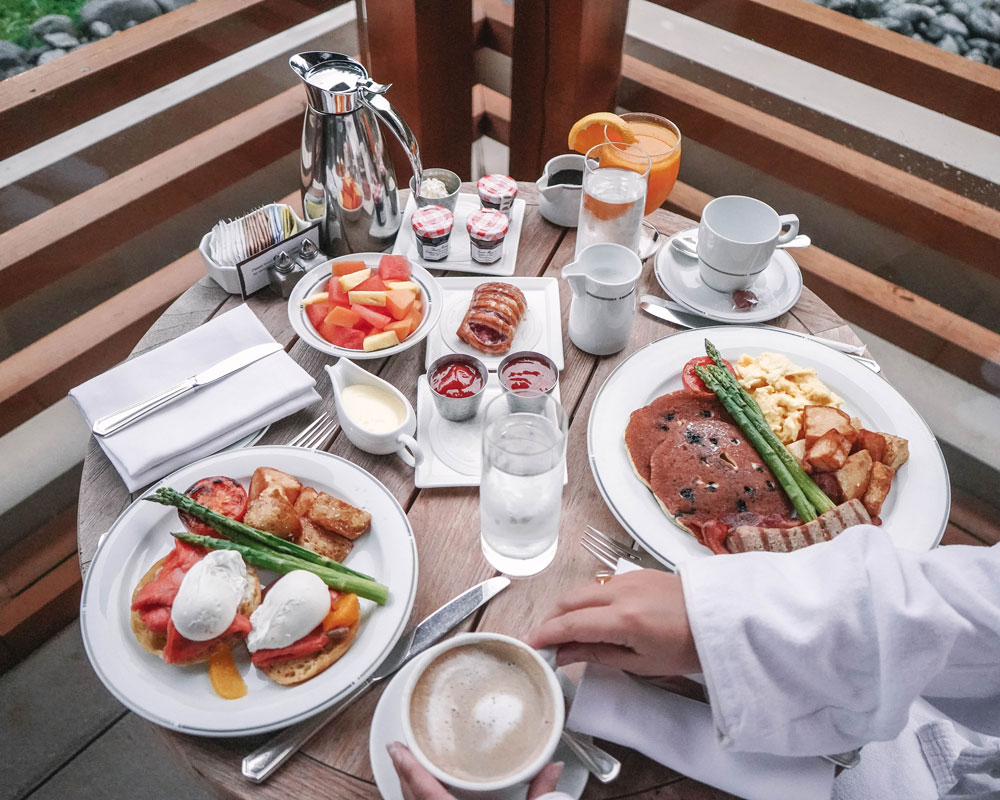 We feasted like kings & queens before we headed off to Scandinave and then up the mountain – it was the perfect sustenance for a day of exploration and trekking around, particularly because the weather had just dipped that day!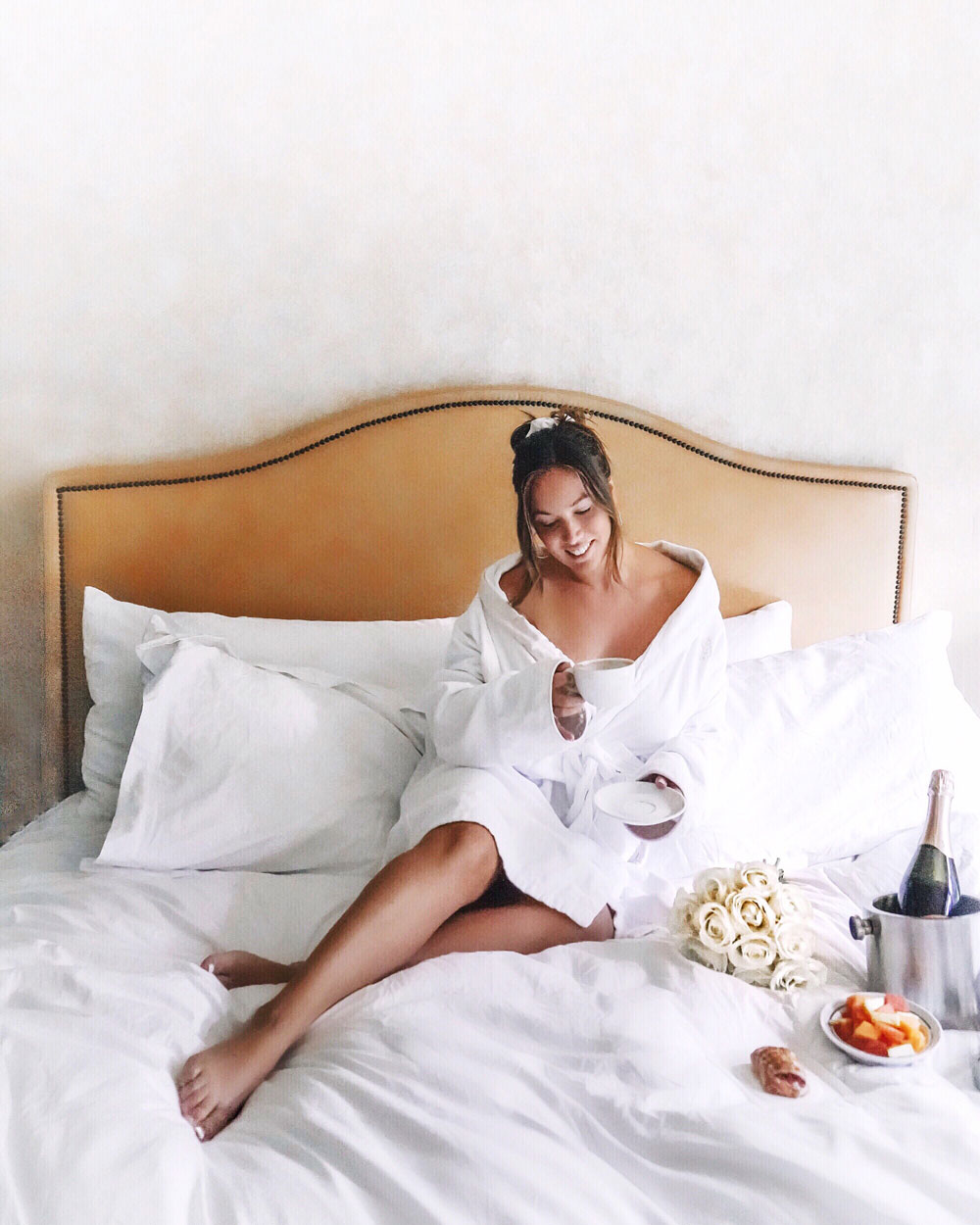 And it also didn't hurt that we slept so amazingly – the beds are the stuff that dreams are made of! We seriously looked forward every night out of our three night stay to cozying up in here with the fire on in the other room. You can check out more of their accommodation options here!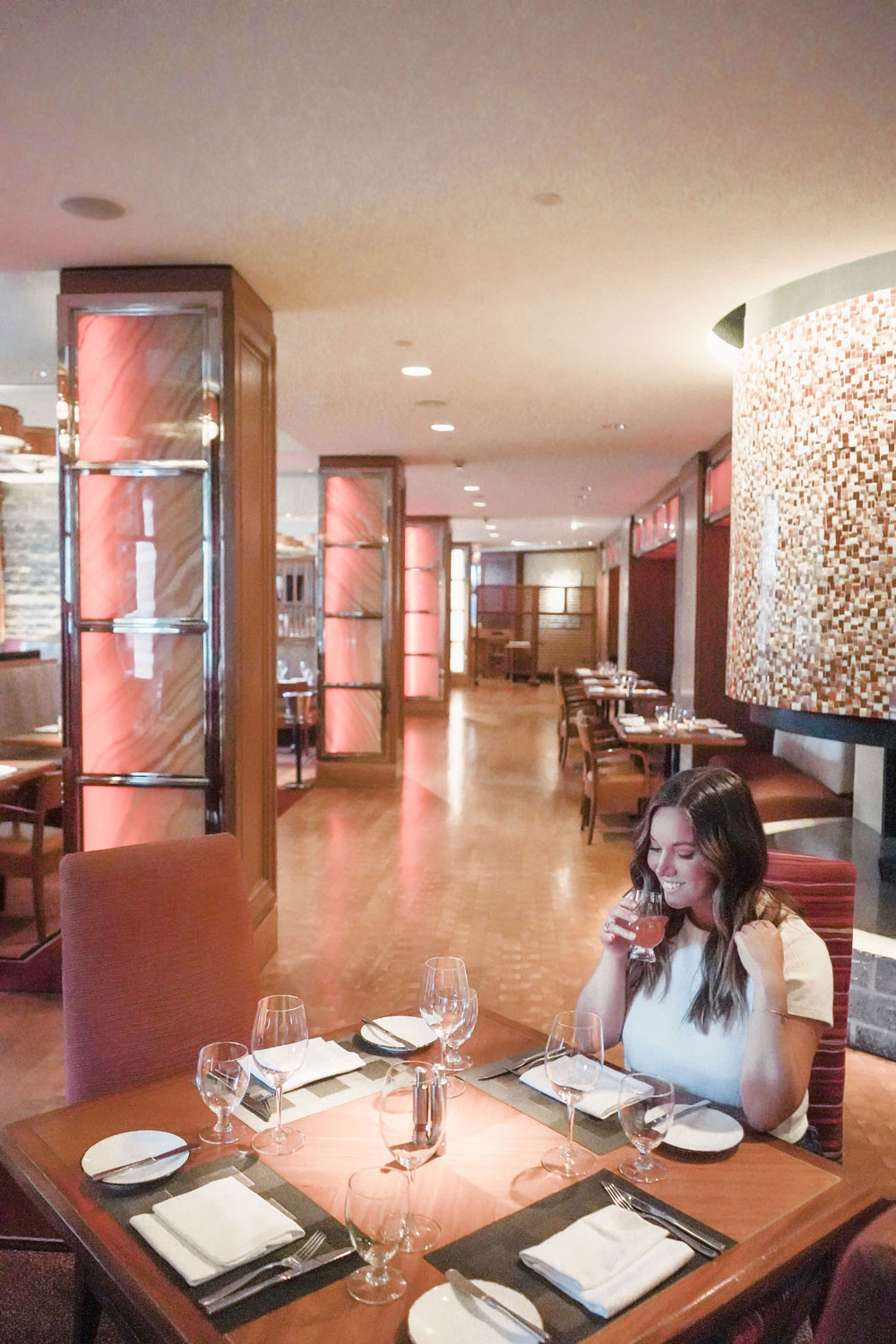 I got to return to Sidecut as well, this time to try out their cocktails! They have some seriously incredible cocktails on their menu, from a tequila based concoction steeped in different fruits and aromatics like lemongrass for hours to a cocktail that literally comes in its own little miniature smoke house (Matt was obsessed with it – you open it up to have the smoke puff up out of it, leaving this deliciously smoky drink!), they're so innovative and offer a seriously unique experience in town.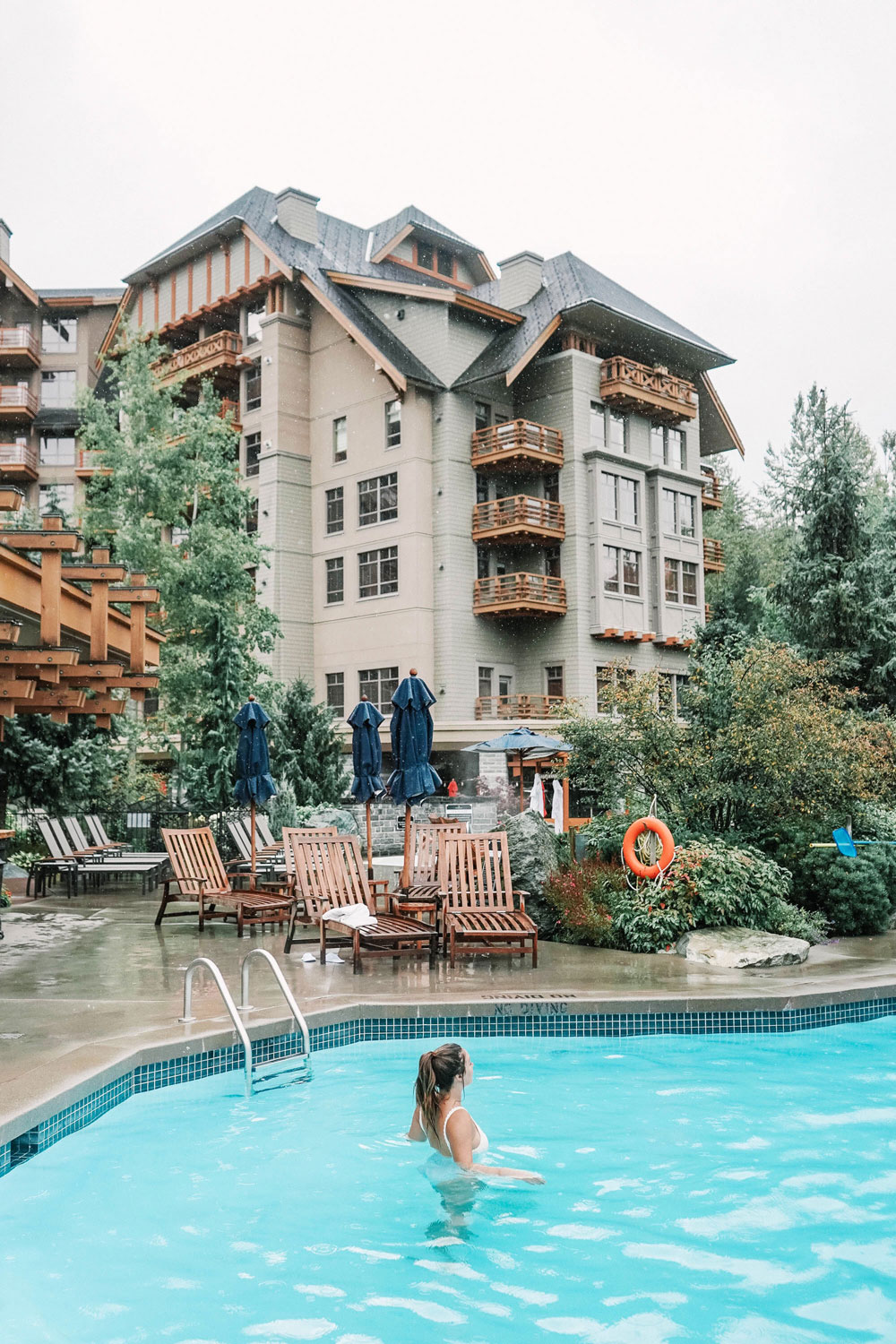 We took advantage of the gloomier weather on Saturday (since we'd be at the wedding all of Sunday) to really relax at the hotel and take advantage of its amazing amenities, from a eucalyptus steam room you can access on the way to the pool to the gorgeous heated pool itself, where you can relax and unwind in the pool or hot tubs no matter what the weather's like.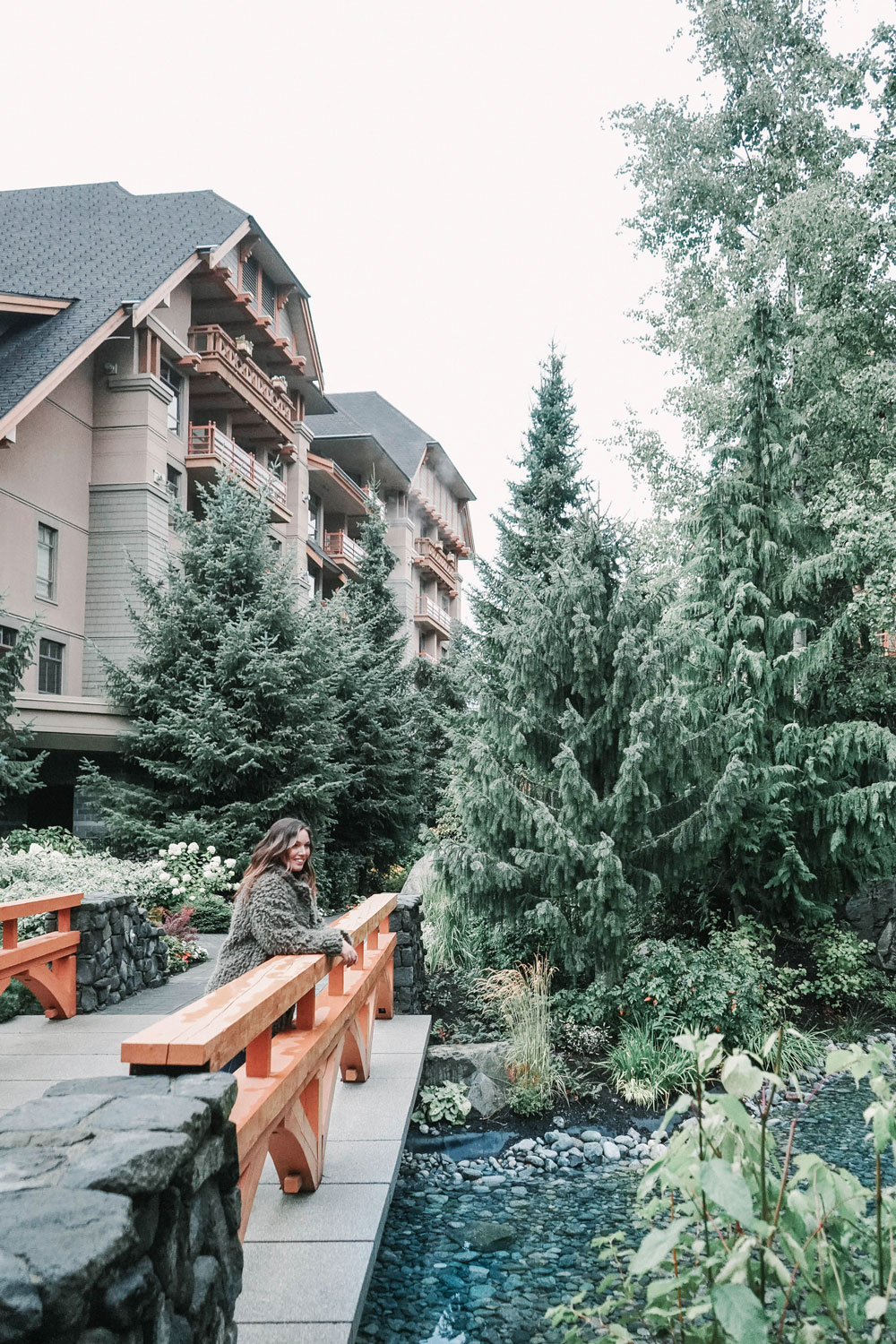 Oh, and important note – come November, there will be a smores station outside of Sidecut with a roaring fire so that you can create your own gooey smores with snow falling around you! Seriously, could not think of a more dreamy mountain activity. I can't wait to come back up here in the winter months to see all of this cloaked in white!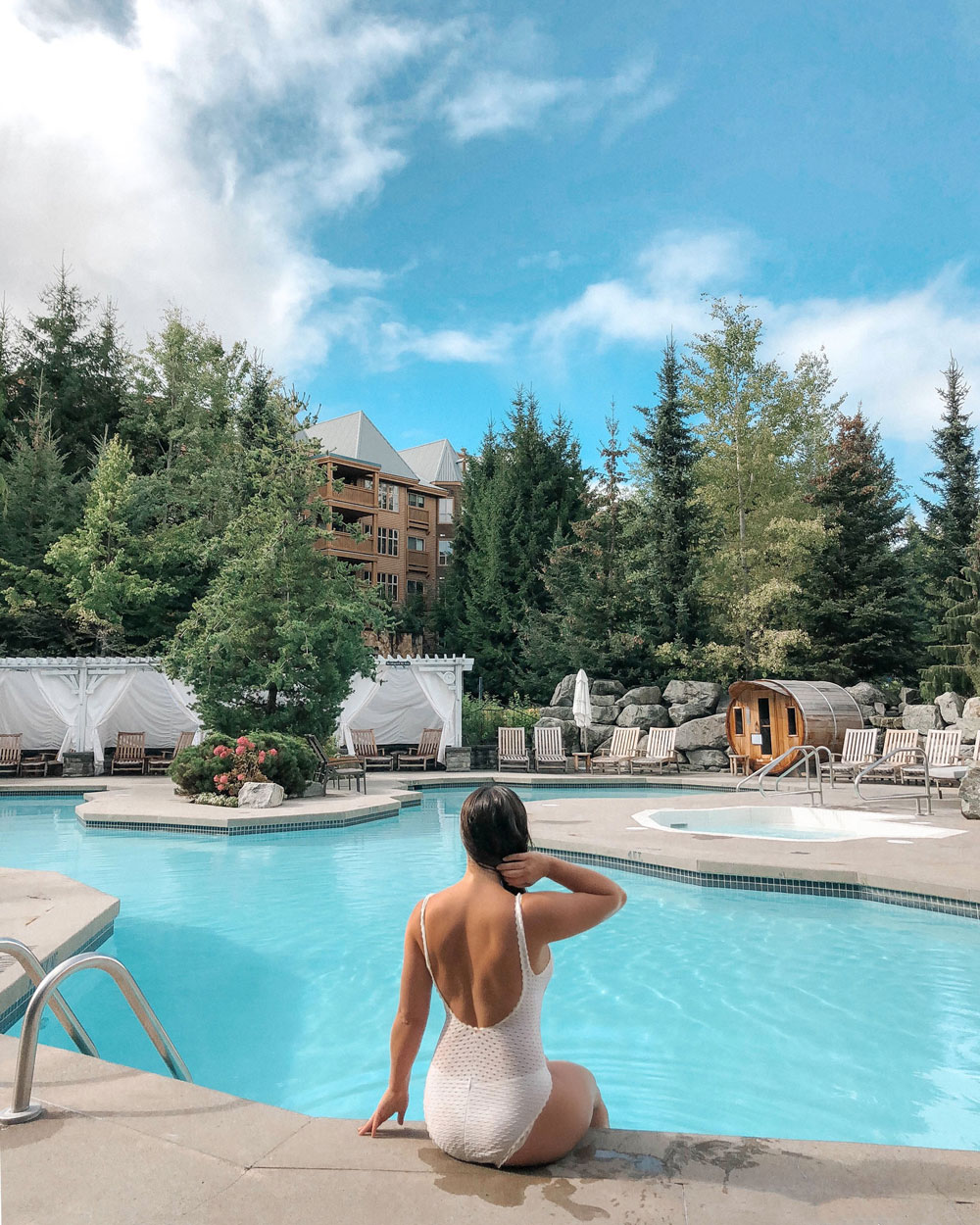 Sunday was a wedding extravaganza (though we got to enjoy the breakfast buffet before taking off, it was unreal, literally everything you could ever want for breakfast and all so delicious) but we had a little half day on Monday to still enjoy the hotel, plus the sun was out! I did what I always do which was to make a beeline for the pool and soak in the sunshine while I could – being a Monday, it was so serene and quiet, which only helped prime me for the next experience which was…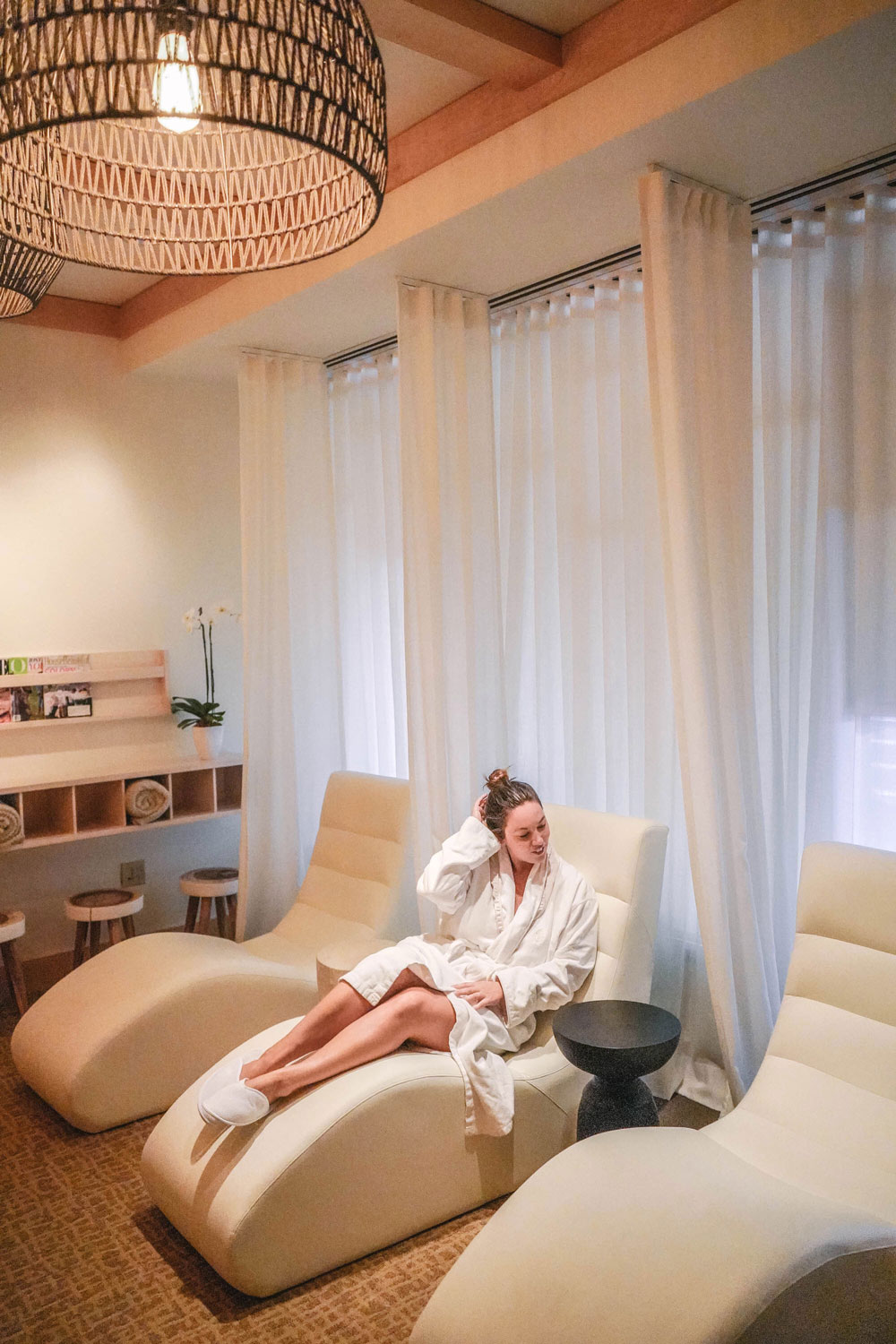 …the spa! We had the most amazing Après-Ski Massage and it was exactly what you'd need after a day on the slopes (or if you're me, just being pretty much always sore and tight from whatever workout torture I happen to be putting myself through on that given week). From a cooling foot wrap to hot stone treatment to a beyond relaxing full-body massage, we honestly were so blissed out afterwards.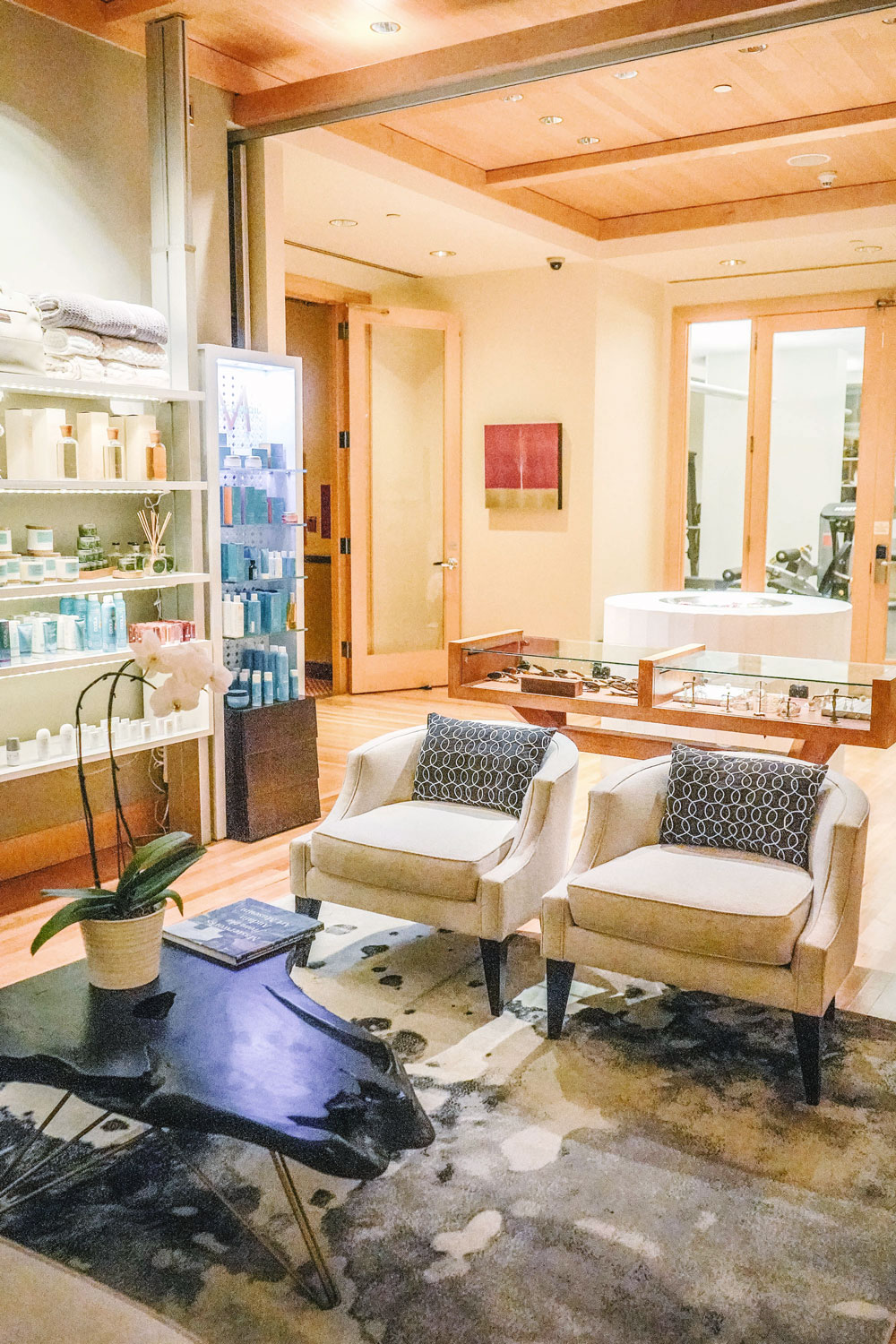 The spa itself is gorgeous and it's so nice how you can take advantage of the steam rooms, pool and hot tub afterwards. Matt has to work on a pretty strict 9-to-5 so he had to take off, leaving me to enjoy some seriously calming moments alone in the pool. It was quite literally heaven.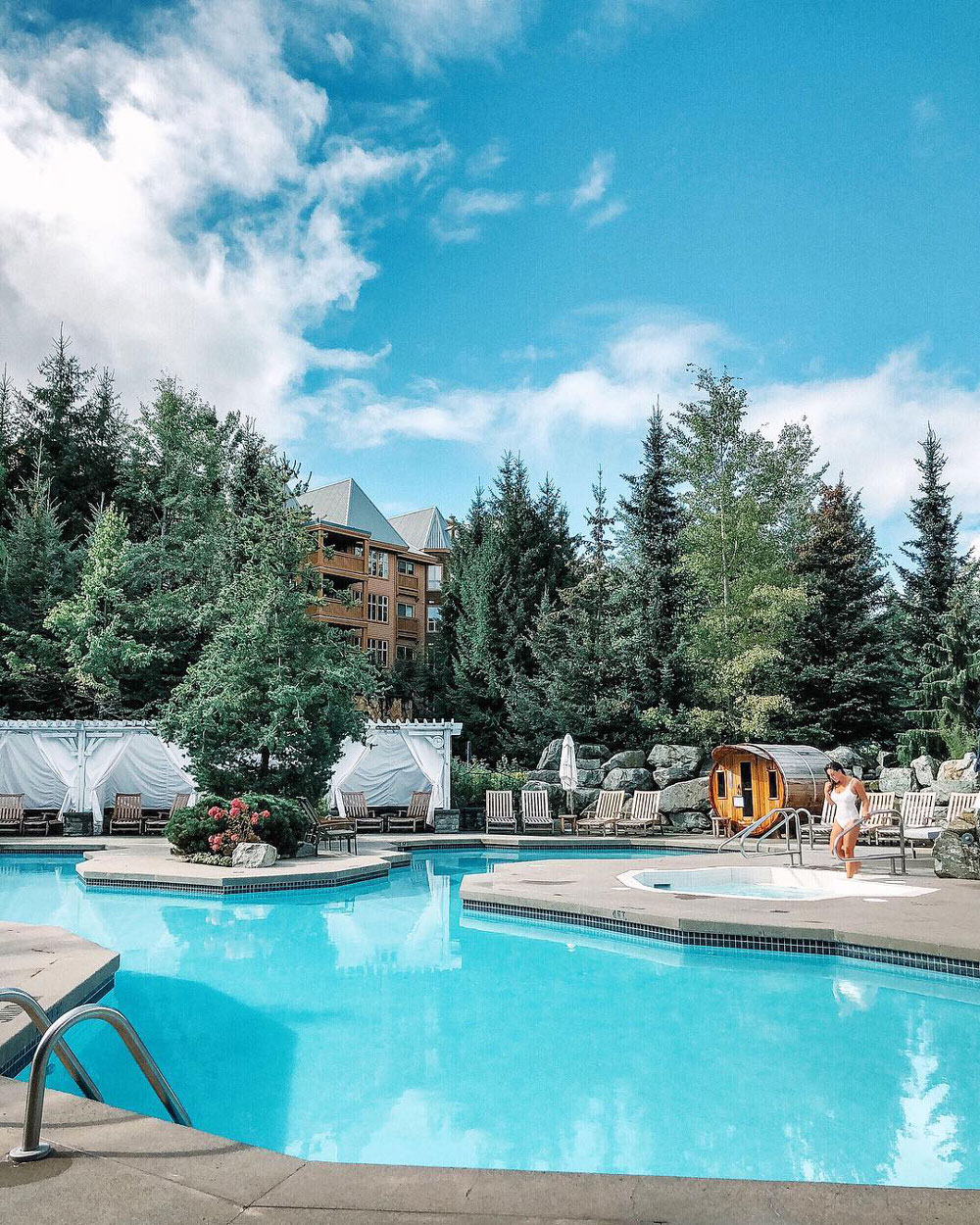 And just like that, it was time to pack up and leave! We were both gushing about the experience on the way home – it was from start to finish a seriously amazing stay, and what really stuck out to both of us was the attentiveness of the staff. From Day 1, they remembered my name and the staff we chatted with on the shuttles and for the valet got to know us. It was a serious home-away-from-home experience, with a huge heaping of luxury added to it. I don't always get that sensation that you're being looked after when staying at a hotel, which is really the experience you should be getting, particularly with a luxury hotel. The Four Seasons offered that and even more, seriously exceeding all of our expectations.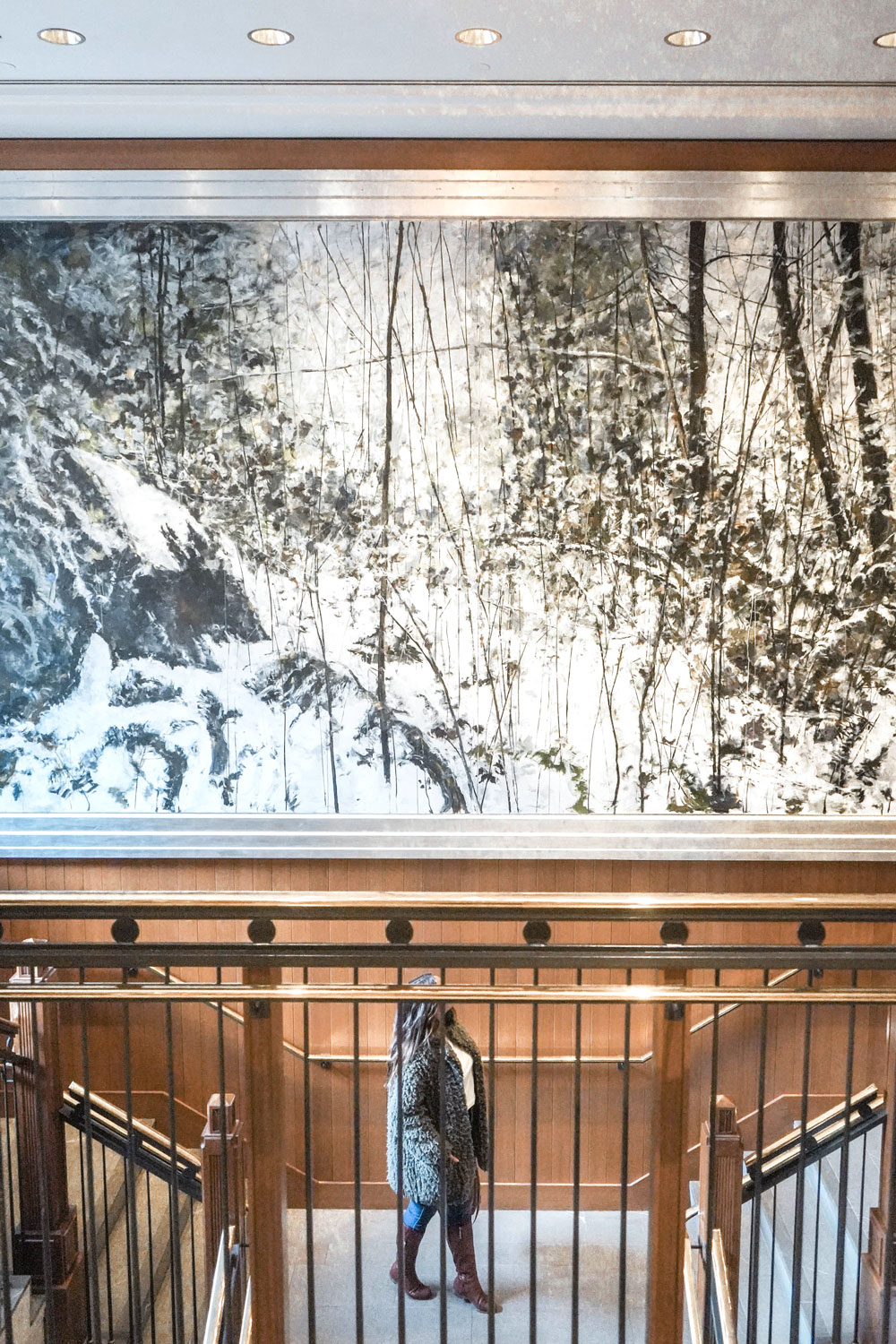 You can check out more about this stunning space here and see what they have on offer for this fall/winter! It goes without saying that this would be such an amazing place to stay at if you're a skier or boarder, particularly with Blackcomb being right there next to the hotel! We'll definitely be back and I already can't wait to see it in other seasons! There's something magical about how Whistler evolves for every season, going from a fun, outdoorsy vibe with mountain bikers all around in the summer to cozy retreat vibes in the fall to a party up the mountain all winter to the best hiking in the spring. It's my go-to for all my outdoor adventures for a reason!