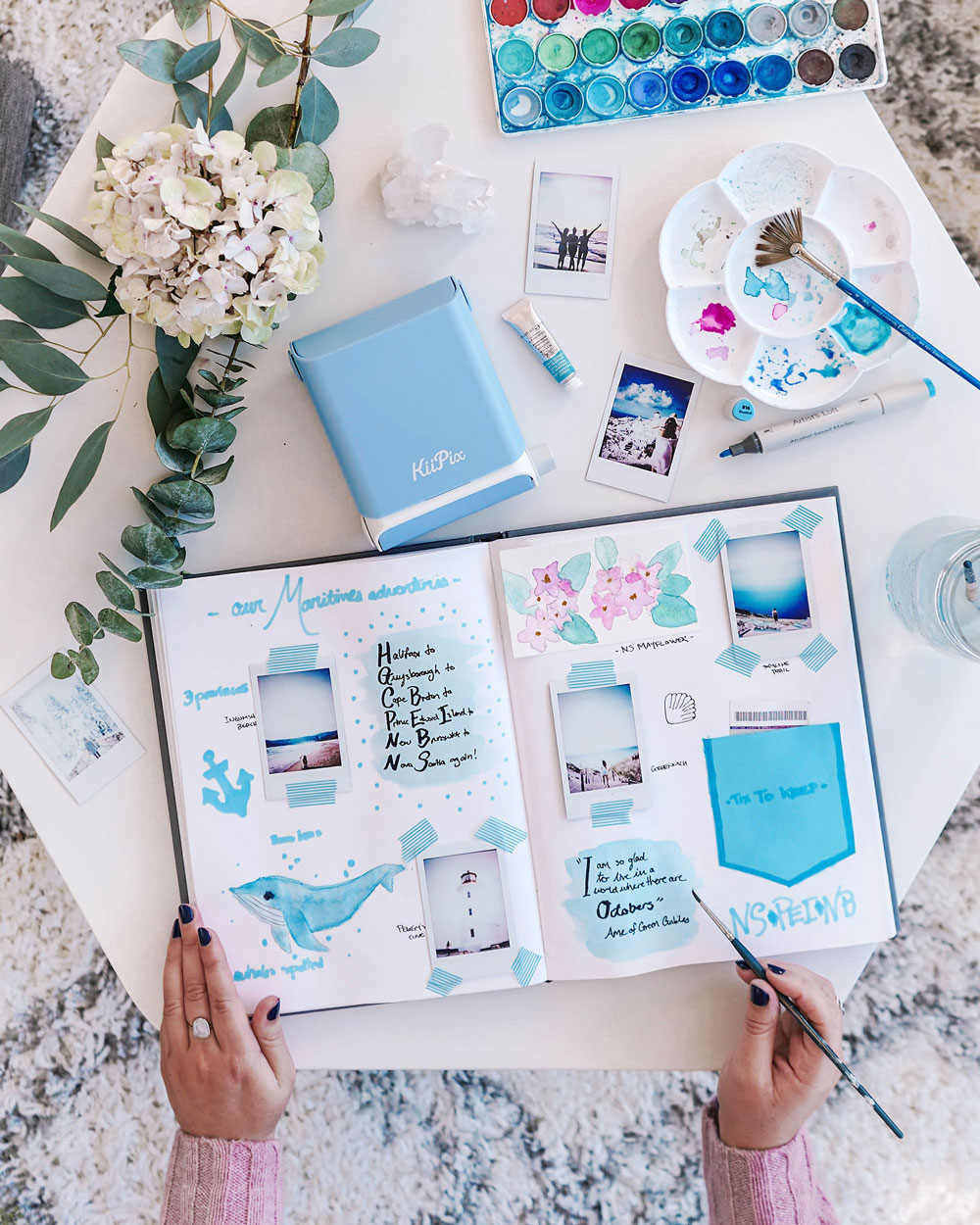 I started travel journaling during my Thailand trip and while it started out as just a bit of a free form journaling activity sharing my daily thoughts throughout the trip, I've started having more fun with it over the course of this year and adding in more visual, creative elements so that I really remember the trip in a really personal and unique way! It's helped me not only remember all of my trips in a much more vivid, beautiful way, but it also keeps all my mementos in one place so that I don't lose anything along the way, whether it's a physical memento or a memory! Want to get started yourself? Here's some of the elements I'd suggest adding in so that you can start getting creative with your travel memories!
 A Polaroid camera
I've tried a bunch of Polaroid cameras out but I'm really obsessed with this KiiPix camera lately – it's Bluetooth, Wifi, battery and cord free. All you need is your phone and the Polaroid camera! I love that this allows you to get your image just right (doing any edits that you need to do to make sure it looks great!) before you print it out!
 Watercolour
Or any paint! You guys might know from my Insta stories that I love painting as a way to destress, so any excuse I get to paint is one I'll always go for! Whether it's a scene that really sticks out to you, flowers you kept seeing, a building you loved, etc, get painting! I also love these artist's markers that you can also get more creative with than pens or Sharpies for adding in pretty details.
 A Little Ticket Pocket
All you need is some craft paper and glue! I love this because I always keep all my tickets, so you can add in different tickets or even sea glass you find along the way, a coin, etc!
Washi tape
You have to keep all your pics and other mementos secured so opt for some pretty washi tape that suits your travels to tape it all down!
Quotes, Itineraries, etc
We listened to the Anne of Green Gables audio book while we were driving around and it kind of made our trip, so I knew I had to add in an Anne quote. Also, it's surprising how many details I always forget the further I get from a trip! I love that adding in an itinerary, a fave restaurant, etc cements the memory in my mind.
Have you guys ever tried travel journaling? Tell me in the comments below!