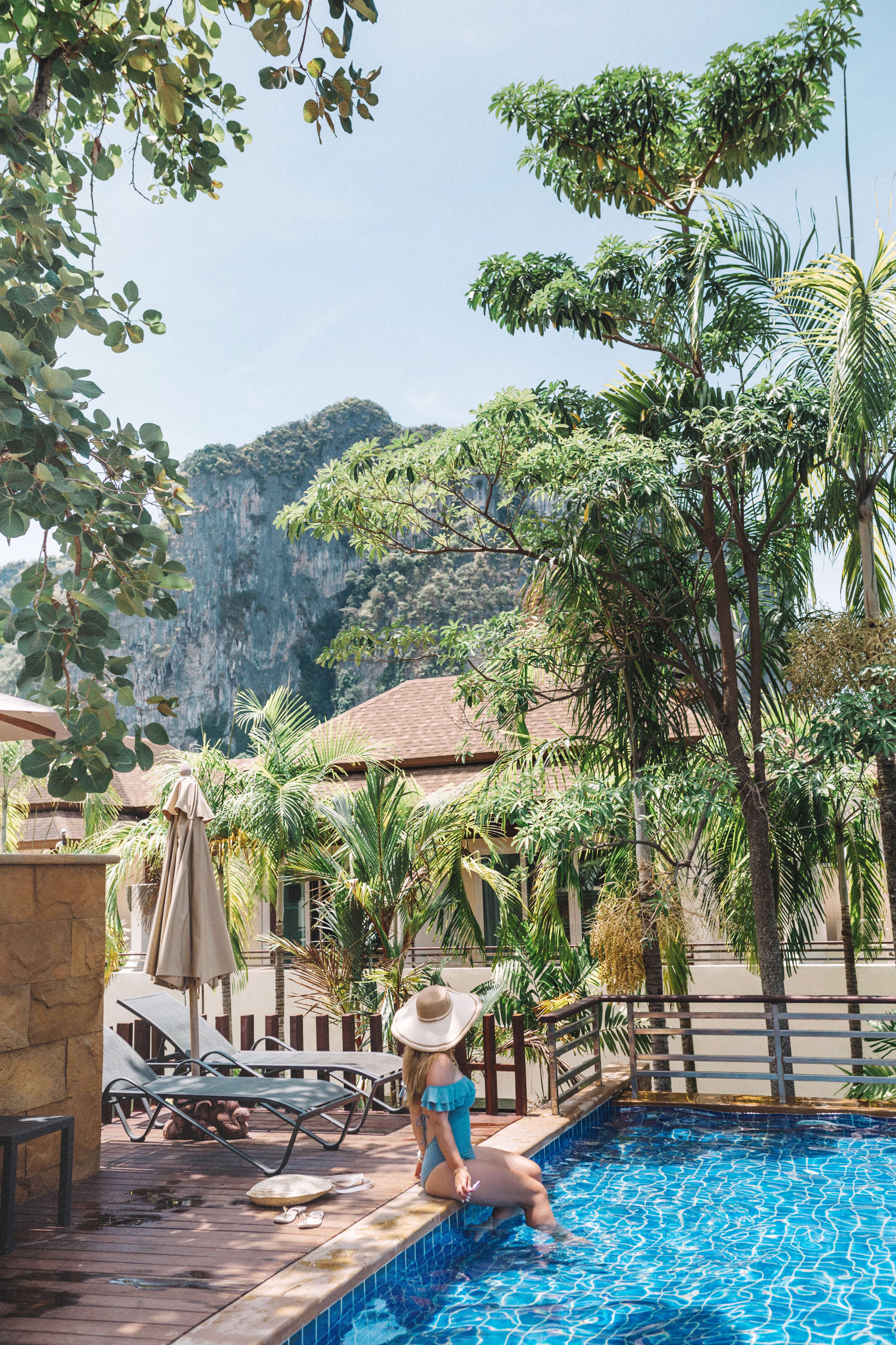 I like all kinds of trips but like most everyone else, I'll never say no to a beach vacation in particular. Especially with summer around the corner, getting to go away to Thailand recently and really soak in that heat was everything and made me (and my Vitamin D levels) so happy! I've done many a packing list in the past (just see this 3-week carry-on list, my multi-destination list or more destination-specific ones like my Greece or Spain lists for some quick examples!), but haven't done too many of my essential needs (in other words, my quick go-to checklist of musts for certain types of trips).
So without further ado, my absolute must-pack, can't-leave-home-without-them items for a beach vacation! First up, an unbelievable razor—my ancestry is a big mix (Irish, Scottish, English, Polish, etc) but I think it's the Ukrainian in me that has "blessed" me with quick-growing, dark hair (which set against pale skin at the beginning of a trip really creates a beautiful effect, sigh). I also have really sensitive skin, so shaving every day is out of the question for me. Unless, that is, I have a really amazing razor, one that will keep me stubble-free in the sun so that I can wear all my suits and cute dresses with confidence.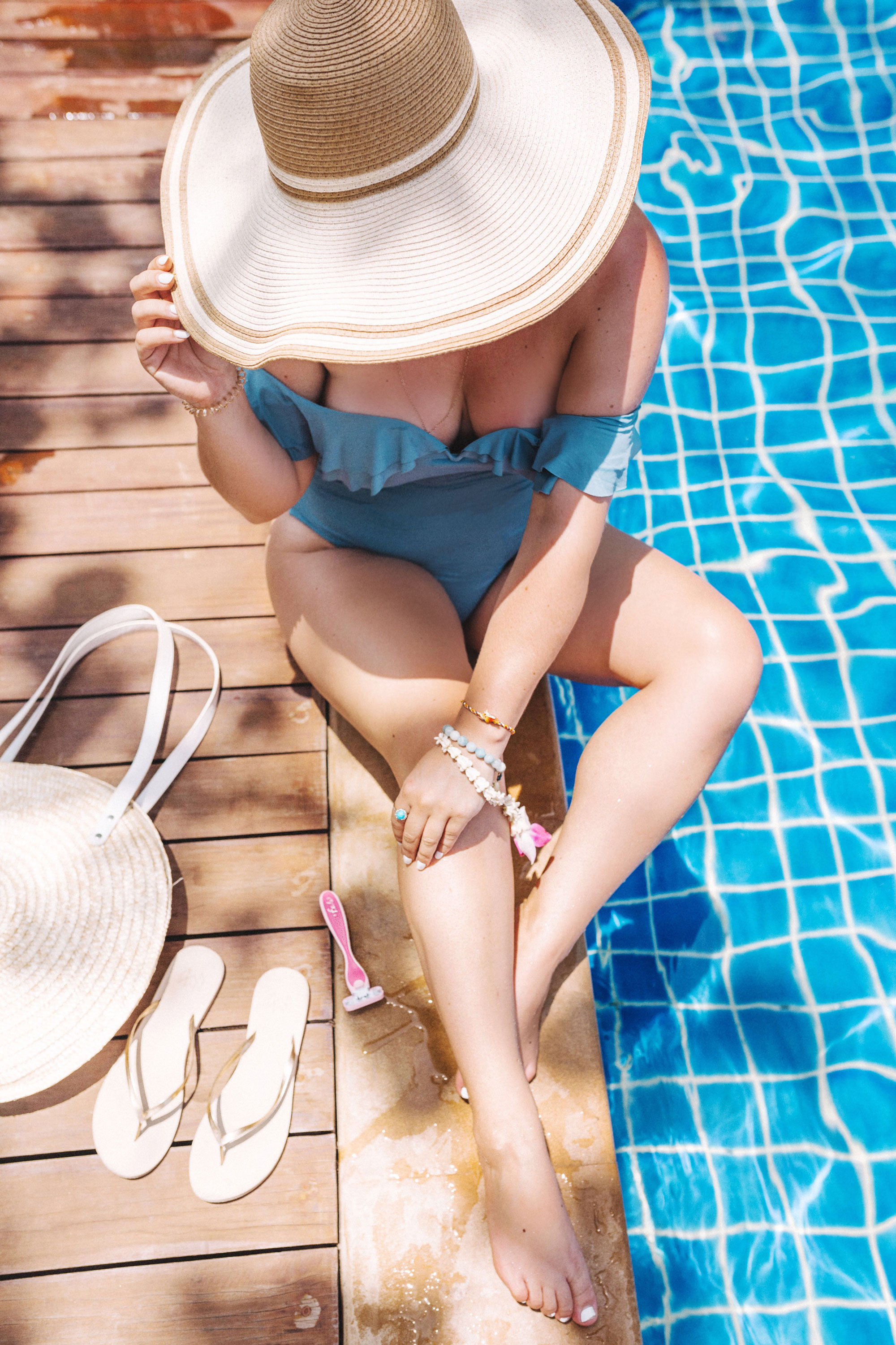 I recently got sent Shick's new Intuition f.a.b. razor, which is the first razor to shave both front and back—I was blown away. I somehow always miss bits on my ankles and knees (aka the bony areas that are such a struggle to shave), as well as the back of my thighs. I was able to get to everything so easily and literally halved my shaving time while I was away! Just check out the video towards the top of this post to see it in action!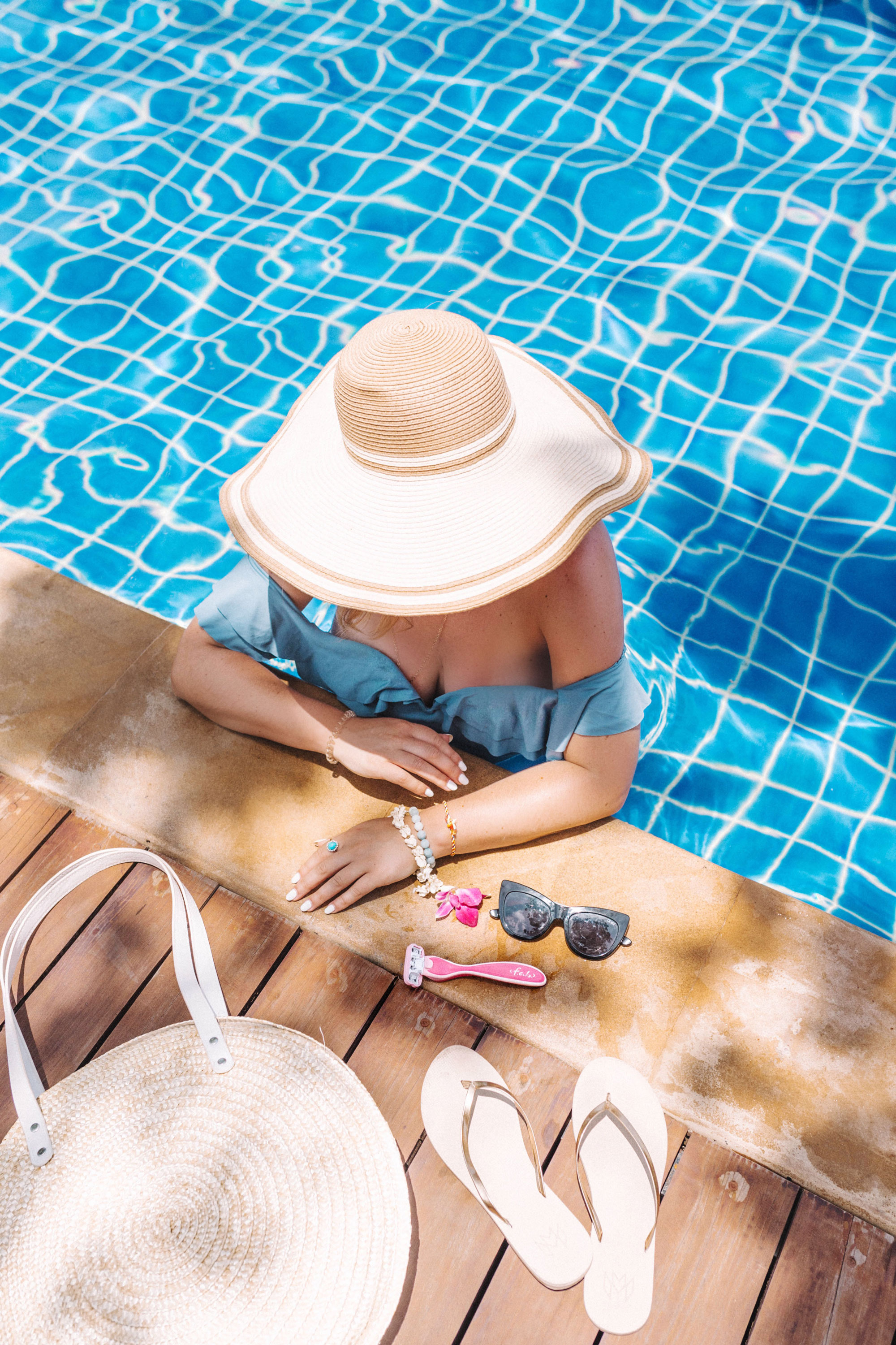 I'm also such a fan of the easy-to-grip handle and seriously moisturizing strips on both ends of the razor—I've been in my share of interesting shower set-ups thanks to the massive amounts of travel I do. Whether it was the dark cubicle I had in Santorini once (where I literally could hardly see anything) to the dribbly shower with a leaking shower head in Koh Phi Phi, sometimes shaving on the road can honestly be a safety hazard. Throw in a few nicks and cuts after a haphazard shave and you then also run the risk of getting exposed to an infection, which isn't usually an immediate concern but after experiencing Songkram (the Thai New Year, an amazingly fun 3-day water fight) where murky water was getting tossed all over me every day, it's made me very aware that there is potential for an innocent shave with a bad razor to go wrong!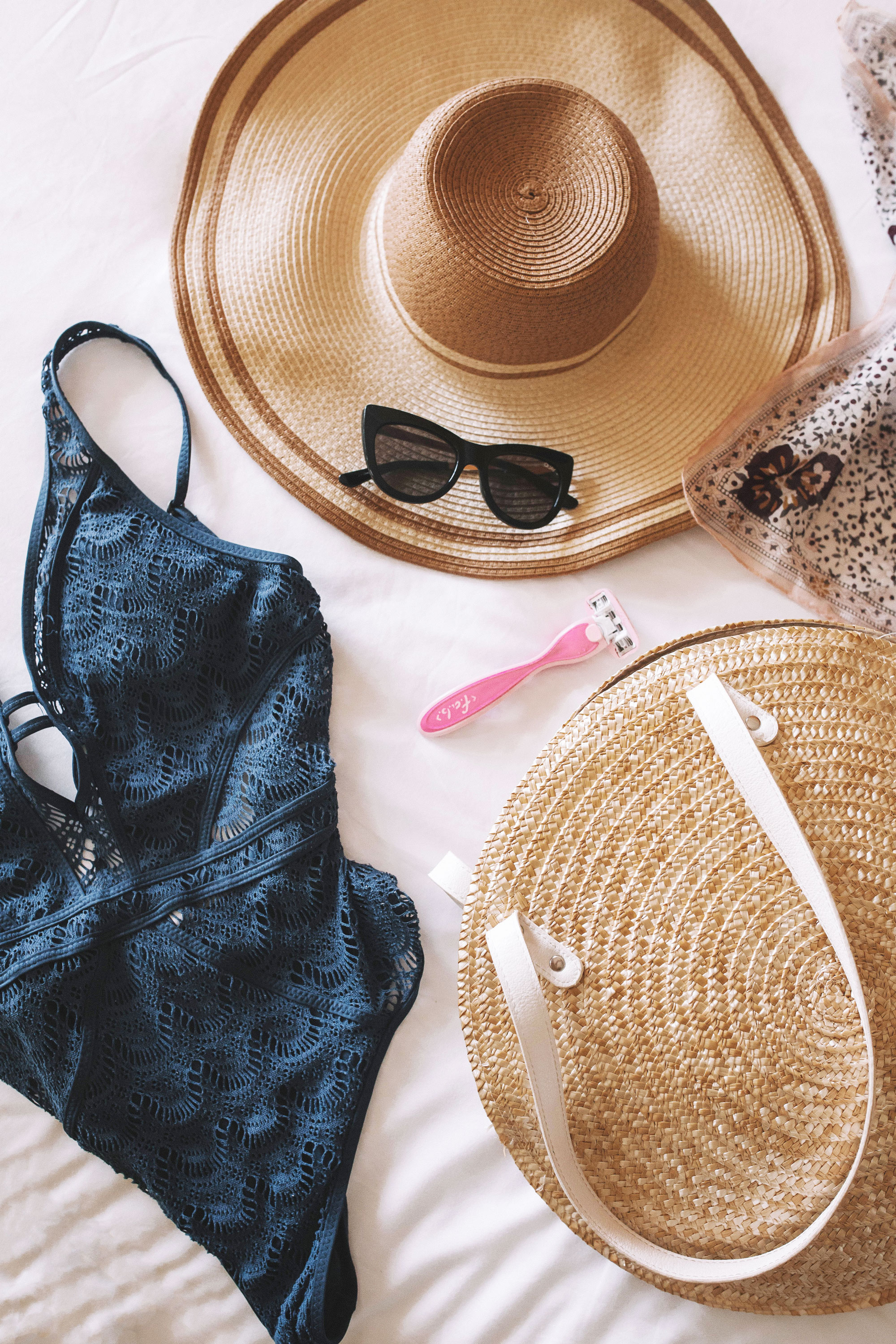 I had literally zero nicks, not to mention it was such a fast process so I had all the more time to get out that day and take a long tail boat out to Railay Beach and soak in the sun with my freshly shaved and silky smooth gams (is there any better feeling than having smooth legs after a few days of stubble?). Learn more about Shick's new Intuition f.a.b. razor here!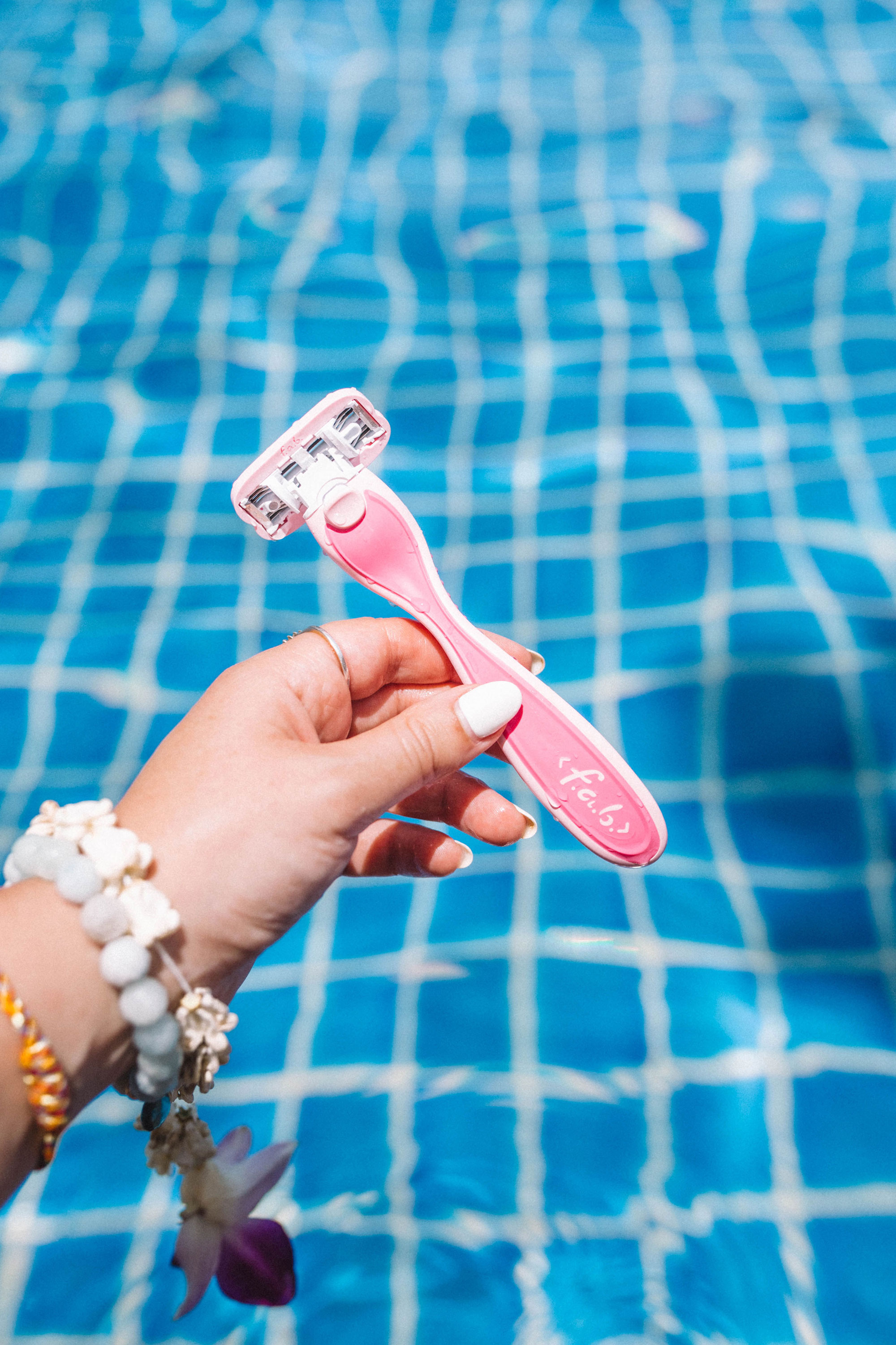 Other than a killer razor, it's so key to me to have a really amazing, big sun hat that will keep my face covered while also protecting me from heat exhaustion (or stroke, which I had once in Greece and will ensure I never have again because it was such a terrible experience). Especially for a humid location, I also make sure I have a cute bandana that I could wear around my neck but that I ordinarily double up as a quick headband or hair tie to keep my hair off my neck, so essential for staying cool and from keeping your hair from looking like you just emerged from the pool!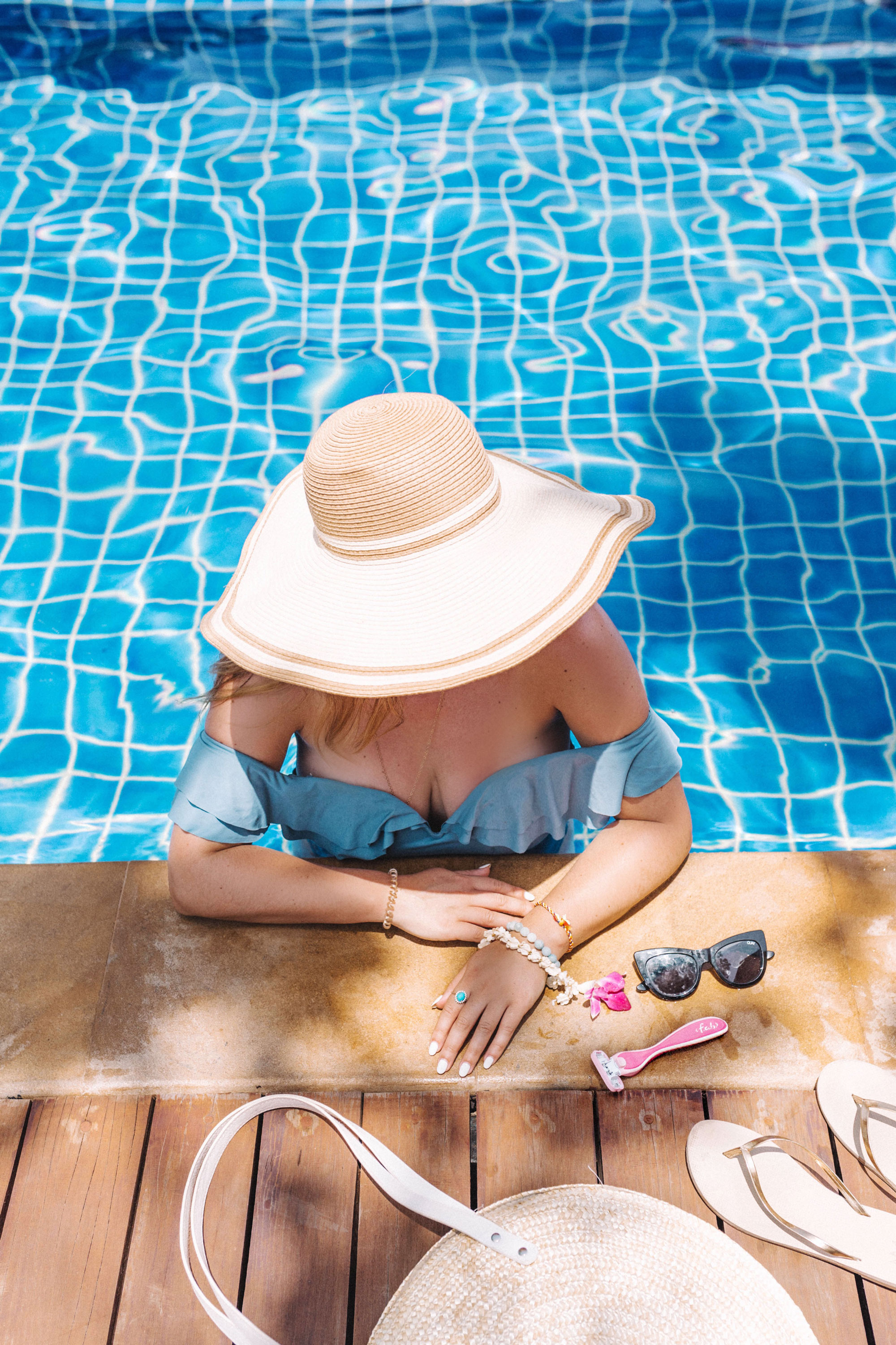 I'm all about bikinis but if I'm trying to pack light, I pack a sexier one-piece (see this post from earlier this week) that will not only offer a bit more support and coverage to minimize sun damage, but that can double up as a top with shorts, sarong or a skirt thrown overtop, or to be worn underneath a coverup. I also love a roomy basket bag to throw your towel, sunscreen and snacks in—so beachy and I love how these transition so well to my style at home when worn with denim cut-off's and a tee!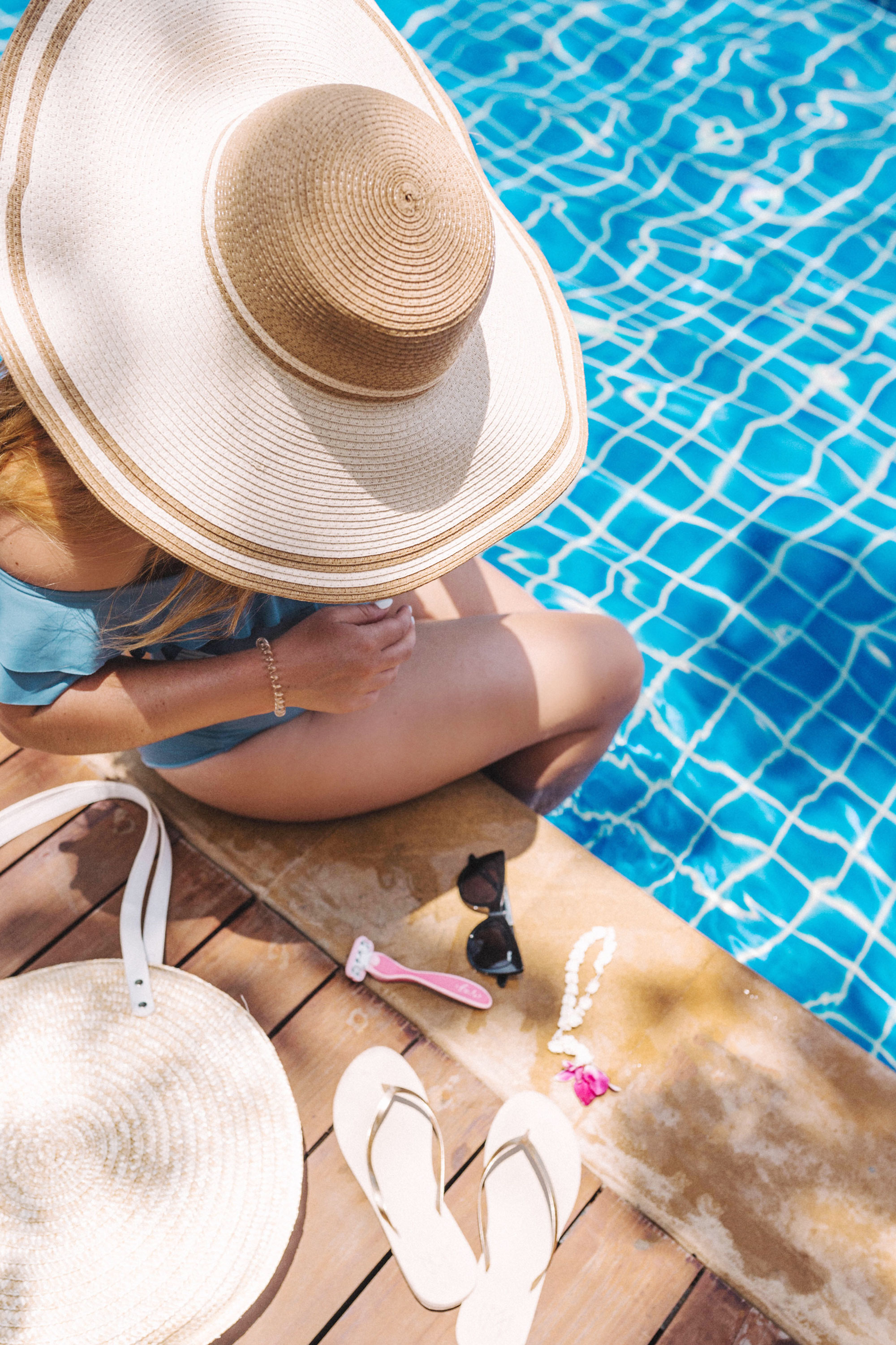 Finally, some oversized sunnies not only protect me from the sun but also add a dose of style to my whole look, and also cover up if I have travel-induced bags under my eyes. I can't get enough of a more dramatic cat-eye silhouette which also suits my oval face but if I could pull them off, I'd be all over a more strong square shape too! And it goes without saying but a ton of sunscreen too—I usually pack travel size ones just to get me through the first day (since I always do carry-on packing) and will get a really high grade, full bottle of SPF. This last trip was 110! Serious skin saver.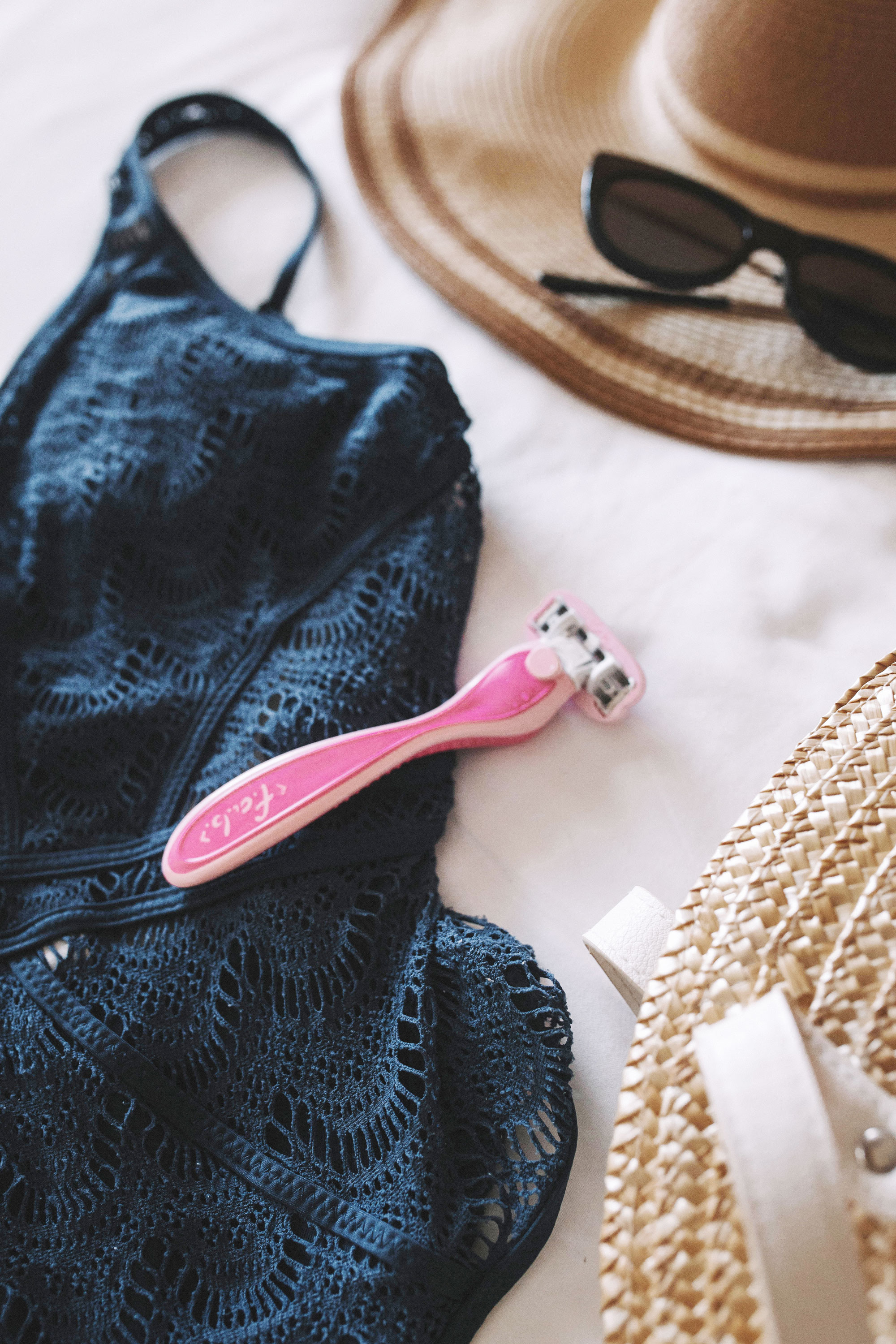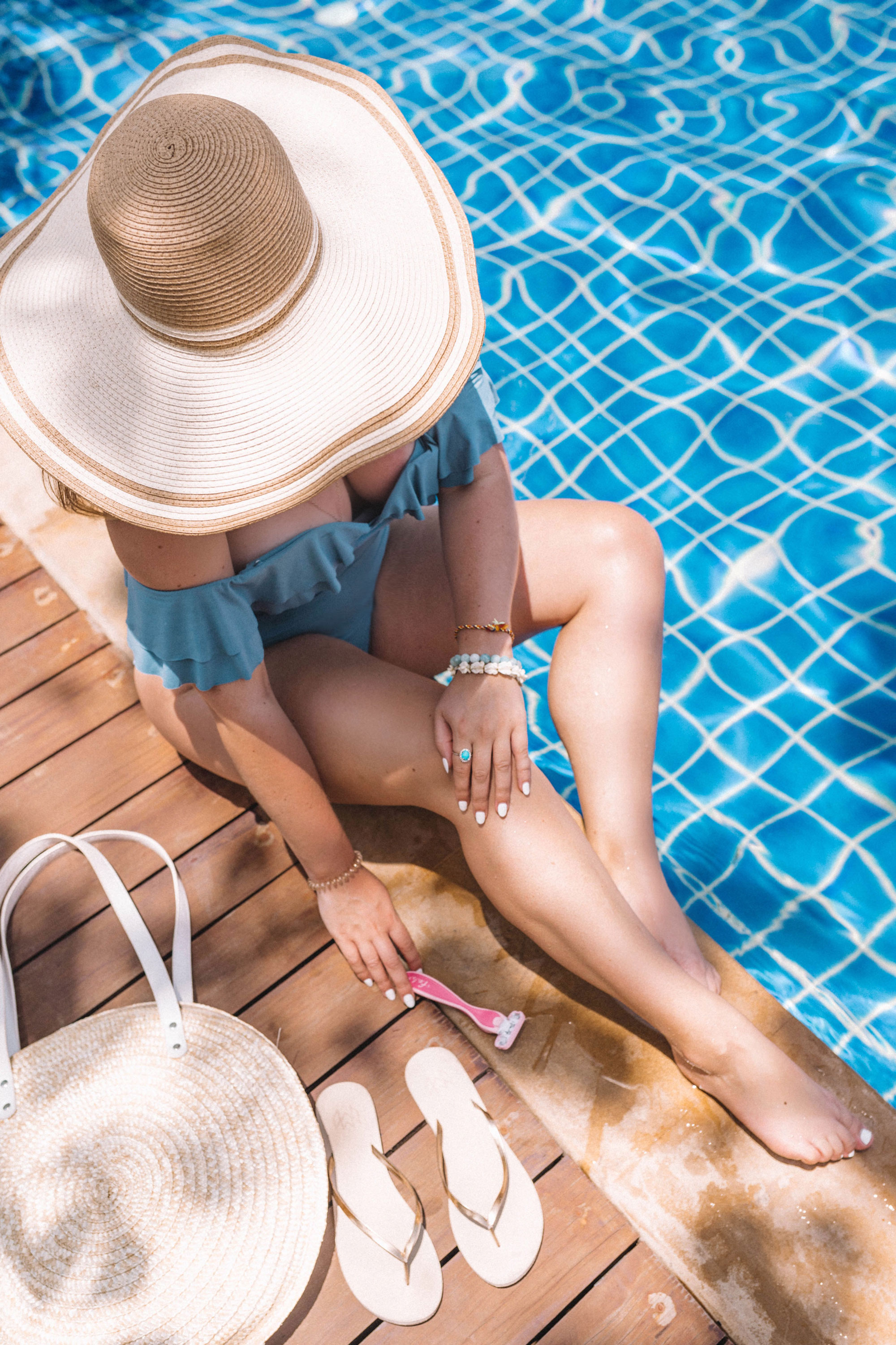 What do you guys always pack for your beach vacations? Tell me in the comments below!
This post was created in partnership with Shick but all opinions are my own.