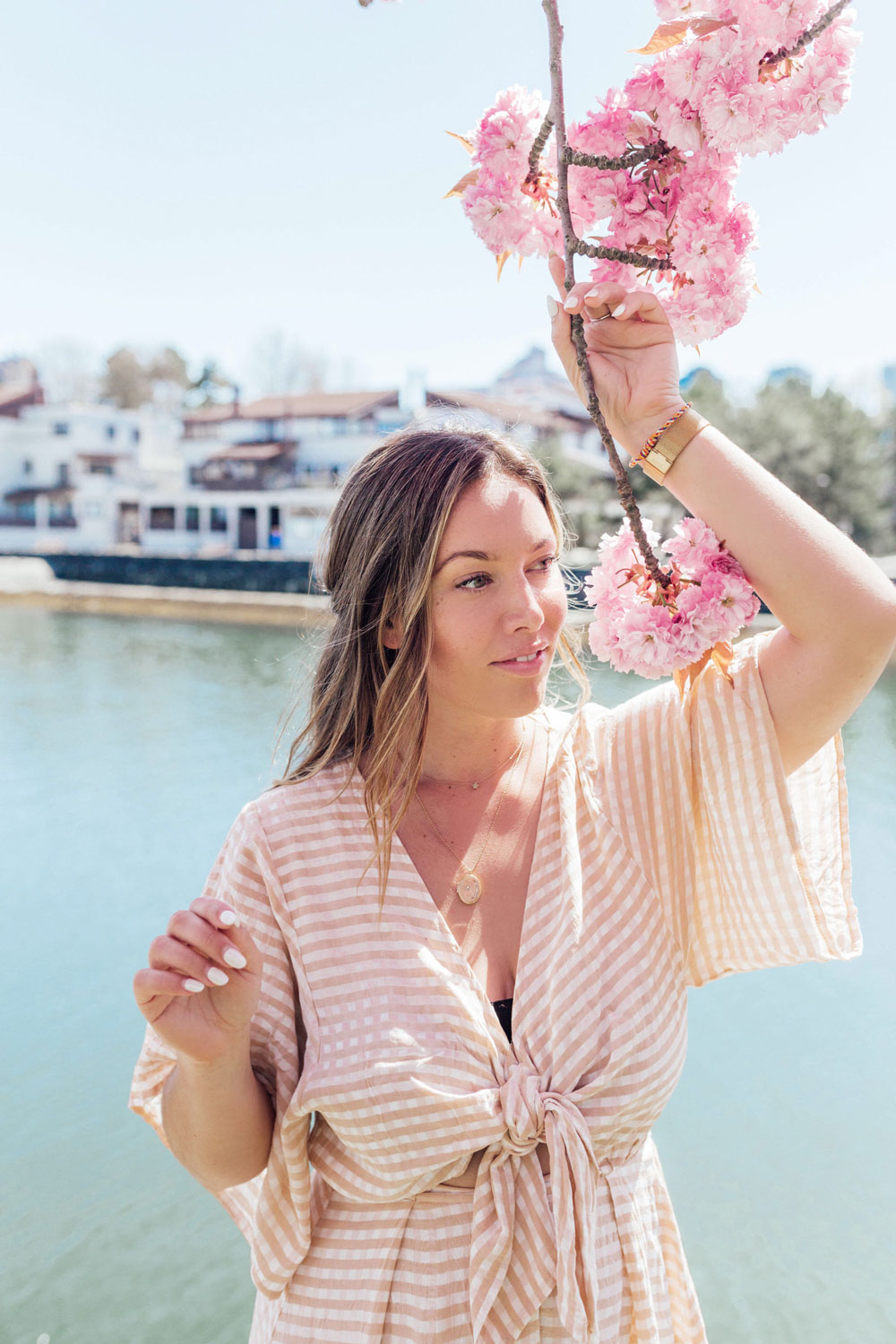 I feel like it's been forever since I've shared any of my go-to beauty faves or beauty looks but I've had a few requests on Insta lately for my natural beauty look (which is honestly really the only "beauty look" I have) so wanted to update you guys on what I've been using, how I've been applying and most importantly, because of my busy travel schedule, how these have all been selected to transition from my life at home, my gym bag to my travel bag! The older I get, the less I look for travel-specific or situation-specific pieces in general, I want everything I have to be easy to take with me and to really just simplify my life down to one beauty bag! Scroll down to discover my take-everywhere, super-effective and (most importantly) beautiful fave products!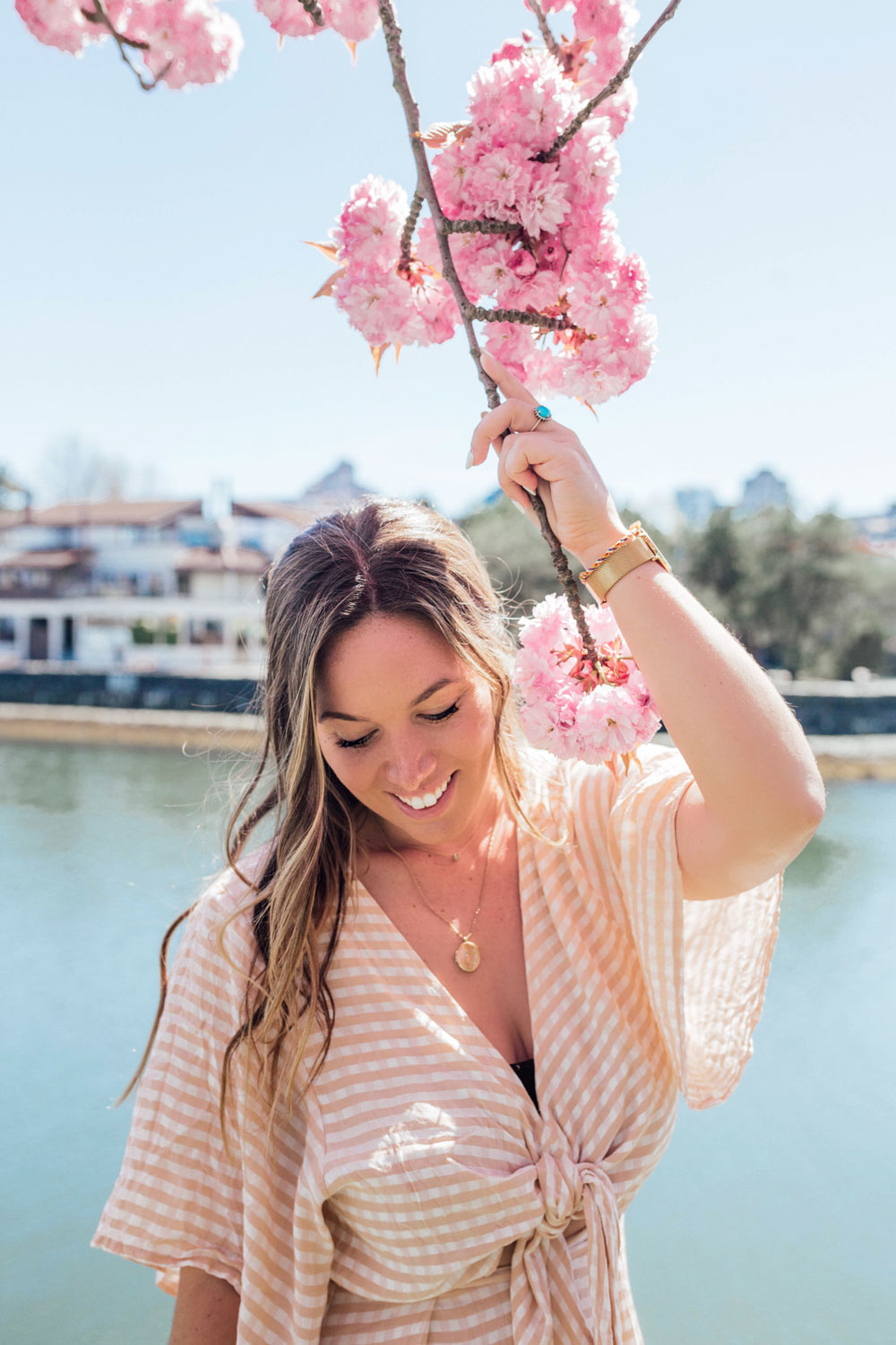 First of all, especially because I honestly can't be bothered to spend more than 15 minutes getting ready, I make sure both my skin and hair are well looked after at Glow Therapy and Vanilla Loft (with Chris Weber) respectively so that I don't have to do as much grooming/beautifying day-to-day (honestly, just because I'm super lazy). I trust both Amanda (at Glow) and Chris (at Vanilla) implicitly when they give me recommendations too – all my skin products, hair products and even some of my new beauty faves were recommended by these two geniuses!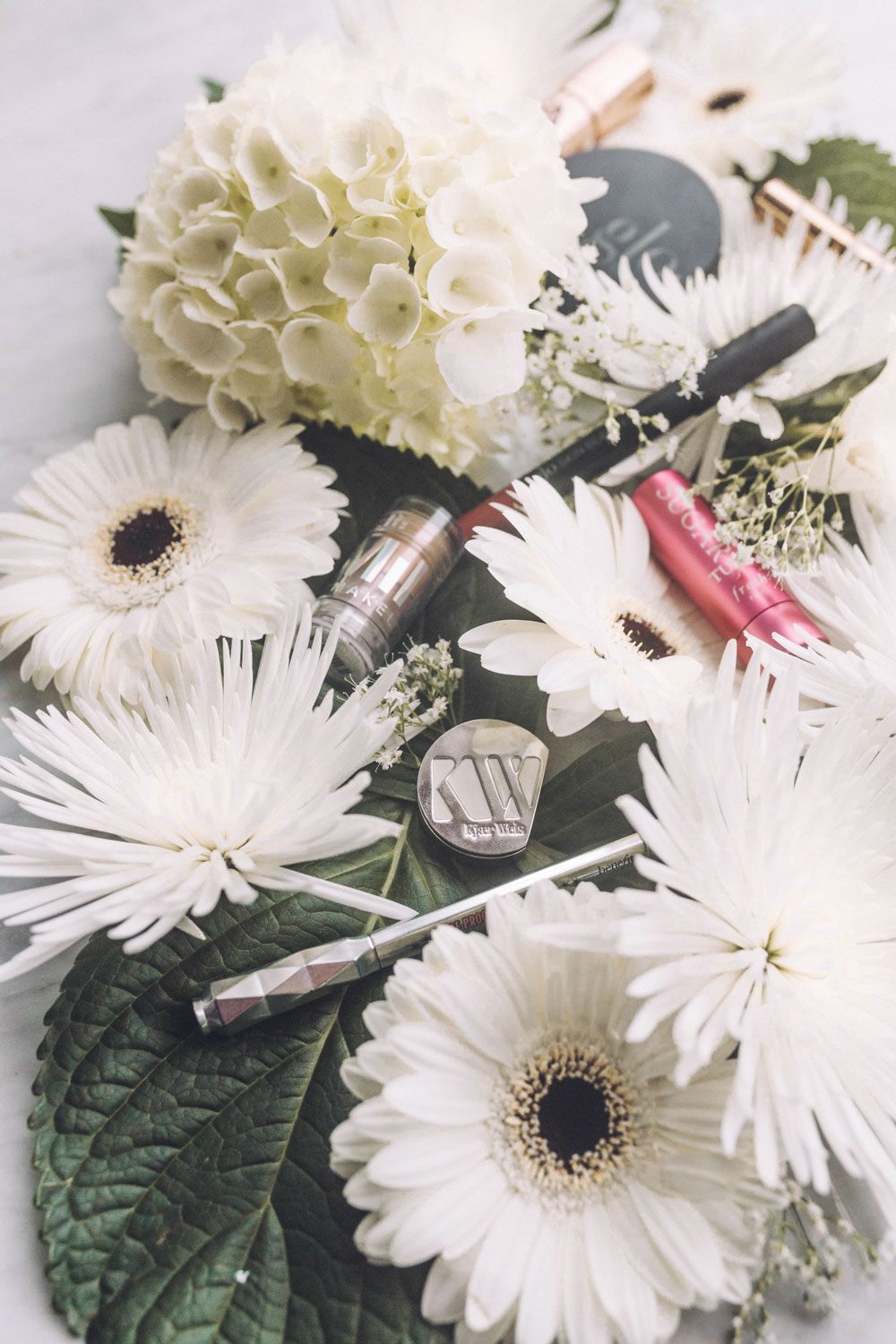 Amanda recently got me on the Glo Skin Beauty train, which she sells at Glow Therapy (a branding match made in heaven) and I am obsessed. Their Pressed Base is my fave foundation I've ever gotten. It's got so much coverage so a little goes a long way, but most importantly, it's not chalky and super natural. I love a pressed base for travelling because you don't have to include it in your liquids, and travel also results in a lot of sweating, grime, etc. I find a powder is the way to go for travels, as long as it's not a fragile compact (this one is super durable fortunately!). I just dust it around my nose and chin, quickly over my eyes and if needed, a quick dusting on my forehead. I leave my cheeks alone so that my natural colour comes through and so that it allows for some dewiness too.
Also from Glow Therapy's Glo selection is one of my daily go-to lip tones: their Cream Glaze Lip Crayon in Heirloom! I used to do a bold lip a lot more but all I want these days is a natural lip. I also never really got into the matte craze because I don't like anything that looks drawn on – I want a really sensual, dewy lip. I'm obsessed with this tone, it is literally the perfect daytime colour! Again, a perfect option for travelling because it doesn't get put into your liquids quota and it's super sleek to travel with (and you don't need perfect application like you would with a lipstick). I also love Fresh's lip balms, have Tulip (more pigmented) and Rosé (more sheer) that are always in my bag.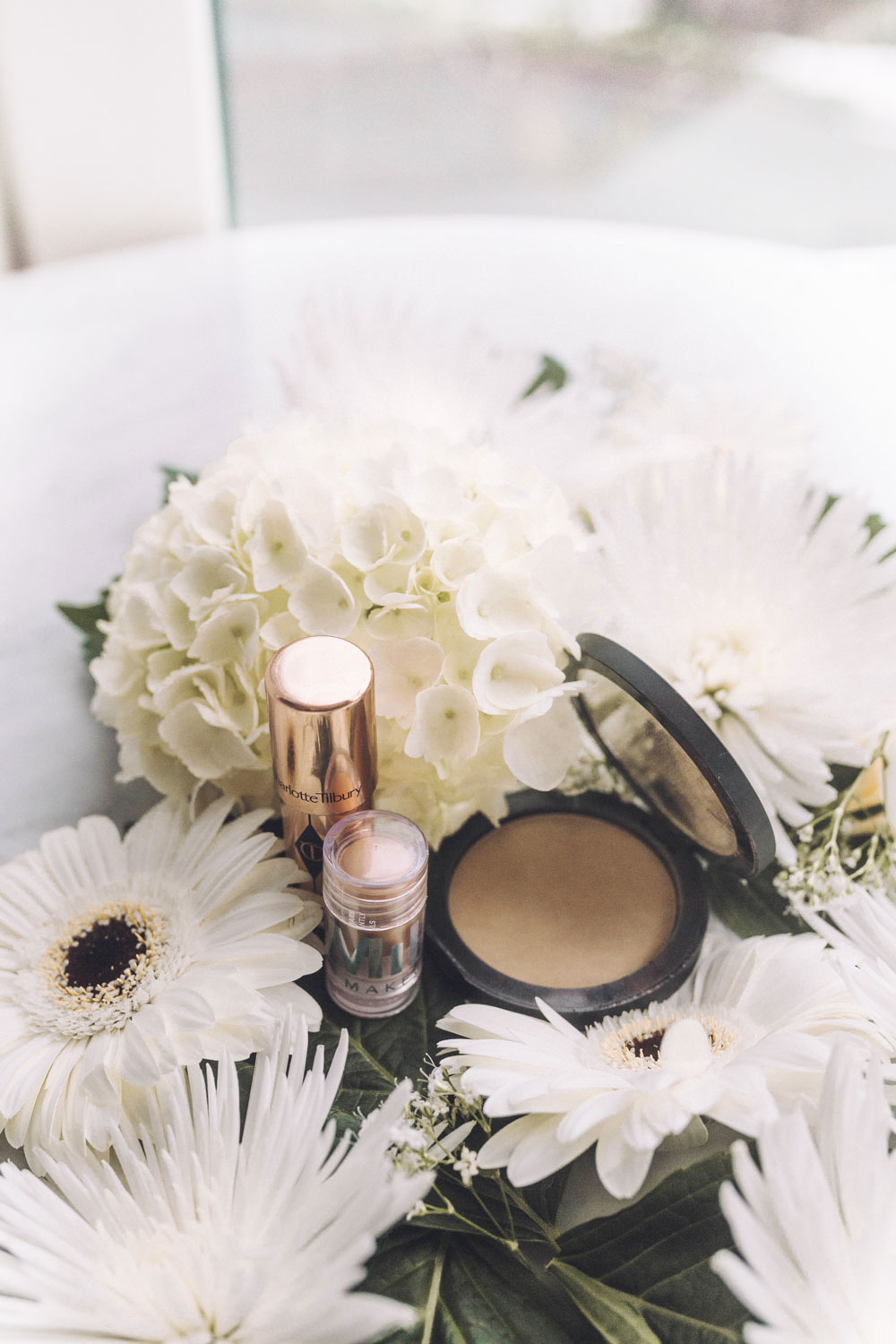 My go-to for years has been Charlotte Tilbury's Beach Stick in Las Salinas. It matches my cheeks after a workout really well and feel so natural, plus it imparts a little shimmer too! I'm obsessed with it, and yet again, a super durable one to pack! Also for my cheeks (and brow bones) is Milk Makeup's Holographic Stick in Golden Peach. I love how tiny it is, how little product you need and I find it's a really natural highlighter. I get a lot of DM's about my natural beauty look and my biggest secret is highlighter – I wear it every day. It makes all the difference in elevating your look and if you're someone who similarly thinks a natural glowy look is the ultimate in beauty, then you absolutely need a good highlighter (or two, or three). Again, not liquid and super compact so amazing for travelling!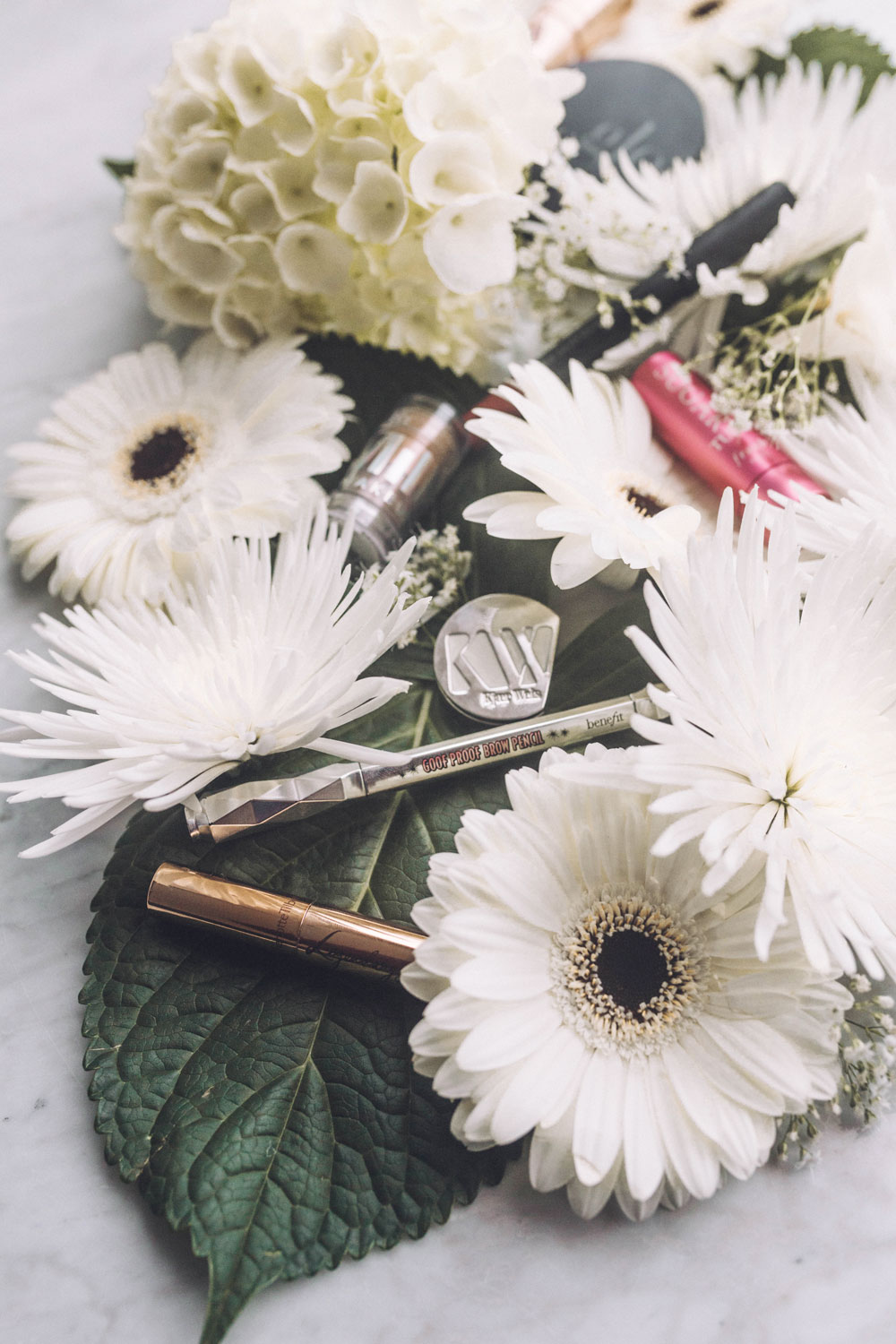 I don't really wear eyeshadow and most days I don't do anything with my eyes (especially if I got my lashes lifted and tinted, one of my fave natural beauty hacks!) but I have to do my eyebrows. I have brown hair but it's on the lighter side, plus I don't have much colour in my lips and my eyes are light green. If I don't do my brows, I feel like my face just looks a bit faded and undefined, unless I'm tan! Benefit's brow products continue to be faves of mine, and Goof Proof Brow Pencil has been my go-to for years. I also love NYX's Micro Brown Pencil for an affordable drugstore option. If I wear mascara, if I'm home I wear L'Oreal's Lash Paradise (again, an amazing drugstore option!) but if I'm travelling, I always pack this mini Charlotte Tilbury Legendary Lashes mascara – it's amazing! Again, all of these products are super compact, sleek and pack really well for travel too!
Finally, if I'm going to do anything on my eyes, I love Kjaer Weis' natural products. I have this Pretty Purple shade that just makes my green eyes pop a bit more and I'll literally just smudge a bit along my top lash line – they honestly last forever, so while it's pricier I appreciate that it's natural and that it lasts a long time! Sometimes I do a cream pencil in brown (wear Charlotte Tilbury's Rock 'n' Kohl in Barbarella Brown) and literally just messily pencil some in along my top lash line then blend in with a brush until it's super diffused – usually I just skip any eye definition though!
Last thing! I actually couldn't find it for these shots but I live for my bronzer. I've been wearing Too Faced's Chocolat Soleil bronzer for years and years, it's my fave and smells like chocolate! It's not the best tone for paler skin types (though they have tons of other bronzers) but since I pack on the colour in the summer (I swear I wear a ton of sunscreen, my skin just picks up colour really quickly!) it's my go-to from April onwards. If I'm shooting pictures or just want to elevate my look, I also blend some into my crease and it creates a really subtle but sultry eye definition.
And that's it! If I'm being honest, this is about as complicated as I'll ever get with beauty tutorials so if you want something more complex, my girl Jill from The August Diaries has the best beauty tutorials. But this natural look is my fave and super easy to recreate, plus all of these products are so amazing and really perfect for travelling around the world, looking fresh-faced for a spring or summer day at home or as a base for a stronger beauty look! If you guys ever have any other beauty, hair, etc requests, just let me know in the comments below!