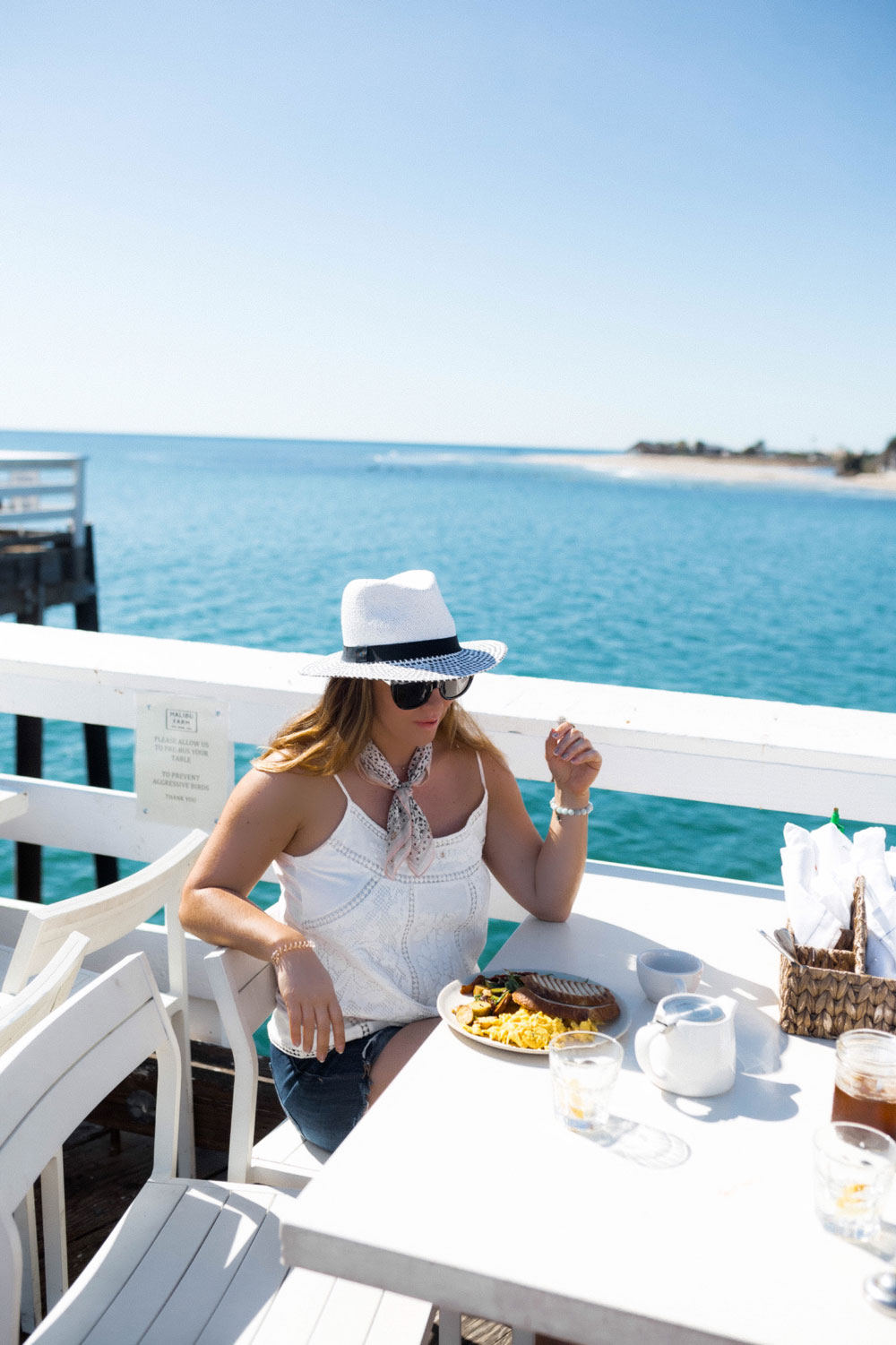 If you haven't read my California road trip itinerary posts yet (Part 1 from LA to San Luis Obispo here, Part 2 from Carmel to Capitola here), then make sure you give them a quick read-through before diving into this feast (see what I did there) for the eyes. We literally ate so much in California that when we came home, I had to wean myself off of my 5-6 meal a day habit back down to my usual 3 (my friends can attest to several hangry episodes during this dark period). It's just that when I travel, and especially when I travel with Matt, we love to just eat everything we can and really experience the place we're at. And I was so surprised by how much there was to love (and of course, eat) in Cali—it was literally a foodie's paradise. So without further ado, here are some of my fave places we noshed at from LA all the way up to northern Cali!

West Hollywood 
As I mentioned in my earlier Cali posts, I didn't actually get too much time in LA because I was there for work but got to experience two really amazing spots (more on the second one in, well, a second), with the first being Alfred Tea Room. It's a decidedly 'grammable place and I was worried that was all it had to offer but the tea was actually amazing and sure, it was super cute in there too! I was told repeatedly that Gracias Madre was an unreal place to go though so next time I'm visiting, I'll be bee-lining it there!

Venice
Venice is in particular a foodie haven. We kicked off the first leg of our trip in Venice and kept coming back to Abbott Kinney for amazing food during our short little stay there. The first unreal spot was The Butcher's Daughter, which was not only amazing food (I got the veggie burger and it was unbelievable!), but also such a cool vibe, decor and ambience. We had dinner later on at Gjelina which was so good—think local, eclectic and refined fare. This was what we deemed as our "anniversary dinner" since we were celebrating ten years together around this time, and it was definitely a good romantic spot for it.

Malibu
I always have a running and at-times changing list of places I could see myself living and Malibu is easily topping it right now (just need a few million dollars more to my name). I was told repeatedly from a ton of you that I needed to eat at Malibu Farms and lemme tell you, you guys didn't overhype it. It was so good and such a great place to get breakfast before we took off for our road trip! While I was with my INFINITI group, I also got to stop by Nobu which was an absolute dream. The most amazing fresh seafood, sushi—agh it was amazing. And that view!!! I could honestly stay there all day.

Santa Barbara 
We made our way up to Santa Barbara and had the most amazing time taking in the pier, wandering around town and popping in and out of shops. Matt had heard of Julia Child's favourite restaurant, a little teeny-tiny, unpretentious authentic taco shop called La Super-Rica Taqueria. It was so good and such a nice experience (and super easy on the wallet!) to just pop a seat at one of the benches and try out a ton of their amazing Mexican dishes. A must!

Pismo Beach 
Admittedly we kinda just stopped in at Pismo Beach and took a quick walk, but serendipitously I really had to pee and was having a full blown meltdown (there's always at least one on a road trip) and as a result, we ran (literally ran) to the nearest cafe we could find. And that's how we found Old West Cinnamon Rolls! After I'd, well, handled the situation, I came out to find Matt with coffees and a big steamy, sticky cinnamon roll. It was a dream—one of the best cinnamon buns I've ever had! Love the homey quality here. Pismo Beach was one of my favourite places I've ever been so if I ever get a chance to redo this area, I'll be spending a lot more time here and will hopefully have even more dining recos!

San Luis Obispo 
After Pismo Beach, we made the very short trip out to San Luis Obispo, or SLO for short. It was a beautiful sunny California day and we wanted to make the most out of it so made an effort to eat outside as much as possible. We absolutely loved Scout Coffee, which I got as a recommendation from one of you! Such cool ambience and the coffee was amazing. We then had the BBQ meal to end all meals at Firestone Grill, which Matt was very insistent we eat at. I'm usually not a huge BBQ fan but it was amazing, and I loved that there were veggie or fish options for vegetarians or pescatarians.

Carmel-by-the-Sea 
Carmel was such a dream (just see more snaps of it here!)—it's definitely a hotspot for tourists both from abroad and local Californians visiting, so tons amazing good options! We had the most incredible Mexican ever at Cultura Comida y Bebida—from the most unbelievable margaritas to chapulines (aka grasshoppers eek!—I could only have one, Matt really championed this one!) to the most amazing queso fundido, it was one of our favourite meals of the whole trip. We also had two great breakfasts in Carmel before taking off for two separate days of exploring: the most unreal pancakes I've ever had other than my daddy-o's at cozy Katy's Place, and a super hearty breakfast at From Scratch, which was on our personal hero Guy Fieri's show Diners, Drive-In's & Dives so clearly we had to visit. Was the perfect big meal to fuel us for a day of exploring Big Sur! And on that note…

Big Sur 
We were told repeatedly we had to eat at Nepenthe for their famous burgers and despite the unbelievable wait (which I'm sure was longer than usual because we were there on a holiday weekend in the States and it was a Saturday!), it was so worth it. My tip is to just get your name in ASAP and have your buzzer on you then order a snack and drink from the bar to take to the beautiful bench seating towards the back of the restaurant while you wait—it'll feel like no time before you're called up with this unbelievable view to take in! And then yes, you have to order the burger (so long as you're not a veggie) because it is worth all the hype!

Monterey 
We heard really great things about Alvarado Street Brewery so hung out there for a casual linner (lunch-dinner) after having a massive breakfast in Carmel on one of our last days. Loved the big brewery vibes and as a beer lover, so cool to try some of the local samplings! We also went to El Torito for happy hour since Matt has a bazillion memories of this place from his years as youngun growing up in California and while the ambience was definitely super casual and it's a chain, for some quick and easy Mexican and cocktails at a great price, it was a great option!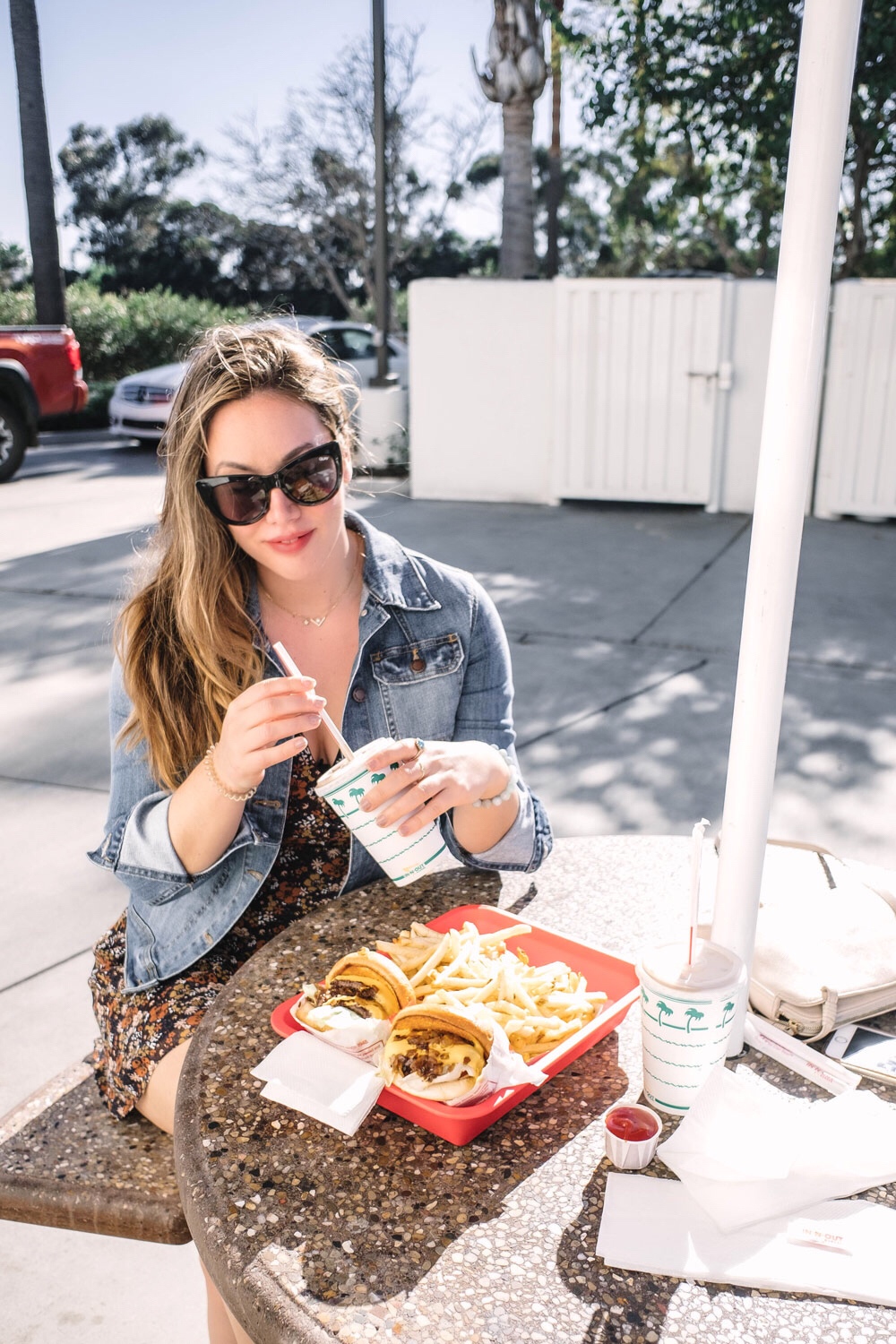 Of course, anything that seems to be missing meal-wise here (whether it was a dinner or lunch) was taken care of by In-n-Out. I didn't really know it'd be that good—I usually am more of the "eat tons of greens, get my healthy fats and lean proteins in" type of girl because I care about my health and all that but we don't have In-n-Out anywhere near us here in Vancouver so I just don't care that I ate there like 4 times in one week. In fact, I'm semi-proud of the fact (semi- something else too, whether that's residual indigestion, shame, etc). Nothing a ton of pilates and green smoothies can't fix when I got home so if you're visiting, you gotta do it! My fave little add-on's from the "secret" menu were doing a mustard-grilled patty and adding peppers in! SO good!