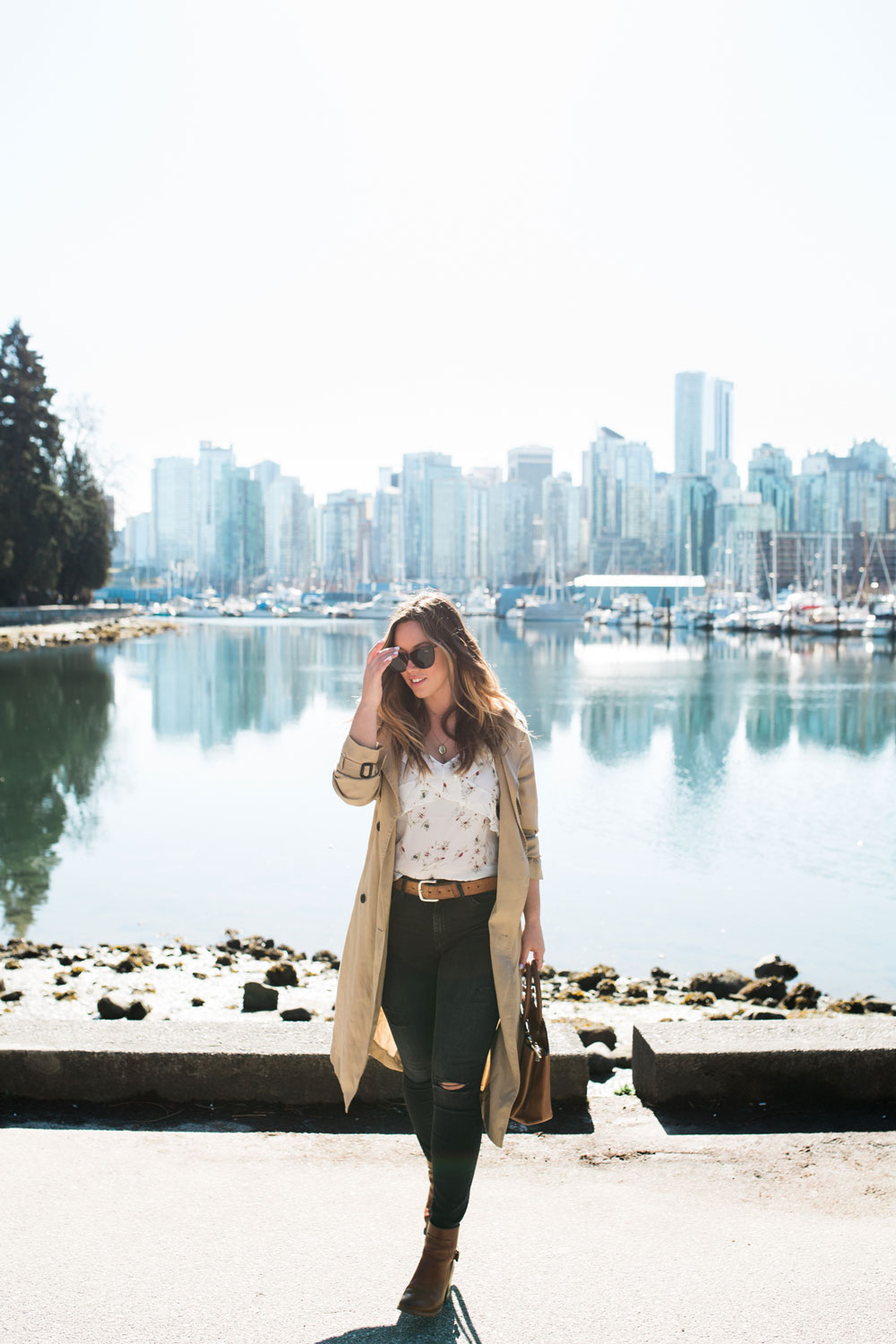 I mean, there may be snow on the forecast (seriously hoping it's just a sick joke because that's so weird for Vancouver and also very uncool) but this girl is pretty excited for spring. And as of yesterday, it technically is spring—hallelujah! If you guys can't already tell from my frequent Insta Stories in the sunshine, I live for this time of year and for the weather (hopefully) warming up, the sun shining down on us and the flowers blossoming. It's just such a hopeful and happy part of the year.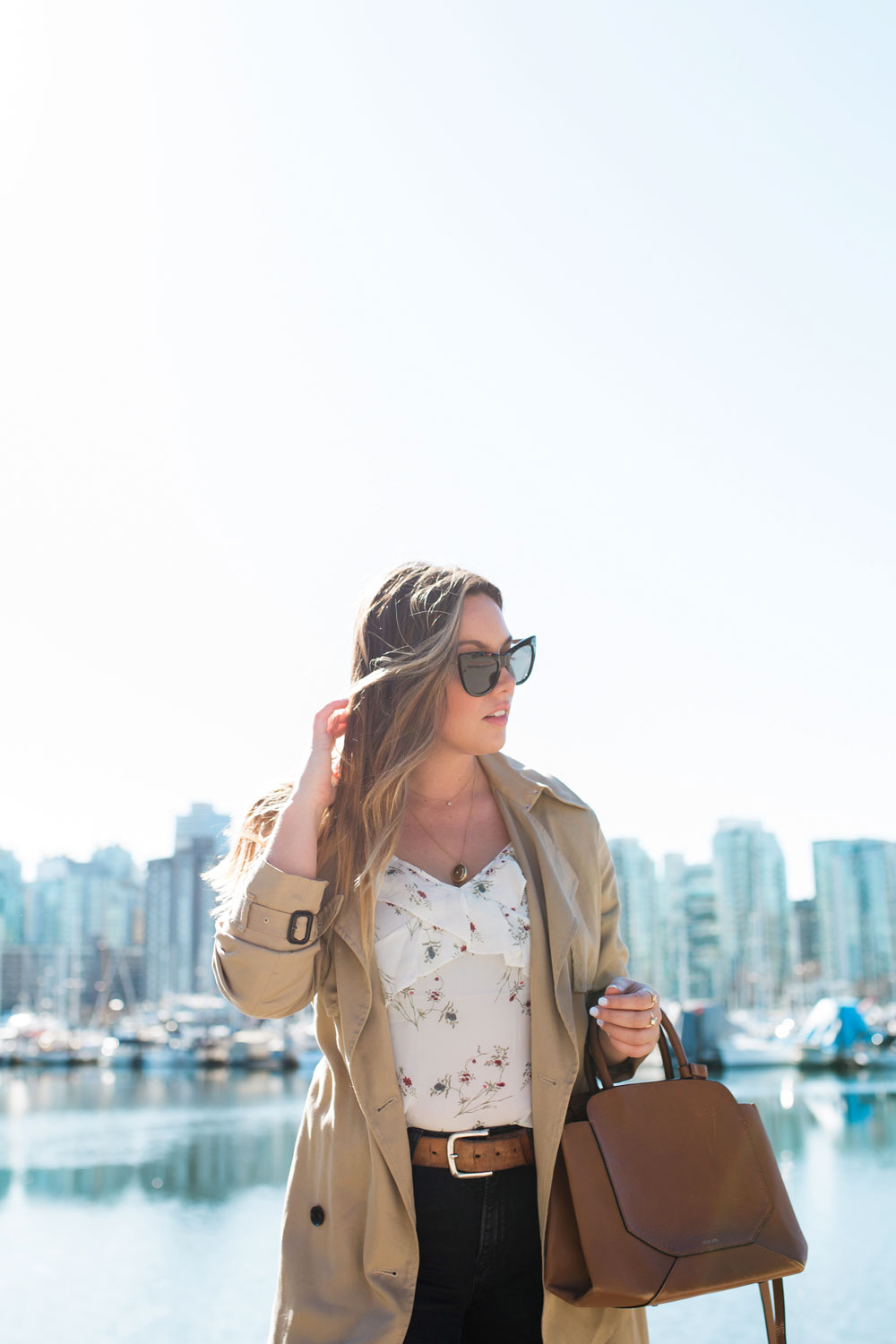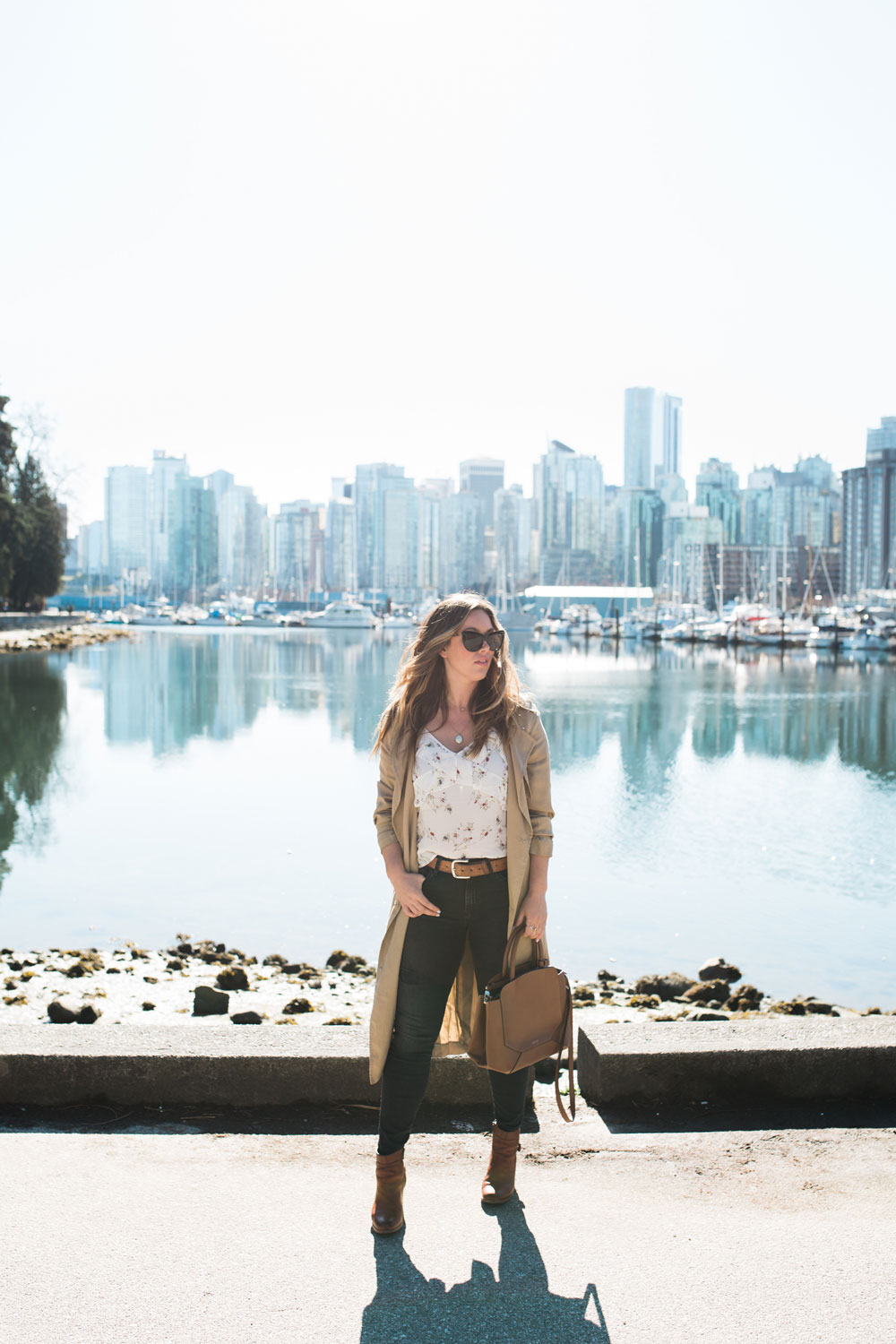 As I shared in last week's culotte outfit post, I want to pull together some of my favourite transitional outfits with my go-to pieces or trends to help ease into the season! This first one up is (surprise surprise) florals! I think my style is femme though I'm not too girly-girl so it may be surprising to learn that this is a fave of mine, but I think florals are just so beautiful and when worn with the right pieces, can be a really functional, easy-to-wear and effortless print.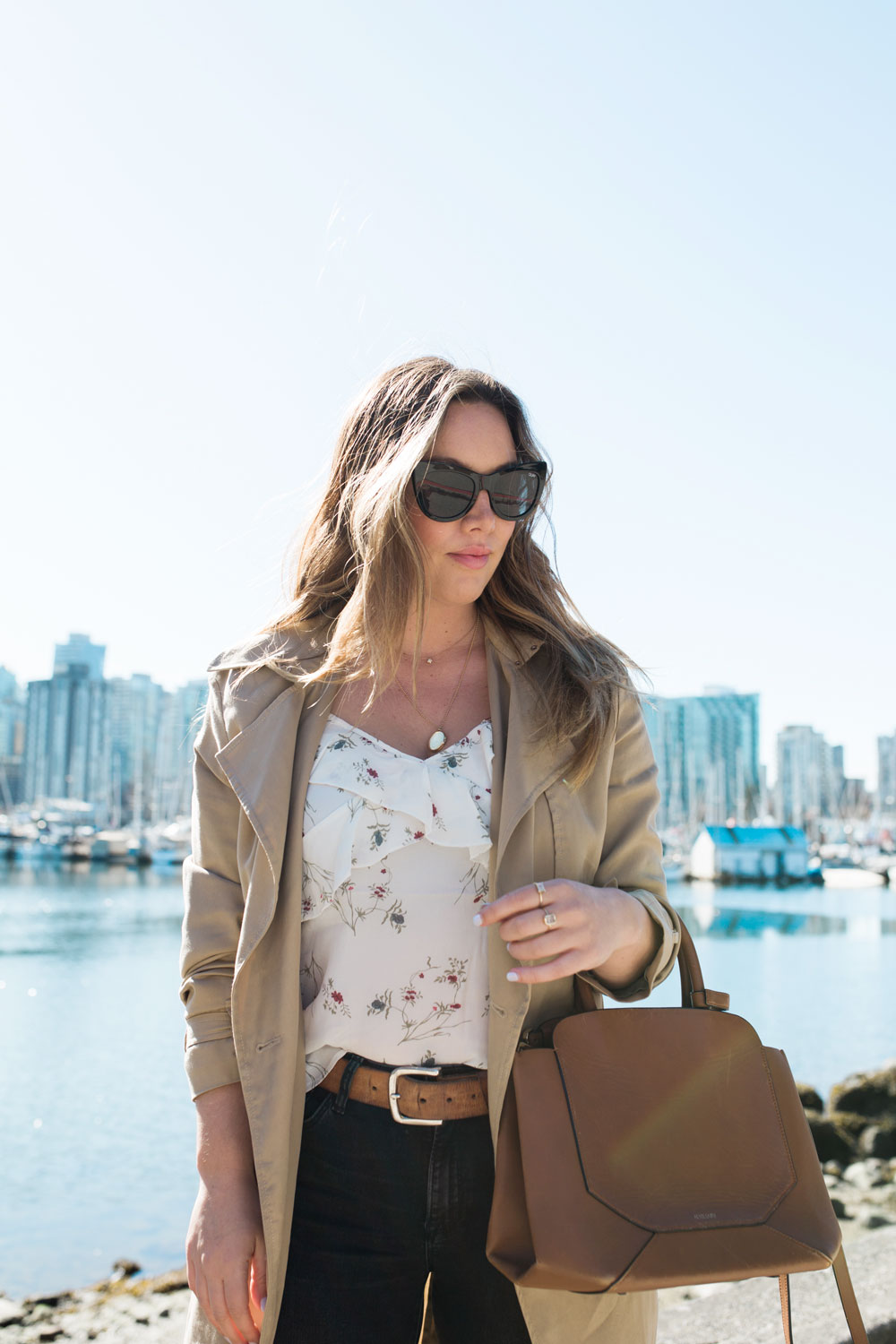 I've been eyeing a lot of Sincerely Jules' beautiful pieces from her own line so finally decided to take the plunge and order a few things to see how they work. In one word, I was seriously impressed. I loved every single piece I got from hers (highlighting another one of her pieces that I've been wearing on repeat in next week's posts!) but was especially excited to try this beautiful cross-ruffle tank in this delicate floral print. Best of all, it's on major sale right now too! It's just the piece to brighten up your winter looks now and come summer, it'll clearly be worn all the time—perfect with distressed cut-offs or culottes, like last week's look! One sizing rec: size up if you have a chest. I'm quite big-chested and sized up to a M for this tank—I can only wear it with specific bras because otherwise, it'd be a bit too snug around my bazungas.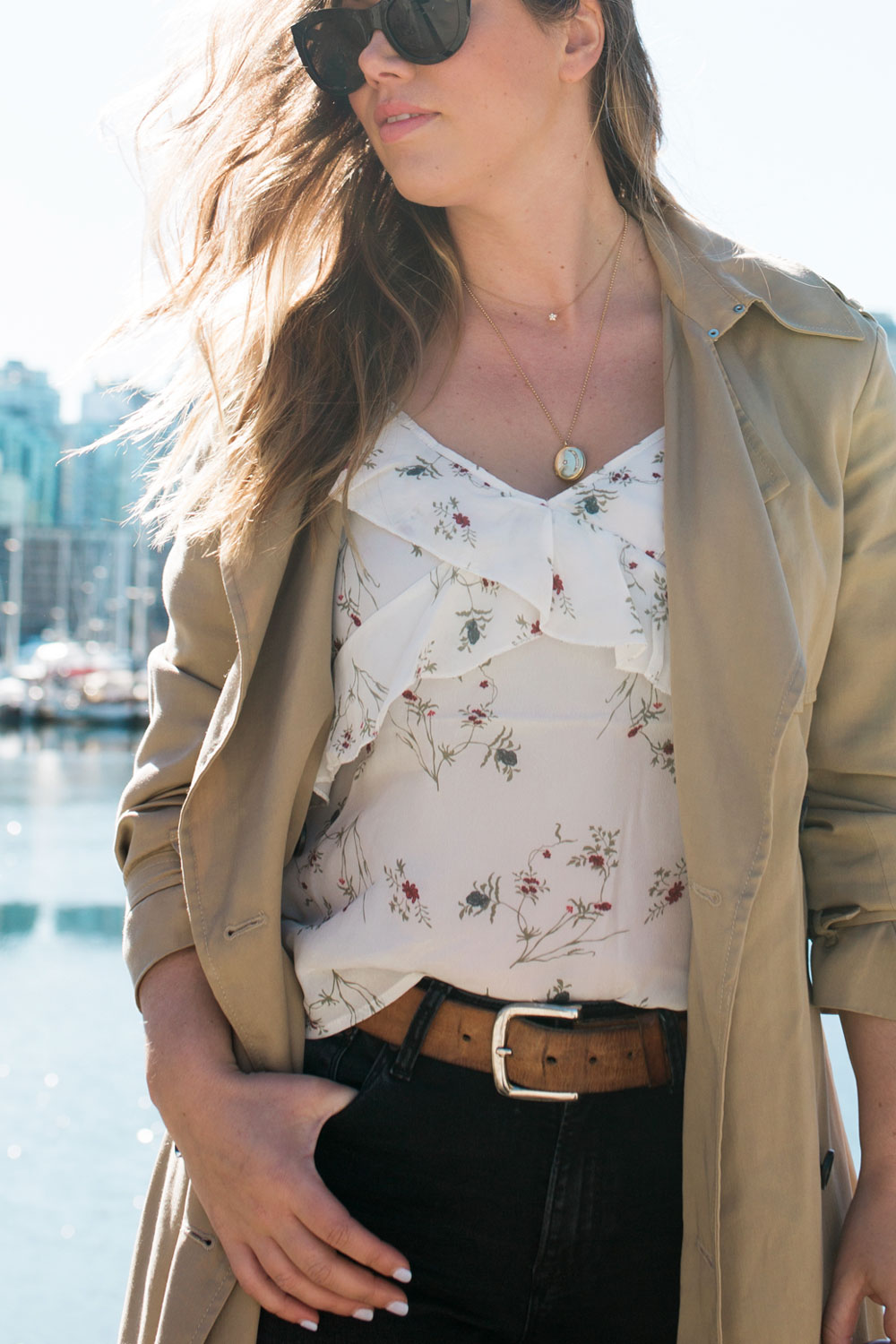 My main transitional style tip is to pick just one piece that screams spring (like this beauty camisole) and then work your outfit around it, usually opting for basics, neutrals or more standard pieces. I was so excited to get some more Mavi spring pieces last week because as you guys know, I'm a big loyalist to their skinnies—I especially love their high-waisted offerings, like the Alissa skinny jeans I'm wearing here in this stunning smoke tone (obsessed with the light distressing on them too). I shared last week how I am in love with culottes because of my hourglass shape (they seriously are perfect for all shapes though!) and it's the same reason I love high-waisted jeans—anything that nips in at the waist is an immediate win for me!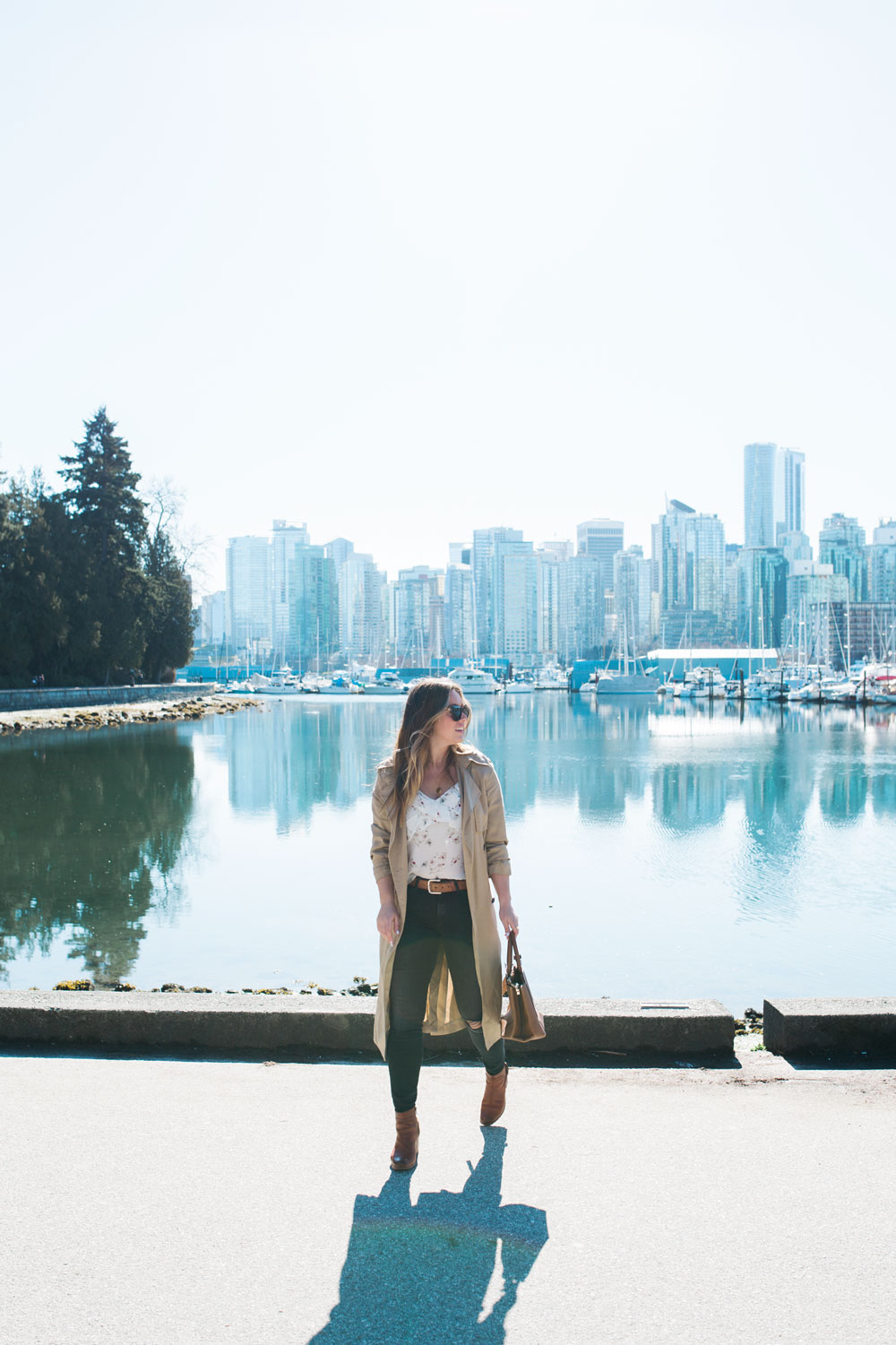 The rest of the outfit is just an exercise in neutrals. I've finally done away with my parkas (here's hoping I don't regret that decision later this week), all tucked away and compressed in one of those vacuum seal bags that Matt's obsessed with and seems intent on putting all of my worldly possessions in. In their place are my lighter pieces that I can layer with should the mercury inch down in the thermometer—I've worn this Aritzia trench for years and it's served me so well (though I'm also obsessed with this beauty, under $100 and currently on sale so likely going fast!). I'm just obsessed with the drama of a good trench coat, especially one that's a bit drapier (not an actual word according to my spell check but you know what I mean). It's also the perfect foil for a busier print and especially a floral—almost all florals will have some inflection of beige or green in them, so either a camel trench like this one or an olive beauty like the one I featured in last year's spring transition story will pair perfectly with your floral prints.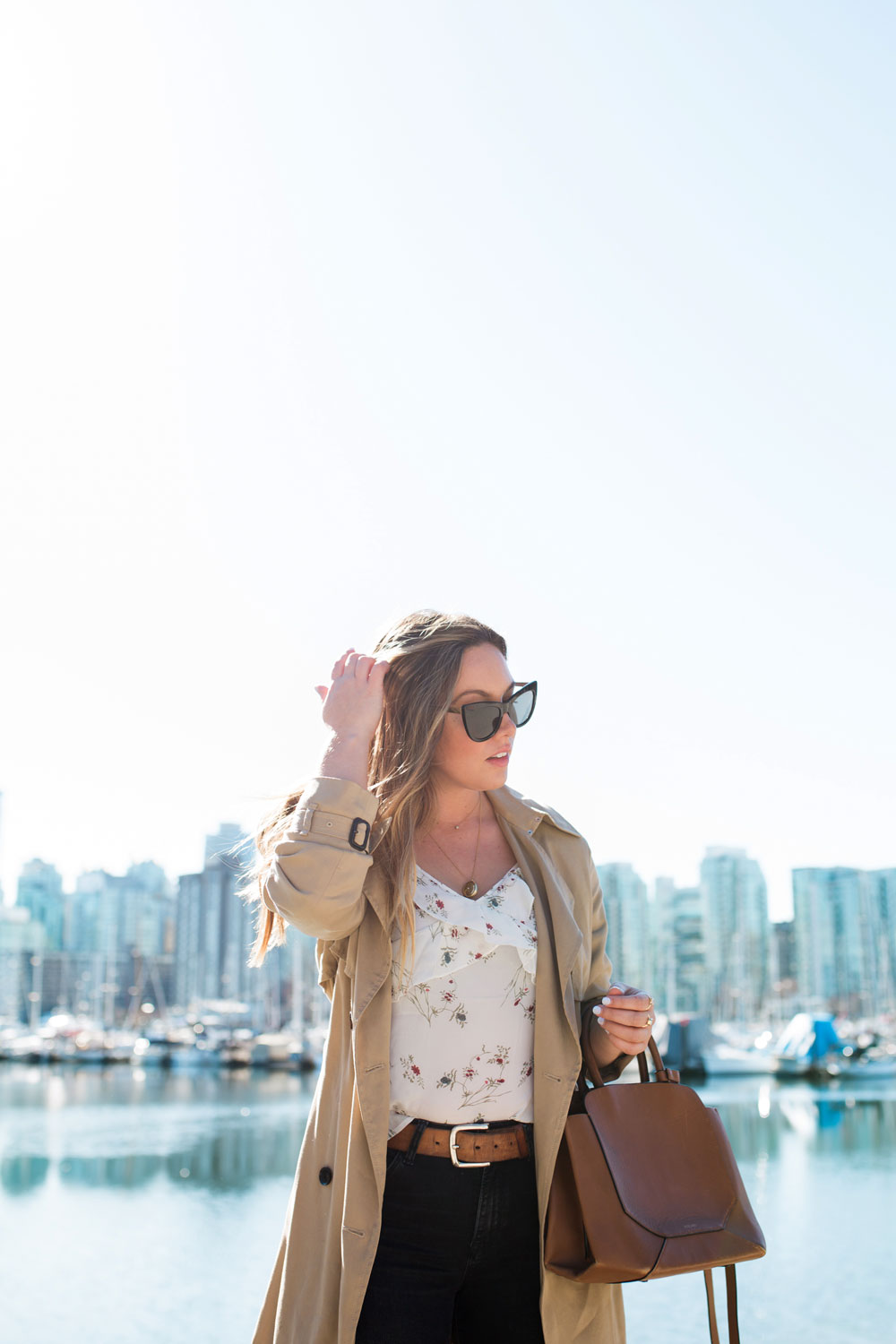 Accessories are all about tonality—just pick up on the warmth or coolness of the rest of the look and that'll be your best indication of where to go (brown, tan, grey, black, etc). I love mixing tones with my bags vs shoes but I have this quasi-belief that you shouldn't add more than 4 colours to your look (not a standard I strictly adhere to obviously but one I try to work around to make dressing easier) so for this particular look, didn't mind at all going matchy-matchy with my bag and ankle boots (an older bag from Aritzia [though loving this beauty from Madewell, a brand I'm obsessed with] and similarly older style from Frye [but again, current offering here that happens to be on sale] if you're wondering).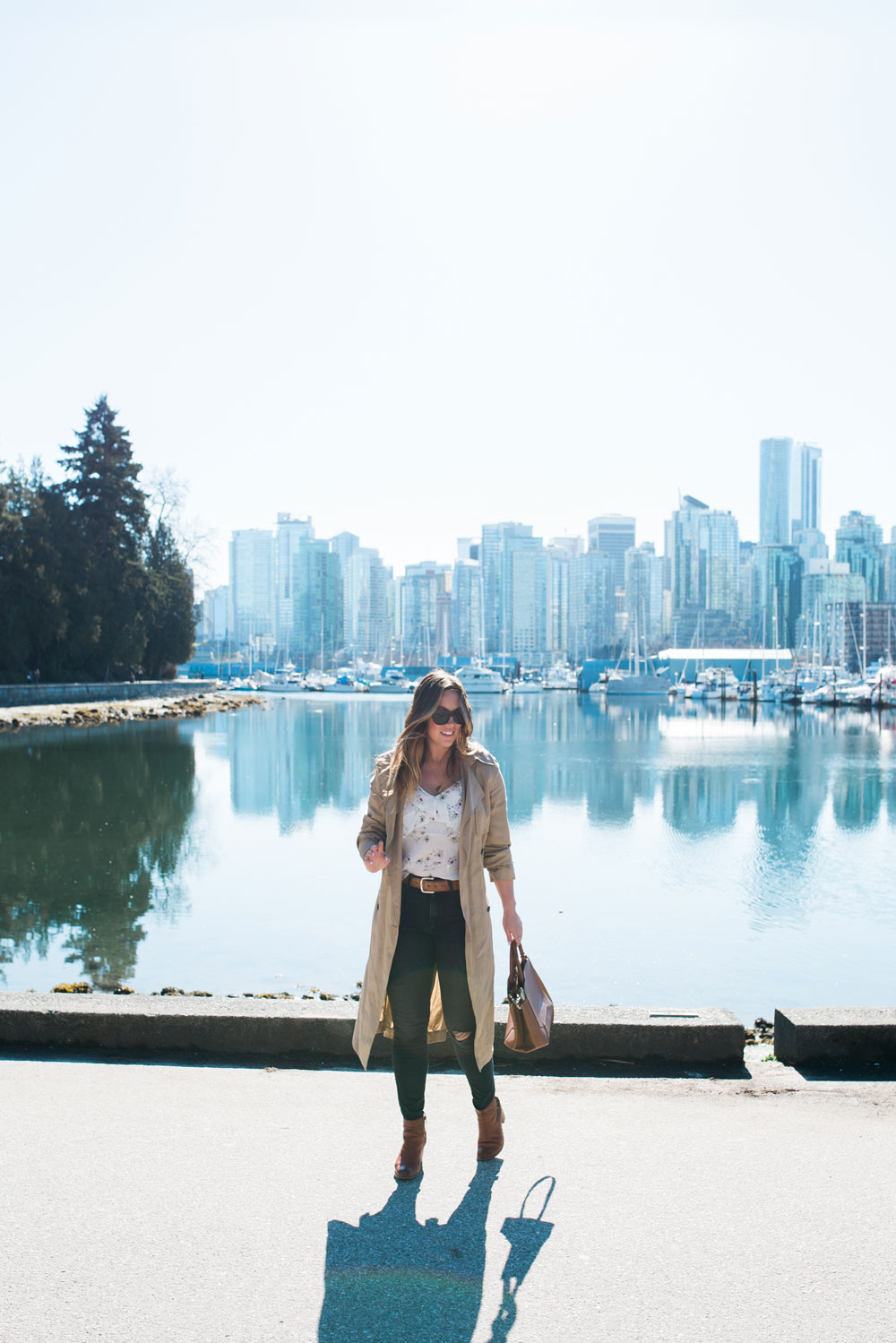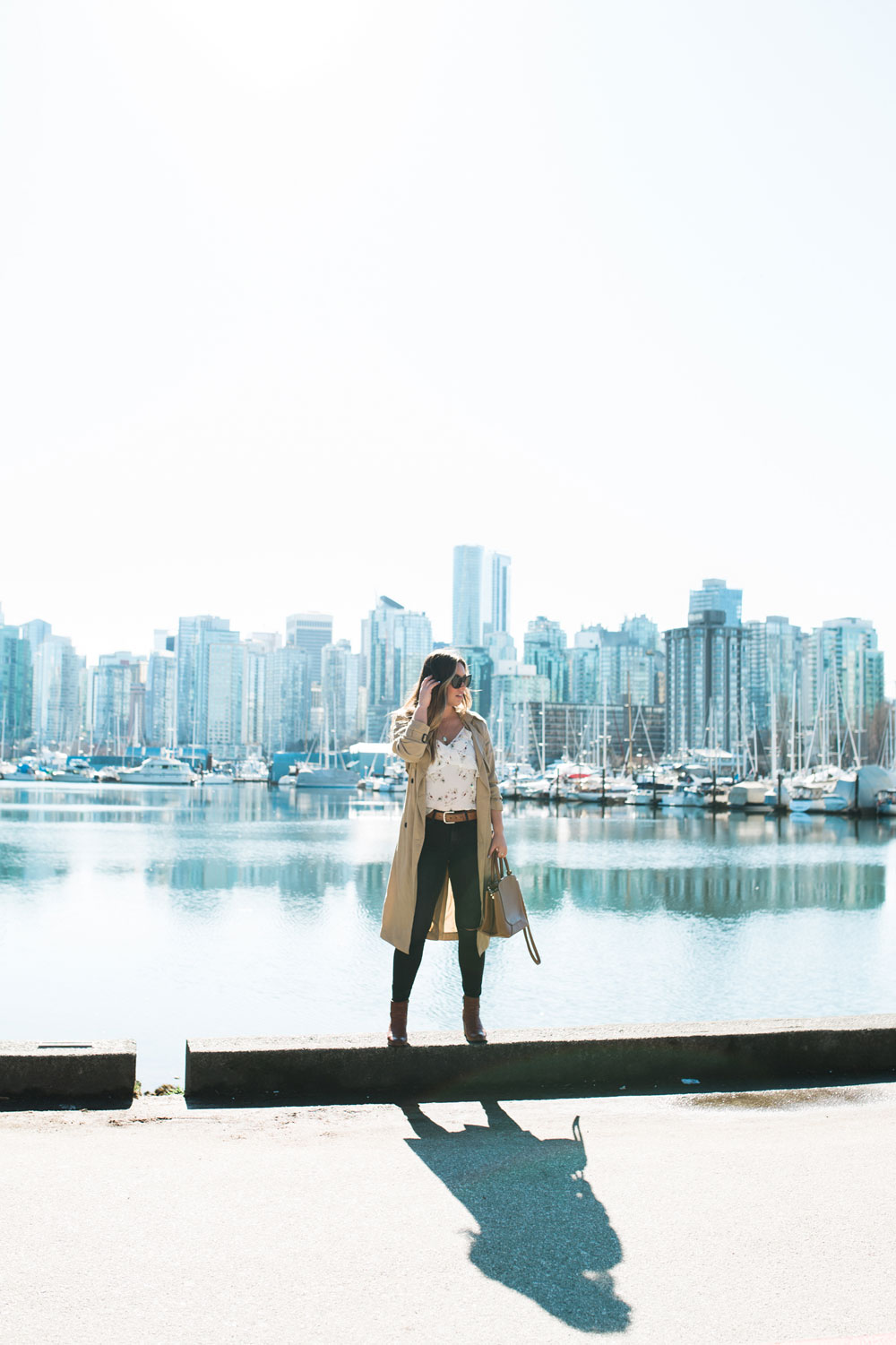 Top it all off with my current go-to sunnies from Quay (haven't stopped wearing them since I got them) and some gold jewelry from my girl Leah Alexandra to up the warmth factor and as long as the sun holds out, you're rocking in a comfy but spring-ready look! Are you guys as excited as me about spring? Please say yes because I feel like I'm getting a bit weird in my hype for it!
Photos by Kat Willson