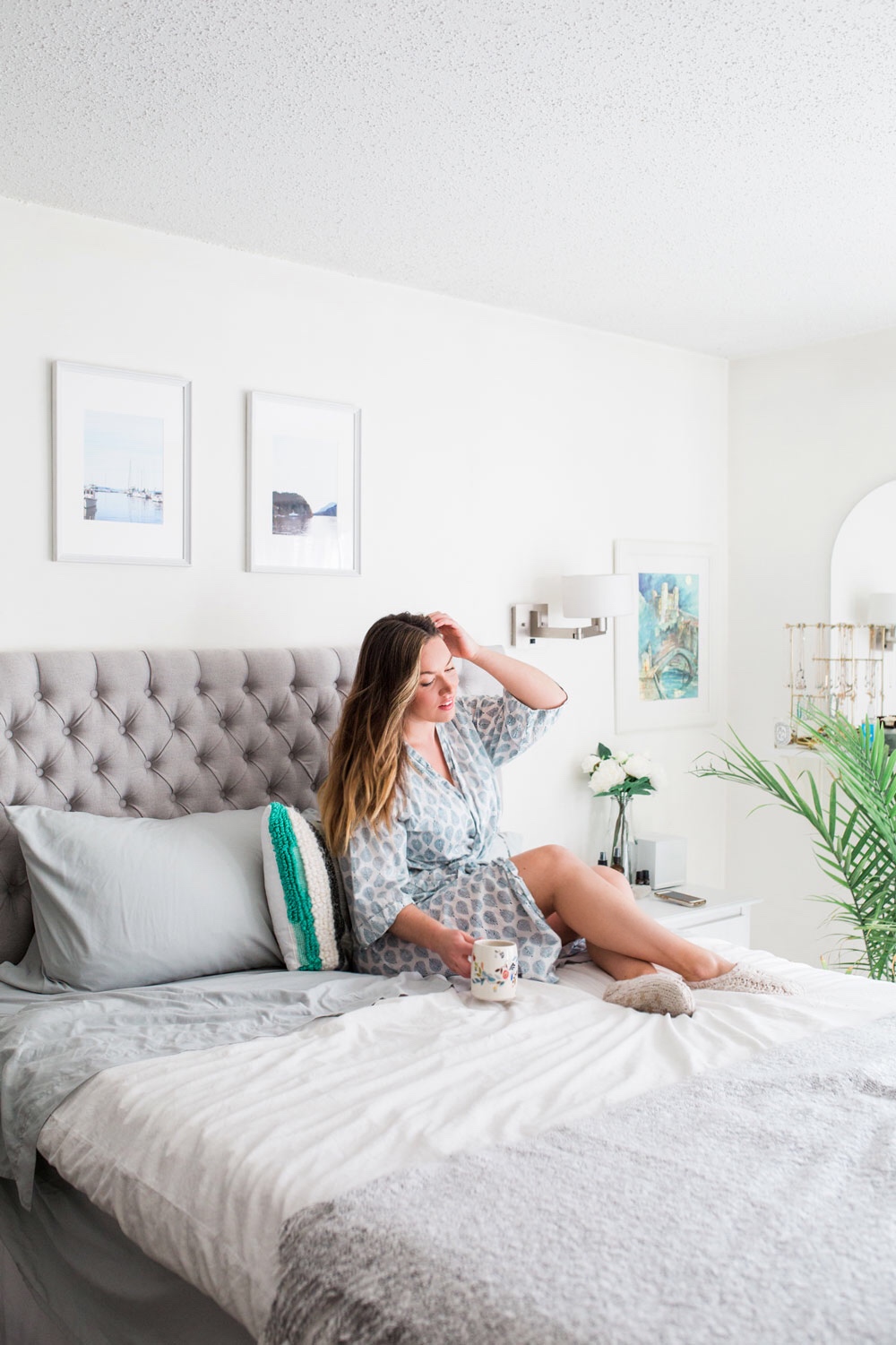 Sleeping used to not always be such an easy thing for me—as a lifetime night owl, I'd struggle with winding down at night and used to get really anxious about falling asleep (creating a cyclical issue of trying to wind down and get sleepy, only making myself more alert). Over the years and especially over the last 5 years, I've managed to really fine-tune a few strategies so that now, I can wind down easily, get a seriously sound 8 hours of shut eye every night and best of all, I actually love sleeping and look forward to getting into bed every night! So without further ado, my top 5 sleeping tips for getting better quality z's are…

Get a quality mattress & pillows
This one is key—while I manage to sleep pretty well most everywhere, my sleep was seriously elevated when we got our Endy mattress & pillows in. I have a lot of back issues and with our old mattress, we were literally rolling into the middle of our bed every night (and I'm a side sleeper so I was starting to get all these kinks and aches from straining against gravity). Both the pillows and mattress have memory foam which has been absolutely key for us, and the firmness is perfection—firm but with a nice cushy give. I literally look forward to rolling in every night!

Supplement smartly
I take magnesium powder every night, which helps me unwind and helps my muscles relax (if you're sensitive to the powder [it can upset the belly a bit if you're prone to more loose BM's], you can get the same magnesium benefits from an epsom salt bath). I'll also sometimes take Ashwagandha if I've been stressed—you can play around with different adaptogens to see what works for you but I like having something natural that can help me unwind! Another big one for me is Sleepytime Tea (either the classic or the Extra with Valerian Root)—I take it every night and usually only get through half a cup before I start dozing off, the smell and taste has such an immediate association with sleep for me that it immediately signals to my brain to start getting shut-eye!

Use aromatherapy
And on that note, I harness the power of scent by using not only my Saje AromaTime Diffuser (which you can program to go off at a certain time every night and morning, helping me both wind down and wake up easily!), but I also like to spritz some of K'pure's Settle Down essential oil spray on my pillows (Matt insist on me misting it over his face, he's obsessed) which has already become such a big sleep signal for me! The second I snuggle into my pillow the scent lifts up in the air and it's so calming.
Pick the right book
I used to read a lot of self-help or entrepreneurial books right before bed and then found I either couldn't put it down or it had my mind going too much. Same thing goes for any thriller or crime books—I would get so caught up in the storyline or legit get scared about an axe murderer coming into my room that I couldn't fall asleep. Finding the sweet spot was so key for me: a nice fiction read (what some might call a "beach read") or magazine. Read a chapter or so and I'm out like a lamp. It's the perfect unwind strategy for me, and I love that it's one I can take with me travelling if I pack my Kobo. My last fave book was The Summer Before the War.

Track your sleep
This one's a bit controversial because when I mention my love of my Sleep Cycle app, a lot of people shudder and say there's nothing they want more than being reminded of how little they sleep. But for me, this has been a game changer because in the app, you can create your own sleep notes (some of mine are Magnesium, Acupuncture, Work Out, Drank Coffee, etc) and you can track what improves your sleep quality and what hurts it. You can also gauge things like air pressure, moon cycle, etc! It's insane how consistent it's been for me and I've used it for a few years now. I can't recommend it enough!
Final little bonus tip I'd give is to just have a clean space every day as much as possible—I'm definitely guilty of letting laundry build up, but at the very least having a neatly made bed makes going to sleep so much more serene and restful, and helps instil habit by creating that connection between breaking open the covers and winding down. Oh and last tip – have pieces you love crawling into! I'm obsessed with my girl Leah Alexandra's robe which is hand-printed and the most beautiful thing ever! It's the first thing I throw on every morning and if I have a bath, I love wrapping up in it to do my nighttime routine. Also having my Saje eye mask, really soft and cozy PJ's and soft socks are so key for me!
Do you guys have any go-to sleep tips? Would love to hear them!
Photos by Kat Willson