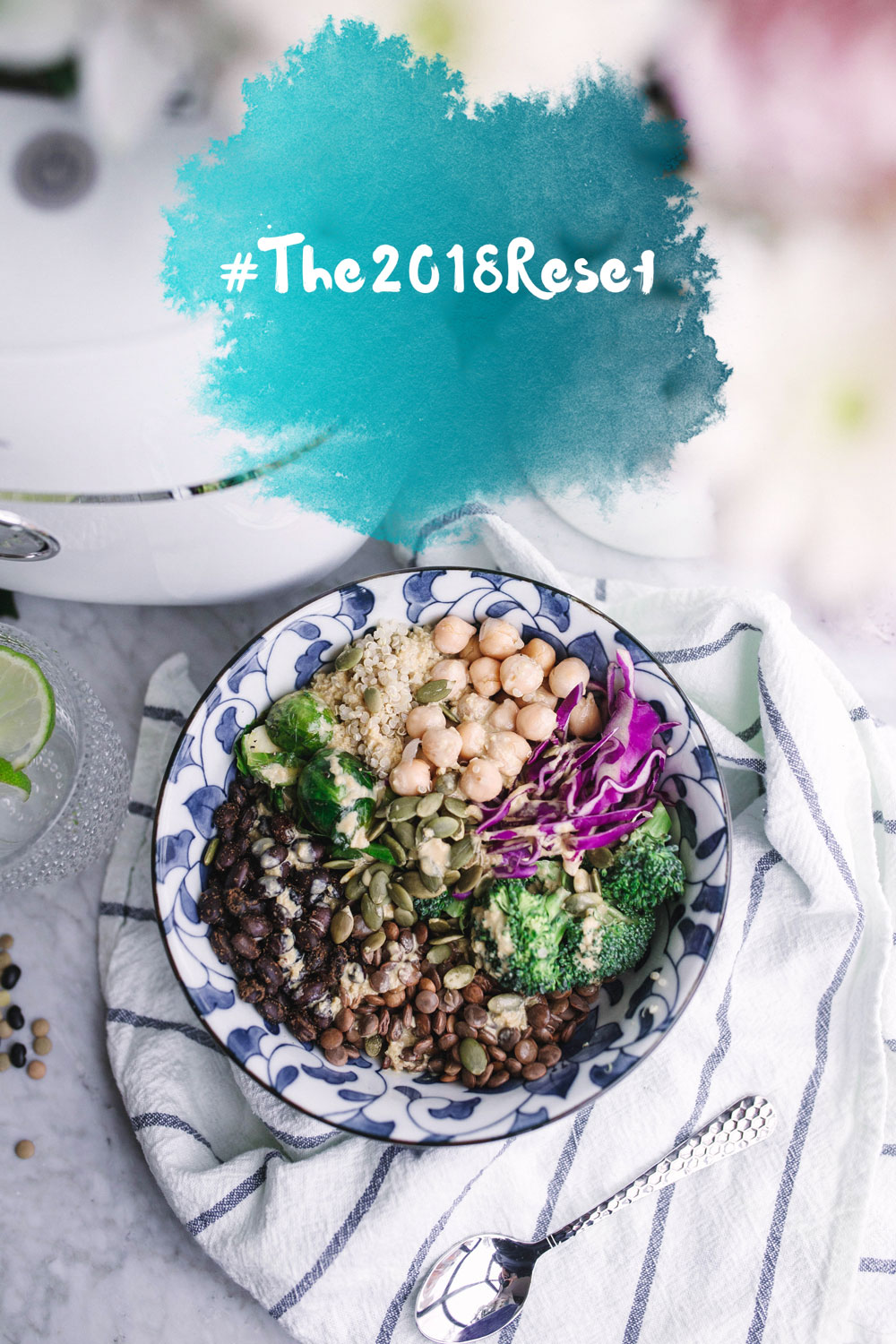 Welcome to Week 3 of #The2018Reset! If you haven't caught them yet, I have my intro here and my full-body workout routine here (which coincidentally has been one of my most popular posts ever, so glad you guys are loving it!). A reminder that I'm sharing exclusive content each week with my lovely newsletter subscribers to help them further reach their wellness goals so if you're not signed up yet, make sure you do it by clicking this link! Onto today's post though, which is all about nutrition!
I wanted to share some of the basic guidelines I use in my life to make sure I'm eating well, avoiding allergens or trigger foods, nourishing my body well for my active lifestyle and all in all, just feeling my best and fueling my body the best way possible! So without further ado, let's dive in!
WHEN I EAT
This one's really important, and I owe this big shift in my meal planning all to the beautiful Kelly Leveque of Be Well By Kelly. If you don't know of Kelly already, she's the nutritionist to so many amazing ladies in her native Cali and beyond – think Jessica Alba, Kate Walsh, Molly Sims and more. The celebrity association aside (which quite frankly, I'm always a little skeptical of), this girl knows her stuff – a former scientist and researcher, she saw the link between obesity and blood sugar issues with so many diseases and her nutrition practice evolved from a curiosity in this exact matter.
Long story short, I've shifted my window of meals from about 7:30AM to 6:30PM as much as possible based off of the advice I've learned in Kelly's book Body Love – it allows my body to digest my food properly and fat burn over what's effectively a "fasting" period (though we all fast overnight, it's just extended slightly to allow for better digestion). I eat 3 meals a day, with the rare smoothie to tide me over when I have a particularly hard workout (I like to work out in the early afternoon usually so this helps me not feel like I'm dipping with my blood sugar).  
I want to be clear that this is based off of my own personal experience, but holy hell has it helped me. I have a lot of digestive issues (any fellow IBS-ers out there?) and this has seriously slashed the amount of bloating I get to being a very rare occurrence as opposed to a near-daily experience, I feel like my body composition has improved, etc, etc. I can't say enough good things about the book and honestly, timing my meals for about 7:30AM for breakfast, 1PM for lunch and 6PM for dinner has kept me full all day, feeling lighter when I'm off to bed and even sleeping better!
WHAT I EAT
As I mentioned, I have some tummy troubles I have to work around and sensitivities/allergens to avoid, but I try to focus more on all the good things that I load up on versus what I try to limit. At every meal, I try to have lots of veggies, some lean protein, lots of healthy fats and some complex carbs. Some of my absolute faves are spinach, frozen blueberries, almond butter (literally my fave thing ever), salmon, scallops, avocado (as much as humanly possible!), yams, poached eggs, hot sauce on absolutely everything (Valentina is my life), pumpkin seeds, walnuts and cucumbers. I also am slightly anemic (a genetic thing for me, my mum and sisters all have it to varying degrees) and am not a veggie so I eat some lean red meat like flank steak too about once a week.
But it is important that I note what I try to limit too! Because of my bloating issues, I try not to eat too much sugar – I have a total sweet tooth so this is the hardest thing for me, but I try to get my fix with good quality dark chocolate (or my current fave sweet tooth treat which is a spoonful of almond butter and frozen blueberries, clearly reaaaaally know how to live it up!).
As you guys can probably tell on my Insta Story, I love to have a drink with my friends, family or with Matt – no shame in my game about admitting that I love a good drink! Will never be too virtuous to admit that, I am a Grant after all. Having said that, I find drinking too much (and especially sugary things) can really set off my belly and other unpleasant side effects, like eczema, rough skin texture, headaches, etc. I try to opt for white wine or tequila and soda with lime as much as possible which seem to be the two things that don't set me off as much, though I do love a good beer and G&T too. All about the moderation! And I always hydrate a ton. I aim to have about 3L of water a day for my needs and because I work out quite a bit, though 2L would be sufficient!
Other than that, I try not to set rules on too much else but try to crowd out things that I know set my system off (cow dairy products, wheat and too much fruit) by just eating lots of the good stuff.
HOW I EAT
I love meal prepping. It's honestly one of my favourite things to do – I have a glass of wine, all my groceries set up, a good playlist on the speaker and kick Matty out of the kitchen and spend a Sunday afternoon blissfully pulling together a few meal options for the week.
My main trick is to make one slow cooker or Insta Pot meal so that even if you don't have time to assemble anything later in the week, you can just spoon out some stew, soup, chili, etc and warm it up and get a good, satisfying, nutritious meal. I love making something like a turkey chili with lots of veggies, a really nourishing soup or some sort of lean stew. I usually just find a good recipe online, chuck all the ingredients in, and then I set to making the rest of my prepped food while this yummy meal cooks away.
I have to have a green smoothie most mornings or another Fab Four Smoothie so I just make sure I have all my essentials for that (dark leafy greens, a good quality protein powder, antioxidant-rich frozen berries in the freezer, almond butter or avocado for some good fat, flax seeds or chia seeds and almond milk either made or bought).
For lunches or to add to dinner, I make a big huge salad with a bunch of greens, usually something roasted especially in the winter (think beets, yams, broccoli, etc), nuts of some kind (my fave are walnuts), lots of pumpkin seeds (a great source of magnesium) and a super tasty dressing that I'll whizz up in the blender (I'll either do a nice vinaigrette or something more indulgent like a vegan Green Goddess dressing). I also keep lots of avocados on hand so that if I'm running out the door with my salad, I can just slice an avocado in half and squeeze it on top.
That's it! That usually lasts us until Wednesday and then we'll plan out a couple more meals for the week and cook them up mid-week doing roughly the same strategy (but usually making a less hefty main since we'll go out Friday nights). I feel like if it's too big of a task, meal prep will never get done – if I do it in chunks twice a week, I feel like I'm not only not getting sick of my meals, but more likely to actually prep and eating fresher foods.
AND A FEW MORE NOTES…
I've been really lucky in that I seem to have gotten through my teen years and up to now without feeling that bad about myself ever – I've always had good body confidence for the most part and I think a lot of that comes from the fact that my parents a) never focused on body size or too many body-image oriented remarks (though on that note, my whole family does call me Shamu in recent years because of how much I eat, though they defend it by saying "I can take it") and most importantly, b) both had and still have a real passion for food and cooking. Not only was anything ever conveniently bought pre-made which kind of gave me an appreciation for food in its most natural, elemental forms (though it did mean late dinners always, definitely a Grant thing that I've since broken away from), but there was also just a real passion for good food. I don't like the idea of being too hard on myself ever and while I have done elimination programs on a doctor's recommendation in the past to see what was upsetting my poor belly so much, as much as I think I eat really well I also do it out of a love for good food, not because I'm scared about packing on pounds (and on that note, I have not weighed myself in years and years).
The other thing is to have Plan B's for when your Plan A will inevitably fail. If we're gone one weekend, in the middle of the holidays or just having an insane week, I try to make sure there are some home delivery options that are on the healthier side so that we're not desperately ordering pizza on a Tuesday because we're just so starving (though on that note, if I really want pizza on the weekend, I totally have it). I also have a couple boring but effective meals for when we're limited on groceries and it's tempting to order in (especially key working from home) – having lots of wilted spinach, a poached egg, salsa fresca (which we usually have on hand) and hot sauce is one meal for instance that I'll have on a day when we don't have anything made or on hand just to tide myself through until we get groceries for dinner.
One important thing to note too is to get your partner if you have one on board, and encourage your friends/family to join you in eating better through leading by example (i.e. be the one to make them a meal)! Matt's really gotten on board with all of this in the past couple of years but this wasn't always the case. It can be really challenging to eat well if your partner either refuses to or keeps things in the house that don't sit well with you (here's looking at Matt and him bringing Miss Vickies chips in the house, which he knows I love and can't resist). The best thing to do in my own experience is to just champion the prep work at first so that the food's already there (all they have to do is eat it!). Matt's always eaten well enough over the course of our relationship but when he got effectively tricked into eating really well and his tastebuds got acquainted to it and all the other positive benefits that come from eating good, home-prepped food, he now takes on a ton of the food prep and it's very much a 50/50 effort.
Finally, just a disclaimer that I am definitely not perfect with all of this – I don't beat myself up and pay attention to the cues my body is giving me (i.e. if it's craving salty foods, sugary foods, a cocktail, etc) and take a look at how I've been treating my body that week, from not only what I've been putting into it but my stress levels, how much I've been working out, etc. So be compassionate to yourself and just focus on eating well as much as possible, not eating perfectly.
Again, if you guys haven't already, I have an email going out tonight with a full example week of what I eat plus some extra sheets for you guys to plan out meals so make sure you're signed up here!