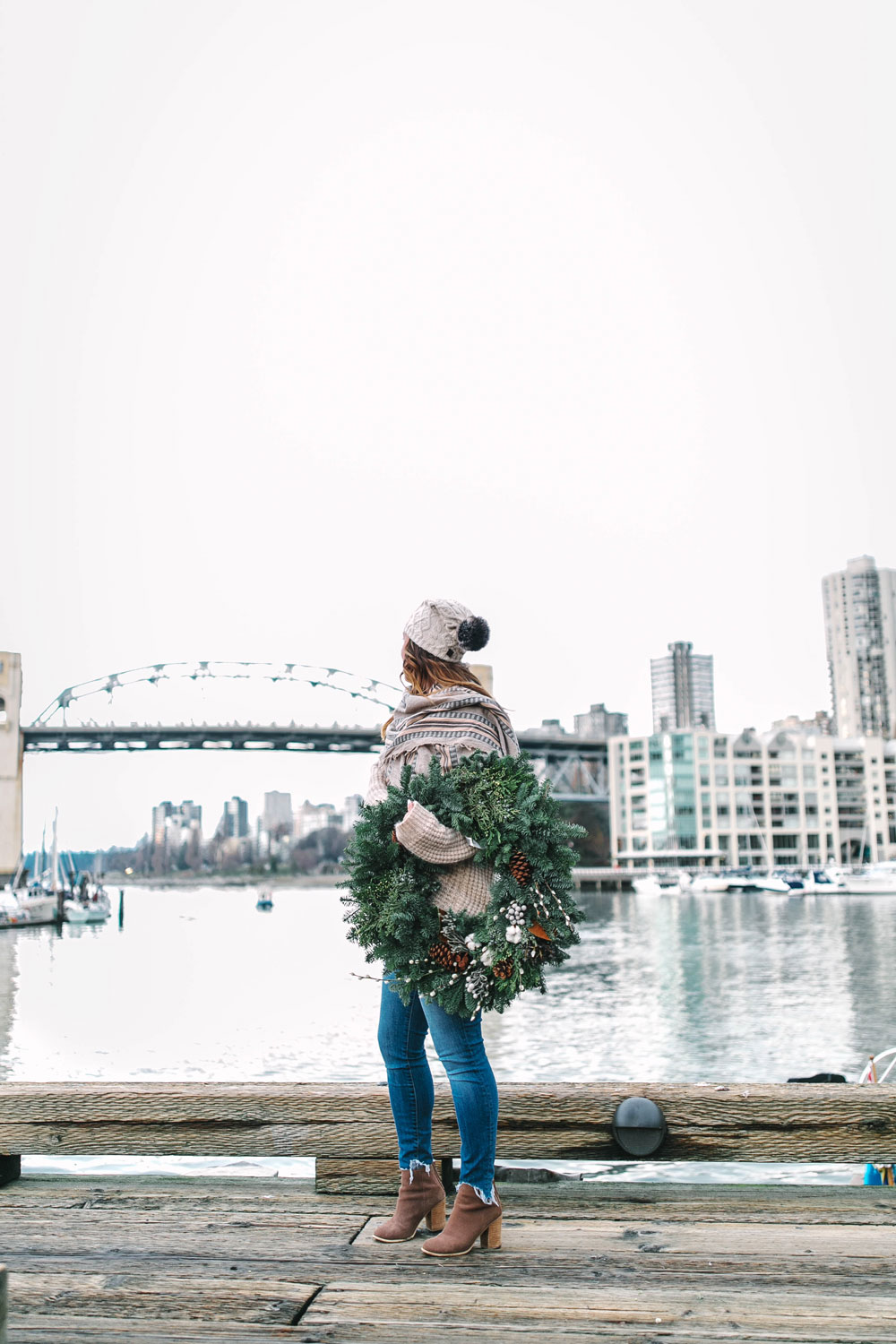 Matt and I started dating when we were 20 so we were together for quite a time before we decided to "finally" move in together. So over the years, whether we were visiting our parents back here in Van (we went away to the same uni in Victoria) or rediscovering the city once we'd moved back after our degrees, we were always so enamoured with Granville Island and made a point of coming here all the time. We'd even bike all the way over from West Van to just visit our favourite vendors and have a margarita at Bridges! It goes without saying that we feel so blessed to be island locals now, just a few minutes away by the Sea Wall so that we can get there ASAP day in and day out! Whether it's cruising there by bike in the summer, soaking in cherry blossom season in the spring, cozying up with a coffee under the changing trees during the fall or (my personal fave) taking in the holidays on the island, it's our favourite place—undoubtedly our total happy place, to say the least!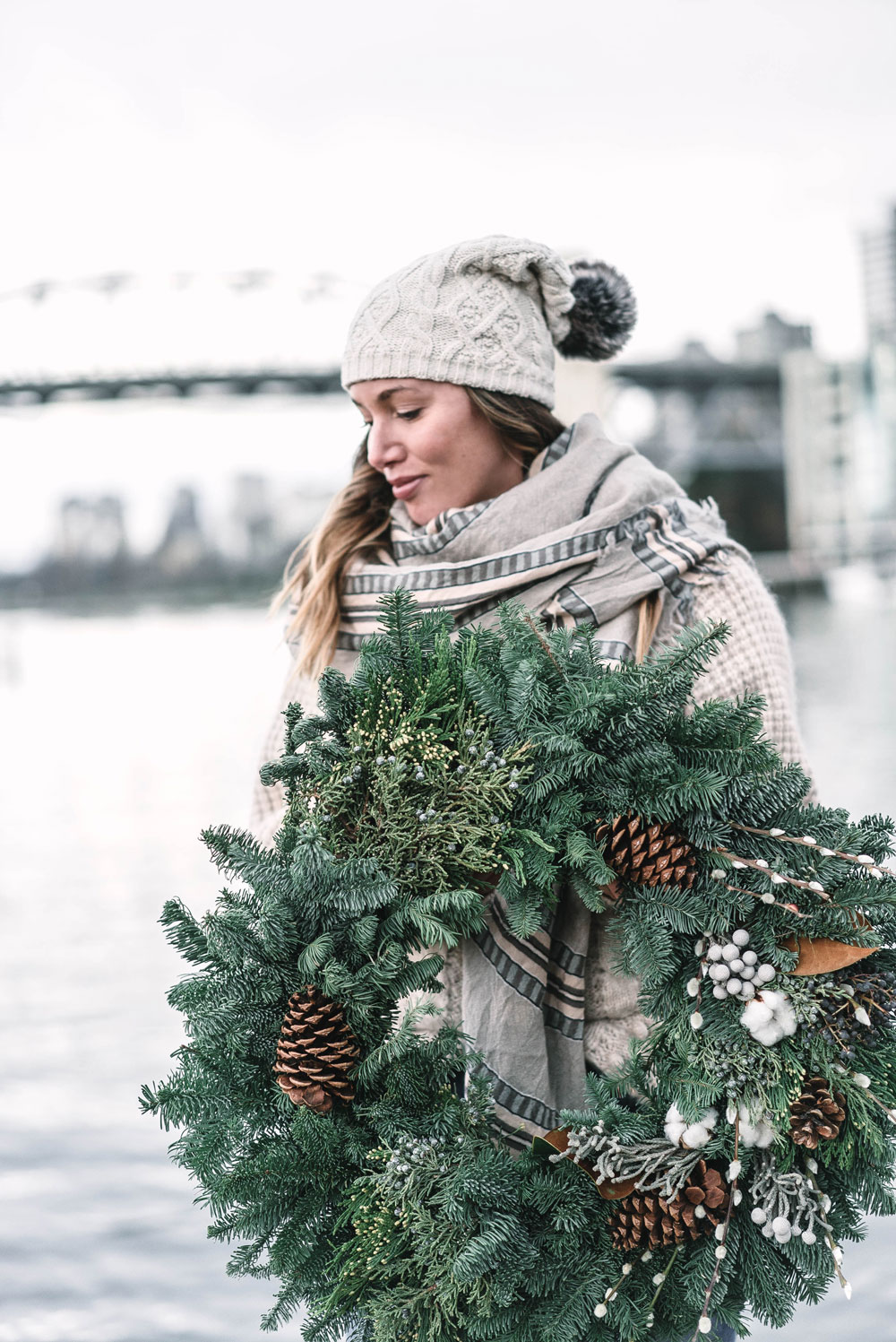 I partnered with the island again to share a couple of my favourite vendors this year on my Insta (see this year's wreath here and stay tuned for a ceramics fave on my Insta tonight!) but wanted to share a few more of my favourite vendors, sights and going-ons on the island this winter because it really is my absolute fave spot and I think something that's so special in the city! If you're visiting, it's well worth the visit (though I'd really recommend going on off hours if you can, i.e. not the weekend) because it really captures a lot of what Vancouver is about—not only is it absolutely stunning with the ocean surrounding it and its famed reformed industrial buildings, but it has such a cool history and really encapsulates that whole inventive, forward-thinking mission Vancouver and its amazing city planners have always had (I'm biased because my mum is a city planner but seriously!). It used to be a sand bar, then an industrial wood mill and framing factory, then a squatter zone during the Great Depression, then an industrial factory area and then the city finally decided to change this formerly seedy island into the creative and artistic hub that we know it as today!
Without further ado, here are all my fave spots in the island, with a heaping dose of Christmas-specific fun for good measure!

Our Little Flower Company
My fave florist in the city, hands down. They have such a distinct style and their quality, taste level and customer service is the best of the best. I go in every couple of weeks and pull one of their exquisite bouquets, usually customizing it a little bit. They're honestly the best! I got my wreath custom-made this year and it's my fave ever.
Petit Ami
We've been coming to this cafe every week for so long, most of the staff gets our order going right away. They're so sweet and I love that this is their only location! So nice to support local. I also love JJ Bean but can source their coffee in so many other locations so usually try to hit up Petit!

Paper Ya
This is a great spot to bring little Vancouver-centric stationery, trinkets and more home if you're visiting! They also have my fave selection of gift cards and the like for around this time of year!
Gigi B
Right across the hall from Paper Ya is this gem of a boutique where you can find lots of local faves like Vancouver Candle Co and Herschel so that you can get a real slice of the city in one location!
The Gallery of BC Ceramics
In a perfect world, I would only have handmade ceramics in my kitchen—slowly working to get to that point! I just think they're so special and make the ritual of eating and drinking that much more meaningful. I love picking up pieces for us here but also love getting a beautiful mug or something along those lines as a gift—they honestly are always a safe bet if you're not certain what to get someone!

The Kid's Market
Truth be told Matt and I go in all the time just to poke around but if you have kids, this is a must! I also love that every year, they have a tree where you can pick a kid's name and sponsor some gifts for them!
Winter Solstice Lantern Festival (December 21st)
You can find us hanging around for this! From a workshop to an actual lantern processional, it's such a nice way to get out and embrace the season instead of dreading the shortest day of the year!
The Arts Club Theatre
We go year round to watch plays—one of our fave date nights! But I really like coming here during the holidays and taking in a festive one, usually preceded by drinks at Backstage Lounge or a proper dinner at Edible Canada!

The Crystal Ark
I'm a crystal fiend and pop in all the time to pick up a new piece—I feel like crystals are actually a great stocking stuffer or Secret Santa addition (as long as the person you're shopping for is into that!) and this is such a homey, slightly-cluttered-but-in-the-best-way spot!
Liberty Distillery
Right now all the lights are up in the lane that Liberty is on so you can take in the magic of the season while having a cocktail at Granville Island's own distillery! Their pink gin is my absolute fave!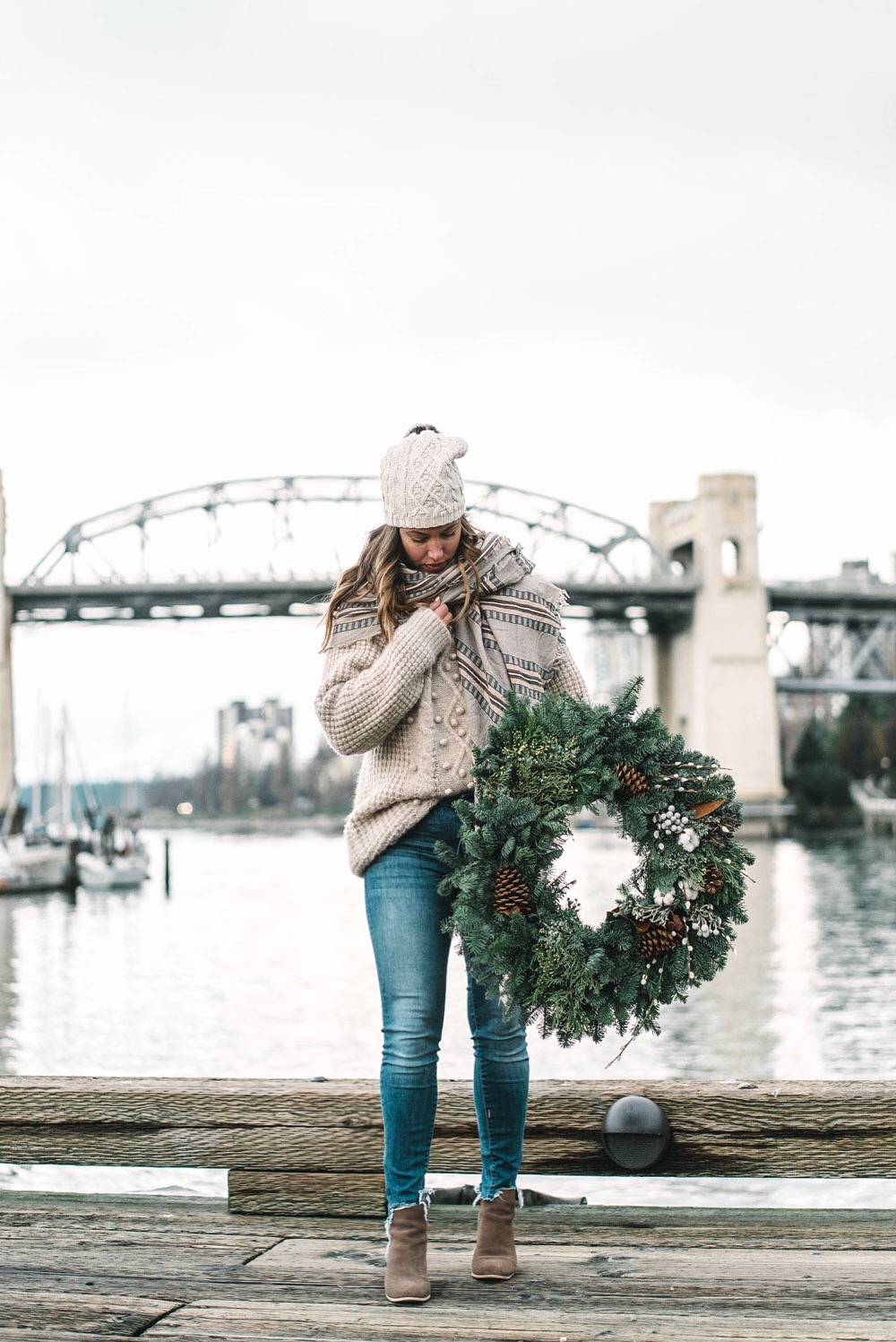 I could go on and on because honestly, the whole island is magic but these are my absolute top picks! Of course, wander around and take in all the lights, pop into all the artisan shops and grab a bite in the public market. Also, keep an eye out for the amazing buskers and pack some change for them—we've definitely gotten to know some of them over the years and they're such dedicated, cool and talented people! Our personal fave is a gentleman who covers a lot of French songs in a black and white outfit—wish I knew his name because I see him whizzing by me on the Sea Wall on his bike all the time! He's amazing though so if you see him, beeline it to take in his set and be sure to leave a nice tip!
Where's your happy place in your city?
Photos by Ainsley Rose Photography