Have you ever been in a bit of a brain fog week? Like the creative juices aren't flowing, your momentum isn't quite the same and your productivity has completely gone down the drain? I don't know what it is specifically but the last week or so has been a bit of a struggle for me—there have been a few things that have been understandably distracting me outside of work (nothing crazy or bad, just some out-of-the-ordinary things that have thrown me off a bit!) so I'm not entirely surprised, but it's still frustrating to sit down at your laptop to power through work and just feel absolutely brain dead and depleted.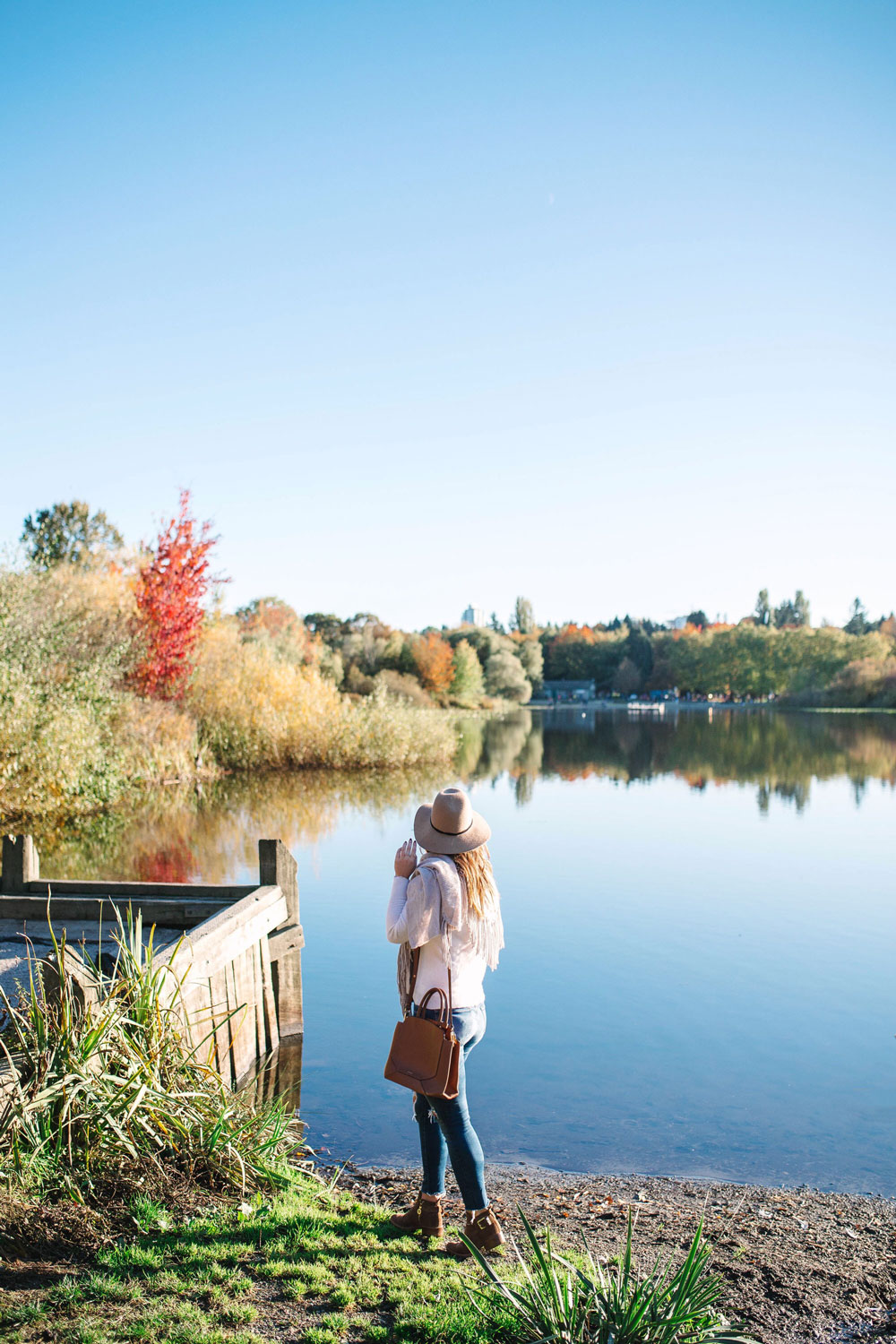 More for my own sake than anything else, I thought I'd pull together 5 steps that in the past, have really helped me bust out of a funk, clear the cobwebs and get back to feeling inspired, in a flow state and happy (because quite frankly, often when I find myself feeling foggy, I quickly start feeling frustrated and a bit angry with myself!).

Get Moving
When you're feeling out of it, low or exhausted, the last thing you want to do is work out, but paradoxically, it's honestly the thing that helps the most (at least for me). Between the endorphins, the mental break from stress or worry and just working through thoughts, ideas or concepts by moving your body, if there's ever a time to bump up your workouts, a mental fog week would be the time to do it! Move however you'd like—yoga, running, weight training, spin class! Or just go for a walk in a beautiful place like this—Trout Lake is so close to downtown Vancouver and so beautiful!

Clean Your Space
It's so true that your external space can most definitely reflect any internal chaos or muckiness you're feeling. Similarly to working out, the actual physical process of cleaning can sometimes help you work through the cobwebs (literally and metaphorically!), reflect on some ideas and best of all, a bright, clean space will often spark that creativity and inspiration you're so in need of!

Create a Stress Log
I learned this years ago from a Marie Forleo video and it's been a lifesaver for me. Whenever I feel either overwhelmed, burnt out or even just not the sharpest (which is often due to stress), I write down absolutely everything that's stressing me in a total free-flow. From the little things (putting away that pile of laundry) to the big things (hiring a new financial planner), I write it all down and then usually, I already feel immediate relief. Just getting it out helps so much. Then I usually print it out and go through with a pencil either crossing off things that just really don't matter or jotting down simple solutions to each entry.

Do
Anything
Creative
Especially because I work in a creative field, sometimes when I feel a bit uninspired or kind of off it's really easy to start panicking a bit about when exactly my creative inspo will be back, which quite frankly never helps—it nearly always makes me struggle more! If you guys have followed me over the years, you may have picked up on me randomly getting really into watercoloring or spending hours and hours playing guitar. Sometimes, I'll just get into a reading mode where I devour a ton of inspirational books (think Lean In or The Happiness Advantage). Sometimes I'll just get into a baking rampage! Whatever it is, I just try to do anything creative that is coming easily or is inspiring me at the time. I stay on top of my work to-do's obviously (can't live with a cluttered inbox!) but I let myself really indulge in these other creative channels because one thing I've really learned is creativity is creativity. The more you use it in any capacity, the more it sparks it across the board. Even though I work specifically in a more "creative" field, I think really any work is creative, whether you're a lawyer or doctor or teacher—I also just think using creativity as an outlet is so important anyway too! So if you're feeling off, do anything creative and do it guilt-free! It's ultimately well worth your time.

The 5 Second Rule
I was going through a similar weeklong or so funk earlier this year and very serendipitously, happened to stumble upon Mel Robbins' interview on Lewis Howe's podcast (you can discover more of my favourite podcast channels here and more about this particular episode with Mel here!). It's a little productivity hack that just set off a chain of feel-good, in-the-flow productivity for me. It's detailed more in my blog post but basically, you just count down from 5 seconds for everything you'd otherwise procrastinate (there's more to the science behind it and the like but it really is that simple!). I used it for this blog post! Literally I had a blank document in front of me for like, 30 minutes (again, the brain fog has been real this week). I took a deep breath, counted back from 5 seconds and now this post has really actually quite easily come out of me! I think the main thing with feeling a bit foggy is that decision making is all the more difficult—simply not allowing myself to deliberate over when or how I'm going to do something helps so much, and helps you get through to-do's so that you can start feeling lit up again.
A last little bonus would be to make sure you're getting ample rest, hydration and good nutrition. It's so funny how often I feel run down and just can't understand why, only to then put everything into perspective and realize I've been on the road for three weeks and not sleeping properly, or skimping on water a bit, drinking too much coffee and not eating at regular times, letting my blood sugar get super irregular. Seriously, taking care of those pillars of health (sleep, nutrition, hydration and exercise) helps so, so much and oftentimes, once I'm back on track in all four categories, all the emotional or mental stressors I thought I had fall to the side. Of course, also so important to be on top of your mental health so meditation, journalling and trying to remember to be kind to myself (always hard!) is also so key, especially if I'm having an "off" week—they're often the weeks I invest more time into mindfulness and come away with a nice new strategy or shift!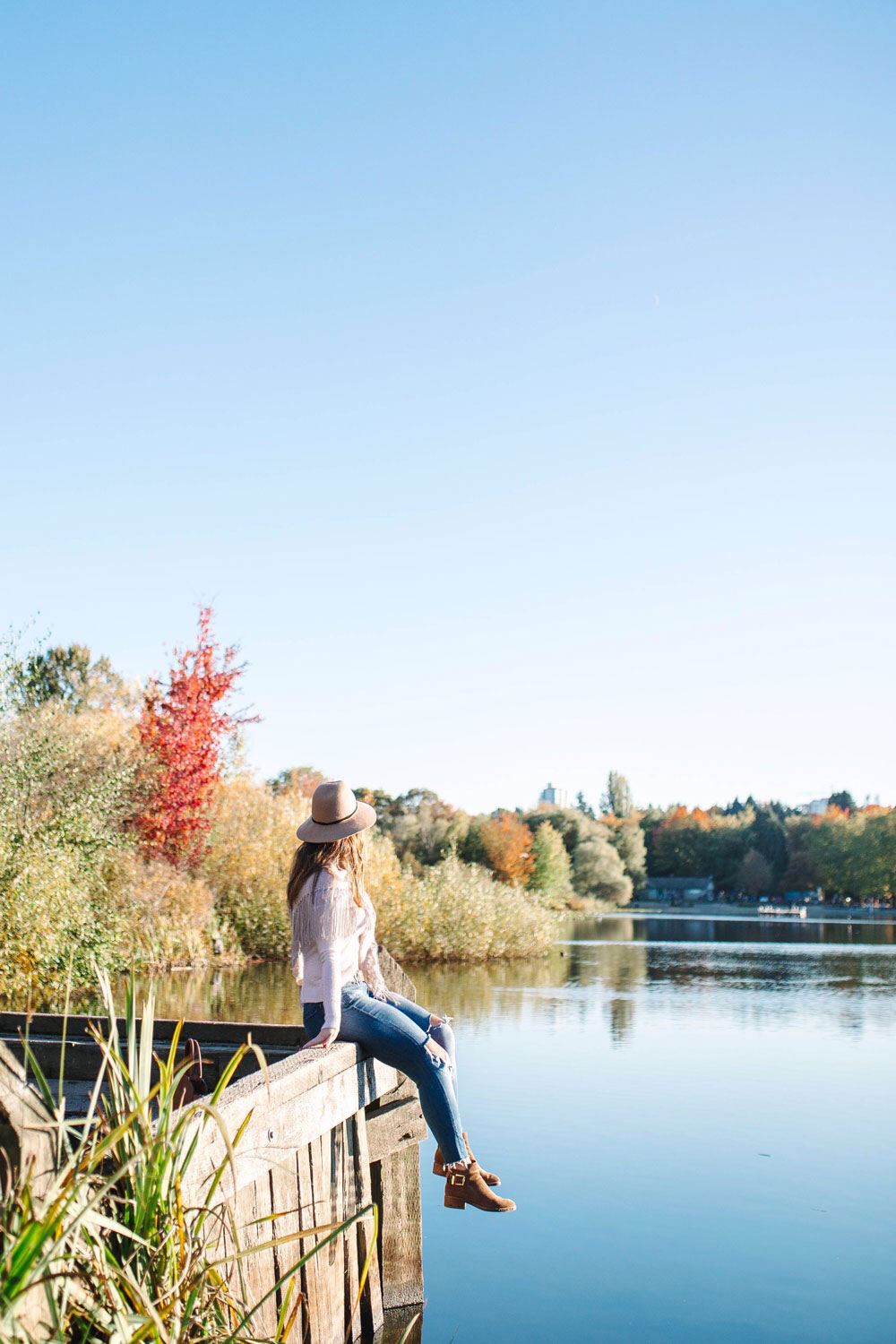 Well this post had absolutely nothing to do with this outfit (which I love for cozy weekend or daytime style)—this White + Warren convertible fringe wrap has been the staple piece for me this fall (and can we talk about this cream sweater, also from White + Warren!) and my Mavi skinny jeans continue to be my go-to's! All about the layers of textures and soft tones for this time of year!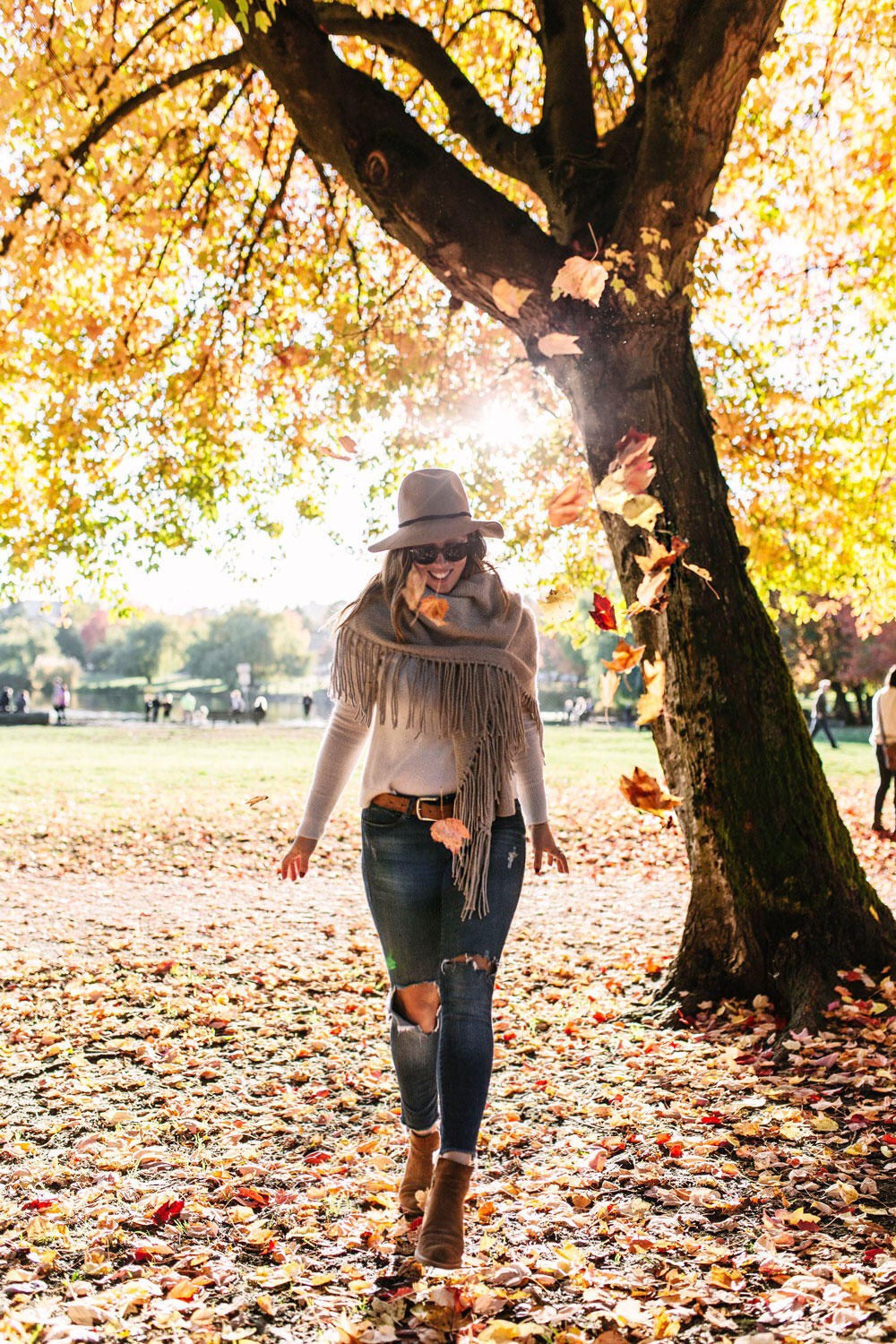 But back to getting out of a funk—curious about you guys! Do you have any tried-and-true strategies for getting back on track? Tell me in the comments below!