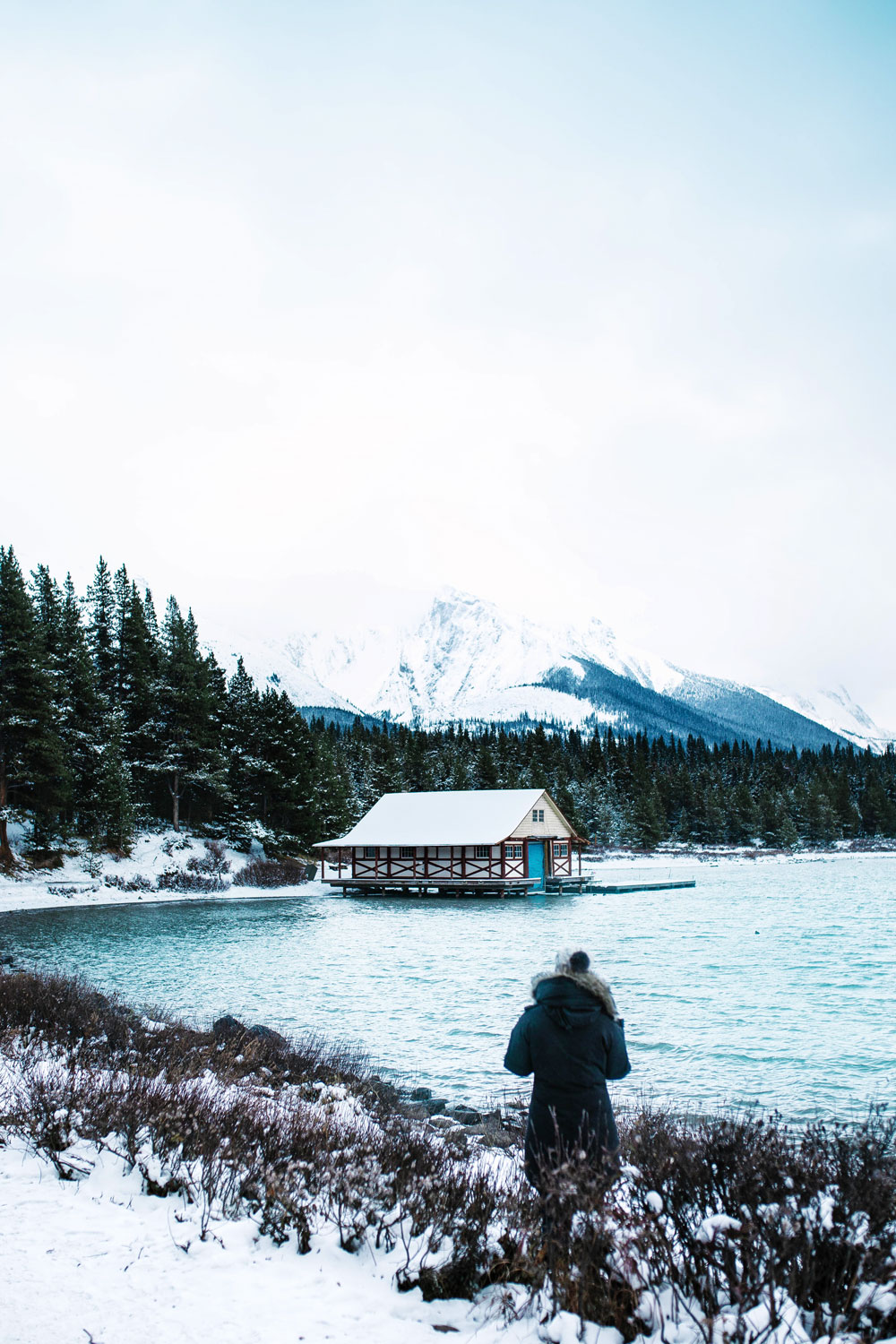 Sometimes when I'm trying to type out my travel diaries, I struggle with what the opening point is. Do I dive in chronologically or do I share my favourite takeaway from the whole trip? With my Jasper diary though, I knew I had to start with the point when I first felt truly awestruck, which I'm happy to report happened continuously throughout the whole trip, which I was lucky enough to go on with Tourism Jasper for their Dark Sky Festival. So let's start with that moment before plunging into all my to-do's for your own trip to Jasper!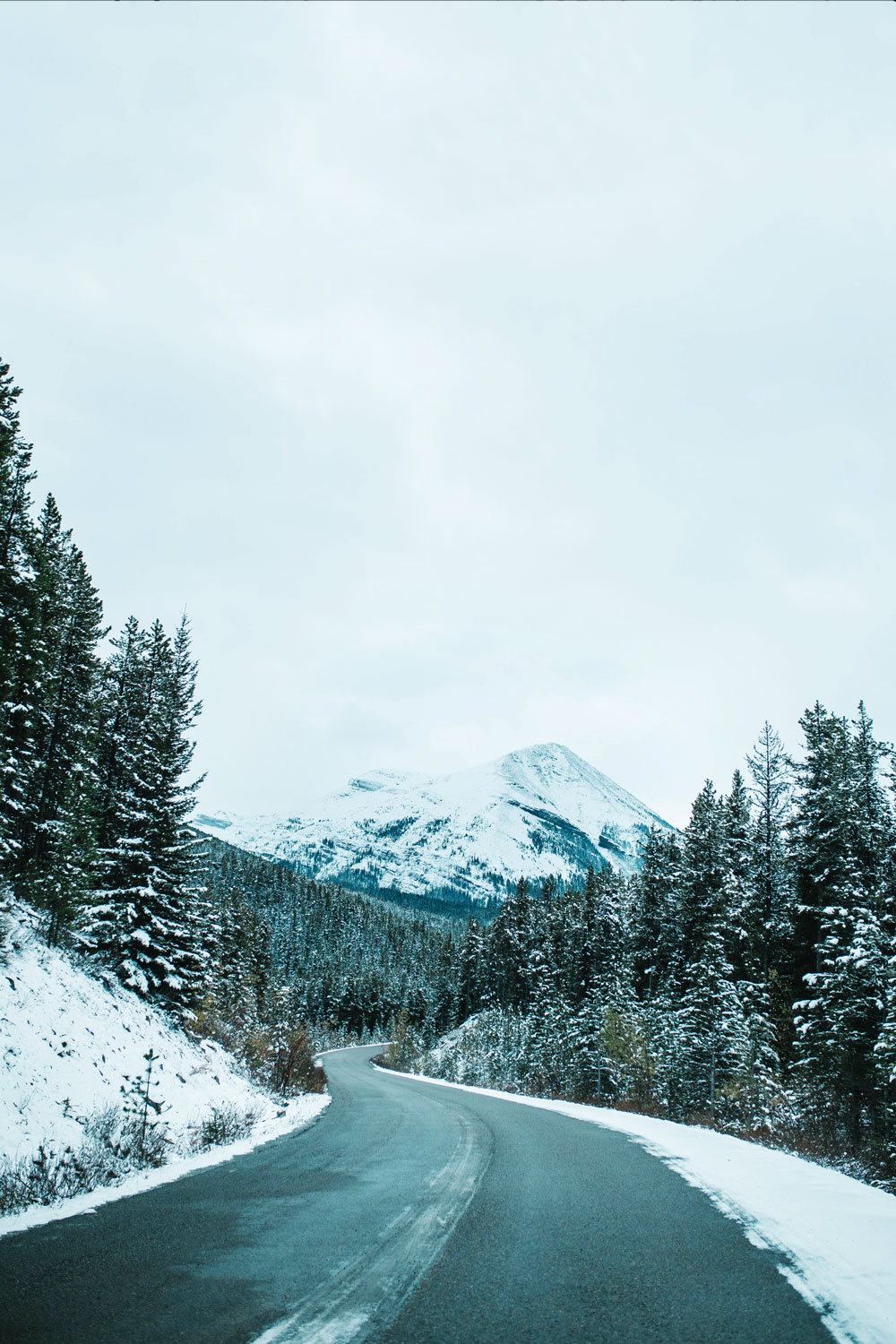 After touching down in Edmonton and whipping through the Alberta countryside for a few hours, we finally cruised into Jasper on our Sundog Shuttle just as the sun was falling below the horizon. Because the national park is a dark sky preserve (more on that in a second), it meant that as soon as the sun set, there was literally no other light other than the glow of the stars and moon. I'm no stranger to mountains (I'm from Vancouver, after all) but I'd never quite seen a mountain like the one that opened up to my right as we finally burst out of a heavily forested stretch of snow-sprinkled evergreen trees. The still lake in front of it perfectly reflected the moonlit mountain as we passed by—I've never seen anything quite like it. It was like it grew straight from the lake itself, with no habitation either on or near it. With no reception and everyone passed out on the shuttle, I really had one of those rare moments of true awe with no other distractions, just staring out the window as we drove past this geological behemoth with my mouth open and no other sound other than some country music lightly playing from the front of the shuttle. Something I'll always remember!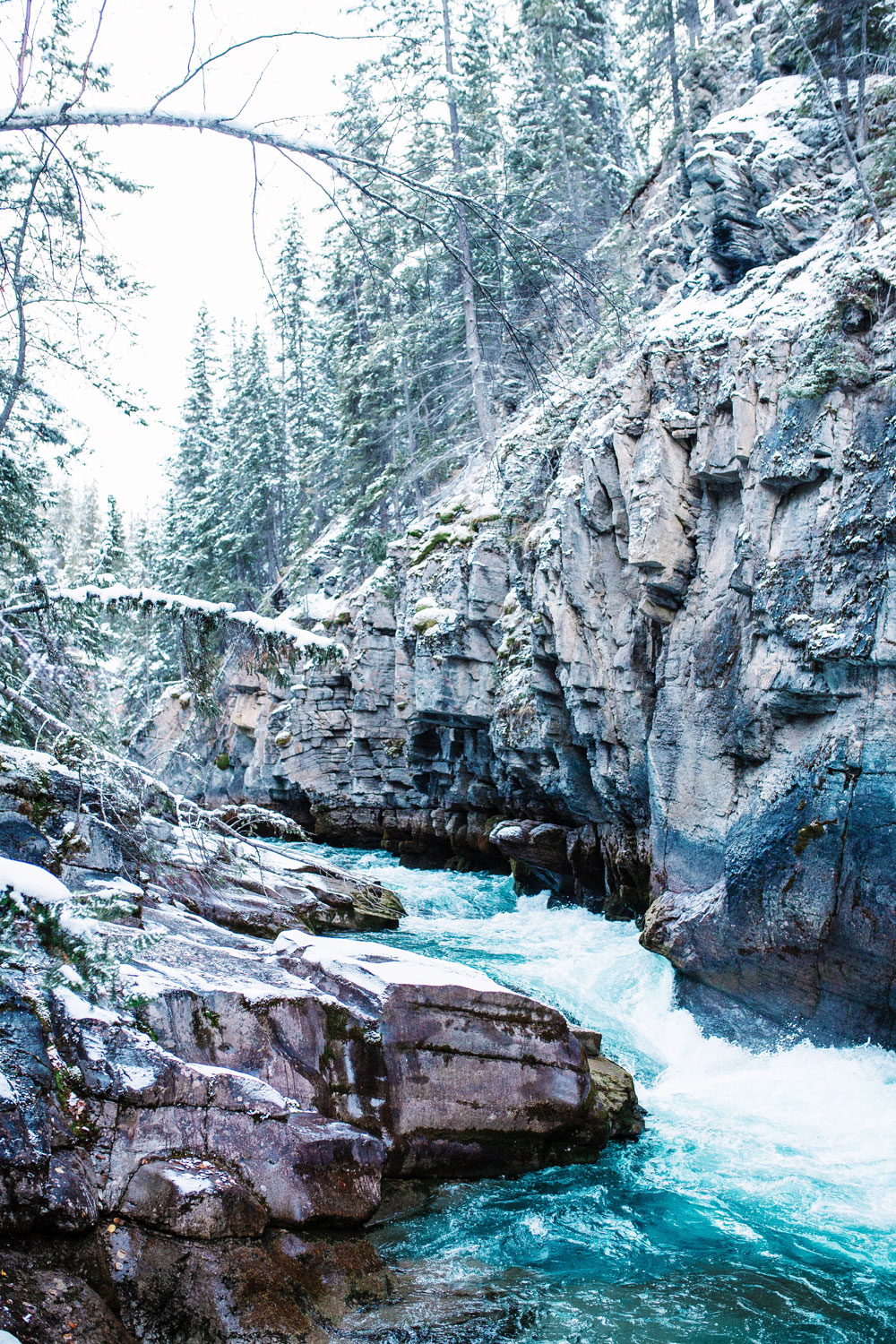 Anyway, I was exhausted from my journey in so literally passed out as soon as I got in without seeing anything else (I got a 97% sleep on my Sleep Cycle app, which I told everyone about incessantly the next day) and got ready to finally see what Jasper was all about, excited to uncover it especially after that stunning moonlit drive in. After breakfast, I was greeted by the unreal and beyond lovely Tourism Jasper team and then a serious education of inspiration, education and just getting a deeper appreciation for our cosmos, world and this beautiful country we lived in commenced.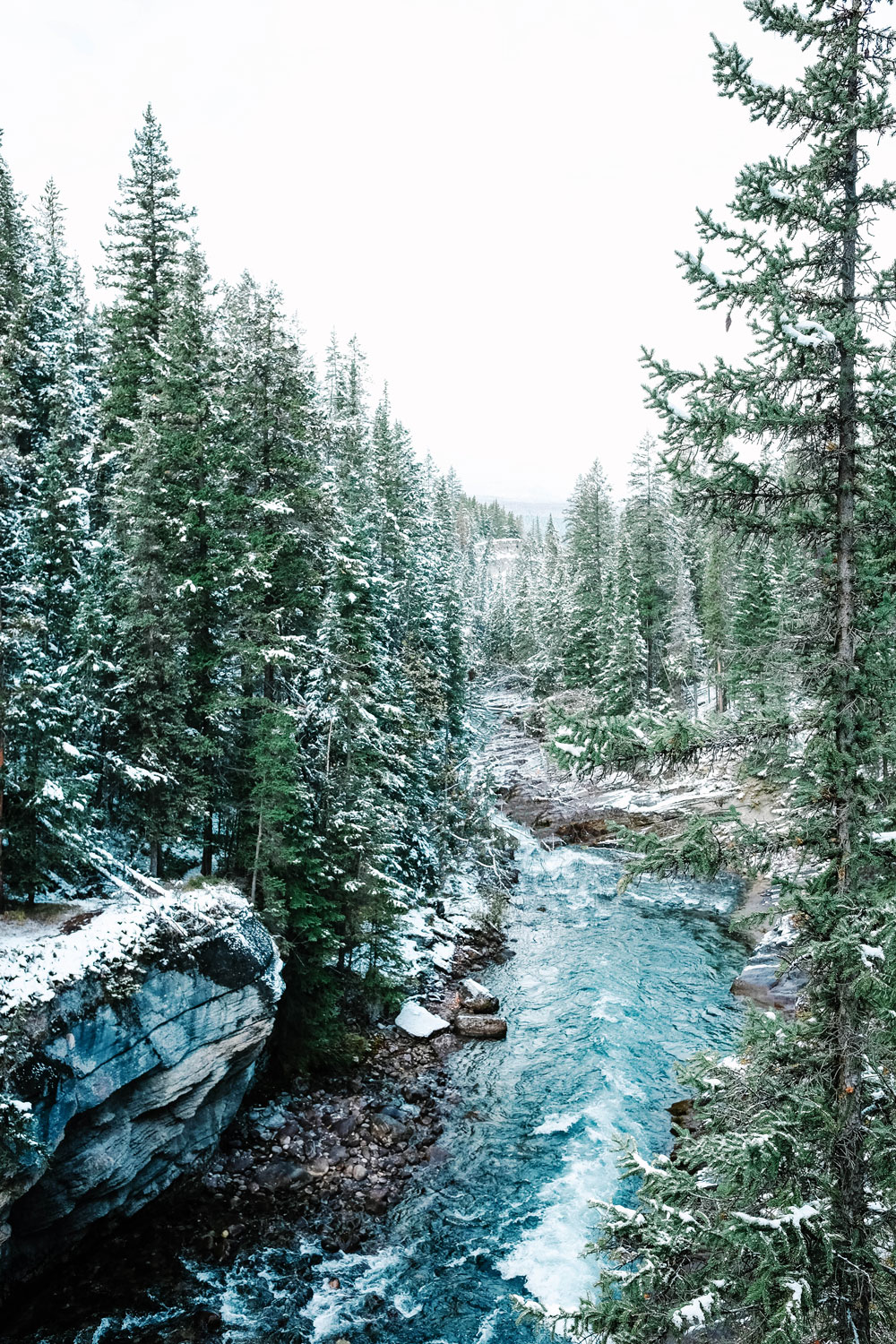 Now to share some of our key to-do's from my time in Jasper! If you haven't considered going before, please, please, please do! I was blown away from my time there—from the sweet people to the world-class dining to (of course) some of the most unreal natural beauty I've ever seen, it was seriously a special, unforgettable trip.

WHAT TO SEE
Maligne Canyon
Go on a hike with Walks & Talks Jasper to learn more about the area and its history (from where the glacial water comes from to fossil spotting along the way to first settlers!) while getting a serious hike in too! Maligne Canyon is a beautiful and famous local hot spot to see waterfalls (Bridal Veil is an especially beautiful one), explore the canyon (which is about 50m deep, insane!) and to spot wildlife!

Maligne Lake
A bit of a drive from the town of Jasper but well worth it—in the summer, you'll see it in all its turquoise water splendour, but even in the winter it's absolutely stunning, especially if you catch it on a still day. It was a bit of a choppy one for us when we visited so the water wasn't quite as still as it usually is but it is in all states an absolutely stunning spot. In the summer you can rent out a kayak or canoe too and explore the lake!

Jasper Planetarium
You might be super eager to get outside and explore, but I'd really suggest stopping by the Planetarium because Jasper is a dark sky preserve (meaning measures have been taken to drastically reduce light pollution), it's really interesting to learn more about the cosmos, about First Nations constellations and beliefs and to know what to look out for when the sun sets and the stargazing begins.

Jasper SkyTram
And on that note, there's no better place to look for stars and the Northern Lights than by gaining a vertical kilometre and going up the SkyTram. We joked on the drive up to the base that we'd love to order some Northern Lights for the night only to look out after dinner to see a green glow growing from the horizon. Sure enough, some of the intrepid astrophotographers in our group managed to get full dancing Northern Lights in the middle of the night but even seeing it growing like that and beginning to take on some structure was an experience I'll never forget. I also saw the Milky Way for the first time ever, plus shooting stars to boot! I just felt so much more connected to the cosmos and understood it in a way I really never had before—doing the Planetarium first definitely helped me gain a much deeper appreciation for it.

Medicine Lake
Medicine Lake is known as the world's biggest bathtub by locals because it is what drains into Maligne Canyon and surrounding lakes! As you can see in these shots, its water level is super low, bottoming out entirely by the winter. In the summer, it fills up and then through a network of underground tunnels and the like, drains out into the surrounding area. What's really cool is that a few years ago or so, they added environmentally-friendly dye to see exactly how far it extended—it ended up reaching far, far further than expected. Nature…so cool!

Jasper Motorcycle Tours
Now for something you probably won't ever get to do anywhere else—bundle up, zip on your heated leather vest, put your chaps on and get into the sidecar with one of Jasper Motorcycle Tour's awesome riders to explore Jasper out in the open, whizzing past the lakes, mountains and trees as your designated biker takes you on a tour! My new best friend Rob and I had an awesome time doing these side wheelie things, checking out Whirlpool River and all in all, just seeing Jasper in a way I never really would've been able to otherwise! A must!

Dark Sky Festival
You could visit Jasper year round and see something different and equally beautiful/special, but after experiencing the Dark Sky Festival this year, I can not urge you enough to consider coming for this special experience (in fact, my parents are basically signed up for next year after I chatted their ears off when I came home). Again, I wasn't someone who obsessed that much over the cosmos before this trip. But after learning so much, seeing the Northern Lights and the Milky Way and ultimately, getting to hear the world-famous Edmonton Symphony Orchestra under a star and moonlit sky, I've kind of become a bit of a fanatic. What could be more special than to be bundled up in a parka, sipping hot cocoa while they work through classical and contemporary masterpieces as the stars twinkle down on you? There are different package options for the Dark Sky Festival so definitely stop by their page here and start planning for next year.

WHERE TO EAT
Famoso's Neapolitan Pizza—unreal pizzas, salads and comfort food! Perfect for stick-to-your-ribs yummy food when it's freezing outside!
Coco's Cafe—we picked up a lunch on the way to our motorcycle tour and it was unreal. Really yummy, delicious treats from brunch staples to dahl to a quinoa wrap!
Evil Dave's Grill—the Cowboy Sushi is famous (deep fried sushi, as unreal as it sounds), unreal Alberta steak and so much more! An amazing date night spot!
SnowDome Coffee Bar—a laundromat meets coffee bar! Actually a genius move when you think about it and a total locals' spot!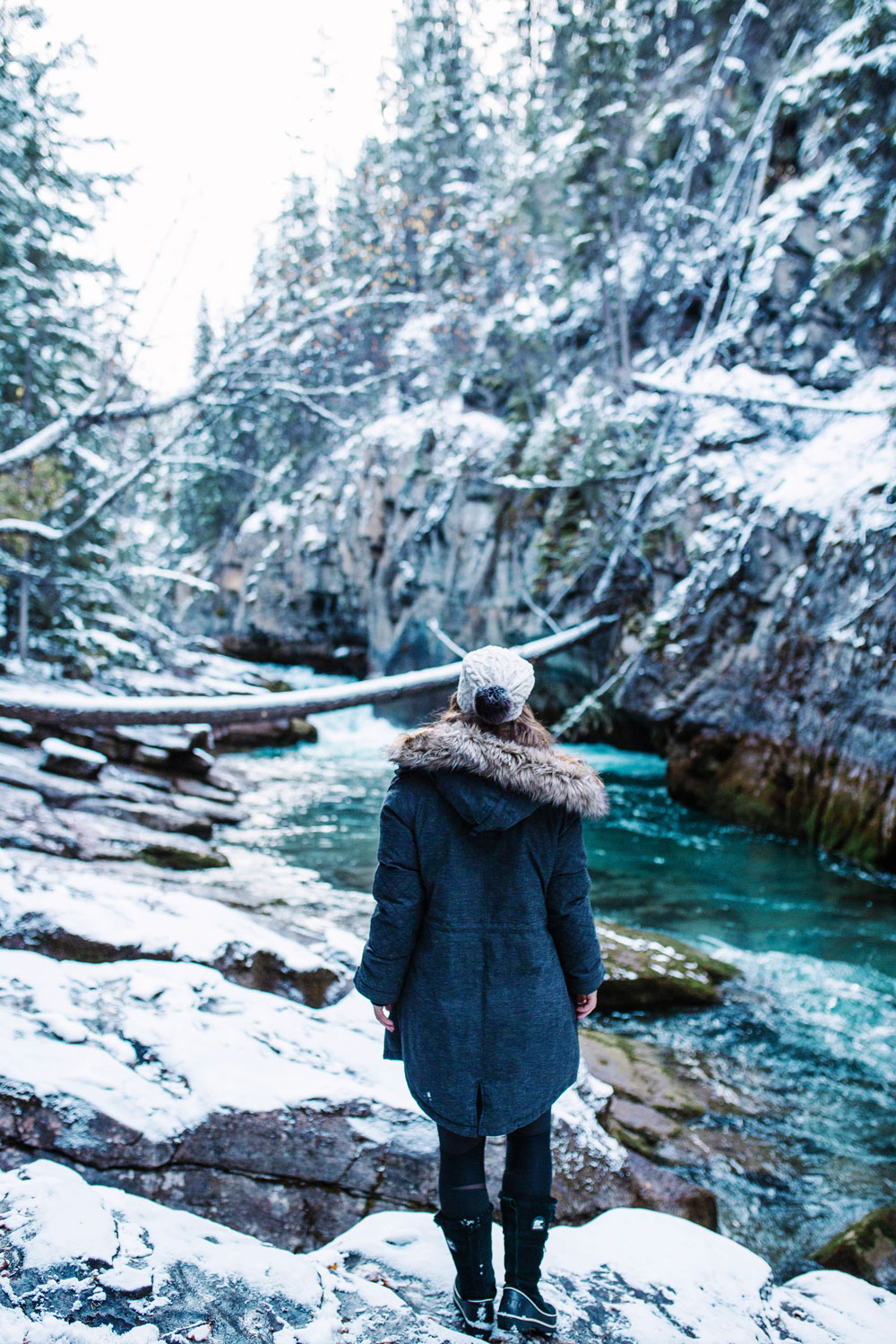 I can't stress enough what a special trip this was and I'm so excited to go back because I'm dying to see this place in all different seasons! Have you been before? Tell me in the comments below!