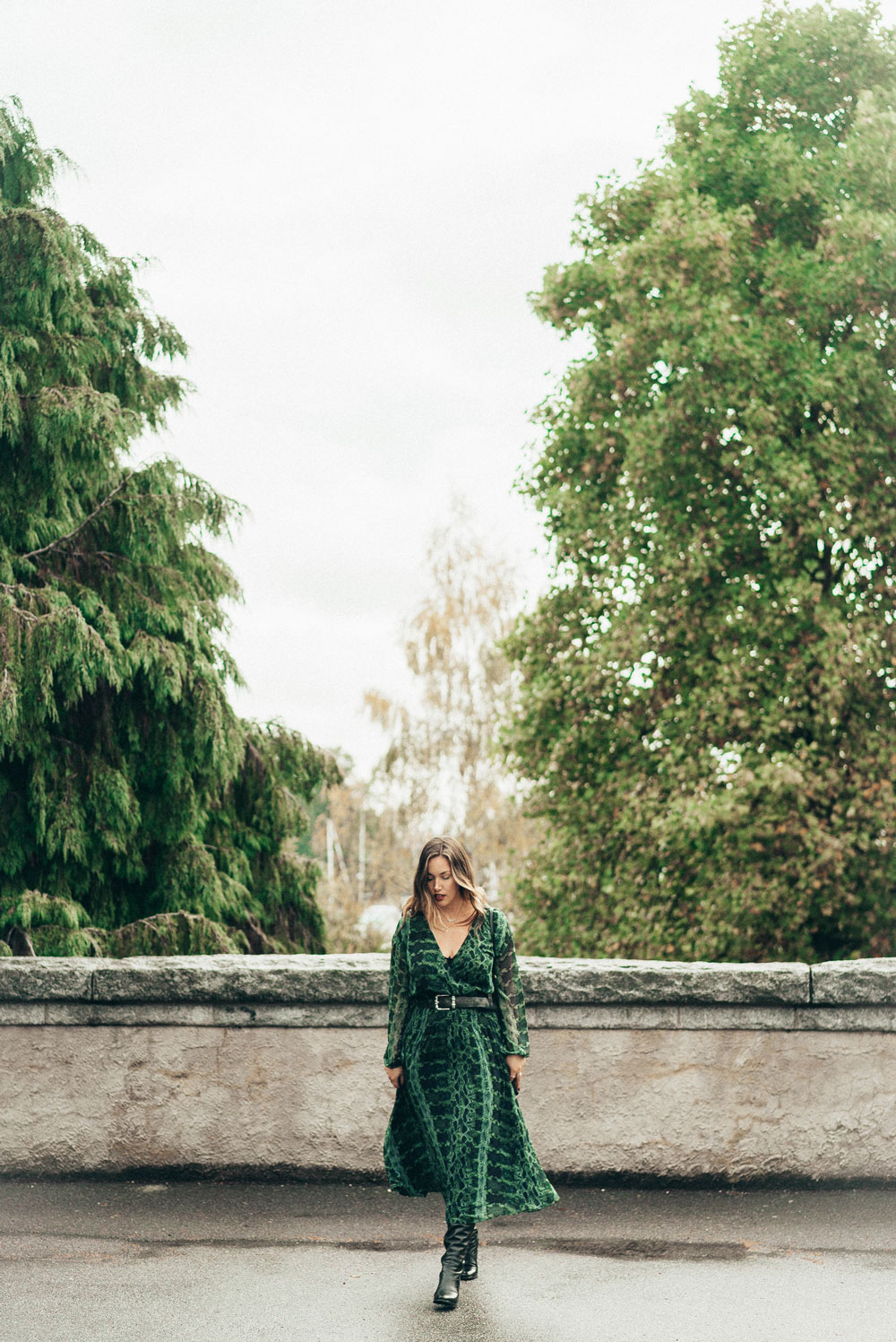 Do you guys remember getting a new piece for back-to-school or another equally special event (but really, what was ever more important than back-to-school pieces) and becoming utterly obsessed with it? I feel like I have more of a laid-back relationship with most of my clothes nowadays but every once in awhile, there will be one piece that I'll become absolutely infatuated with—like take it out of the closet and stare at it admiringly while it's on its hanger, try it on for the umpteenth time in front of the mirror, think about new ways of styling it while I drift off to sleep. Yes, I'm a style blogger so the slight fixation on fashion isn't entirely unusual, but the single-minded fixation is.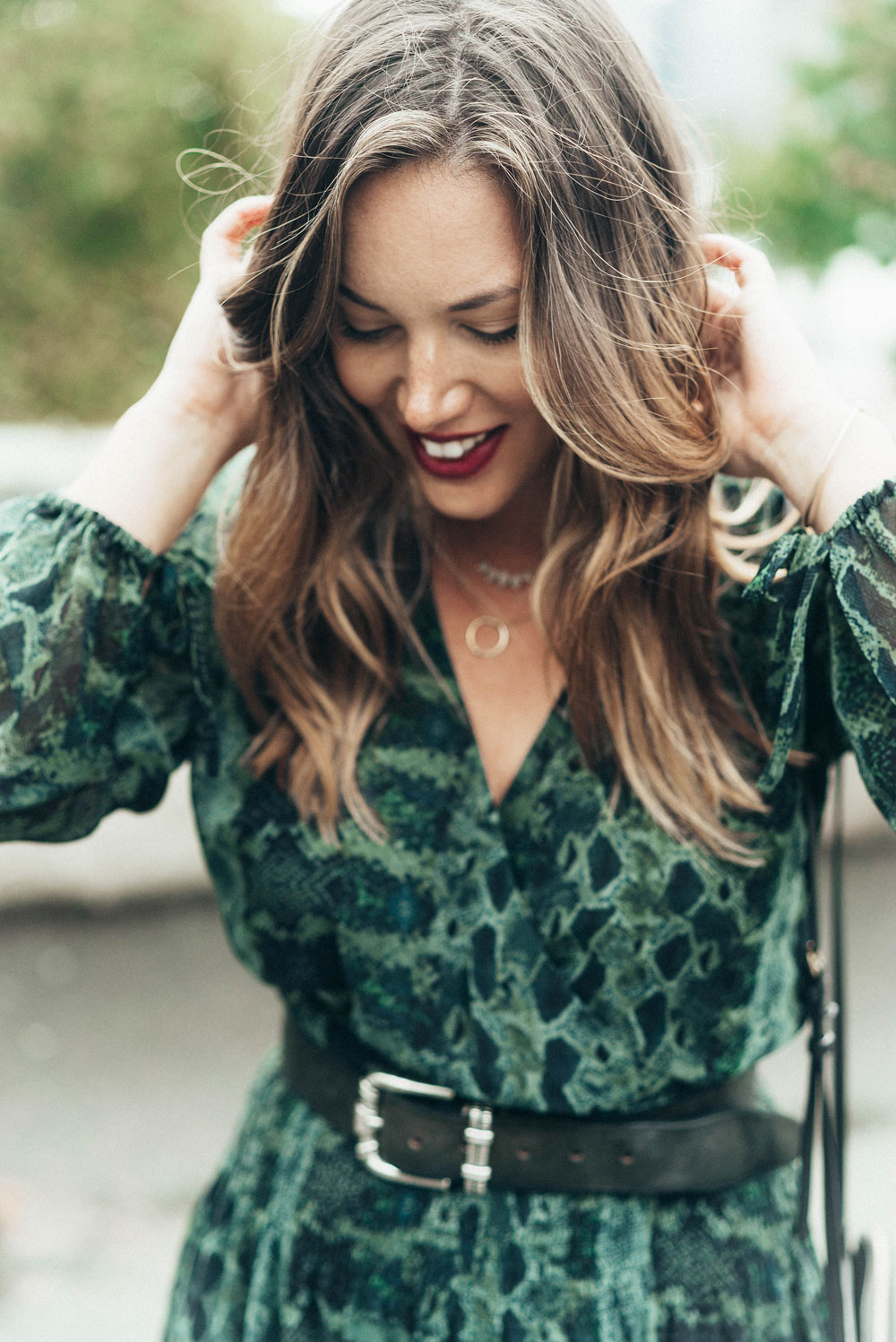 With all that said, ladies & gentlemen (though let's be honest, mostly ladies on here), meet the season's It Piece as far as my closet is concerned: Aritzia's dreamy '70s-inflected Valros dress in a custom snakeskin print designed exclusively for the brand. Best of all? It's in this rich, warmer emerald green—I have an obsession with all things green since I'm part of the green-eyed club but this particular shade has always made me swoon.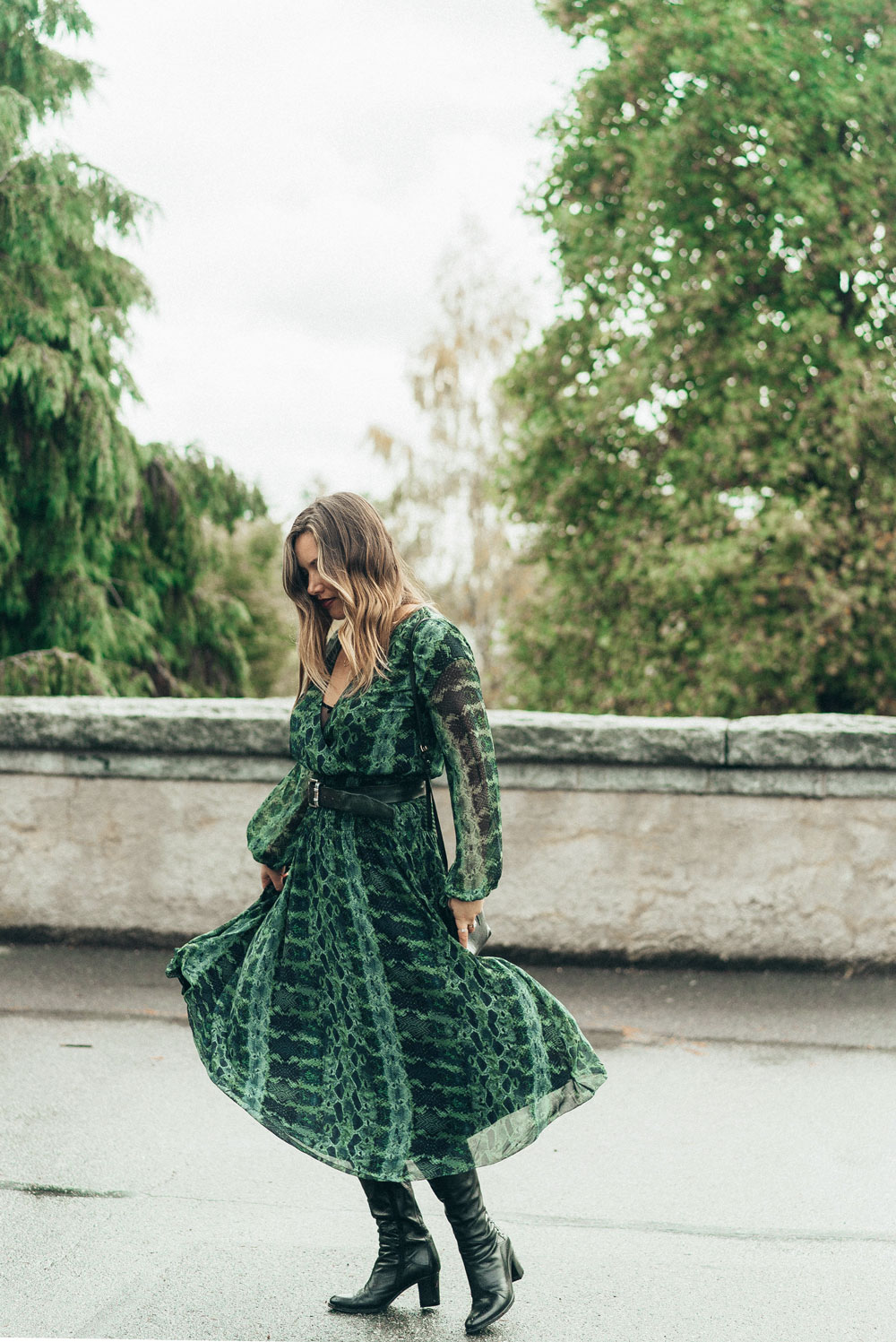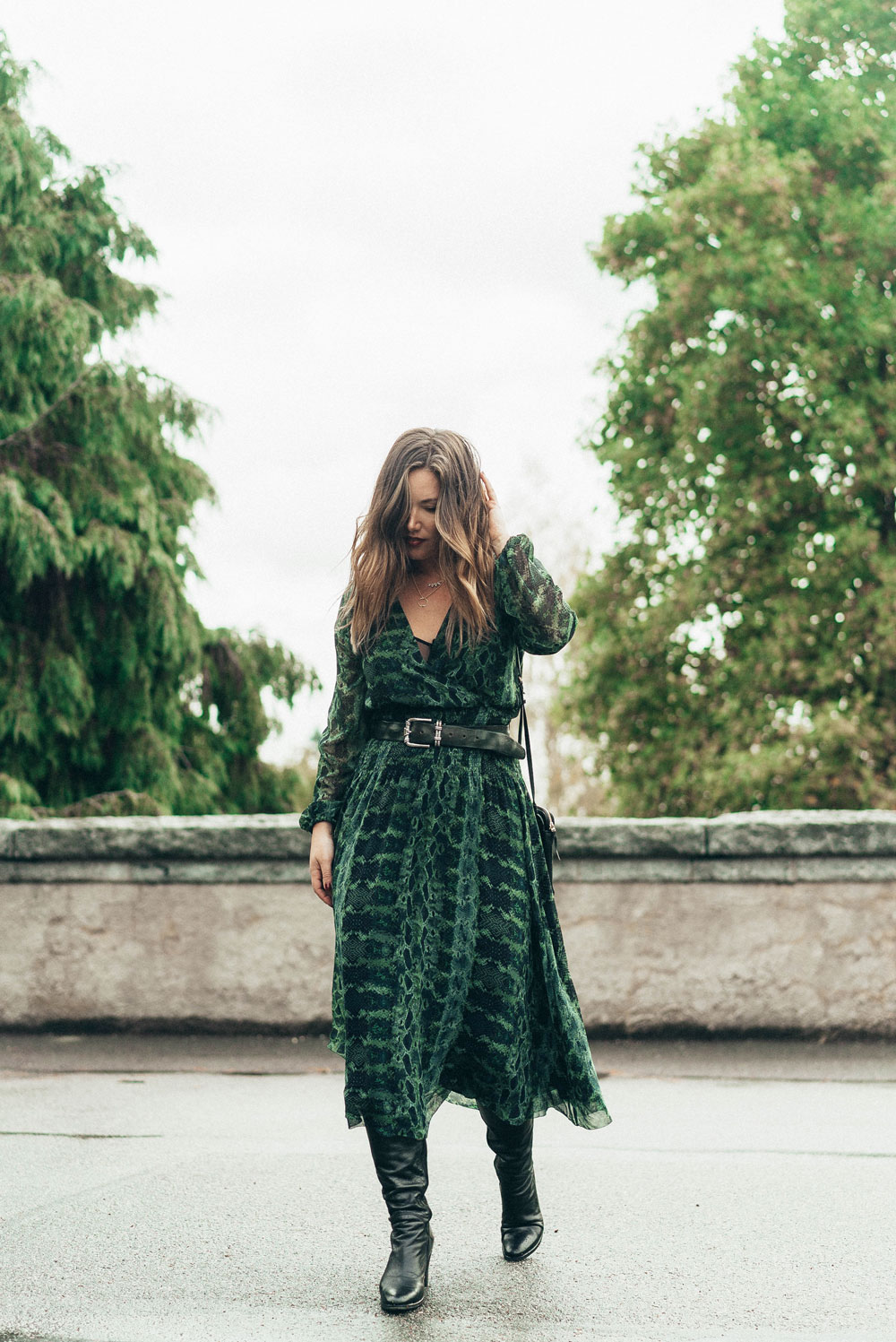 After season after season of minimalist this and neutral that, I'm really loving a bit more print, colour and texture in my wardrobe—I'm still all for ease and classic style so the soft, neutral tones aren't really going anywhere, but adding in more and more of the "extra" pieces has been really fun. I'm especially fond of jewel or natural autumnal tones, which are really a no-brainer option for this time of year. I especially love the fact that these are just about universally flattering across the board, which makes sense given that they're all inspired by nature's own beauty.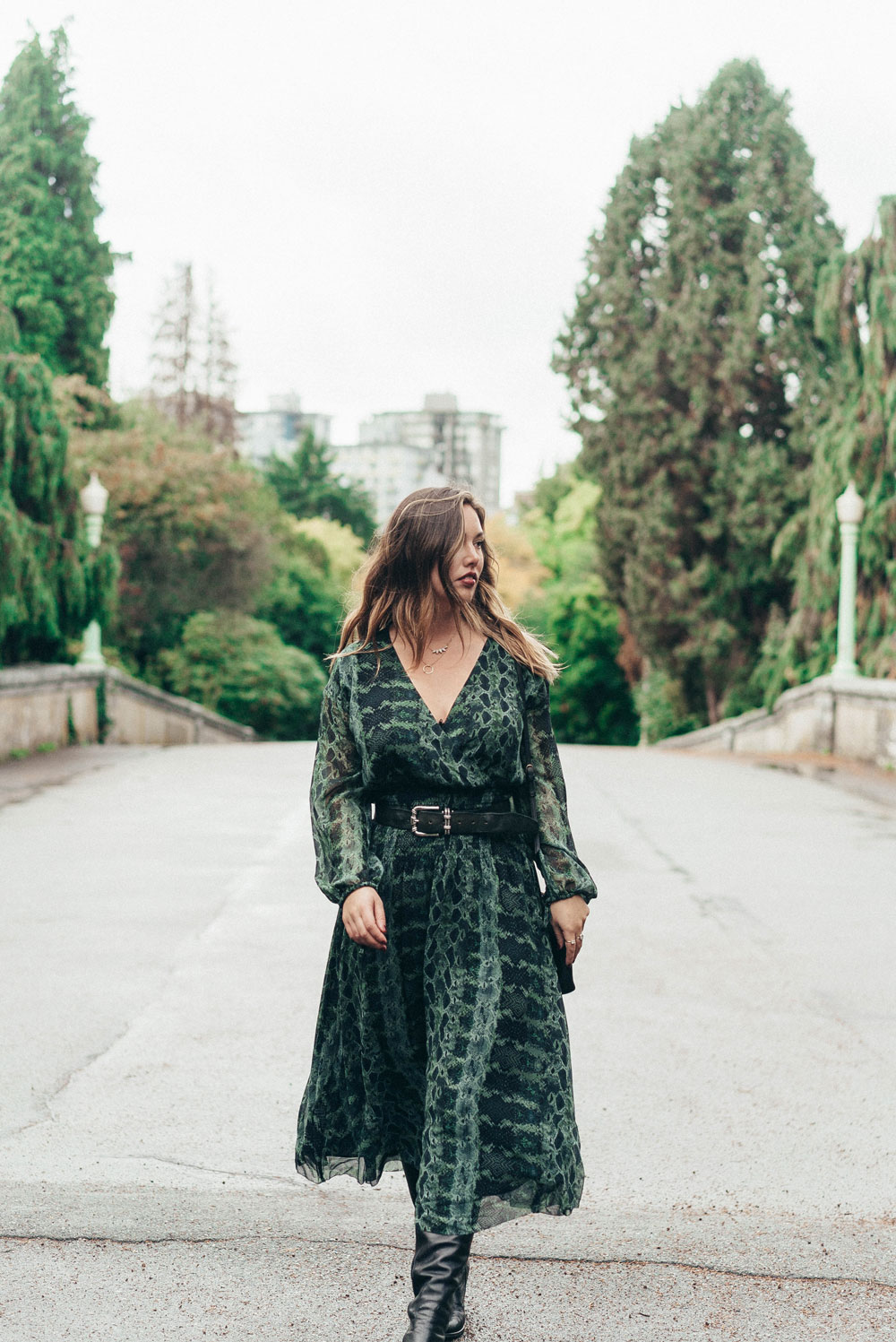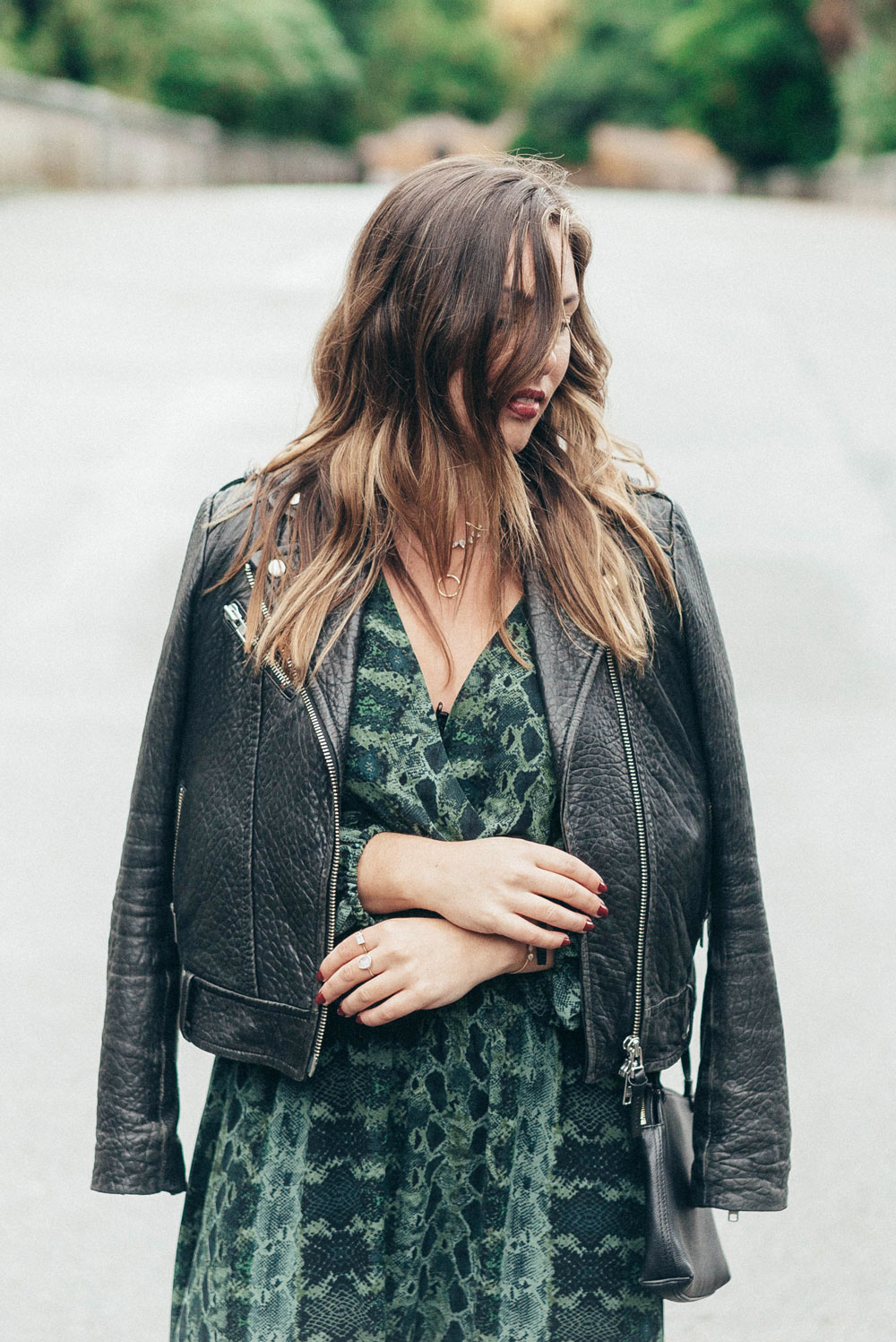 Think a mossy green, a rich sapphire blue, slate grey, etc. Not only am I obsessed with tones inspired by nature and gemstones, but I love making more of an effort with print these days too—it's surprising how effortless it can be when styled with the right things! I love this snake print pattern, which looks particularly amazing with luxe leather (which is why it's not only paired with my go-to Mackage moto jacket, but with these La Canadienne boots [which happen to be waterproof, so perf for Vancouver!).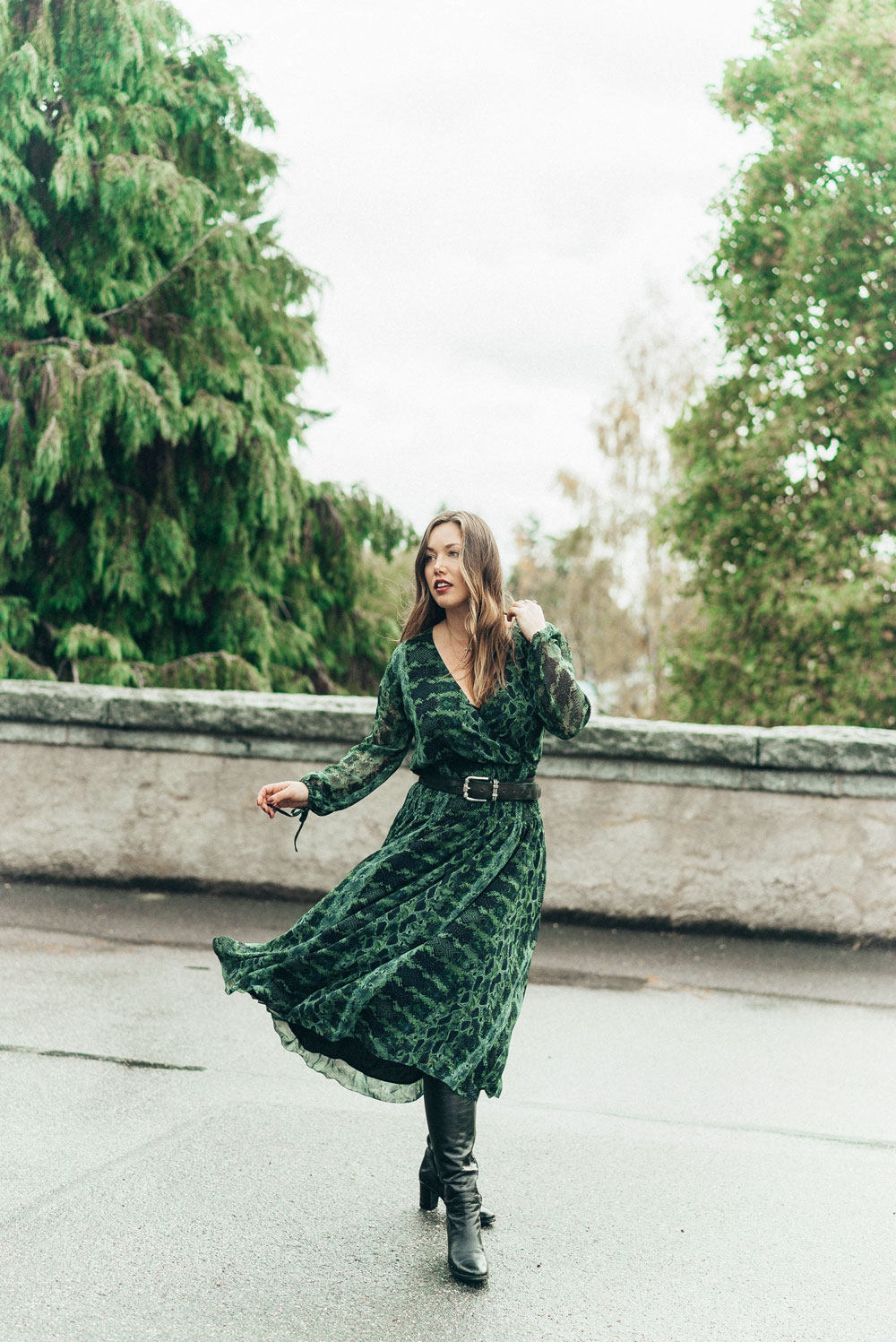 And on that note, the boots-with-dress look—obsessed. I've always been all about everything '70s, from the music to the style, and this is the easiest (and most fall/winter-friendly) way of channeling a bit of retro style from the decade effortlessly into your wardrobe. I'm not the biggest dress wearer during the winter (though in the summer, hard to find me in anything other than dresses!) so this is an easy way to bring a dress into your everyday wear without sacrificing warmth (if you haven't noticed, that's a common trend for me—hate being cold!).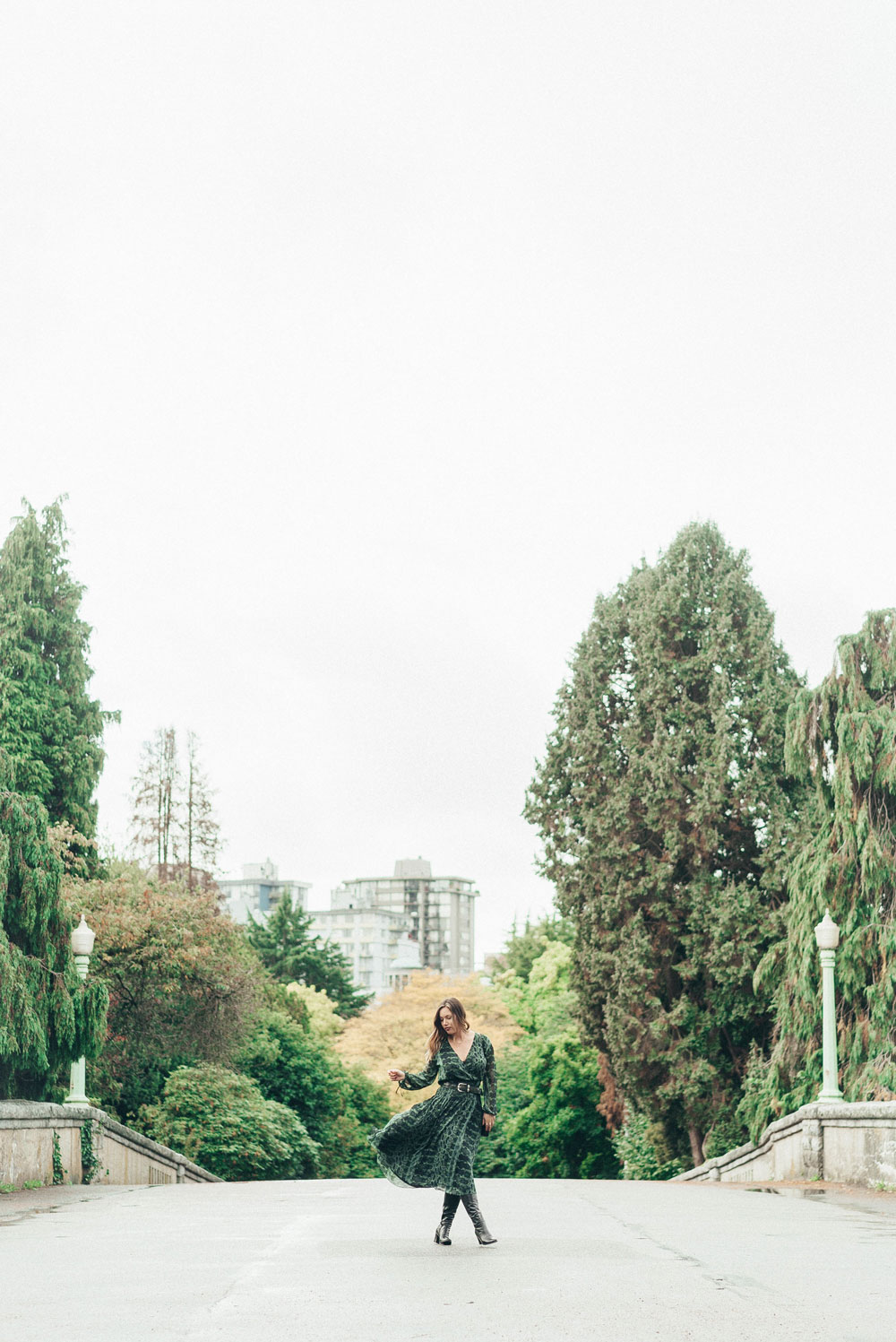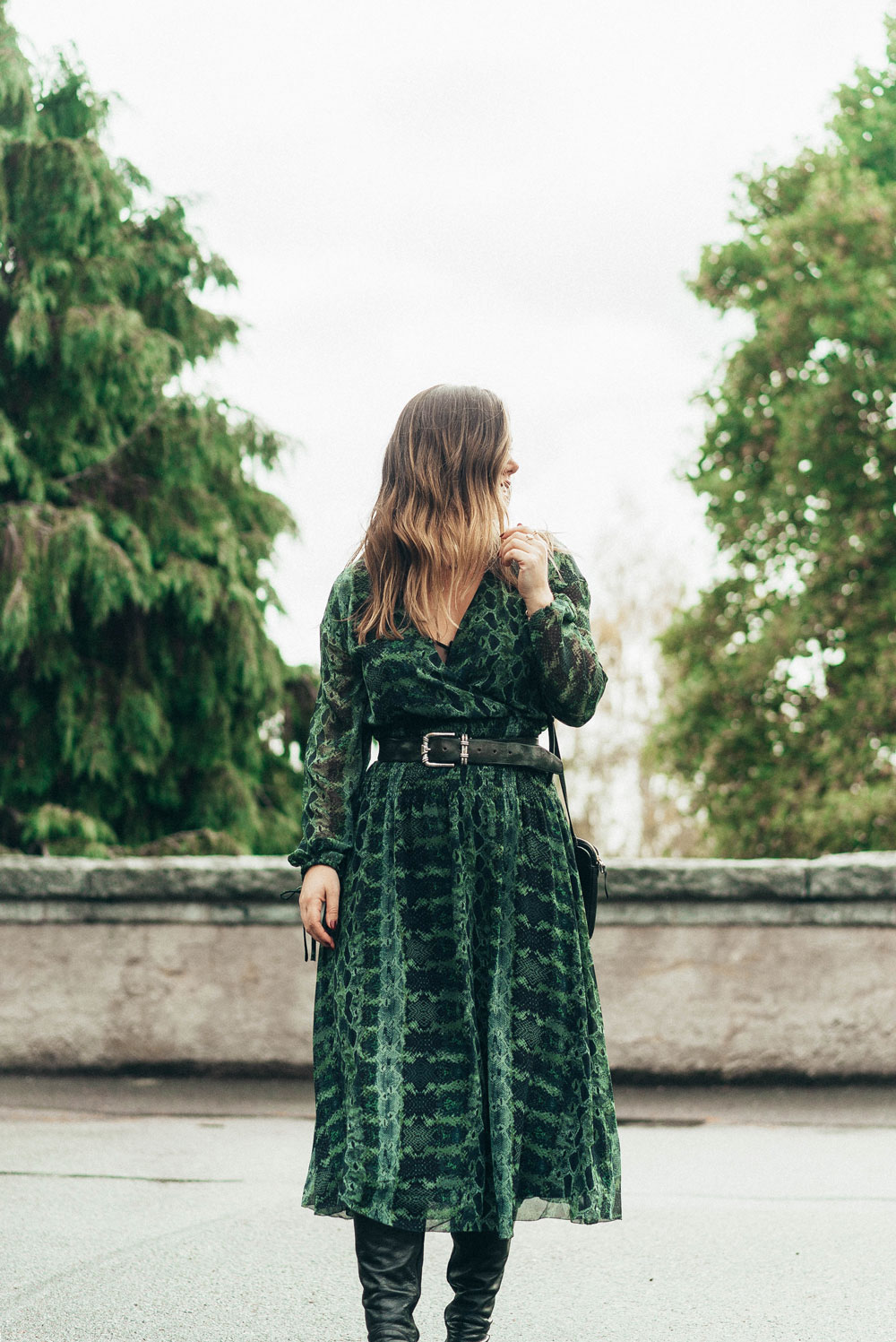 I personally love this for a date night look (see this post for a more laid-back alternative)—Matt and I have made a commitment to going on a date per month which sounds lame, I know, but we just wanted to make sure that in addition to our sushi runs or quick dinner grabs (or let's be real, Netflix & chill marathons that we're often guilty of on weekends), we actually get dressed up a bit more than usual, grab a great meal and do something special together! After 10 years together and me in particular gone a lot travelling, just making sure it's something we commit to is so important! I love having easy outfits on standby that I feel amazing in so that we can head out on these special nights together stress- and hassle-free.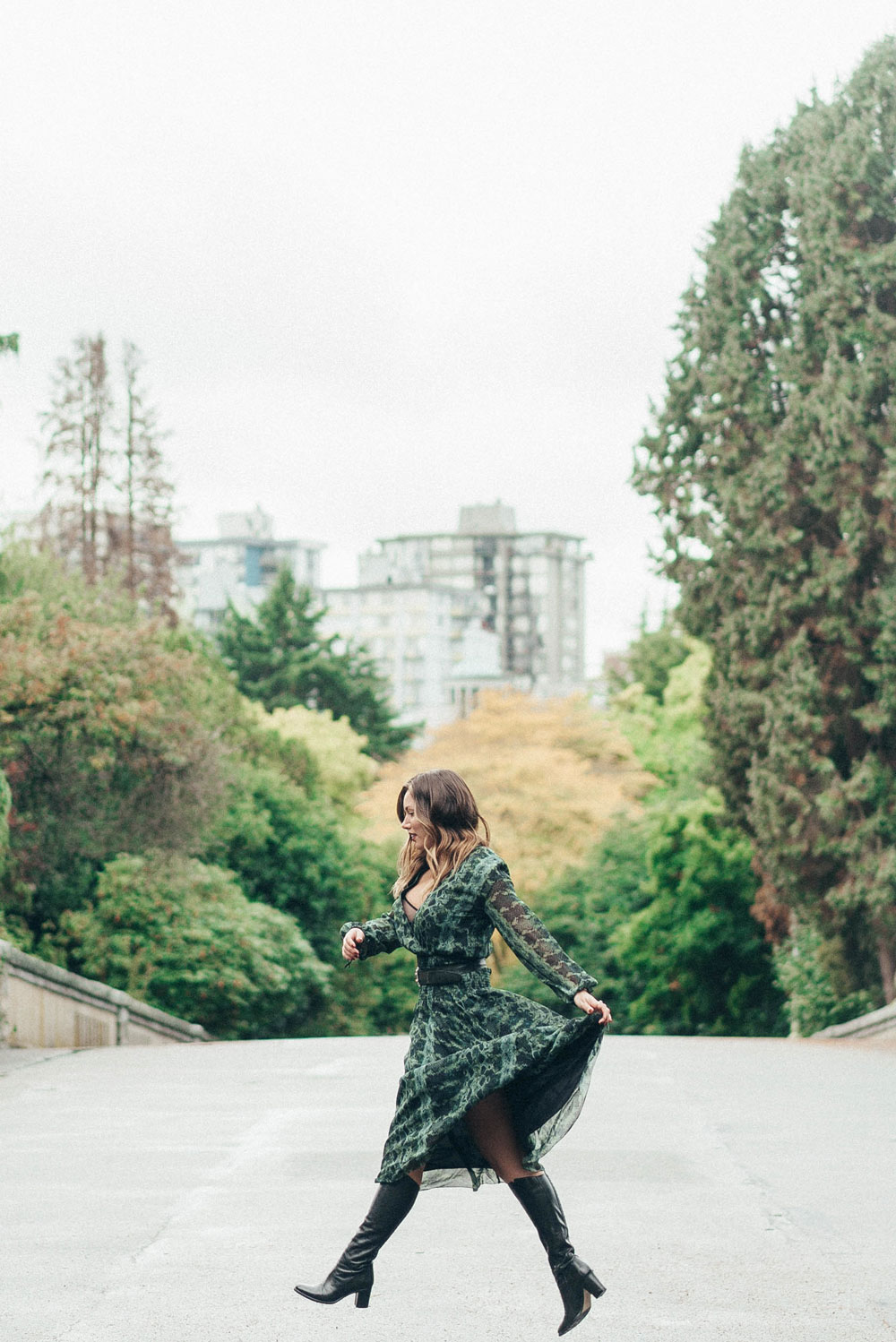 You can grab this dress again here (and I seriously suggest you do, so, so, so obsessed!) and you can shop the rest of my rich green-toned picks below!