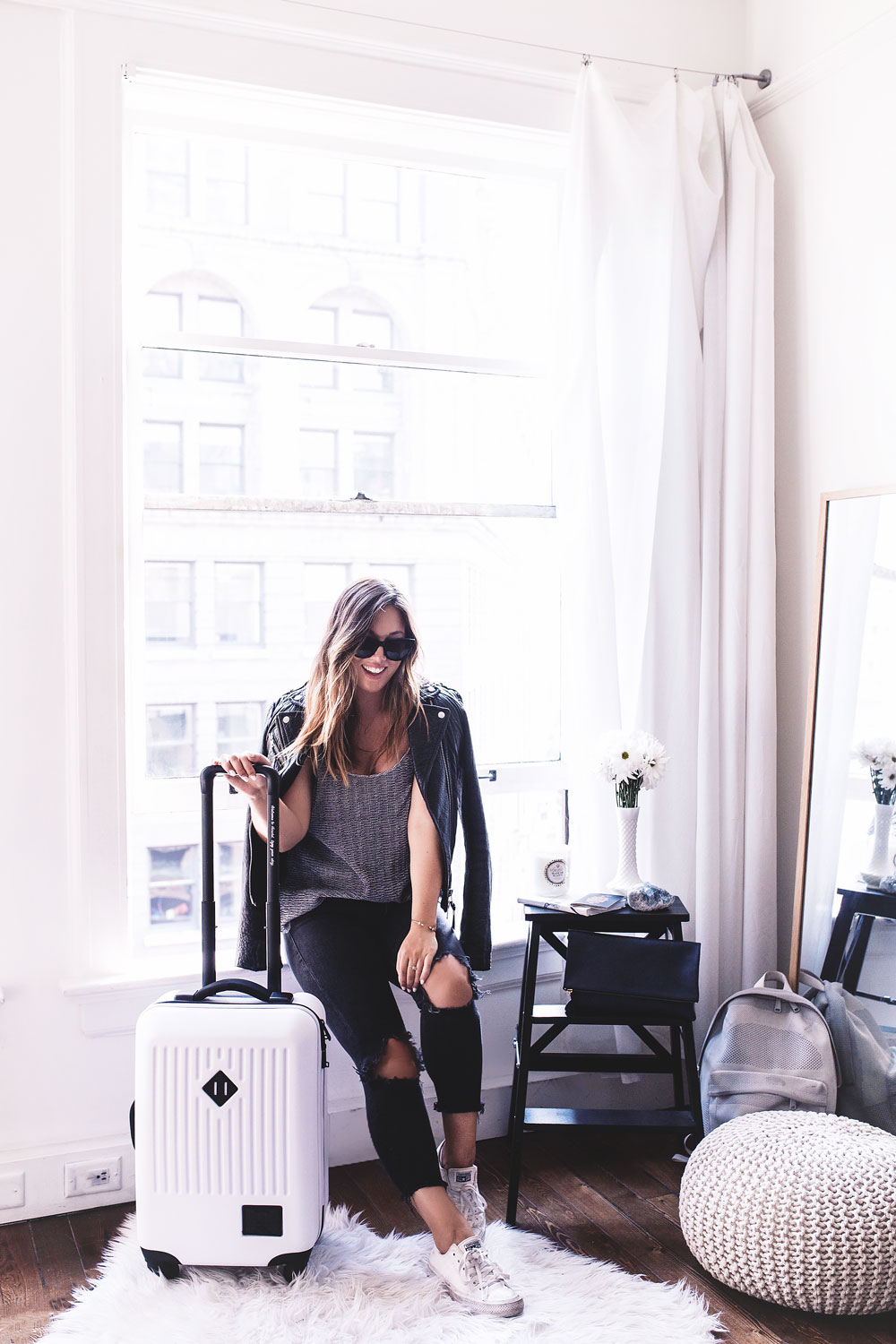 Because I fly so much, I've had to learn a couple tricks to make sure that I'm prepped for these long stretches of sitting in a plane (and the days/weeks that follow on the road). From my health to my beauty routine to just general entertainment, this story is a bit of a smorgasbord but one that I think is so key to cover since flying is such a critical part of travelling!
As I mentioned above, this list is a bit all over the place so I'll try my best to break this down into some key categories! First off—wellness!

HEALTH
Health is literally wealth to me—I've always been fitness-and health-oriented, but after having a couple scary injuries a couple years ago, very little comes before my wellness. Other than travel, it's likely where most of my money goes and I'm totally happy with that! Especially when you travel as much as I do (and consequently, get as run down or exposed to a bunch of icky germs or bugs), I try to stick to this pre-flight routine as much as possible.

BEAUTY
If I'm low-key when it comes to beauty when I'm home, you better believe it gets even more hands-off when I'm travelling! I tried out a couple new things on this last trip too that have turned me into serious converts of the services!
Get a lash lift and tint: I will never not do this before an extended trip again! Can you believe that difference in my lashes above, totally mascara-free (don't mind my totally dazed expression in the top pic by the way, did not get the memo that I was supposed to look straight up!). I got this amazing lift done at Prep Beauty Parlour here in Vancouver and could not recommend it enough. My lashes still are looking amazing now, more than a month later! Basically, your lash lift lasts as long as your lash life cycle does, so just be conscious to not rub too much or wear too much product! I didn't wear mascara my entire trip which was so freeing, and with so much swimming and the like too it was such a perfect treatment to feel and look my best while cutting a ton out of my beauty routine!
Get an eyebrow wax and tint: this might seem like a bit of an obvious one to a lot of you, but my eyebrow hair actually grows really slowly so I usually don't do anything to them other than tweezing a few strays every few weeks. But in the spirit of looking my best with as minimal effort as possible, I went to Pomegranate Spa on West 4th and got my brows shaped and tinted. I'm

obsessed

with the end result! My tint has worn off by now but lasted the whole trip long—again, so freeing to not have to bother with them the whole trip!

Mani & pedi, natch: I know a lot of people swear off shellac because of their nail health but I take a lot of biotin and vitamins to protect them and for what I do (aka typing away at a keyboard every day all day), shellac is so key for me. I love it. And it feels so good to have no concerns about a chip your whole trip! Just make sure you pack a nail file in case they grow out too much, which tends to happen to me a lot in the sun.

MISCELLANEOUS
Now, the nitty gritty things! What you need on the plane, on your trip, etc. I'm listing these only because they tend to get forgotten a lot and I know I always need to set alerts for myself otherwise I totally space on them!
Get your money out: I go for usually a couple hundred of whatever the currency is wherever I'm going. I don't like carrying too much cash on me at any point but enough to get me through a few days (at a minimum) until I can get to an ATM! I go to the Vancouver Bullion & Currency Exchange on South Granville!

Download your shows: most airlines are going to have a good selection of shows for you up in the air, but in the event that you have one that doesn't have an entertainment console, shows you like

or

if you're just like me and love indulging in a serious binge (I watched the full season of The Crown on the way home from Paris,

so

good) make sure you download all those Netflix episodes to your phone too! Also worth downloading the app for whatever airline you're on in the event that they put their entertainment on there rather than on a console (they seem to always tell you right before you're taking off and have to put it on airplane mode, with literally no time to download).

Source cozies: I don't know what it is but something about being cold makes me deeply sad and miserable. I'm not a big crier but I've straight up started tearing up before from being really cold, I don't know what it is that gets me so deeply! Matt's always stunned by the genuine emotional reaction I have to it (often at his own hands, since he runs hot and will just thrown on the AC or open a window in the middle of the night only to have me rage in the morning in an icicle state). Long story short, I never let this happen to me when I'm on a flight because there is

nowhere

to go. I pack cozy, wooly socks, an extra sweater, a cashmere travel wrap and have even been known to pack a pair of stretchy leggings I can throw on under my jeans if needed. Those little hot packets are also amazing if you think about them—keep your feet so nice and toasty!
Get a solid data plan: I don't always do this but if I'm on a work trip and need to make sure that iffy wifi or not, I can post if needed, I make sure I get a good data plan. I go for AOW who have really reasonable plans and an easy app to top up if needed while gone! If you're going to get a data plan, just make sure you call your provider in advance to get your phone unlocked if it isn't already.

Boarding pass: make sure you get that online boarding pass sent to your phone! I set a timer so that I can do it as soon as check-in opens in the event that I want to change my seat or anything like that!
Now other than my packing, research, etc, these are my to-do's to do within a week of taking off! It honestly makes such a difference and on this last trip, doing those beauty and health to-do's in particular helped so much!
What do you do before taking off? Tell me in the comments below!