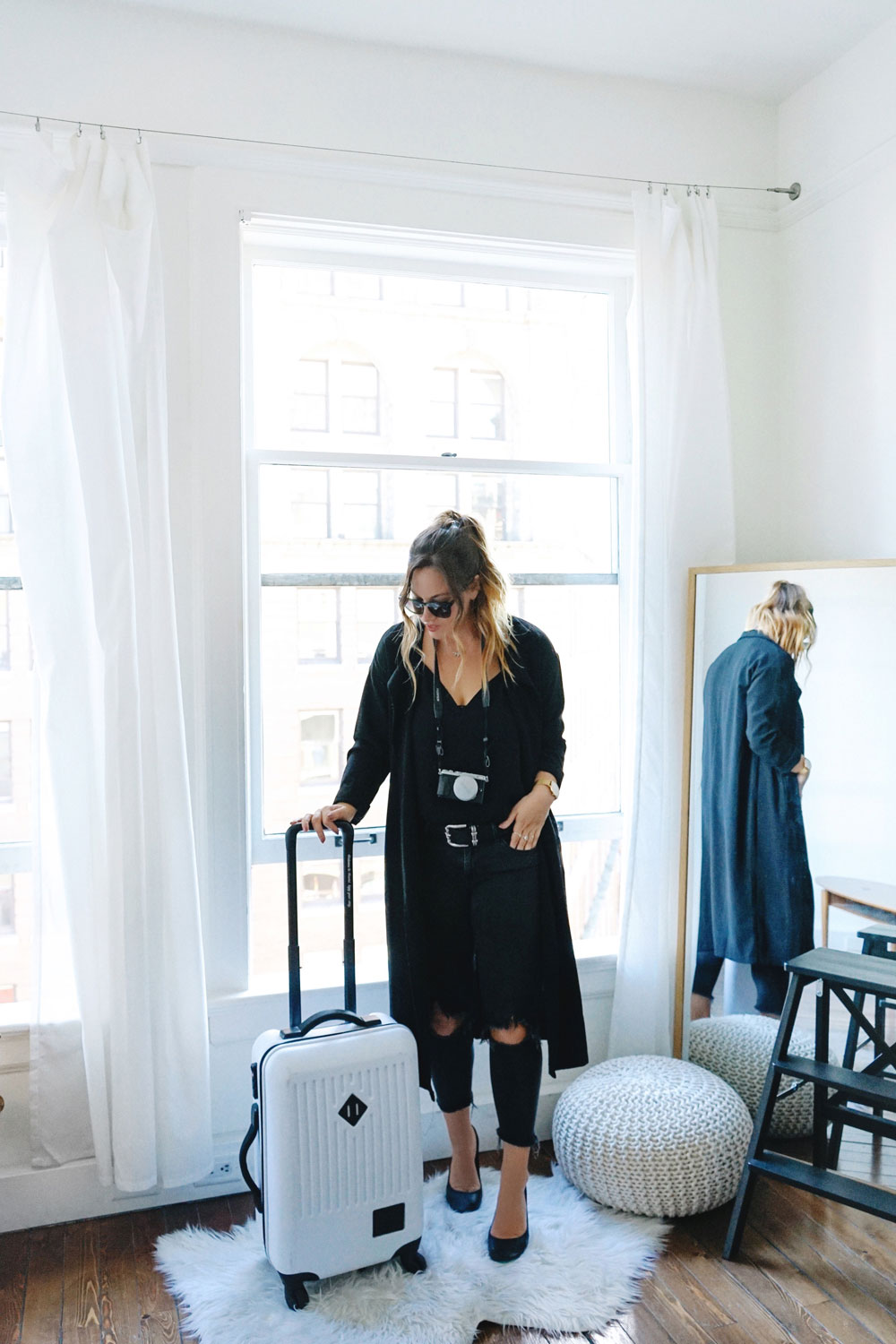 I've had a few requests to do more general packing guides (as opposed to my destination-specific ones like Spain, Greece, Italy and the Pacific Northwest!) so instead of breaking down what I packed for this last trip (that entailed Greece, Italy and France), I thought I'd share some of my more general tips and my usual guidelines for packing for different climates! Of course, I'm a serious carry-on only traveller (my Herschel carry-on is my life) so I have to be really strict and strategic about it all—fortunately, I've fine-tuned the approach over the years and I've got all 5 of my top tips (and a pinnable image for you to use on your next trip) below!
1. Wear your heaviest layers on the plane
This one's key for me no matter what but it's so important when you're going to be somewhere chillier down the road—wear your warm outfit up in the air (cabin temps are usually cold anyway!) and then you'll have more space for light layers and options in your luggage! Once you get to your colder climate, you'll be covered since you can literally coast off the plane in a temp-appropriate outfit!
2. Dresses trump separates
So this isn't maybe a commonly accepted (or popular) packing tip but for me at least, it's worked far better. I wear jeans in my day-to-day all the time here in Vancouver but not only is there something about travel that makes dresses more appealing (something more special for travel pics, the ease of using washrooms [including those squat-only ones in Italy], their ease to wash and dry quickly), but it's a strong option for all temps. Wear them on their own in the warmer climates and then when you get somewhere cooler (as I did with Paris), edge them up with a leather jacket, go for cozy layers with a sweater and scarf or play up length with a trench! If you're worried about your legs getting chilly, either pack a pair of thicker tights (I always stuff them in shoes) or make that one super inexpensive purchase to make when you get in!
3. More than ever, keep the colour palette tight
I do this no matter what because I'm a strict carry-on only traveller, but for my longer trips or ones that cover more ground, I need to know that my dress in Greece isn't a standalone piece but something that looks just at home in Paris with a denim jacket or cardigan—everything has to go together pretty seamlessly.
My go-to formula? 2-3 neutrals, 1 colour accent (can be varietals of it too!) and 1-2 prints (usually stripes & florals).
4. Go for cross-function footwear
Pack 1-2 pairs of sandals for warmer temps but then focus on ballet flats, Converse sneakers, etc. While it's tempting to pack a ton of cute sandals for your warm temps, the fact of the matter is that as long as they're comfy and stylish, one or two pairs is more than enough (unless you find some really easy, flat Grecian styles ones like I did then you can bump it to 3 since they pack so lightly!). But really focus on the pairs that you'll need where it gets cold and when you'll be desperate for decent coverage! Ballet flats and chic sneakers are great cross-weather options!
5. If you're stuck, this simple guideline below should usually work!
Think 5-6 bottoms, 5-6 tops, 5-6 dresses, 1-2 sweaters and a few footwear options, along with 2 small-medium sized cross-body bags in neutral tones. Wear your jacket (or coat, depending on how cold it'll be where you're going) on the plane along with a travel wrap in case you need to layer.
And while this pinnable image below can easily change depending on where you'll be going exactly, this is my usual formula that works well! Feel free to pin it for reference on your next adventure!