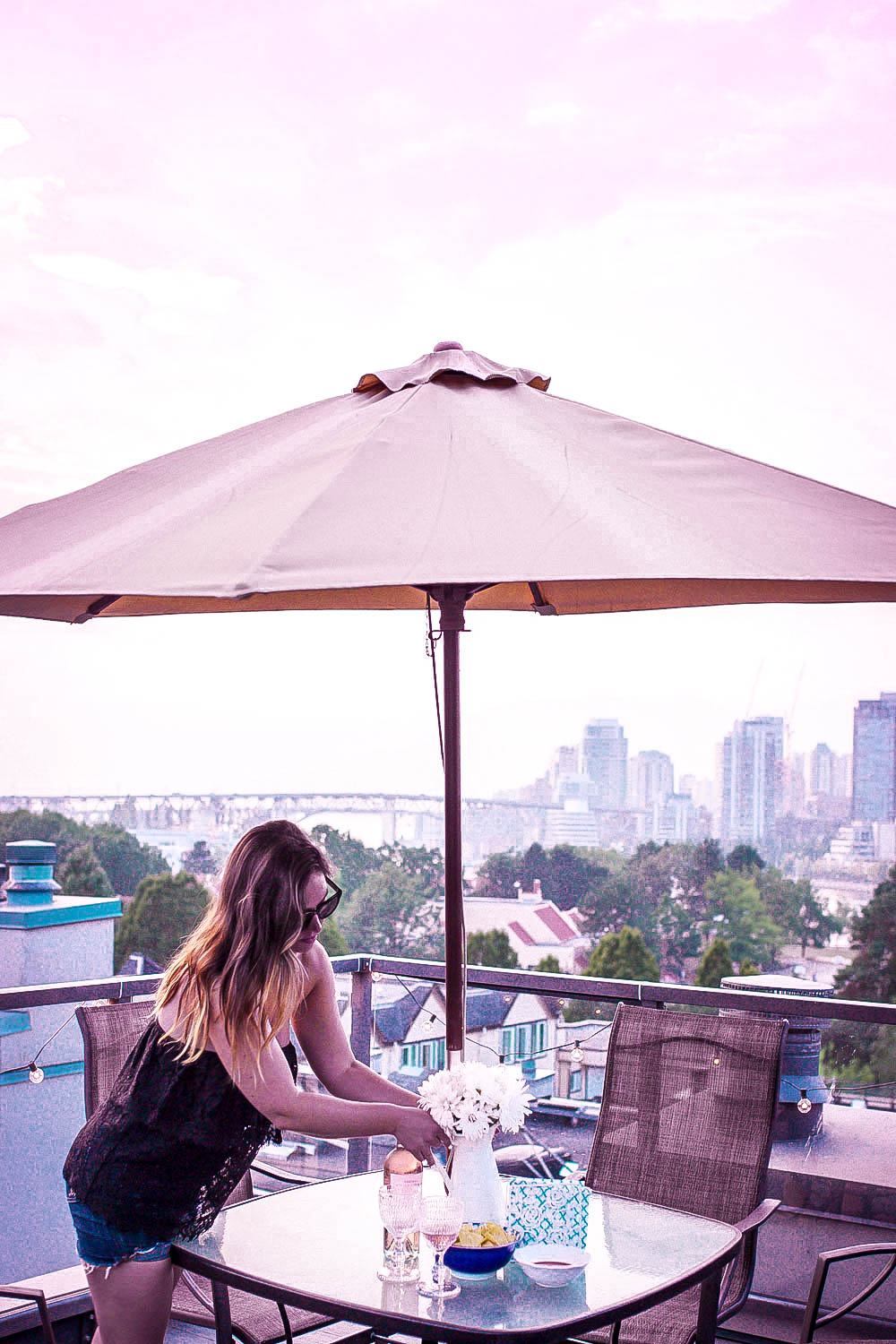 I'm officially back home in Vancouver after the most magical trip away, and while I'm missing Greece, France and Italy, I have to say Vancouver's been treating us pretty well since we've been home—think blue skies, high temps and full sunshine just about every day! These late summer days usually mean a lot of impromptu get-togethers (on the weekday, weekends, whenever) and usually at our pad! We're lucky to have an amazing rooftop patio on top of our apartment so we kind of make it an open door policy during the summer for our friends to pop in. Naturally, we've had to learn how to host on the drop of a hat, so we have a pretty tried-and-true system so that we can do it seamlessly!
Have easy snacks on hand always
We usually have easy fixings for a quick crudités plate or chips & salsa on hand all weeklong—trust me, so handy when people are running over and you need to tide them over for a bit!
Keep easy-to-watch shows saved
It's usually my best friends popping over so we usually watch the sunset upstairs then hunker down on our sectional to catch our favourite shows (we literally did this last night)—having said that, in addition to our faves (guilty pleasure like Real Housewives, The Bachelorette, plus some amazing comedies like Broad City etc) we make sure we have other shows on hand in case some dudes show up—Modern Family, Shark Week eps, etc! We've been using Shaw's BlueSky TV for the past year and it's been unreal. You can record anything simply by speaking into the remote, and even if nothing's saved, you can voice search for your favourite actor, show, etc and see if there are episodes you can watch immediately! And if it's just Matt and I, then we binge on our old fave—Jeopardy! Such nerds! Learn more about Shaw's new service here!
Keep a few bottles of wine chilled in the fridge
I like to get some decently priced but high-quality bottles in bulk and I keep a few in the fridge so that whether it's a casual get-together with friends or more of an impromptu Saturday night party, we have some drinks ready to go for our friends! Matt usually has some beer on offering too.
Know 2-3 surefire places to order from
Do you know what immediately sucks the fun out of a little fiesta? Spending tons of time trying to figure out what to eat, when to order, etc. I have my go-to sushi, pizza and salad place on hand so that I know if my friends are coming, I can text them the menu and order food so that it comes sooner rather than later! Better to have the stand-by's that you know and love (and most importantly, the twill feed you and your guests ASAP) than to keep agonizing over what new place to check out.
Have easy items to set some ambiance
Matt and I spent an afternoon stringing up these golden lights on our patio and it was definitely well-spent time because now, all of our get-togethers are so much cozier! I also always light a candle in our space (even in the summer, or I use my nebulizer!), make sure we have pretty napkins filled in our napkin holder and I try to keep a bouquet in rotation in our place all the time. Whether you're setting the table in an outdoor space or bringing the party int the living room for a TV show viewing, it just makes it feel that much more special without requiring any work!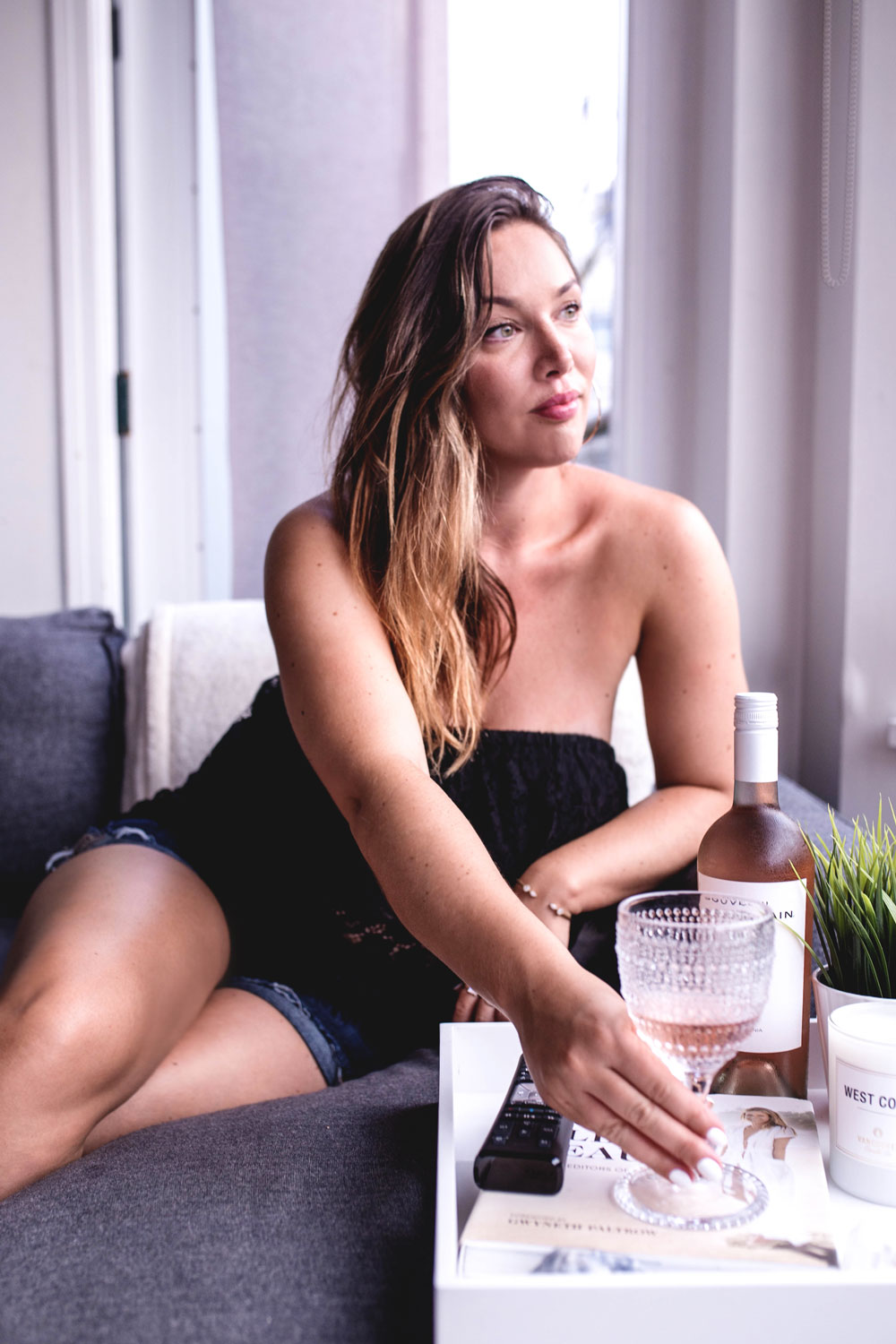 Do you guys host a lot? If it weren't for the fact that I'm in somewhere amazing like Greece right now, I'd actually be a bit sad that we're not soaking in these late summer fiestas at our place—fortunately, I a) am having the time of my life right now in Europe and b) we still have lots of the fall/winter to cozy up inside catching up on our shows, having cozy get-togethers etc!
Learn more about Shaw's BlueSky TV here to get seriously unparalleled entertainment in your space—seriously, so blown away by how amazing it is and so happy to have experienced it!
This post was created in partnership with Shaw but all opinions are my own.