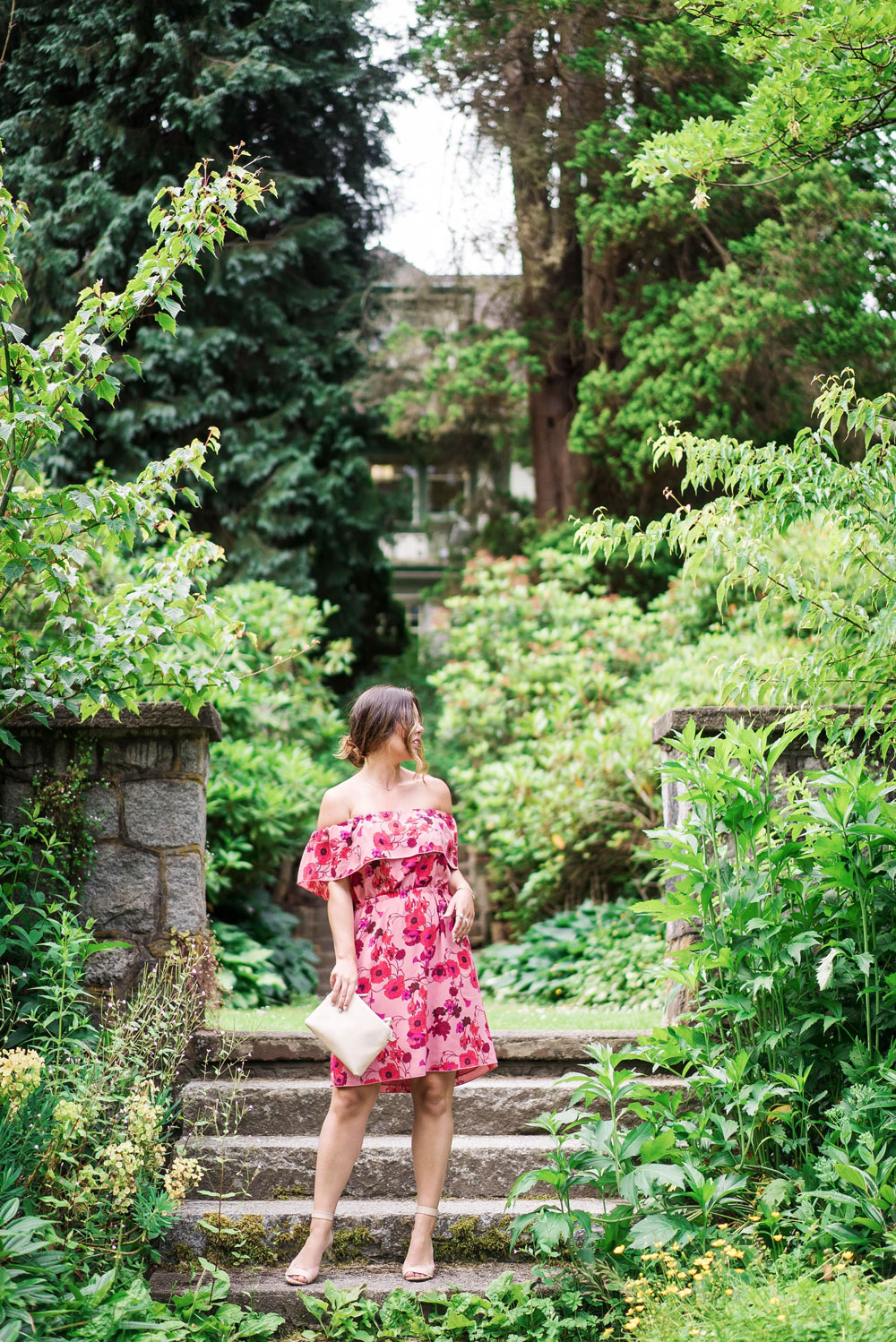 While a lot of summer weddings take place outdoors, so many of ours here on the West Coast seem to take place in either garden/forest or beach settings (more on the beach in a later story!). We're really blessed to have so many beautiful natural, beautiful places here so it only makes sense to choose one of them for a ceremony! The only thing is that in the summer, you have a few little things to work around so that you can stay comfortable among all the foliage, sunshine and critters.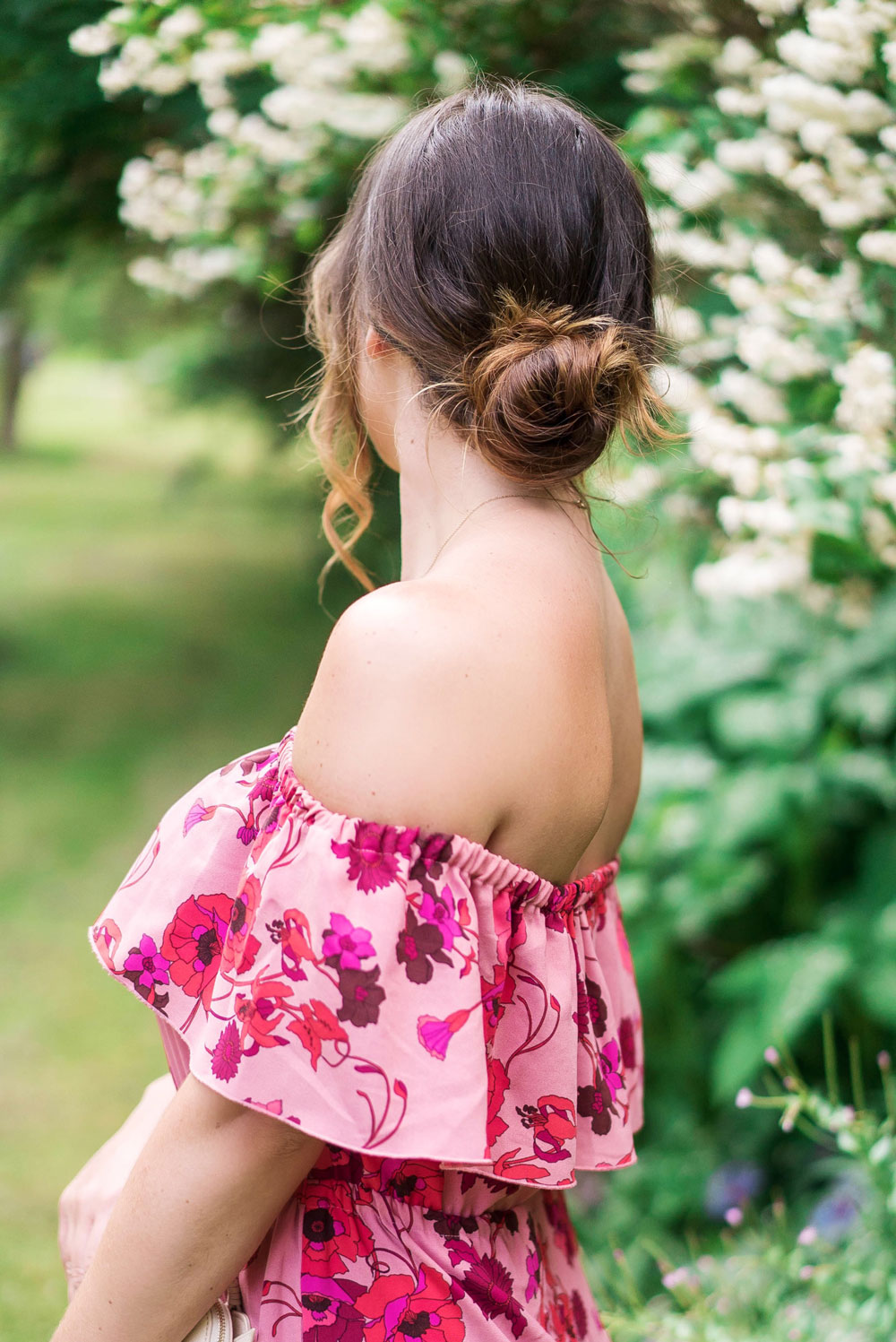 First things first, similarly to my other wedding style story, you'll want to opt for something that provides breathability. This Aritzia Hosta Dress is such a fave of mine this summer—the beautiful print, the femme details but more than anything, the breathable silhouette around my chest and breezy off-the-shoulder cut!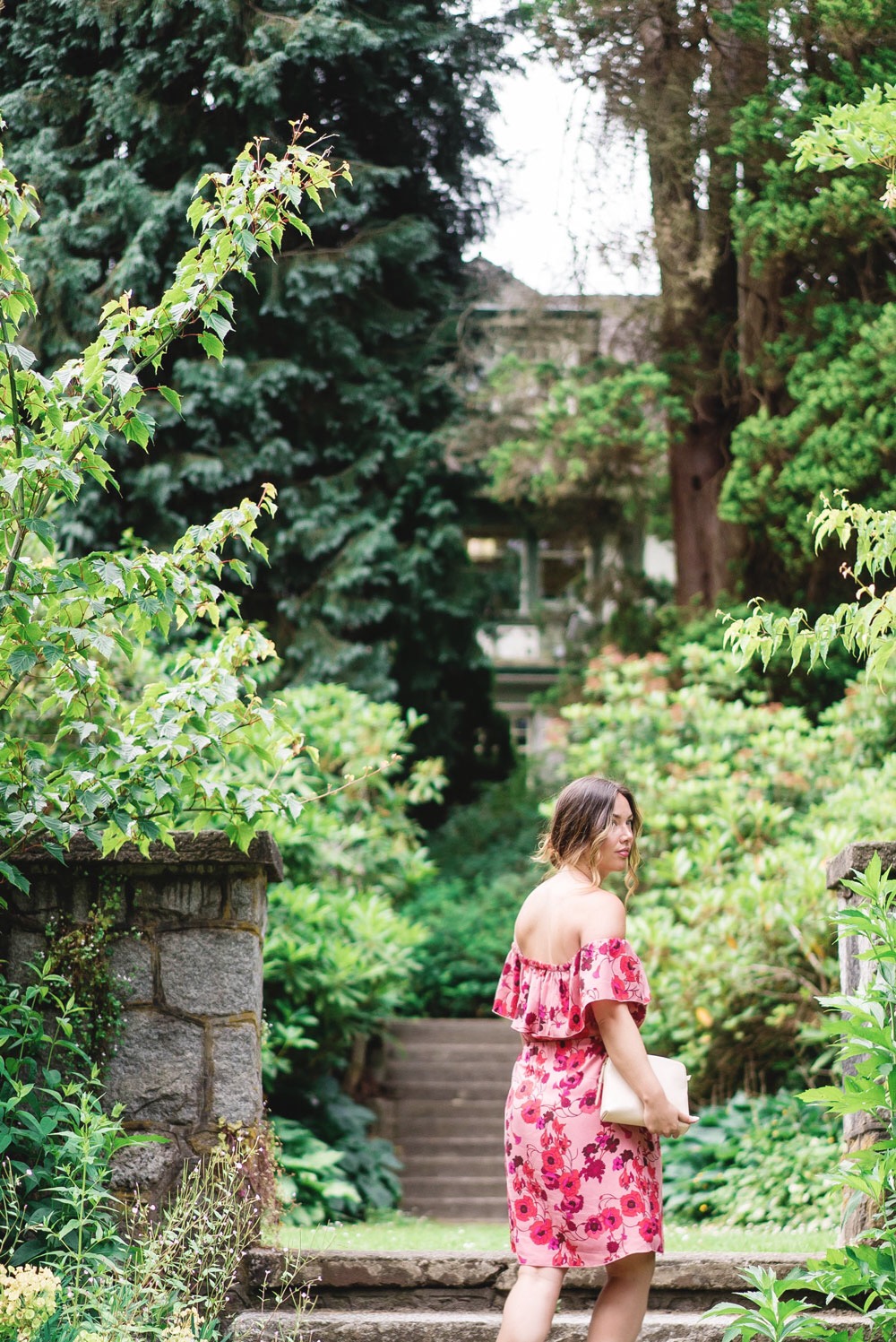 Stacked heels are also an absolute must. You just are begging to get stuck in the dirt with stiletto or pump heels, but flats can actually be a bit dangerous too since you can get a bit sunk in muck! Stacked wooden heels and easy-to-wipe leathers are the way to go so that you can do a quick clean once home if needed!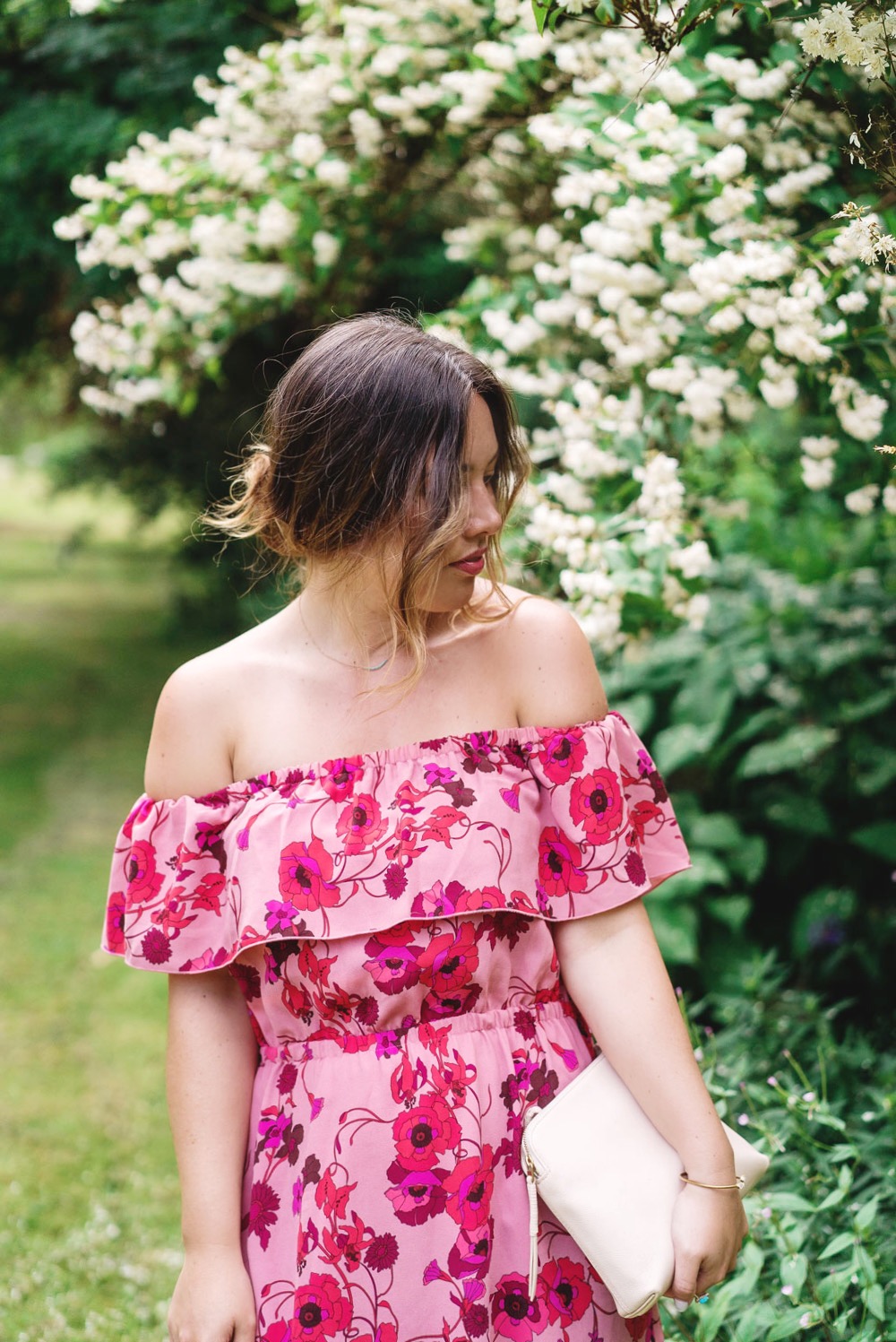 I find especially for long days outside, I can't handle my hair on my shoulders the whole time. A simple undo is so key to master for summer weddings (if you haven't seen it, I'm breaking down some of my fave no-heat tool styles over here!). Simple makeup, bug spray (or peppermint oil if you're nervous about the chemicals!) and a seriously good quality sunscreen will get you through the day in style and (most importantly) comfort.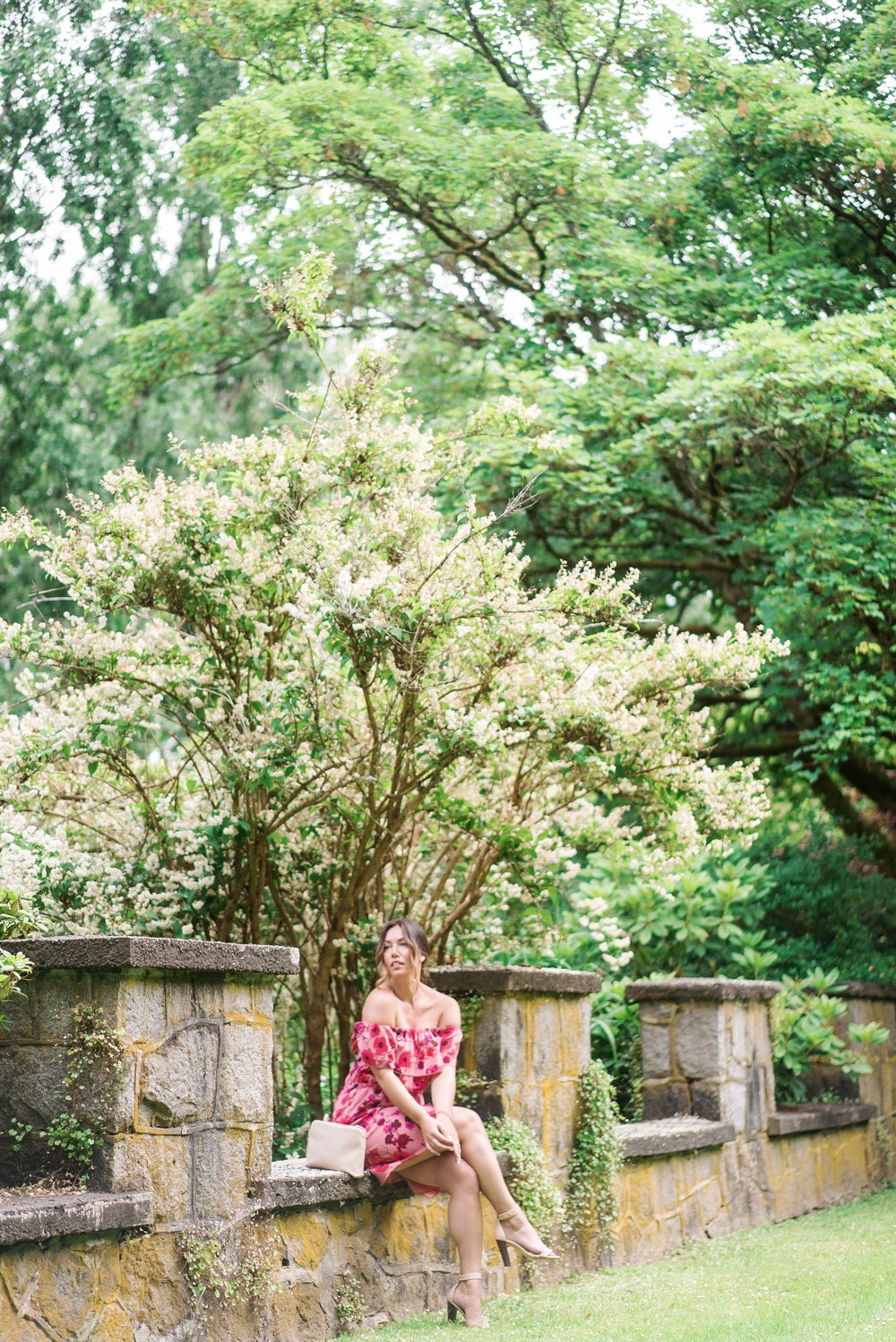 I'm gearing up now for a seriously stacked couple of weeks before I take off to Greece and then France before wrapping up my last wedding of the year later in September which happens to be taking place in the forest! Can't wait for it all. And on that note, sorry for my slight radio silence lately! Every few months I just find I need to have a couple quieter weeks, especially when things are ramping up personally or health-wise for me (whether that's for better or worse—personally, it's been because of so many celebrations lately, but health-wise, also because I've been feeling under the weather for the past week or so!).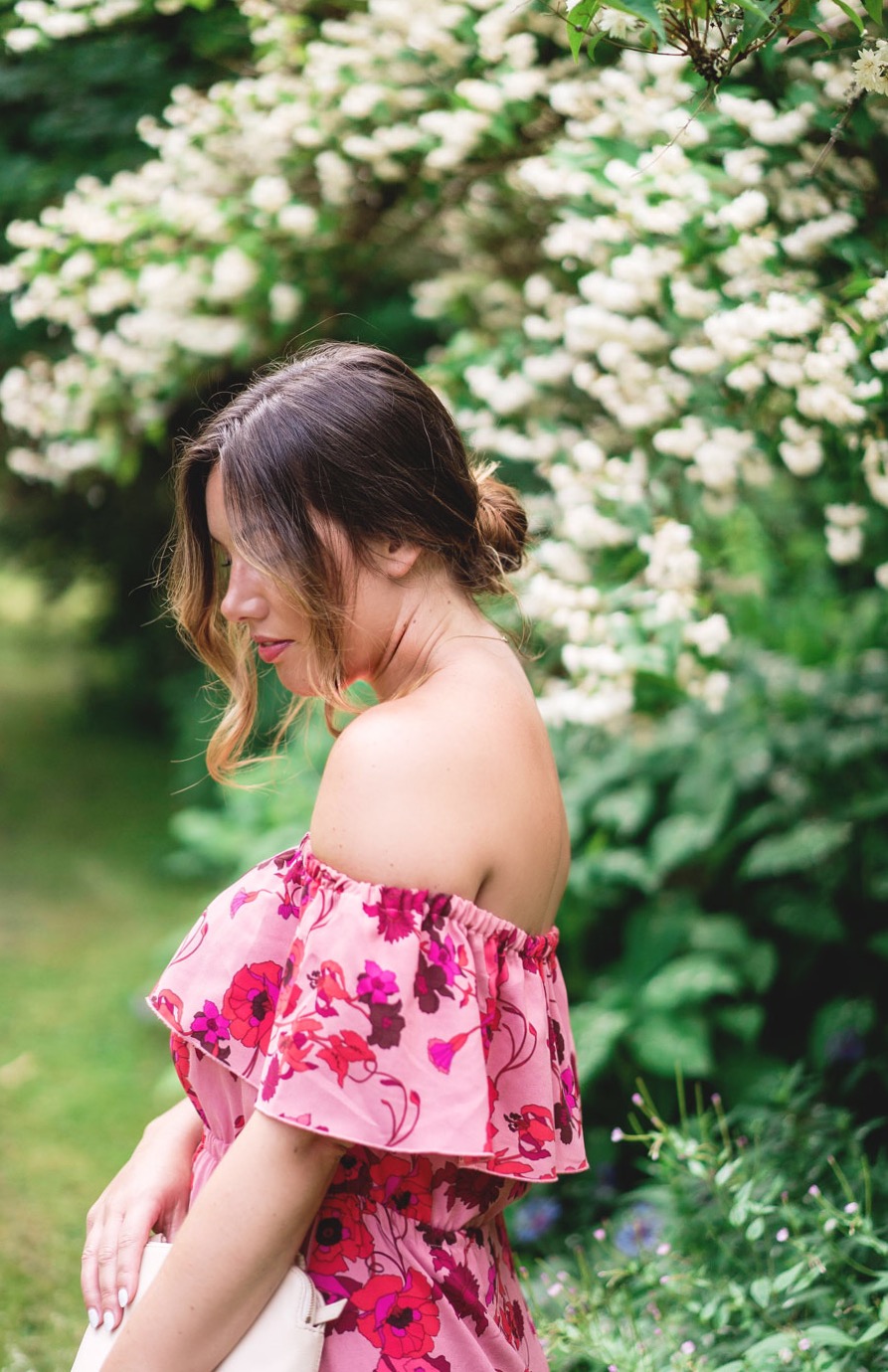 But I blinked and took some slow-down time and now am realizing I'm off in literally two weeks—agh! I do have some pre-trip content I'm really excited about so stay tuned for that before I'm off to two of my fave countries ever! Let me know if you have any questions or specific requests for me to tackle either before or during my travels!
Photos by Ainsley Rose