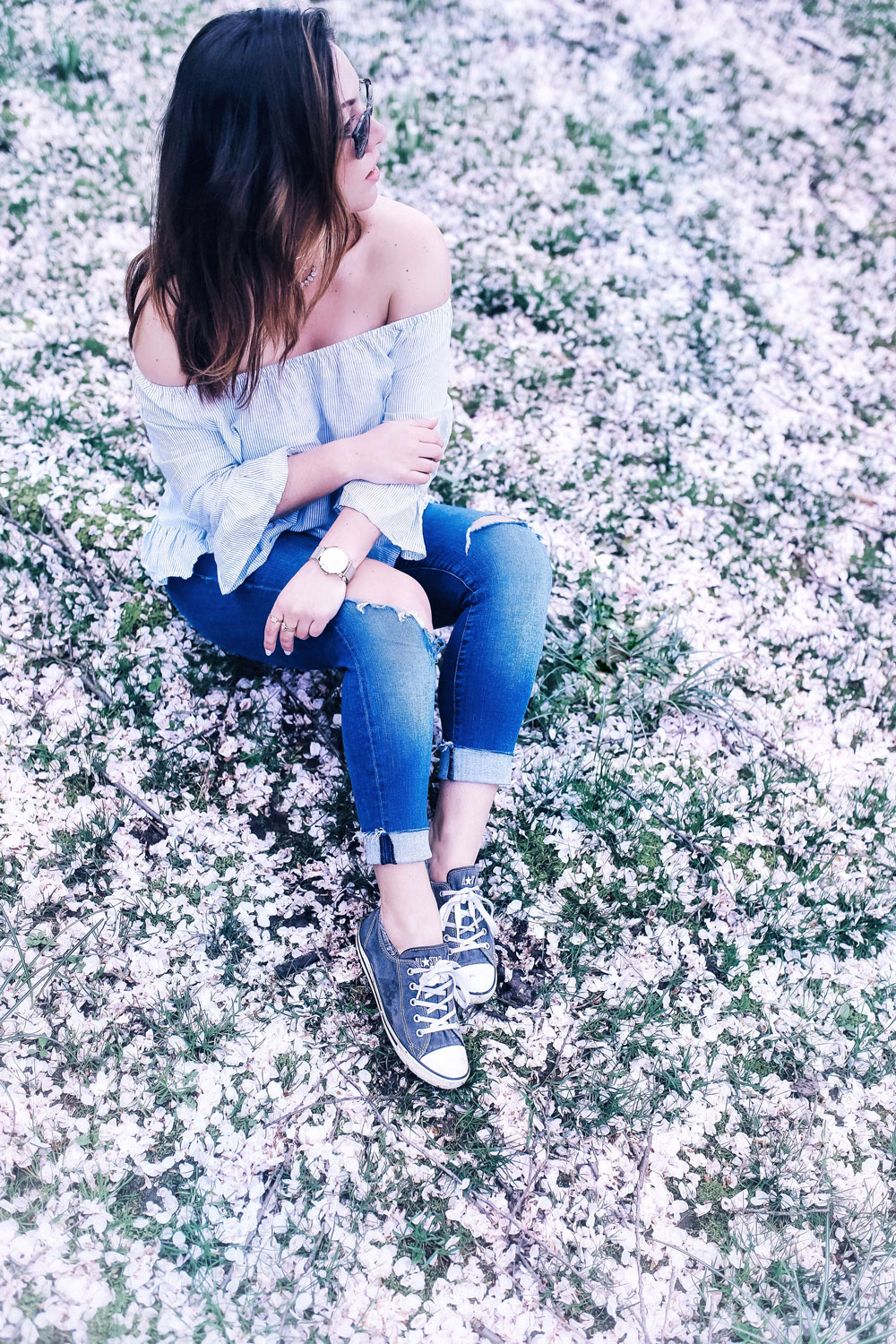 I can't believe April's already almost over! Between sorting out taxes (ugh), ringing in my big 3-0 and experiencing a busy overall month, I honestly blinked and all of a sudden May was right around the corner. Since I have such a travel-packed summer, I really wanted to make it a goal to explore Vancouver and its surrounding areas more leading up to all my getaways this summer. I'm lucky enough to live right next to Granville Island, which is my favourite part of the whole city, and especially with tourism season seriously ramping up here in Vancouver as it is, I thought I'd kick off this homage to home with a quick guide to my all-time favourite spots on the island!

My Foodie Faves 
Granville Island is slightly lacking in great restaurants IMO but there are a handful of faves I can't get enough of!
Go Fish is technically not actually on the island but it pretty much is, hence the inclusion. I love coming here on a sunny afternoon and having fish 'n' chips in the sunshine at the communal outdoor long table, or grabbing a quick bite while I'm biking off elsewhere (it's conveniently right on the Sea Wall)! Fresh every day and I recognize the same staff every year so clearly a fun place to be.
Edible Canada is another favourite on the island—while all the restaurants on the island are overpriced, Edible's quality is actually amazing and I love their innovative, locally focused approach to food. There's a window open in the summer too to grab their seasonal offerings quickly!
I don't eat bread very often but if I do, I love to grab some from Terra Breads or A Bread Affair, both on the island and good options for quick snacks!
Lee's Donuts may not be revolutionary but it's a staple on the island for a reason—classic, tried-and-true flavours and seriously tasty! Again, I don't do wheat-based treats much but Lee's is well worth treating myself the odd weekend.
If you're looking for a healthier option, I get lunch a lot at Chau—it's got a great selection of hearty yet healthy (and veg!) options and is a good bet for a quick bite!

Where to Get Caffeinated 
Matt and I love the ladies at Petit Ami—they're so sweet, remember our order and best of all, the coffee's amazing! It's a Saturday tradition for us to stop in and say hi and grab our java. I'm also a longtime JJ Bean fan and there's a teeny one on the east side of the market.
I'm definitely a coffee drinker but like to supplement my caffeine addiction with tasty herbal concoctions from Granville Island Tea Company—especially love their Wellness Tea (which you can order from their tea bar, which they have in addition to their bulk!) which obliterates any bug I have coming on.

What to Buy
Did you know Granville Island has been a squatter space, a sawmill and an industrial zone (at different times but for a young city, that's a lot of lives to have already lived)? In a feat of city planning genius the City of Vancouver reimagined this largely industrial (and kind of decrepit) area into a revamped space for artisans and creatives, which ultimately turned into one of the city's tourism hot spots. Despite the heavy tourist traffic, part of the reason I fell in love with and wanted to live at Granville Island was this dedication to its creative roots—the revamped industrial space has such a cool feel to it and best of all, there are so many great places to poke your head into now and shop around with all the artisanal offerings on hand!
I really love stationery so both Paper Ya! and Gigi B are high on my list for shopping, and they're conveniently located just across the market in the loft building.
If you head towards the Kids Market, you can find a bunch of amazing ceramic shops dotting the buildings in the area. I love picking up an odd mug or bowl or just window shopping here!
One store I've always loved is the hammock shop—I've been petitioning for years to put this on one of our patios and Matt's been very against it, but it's just such a quintessentially Vancouver store to visit (so West Coast).
As you guys may have already seen, I love stopping into the Crystal Ark and picking out a new crystal (at least once a month). I'm that hippie lady (my collection is a bit ridiculous) so I love that the owners of the Crystal Ark will happily help me pick out a new one and explain all their different benefits and meanings to me and really take the time to chat with me.

Where to Grab a Drink
On an overcast or rainy day, I love grabbing a martini from The Liberty Distillery—when it's nicer out, despite the steep food prices I do love going to Bridges for their huge patio (and relatively reasonable drink prices) or to the Granville Island Hotel for a slightly quieter space!
Where to Grab the 'Gram
So I covered some of these already in my secret cherry blossom spots story, but here's a quick roundup of my fave spots for cute Insta opportunities!
First of all, the Sea Wall to the west of the island gives you a great vantage point of the island itself. One of my fave views in the whole world!
Once you're on the island, go towards the big parking lot between Bridges and the market and you'll get one of the prettiest views of Burrard Street Bridge. This is a go-to for me for outfits, little gelato snaps, etc!
I love the boardwalk behind the rec centre for quiet sunny hangs (I like to plan really great solo dates with myself here, like watercoloring under a tree or bringing my fave book and relaxing alone on a blanket!). It's also a beautiful spot for pics, especially if you can nab one of the stairways leading down into the water!
Now walls—that might seem too general of a category but once you get to the island, you'll know what I mean! If ever there was a chance to get cool shots against an industrial pop of colour, it would be at the island. There's a turquoise building I'm especially in love with near Opus and also a pretty light blue wall behind the play area just outside of Emily Carr!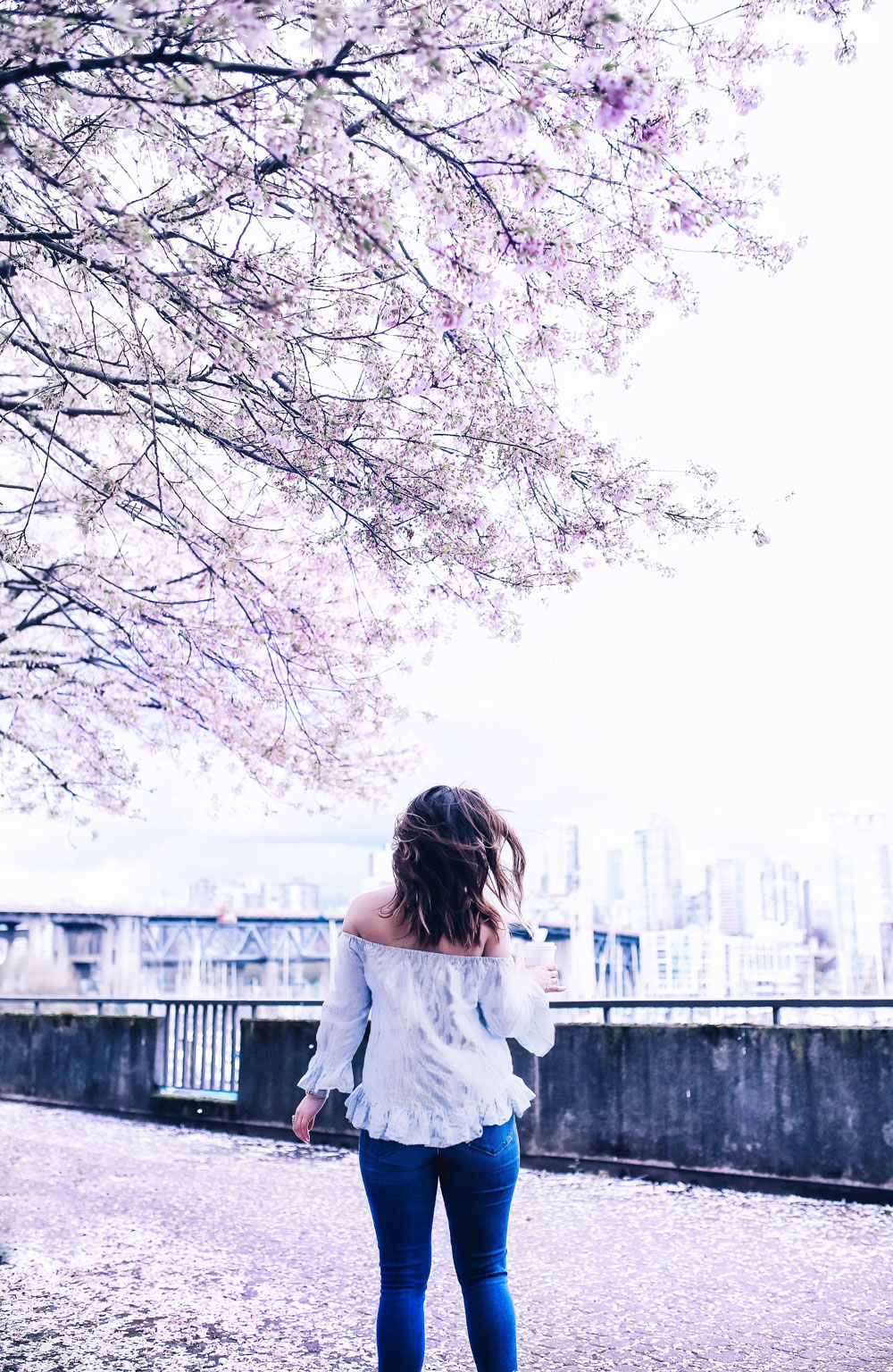 Finally, one last tip! If you're visiting the island and staying downtown, make sure you catch one of the aqua ferries that shuttles you from downtown across False Creek. Slightly unnecessary depending on your mobility because everything in Vancouver is so walkable (including all the bridges), but it's such a fun little experience and they are oddly convenient when you have to make a diagonal trip across the water—they cover a pretty broad east-to-west scope of False Creek so whether you were headed to Vanier Park, the island, Hornby or Stamp's Landing, you'll be able to get just about anywhere!
Hope you guys loved this tour of our little space! Funny story: when Matt and I moved back from university and were both living with our parents for a spell, we'd meet in West Van and bike all the way over to the island after doing the full Sea Wall because we loved it so much. We did this all the time and kind of had a pipe dream we'd one day live there, and it was kind of a tricky transition period in our lives what with sorting out post-uni steps and the like—having this happy place helped us out a lot and we had lots of chats about the future and the like here. And now it's been like 4-5 years of calling this place home! So don't let the touristy element deter you, I clearly think it's such a special spot and I'm here all the time and never get sick of it—if you can plan to be there during a slower period (earlier in the day during the work week), you'll really get to soak it in. Just make sure you give it plenty of time because the island doesn't stay open late!
Finally, if you're headed to Vancouver as a visitor (or even if you're a local looking to discover more about the city), make sure you check out my Vancouver category to learn more about what to do, where to go and what to see!