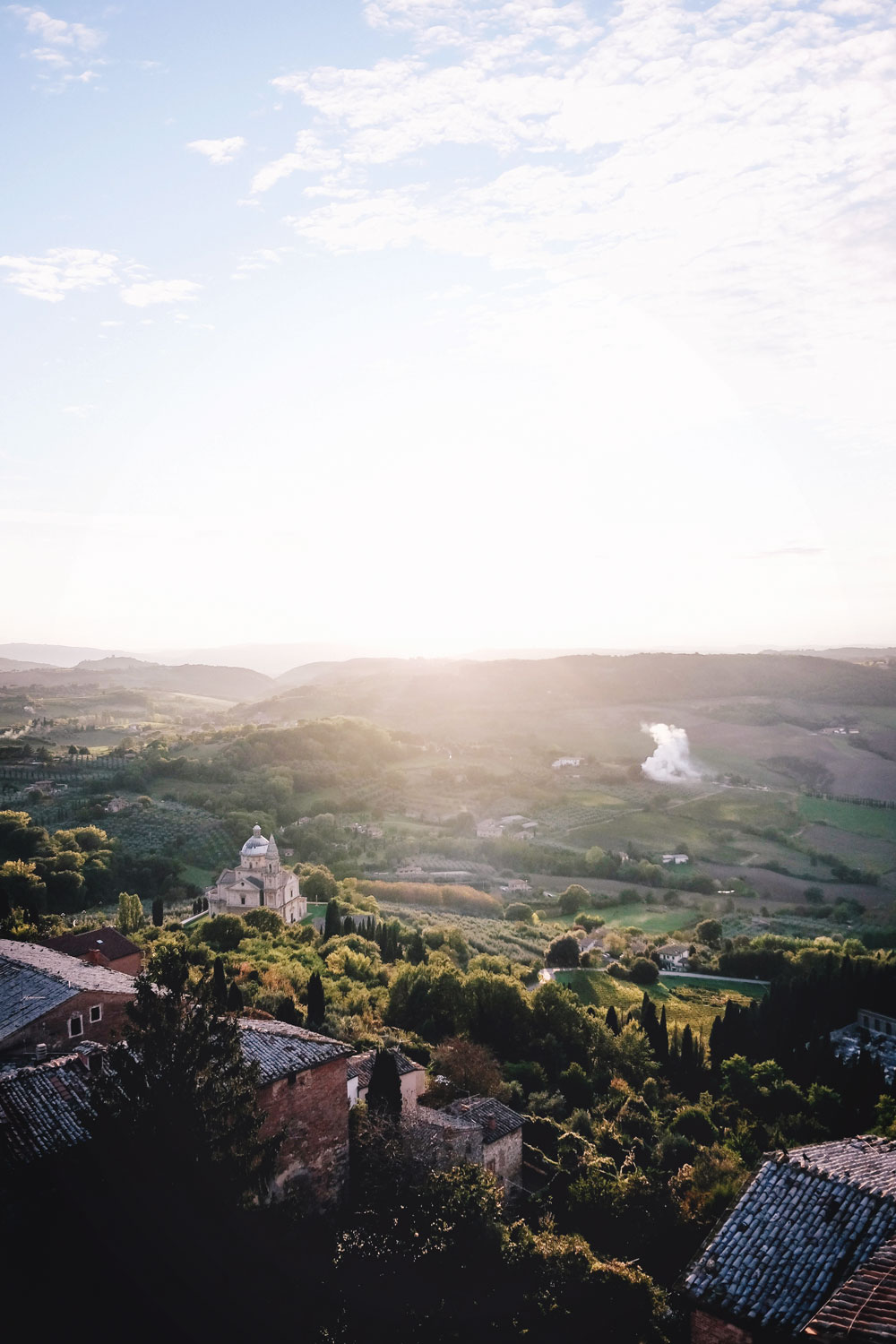 When we were planning out our Italy trip we were honestly at such a loss for our route, where we wanted to go, etc (though we did fortunately get all those details firmed up—see our 3-week itinerary here!). I've said it before and I'll say it again—Italy's just so dense, with so many incredible places to go and explore that it can be hard to make a pick! Even though we spent decent time in each place we went to, I actually think we really loaded our Italy trip pretty solidly—we probably could've spent a bit more time in each area (we changed location 8 times in 3 weeks, pretty crazy!) and if there was one place I could've happily lingered longer, it would be Tuscany.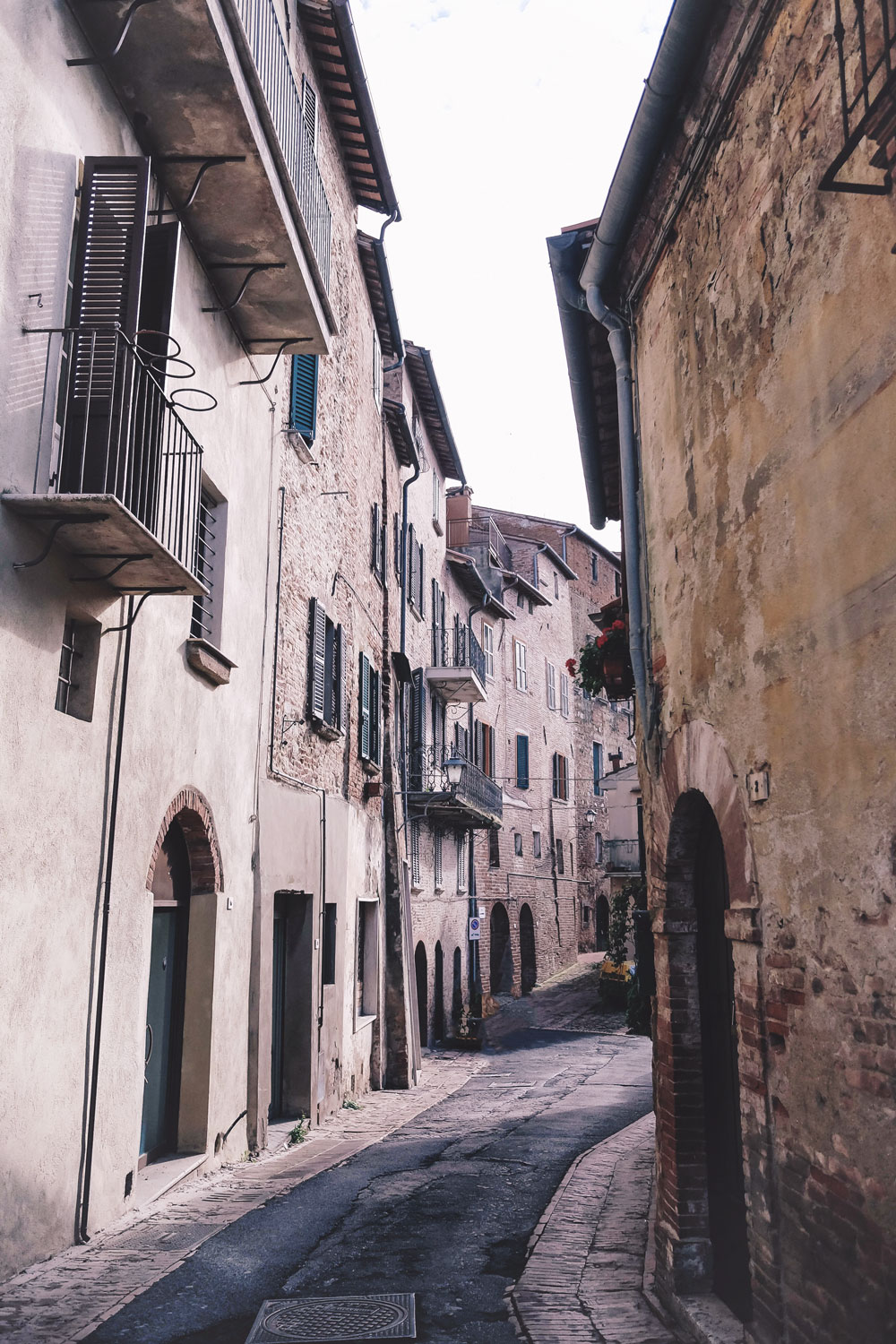 While we'll get back to Tuscany's most famous town later (Florence, looking at you!) we hilariously landed on our first Tuscan town Montepulciano because of Pinterest. And on that note, I think it's never a bad idea to have a wild card in the mix with your travel plans—oftentimes, they end up being some of your favourites! I fell deep in love with a snap of a Tuscan valley taken atop of Montepulciano's medieval hilltop church and something about it created this pull—I just had to go there. Because I had this romantic notion of the town, I deliberately minimized my research here since I knew Tuscany in general would be a bit more low-key and ended up being so blown away, enamoured and taken by this part of Italy.
So let's start from Rome, where we took off! We rented a car from Hertz (so easy to do all around the country, just put some research into finding pick-up and drop-off points that make sense with your travel flow) and had a surprisingly easy (and beautiful) drive from Rome up through the Tuscan countryside. We bought a small data plan so that I could easily access Google Maps (though not to toot my own horn, but I'm actually a stellar navigator—had to excel there since I'm not the most confident driver in the world), and up we went to Montepulciano! After our Cretan driving experience we were expecting a scarier drive but honestly, as long as you drive smart and respect the speed lanes, you're golden!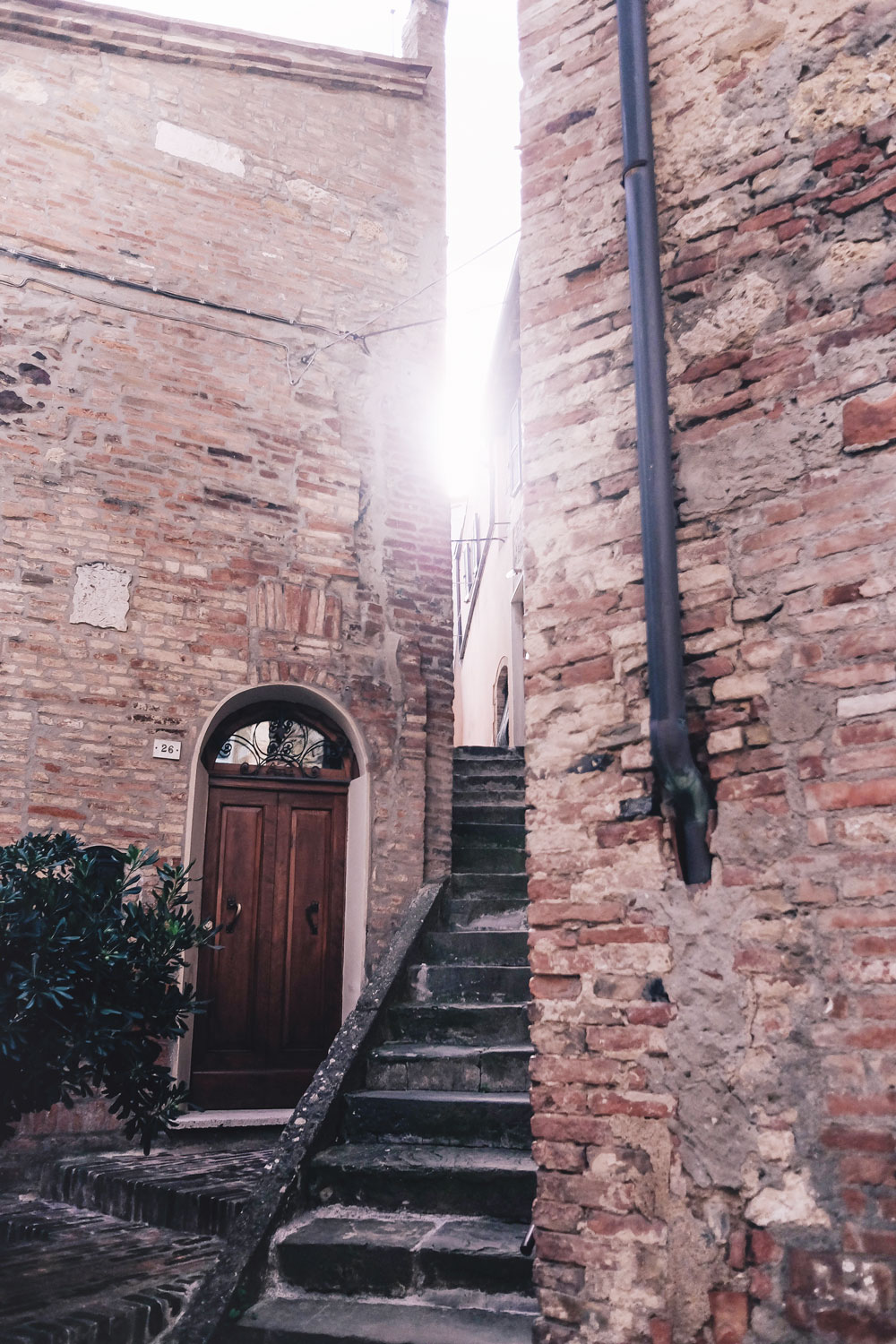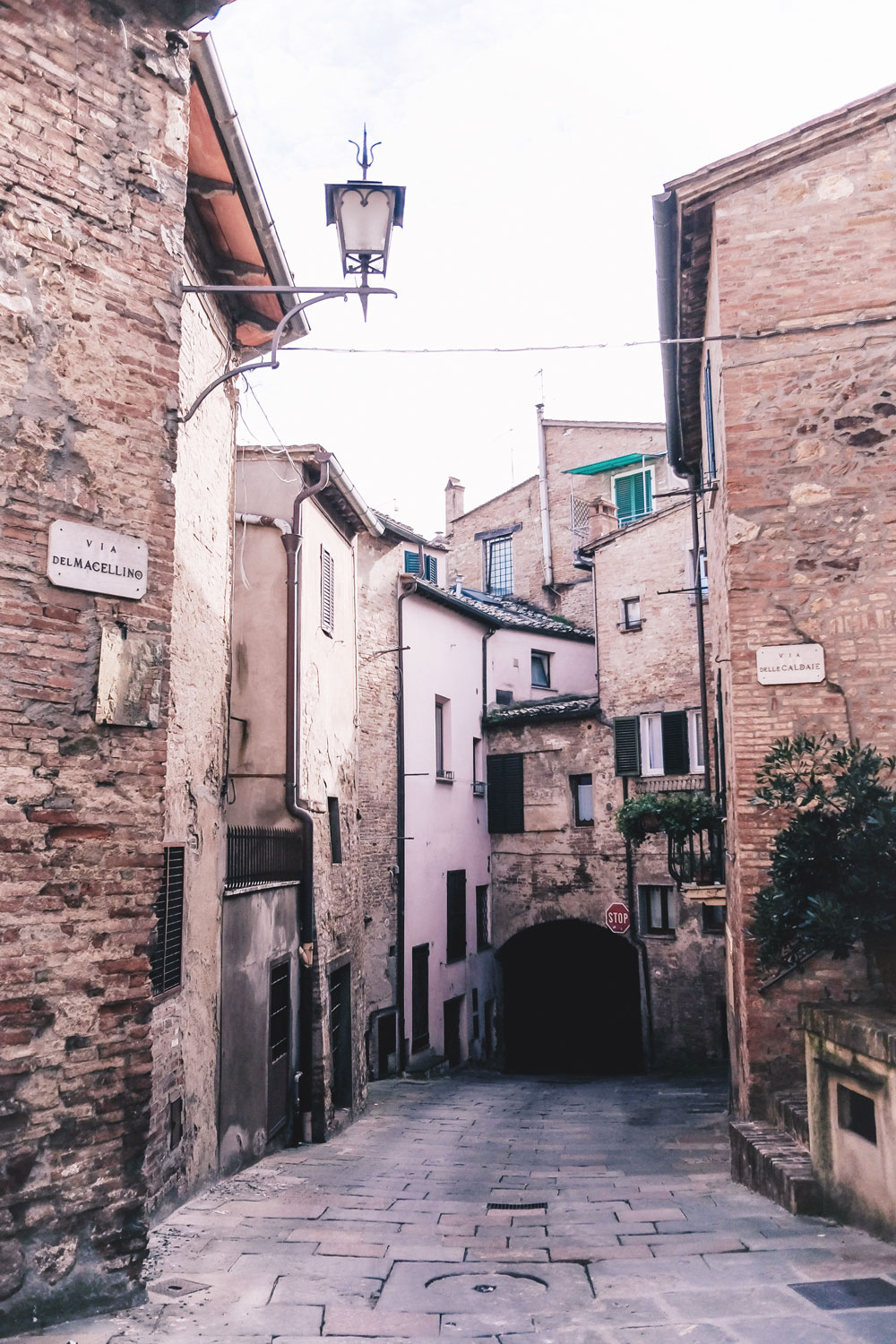 Before we arrived at our Airbnb in Montepulciano (more about our Italy Airbnb guide here!), I had one of those moments that I often get when travelling. I find most of my most memorable, colourful, distinct memories happen when I'm travelling, and it's because those are most often the moments when I'm in awe. I can remember so distinctly the first time I was taken aback standing on the edge of a cliff in Ireland with wild waves crashing below, seeing that golden light in the early evening in Paris, staring up at this unfathomably brilliant blue sky in Portugal, diving into the clearest water I've ever experienced in Santorini. And now, I'll always remember this special afternoon drive into Tuscany with heavy golden light rays reaching across the vivid green of a Tuscan valley on the left, glancing over to the right to see this beautiful medieval town staring down on the valley from the top of a steep hill. It was unreal. And it was an immediate love-at-first-sight experience with this part of Italy, so steeped in beauty and tradition and culture and history.
We checked into our Airbnb (a cabin in a vineyard, really a perfect Tuscan experience) and immediately took off to Montepulciano (only a 10 minute drive away), criss-crossing up the hill on these tiny lanes with hairpin turns. Like so many towns in Italy, Montepulciano is a protected historical site so other than local traffic, you'll have to park in lots just outside of town. They're all so close though so if anything, it's actually making life a bit easier because you know to just park in a lot instead of trying to navigate street parking in a foreign land.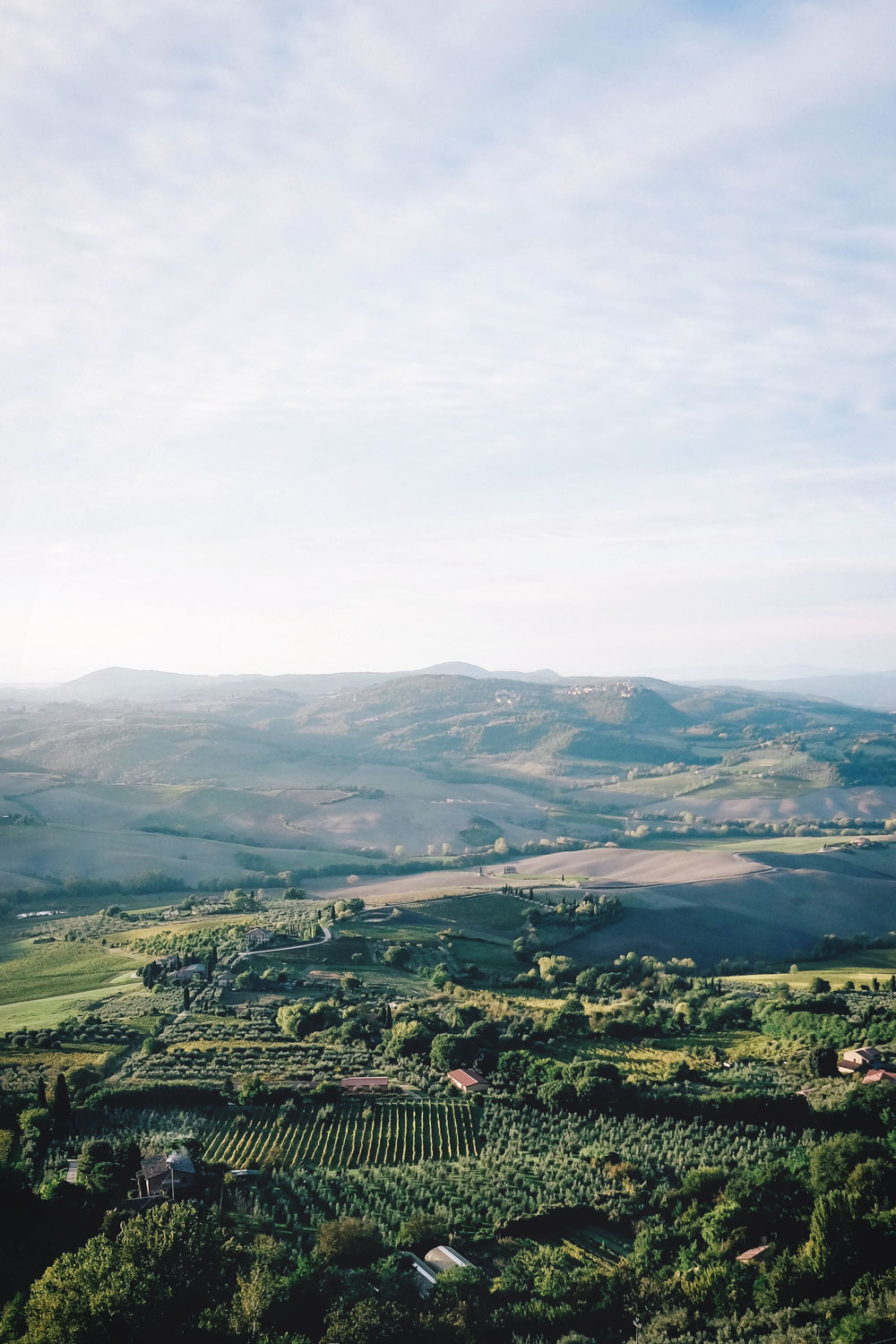 Because we deliberately didn't really research our new home for the next few days, we didn't know that Montepulciano was actually home to one of the most revered wines in all of Italy: the delicious Vino Nobile di Montepulciano! We spent a very happy afternoon going up and down (up and down in a literal sense, since this is a hilltop town after all) sampling the wine in all of the many enotecas and osterias dotted throughout town. I grabbed one of the best cannoli of all time at Caffè Poliziano (highly recommend the pistachio!) with a quick espresso before we grabbed one more glass of vino in the famous Piazza Grande a Montepulciano, where apparently parts of one of the Twilight movie were filmed. It's absolutely critical in Italy to spend as much time as possible sitting and drinking vino, espresso or an Aperol Spritz and people watching. It is one of the true pleasures and joys of this beautiful country, and it was such a memorable moment to take in the afternoon sunshine while watching the locals go about their daily business.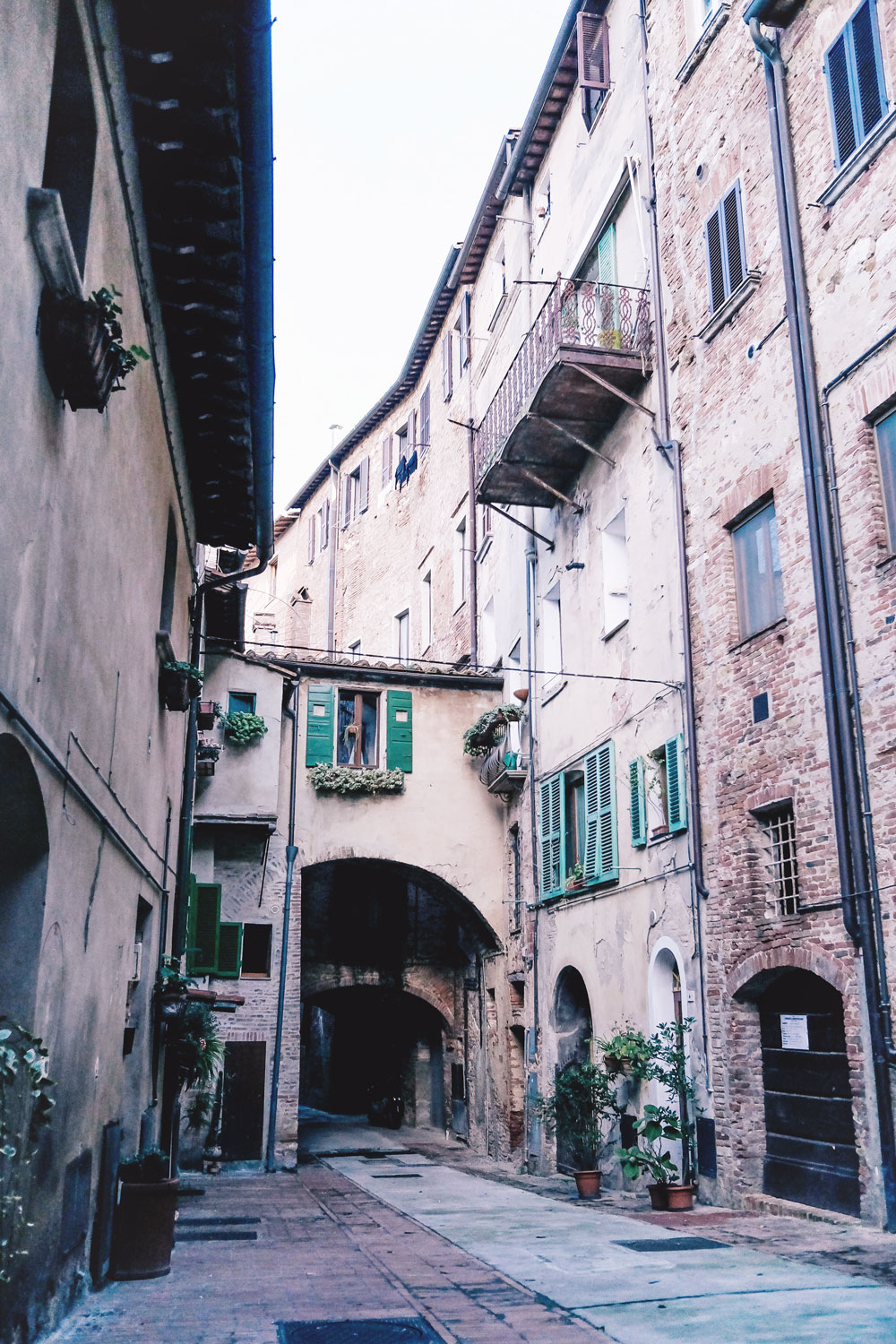 We had reservations (remember from all my Italy posts, resos are key!) at Ai Quattro Venti so decided to head into the duomo in the main square so that we could see the valley from an elevated point—such a good call. You get to see the valley in all its glory with the beautiful domed San Biagio below. We then proceeded to have some of the most delicious food at Ai Quattro Venti—Tuscan specialties to absolutely try are picci (my fave pasta to date!), panzanella (peasant-style salad with bread, tomatoes and basil!), ribollita soup and of course a ton of Pecorino (more on its hometown in a second!). But really, I always just deferred to our server when I was struggling to make up my mind—they take their food and wine seriously and won't usually steer you in the wrong direction!
Other notable mentions for amazing food in Montepulciano were Trattoria di Cagnano (one of our best meals of the whole trip) and La Pentolaccia. Both seriously amazing, and if you're in Montepulciano for any length of time (I'd say at least 2 nights in fall/winter, at least 4 nights in spring/summer to really soak in the Tuscan experience), you'll want to visit both.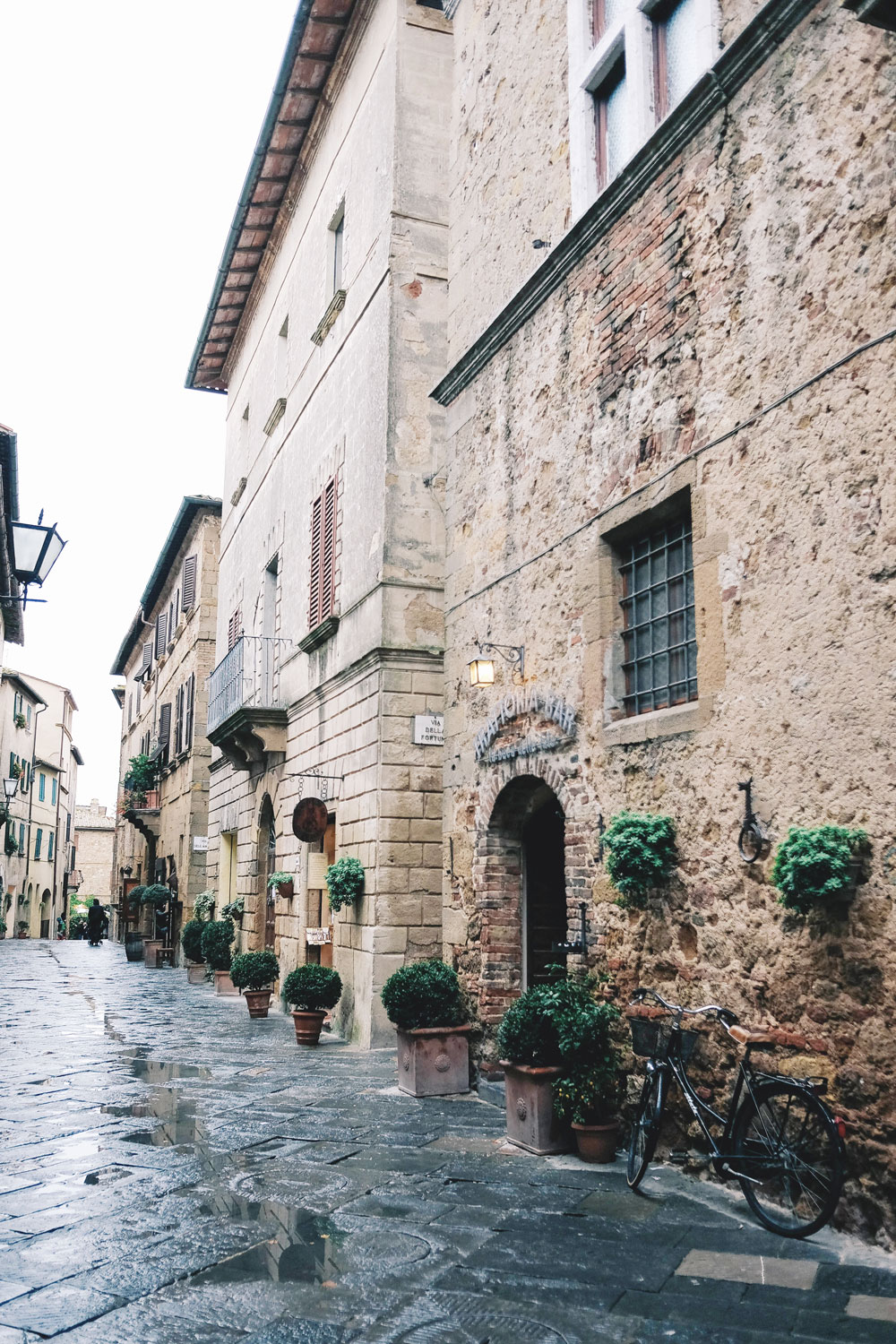 Of course, you're going to want to do wineries in Tuscany. We were blown away by our tour at Salcheto, but you'd be hard pressed to have a bad experience anywhere. This should be a given, but please, BUY THE WINE! We brought a bunch of bottles home and were kind of unnerved by our wino ways as our suitcases expanded, but honestly, our hearts skipped a beat when we compared prices here at home. It's so special to have some truly valuable, meaningful bottles to pop open when the occasion calls for it and to remind us of our amazing time at home.
The one thing I love about Tuscany (in addition to the food, wine, lovely people, views, etc) is that you can really jump around and do a ton of day trips. We weren't in Tuscany for as long as I'd ideally like to have been but even with only 3 nights there, we were really intent on carving out a full day to do some exploring in other towns.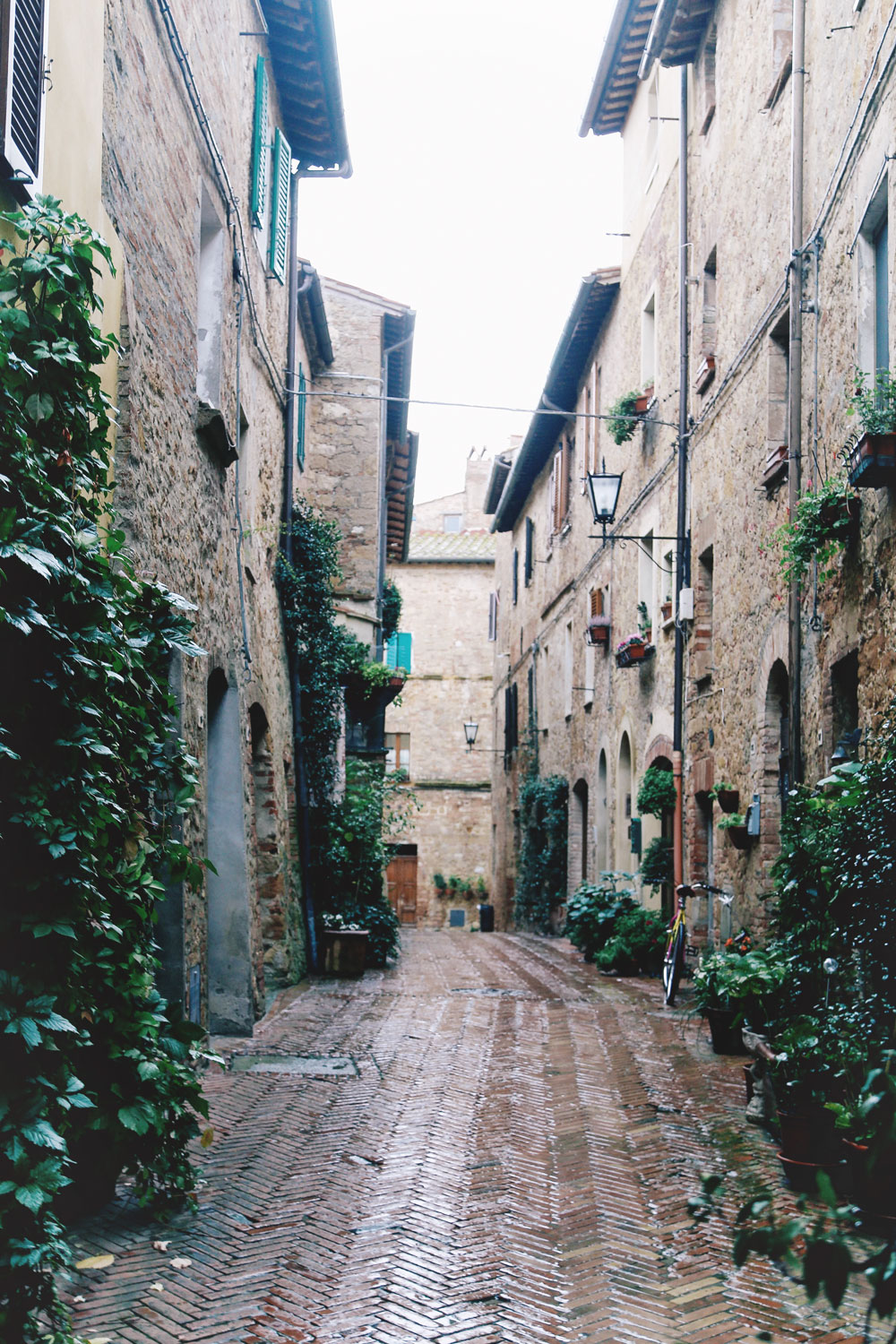 It was pouring rain on the day we decided to do this so we decided to not do as much driving as we were planning to do, but our trip to Pienza did not disappoint. In fact, I kind of wish we carved out a couple extra days to stay there. Pienza is where the unbelievably delicious Pecorino cheese is from and it's a truly happy experience to just pop in and out of the shops on the main street to try all the different cheeses—try different ages, blends, etc! It's so good, so good in fact that we vacuum sealed a huge wedge and brought it home. Because of our delays with weather, we were there during closed hours for restaurants (like Spain, Italy has pretty hardcore open and close hours so be aware and if you're worried, always make a reso!), but I heard Latte di Luna is unreal from our Airbnb host. We instead got a porchetta sandwich from one of the shops in town—unbelievably delicious. One word of warning is that Tuscan bread is crustier and unsalted—it's meant to be eaten with seriously flavourful additions like porchetta or rich, meaty sauces so keep that in mind when you eat it! I wouldn't really eat it on its own but instead to use it as the Italian do, "fare la scarpetta"—literally translates to creating a little shoe with your bread to soak up the sauces and juices from your food! This Tuscan bread is literally created for this, especially with all those stick-to-your-rib sauces and entrees.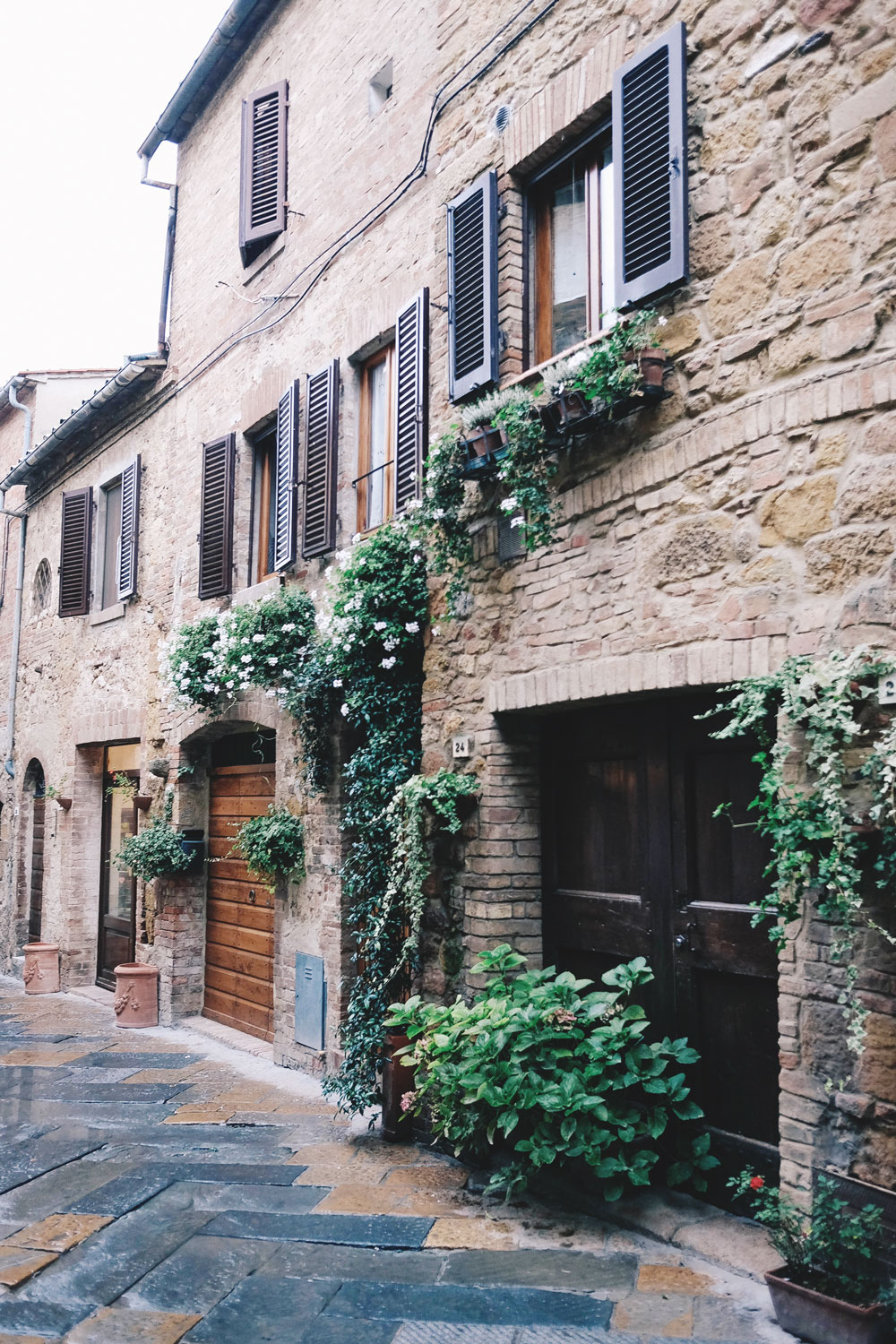 But moving on—we also spent the afternoon at one of Tuscany's famed thermal baths, which was something I seriously needed after a crazy amount of exploring. It's hard to go wrong with any of the ones on offer in the region so honestly, pick the one closest to you or find the one with the best deal and take some time detoxing and unwinding from your stressful days of vino tasting and exploring in the baths!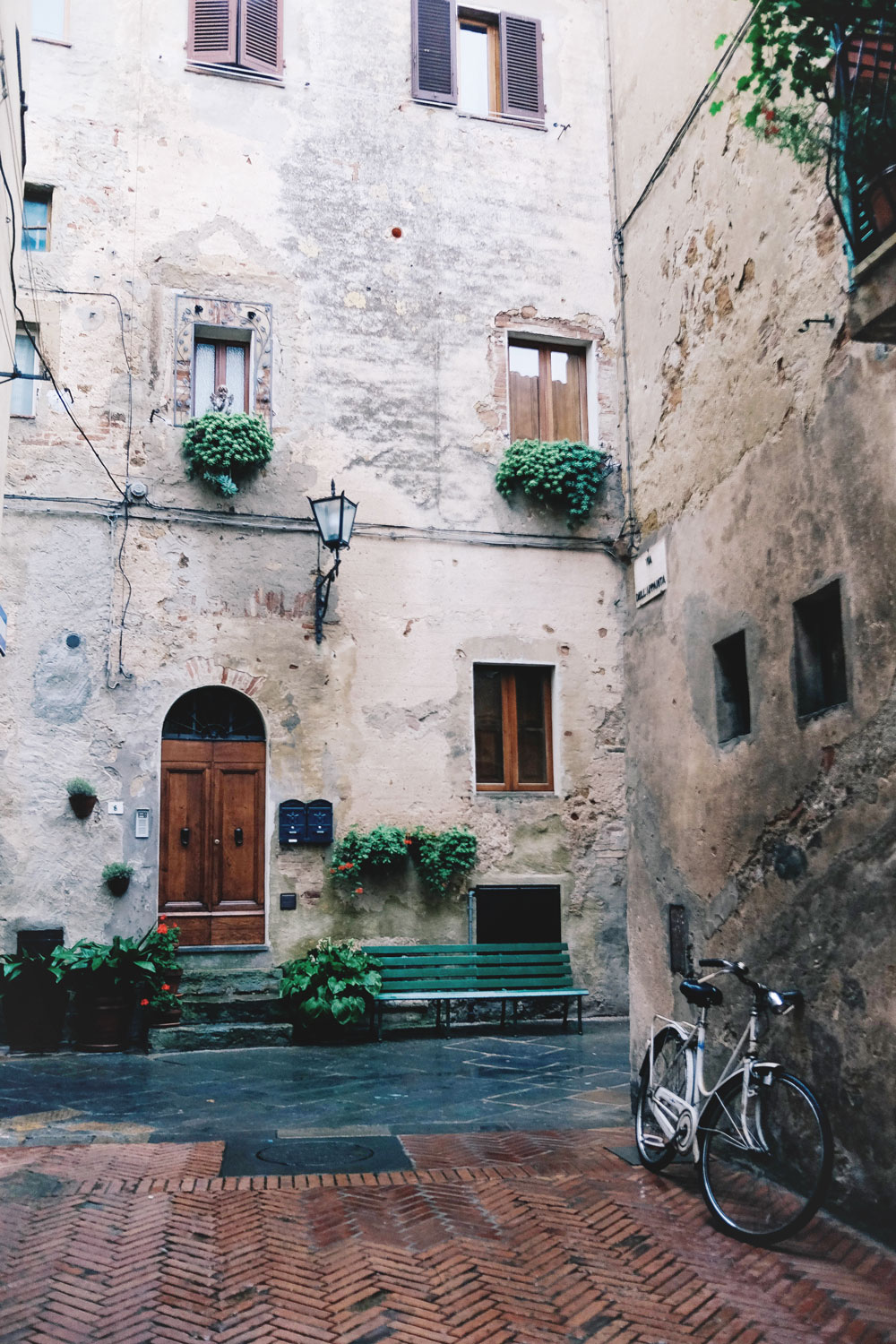 After a few magical days in the Tuscan countryside, we went to one of Matt's picks: Siena! I'll preface the next statement by saying Siena is amazing, but out of all of our destinations in Italy, it was my least favourite. But again, it still was unreal—you have to remember that the scale of favourite to least favourite is still only covering this unbelievable range! The thing about Siena is that I actually found it to be the most touristy spot we went to, and I'm typically more drawn to either the rural, countryside locations or the seriously cosmopolitan cities—the middle ground (touristy but not so expansive, so you kind of feel like you're circling around) is not my first go-to usually.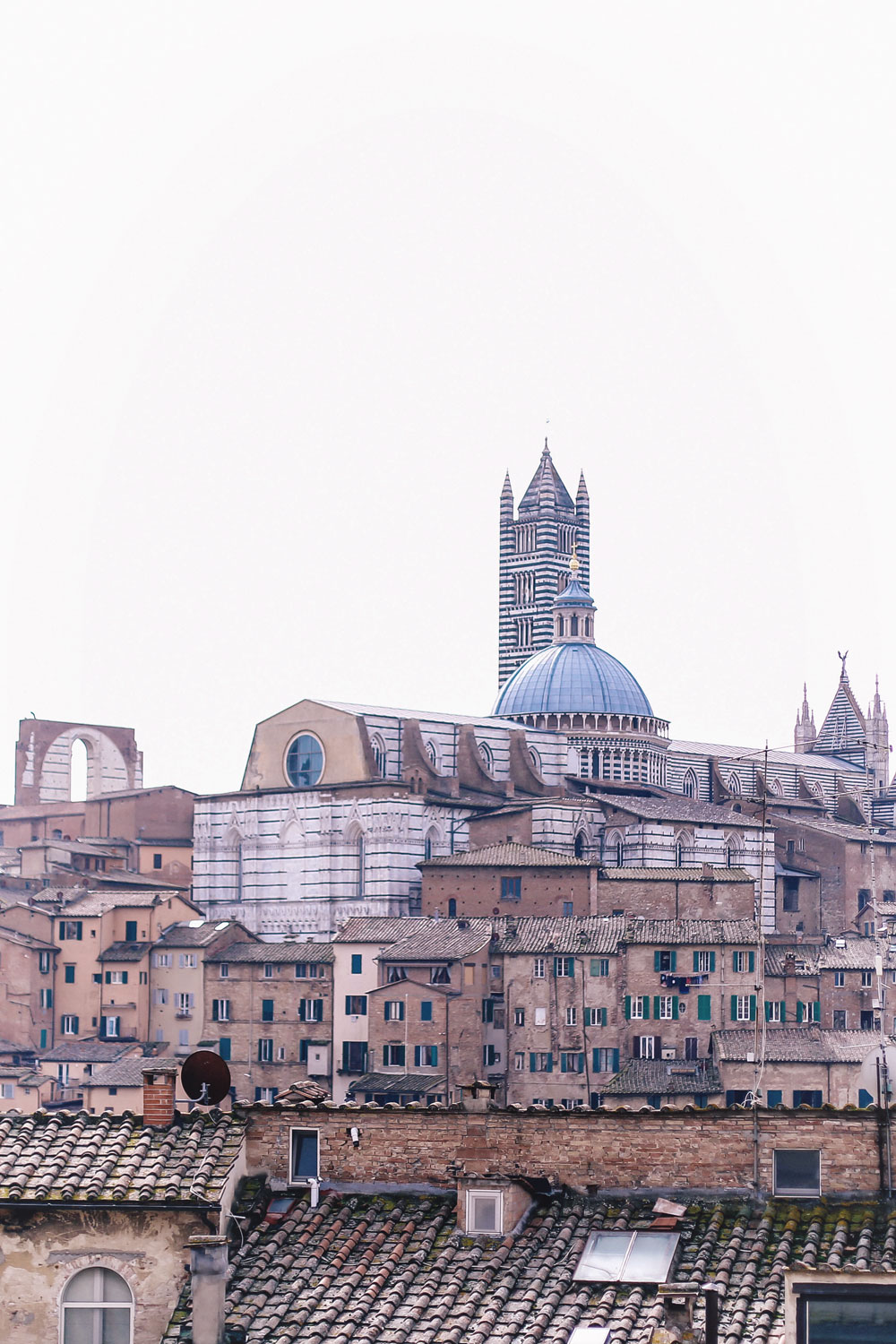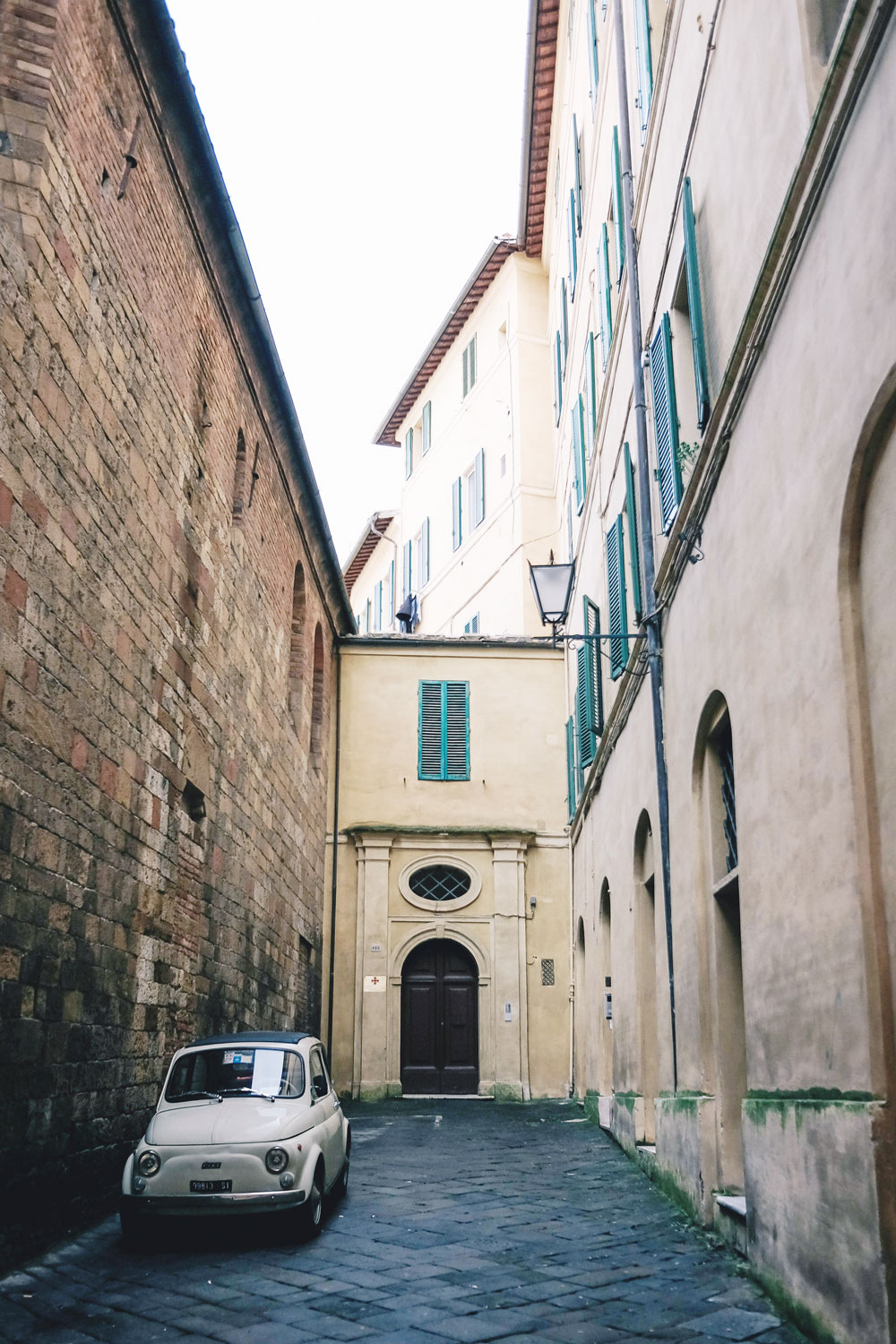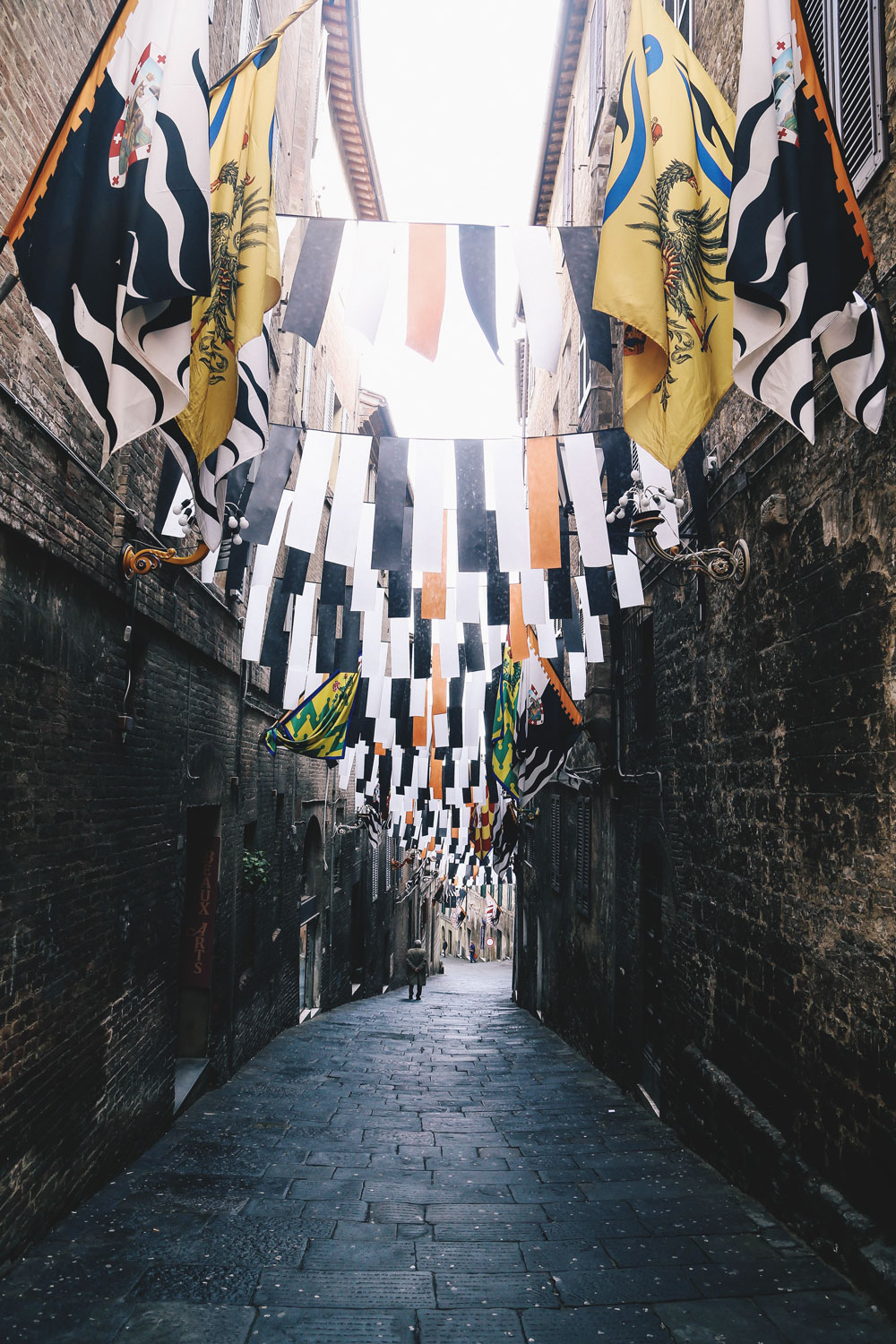 Again though, still so incredible, and if you ever have a chance to go to Siena for the famous Palio di Siena then you can pretty much check off a bucket list item (even one you may not have known you had). The Palio di Siena is a horse race that takes place twice a year on July 2nd and August 16th, where the 17 contrade (neighbourhoods) compete against one another. Apparently, locals set up pillows on the perilous stone corners of the historic lanes and buildings and the whole town is just lit. It circles the famous Palazzo del Campo (this beautiful square shaped like a scallop), with jockeys riding bareback. The loyalty to one's contrade is fierce, a historic relic of medieval times. It's pretty cool to wander this effectively small town and still see that commitment to each ward, with flags hung in the winning contrade's zone!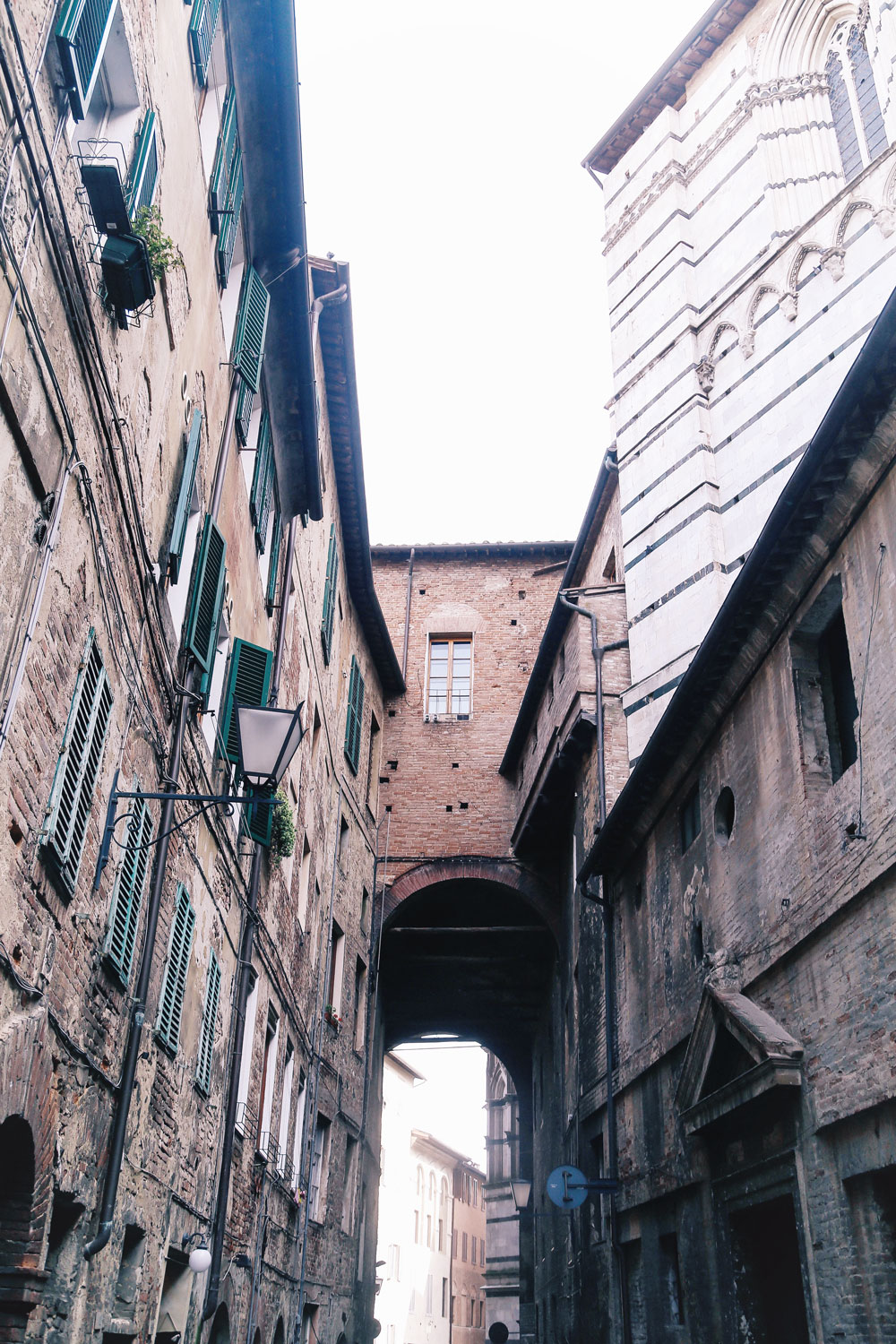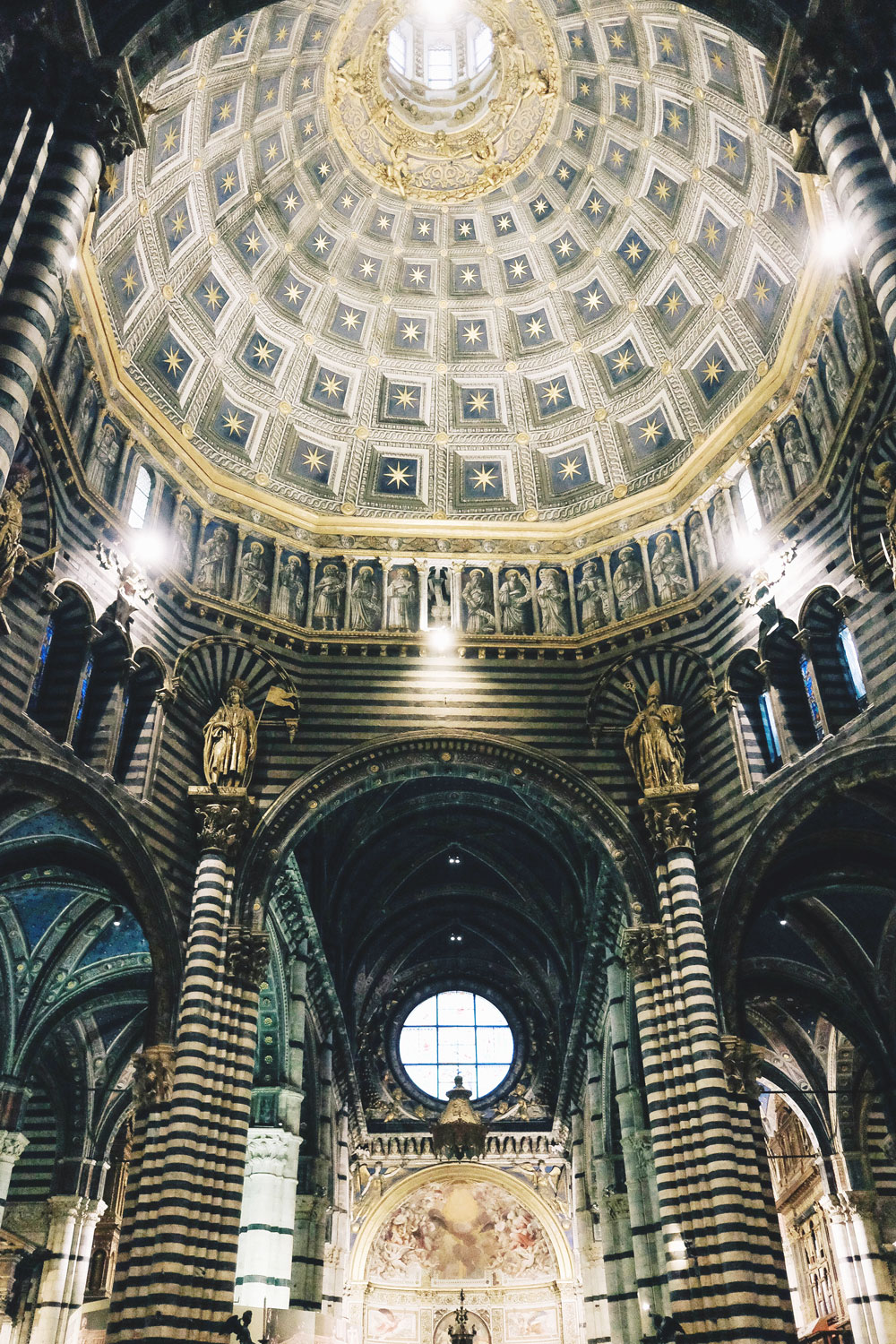 If you're not in Siena for the Palio though, its worth going to see the stunning Duomo alone. The Siena Cathedral is one of the most beautiful ones I saw in all of Italy—you can spend some serious time touring around it, and pay a packaged price to get some more intimate views of the cathedral. We were only in Siena for one night before we went to Cinque Terre (which despite becoming more of a touristy zone, is honestly one of my absolute favourite spots I've ever been to) so we kept it short and sweet at the cathedral before we had one of our best meals of our whole trip at L'Osteria dei Rossi. It was also some of the best value we had food-wise and we honestly would go to Siena just for that restaurant.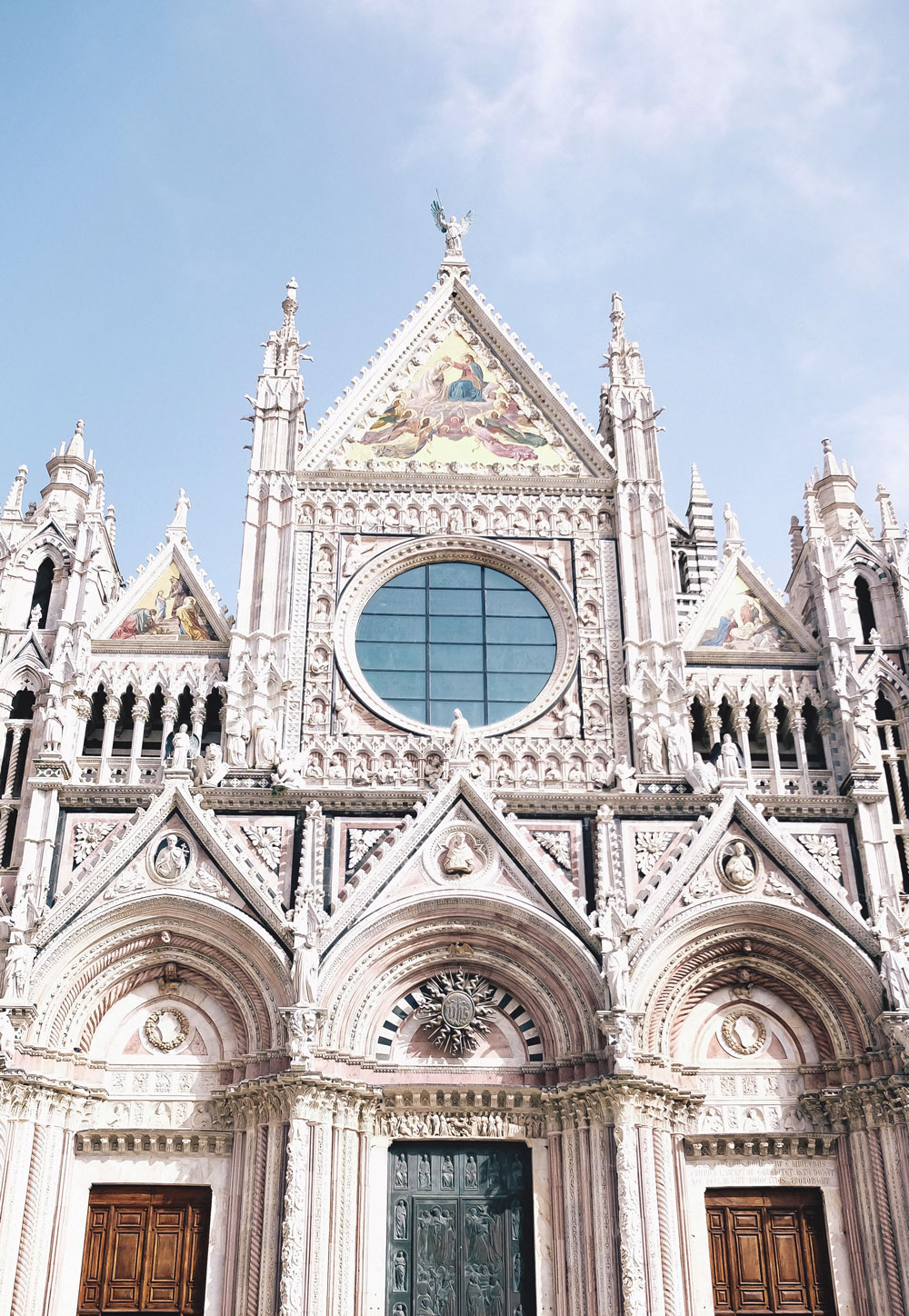 So to recap: I would seriously suggest spending at least a few nights in the countryside and have a homebase (like we did with Montepulciano)—just make sure you have a car! We picked up in Rome (just Uber'd to our Hertz location) and dropped off La Spezia before taking our train to Riomaggiore—it honestly worked out like a dream! I still seriously loved Siena but not quite sure that I'd stay the night there again, though it would warrant at the very least a day trip. I think if it hadn't been for the fact that it was on the way to La Spezia (where we were dropping off our rental car), I would've rather logged in more time in the more rural region we were in and explored some more villages. Important to note that as always, this is just my personal experience! Even between Matt and I, we have totally different favourites and least favourites from the trip. But if you're anything like me and love the rugged beauty of more rural areas (where my love for the Irish countryside, Cinque Terre and even my devotion to the Pacific Northwest comes from!) but also love the cosmopolitan buzz of cities like London, Paris or New York, then I think you'll definitely get more out of cozying up in the countryside and then picking those central locations when you're in the cities. Again, I can't say enough good things about all of our Airbnb picks for location so if you haven't seen them yet, they're right over here!
Finally, you guys haven't seen my other Italy guides yet, definitely check out my full Italy category here! If you have any questions, definitely tell me in the comments below, and stay tuned for my next Italy guides, from Cinque Terre to Florence to Venice!