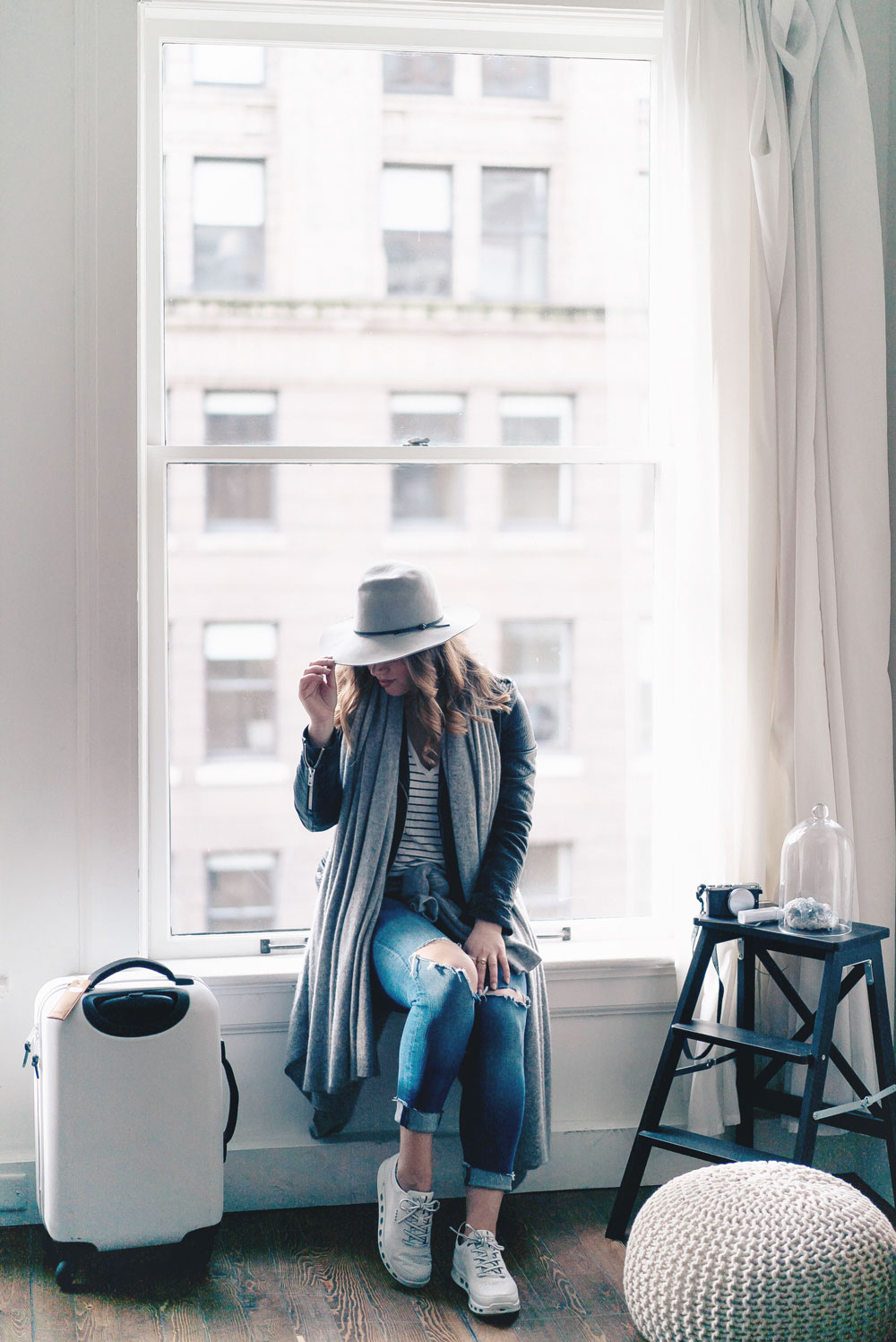 As you guys undoubtedly know by now, travel is my biggest passion. There's something that's just so exciting about packing up for an adventure in destinations unknown and well-loved, knowing that I'll be jetting off soon to have my eyes opened in one way or another (and hopefully eating a ton of amazing food, snapping some incredible pics and making some unforgettable memories along the way, naturally). The one thing that has helped my whole travel process run so much more smoothly is automated systems for all levels of style while I'm gone, from knowing how to pack strategically in a carry-on to understanding fabrics that travel well to what to wear on the plane to maximize comfort without sacrificing style!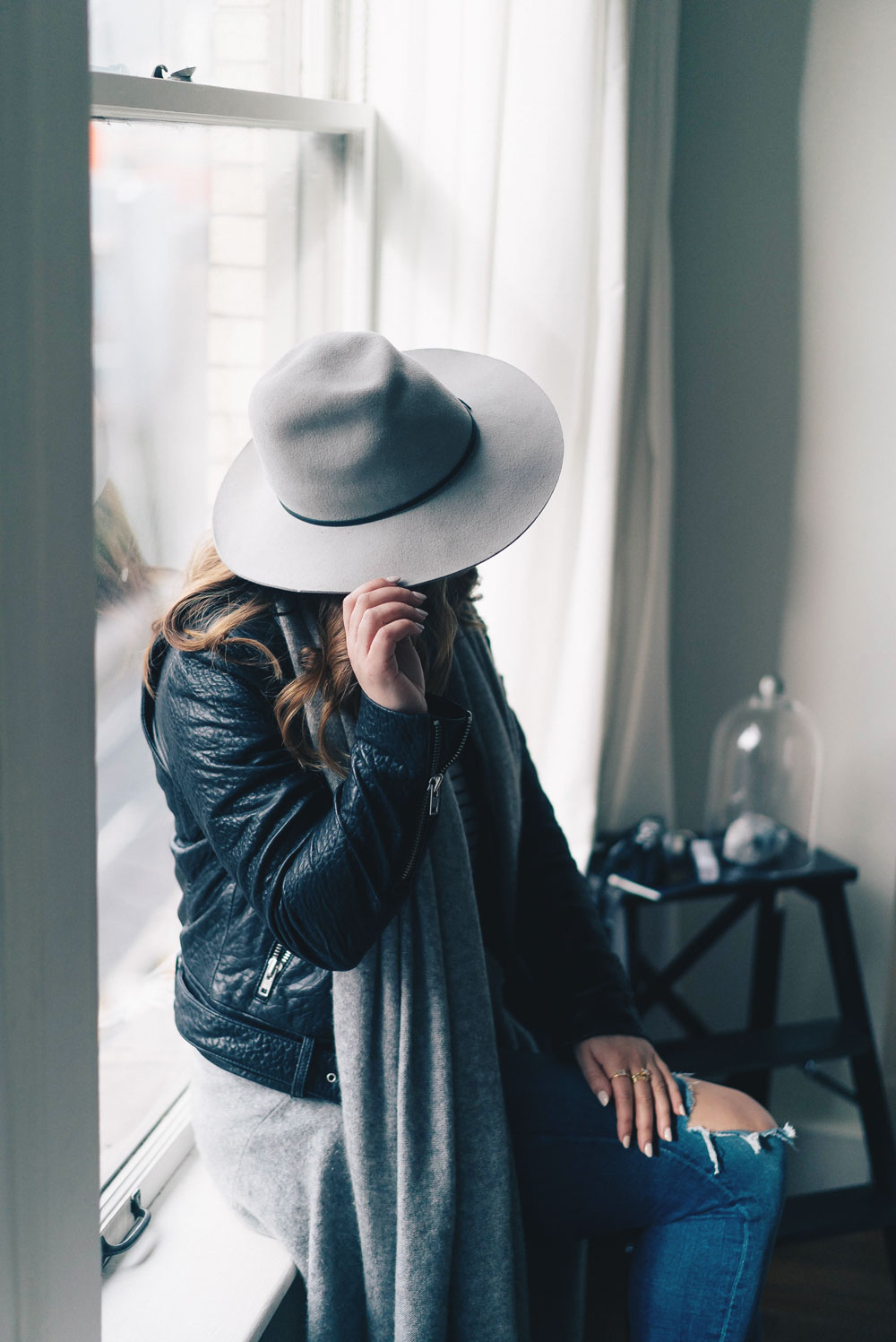 My formula is simple but for me, it's so effective—I am not only crazy comfy on every leg of my journey from departure to arrival, but I feel stylish, confident and chic in the process too. The outfit really starts from the feet up, because aching feet will be the first things to send serious discomfort signals to the whole body and immediately start dragging down the trip! I've long loved Danish brand ECCO, especially after visiting Copenhagen and seeing the effortless cool of all these athletic-looking stunners zipping around town on their bikes in classic Danish style. Hair effortlessly tousled, skinny jeans rolled just so, a beyond chic leather jacket, barely-there beauty and of course, perennially cool yet basic sneakers on their feet.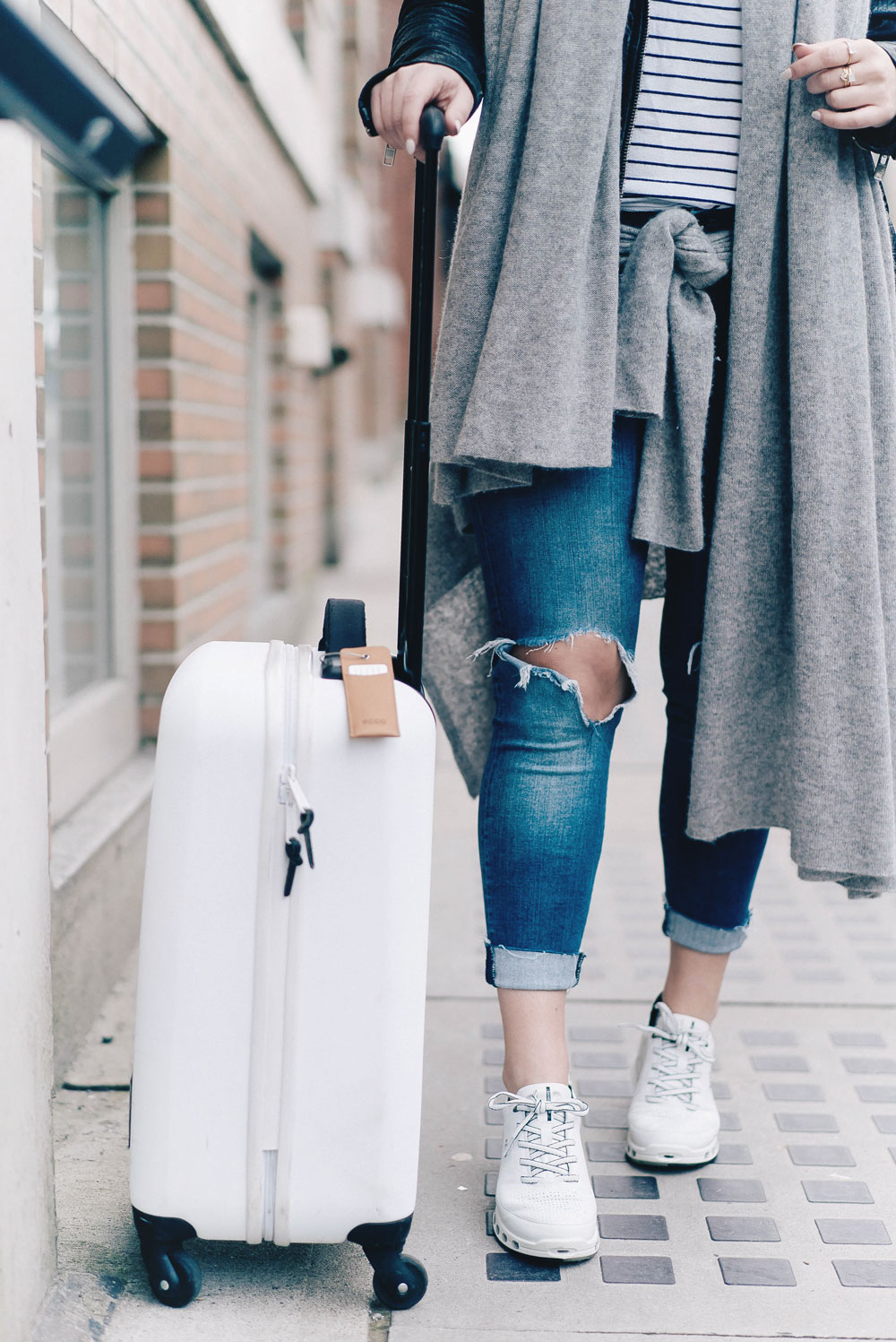 ECCO recently launched the COOL 2.0 sneakers and it was love at first sight for me. Other than being my go-to for travel, they've been glued to my feet ever since they arrived, whether it's running errands around town, zipping off to the gym or even swapping out my casual-chic uniform of jeans and a T-shirt for a floral dress, which works so well with these beauties.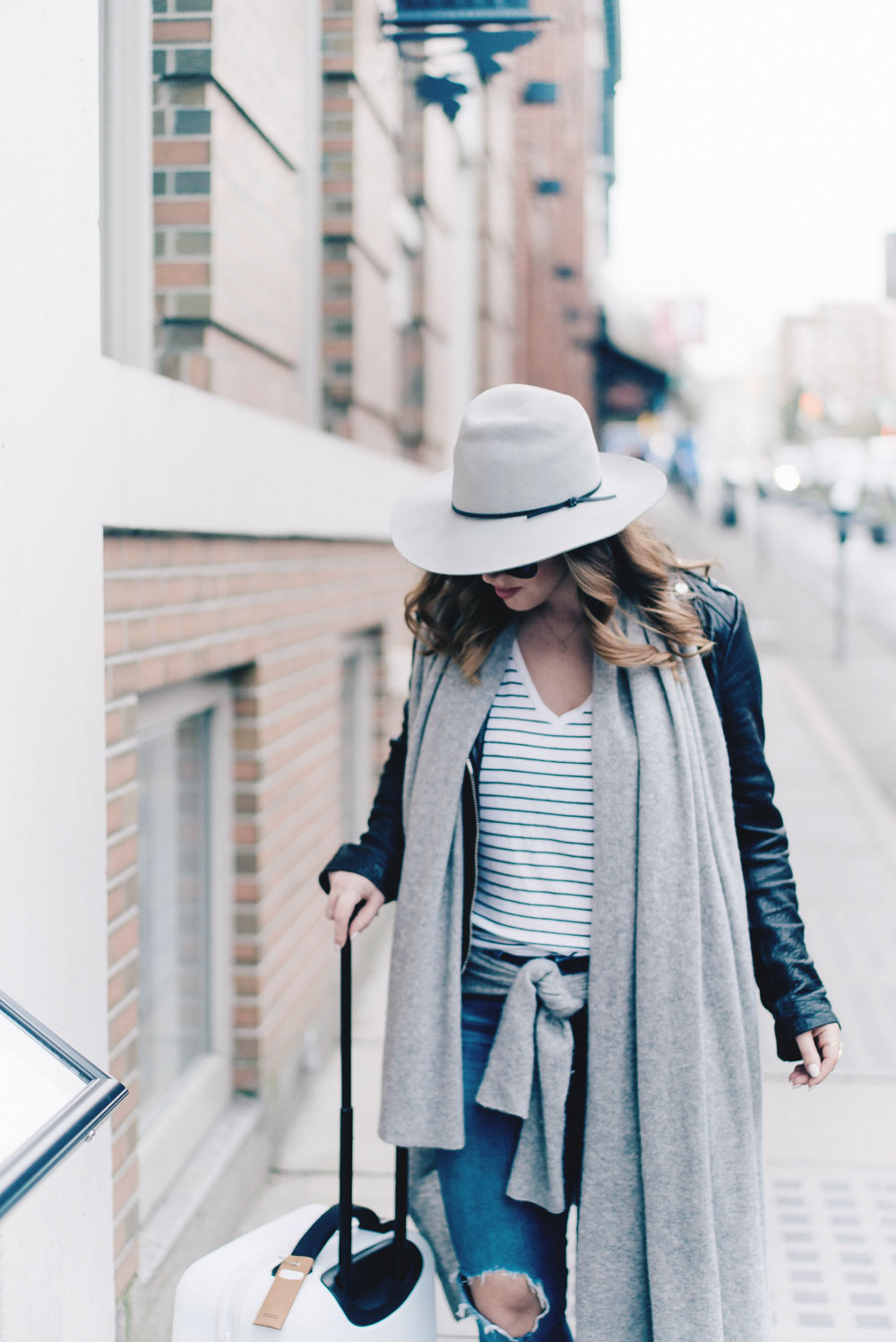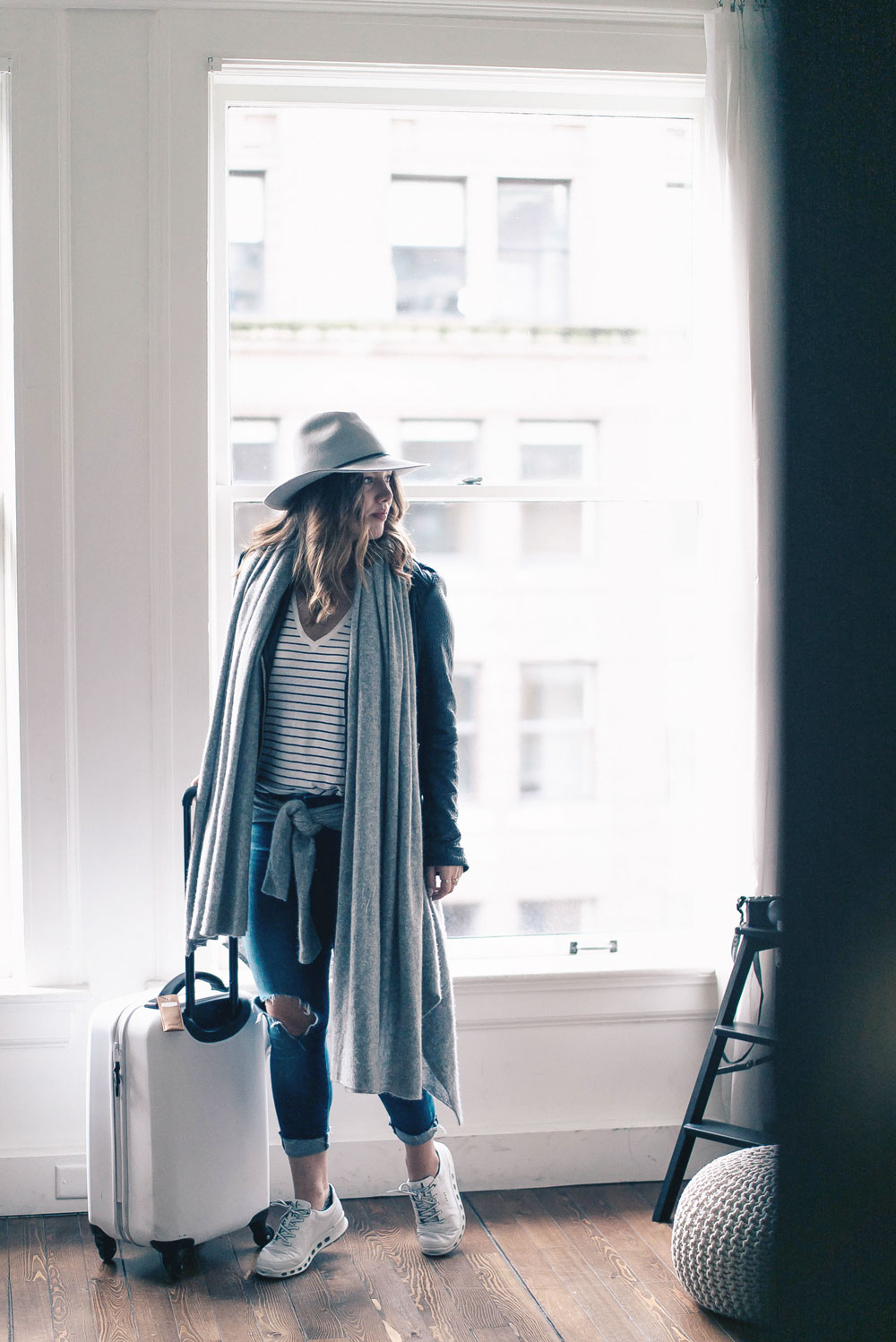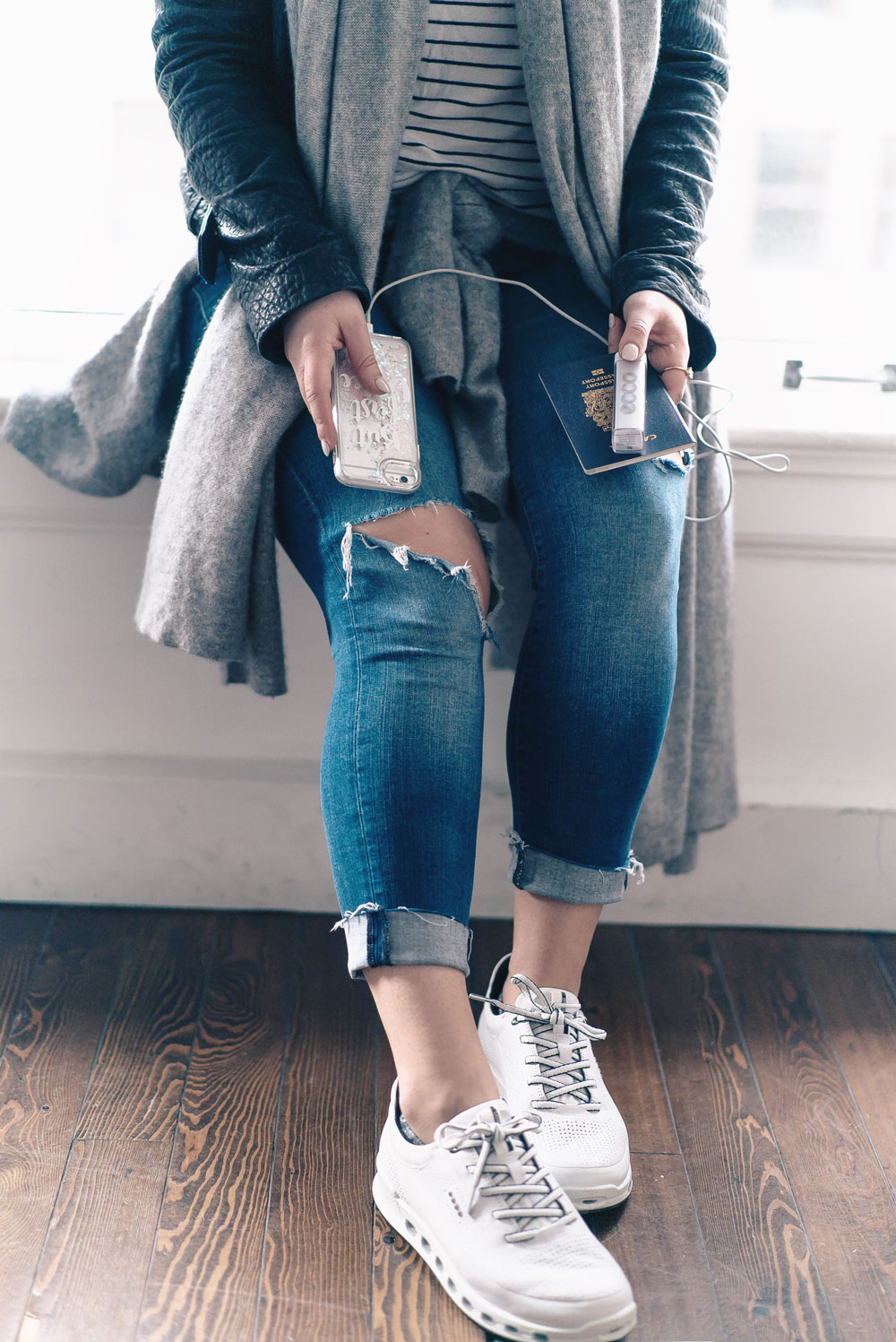 I think that's what the Danes (and ECCO) have mastered so well—pieces that are not only achingly stylish, but so functional you find yourself wearing them both for practicality and the instant cool boost they give any look. Waterproof, breathable and amazing craftsmanship—literally everything you could ask for in a sneaker, and one of the hardest working pieces in your travel wardrobe.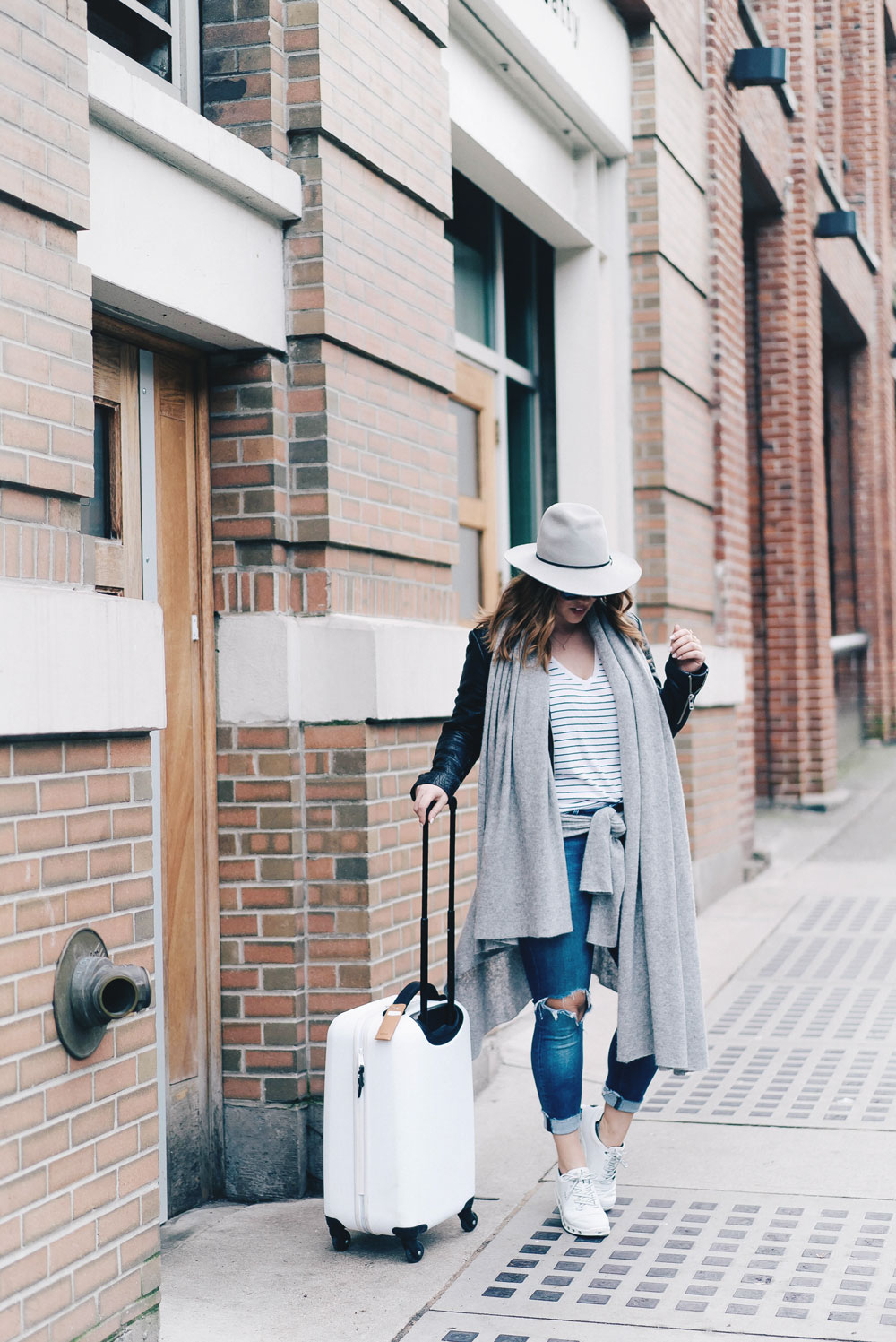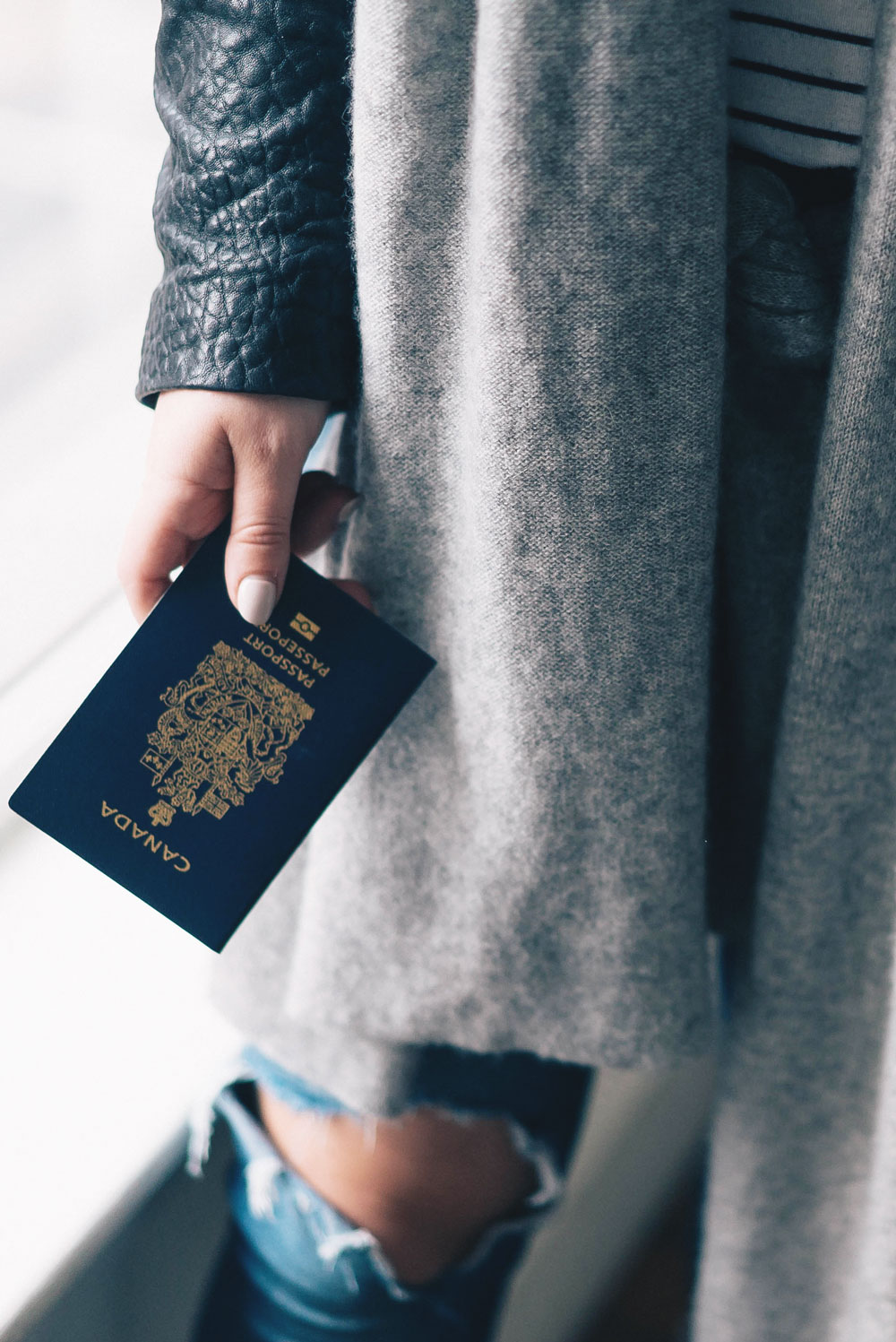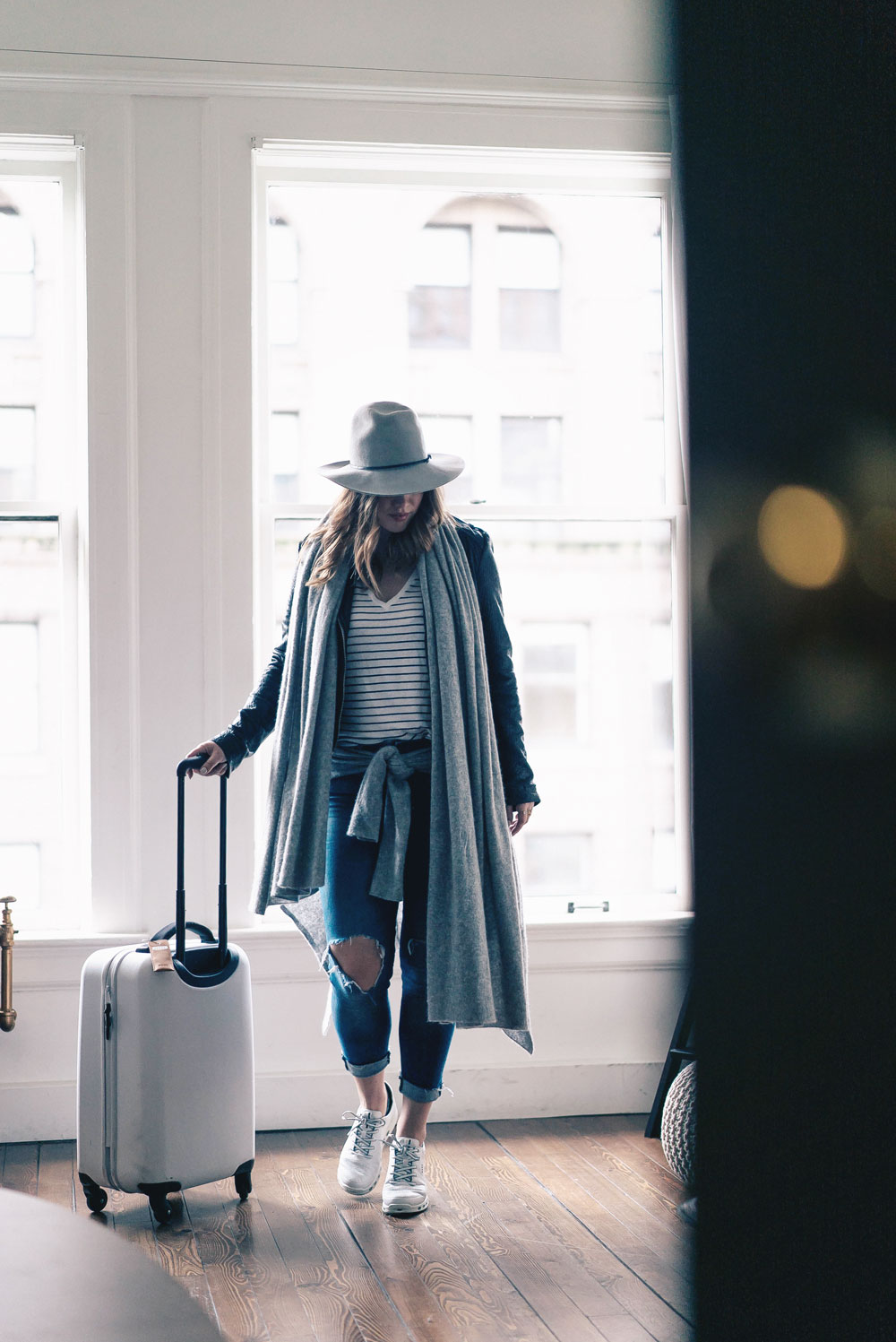 Onto the rest of this look before rounding this all up with a couple must-have accessories for your in-fight comfort-style combo: skinny jeans with some serious stretch are cozy enough to sleep in but you'll not look like a total schlump, a graphic pop of visual interest via a basic striped shirt adds some serious style without detracting from comfort, a cashmere or cozy wool cardigan can easily be thrown on and off and adds a dose of cool by being knotted around your hips when you're feeling warm, a cashmere travel blanket doubles as both a stylish accessory and blanket on the plane, a big wool fedora covers plane hair and also frees up a ton of space in your suitcase (while also protecting your hat from getting crushed by the contents of your bag) and a leather jacket is a perennial cool piece you need to have on you for just about any destination but is also adds that one easy layer to keep you warm while in transit.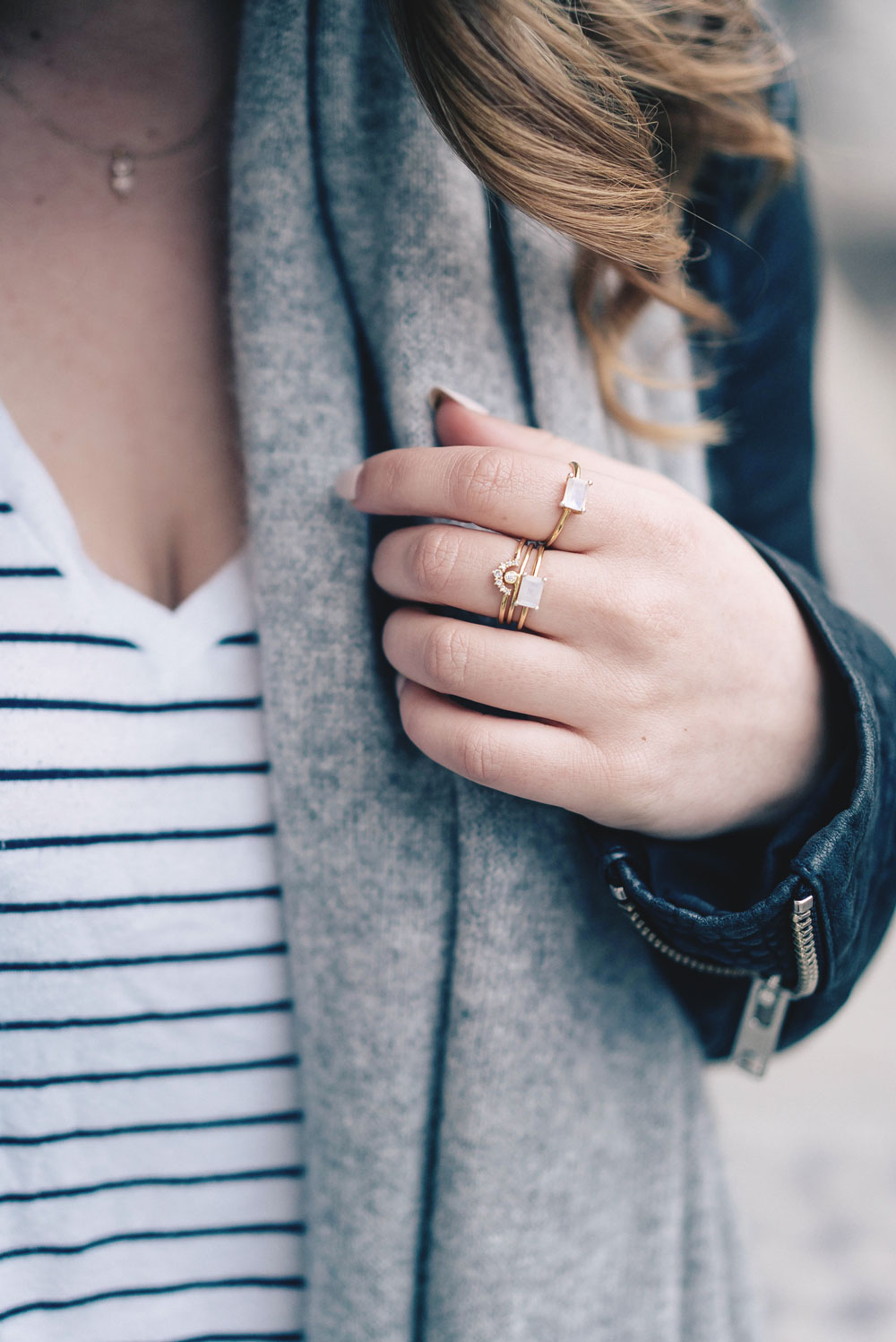 Keep jewelry to a minimum: I usually wear a necklace they can easily scan if needs be and just wear some stacked rings I can throw off in one motion while walking through security.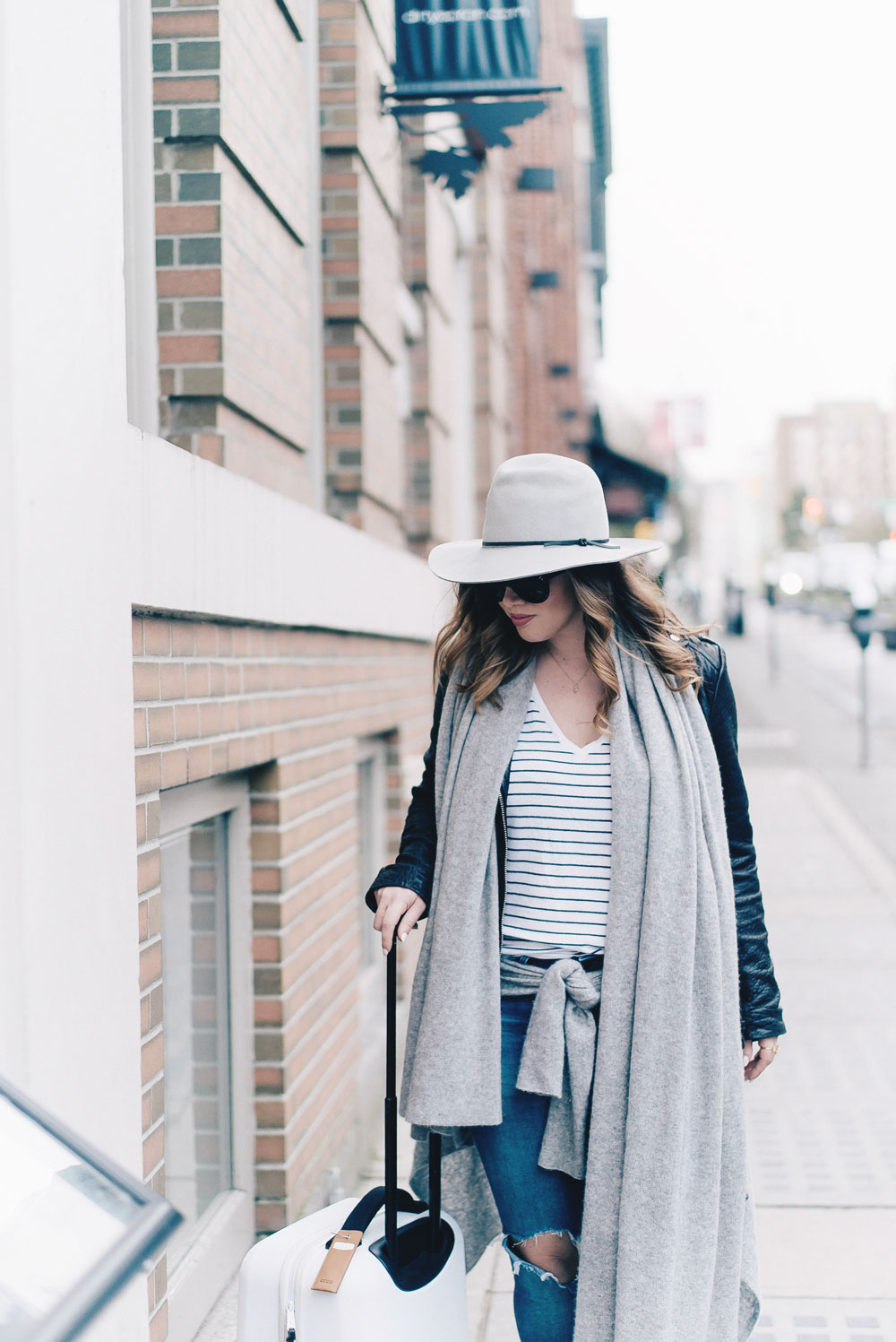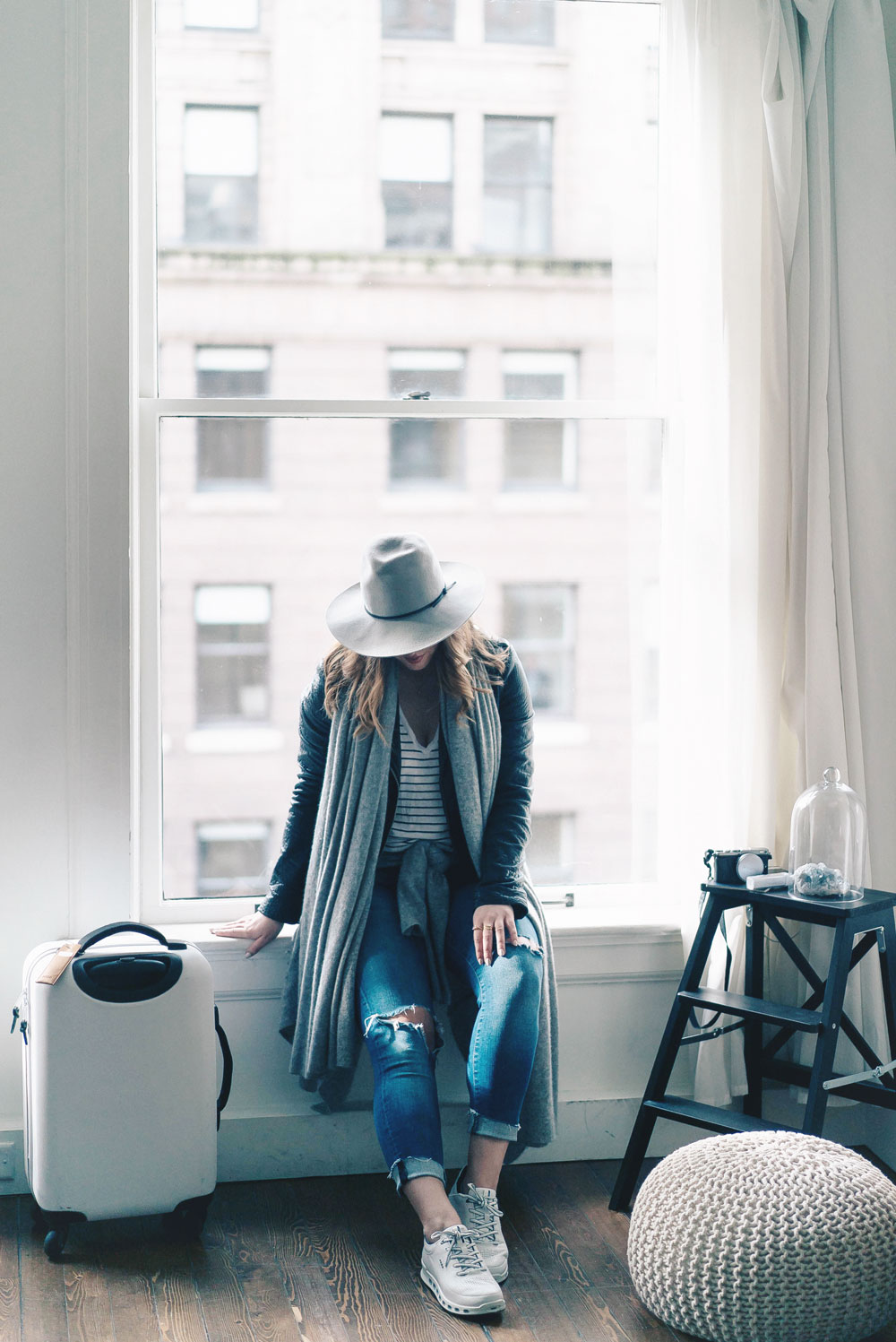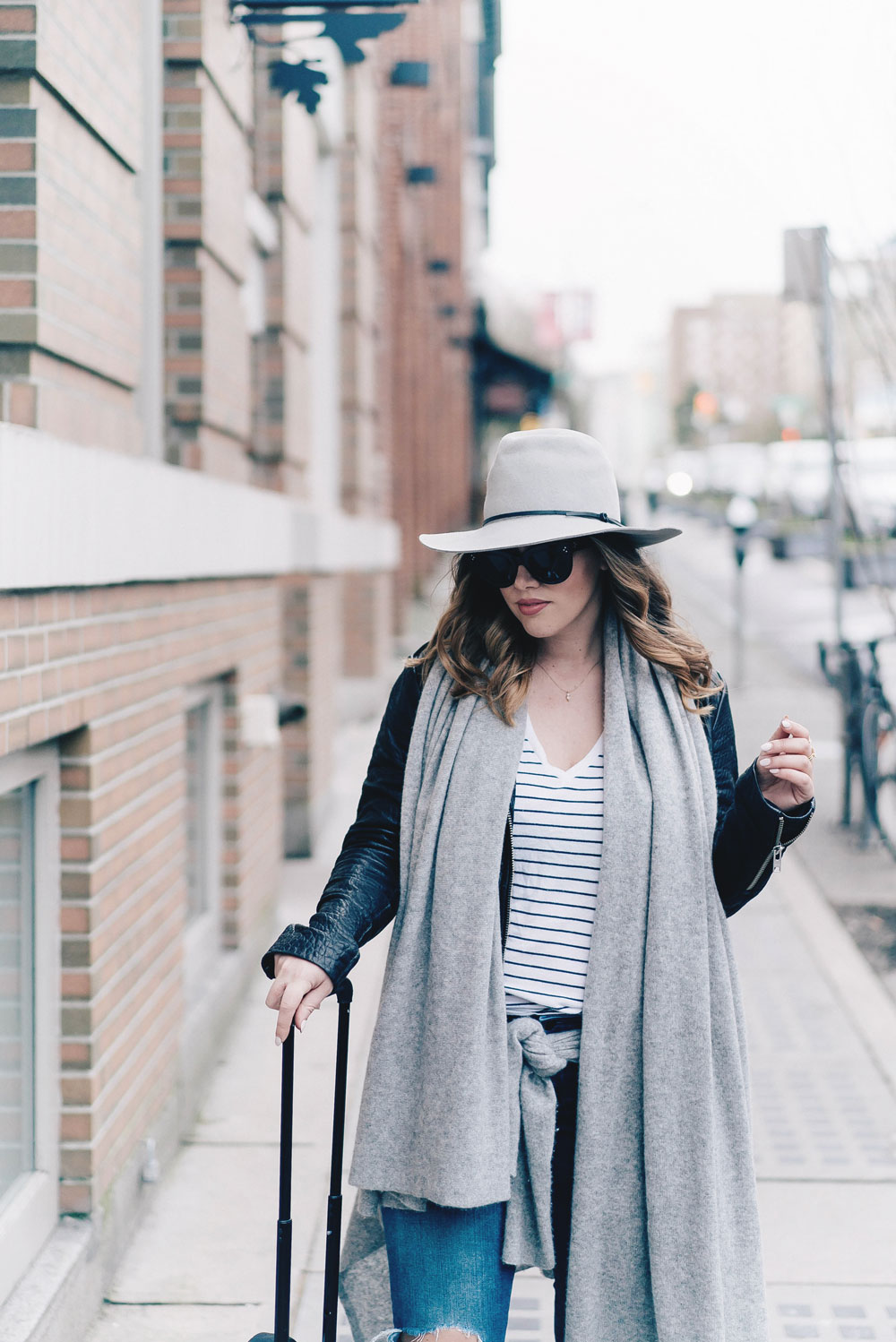 Last few tips: make sure you have tons of water on you to keep your system balanced, ditch your big wallet at home and invest in a smaller travel one and make sure you have a truly luxe eye mask with you because if there's one thing that helps me sleep on planes (which I have a seriously hard time doing), it's a really comfy eye mask and small ear plugs that don't hurt my ears. I also love packing some really cozy socks for on the plane because I run really cold and hate how chilly cabins can get!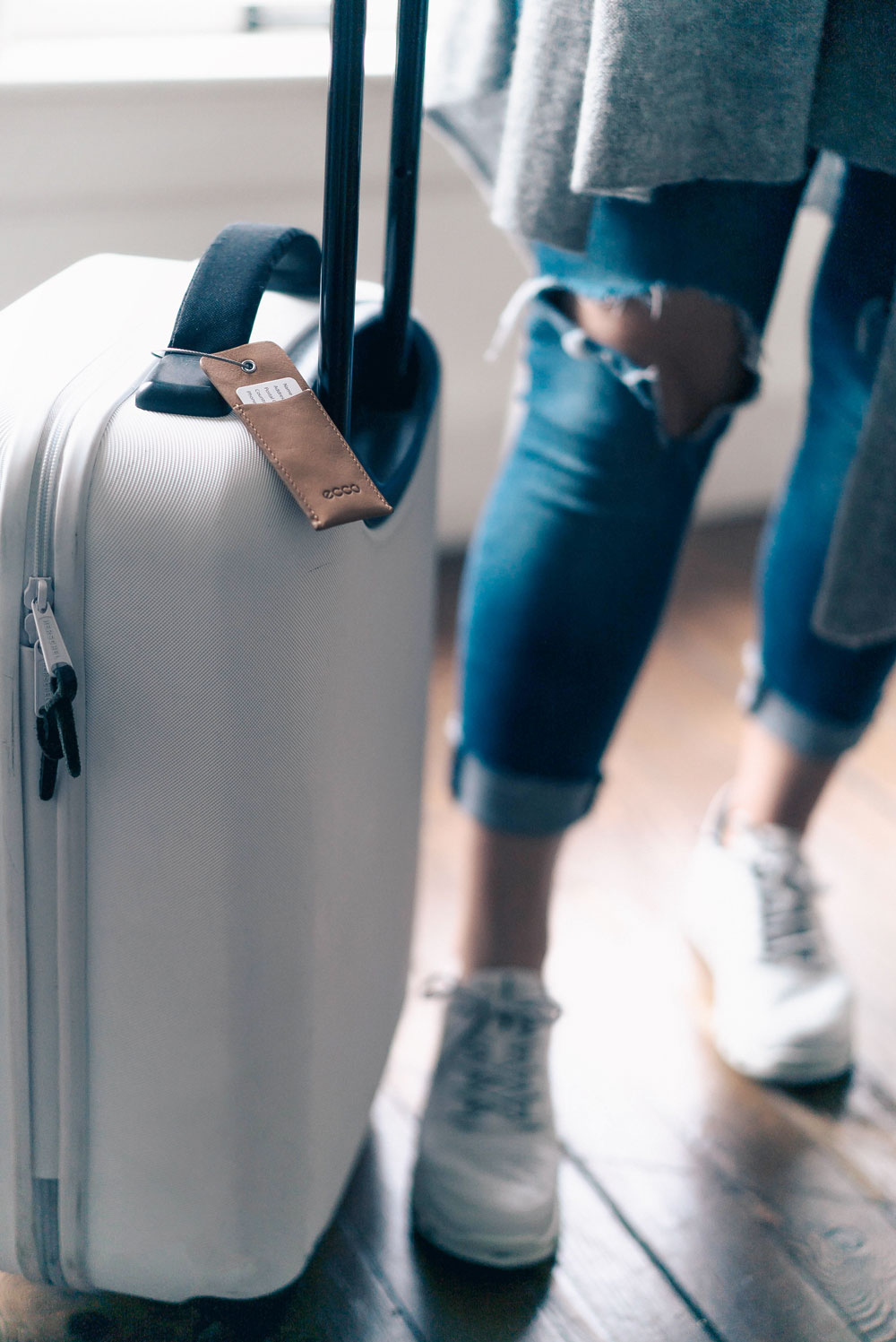 You can shop the COOL 2.0 sneakers here (which conveniently come in a ton of great colours, textures and finishes) and more of ECCO's signature Danish-cool pieces here.
This post was created in partnership with ECCO but all opinions are my own
Photos by Ainsley Rose