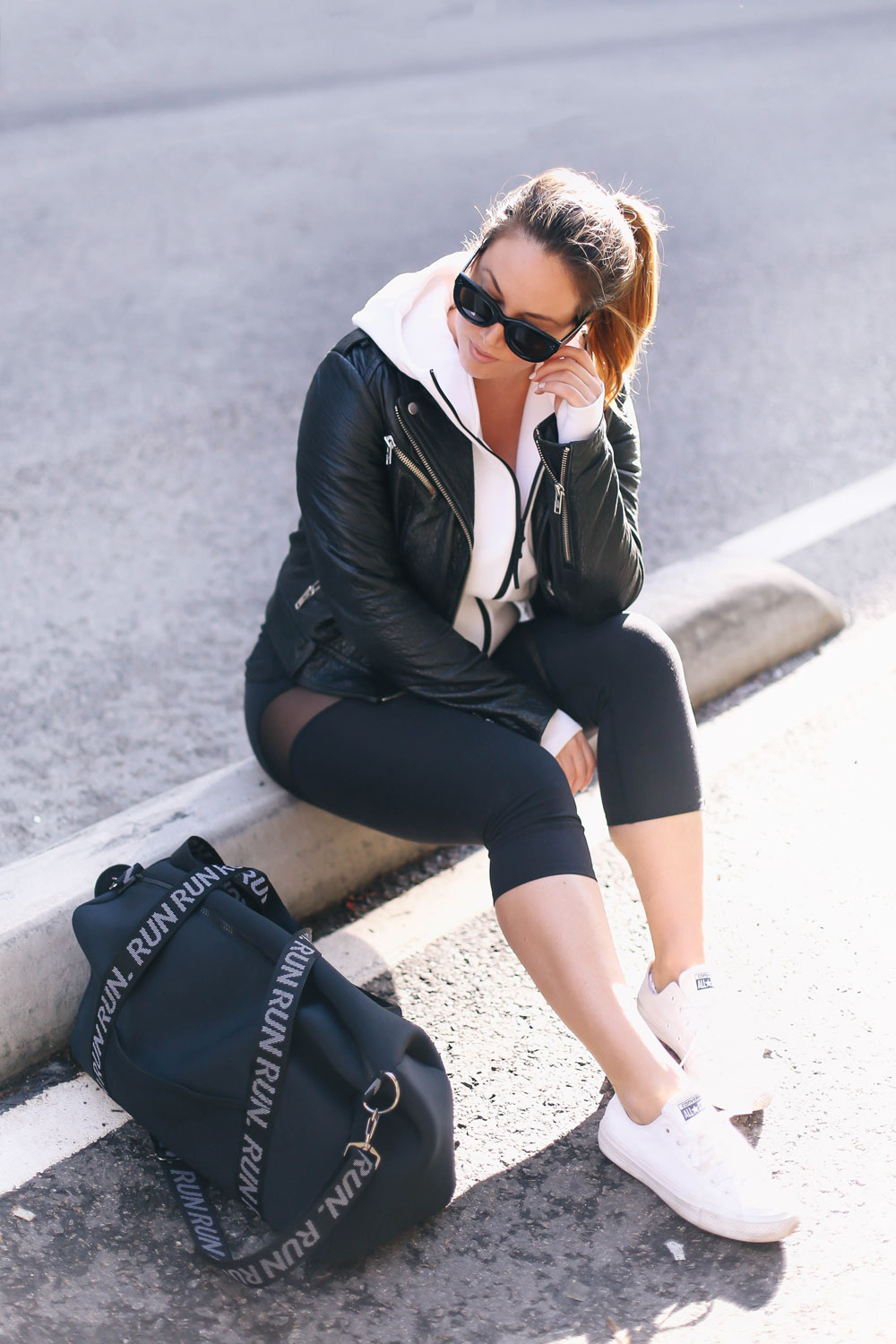 For those of you who follow along on Insta Story, it's probably pretty obvious that I spend a lot of time in my workout gear. Working out is such a huge part of my life but because of my inconsistent schedule, I often have my workouts scattered throughout the day. I might hit up a morning Pilates class, afternoon weightlifting session or mid-day spin class—it's different every day, but the most important thing for me is that I just make it in the gym period. The most surefire way for me to make sure I get there is to not have to lug around a ton of gear. Yes, I'll need my gym bag (and more on how I transition easily into a cute look + my beauty routine in another post!), but by focusing on chic athleisure looks that I can feel confident running errands or working in before my workout is key.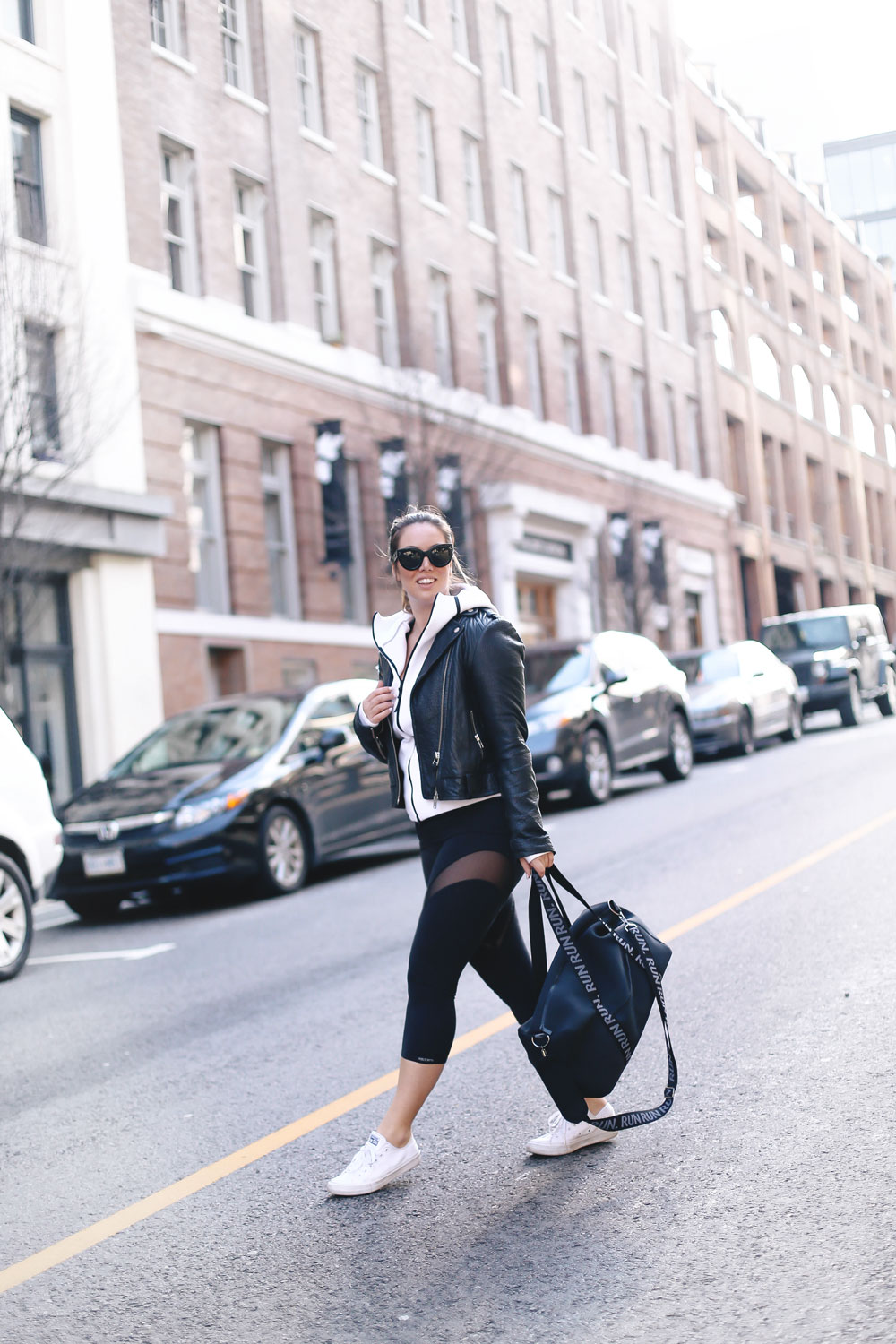 We're so spoilt nowadays with so many amazing, stylish workout wear options (some of my top picks at different price points are in the shopping widget at the bottom of this post!) but it's good to have some go-to brands that you can rely on for quality and flattering cuts. I'm a huge fan of Public Myth's leggings—unlike other brands that can run towards sheer territory, their leggings are really incredible, thick material and I love the panel detailing so many of their leggings feature! Having a killer pair of leggings as the base for whatever look I have is how I typically start each look.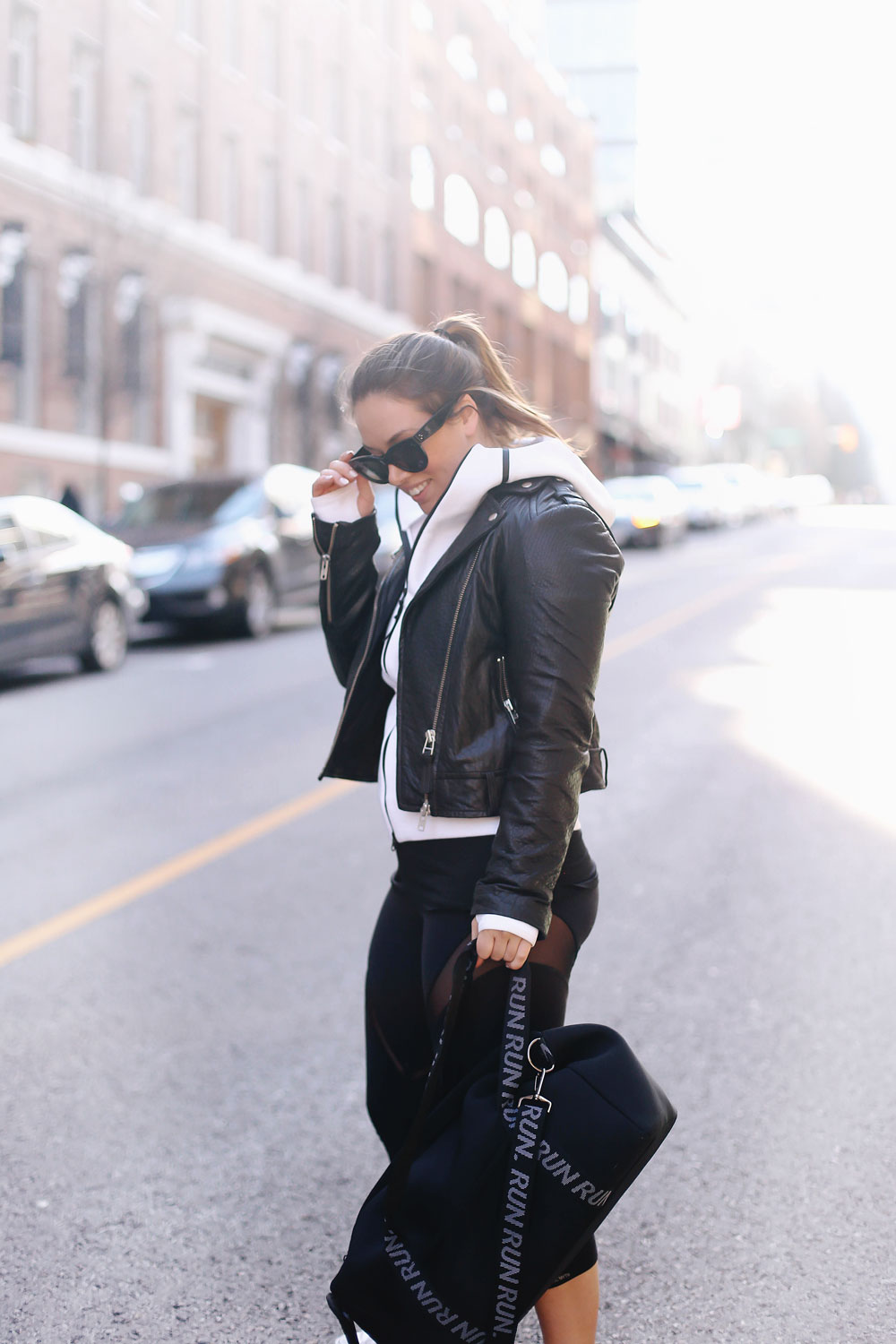 I'm large-chested (30F, ugh my poor back!) so while my sports bras are usually pretty no-nonsense (see this post for a great option!), I'll layer a cute tank and then a chic hoodie. This one from Adidas is my current fave, especially since so much of my gear is black and its white tone really pops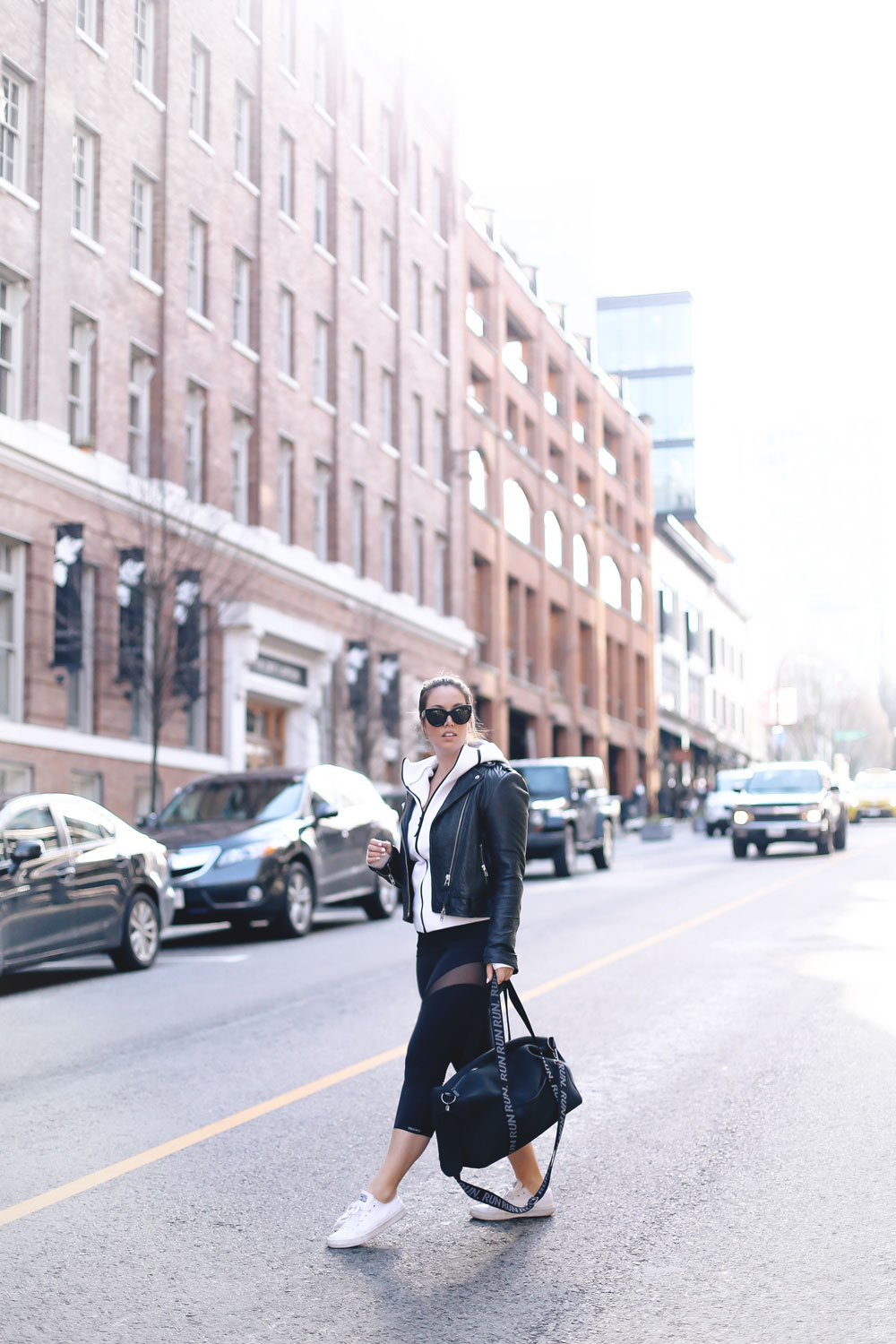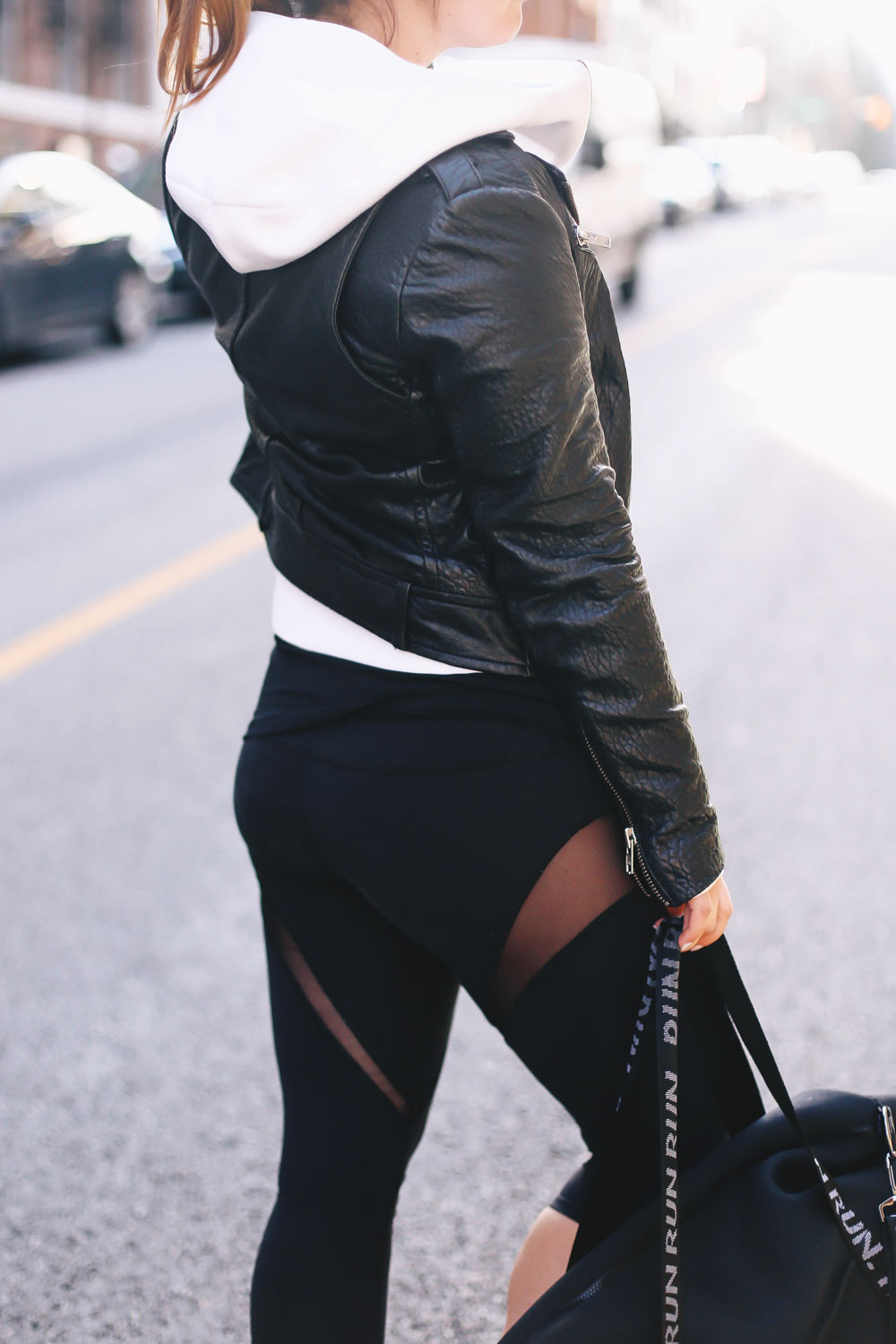 To style up this very performance-focused base, I'll always layer a leather, denim or twill jacket over top—this Mackage jacket is pretty much a perennial fave I wear all the time and really helps edge up whatever I'm wearing. I also keep my runners in my gym bag and usually opt for Converse or New Balance sneakers while I'm running around—it's a super simple switch but it really makes me feel a bit more balanced rather than full-on sporty.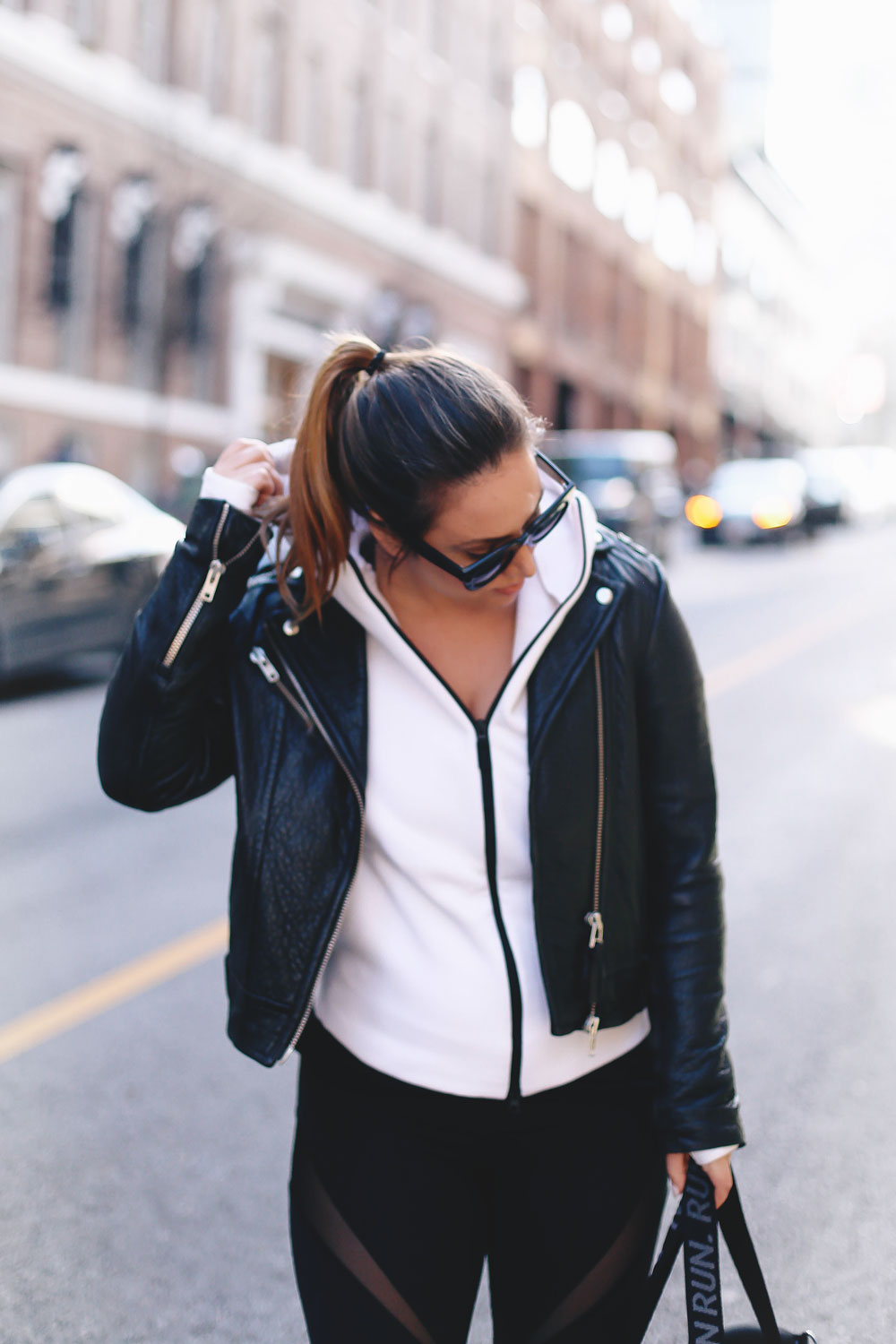 Finally, because I tend to push myself pretty hard I always skip the eye makeup for my sweat sessions, hence the big oversized sunnies. If I'm meeting anyone or have to ditch the shades though (or if it's raining!) then I just make sure I've at least brushed my eyebrows through with a gel and curled my lashes so I look presentable, and make sure I slick on a tinted lip balm! Hair-wise, I've never really been able to keep my fine hair from slipping out of anything other than a ponytail so either go for that sporty chic updo right away or keep it down till I get to the gym!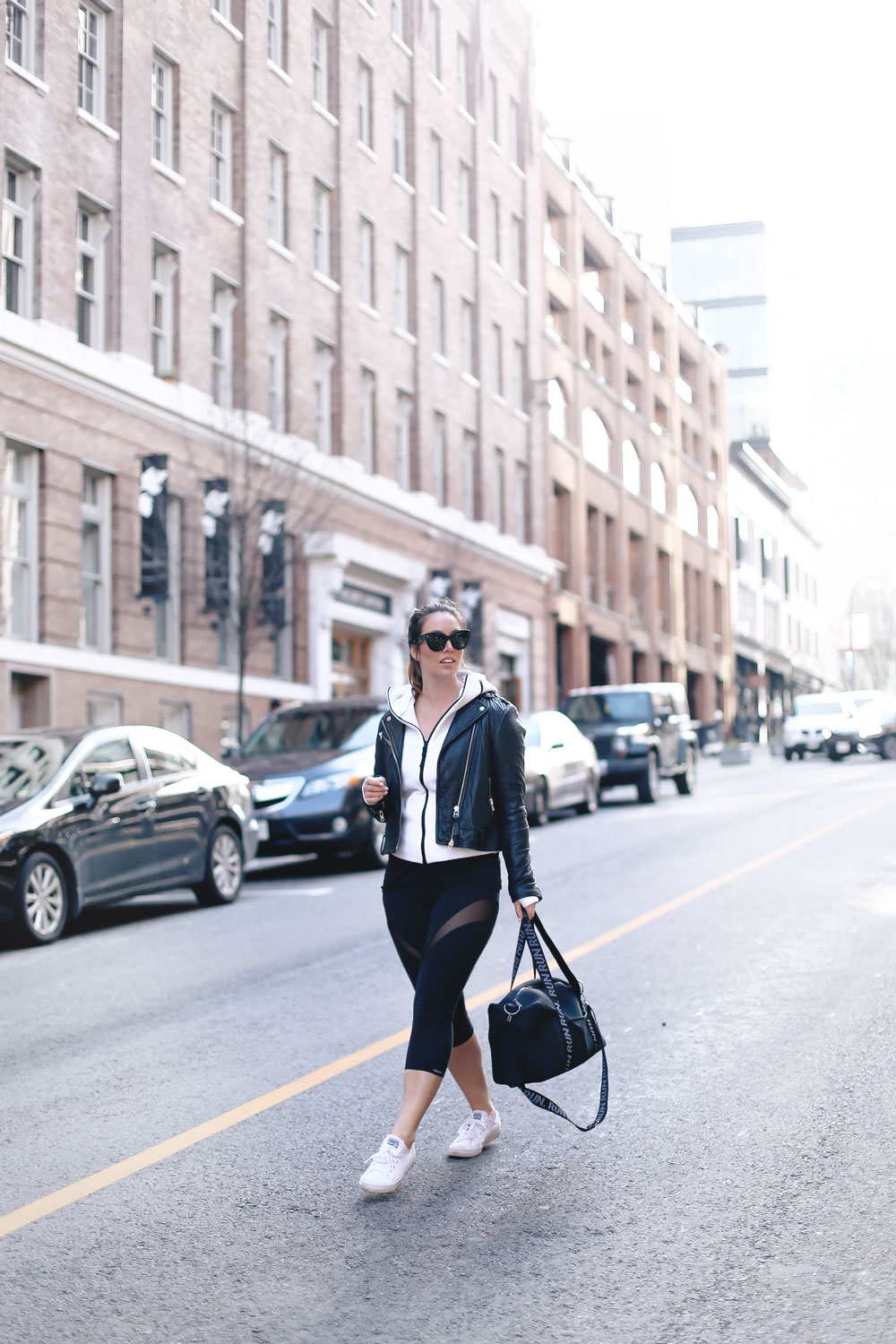 As I mentioned before, stay tuned for my tips for transitioning your style and beauty quickly (and most importantly, easily!) after your workout! Happy hump day guys!
Photos by Alicia Fashionista