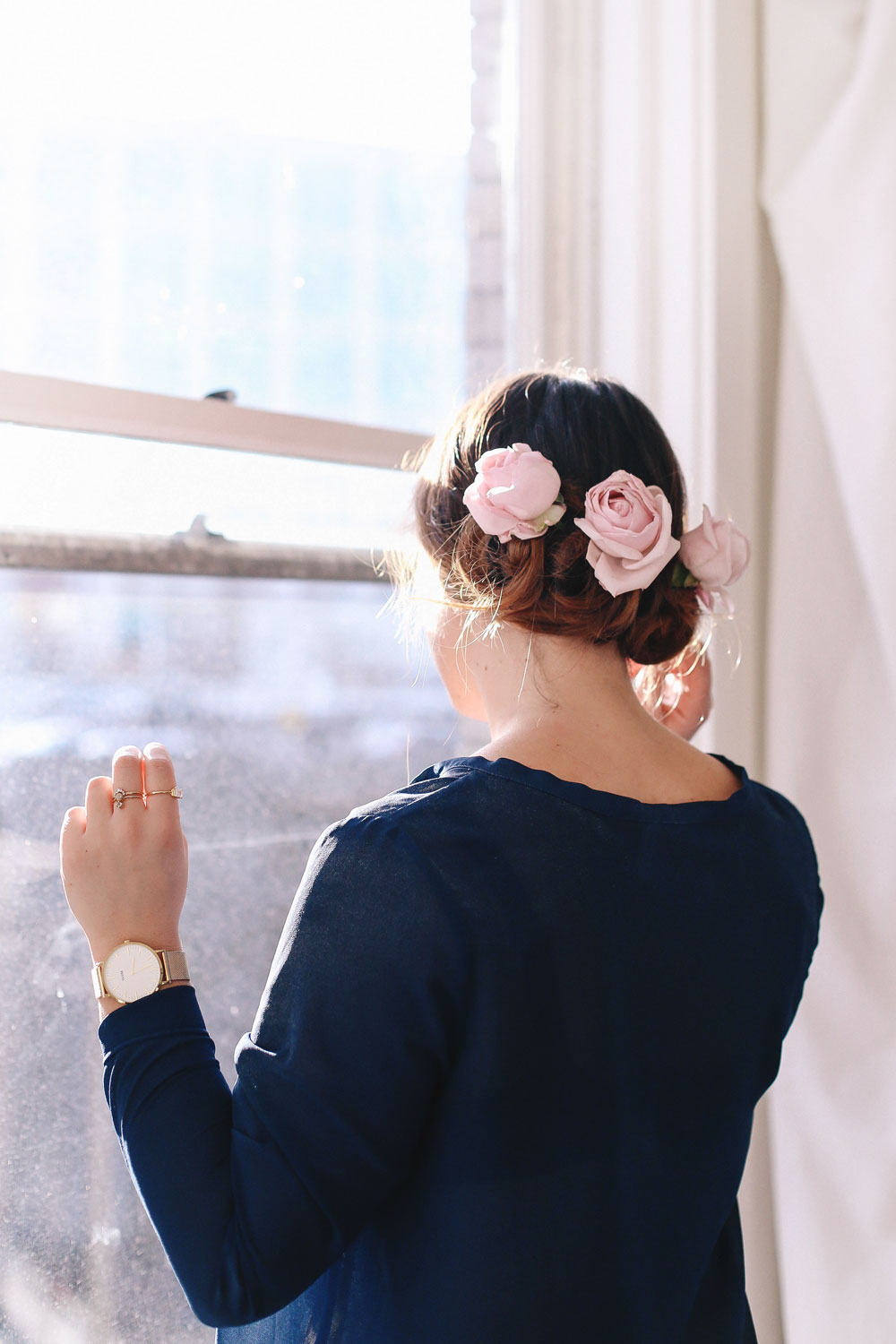 If you've been a reader for some time (or even if you haven't!), it's probably become abundantly clear that I'm driven by a more classic, laid-back style and aesthetic. Sure, I like to turn it out for a big event or special occasion, but otherwise if you're looking for someone who likes to constantly tweak, work at and perfect signature classic looks…I'm your girl!
I've always had this approach to hair as well but there's a fine line between being effortlessly low-key with your tresses and downright boring. I've craved a bit of a shakeup for a while, but quite frankly, because my hair is quite fine and naturally pretty pin straight, I was pretty mystified and overwhelmed by which products I'd need to really elevate my texture and hair health, ensuring I can tackle a bunch of styles.
I've long been a fan of John Frieda products and especially love how seamless the lines are (I've been using the Luxurious Volume line for years!). It's really a collection of products that's tailor-made for people like me: easy-to-use, really effective and super versatile. In other words, they're my hair team for any style I need!
I also love that specific to the Brilliant Brunette Visibly Deeper Collection, it's something I can use on a daily basis to bring out my favourite part of my hair: its natural highlights and lowlights (I've got a lot of red in my hair and actually really love it!), all while toning and adding depth to some old faded colour I have in my hair. I use the shampoo and conditioner most every day (except for these second-day hairs where I give my hair a break!) to gradually deepen hues, which is happily safe to use on natural, colour-treated or highlighted brunette hair (and a nice way to help you lengthen the time between colour treatments, keeping colour damage at bay!). You can see the difference just a couple weeks' use has already done in this before & after shot below!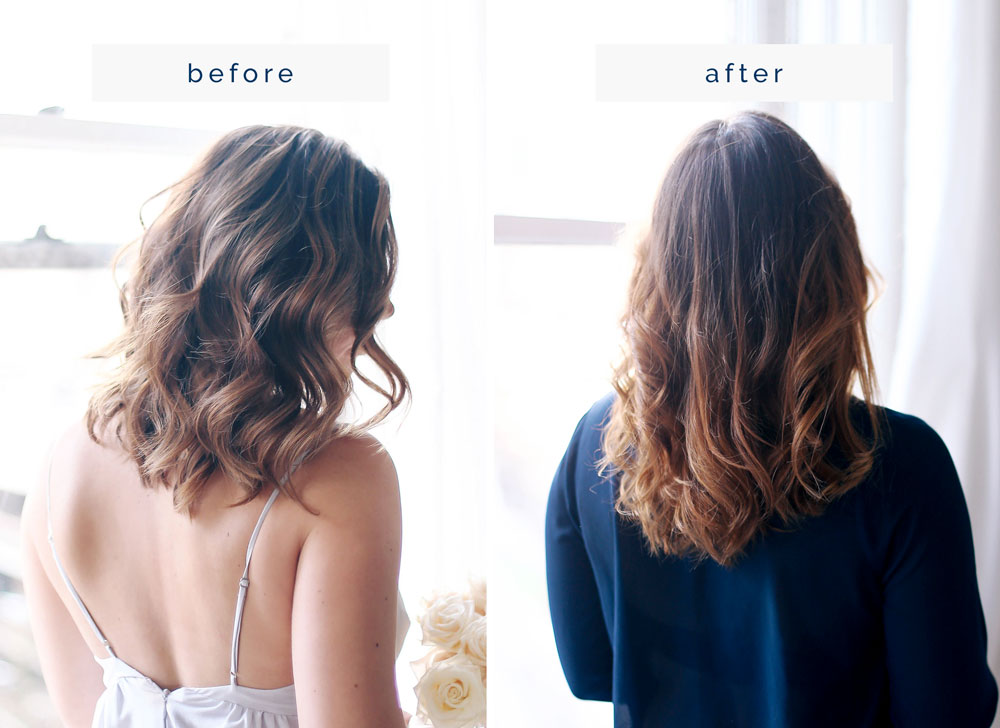 Once or twice a week I've also been using the genius Colour Deepening Treatment, which deepens and enriches brunette colour in-shower in just 5 minutes (though you can leave it on for 10 to add even more colour!)—it provides a semi-permanent tone and conditions, so a serious double-duty product! You can see immediate changes with this product—love that it provides that instant colour boost without the commitment (or damage) of a permanent colour treatment.
So without further ado, I'm kicking off a series of 3 second-day hairstyles that will show off your beautiful colour and best of all, they're all styles that despite what appearances might suggest, are so easy to do and really quick!
We're going to kick off today with one that's really easy to elevate for a special occasion (any excuse to wear flowers in my hair, really): The Quadruple Knot!
What you need: John Frieda Luxurious Volume Dry Shampoo, Frizz Ease Secret Weapon Touch-Up Crème and use in-shower the John Frieda Brilliant Brunette Visibly Deeper Collection (if you're a brunette of course, there are other lines for blondes and redheads!), curling iron/flat iron, brush, bobby pins, clear elastic bands and flowers (if creating floral accent!)
Steps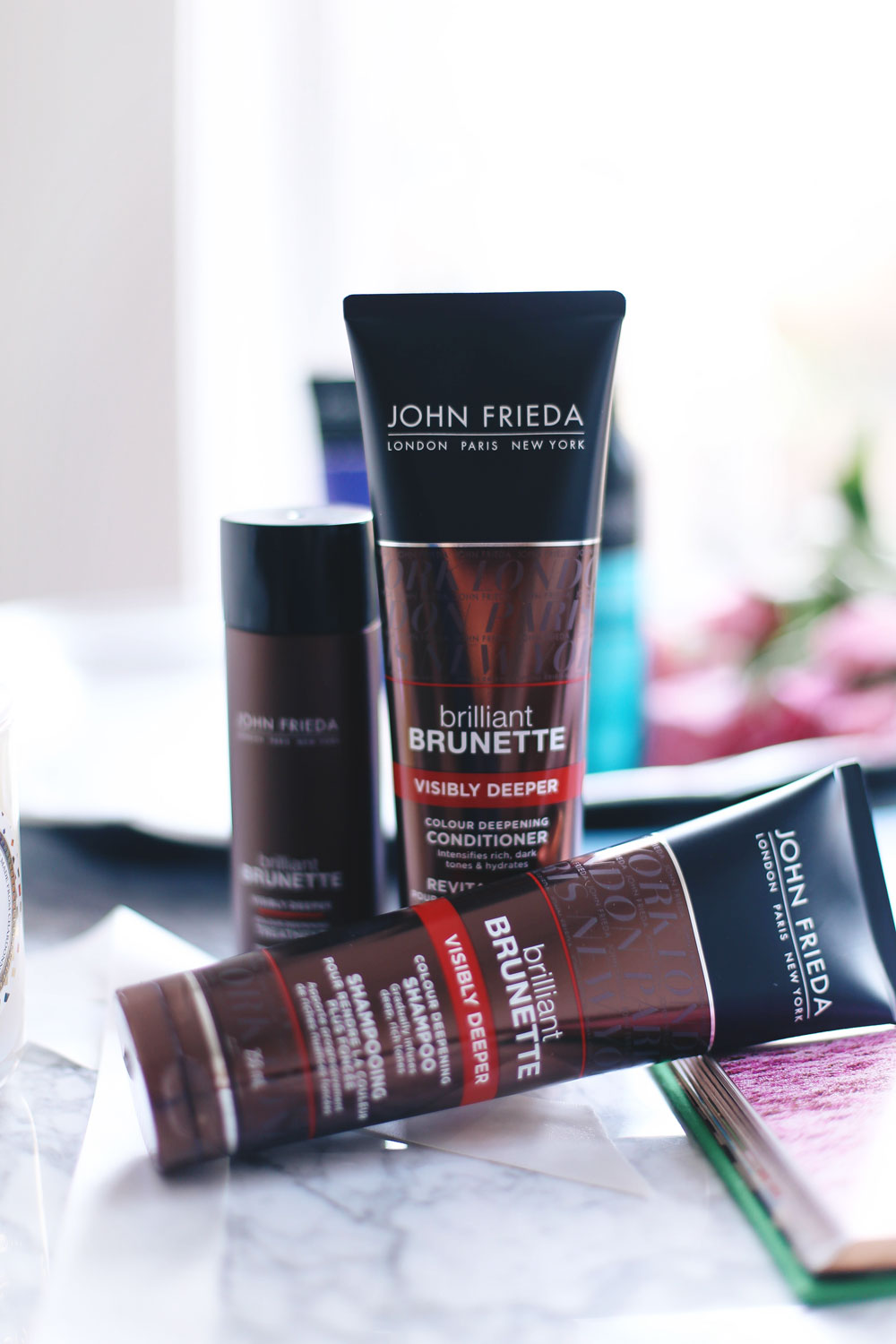 I bring out those natural brunette tones and highlights in my hair with daily use of the Brilliant Brunette Visibly Deeper Shampoo & Conditioner and also treated my hair with the Colour Deepening Treatment the day before to really elevate and enrich my tone.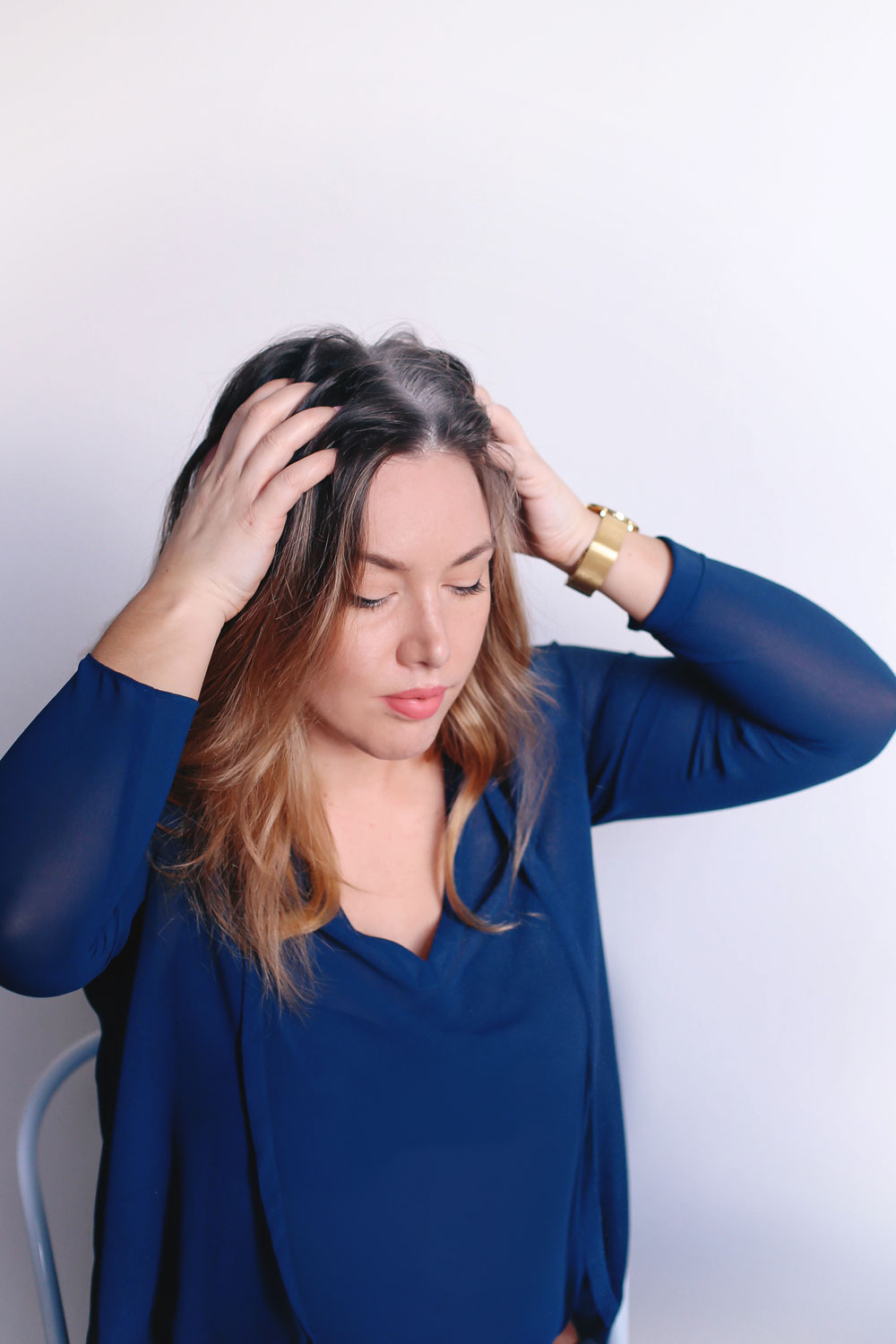 Working on dry, second-day hair, refresh your hair with the dry shampoo at the roots, massage in well and then brush through hair.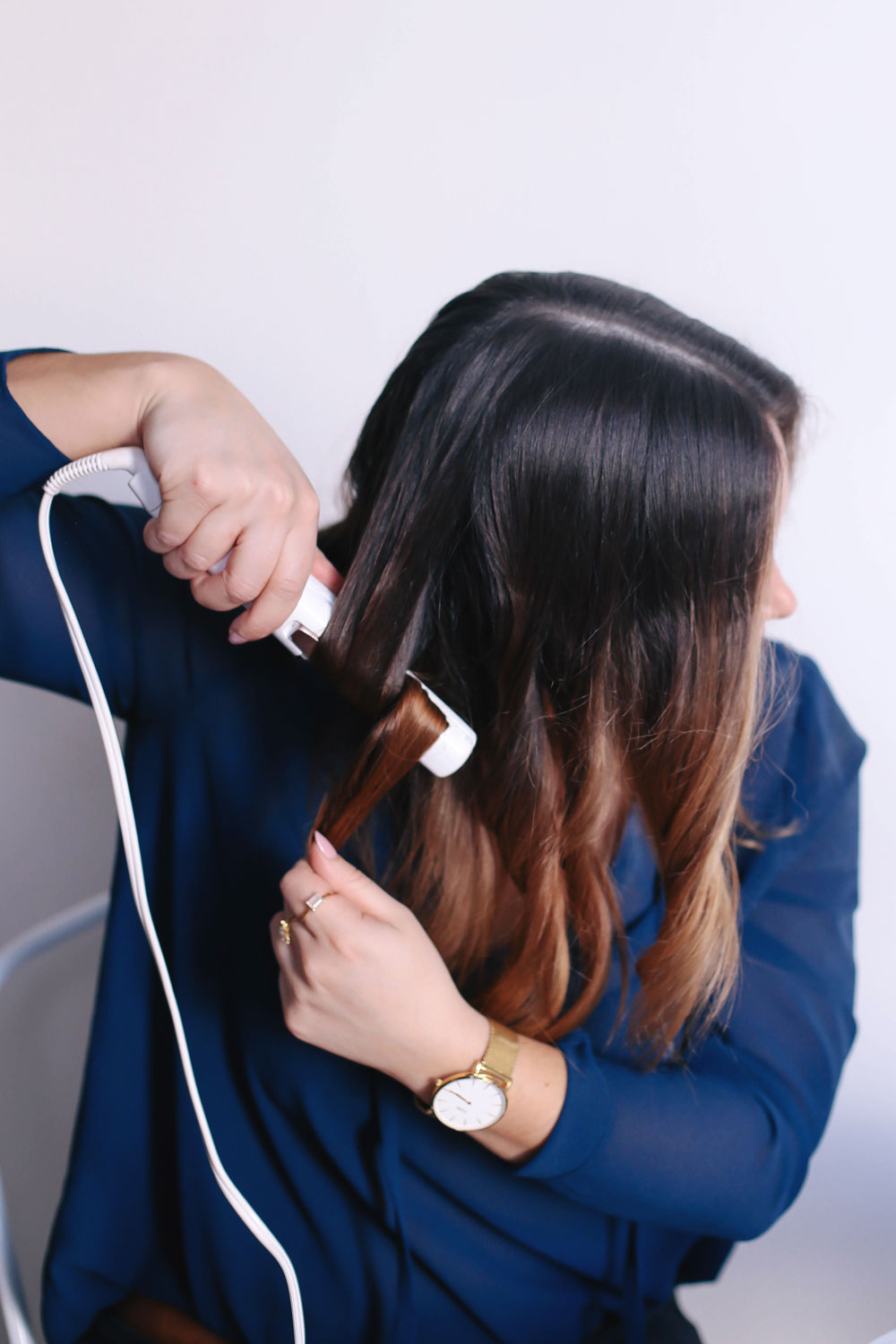 Add some quick curls to your hair (can be done quite roughly, just to add texture!).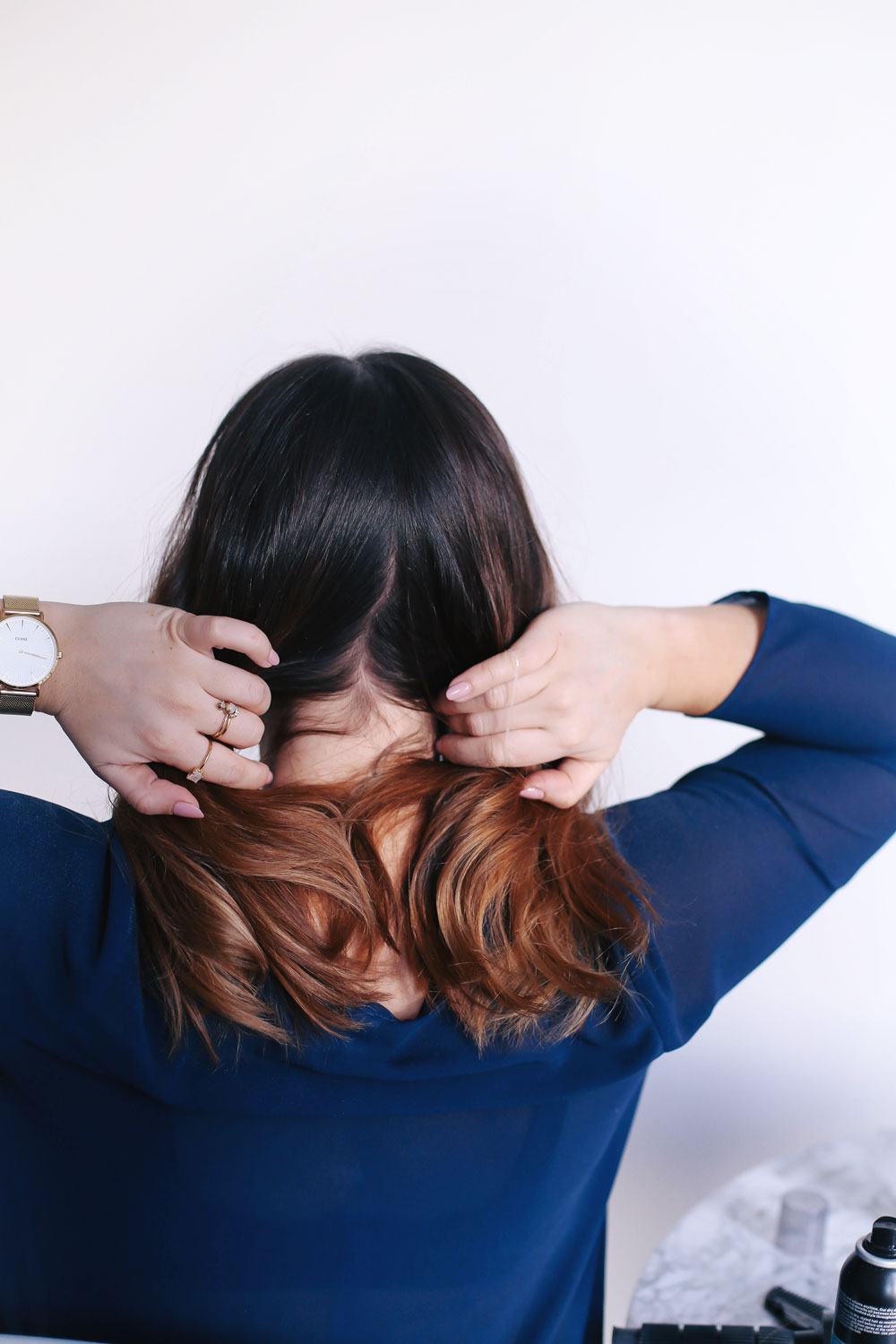 Split your hair in half at the nape of your neck.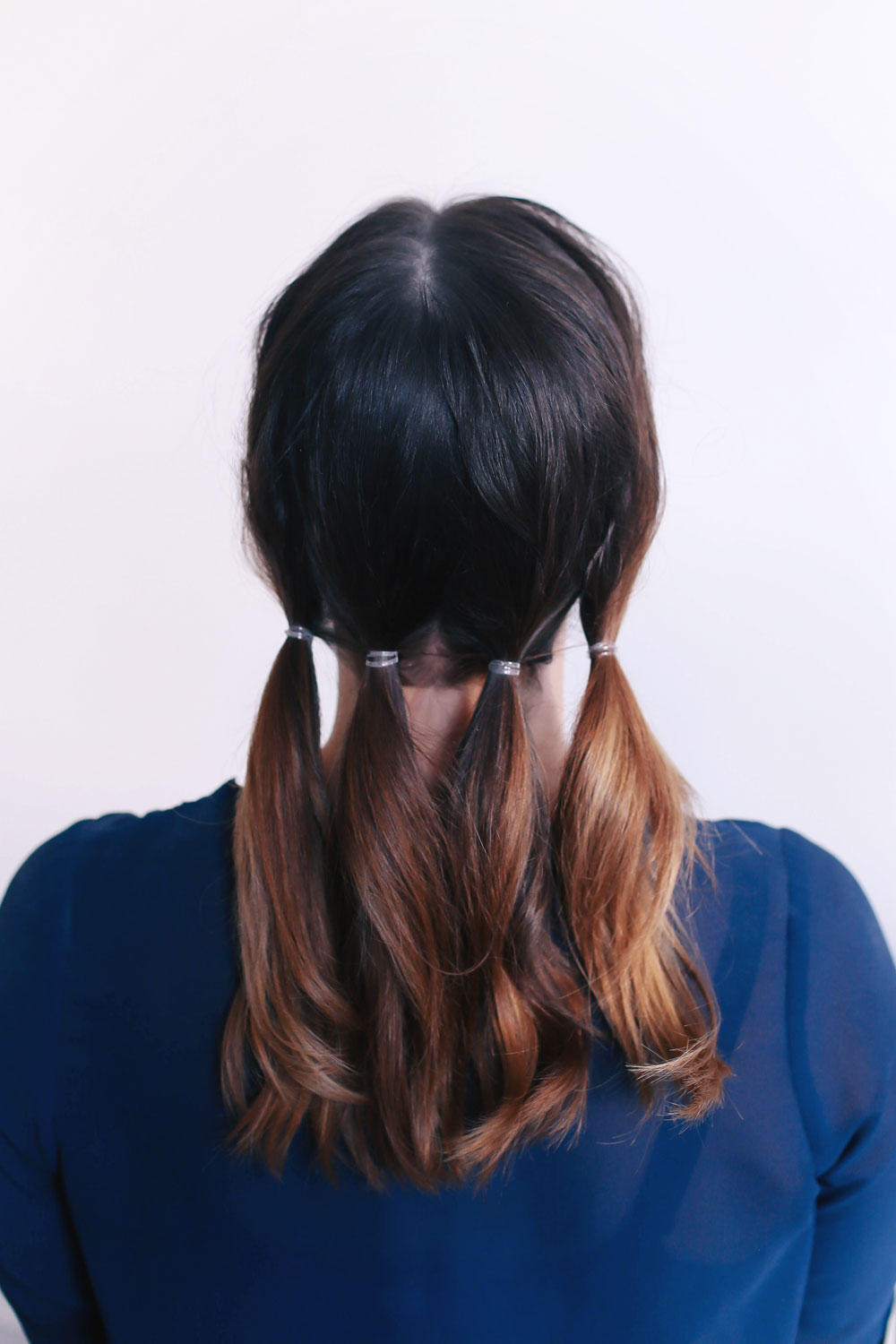 Divide these halves into two smaller sections (total: 4), and secure each mini ponytail at the base with a clear elastic band.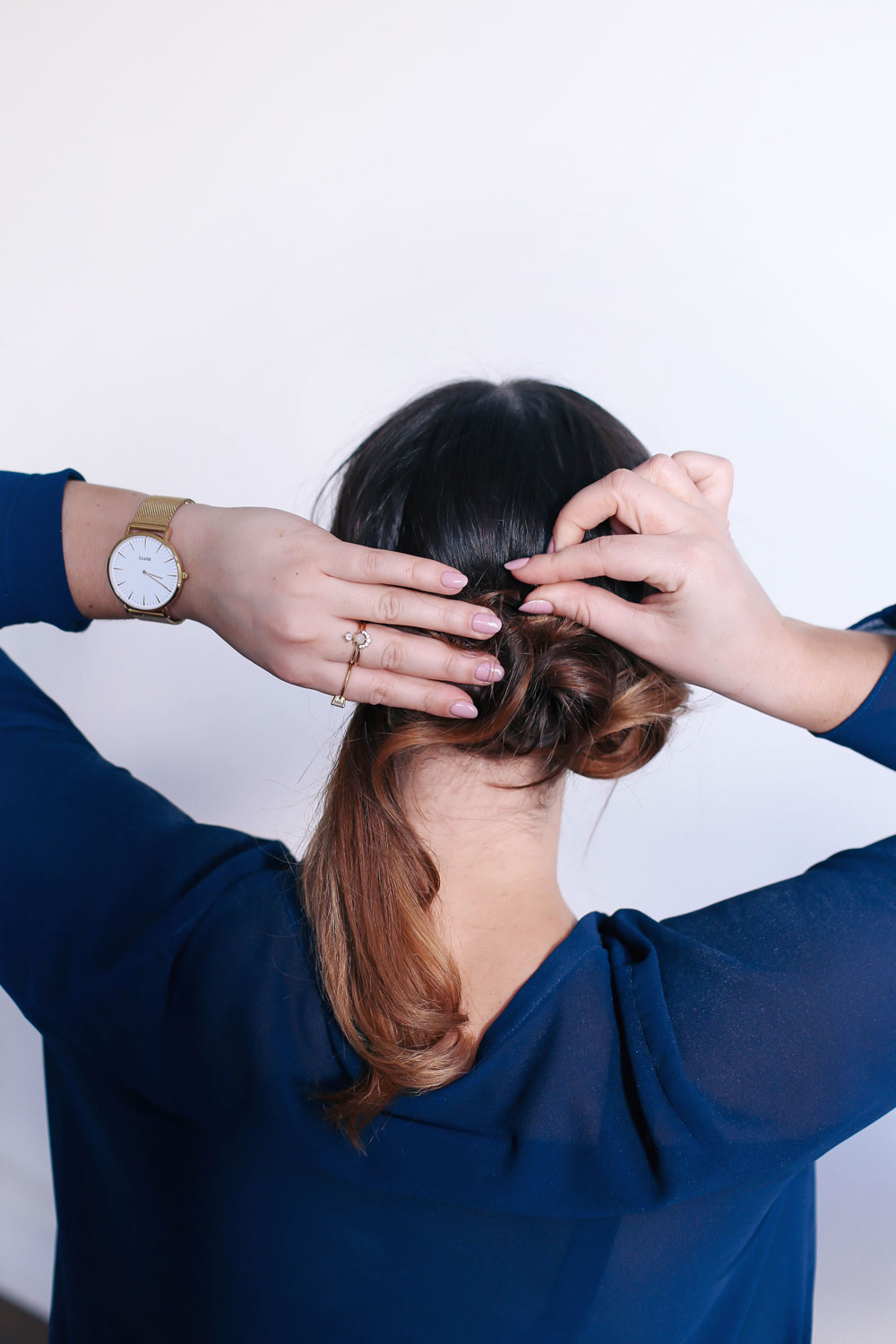 Create loose knots around each ponytail base, criss-crossing bobby pins to secure (it's fine if pieces stick out!).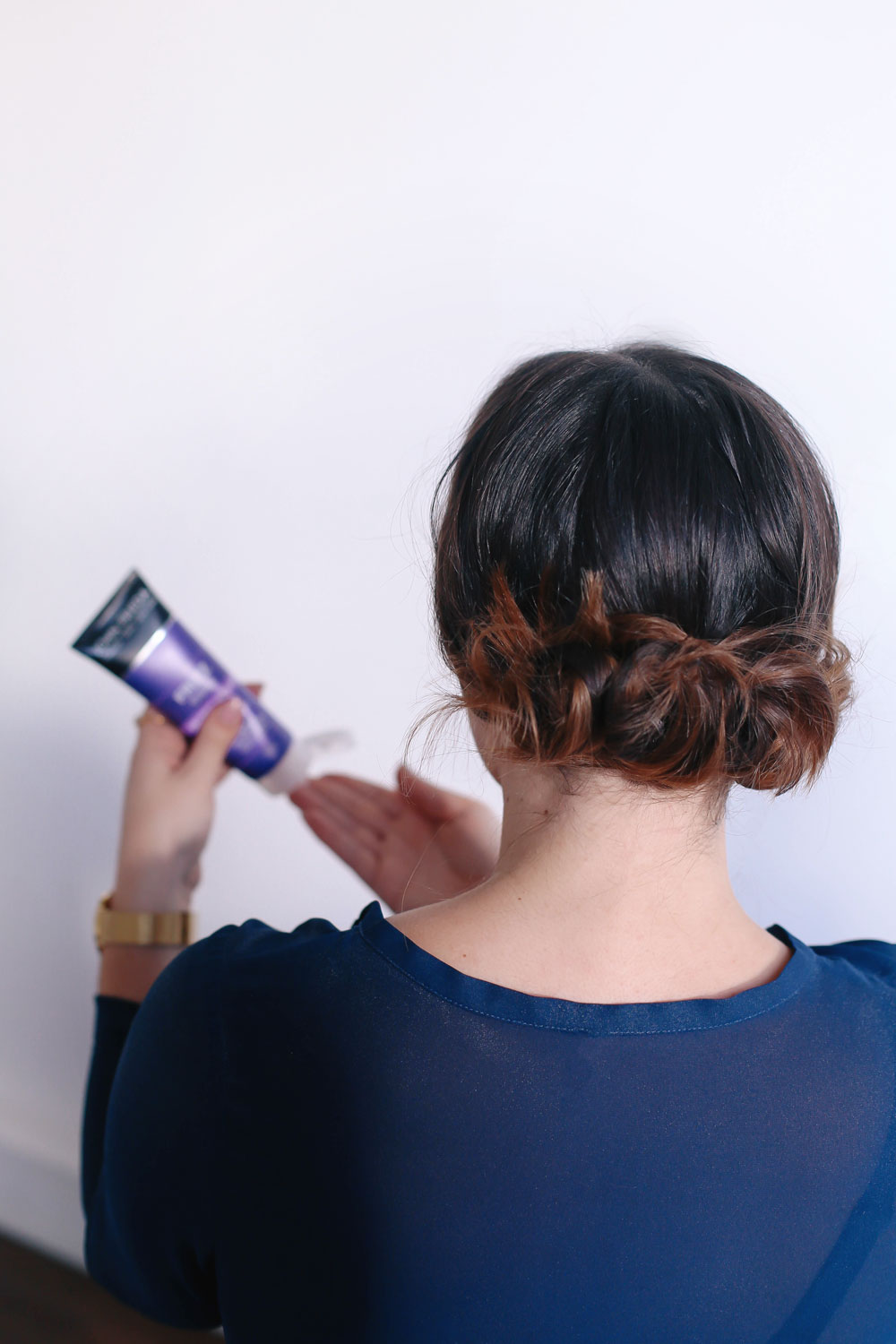 Use Touch-Up Crème to smooth more errant fly-aways.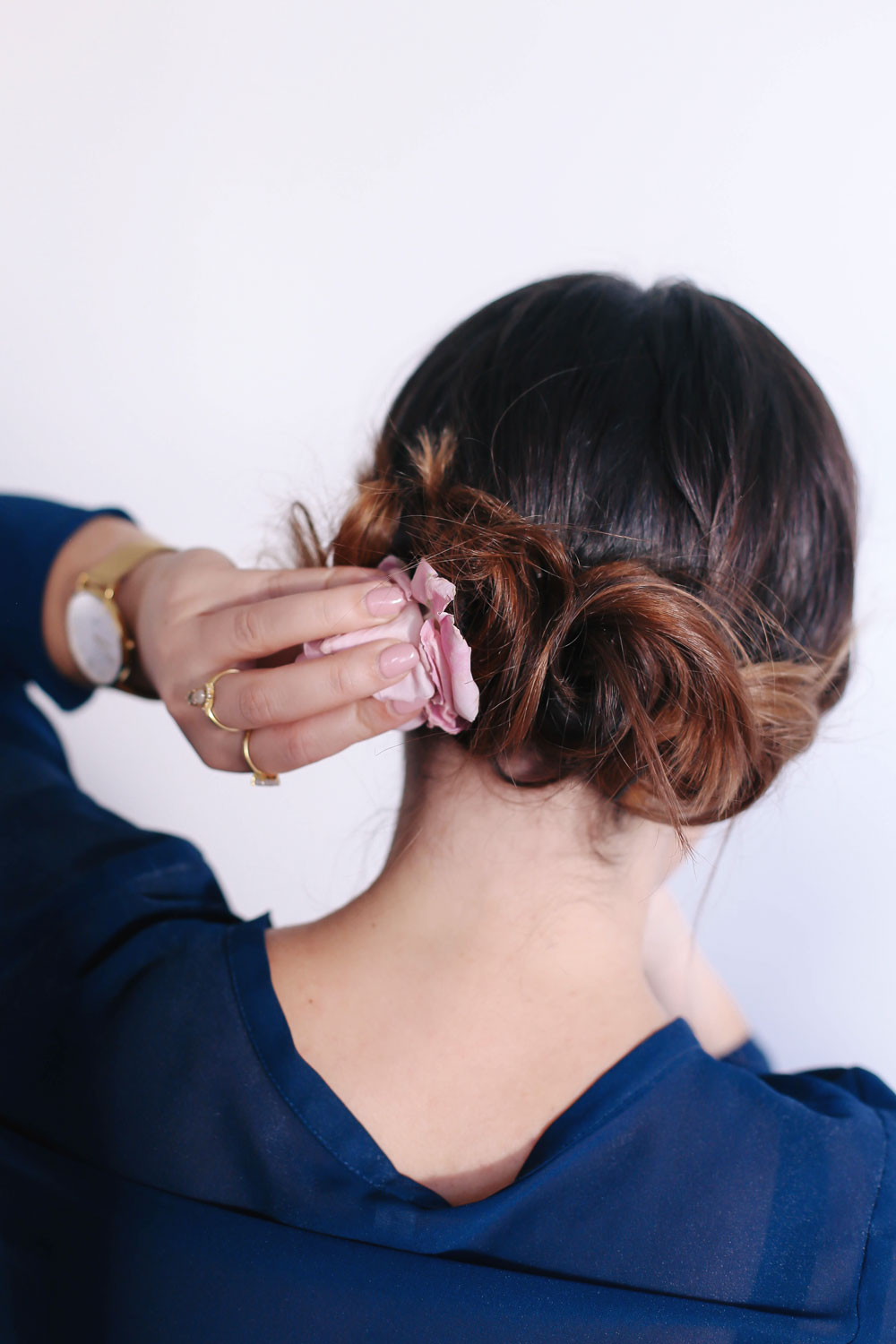 If adding flowers (I suggest roses or sprigs of baby breath!), place 3 in between knots and secure in place with bobby pins.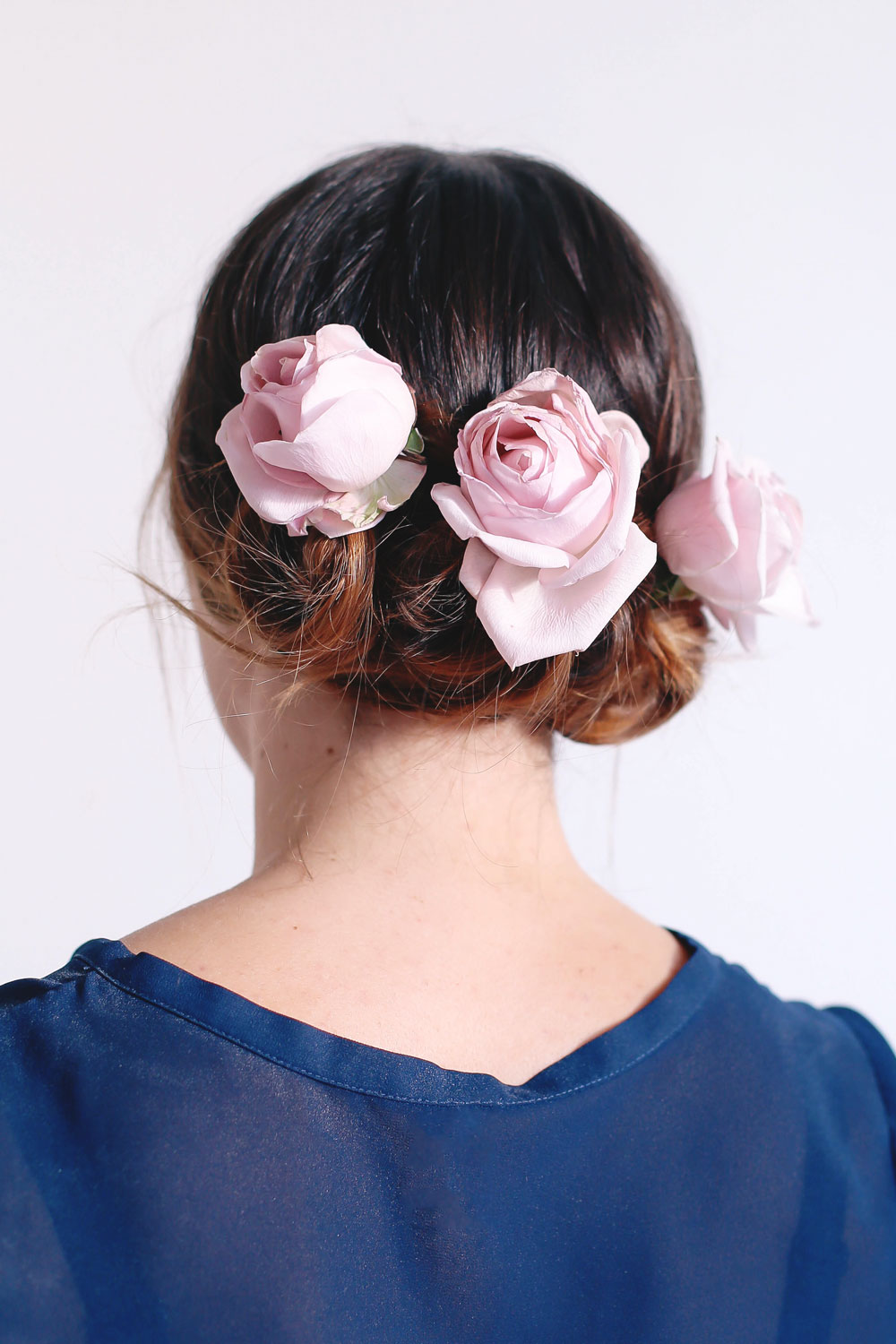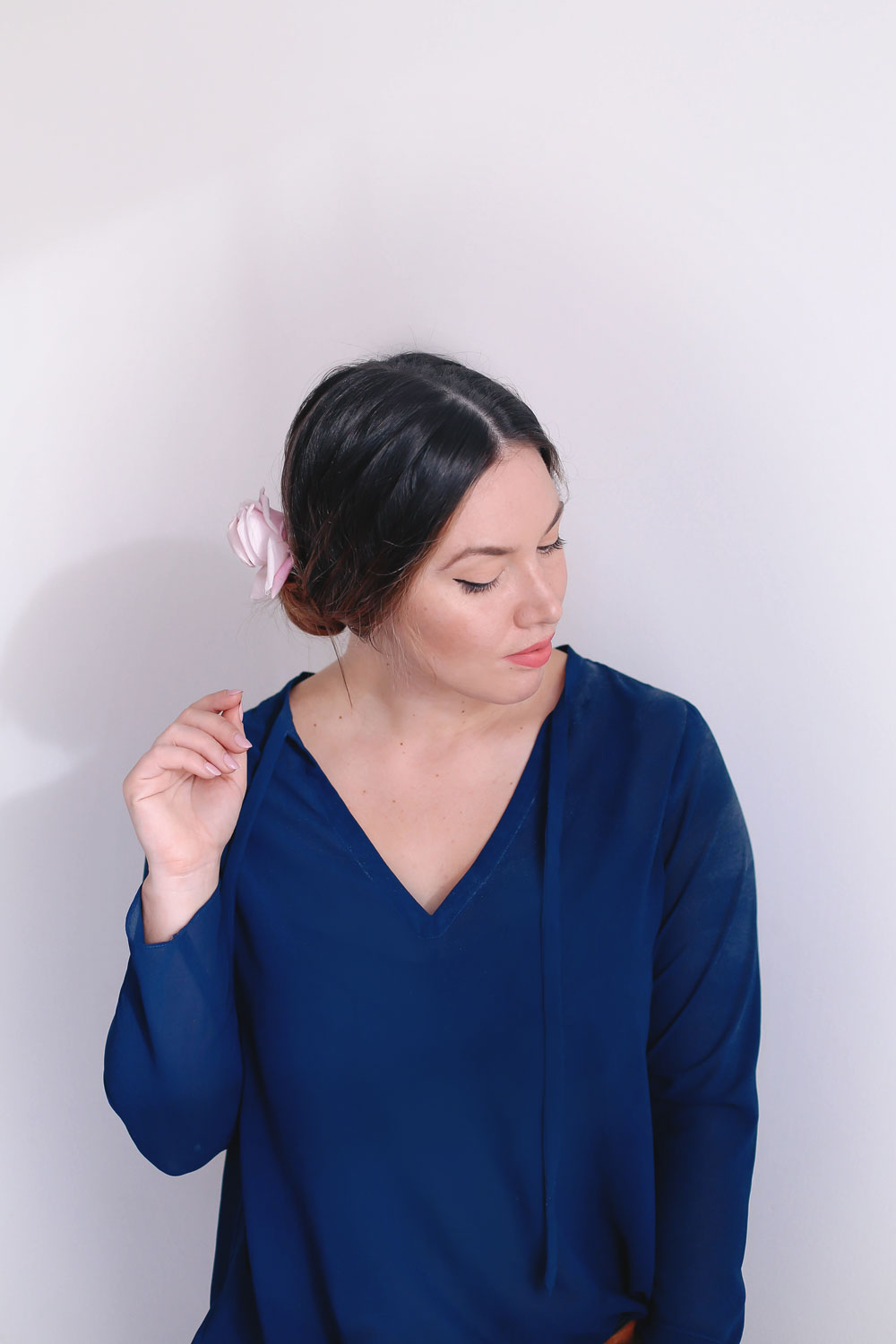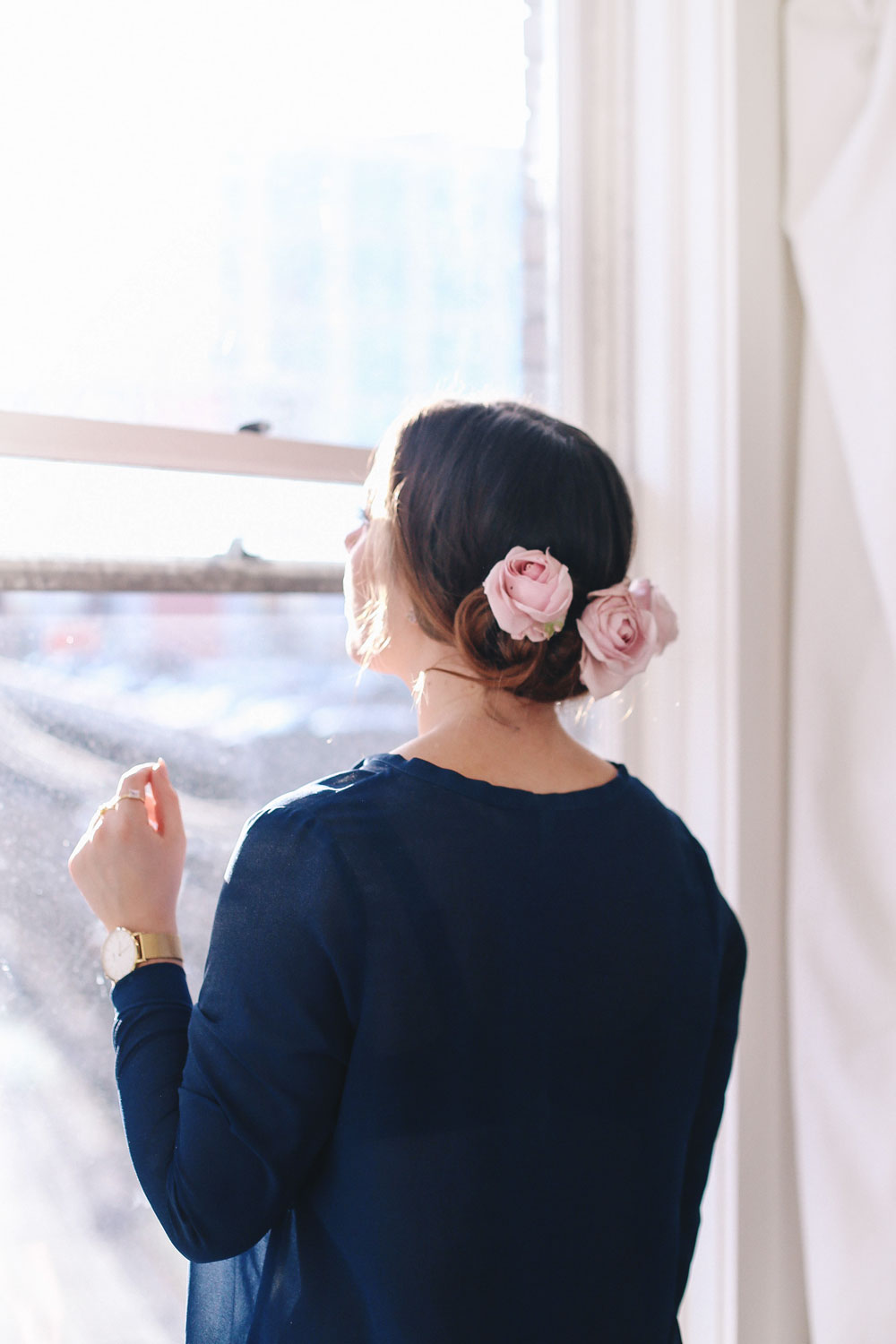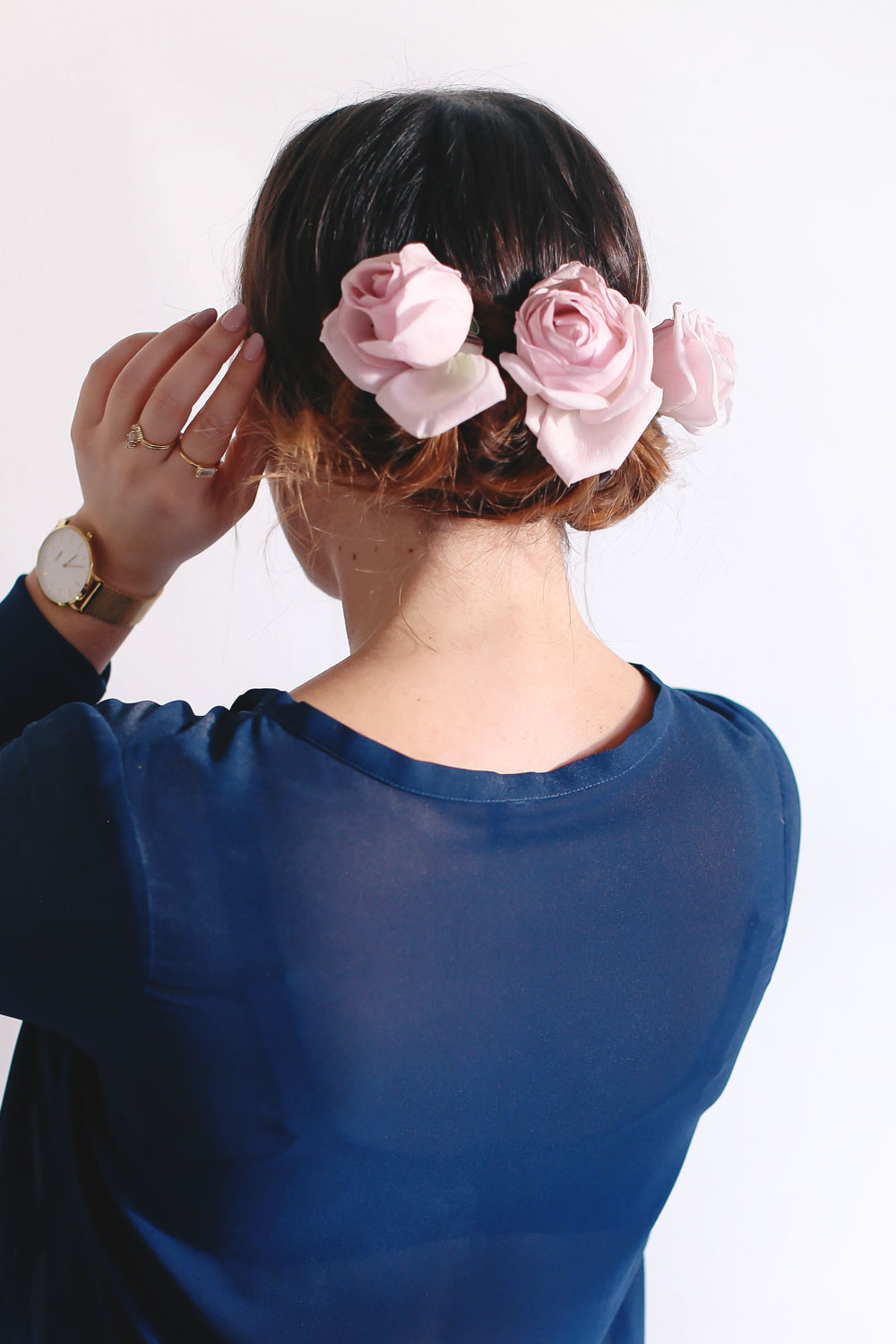 Up next we have a beyond-easy knot that will really show off the natural (or colour-treated!) highlights/lowlights in your hair and a half-up crown that I am truly obsessed with – stay tuned!
This post was created in partnership with the John Frieda hair care team but all opinions are my own.
Photos by Alicia Fashionista