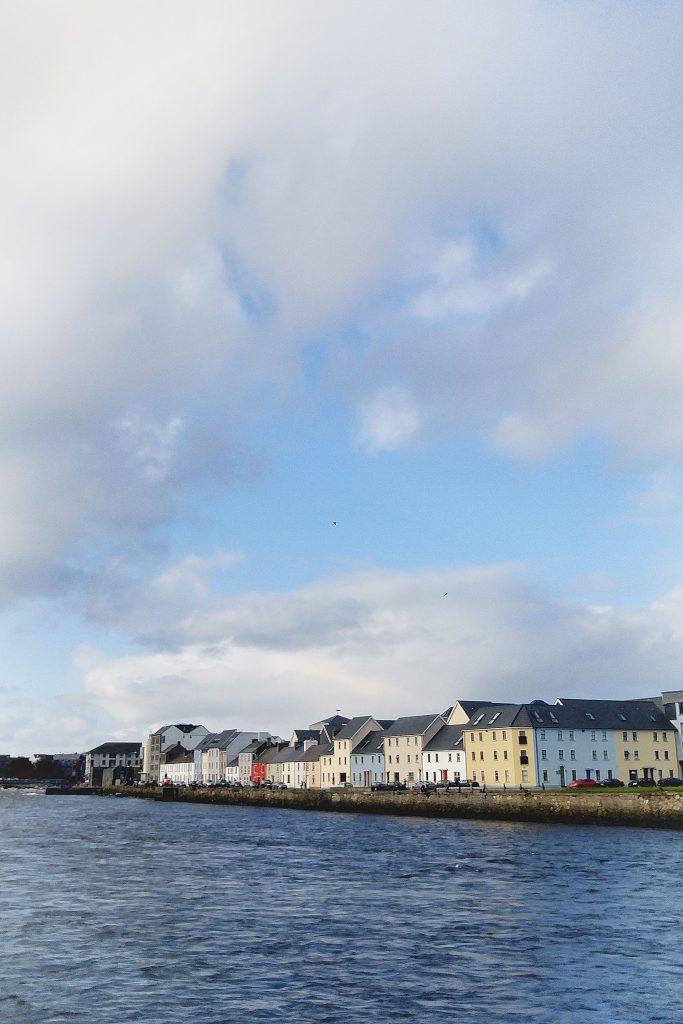 As you guys know if you've read this, this or this post, Ireland is my absolute favourite place in the world. That's a bold statement, but I have a lot of love to back it up. People always ask me what it is I love so much about it there—definitely, there's amazing history, the views are beyond (especially if you're into that whole rugged coastline or rolling green hills thing) and there's so much to do and see, but at the end of the day, as the Irish themselves would say it's the craic. I honestly just have the best time every single time I go—I haven't had a single trip where my glowing regard of this beautiful little nation and its incredible citizens has swayed in the least.
I was so excited to return again (my 4th or 5th time maybe…it's getting weird) to reunite with one of my best friends Amanda (aka Manda, aka Mandiddles, aka Docta Kaye), and to bring along Alicia this time around as well. It was Alicia's first time and while my crazy over-the-top praise of Ireland could've potentially set her up for disappointment if she didn't fall super in love with it too, if you can tell by her post today, she totally fell for it too.
Give this video a watch below to see the whole adventure and then read on to discover more!
First of all, I have to give a big thank you to our hotel partners throughout our Ireland adventures—the stunning, modern The Gibson Hotel in Dublin, the cozy luxury of The Twelve Hotel in Galway and the beautiful Clarion in Cork.
DUBLIN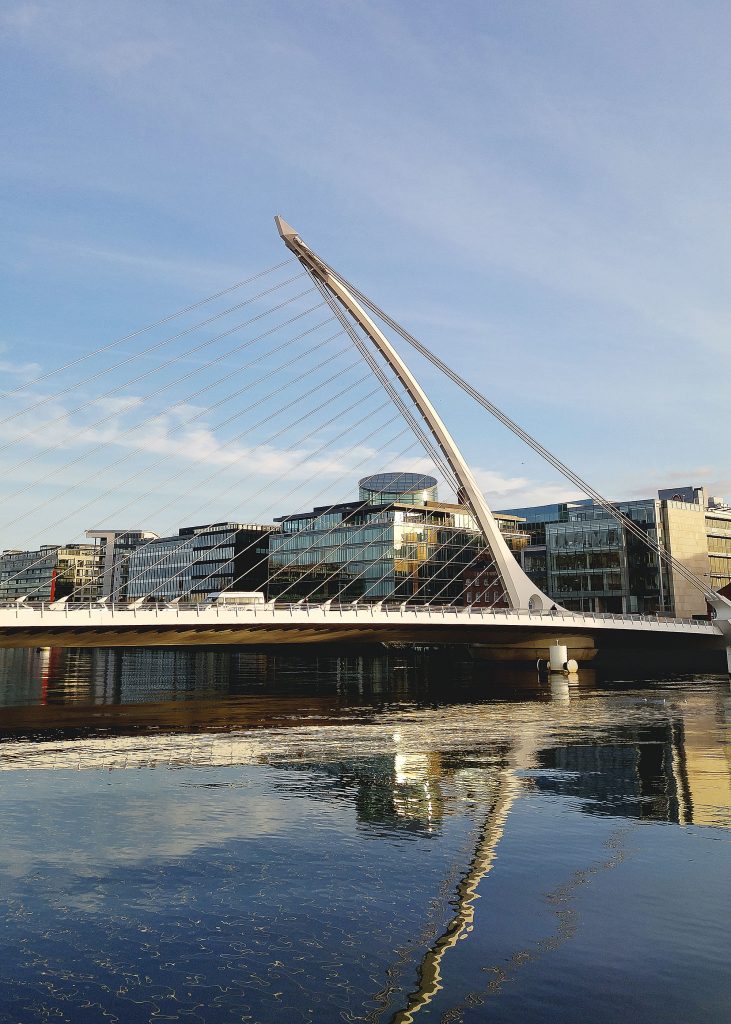 We started in Dublin, landing early in the morning from London. I've become pretty familiar with the lovely Dublin airport so we beelined it straight for the bus, which conveniently stops right next to The Gibson. I was expecting a beautiful space from the pictures on their website but when we stepped in the front doors, we both had to catch our breath (partially from booking it across the street, partially from the sheer beauty of our space). This modern, glass building stretched straight up multiple storeys high, and we were floored by the incredible light, the attention to detail at each level and the warmth of the staff.
We had just a couple of days in Dublin and we really made sure those two days were packed full. First, we were reunited with my bad ass doctor BF Amanda who I've had the chance to travel around Ireland with now multiple times—she's honestly the best travel partner and we're both super similar with our travel approach (eat a ton, drink a lot of beer, see as much as we can, laugh a bunch and that pretty much makes for the best trip every time). Her and Alicia hit it off right away—both are so agreeable and friendly I wasn't concerned about them getting along, but it was so nice to have a tight AAA group develop right off the bat (GET IT…Alex, Amanda, Alicia!). We proceeded to see everything from the Natural History Museum (you get to see the actual bog men remains which is kind of cool in a creepy way, especially the Conan O'Brien lookalike) to the Long Room at Trinity College, we returned to the VCC (my fave for a cocktail), we stopped by the Italian quarter of town for some incredible pasta and then topped it all off by somehow partying alongside Gaz of Geordie Shore who seems to be a big thing across the pond. He seemed okay but he had a particularly lame, tall, gangly friend who kept doing a "LET THE BASS DROP" combo of slamming his palms down on the banister, grabbing two drinks in his hand and then towering over the dance floor on the floor below in a Jesus looking down on Rio de Janeiro fashion. It was both terrifying and hilarious to watch so we just kept watching and openly making fun of him.
We then proceeded to take the train feeling less than amazing (see my coat mask in a pinch trick in the video above to my favourite…Galway!).
GALWAY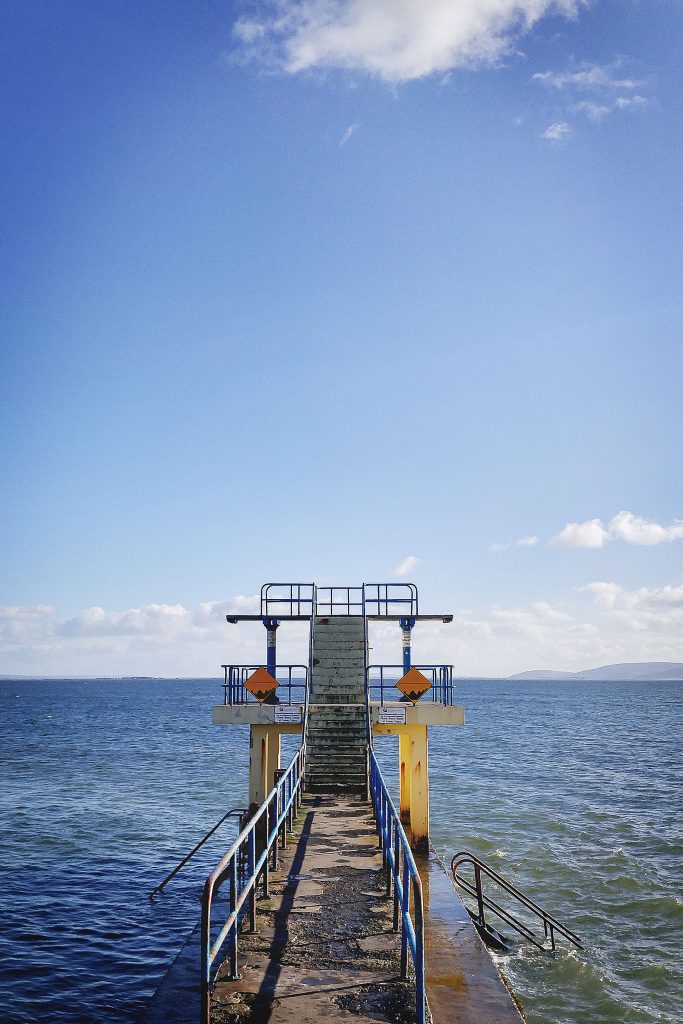 Galway is my favourite city in Ireland out of the ones I've visited so far, with Cork as a close second. It kind of reminds me of home here on the West Coast in a weird way (maybe that "weird way" is because it's a. on the coast and b. on the west side of the country) but it's also got such a rich and beautiful history, from the former fishing village Claddagh (now an area of Galway) where the famous Claddagh ring comes from, to the beautiful fishing heritage the area has (keep an eye out for hookers of the boat variety, stunning sailboats unique to the area) and just south in County Clare, the beautiful Burren, which is one of the most beautiful places you can ever visit (but more on that in a moment).
We were instantly greeted by the amazing team at The Twelve Hotel when we arrived with an incredible pizza making class—they have a pizza oven right in their restaurant and after our trip via train in the morning, getting to prep our pizza and devour it right away was not only exactly what we needed, but a really fun experience too. I love the stunning little town The Twelve Hotel was in, just a 10-15 minute cab ride from city centre in Galway. We started by taking a cab to the end of the Salthill Prom by the famous Salthill Diving Board (bucket list goal: jump off of here into Galway Bay, something the locals do apparently year round because every time I visit, regardless of the month someone's swimming in there). We gave the wall at the end of the Prom a quick kick and then Dave (Amanda's Irish boyfriend who is legitimately da bomb [and kills it on the blogger posing front]) showed up. After giving the lovers a half second to reunite (which mostly involved me Snapchatting creepy shots of their love to our BFF group because I really like to creep hard), the foursome continued on down into town.
We proceeded to have two of my favourite days from the whole London-Ireland trip, from eating some fantastic food (had to return to Kai and Ard Bia at Nimmo's, two of my favourites!) to getting incredible sunshine for two days straight, it was beyond amazing.
THE BURREN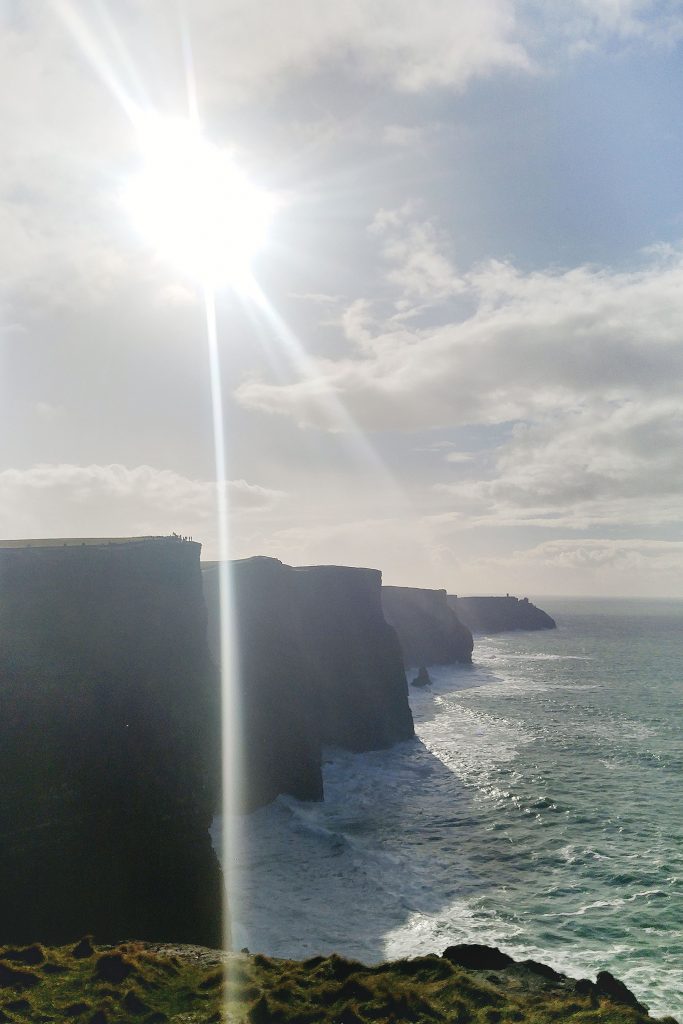 Amanda used to have this trusty little car called Skye but sold it earlier this year so this time around, we wanted to discover the country with different tour groups. I thought it'd be hard to top off my first trip to the Burren in Skye with Manda and while that first time around was so special, we really had an amazing experience with Galway Tour Company. We had the best driver who gave us so much incredible information (key for a history nerd for me) and stopped a ton so we could really discover the Burren. Of course, the big attraction is the Cliffs of Moher. It was pouring rain when we were driving up there and I started panicking that Alicia's first Cliffs experience would be too overcast to see them. Fortunately, like magic the skies opened up and we got to see the Cliffs in all their glory, sun rays slanting through the mist. It was seriously one of those special moments that etch themselves into your memory—the sheer beauty of this wonder of the world. Even if you are driving around Ireland if you travel there, I would seriously recommend Galway Tour Company! Such a solid experience.
CORK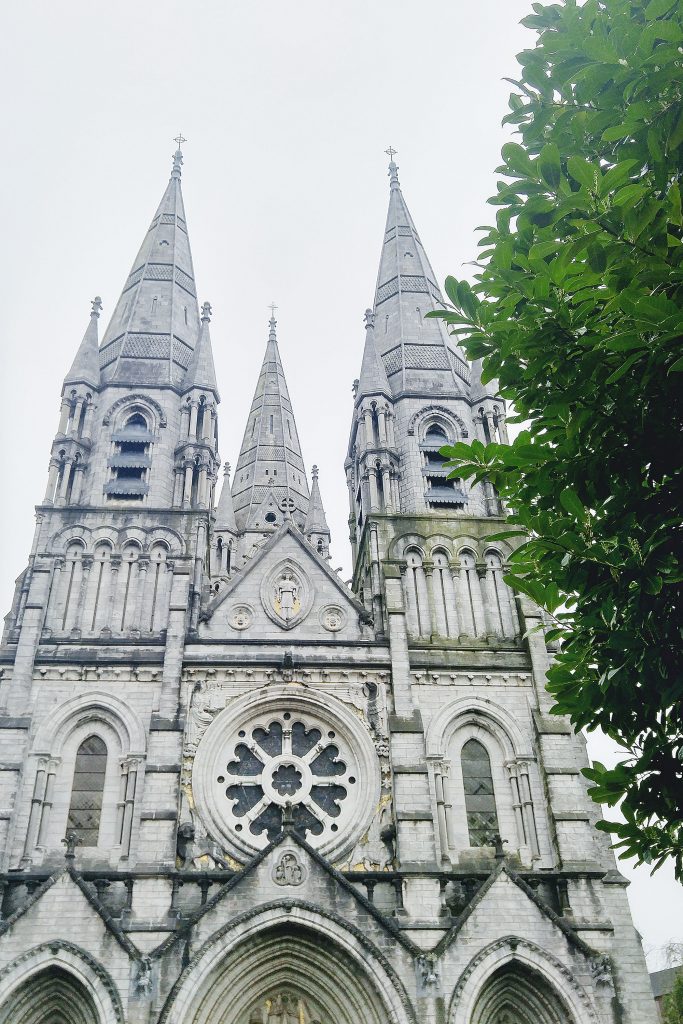 We were so sad to say goodbye to Galway and to our new friends at The Twelve Hotel but I was super excited to also return to Cork, where Amanda & Dave used to live (those yokels are now in Dublin). I love love love Cork. It reminds me of Victoria, where I went to university, and similarly it is also a university town but one with some serious history, some incredible food and a whole lot of churches. It's also a great jumping off point to head down to the Ring of Kerry, but more on that in a moment.
We had a really special bus ride experience down where truly the most drunk dude I've ever seen in my entire life wearing a makeshift crop top cut out of an Eagles shirt came and sat right behind Alicia and Amanda. He proceeded to bellow out the most amazing drunken rant I've ever heard (he kept saying how "poli poli" were always up his ass…I'm just not even sure what that could possibly mean), every once in awhile blowing on Alicia or Amanda in between the gap of their seats. I thought it was hilarious until he got behind me as we were waiting to file off the bus in Cork and started calling himself Groping Tom. Thankfully, the line started moving quickly, with Groping Tom in hot pursuit behind as the bus driver laughed his head off.
I wasn't sure if anything could top off this magical experience but then we entered into the Clarion right next to the River Lee and after laughing about the bus ride down with our staff, were shown into our beautiful room at the Clarion. The hotel is stunning and the location is literally as good as it can get—right in the heart of the city.
We of course stopped by the English Market to get lunch, grabbed a pint at Mutton Lane and headed down to University College Cork, where my Mandiddles and Dave went to medical school. Such a stunning campus, and there you can discover the Ogam Stones, ancient stone slabs that carry inscriptions dating thousands of years back.
We had an incredible dinner at ORSO (where we noticed the servers "weren't unattractive," as Amanda noticed, i.e. they were all somehow really hot). We also had dinner at Market Lane which was my first time there and I instantly fell in love—the french onion soup was unreal. Also not to miss: the Franciscan Well and Electric!
RING OF KERRY + DINGLE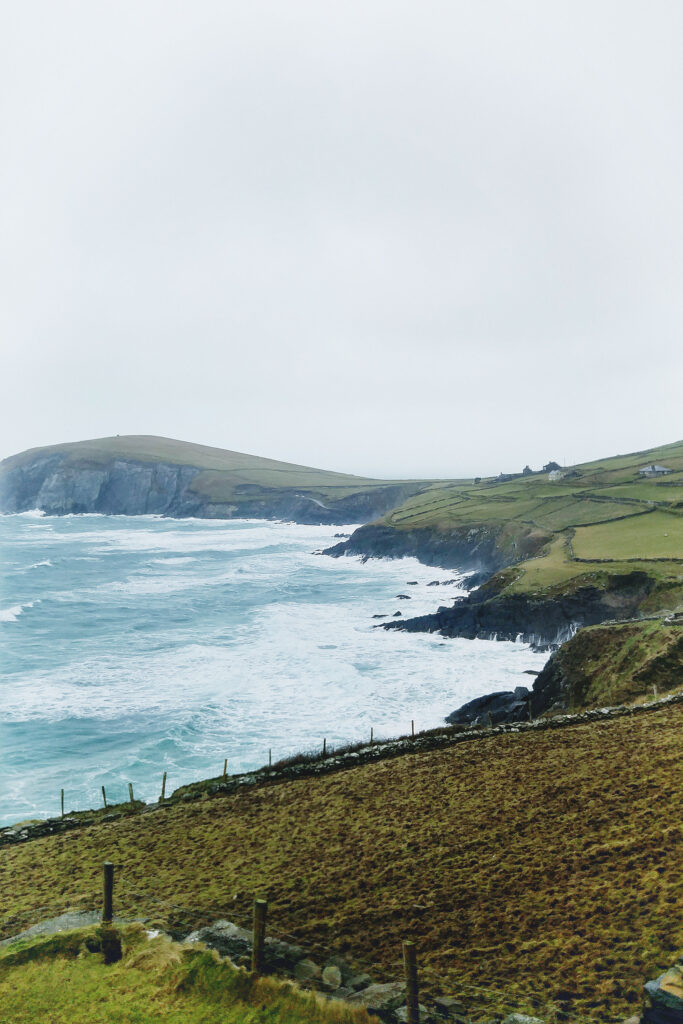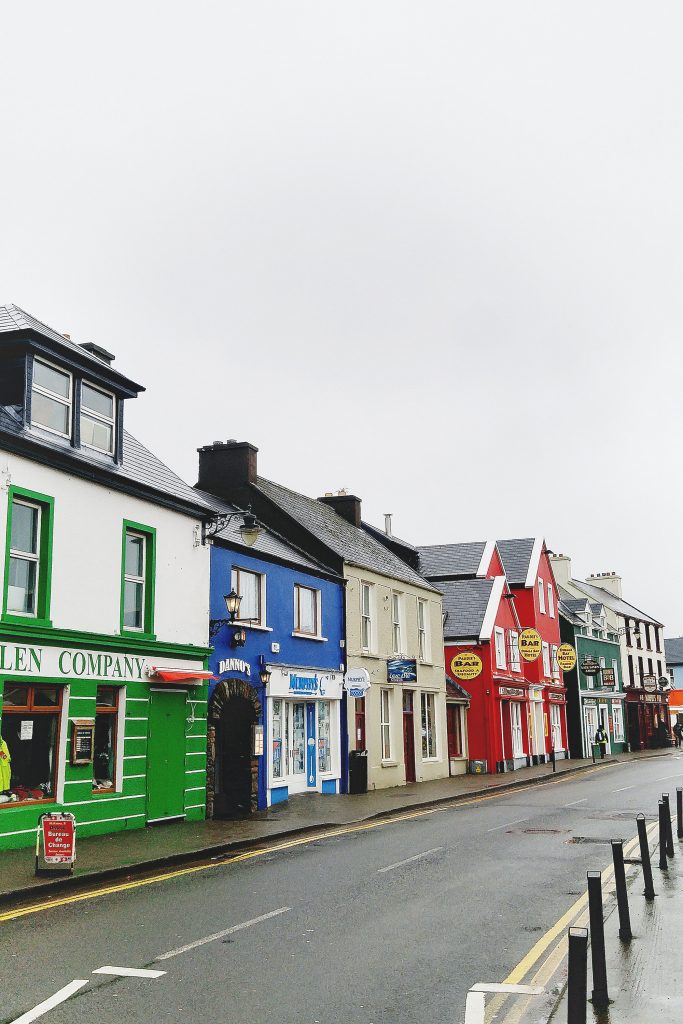 One of my major dreams in life is to see Funghi the dolphin in Dingle. Sadly, he didn't come out to play when we made the trip down, but thanks to Paddywagon Tours, the trip down through the Ring of Kerry was still incredible, even with Funghi's absence.
We drove through the beautiful, green, rugged landscape of the Ring of Kerry, stopping in famous Kerry itself to walk around (apparently there's some beautiful wool pieces to buy here) and then stopped along at Inch Beach, the Sleeping Giant and so much more. SO. WINDY. But thankfully, I love wind. We got properly battered around and then finally got into Dingle, the insanely quaint and beautiful little town at the tip of Ireland.
I can't wait to go back on a sunny day and to go back and see Funghi, the resident dolphin FACE.TO.FACE.
That was an insanely long post but as you can tell, if Ireland is not on your to-do list, you absolutely must put it on your travel bucket list. It is such a special place and you will fall in love, trust me. Feel free to pin the image below to your travel board for quick reference and get planning on your next Ireland trip now!