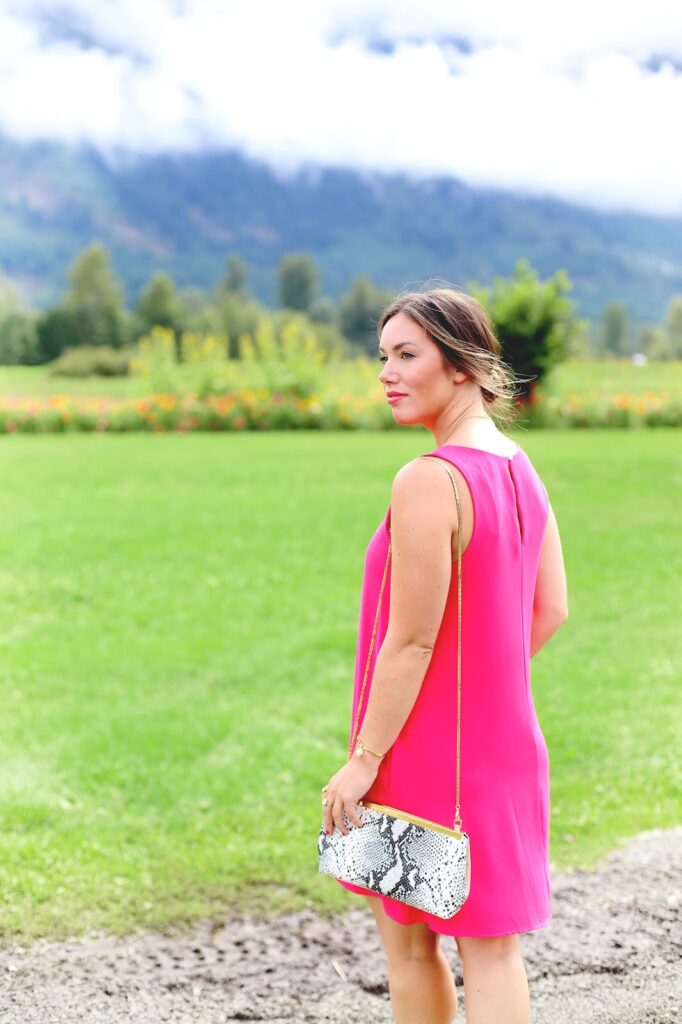 Happy Friday! This week has been pretty jam packed and I actually found my tired self struggling to get out of bed this morning (particularly because we had our first rainfall in what feels like forever, and
nothing
is as tempting as lying in bed as raindrops patter on your window!). I'm trying to reset a bit during the day because I've got lots of celebration, catching up with friends & shooting planned for the course of the weekend, so it seemed only right to sign off for the week with what was definitely one of my favourite celebrations this year in Pemberton as we toasted
Alicia
and Adam at their wedding a couple weekends ago!
Click through
to see my whole wedding guest look!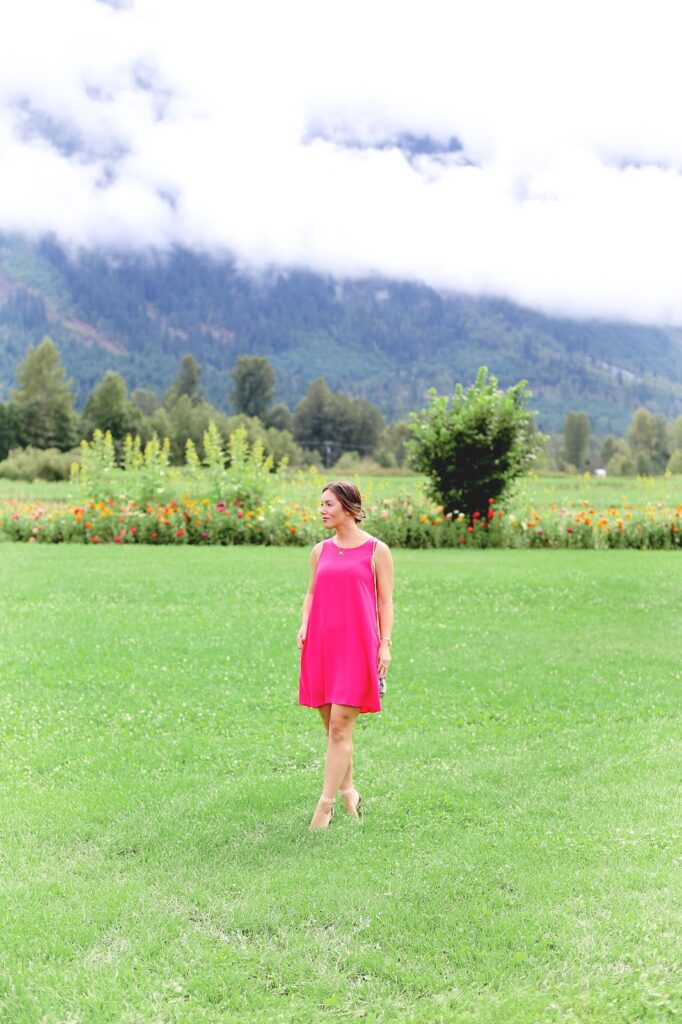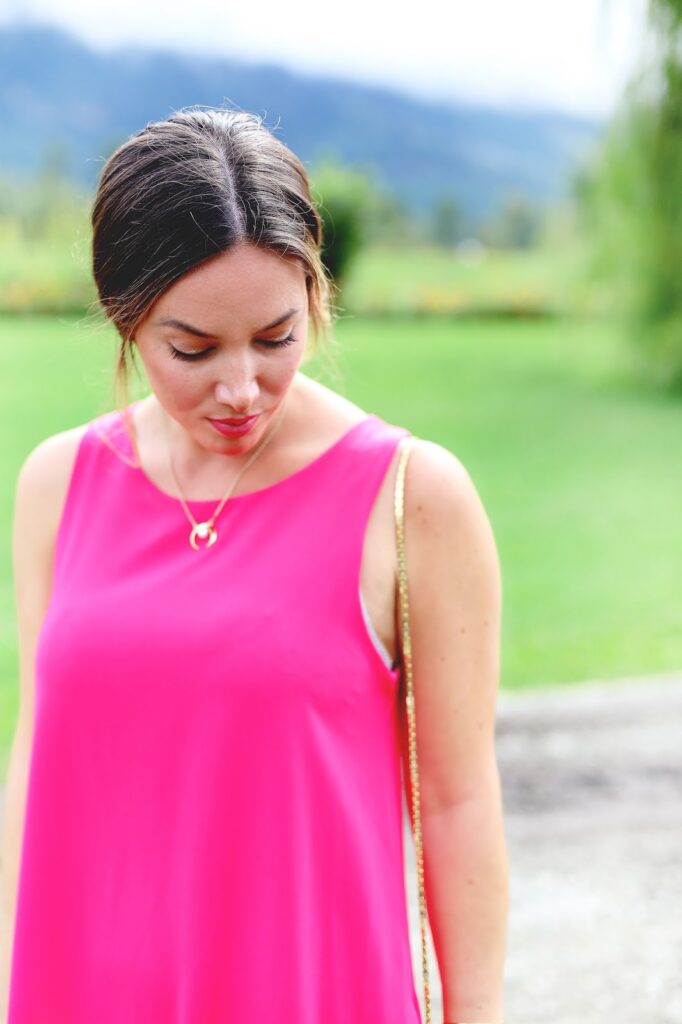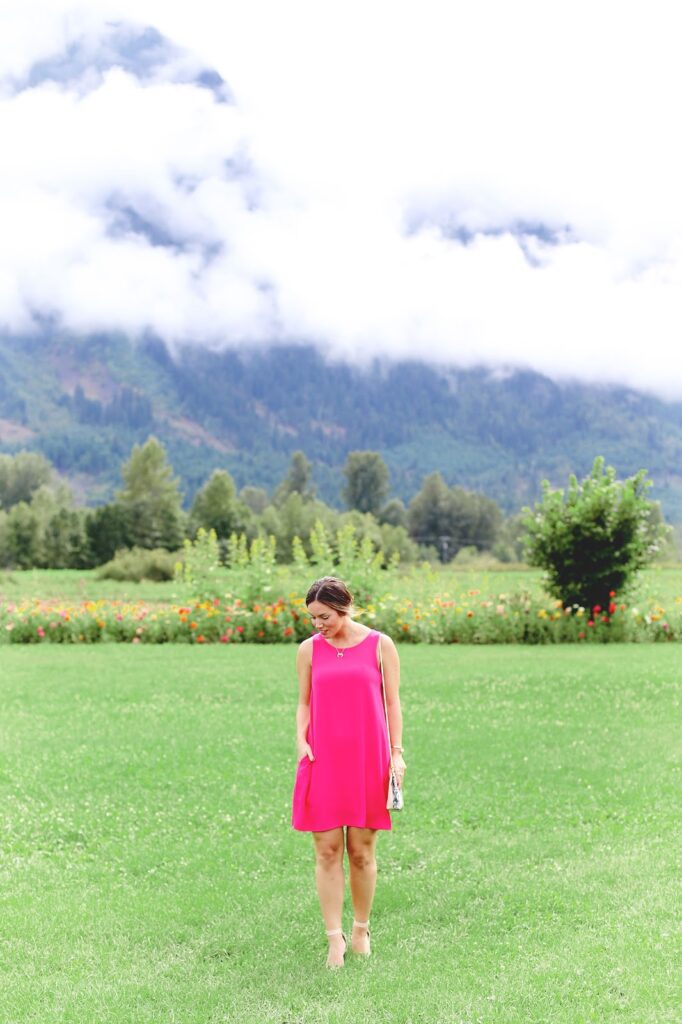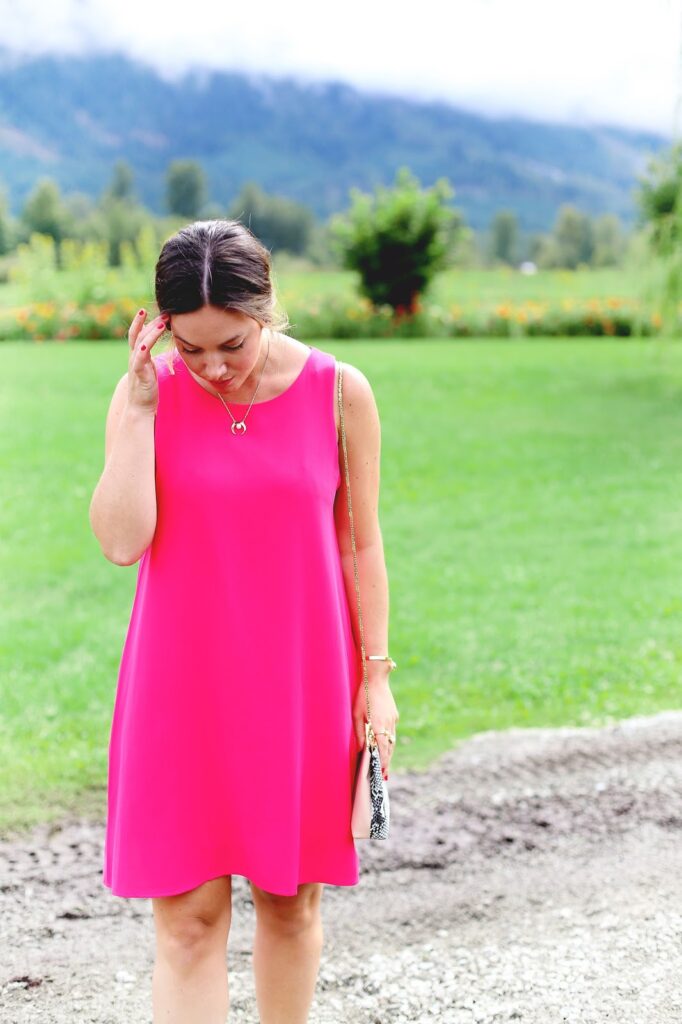 I find myself steering my style more towards neutrals and simplicity these days, but for a summer wedding, it just feels so right to go for colour. This
Barefoot Contessa
hot pink number was a natural pick for the day, particularly because of its breezy cut (Pemberton gets steamy during the summer months!).
Speaking of wedding tips, while I've
doled out summer wedding advice
in the past, I discovered a farm wedding deserves a whole other set of tips. It's literally one of
the
most beautiful settings for a wedding but being outdoors, you just need to be aware of a few things and to have some tips under your belt – 5 in fact!
1. An updo is your best friend.
On a whim I just rolled my hair into this no-fuss low knot and it was the best decision (thank you sixth sense/practicality). Whether it gets muggy or the sky opens up or you just get plain hot, there are so many beautiful knots, braids and other hairstyle options that get your hair off your neck. A touch of hairspray and you're set!
2. Pick your heels wisely.
If you're outdoors, it's probably a safe bet that there will be either some grass, sand or dirt that you'll have to traverse at some point or another. Save yourself (and your shoes) and opt for a stacked heel, wedge, flat sandal, etc.
3. Keep makeup light.
Be strategic with your beauty choices – I opted for a mattifying primer, a light hand with coverage, a powder blush, defined brows and simple eye makeup (just lined my water line with a dark brown pencil, a safe option for muggy weather I've found). I added a coral lippie and that was that! If you're at all exposed to the elements, an artfully done eye or some serious contouring could result in that awful sliding-off-your-face-slowy effect mid-ceremony. Try to focus on one pop of colour or that lovely fresh-faced look that always works so well in the summer instead.
4. Bug spray!
I'm allergic to wasps so I'm particularly hyper-aware of our buzzing friends (well, for me, foes…nothing in the world I hate more than those yellow-and-black striped assholes), but mosquitoes and the like are just as annoying in an outdoor setting. I try to opt for natural as much as possible (both peppermint oil and tea tree oil are good natural options) but I didn't want to risk it so I went full chemical spray. Awful stuff, I know, but it was the lesser of two evils. Sensitive to bug bites? Bring some non-drowsy antihistamines if you're prone to severe reactions. And of course, I had my trusty and terrifying looking EpiPen with me too – fingers crossed I never have to use it 'cause thrusting that needle into my thigh seems…awful.
5. Screen up strategically.
You're outside so naturally, the sun's rays are getting you. Pick a non-greasy sunscreen formula for your face and make sure you get your whole body too. I'd opt for natural (particularly if you're spritzing some bug spray on) and a nice little trick if you're bringing a teeny purse is to fill an old contact lens case with a couple pumps of your favourite sunscreen (I use this trick for my carry-on luggage too when flying!).
And with that, I'm off! Have a lovely weekend everyone!