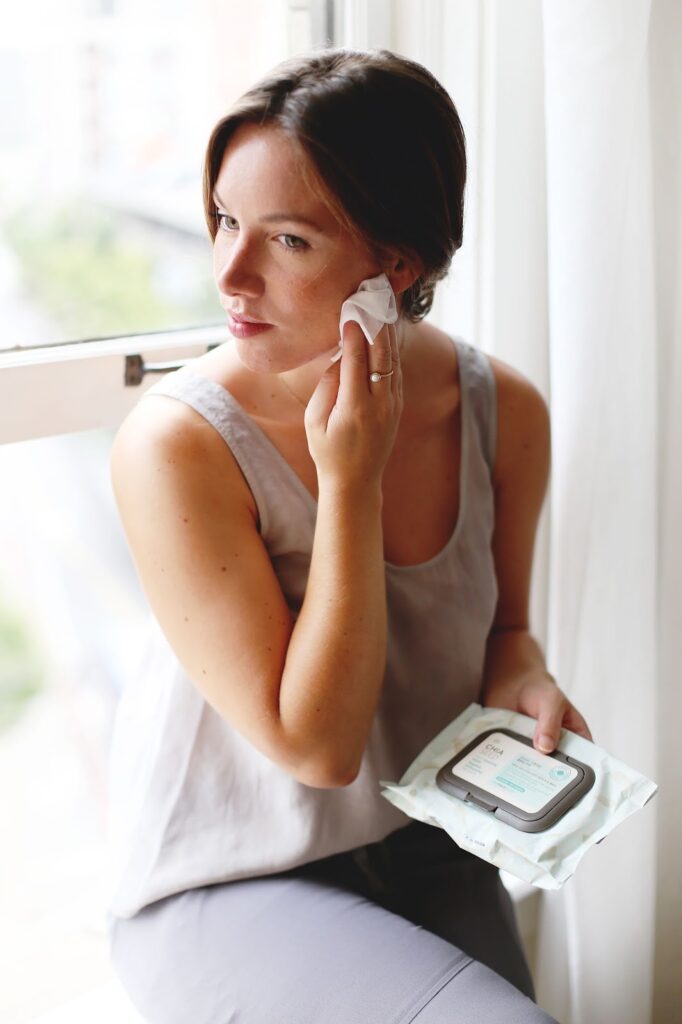 In keeping with this week's jet set theme (two days to Paris!), it only seems natural to follow
yesterday's airport outfit formula
with what to do when you're actually
on
 the plane. Today's post is all about my in-flight skin care routine, which for me has become a real saving grace on long haul flights. As someone who was not blessed with perfect skin, plane rides used to just destroy my complexion in my pre-routine days – I'd land with dry patches, breakouts, etc, just the whole nine yards basically. I was inspired by
this video
of Lisa Eldridge's a couple years ago to develop a routine that would keep my skin hydrated, protected and as blemish-free as possible when I arrived, and I've finally nailed it!
Click through
to read the full routine!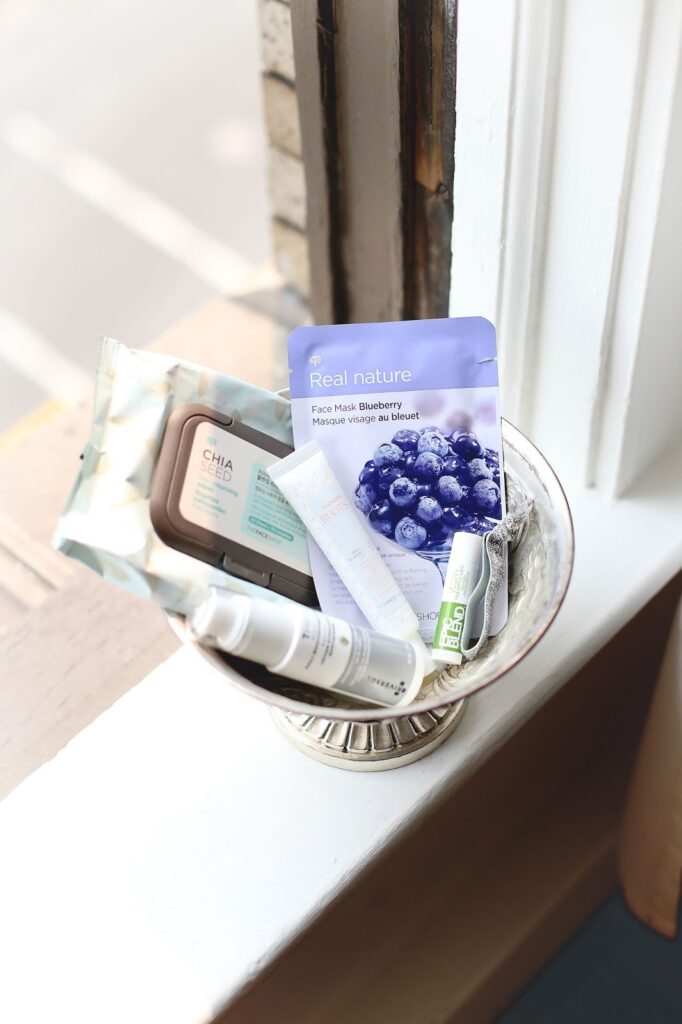 So the roster of skin care essentials are 
all
 things you can bring on a carry-on. I usually slip a few of my
The Faceshop Chia Seed wipes
into a little plastic baggie, bring a face mask sheet along (love
this blueberry one,
great for all skin types
and
 it leaves behind a serum so you don't have to pack one!), have a calming eye cream or
mask
, bring a really great, non-irritating
lip balm
and bring
a lotion
that both hydrates and controls potential breakouts.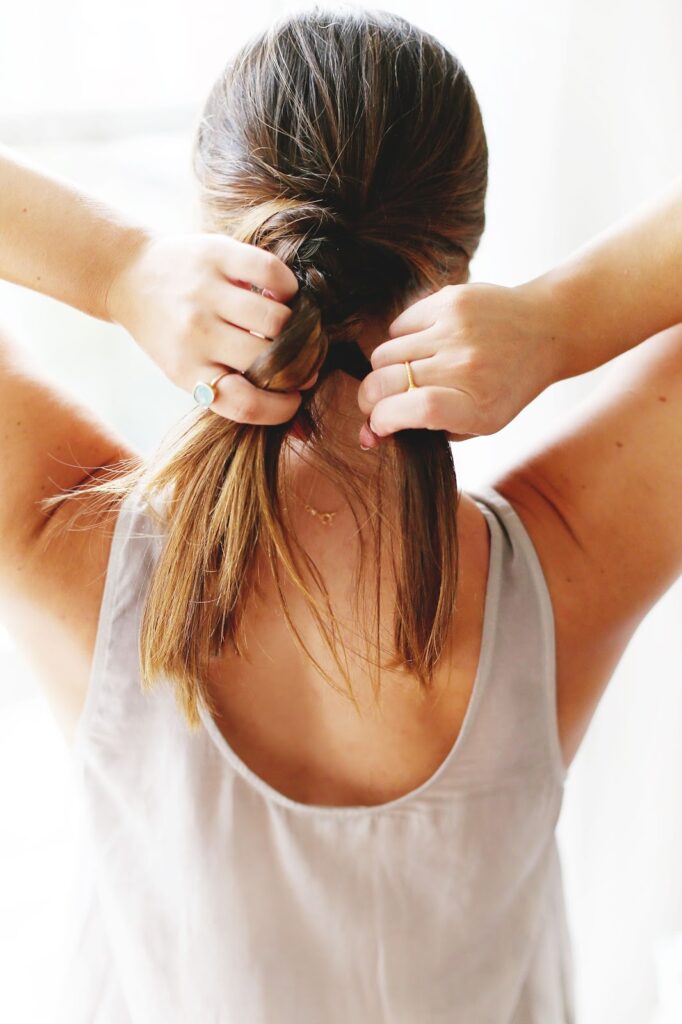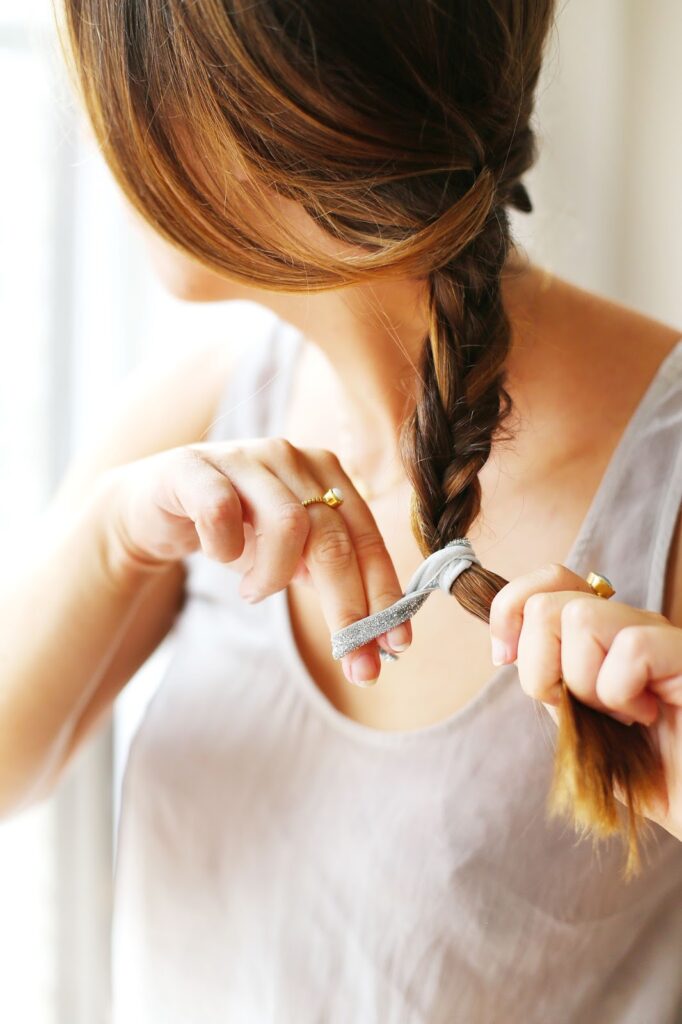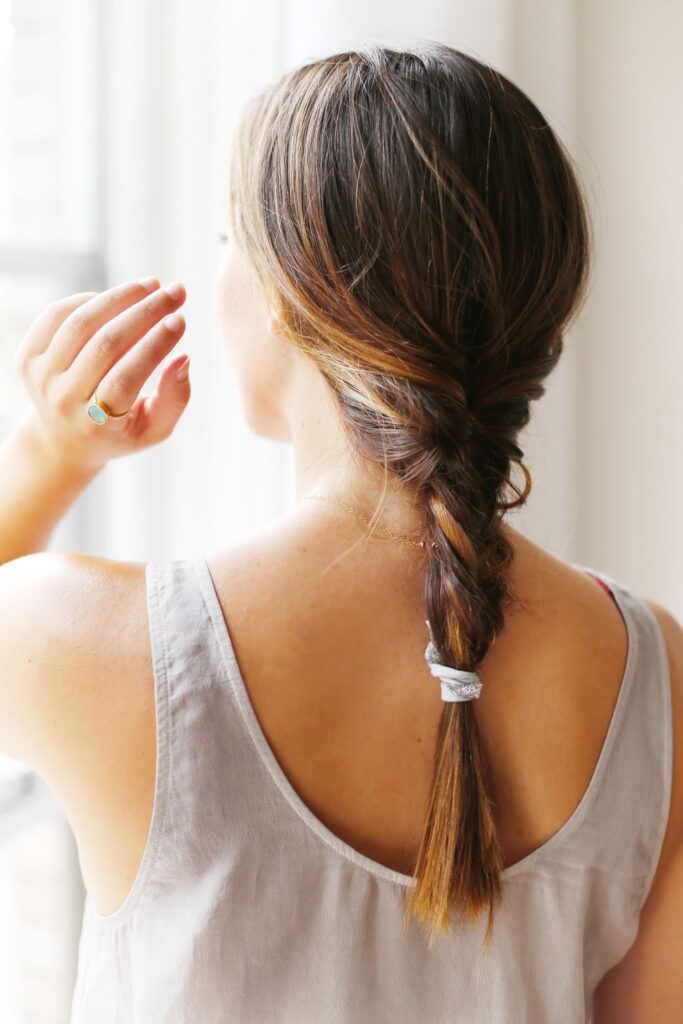 First things first, you've got to get your hair off your face. I love putting my hair back into a no-fuss fishtail braid for a few reasons: 1) it's easy to sleep in (no bun or ponytail at the nape of your neck = no neck aches!), 2) it creates delicate waves when you land, 3) it doesn't slip out as much as a traditional braid (a must for fine hair) and 4) it's cute! I like to use
Brooklyn Designs
' little hair ties as they don't pull at my fine hair and stay put even throughout a long flight. If you don't know how to do a fishtail braid, you can watch this quick tutorial I did
here
.
Finally, my easy 5-step skin care routine! Probably best to have a window seat and to let your seat companion know you're going to look like a ghost for 15 minutes or so with a mask sheet on, but trust me, it's better to look a bit weird and land with great skin than to spend the whole plane ride with a face of makeup on and land with, well…less than great skin.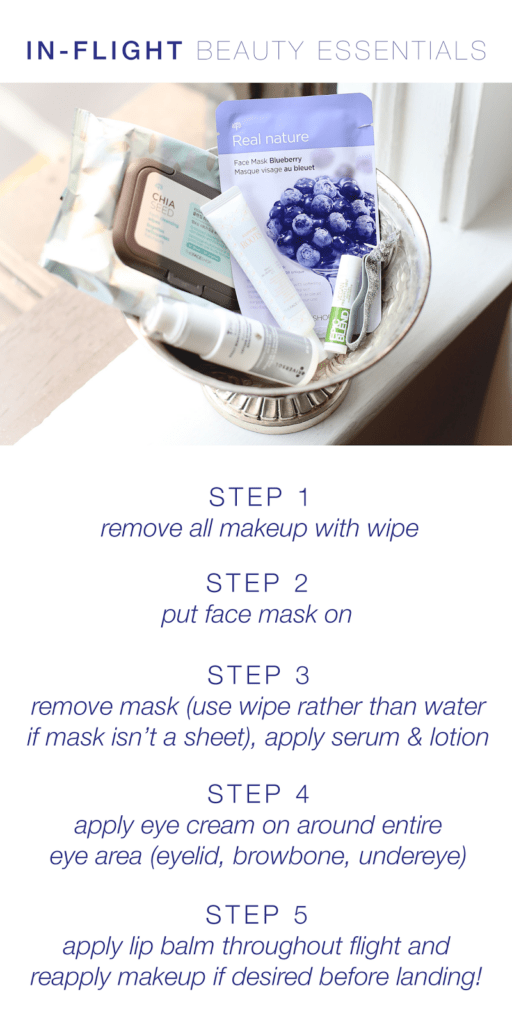 Just a note that the reason I'd really recommend packing wipes is because as we all know, plane water is not the best! If you're not eager to drink it, than you shouldn't be putting it on your face either.
I'd apply more lotion/eye cream/lip balm about every couple of hours and of course, drink a ton of water. Probably the most important thing you can do. Also bring some of your own dry healthy snacks or opt for some healthy snacks once you're through security to bring on board – so much of airplane fare is not only particularly nutrient-void, but it also contains a ton of salt and really zaps a lot of moisture out of your skin internally.
Finally, really try to keep all makeup off for the flight if you can. Best to sleep, let your skin breathe with lotions/serums packed full of nutrients and hydrate – pack a little beauty kit to touch up just before you land instead (I'd recommend concealer, cream blush, lipstick, eyebrow pencil and mascara in a pinch).
What are your in-flight tips and tricks? Tell me in the comments below!