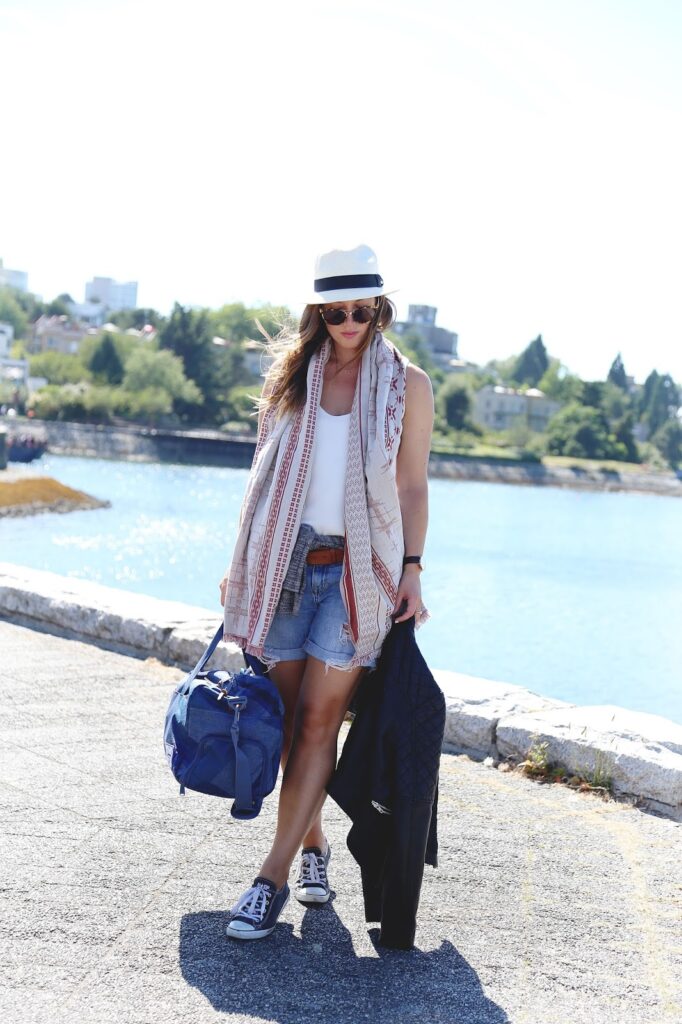 As is often the case, I have a mere 3 days left before I take off for the rest of the month and all I've really sorted out is what I'm going to wear…my priorities might just be
a bit 
out of order. Having said that, packing and airport style are two areas I find a lot of people struggle with (and I certainly have in the past!). Even if style isn't a priority for the trip, oftentimes people end up packing way too much or far too little and it ends up giving them a serious headache while on the road. That's why this week is dedicated to travel style (and beauty!) prep, leading right up to my departure for Paris on the 9th!
Click through
to read all about the first in my travel series: how to pull together the ultimate airport look for the summer!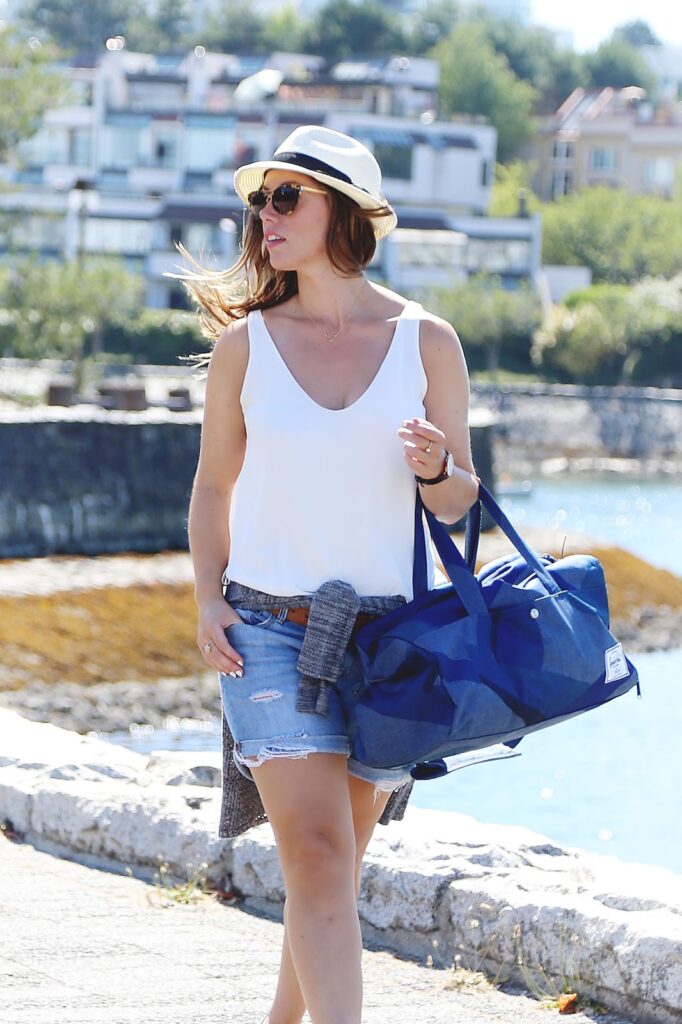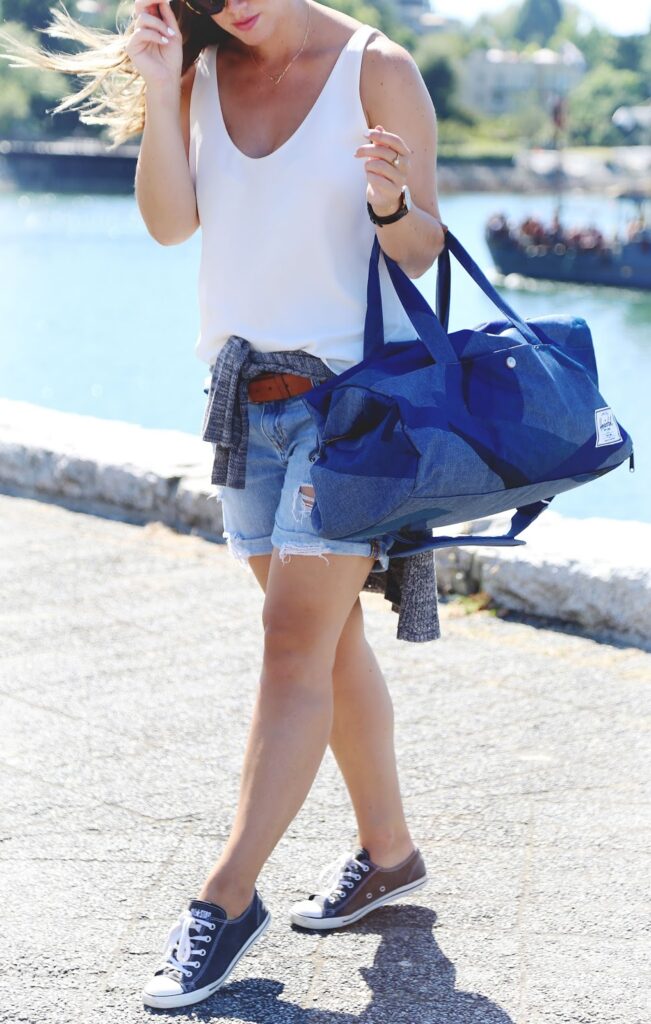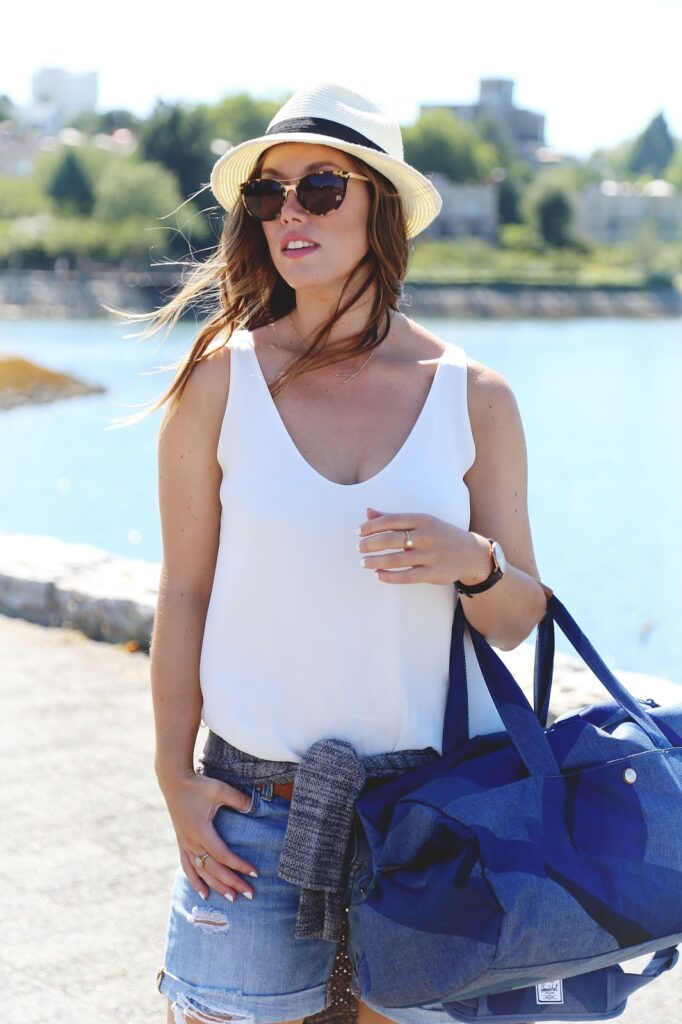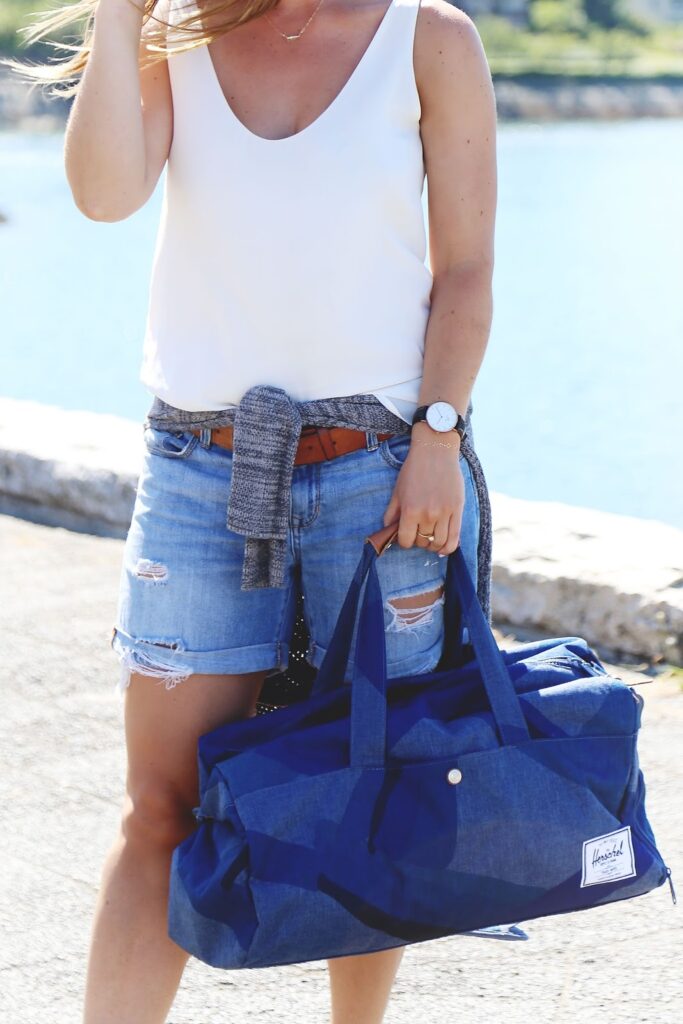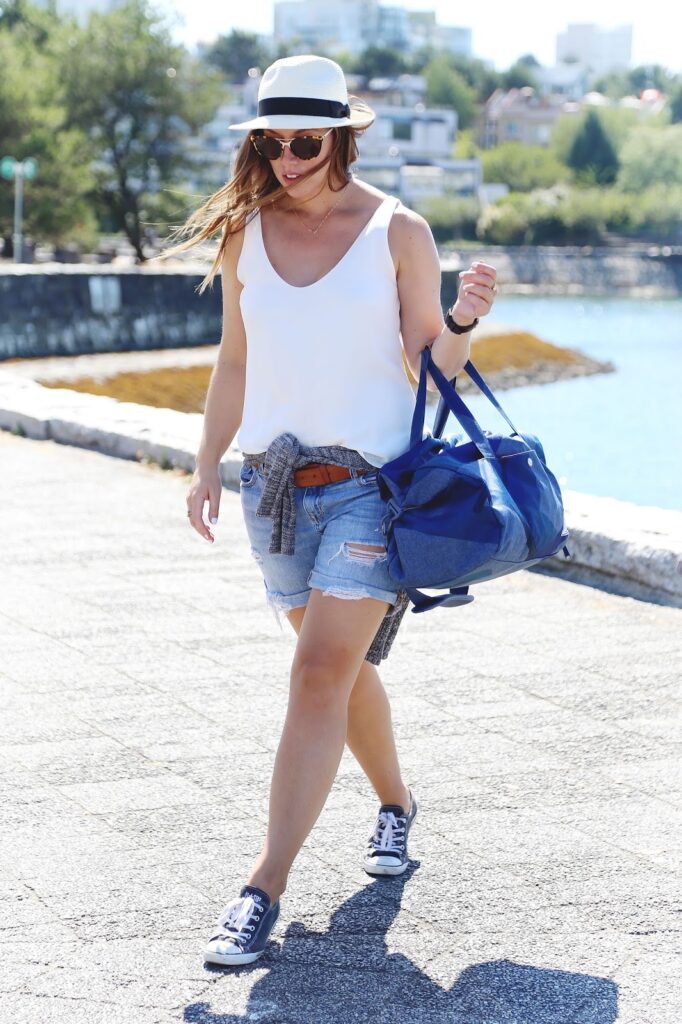 There are basically 5 principles I always abide by for my travel looks and so far, they haven't let me astray. They are:
1. Layer like a pro.
Not just because it gets chilly on planes and I for one can't stand being cold, but because you want whatever your bulkiest, heaviest pieces are for the trip to be on your actual person so that you can (hopefully) travel with just a carry-on (more on that later this week!). Knot a sweater around your hip, casually toss a blanket scarf around your neck (if it's sweltering hot, just knot it around the handle of your bag), go athleisure-chic by wearing your runners/Converse sneakers, don your hat if you're bringing one so it doesn't get crushed, etc. This is especially important if you're going in and out of different climates as I will be – it's going to be crazy hot in Paris but likely pretty cool in Ireland!
2. Fabric trumps all.
You might think you're planning ahead like a pro by packing your sweater, but if it's itchy, nubby, etc, you're going to be miserable the whole plane ride. Comfort aside, you also want to think about how fabric wears and evolves while seated in a plane for hours on end – you might have a really cozy piece in silk, linen, etc, but it will look creased like crazy when you finally land. Boyfriend jeans or denim shorts are not only insanely comfy (I could honestly sleep in these shorts never-nude style), but they also are a great, resilient fabric for travelling in. Ditto for my leather jacket (which I opted for over my trench for that very reason), my simple white tank and my cashmere blend sweater.
3. Wear your jewelry but leave finicky pieces at home.
I always wear all the jewelry I'm packing for the whole trip with me on the plane, which might seem counterintuitive but actually is all part of my only-bring-a-carry-on strategy. Jewelry adds so much weight (even your delicate pieces) and I'm a woman of simplicity as it is, so I just decide what my signature pieces are going to be for the trip (usually a delicate gold necklace, my
Daniel Wellington watch
, a couple rings and a gold bracelet) and just ensure that they're all super easy to take off when going through security. Anything with finicky clasps, too-tight rings, a gazillion layered necklaces, etc – just opt for classic, simple style instead and leave the extra baubles at home.
4. Wear double-dutying pieces.
Most airlines are pretty stingy now with what really should be the basic in-flight accoutrements (a pillow, blanket, etc) so make sure what you're wearing can fill that void. My blanket scarf keeps me cozy in colder climates, but most importantly, it's legitimately my blanket on the plane. I always ensure I have a sweater cozy enough to do the same if I get chilly or better yet, to use as a pillow. While I really just wear my hat to keep it from getting creased and folded over in my carry-on, I usually fill it with my accessories, shove my leather jacket on top to keep everything safe then shove it under the seat in front of me – it holds its shape this way!
5. Be strategic with your "personal item"
I may run into problems with Aer Lingus (
not
 my favourite travel experience last year) but having a chic duffle bag like
this Herschel beauty
will easily carry my laptop, camera and a few other necessities.
If
I choose to do some more serious shopping, I can easily check my carry-on suitcase with its original contents and pack this lovely number with my new finds, using it as my carry-on instead. I always kid myself and say I'm not going to really do any shopping then find myself desperately trying to find room in my luggage later in the trip – this duffle bag has ample room for just that conundrum.
The whole outfit is broken down below for future reference on your Pinterest board or desktop!
Can't wait to share more over the course of this week while I (hopefully) figure out the rest of my life before taking off too!
On another note, if you follow along on Snapchat (@tovogueorbust) you probably saw that Vancouver is completely covered in smoke from forest fires in the province. Just want to say my thoughts are with all those bravely fighting the fires and protecting us – also crossing my fingers for a bit of rain for all of us soon!