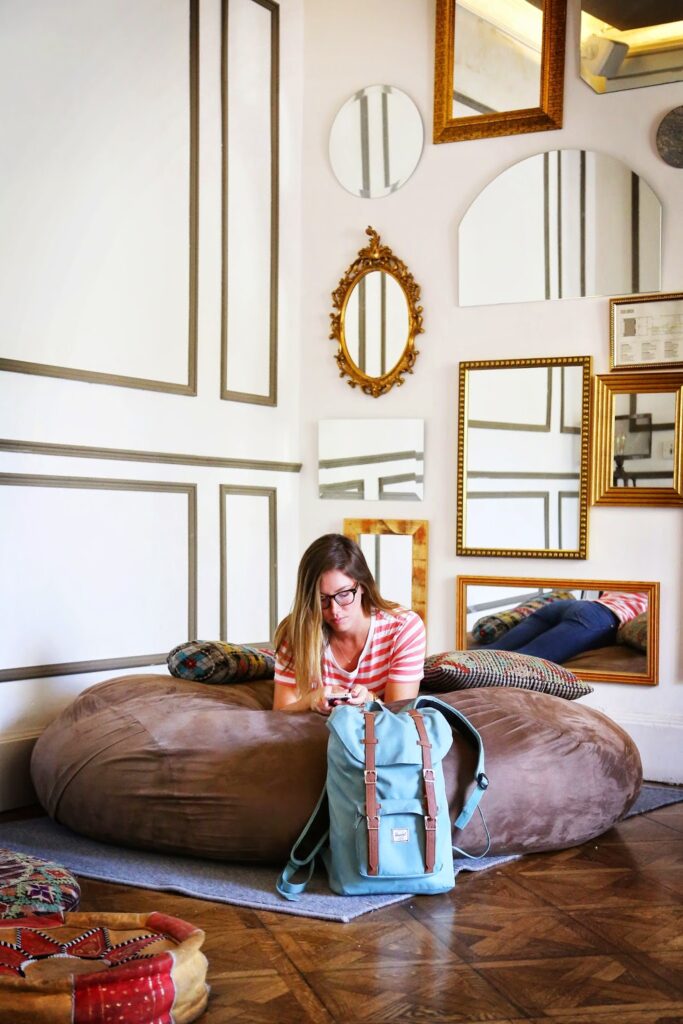 Up until this Europe trip, I'd never even stayed in a hostel before. Most of my prior travels were through Canada or the States, where hotels were always my first choice. However, as a solo female traveller making my way alone through countries with unfamiliar cultures and languages, hostels have become my best friend. With a bit of careful research and some prep work, your stay in a hostel can be as nice as any hotel plus you get the added advantage of a bit more security (more people has meant more safety for me so far!) and a new pack of friends at each of your destinations – something that's very important when you're on your own and want to explore a new city with some company. Click through to read my 7 cardinal rules for staying at hostels in style and get planning for your next trip abroad!
 So first of all, full disclosure – while I wouldn't say I'm high maintenance necessarily, let's just say I'm also not low maintenance. I was actually resistant to staying in hostels for a long time because I've never been fond of "roughing it." And it is true that sometimes, the trade off for all the pros hostels have to offer (new friends, less expensive rates, etc) can mean cons in the form of shabby decor, less-than-amazing facilities, unappetizing breakfasts and noisy neighbours coming in at all hours of the evening – usually. Thanks to the following tips though, you can have a totally comfortable, relaxing stay and also reap all the benefits of staying in hostels!
The 7 Cardinal Rules of Staying at a Hostel in Style
1. Book well in advance – the best hostels fill up weeks and weeks beforehand so I always go to
Hostelworld
as soon as I've determined where I'm staying next and look up the best-rated hostels in each city I'm staying in. I then keep an eye for ones that mention some key phrases such as "girls only" dorms or market themselves as "rest" or "boutique" hostels – usually, these are the ones with more of a focus on lovely decor, cozy beds and a quieter atmosphere. Always, always, always take a good look through all the pictures both on the hostel's site
and
 on sites like
TripAdvisor
where travellers can upload their own images.
2. I hate feeling like I'm rummaging through my suitcase day after day – I like to feel somewhat unpacked even if I'm staying at a hostel just for a few days. I feel like it just makes for a more "dignified" stay, so to speak, instead of having to dig through your suitcase each day. Take all your essentials (the clothes you'll be wearing, underwear, pyjamas, toiletries, etc) as soon as you check in and keep them in your locker, then stow your suitcase away and forget about it. Take your laundry bag (or any bag you can find) and keep it in your locker as well so that you can keep your clothes organized! This also has the added benefit of keeping your things out of the way, something which will endear you to your roommates if you're staying in a dorm.
3. Always bring earplugs and eye masks. Enough said.
4. Don't feel like you need to eat what the hostel provides. Yes, most hostels provide a free breakfast, but it's well worth the 5 or 10 euros it will cost to store some fresh berries, yogurt, bread or cheese from the local market so that you feel well-nourished each day. Even if you get lucky and stay somewhere with a better breakfast, it's never a bad idea to round out your meals with a favourite of yours. The way I see it, if you're already saving by staying at a hostel, feel free to indulge in the food, even if you're on a budget! It will make your whole stay more pleasant.
5. Even if you're a bit of an introvert, do try to spend as much time as you can in the common areas of your hostel otherwise you're missing out on the whole point of staying in a hostel – you might as well have just checked into a hotel instead! I'm not particularly shy but even as an outgoing sort, I still had to kind of push myself and get outside of my comfort zone to introduce myself to other travellers at dinner, go out on a pub crawl when I really didn't feel like it or hang out in the patios/common areas of each place I've stayed at so far. So far though, I've been lucky and have met new friends in each city – getting to tour a city with some company makes such a difference.
6. If you are going out one night and expect to be back a bit later, keep your pyjamas and bedtime toiletries laid out on your bed so that you don't have to be that person annoyingly rummaging through their locker or suitcase and can just nab your essentials quickly then get to bed. Do unto others as you would have them do unto you!
7. Always pack an extra towel, or even one of those swim shammies if you're already overpacked. Not all hostels provide free towels and it's good to have one if you're in a pinch! Also, even if you're going somewhere cold, pack some flip flops (or better yet, those pedicure flip flops you can pick up from your local nail salon – they fold up to nothing!). You'll be needing them for the bathrooms.
So whether you're staying in a private room or a dorm (I've done both on this trip) you can easily save some money, meet new people and still travel in style while at a hostel – take my word for it! Other than Matt and I's stay at an Airbnb in Lisbon, I've been doing the hostel grind since Amsterdam weeks ago and have been having a great time, all while still feeling comfortable and even at times experiencing luxury here and there! Stay tuned for my full Europe hotel/hostel guide in the coming weeks – can't wait to share some of the incredible places I've had the pleasure of staying at!
Happy Friday everyone!