I've had quite a few emails about skin care and some of my most recent winter beauty looks, so I thought I'd take some time this week to break down how I've switched up my routine to deal with the cooler temperatures that can wreak havoc beauty-wise!
It only made sense to me to start off with skin care before launching into the beauty tutorial that I'll be sharing tomorrow – if you take proper care of your skin, eat well and drink plenty of water, you've pretty much done 90% of your work, so it really and truly is the foundation for all other beauty looks. Evening out skin tone, a touch of blush and maybe some lippie is all you really need to look pulled together when your skin is well looked after. It's so much harder to stay looking fresh-faced and brighter during the winter when skin naturally takes on some pallor and dulls though, so today is really all about bringing that glow out.
First things first, I'm a big believer in the notion that what you put in your body shows up on your skin. As someone who's recently made a big switch eating-wise (after finally identifying my allergens, I cut out them out entirely this month and feel only, I don't know…400% better now), I can't stress enough how much of a difference I saw literally within a couple days of days. My skin was brighter, clearer and more even almost instantly. Whether or not you have allergies or sensitivities, try to eat as many hypoallergenic, nutrient-rich and calming foods as possible – leafy greens, fish, alkaline fruit like papaya, etc (check out a very detailed list of alkalizing food
here
). This is never more important than in the winter, particularly after the holidays when you've loaded up on too much rich food and alcohol.
Start your day off with some hot water and lemon to alkalinize your system and then get going on skin care. Three times a week, I use a
Korres pomegranate scrub
at night after removing makeup, then I use a richer face cream by Antipodes or Jurlique (not pictured here). On all other days, I just remove makeup and then use
Korres' milk protein cleanser
(lactose and amino acids are key for boosting brightness) or
La Roche Posay's Effaclar cleanser
if I have any breakouts. Spray with
Avène
to remove any final traces of makeup, to soothe your skin and to rehydrate! Mornings are effectively the same, though I really only exfoliate at night (it's just more satisfying to go to bed truly clean).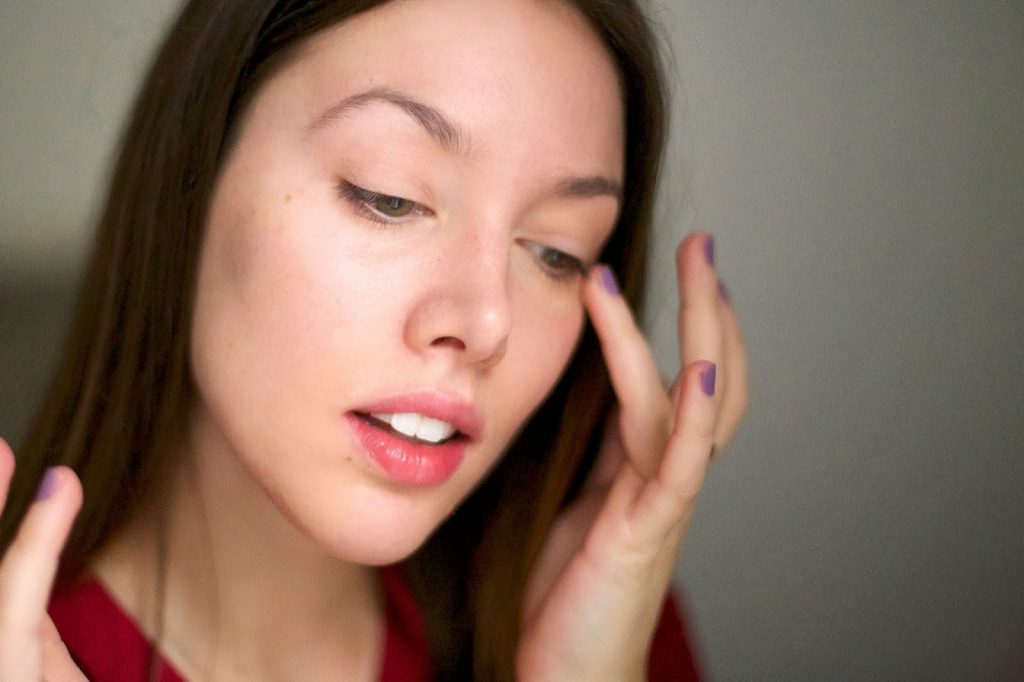 A makeup artist I worked with once told me to really extend the eye cream way more than you've been taught – even past your eyebrows and down toward your cheekbones. Another tip: at night, don't apply directly on your lid or near your lower lash line – the cream will creep into your eye overnight and make them appear puffy the next day!
Another winter weapon:
Barrier Repair by Dermalogica
! It feels
so
amazing and particularly when it's cold out, it really helps shield the skin and rebuild its barrier. I finish off with
Dermalogica's Skin Perfect primer
, which not only provides just the right amount of coverage for day but it also helps shield the skin from the sun (still important in the winter!).
Body-wise, I try to dry brush every morning (
more about it here
) – it just wakes me up and it really does wonders for my circulation and the health of my skin. I read recently too that applying coconut oil
before
showering helps shield it from the water's stripping effects, so I've been doing this for the past couple of weeks or so and my skin has been feeling consistently more hydrated! Give it a try – do it after dry brushing, shower with an oil-based cleanser (
L'Occitane's Almond Shower Oil
is a favourite and smells amazing) and then if you need a bit more hydration, lock in moisture with a rich cream like
Lush
's Celebration lotion, which is also the most delicious-smelling cream ever .
Last skin care note: I steam my face then do face masks about 2-3 times a week (love
Lush
's selection) and when I'm consistent about this, it makes a world of difference. Not to mention it gives me a reason to take some alone time and relax a few times a week!
Stay tuned for tomorrow – will be sharing my latest favourite winter beauty look!