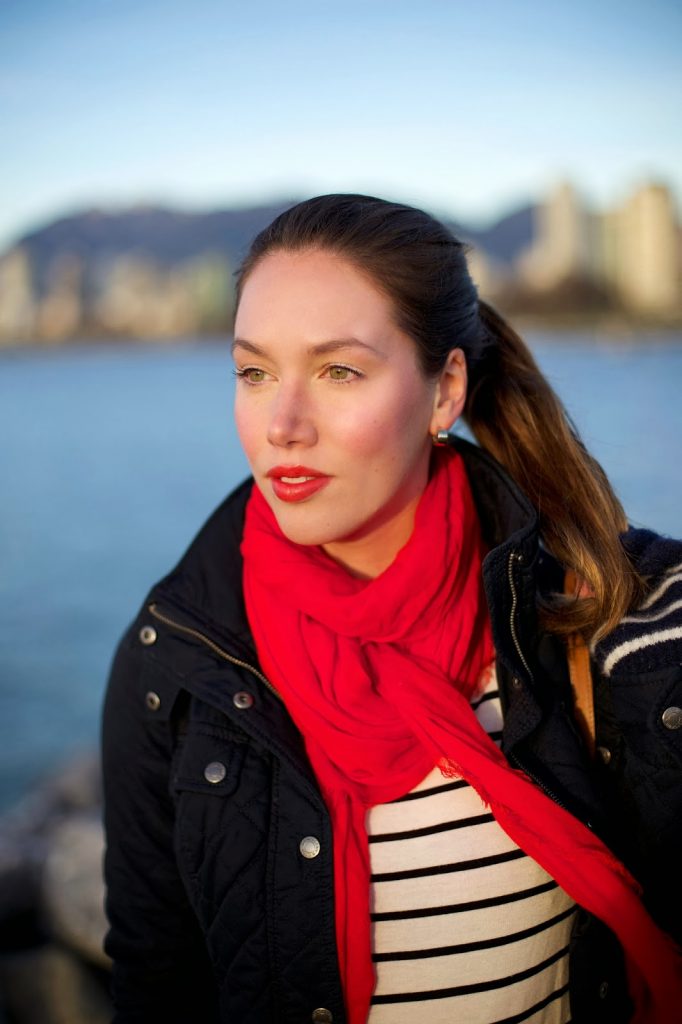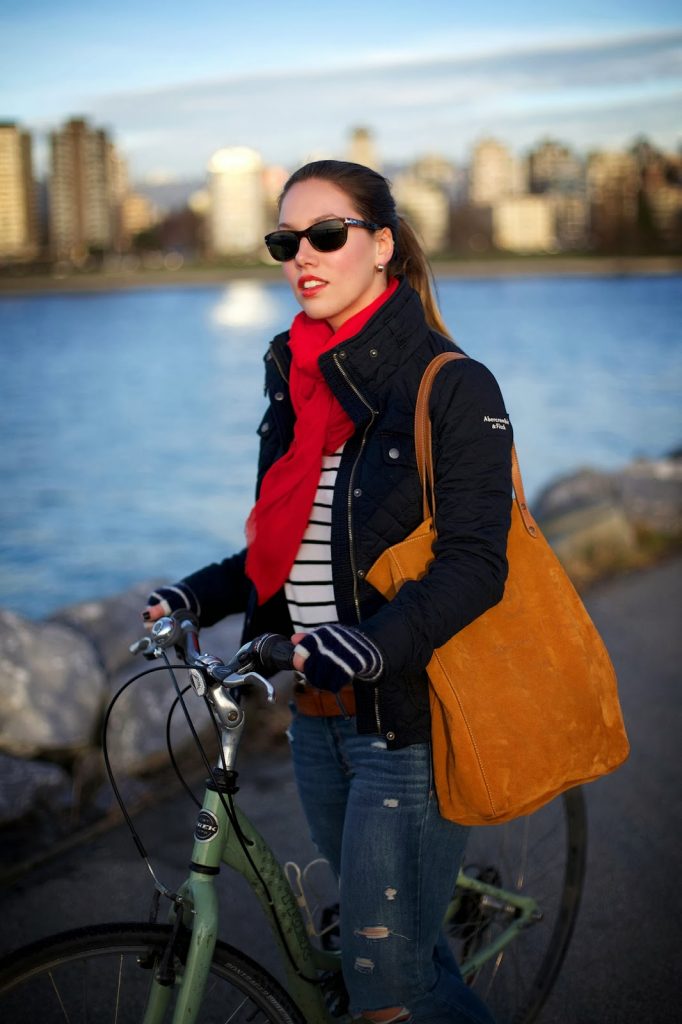 It's hard to believe these pictures were only snapped this Sunday – it's been so miserable and wet for days now that this sunshine feels like ages ago! Nevertheless, once many moons ago Vancouver was indeed sunny and Matt and I decided to take advantage of it by going for a very chilly but very beautiful bike ride to watch the sunset from our favourite lookout point. I've really missed my daily bike commutes (it's too wet and dark for my liking to really commute to work via trusty old Mojito lately) so it felt so good to get back on the bike and wheel around, even if it was freezing beyond belief (check out the pink nose for evidence)! Let's just say we were very happy to have remembered to pack a blanket – it came in handy come sunset.
Also keeping me cozy? This
Obakki Foundation scarf
, and not only because it's beautiful, but also because of what the scarf stands for.
I'm sure many of you have heard of the crisis currently going on in South Sudan. The nation's been torn apart by conflict since mid-December and over 200,000 people have had to flee from their homes. They quite literally have nowhere to go, no sense of safety or security and no basic resources like water. It's really heart wrenching to see this statistic go up every day and to know it's that many more people without basic life necessities.
I'm always proud to work for
Obakki Foundation
but never so much as right now – despite the ongoing daily violence, the foundation's incredible field team is back in South Sudan, carrying out our clean water relief efforts as I type this out. I know it can seem a bit sales pitch-y to talk about a product that comes from a company that you work for, but I really wanted to highlight
the scarf
because if you love it and buy it for yourself or a loved one, 100% of net proceeds literally get streamed immediately toward these projects that are saving lives. So if you love it, the time
to buy
is now! The more wells our field team can drill, the more people we can help!
Anyway, switching gears to a much lighter note – I will probably be back on Monday with a
much
shorter 'do. My hairdresser tends to talk me out of going too too short but I really need a more drastic change – I've been coming back to
this pic
again and again for inspo. Thoughts? Major chop or little chop? Let me know what you think! Hope all of you have the best weekend 🙂