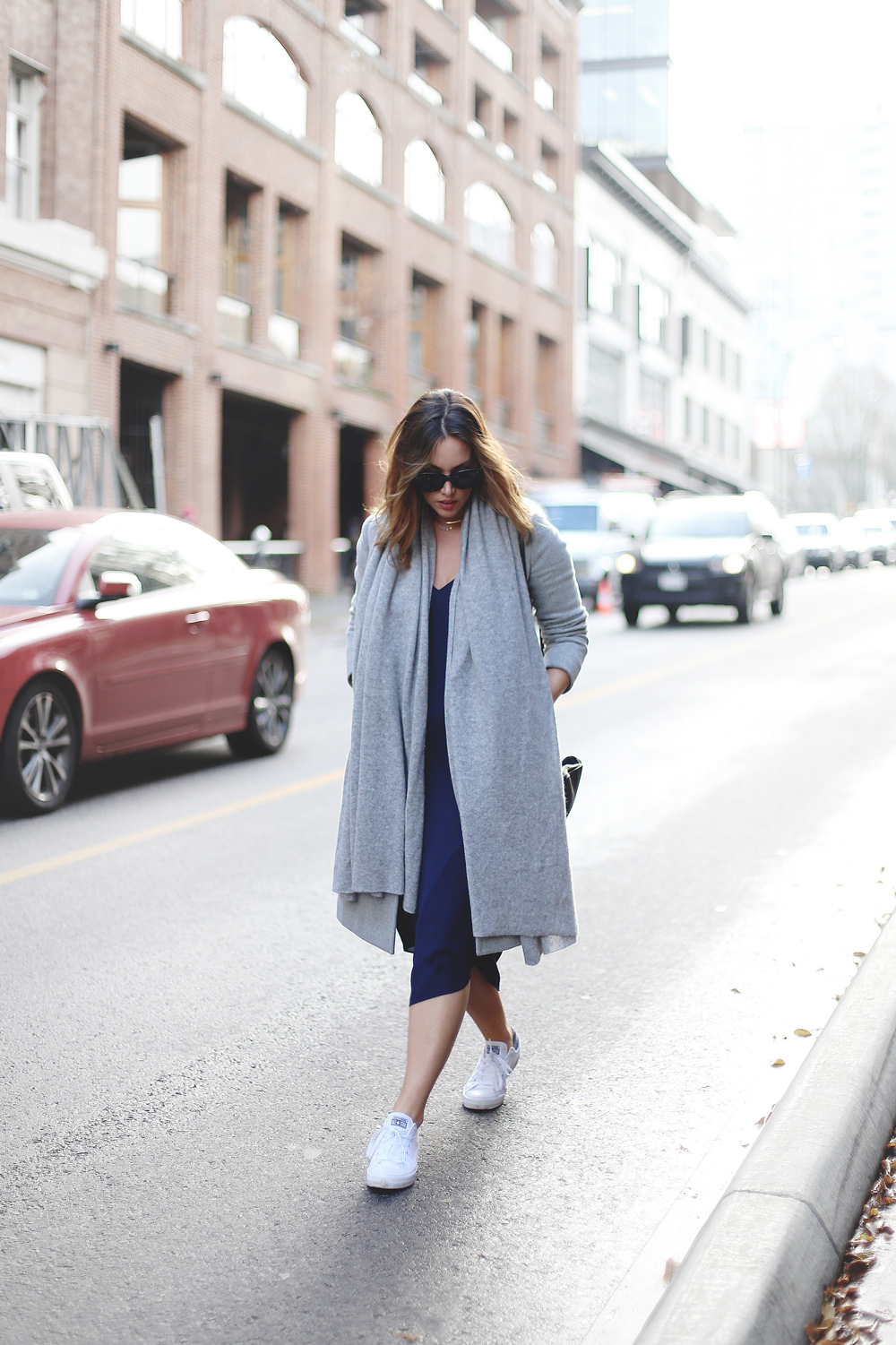 This, my friends, is officially the most unexpectedly perfect outfit for crazy holiday shopping  (provided you don't live in 3 feet of snow or conversely, scorching heat). And even if you're contending with either, there are easy ways to adjust accordingly! This outfit has it all in the shopping department: easy to layer on for getting around in the chilly outdoors but equally easy to shed layer-by-layer for inside stuffy malls, this long minimalist slip dress is the easiest thing to take on and off if you have to try on anything (or better yet, don't take it off at all if you're trying on bottoms!), and most importantly, super comfy thanks both to the Converse sneakers and the breathable, luxe fabrics.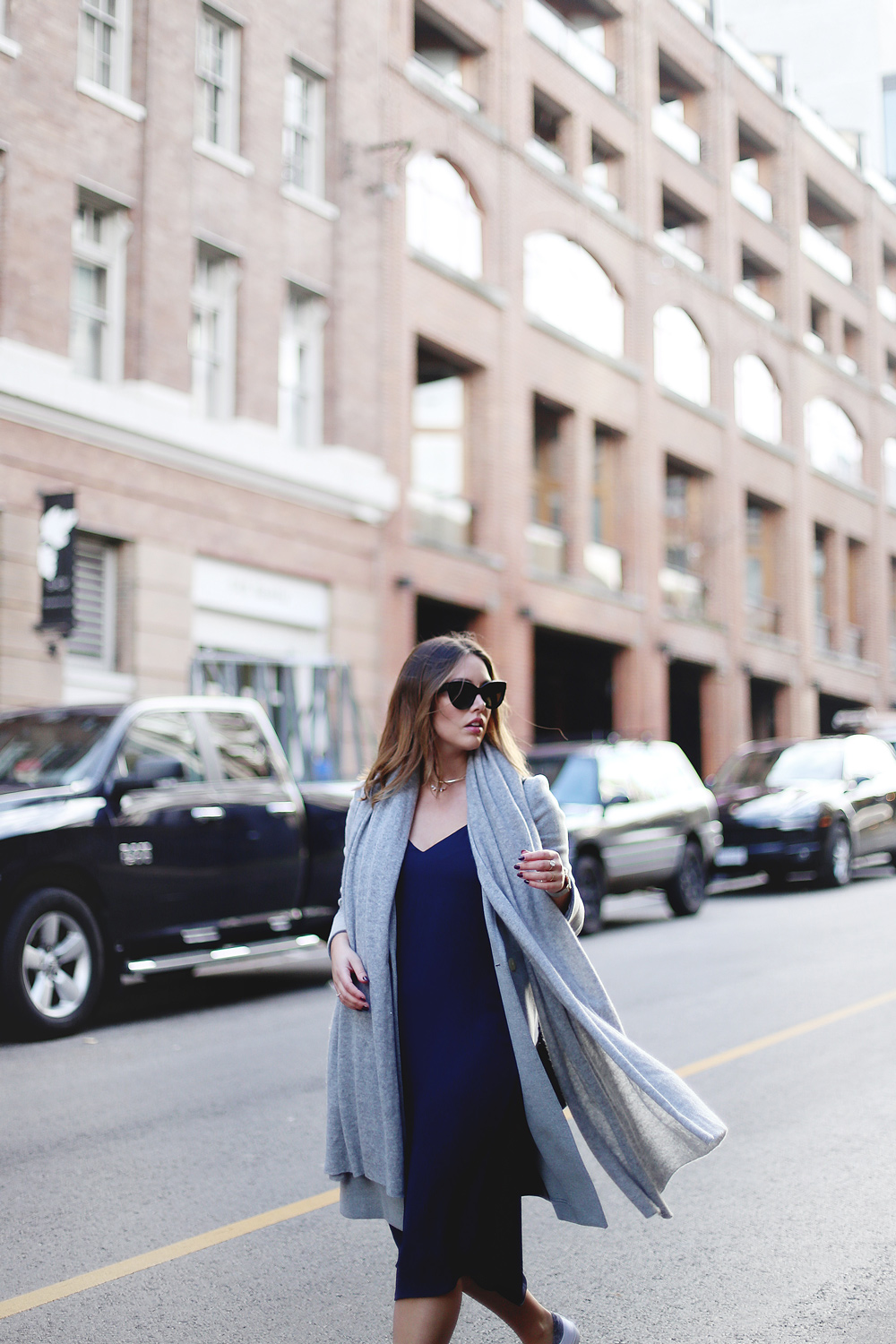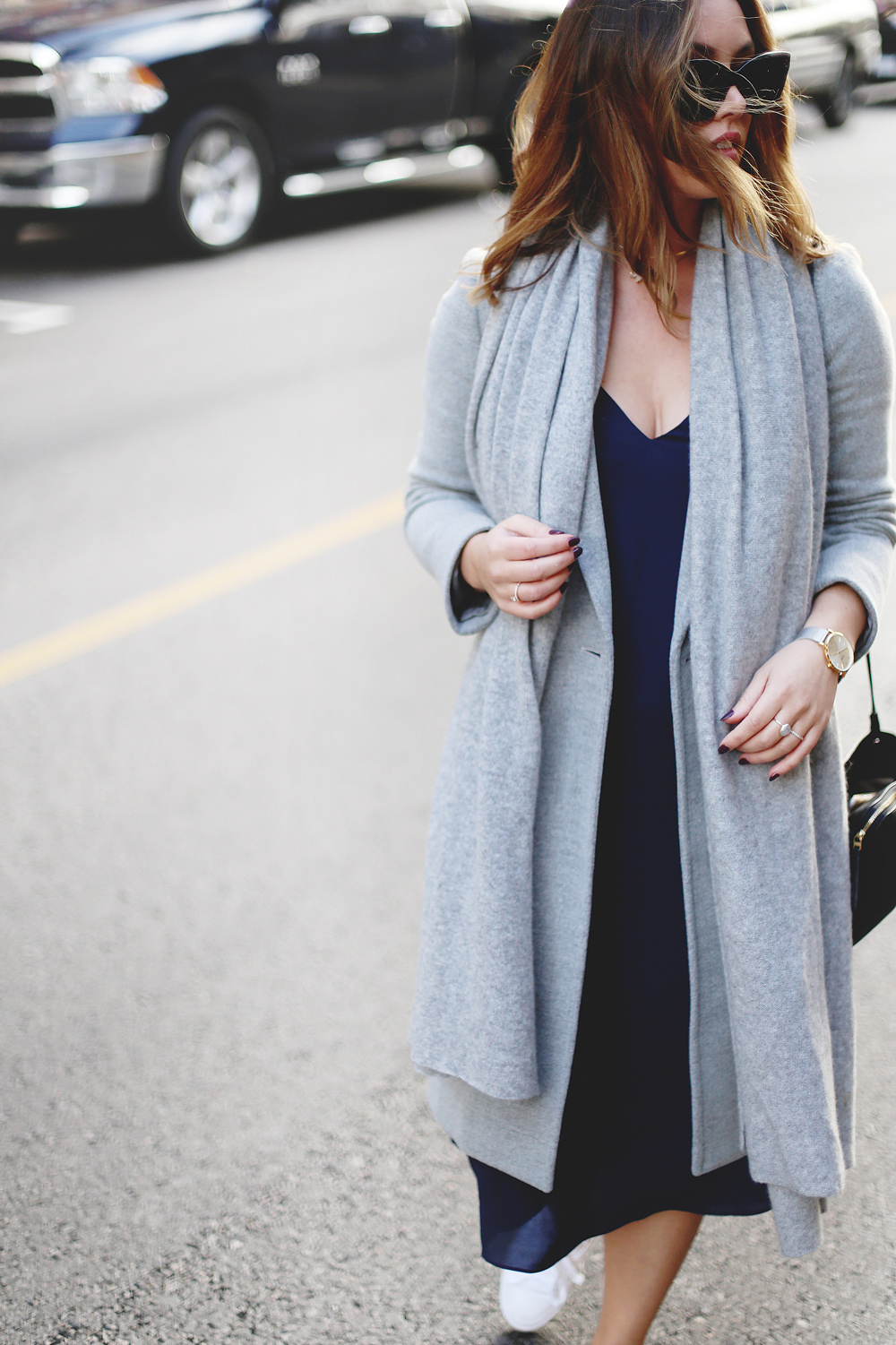 A cross-body bag (this beauty's from Aritzia) means you can handle a million racks without losing your essentials, a minimalist wool coat (again, Aritzia for this one, though this similar one's on major sale and this one's under $150!) is the antithesis to bulky overcoats (which are the worst to deal with during the holiday shopping grind). Keep the accessories simple (I love my stay-in-place choker and dainty rings from my girl Leah Alexandra, and this CLUSE watch adds some shine to a more understated look) and you're good to go!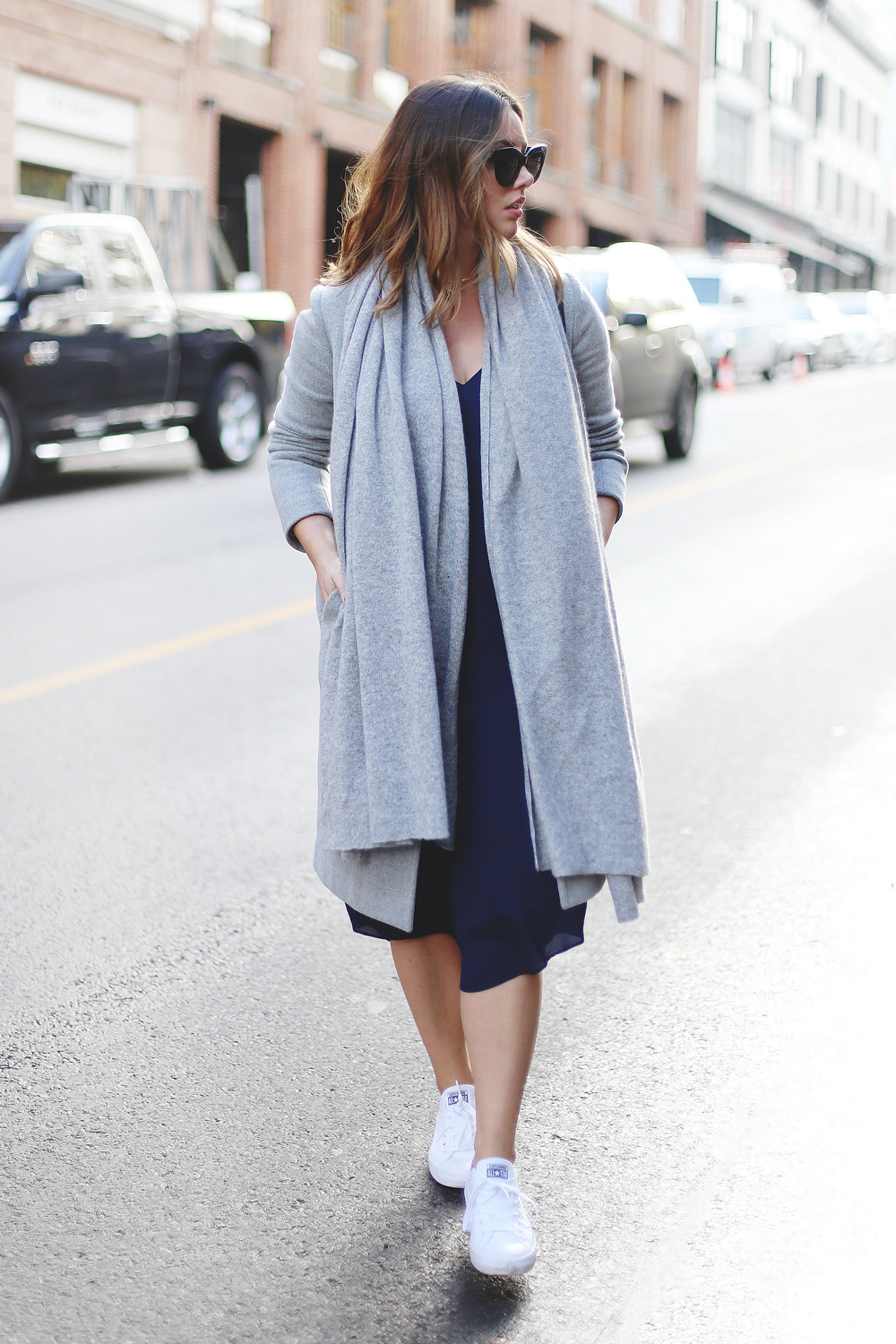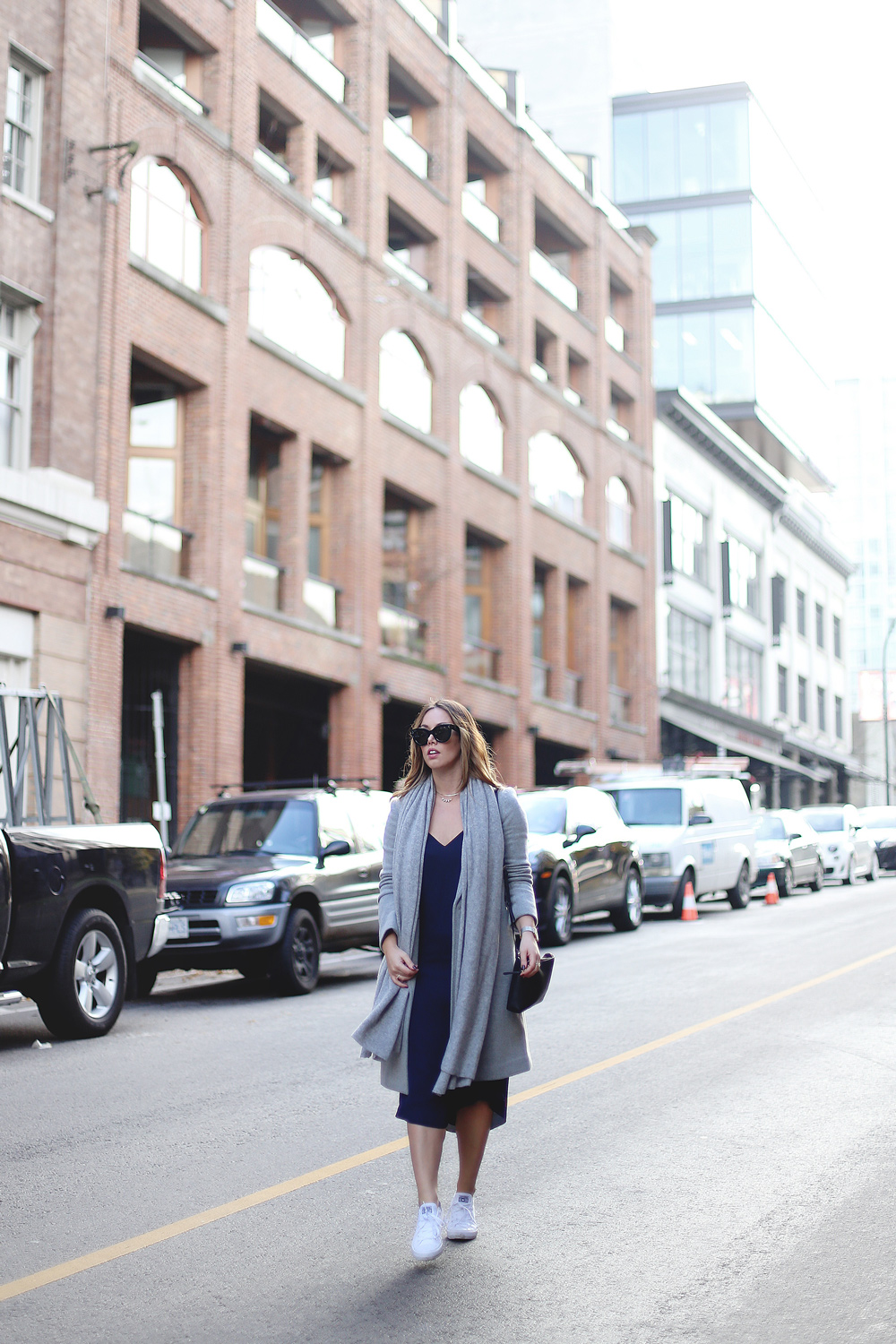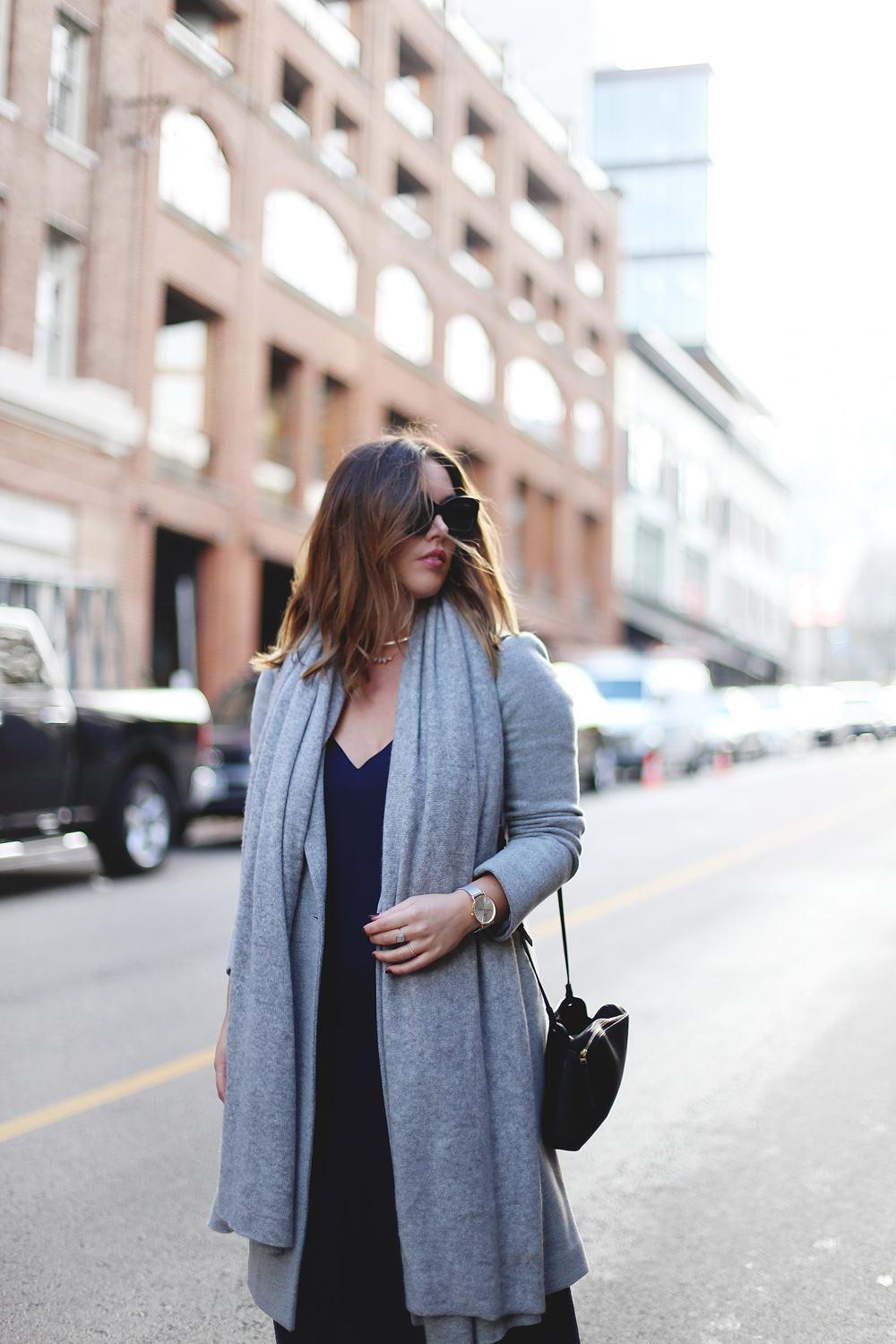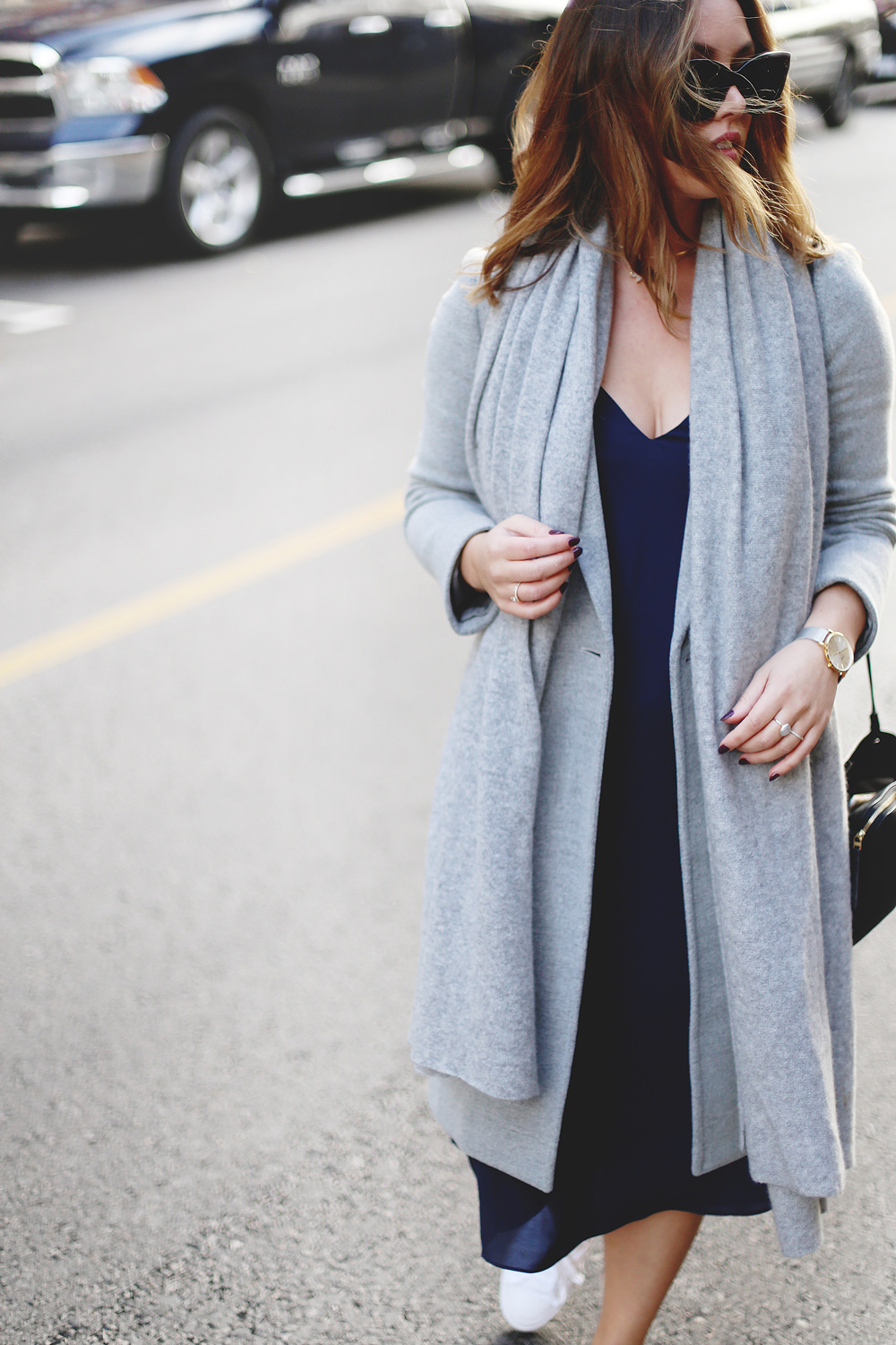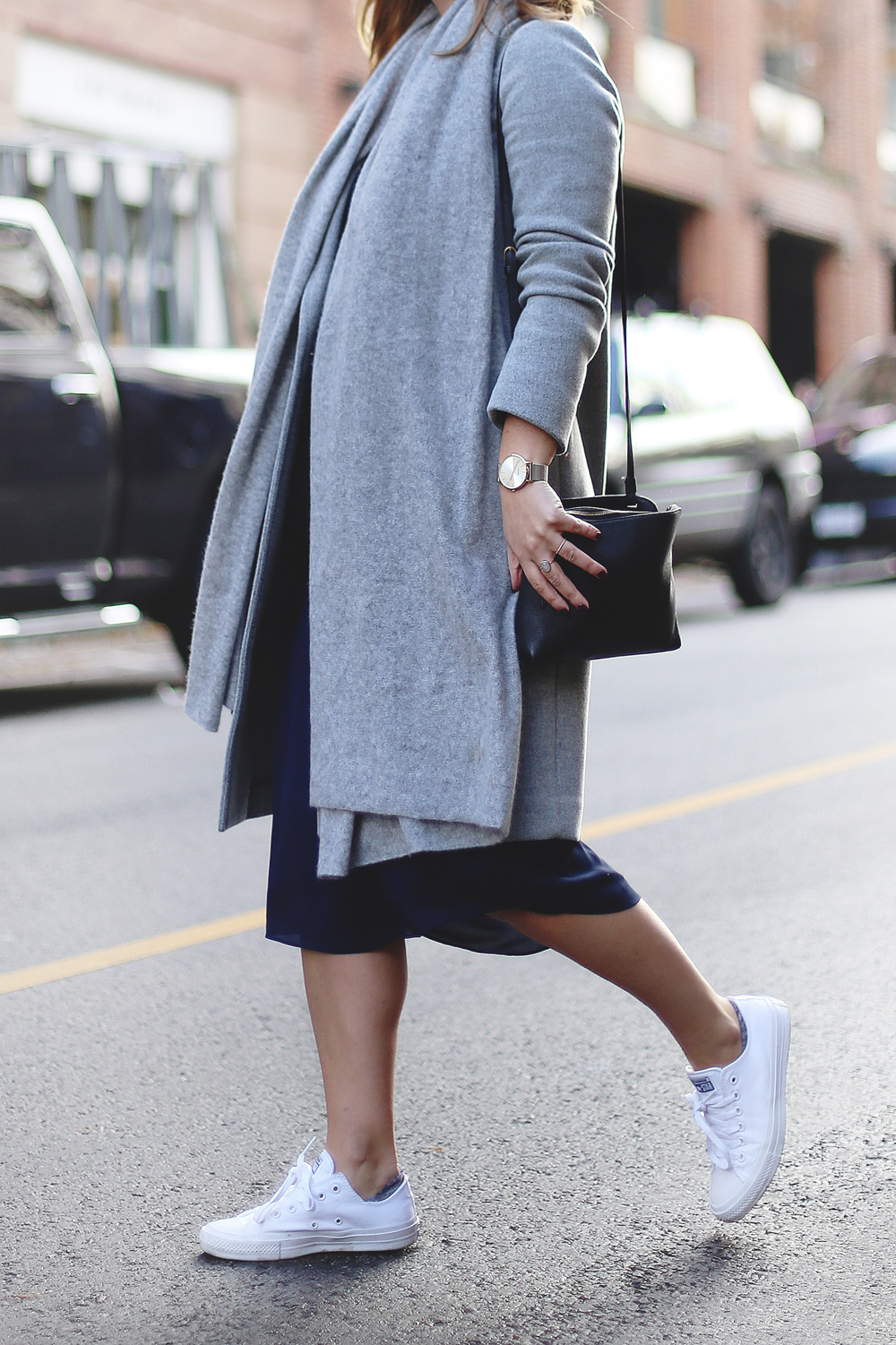 But let's stop and appreciate the Chucks. They're a brand I've been wearing for as long as I can remember, from being a kid to skidding around on the art gallery steps with a bunch of punks to all my travel adventures as a young '20 something to now, as a perennial style statement. They somehow go with everything, they temper more femme looks and they just make everything cool. I hate driving so basically do all my shopping on foot, which means if I'm going to get my 20,000 steps in while lugging around a bunch of heavy bags, then I not only want to do it in shoes I love, but especially comfy ones too. Check and check!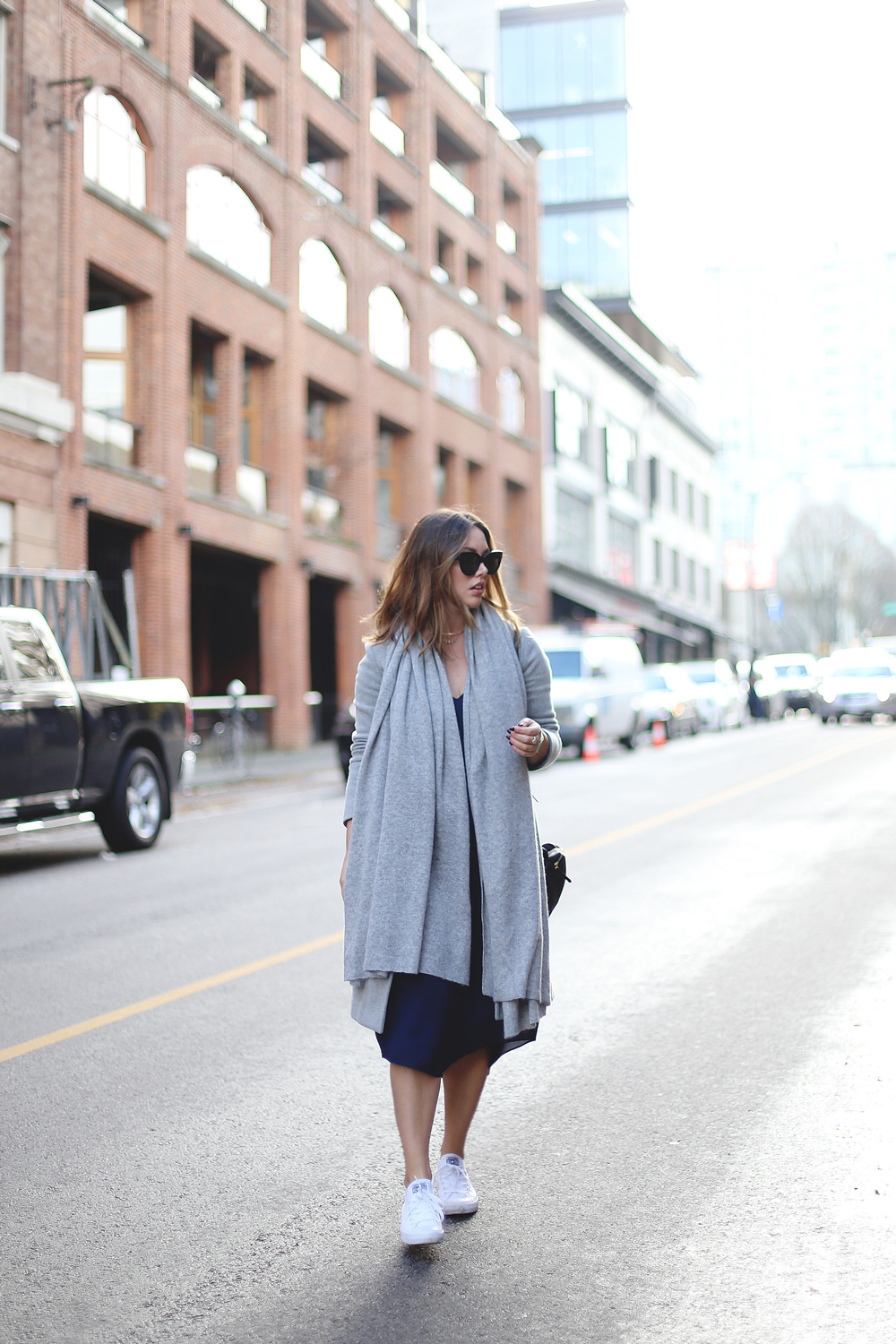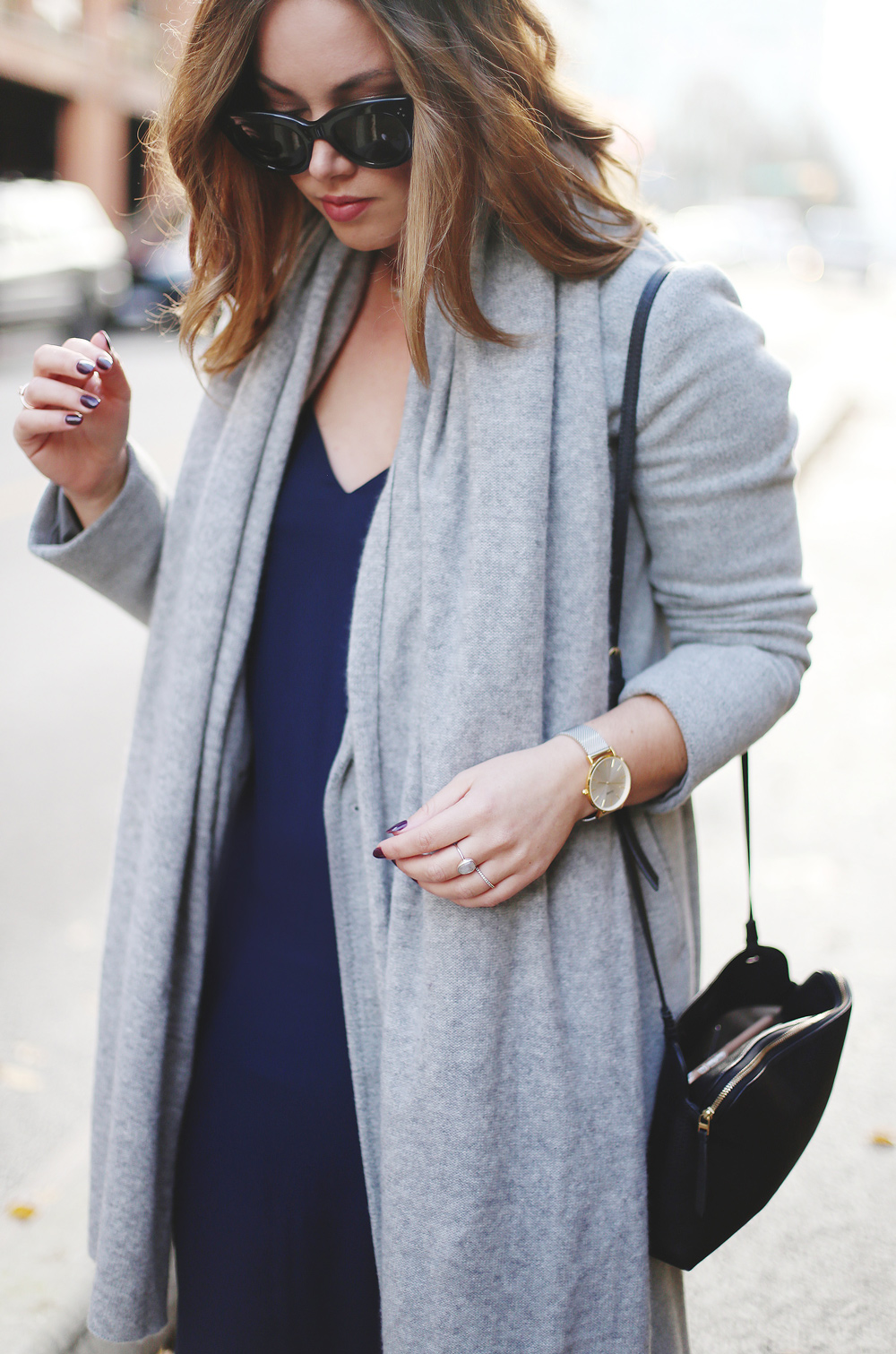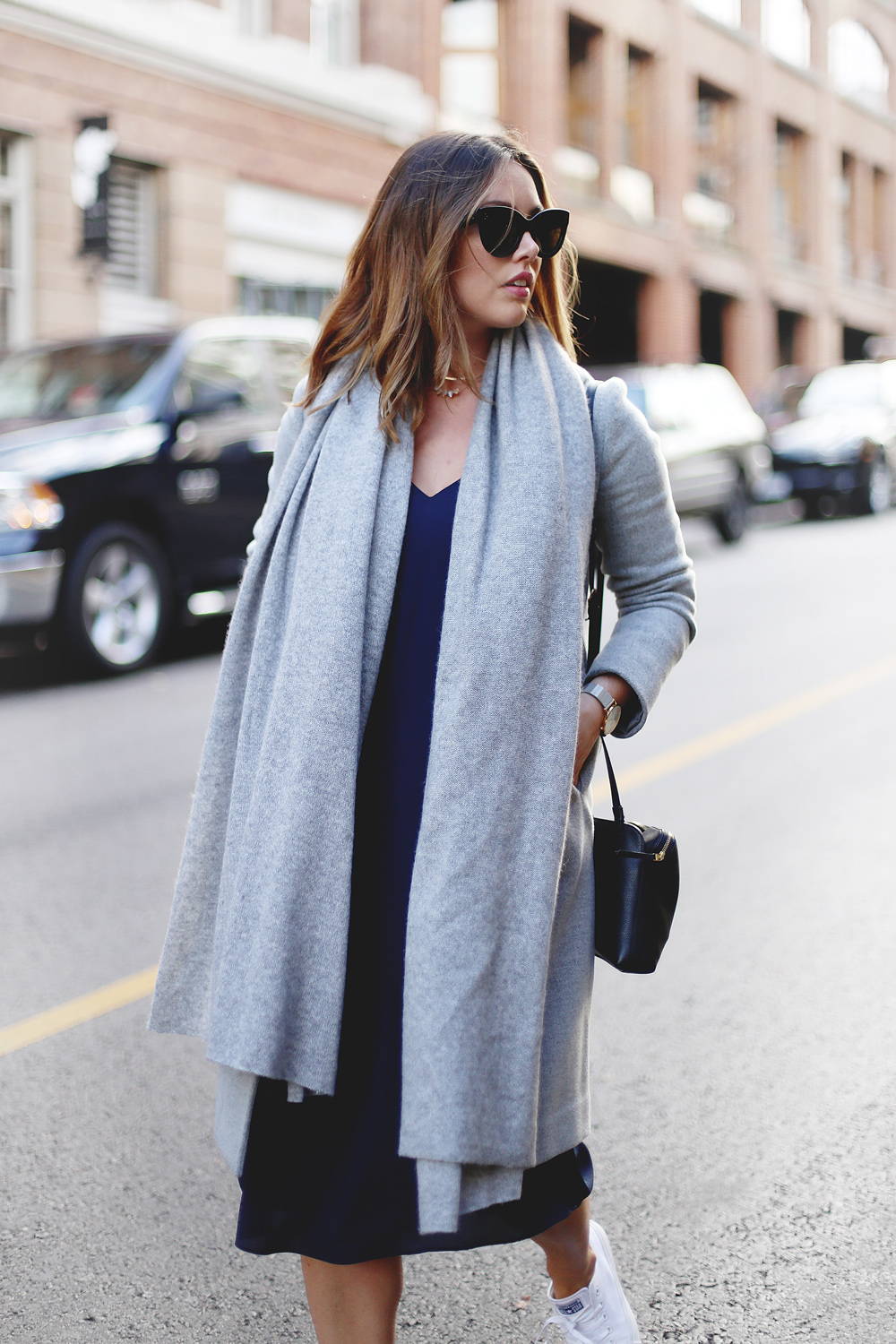 But if you guys caught my White + Warren post yesterday, then you'll know this travel wrap is really the star of the show. I have three in different colours and they are my favourite.things.ever. I basically grab one on the way out the door every day from September through to February here in Vancouver (or wherever I am) because we have such varying temperatures and weather here in the Pacific Northwest. So during the holiday shopping madness period, nothing changes – I drape one of these unbelievably soft babies around my neck while getting wherever I have to go and if I start warming up too much, I can roll it up to a teeny ball and keep it in my bag. It adds so much warmth and is so comforting to have on hand during these colder months – and best of all, the giveaways series continues on Instagram later today for you AND a friend!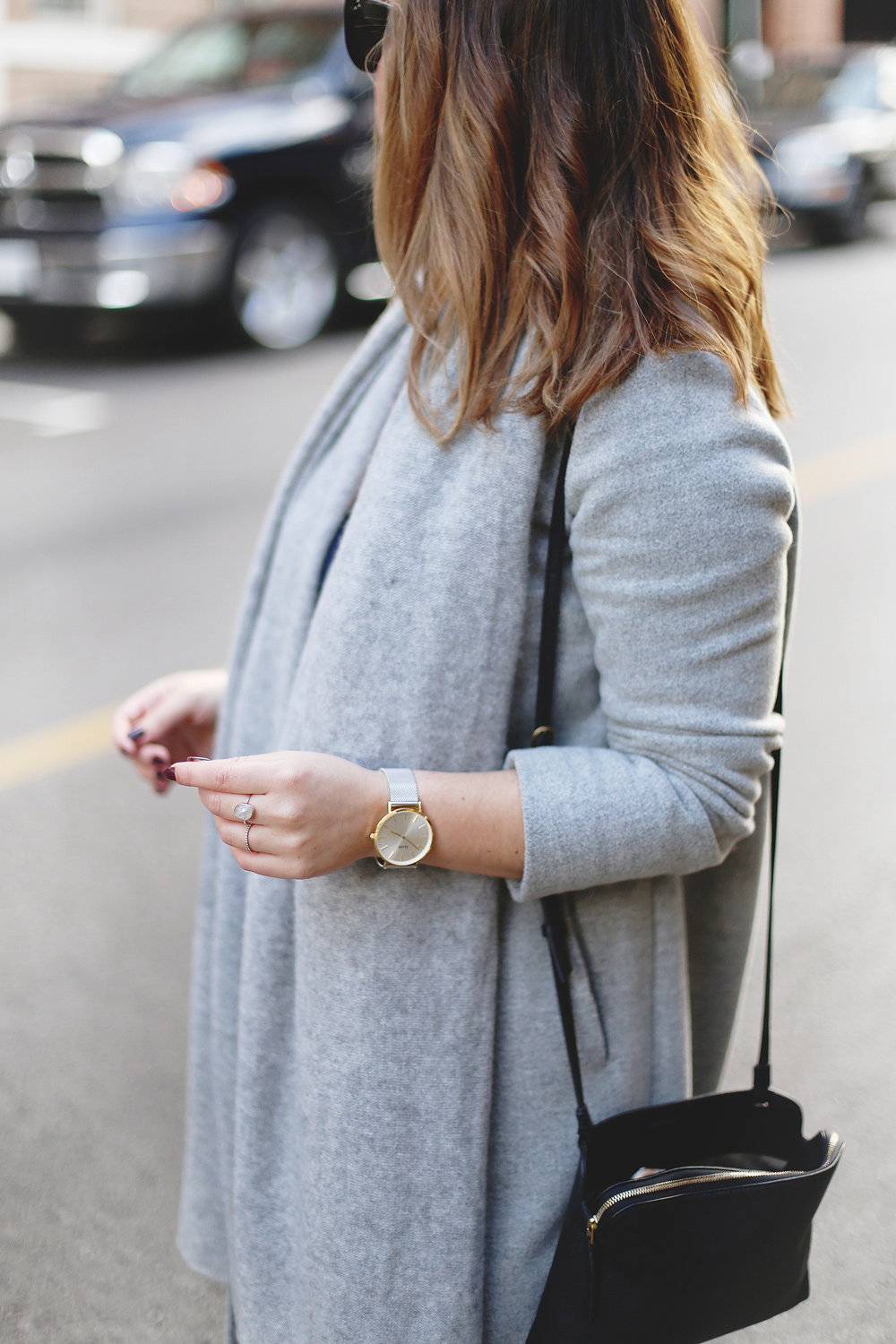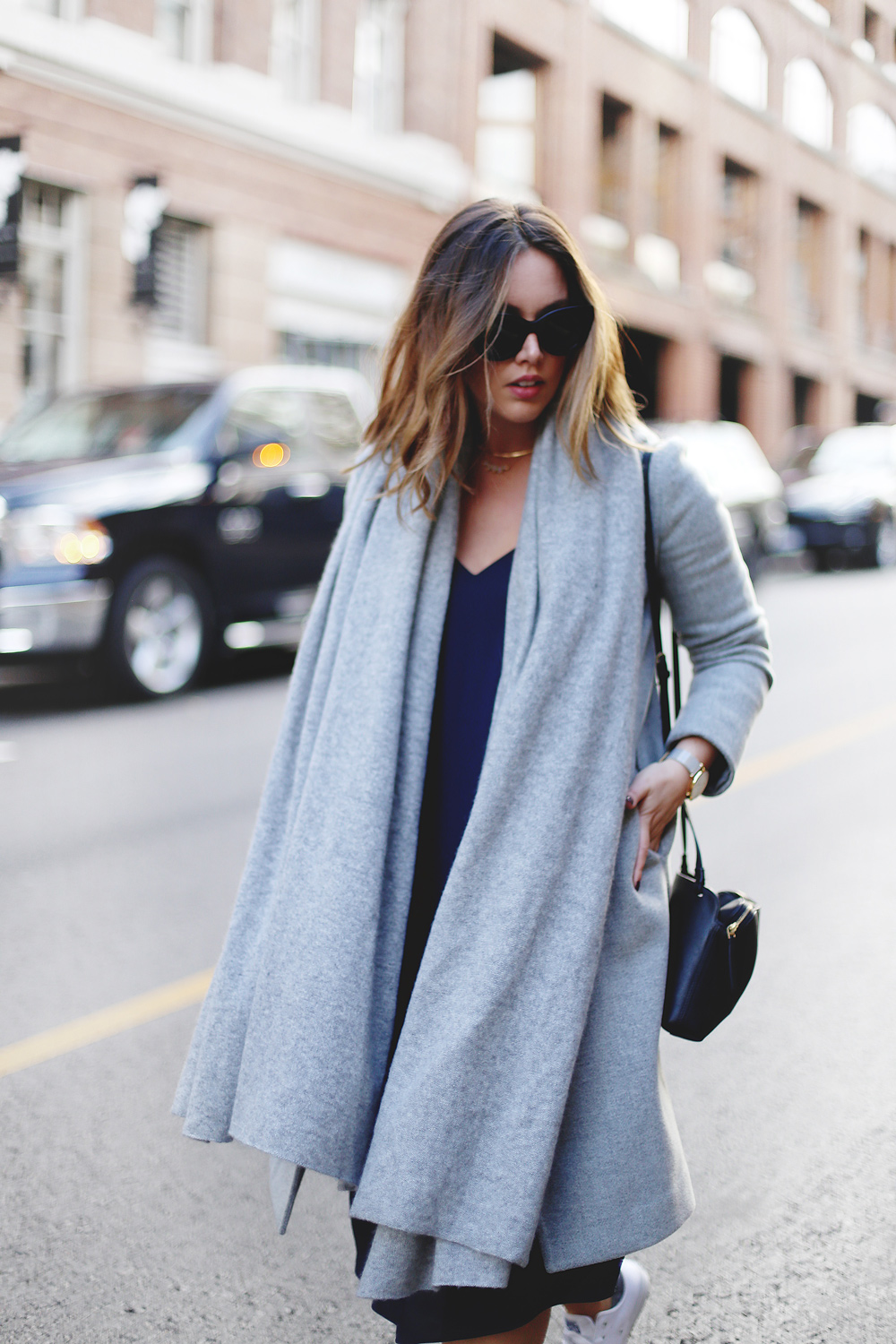 At 6:30PM PST tonight I'll be sharing a giveaway to my Instagram page so that you and a friend can stay cozied up in style this winter with White + Warren's signature scarves (valued at $300 each, for a total value of $600!). Trust me, this will become the most essential piece in your wardrobe! Good luck lovelies!
SHOP THE POST
MM6 Maison Margiela – Wool-blend Felt Coat – Gray , Converse Chuck Taylor Core Ox Sneakers , Cluse Minuit Rose Gold & Silver Mesh Watch CL30025 , Leith Stretch Knit Midi Dress , Rebecca Minkoff 'Mini MAC' Convertible Crossbody Bag , Sole Society 'Thalia' Crossbody Bag , Charlotte Tilbury Hot Lips Lipstick, Secret Salma , Express gray wool blend trench coat
Photos by Alicia Fashionista