First off, congratulations to Kate Moss and Jamie Hince! She looked absolutely stunning and true to herself in custom Galliano, while Hince looked dapper in a YSL suit. So happy to see these two finally wed.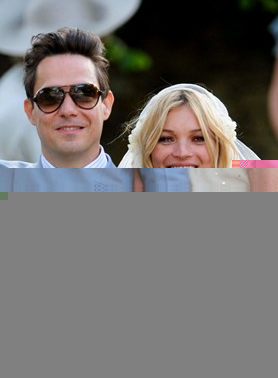 Befitting this day of marital history, I also received a delicious, vanilla-cake scented shower gel and lipgloss set by philosophy from the gogeous Cee of Coco and Vera. We catched up this morning over a lavender latte at Café Medina, one of Vancouver's best joints for great coffee and food. Great way to start my day :). Thank you Cee for both the philosophy set and the Paris postcard (she knows how much I love France)!
Now I'm off to a Canada Day party! My closet holds a shockingly small amount of either red or white pieces, so I'm going to have to get really creative outfit-wise. Hope you're all enjoying your Friday, and if you're a fellow Canadian, happy Canada Day!
Images courtesy of Vogue.co.uk