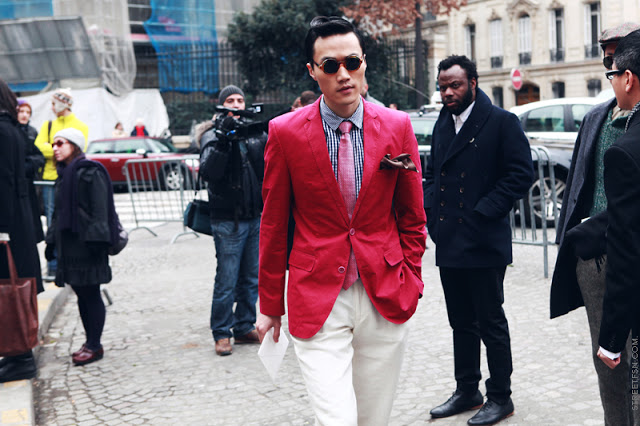 And let me assure you that I mean dandy in the best way possible! I love that he not only looks amazing and obviously has incredible style, but he knows how to work it (and please excuse me for the over-used expression, but it's the best way of describing him). I mean seriously…look at the fourth picture!!! The girls on the left are literally craning their necks to stare at him as he struts by!
I get lots of feedback from my readers who ask me to post more men's fashion and street-style shots. I actually have a real interest in men's fashion, but being the self-absorbed individual that I am, I tend to gravitate towards women's fashion simply out of my own personal interest. Having said that though, I will try to post more shots like this of guys who can run circles around most girls style-wise. Lots of my guy friends complain about how they sometimes feel more limited in terms of self-expression through fashion, which I can agree with to a certain extent…in terms of silhouettes at least, girls tend to have a bit more to work with. That's why it's always special to see a guy like the one above who doesn't seem to be aware of or care about these "limitations" and has real fun with fashion. By the way, if anyone is able to identify this gentleman, please let me know! I would love to know who he is.
Hope you lovelies are all having nice, relaxing Saturdays!
Images courtesy of STREETFSN