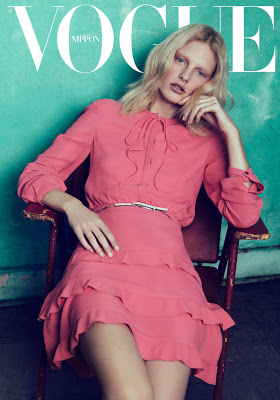 I love the soft and understated femininity of this editorial. Patricia van der Vliet has the most amazing delicacy about her, she was definitely the perfect choice for it.
So on a different note, I added this little sidebar playlist and I just wanted to make sure that it doesn't bother you guys at all. If it does, please let me know and I'll remove it! I just feel funny sometimes not incoporating music in a more significant way on my blog. As some of you might remember, I got my start writing by doing freelance music journalism and music's always been such a big part of my life that I thought it'd be nice to showcase some of the songs I currently have on repeat.
Please give me your feedback – if you find it annoying or hate the choices (trust me, I get a lot of flack for some of my musical selections sometimes so I won't take it personally), I'd be more than happy to get rid of it. I do hope you enjoy it though!
Have a great Friday my lovelies!
Images courtesy of Fashion Gone Rogue