I've got to say, the red carpet at this year's Golden Globes was kiiiiind of boring. The way I see it, with all the money and resources available to famous actors, the least they can do is dress exquisitely to an event like this. Still, there were a few that really did step up their game! These are my personal faves:
Anne Hathaway was my favourite of the night. She looked gorgeous
in Armani Privé, and I love the fact that she stepped outside of her
comfort zone with this one.
Everyone's hating on Michelle William's dress, but I thought
she looked so lovely in this Valentino piece.
Mila Kunis in a beautiful emerald Vera Wang dress.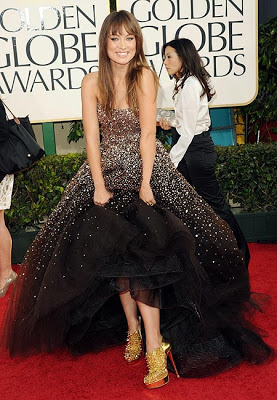 Olivia Wilde in a Marchesa dress and amazing
spiked Christian Louboutins.
Ma giiiirl Leighton Meester in nude Burberry. As usual,
she looks amazing and fashion-forward!
Ryan Gosling in whoooo cares…
mostly he just looks really good. Enjoy!
Images courtesy of According to Sophie, Wonderwall