You don't go on your computer for a few days, and in that time the blogosphere somehow explodes with the most beautiful and inspiring images. A bit photo-heavy but since all the street style photogs are in amazing form right now, I wanted to share them all!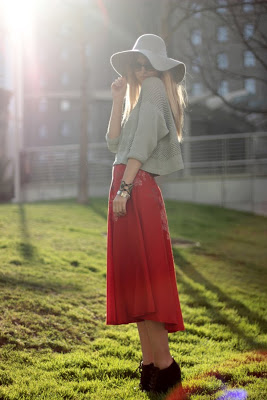 For the most part, I try to keep this blog from being too personal or "diary-like", but I had a really weird/shitty month and as January finally closes, I kind of feel the need to vent and explain why I haven't been updating as much as I normally do.
As most of you know, from the get-go of the New Year, like literally right at the beginning of the New Year (i.e. an hour and a half in), I had to make a trip to the ER after an accident to get my face stitched up, Since then I've had a big mess of health complications and issues, and to make matters worse, while still in recovery-mode I went back to work and since then, I've been working in a way that feels non-stop and exhausting. I never really gave myself the chance to feel 100% again.
So basically, I feel like since the start of the New Year I've been living this pretty miserable life that's either been centred on various health issues or this job that doesn't necessarily help my career in any real way. A lot of the things that truly matter to me have been put on the backburner: I'm not writing as much as I'd like, I update this blog which means a lot to me really sporadically, my training for my upcoming half-marathon has been non-existent, my school's slipping, and I don't see my friends and family nearly enough. I know things could always be worse and that there are lots of people who are going through much more, but at any rate, it's been pretty depressing.
With that said, I've decided that I really need to turn things around for myself. I did have a rather unlucky start to 2011, but I've always lived by the saying timshel from John Steinbeck's book East of Eden (basically it means "thou mayest", or that you always have the choice), and I feel like my luck won't take a turn for the better until I make it.
Since most of my superstitious New Year's traditions have slowly been ticked off (I finally did the Penguin Plunge and my Resolution Run), I recently took some time to really go over my resolutions and map out the changes that I want to make now that I'm finally getting my health back. I have about four things that I'm really focussing on, with one of them being this blog and my writing career in general. I'm making some big changes in the next couple months or so and I hope that with those changes, this site will improve as well. I've always had the capacity to take on new challenges head-on, so I'm really pretty confident that I'll get my life back to where I want it and am so happy to finally be putting trust back into myself and my capabilities.
I really want to give back to all you wonderful readers who've really supported me through this rough patch too, so I've begun making plans to do a giveaway…stay tuned for it! Thanks again for reading and sharing with me, as your kind comments and support have really helped me heaps and I truly appreciate it.
Oh, and Happy Friday!!! Have a great weekend everyone xoxo
Images courtesy of The Sartorialist, Jak & Jil, Garance Doré, Vanessa Jackman, Atlantic-Pacific, Late Afternoon, Mr. Newton, Hanneli Mustaparta