For those of you who aren't yet familiar with Erin Kling, it's time you find out who she is! She is a huge style icon in her homeland of Sweden…in fact, she's become so famous that H&M has chosen her as the first blogger ever that they collaborate with for a collection. This fabulous dress is part of the collection. I would stand in line for it in a heartbeat but unfortunately, H&M Canada won't be carrying it :(.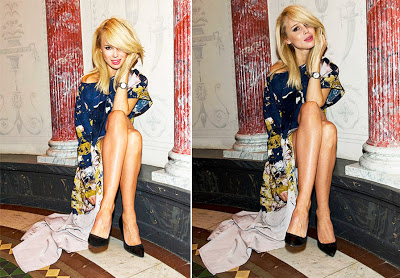 Elin's story is particularly inspiring and shows the scope of just how powerful the blogosphere really is. She's gone from just being a fashion blogger to being an editor, fashion director, and TV personality. She's also competed in the Swedish version of Dancing With the Stars (which may not be everyone's cup of tea but is still pretty cool) and styled Swedish Idol. Pretty amazing.
Check out the English verison of Elin's blog here and the original Swedish version here, which on an interesting sidenote is hosted by Sweden's largest TV network TV4.
Images courtesy of Style by Kling