I'm a pretty easy person to please when it comes to holiday dresses. Usually, if you can check off most of these requirements, I'm sold:
Is it sparkly?
Is it strapless or one-shouldered?
Is it obscenely short?
Two out of the three and I'm in. Basically, I'm like a raven with a fondness for scant hemlines.
So anyway, today I found my inspiration for this year's holiday festivities from none other than my very own personal icon, Françoise Hardy:

It only took me all of two minutes to find a gazillion dresses on Net-a-Porter that already fit the bill: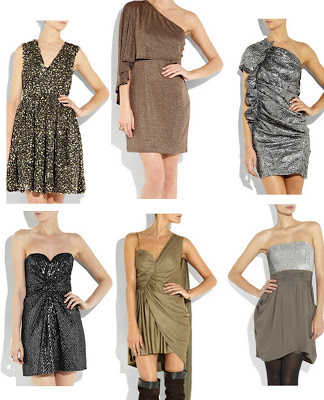 Clockwise, from top left: Adam, Halston Heritage,
Isabel Marant, Alice + Olivia, Alexander Wang, Issa
Can't waaaaaaaait! I only hope that this year my New Year's doesn't suck like it pretty much always does.
Does anyone else get New-Year's-Eve-let-downs? I find I always get really excited leading up to the night and set my expectations waaaay too high, only to wake up the next morning and feel seriously disappointed.
Though some of the stories about how exactly my nights have gone awry are usually amusing in that "this-will-all-be-funny-in-time" sort of way, I wouldn't mind having an awesome night where nothing goes wrong just once. I think the trick is to just go into it with zero expectations. Fingers crossed that I can do it this year!
Images courtesy of Nasty Gal, Net-a-Porter