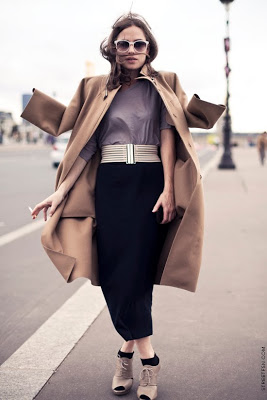 This is totally one of those of-the-moment shots that you snap, check out on the display, and think "…wow…how did I just do that?!". Of course, aside from the spontaneity and wonderful movement of the pic, it helps that she has such an amazing outfit on too.
I've noticed that this unique way of wearing a jacket that this lovely lady is working caught on a lot during Paris Fashion Week…I'd love to give it a try if it weren't for the fact that, knowing me and my feebleness, I'd freeze to death! And that's being said by a Vancouverite who experiences some of the mildest winters in Canada…I really am a fragile thing when it comes to cold-tolerance.
How are everyone's Halloween plans shaping up? Hope your costume beats mine…it'd be kind of pathetic if it didn't, considering I'm going as a mermaid.
Image courtesy of STREETFSN