By now, I'm sure most of you have heard that the iconic Anna Dello Russo is launching a perfume called Beyond. Aside from being really excited about what a fashion superstar like her will pull out, it got me thinking about perfumes in general and how fiercely loyal some women become with certain scents, myself included.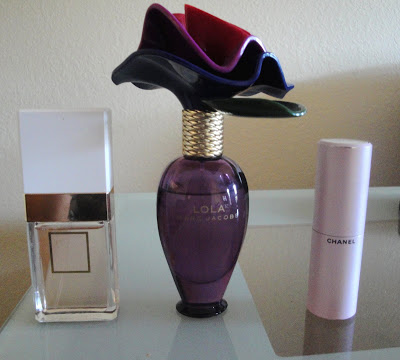 My scents: Coco Mademoiselle and Chance by Chanel, Lola by Marc Jacobs
I took a big step this year and tried something other than Chanel, the brand that I've been loyal to since I was fourteen. I tried out the sweet floral Lola by Marc Jacob and though I love it, for some reason Coco Mademoiselle and Chance still suit me so much more. I just can't escape Chanel. And it's not just me…my mum has only ever worn Opium by Yves Saint Laurent, my older sister has stuck with Jean Paul Gaultier since forever, and I can think of countless other girls who never deviate from their perfume.
I guess it's because scent is the sense that is most connected to memories and emotions…once you link yourself and who you are to a scent, it's a weird thing to switch other scents in and out. Do you stick to one scent, and if so, which one and why?