"It runs in the family": never has that expression so perfectly applied to a family as it does to the Birkin-Gainsbourg-Doillon clan. This eccentric family has given the world some of its most influential, creative, and iconic thinkers of the 20th century. Though their global influence is already huge, their importance in Gallic culture is beyond anything I've ever seen. The short six months I spent in France quickly taught me how integral Serge Gainsbourg is to the French people. The detailed history of how this extended family came to be is too long and exhausting to write out in one blog posting, so for those of you who aren't familiar with the connections, here is a simplifed version: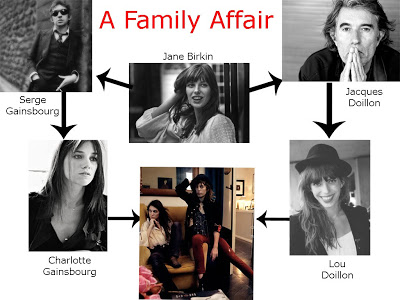 1. Jane Birkin, a young English model and actress, meets Serge Gainsbourg, the iconic French singer, actor, and director, on the set of the French film Slogan. They quickly developed a passionate, deep love and began creatively collaborating on many different projects. The most famous of these collaborations is, of course, "Je t'aime…moi non plus"
2. The two have a baby girl, Charlotte Gainsbourg, in 1971.
3. Birkin leaves Gainsbourg in 1980 for Jacques Doillon, a French director, ending one of the greatest modern love stories.
4. Birkin has another baby girl, this time with Jacques Doillon, in 1982. Her name is Lou Doillon.
5. Birkin and Gainsbourg remain close friends despite their tumultous past.
6. Charlotte goes on to become a well-known actress and singer, recently collaborating with Beck on her last album, IRM. She also interestingly starred in her step-father's movie, Amoureuse. They like to keep it in the family. She is a muse to Nicolas Ghesquière and consequently, she influences each Balenciaga collection.
7. Lou Doillon becomes known as the "Kate Moss of France", with her edgy style and unique looks. She is the muse of Givenchy and often works with Riccardo Tisci. Aside from modelling, Lou also acts in French and other European films.
And it all started with Jane:
Jane Birkin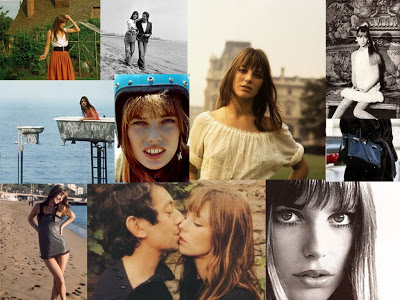 Aside from the obvious reasons why everyone loves Jane Birkin (her personal life, her fashion sense, her stunning and yet imperfect looks), I really admire her for always being herself, even if it was sometimes shocking or offensive to some. So many people build their careers around shock tactics – Jane did as well, but it was never a calculated strategy. It was just who she was.
It's little wonder that her daughters have both grown up to be such amazing, unique, and innately creative individuals themselves.
Jane Birkin, Lou Doillon,
Serge Gainsbourg, and Charlotte Gainsbourg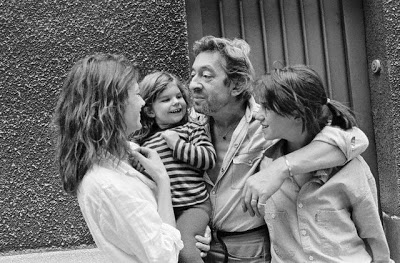 Lou Doillon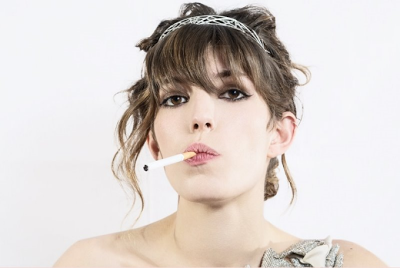 Nicolas Ghesquière and Charlotte Gainsbourg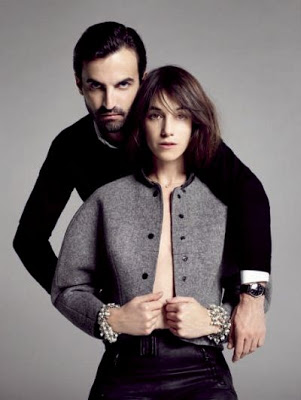 Since I love Charlotte's music, I'll leave you with "Trick Pony" from her Beck-produced album IRM: