The site that I'm interning for, Daily Fashion Diaries, has just launched!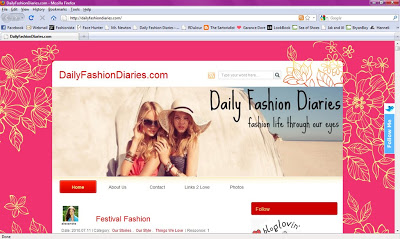 Basically, Daily Fashion Diaries is a collective blog about the journey myself and four other fashion-minded girls (Kristina, Brianna, Sandra, and Elle) are on. All of us are young women heading into the fashion industry; for example, one of our most recent additions, Sandra, is a young New Yorker currently working as a fashion intern in Paris. We write several times a week about our fashion inspirations, our career paths, and whatever else is currently going on in our lives or the fashion industry.
Daily Fashion Diaries is a part of the Daily Fashion Jobs family, so obviously it's fitting that the blog is about young fashion career girls. Anyway, if you get a chance, check it out! All the girls have unique voices and are amazing writers, and I think it's a really amazing concept.
And on an entirely different note, guess what?!?! I am going to see Kings of Leon next weekend at the Gorge! So excited! Remember that post I did right when I first started the blog about festival fashion? Well now I get to actually embody all of that, and I have a good feeling I will look so great that KOL will pick myself and my friends out of the crowd and party with us all night. It's gonna happen! I'll write all about it after the fact.
Hope everyone had a great weekend :).