I saw a posting recently on Fashionista.com about British department store Debenhams doing an air-brush free campaign and had to post about it. Like any other girl, I've felt momentarily underwhelmed with myself when flipping through a magazine. Obviously, models are models for a reason, but add photoshopping into the mix and we're bound to be a bit disappointed with ourselves. Add a bad hair or body day and…well, we won't even go there. Needless to say, being a girl can be hard at times.
That's why I think what Debenhams did is absolutely amazing. Not only did they feature the non-photoshopped swimsuit campaign (which in itself is a pretty ballsy move for a bikini ad of all things), but they also posted a touched up one to show how pointless the whole process really is. A sign in the display window read: "We've not messed with natural beauty; this image is unairbrushed. What do you think?"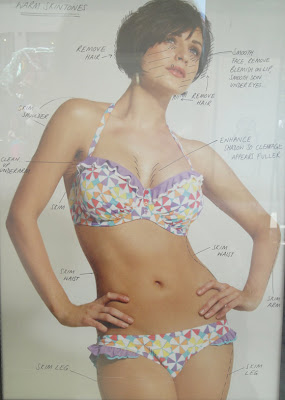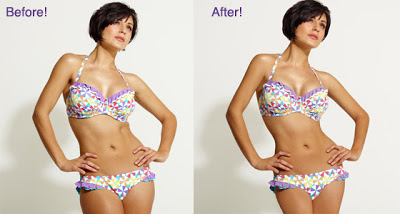 In my opinion, the model looked much better in the before shot, and I think most people would agree with me. As corny as it sounds, the model's very slight imperfections in the before shot were what made her so unique and beautiful…once she's been all photoshopped up, she looks more alien-like than anything.
Which do you think is better? Photoshop or au naturel?