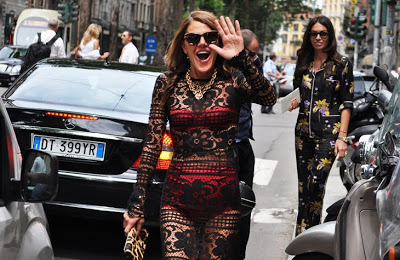 Anyone who loves fashion loves Anna Dello Russo…the joy and fun she has with fashion is truly inspirational, and she is easily every style photog's dream to shoot at fashion week.
So straight from the horse's mouth, here are ADR's rules for front-row etiquette:
" During the fashion week I have
my rules to follow and I'm going
to tell my top ten list for the
FRONT-ROW "

1) YOU MUST WEAR OUTFIT ONCE.
2) WEAR GOOD SHOES. DON'TBOTHER WITH A BAG CAUSE WHENYOU PUT IT ON THE FLOOR IT COULDBE ANYONE.
3) WEAR COAT AS A DRESS.ONE-SHOT IS BETTER.
4) DON'T WEAR SUNGLASSES,IF YOU NOT ARE VIP (VERY VERYIMPORTANT PERSON).
IT'S IMPOLITE.
5) SOMEBODY WEARINGYOUR SAME OUTFIT?
WONDERFUL, YOU DID THERIGHT CHOISE!
6) FLASHY JEWELS PERSONALIZEYOUR STYLE.
7) NOTHING SUCCEEDS LIKE EXCESS!
8) DON'T PEEK INTO THE CLIPBOARDOF WHO IS SITTING NEXT.
9) DON'T SAY HELLO SHOWILY ANDWARMLY AT WHO IS IN FRONT OF YOU.

10) SHARE YOUR LOVE FOR THE SHOWON TWITTER AS MUCH YOU CAN.
Love her so much!
Images courtesy of jakandjil.com