There's something to be said for having a signature element to your personal style. Despite the trends that come and go, staying true to certain pieces or aspects of style is what sets those with true fashion know-how apart from the trend-followers.
Just mention the name of a fashion icon, and you can evoke the image of a multitude of signature pieces: Jackie O (crisp white jeans, huge, dark sunglasses), Audrey Hepburn (black cigarette pants, ballet flats, black shift dresses), and Marilyn Monroe (flouncy dresses with plunging necklines, crimson lipstick)…you get the general idea.
Today, there is a new breed of fashion icons in the making, and as you will see, what sets these fashionistas above the rest of the fashion pack is their ability to stick to what works for them despite the coming and going of trends.
Taylor Tomasi Hill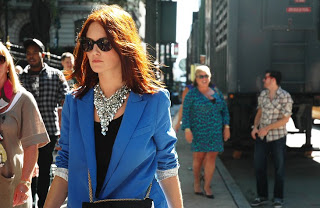 With her striking auburn hair, cut so that it just skims her collarbone, Tomasi Hill already stands out in a crowd. But add to the hair her ever-present Norma Kamali cat-eye sunglasses, her penchant for art deco necklaces, and her uncanny ability to always find the perfect colours to offset her copper hair, this Style and Accessories Director for US Marie Claire creates just the right combination of mysteriousness and playfulness.
The juxtaposition of the feminine aspects of her style (her hair, her colour choices, her seemingly endless collection of beautiful statement necklaces) against her more androgynous and simple outfit lines makes for an unforgettable style imprint.
Yasmin Sewell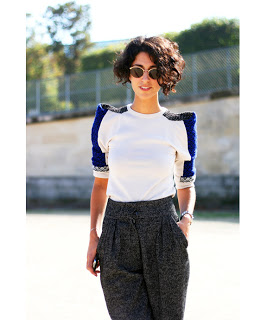 Yasmin Sewell's real claim to fame is her amazing haircut. A mop of dark ringlets, tapered so that the curls at the front just graze her chin, frames her face perfectly and acts as a launch-pad for her eclectic, comfort-is-key style. Yasmin clearly knows the fashion industry inside and out (she is a hugely successful London-based fashion consultant and was previously the buying director of style for Brown's of London), and yet instead of advising fashionistas-in-the-making to buy into certain trends or to invest in clothing, her main style tip is this: "Invest in a great haircut that reflects your personal style".
Given that she is a testament to her own advice, it would probably be wise to listen to her words of wisdom and invest in a cut that enables you to fully express who you are and that compliments your style choices!
Emmanuelle Alt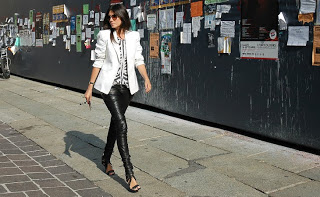 Emmanuelle Alt is the queen of the rocker-chic look that rules the front-row of the runway. Alt, the Fashion Director at Paris Vogue, has an unmistakeable style. Her trademark look is marked by menswear pieces, long, lean silhouettes, black-on-black-on-black (with the occasional dash of white or grey), and above all, a sense of cool confidence (the operative word being cool). With natural, loose hair and a bare face, Alt lets her attitude and clothes do the talking.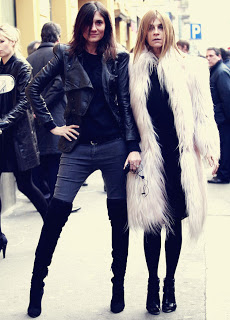 The sight of her and her partner in crime, Carine Roitfeld (Editor-in-Chief of Paris Vogue), together is literally breath-taking. These two are the epitome of the "Parisian chic" that women the world over strive for.
Anna Dello Russo and Viviana Volpicella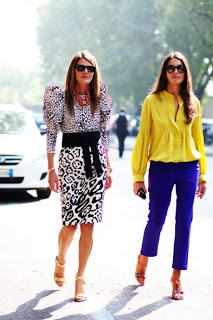 The Italian-born dream team of Vogue Nippon are one of fashion photographers' favourite pairs to catch. Always interesting, colourful, and eclectic, they bring an element of fun and whimsy to the often austere and black fashion pack at various fashion weeks.
Anna Dello Russo, the Fashion Director at Large of Vogue Nippon, is a spectacle in and of herself (in the best way possible). Her signature "piece" is really just her approach to style: opulence, extravagance, playfulness, and imagination. Despite the fact that she upholds such an important position in the fashion world, it is clear that she sees fashion for what it should be: fun and a path to self-expression.
Viviana Volpicella, the Assistant Fashion Director of Vogue Nippon, may stick to classic lines in her clothing, but her colour choices are anything but the norm. Her two signature elements of style are her rainbow-brite colour choices and her smile. Again, like Yasmin, sometimes style doesn't always come down to the clothes – sometimes it's something that you never take off or that's just intrinsically you, like an amazing cut or a beaming smile.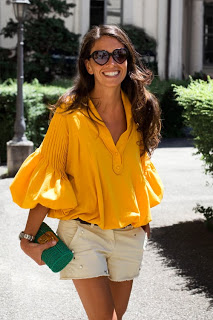 As these fashion starlets demonstrate, the true testament to style is knowing what works for you and using fashion only for what you love about it. Fashion is not about labels or money. You do not have to feel obligated to follow a trend simply because it's en vogue. Simply wear what makes you feel most like you and above all else, have fun with your self-expression.
photos ⓒ The Sartorialist, zimbio