I love how the second the sun finally reappears, anyone who lives in the Northern Hemisphere dashes outside in an elated fervor to soak it in. I am definitely no exception…I was in such a summer mood during the couple days of sunshine earlier this week that I decided to throw on this outfit – definitely not winter-wear!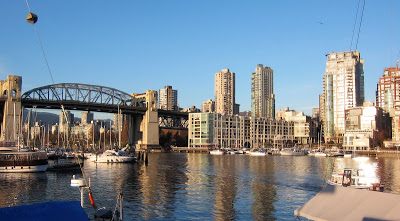 I can't honestly say that I was warm prancing around Granville Island in this, but for the ten minutes that I could handle having my bare arms exposed to the elements, I feel like I at least absorbed more Vitamin D than usual. That counts for something. Maybe it will help heal my scar faster, though I have to say it's been looking way better! In a funny way, when it finally heals over entirely, I'm going to miss it a bit. I won't look half as tough.
Have a great weekend everyone! I am off to experience the highlight of my weekend: my dad's pancakes with two inch layers of Nutella spread on top.
Wearing:
Club Monaco skirt, tights, ring, clutch, and sunglasses,
Jeffrey Campbell shoes, H&M top, Tiffany necklace